GIMP, the GNU Image Manipulation Program, is an excellent alternative to the widely used Adobe Photoshop for digital artists and designers.
Not only is it available completely free of cost, but it also comes with an extensive set of features and add-ons that makes it just as good as Photoshop when it comes to digital art and design.
While GIMP is primarily a photo manipulation program, it has become very popular among digital artists in the recent years owing to the extensive selection of brushes, plugins, and scripts that you can add to it without spending a dime!
However, you'd probably not be very impressed with GIMP's default set of brushes at first. Most of them are quite basic and limited as to what sort of art you can produce with them.
But the fantastic thing about GIMP is that it accepts both GIMP brush files, as well as Adobe Photoshop brush files. This basically means that you have access to both GIMP's extensive selection of brushes, as well as the entire set of tools from Adobe's library. So the availability of brushes and plugins for GIMP is absolutely staggering!
So if you are a digital artist working with GIMP and are looking for some cool brushes to enhance your art, we've got you covered!
Here are some of the best GIMP Brushes you can get online completely free of cost !
Best Free GIMP Brushes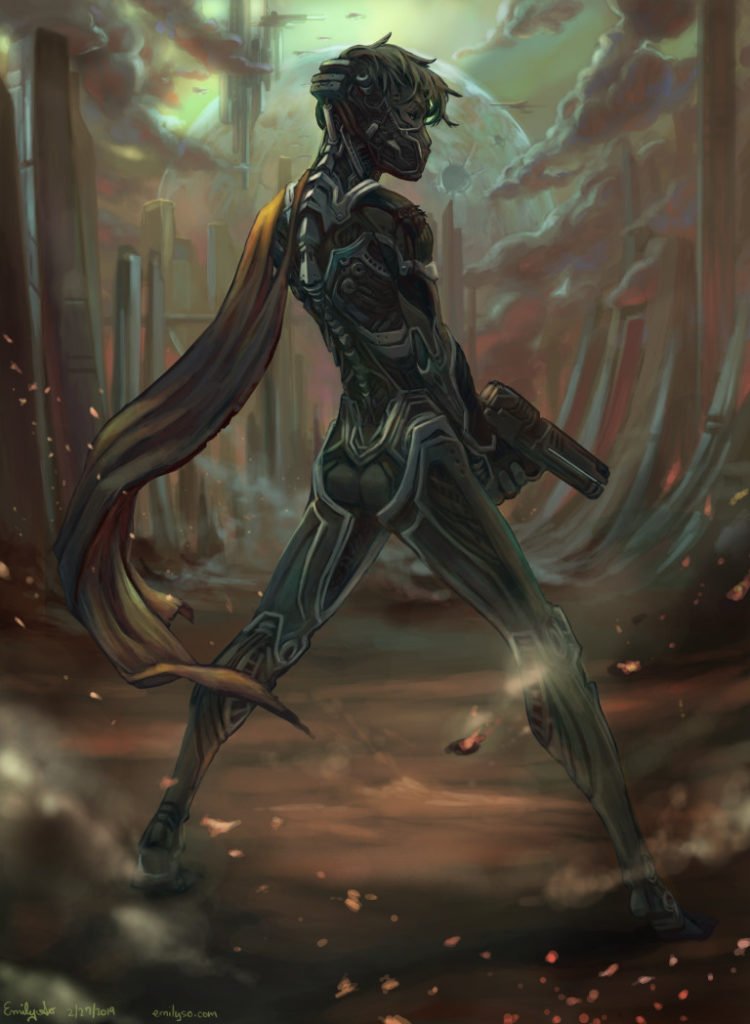 Photo Courtesy of emilyso.com
The GIMP Paint Studio, also referred to as GPS, was developed in order to emulate high-quality painting features within GIMP. Compared to a lot of paid digital painting applications, GIMP does lack a bit when it comes to digital painting, mostly due to the lack of good default brushes.
However, with great brush designs like these, doubled with superior brush engine settings, GIMP has undoubtedly closed the gap with some of the topmost digital painting applications out there!
The GPS brush set adds some crucial brush strokes and textures to GIMP that were not previously available. Every single brush in this set comes loaded with default presets that get loaded as soon as you select a brush. The number of presets is significant for a lot of brushes, and many of them even have complex sizes and pressure variations.
The behavior of every single brush in the GPS Brush Set is customizable through the 'Tools' options panel. You tweak the presets according to your needs and even combine brushes with different presets.
You get a total of 102 brushes with the GPS Brush Set, all of which are great additions to your stock of tools for producing amazing digital art!
There's a ton of different Crack Brush Sets available out there, and one of the most popular among them is the FrostBo set of brushes. You get a total of 34, high-quality brushes in this set, all of which are customizable in size.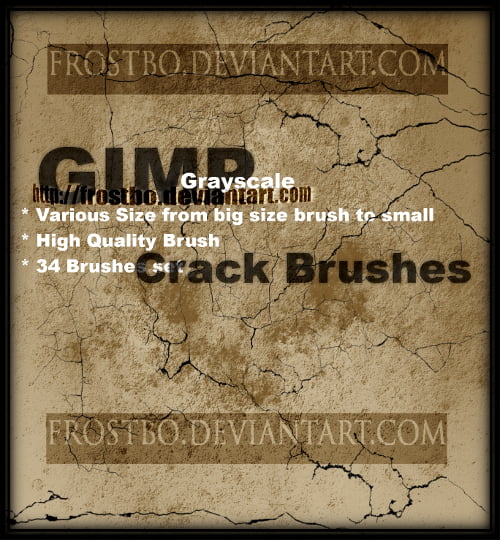 This set of brushes lets you generate some pretty amazing textures, something that is required by all digital artists in their work. While you can always download Creative Commons photos for adding textures to your work, there arises a lot of situations in which you need to generate textures through brushes.
The process of using these brushes is very obvious and straightforward, but the outcome is absolutely stunning!
When it comes to realistic-looking art, LJFHutch's Water Brushes can provide some of the most outstanding results when used appropriately!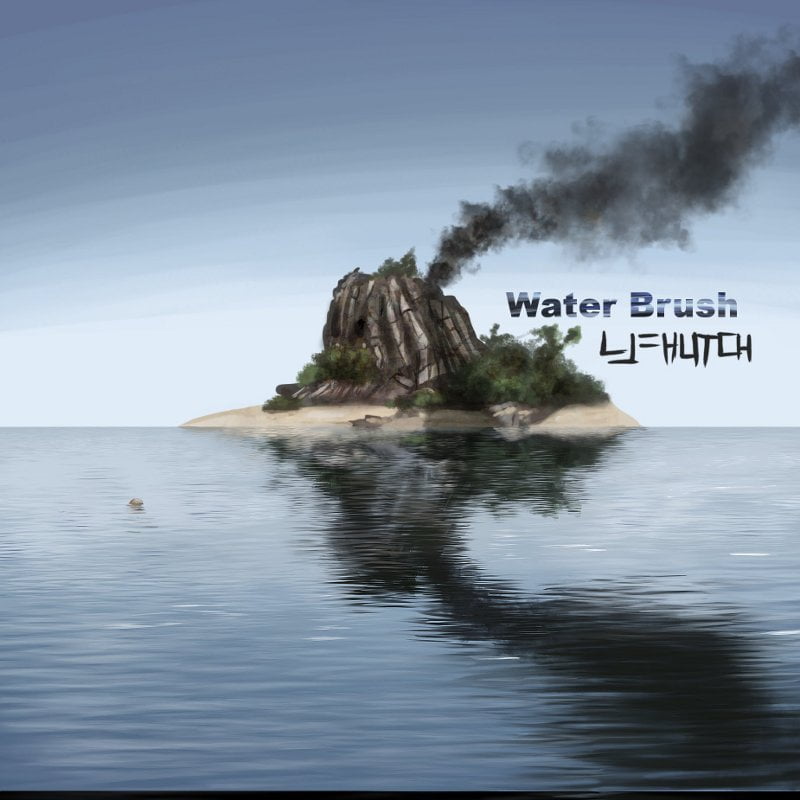 A lot of artists often face problems while painting water using GIMP. This set of brushes was designed mainly to address this problem. They produce amazing photorealistic effects that can be utilized to paint some very real looking water in your art.
There are two different brushes in this set, one for painting water and another one for painting realistic looking grass. These are basically just ripples that can be added as highlights on top of any color to produce a more realistic effect.
These set of brushes were originally created for Photoshop, but thanks to GIMP's extensive support for Photoshop brush files, you can use them on GIMP as well. They are great for generating textures, as well as regular painting on GIMP.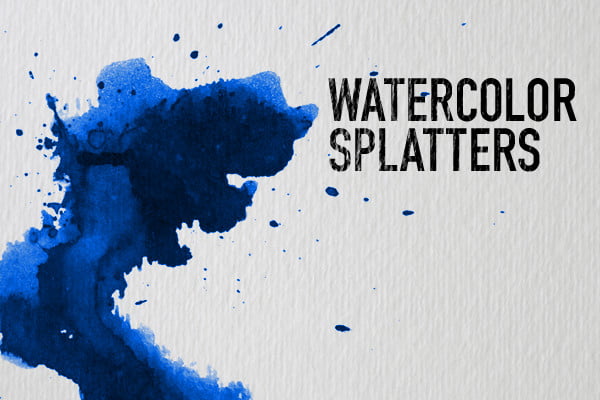 These "brushes" have more in common with stamps rather than regular brushes because they don't really allow you to paint with "strokes." You need to do is choose a color and then stamp the splatters to generate textures.
You can use these brushes to create a base layer for further painting or utilize the different presets to generate textures as required.
The set comes with a total of 32 high-resolution splatter brushes and three high photo textures.
While you'd probably not find too much use of these brushes in your regular digital artwork, I felt this set was worth sharing simply because they are a great example of creative brushes!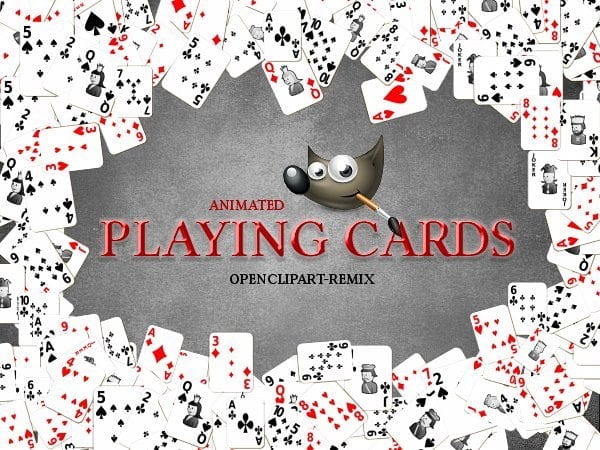 This GIMP brush set was created by Chrisdesign using assets from the famous Fedora Art team member, Nicubunu. It's yet another example of how Creative Commons has expanded the availability of creative works for artists to use and develop further.
This set generates a whole set of playing cards as you paint. Use it in your next artwork to create something unique!
If you're planning on creating comic sequences, these brushes are a must-have in your inventory!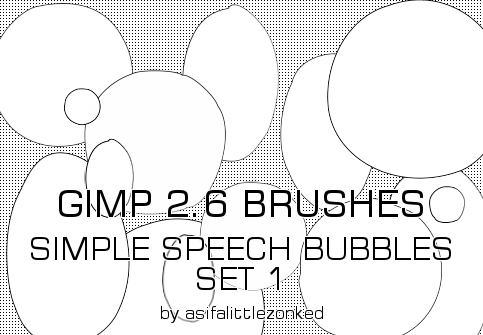 There's a whole range of Comic Bubble Brush sets available on DeviantArt for all those of you that need such brushes for your line of art. Almost all of them are highly customizable and come with a ton of presets to match all kinds of styles and requirements.
Even if you're someone that doesn't do comic sequences, you can find a use of these brushes in a variety of different artworks. Since GIMP isn't that great when it comes to line-drawn shapes, having these brushes can be extremely convenient if you need to use these things regularly.
These are some of the most useful brushes I've used in GIMP in a lot of the open-source work I did. These things have so much use in editing and creating content that they should have been provided in GIMP's default brush set.
The Arrow Brushes are fairly simple, yet infinitely useful. It is just a regular arrow that can be resized, given a color of your choice and then applied to any picture or artwork that you are creating.
These brushes are especially useful when it comes to creating tutorial and other types of informative documents. Simply using these arrow brushes can save you a lot of hassle while creating informative pictures, which you'd otherwise need to import in a software like LibreOffice Draw or Inkscape.
The direction of the arrows can also be changed very easily –
90 degrees points the arrow upwards
0 degrees points the arrow to the left
90 degrees points the arrow downwards
180 degrees points the arrow to the right
The Tango Arrow Brush is available for download on Slackermedia.
This one is for all those of you that are into concept art, illustration work, character design, and other similar forms of digital painting. You can do some amazing things with this free to download set of brushes, provided you know what you are doing.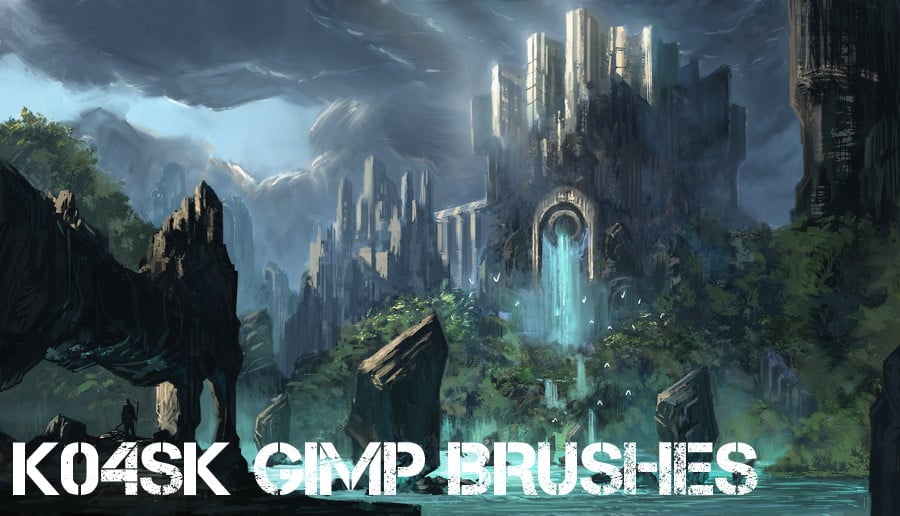 These brushes were initially developed for Photoshop but were later converted into a GIMP Brush set after their tremendous popularity. The K04sk Brushes are for advanced users and require a lot of practice to master. So if you're a beginner, you'd probably struggle at first with these.
However, if you give it enough time, you'd be able to master these and create some outstanding digital designs!
If you're planning on replicating the feel of a real paintbrush on a digital platform, there are very few brushes that better at doing such a great job than these!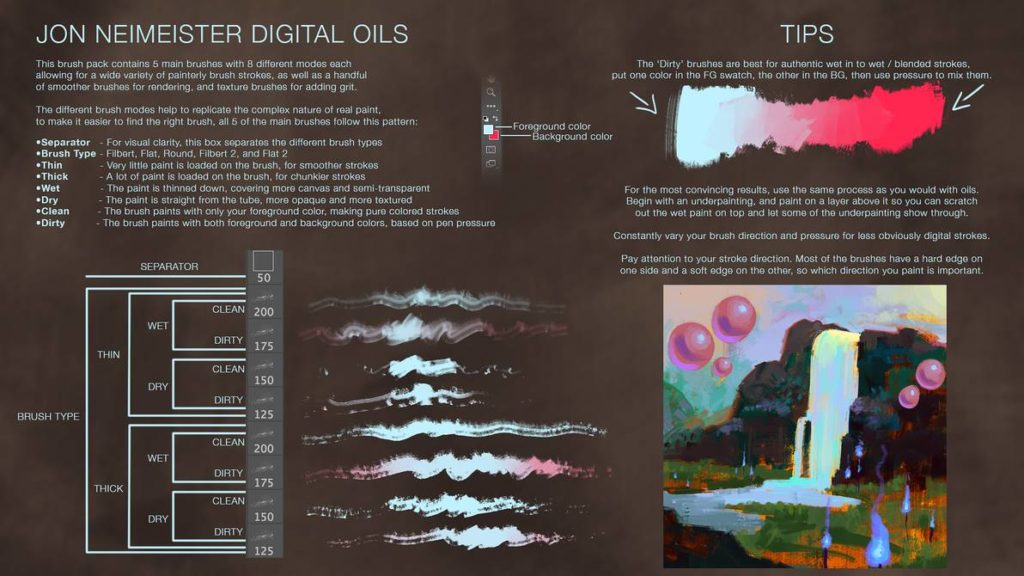 These brushes are simply brilliant in the way they emulate the feel and texture of oil painting. Digital Artists can make use of these brushes to impart a wide variety of unique effects to their work and even create paintings that come pretty close to oil-based paintings done on a traditional canvas.
There's a wide variety of customizations available to make them as convenient as possible. You can choose between wet and dry brushes, customize the sizes and even impart dirty or clean effects to your painting with these brushes.
With a total of 13 brushes included in this set, there will always be a brush to suit almost every style of painting you can possibly imagine.
When it comes to painting on a digital platform, it's pretty hard to emulate the traditional styles of painting unless you have access to a wide variety of sophisticated brushes. For this reason, the Artistic Brush Set was developed to allow digital artists to replicate a number of different styles, primarily watercolor!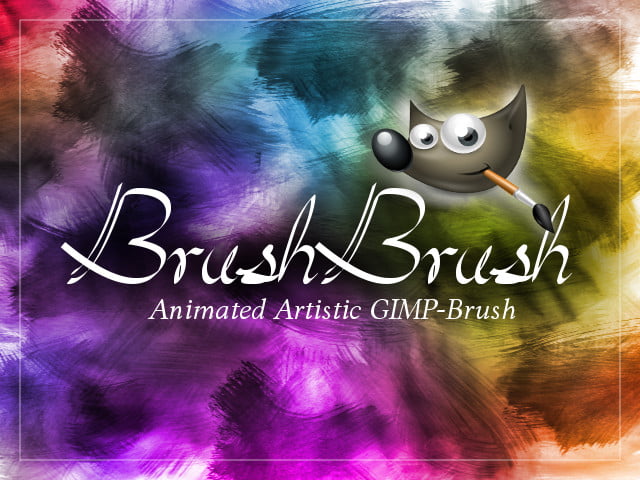 Designed by a well-known contributor of artistic brushes named Chirsdesign, this set was developed mainly for GIMP artists. Every brush in this set has been designed using dry paintbrush and actual watercolors to make them as realistic as possible.
These brushes, when used appropriately, provide some outstanding final results!
If you're planning on doing a lot of graphic designing, then this set of texture brushes are a must-have!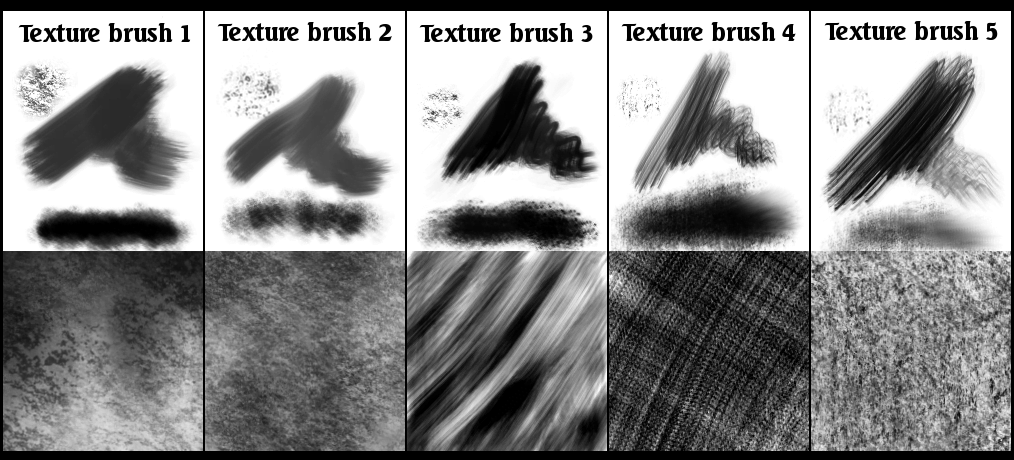 Anyone with even a little bit of graphic designing experience knows how essential texture brushes are in this field. There's no end to the number of things you can do with a good arsenal of texture brushes at your disposal.
Even in traditional digital painting, these types of brushes are extremely crucial when it comes to generating customized textures on an artwork. With the right blend modes, opacity, and other settings, you can create some breathtaking artworks using these brushes.
This is one of the simplest yet highly versatile texture brush sets out there, allowing you to do a variety of things from smudging to regular painting.
If you're open to experimenting with different art styles and creating something unique, do check out the Count Brush Set containing 20 different brush styles.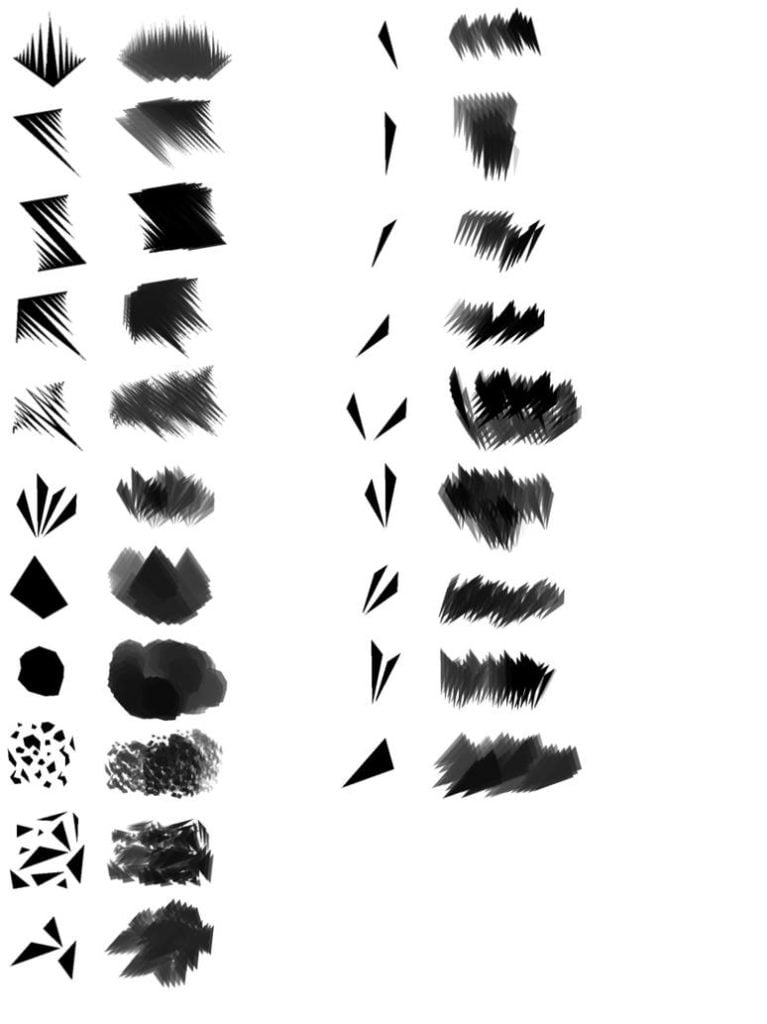 You can use these brushes to add variety to your regular artworks, and even use some of the presets for painting. However, most of these aren't really made for painting. Most of these brushes are meant for adding textures to your painting or for giving final touches to a piece.
These brushes are quite unlike most of the traditional ones used for digital painting. It is best used for experimental painting and playing around with ideas.
This set of brushes is a game-changer for all those of you that are into character designing and creating comic sequences. Drawing hair on a digital application has never been easier thanks to these type of brush sets!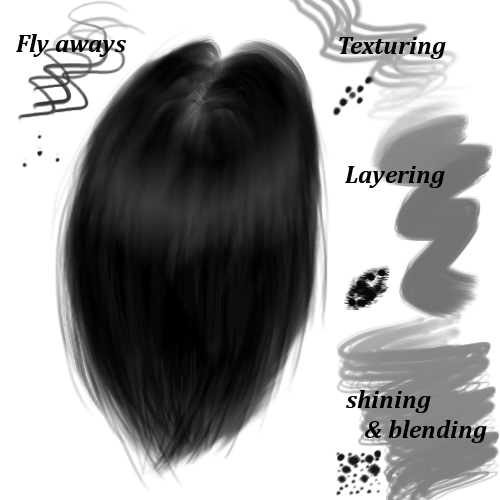 Most artists will agree that painting hair using the default brushes of any digital painting platform is a very complicated process. These brushes were designed to make life a little easier for those that struggle to draw hair digitally.
This Hair Pack Brush Set comes with a ton different presets, all of which are highly customizable.  The size of blending and fly away brushes can be increased up to 1000px while texturing and layering brushes can go up to a highest of 500px. This makes the Hair Pack Brush Set an incredibly convenient choice for designing brilliant looking characters on GIMP.
These brushes can be incredibly useful in a lot of different scenarios to create realistic-looking smoke or for adding textures to an artwork. Explicitly designed for GIMP artists, this pack contains a total of 12 different brush strokes for creating highly versatile smoke effects.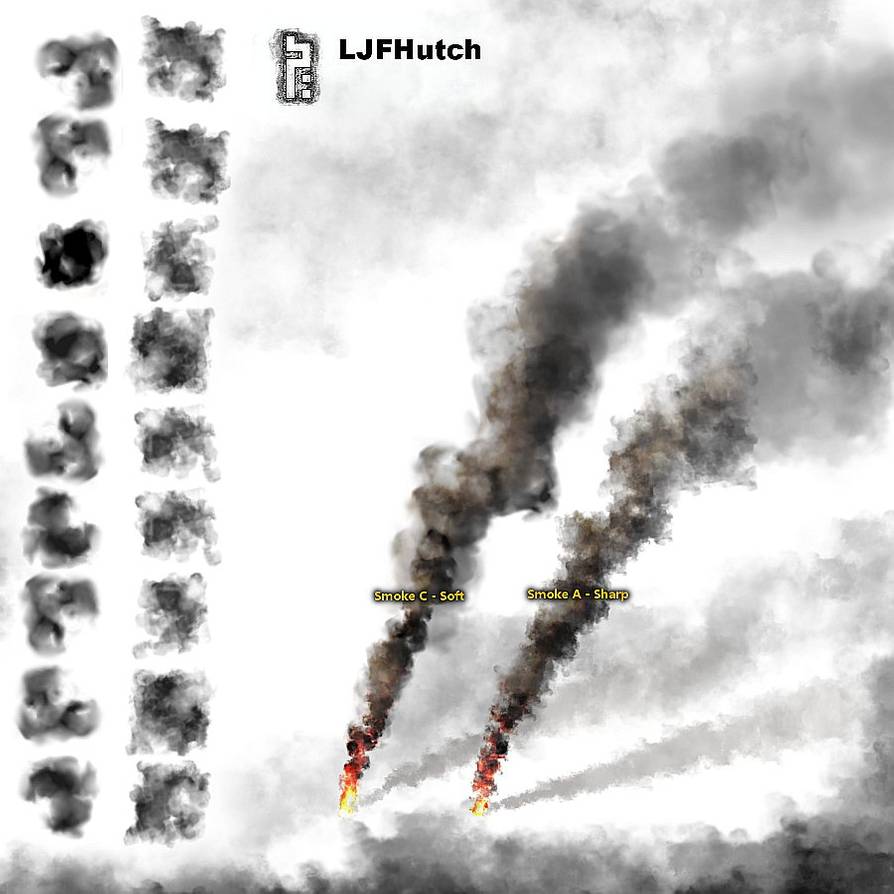 These brushes are a must-have for all kinds of digital artists since smoke effects tend to be required very often in a lot of artworks. This set has three versions of smoke brushes-
Sharp Smoke Brushes
Soft Smoke Brushes
Very Sharp Smoke Brushes
This is one of the biggest collections of free GIMP brushes available for download. If you're looking for a wide variety of different brush strokes and patterns that will go along with a broad range of styles, this is an excellent collection of brushes to have.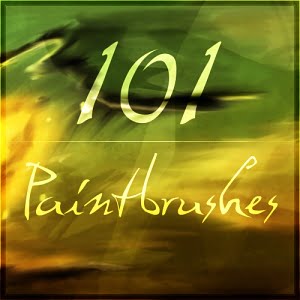 This is one of those sets that every GIMP Artist should have irrespective of the skill level!
It has a total of 101 brush styles to suit a variety of different styles and concepts.
Originally designed for Adobe Photoshop, the Alex Ruiz Brush set is one of the most unique brush sets out there. This set is absolutely amazing when it comes to sketching, painting, and even rendering. There's just so much you can do with these brushes that it actually deserves an article of its own!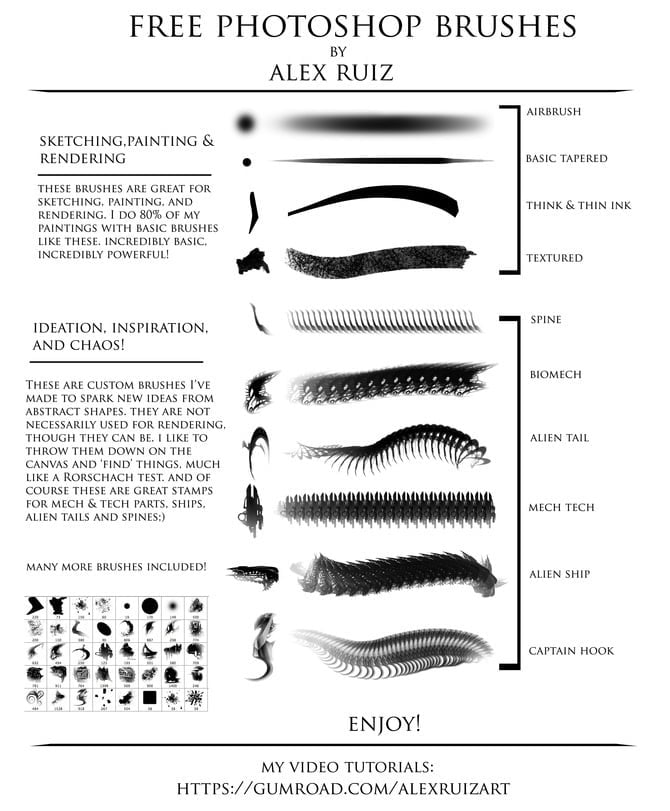 These brushes are surprisingly simple to use, yet they produce some of the most astonishing digital artworks when utilized by experienced hands. These custom brushes were designed from abstract shapes and are also great for experimental painting.
It includes plenty of different brush styles with a good variety of textured ink, pen and airbrush styles markings, apart from several complicated pattern brushes.
This is a set of brushes designed by the well-known artist Darek Zabrocki for professional digital artists working with a variety of different styles.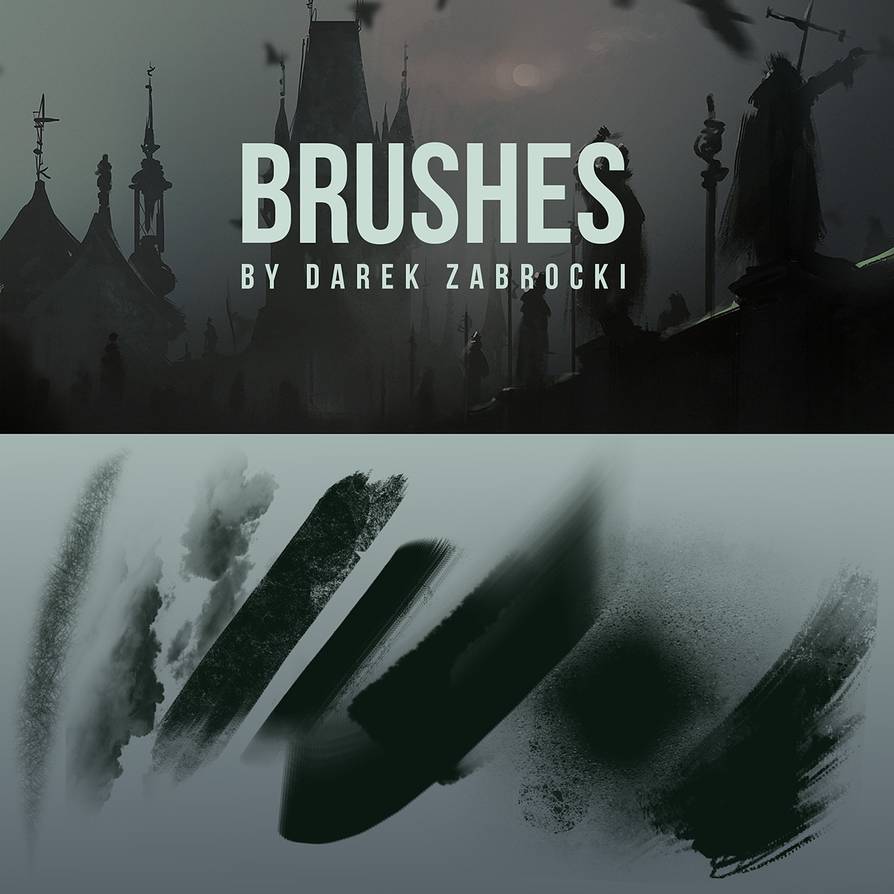 These brushes became widely popular among digital artists after the author posted a series of highly impressive speed paintings online. There were dozens of fans in the comments sections requesting Darek's brush set to be released which prompted him to compile this set of brushes on DeviantArt.
All the brushes in the set are of professional-grade and require experienced hands in order to be used appropriately.
Every serious digital artist needs this set of brushes added to their stockpile on GIMP!
These are some of the most versatile set of brushes that can be used to create a wide variety of artwork styles and concepts. They are especially useful for creating Manga drawings and comic sequences.
You might need to play around with these brushes a little bit before you get the hang of it, but once you do, there's no limitation to the variety of things you can paint using these brushes!
These brushes work best when used either with the pen tool or the bezier curves. They even replicate the "blot" effect of an actual pen at the beginning and end of every line/curve.
This set of brushes comes directly from the Artist's personal pack and is one of the most versatile and diverse brush sets I've ever come across.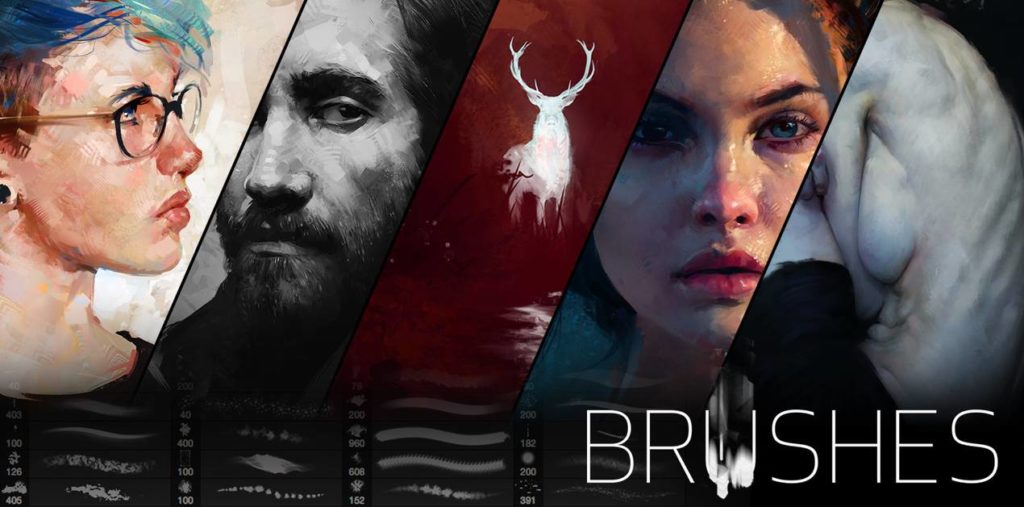 Every serious artist out there needs to check out this set, irrespective of whether you are a beginner or an experienced artist. There's just so much to work with in this set, it's crazy!
No matter what your style, you'll find a brush to work with in this set!
If your style of art requires you to paint a lot of animals, then this brush set can make your life a hell lot easier!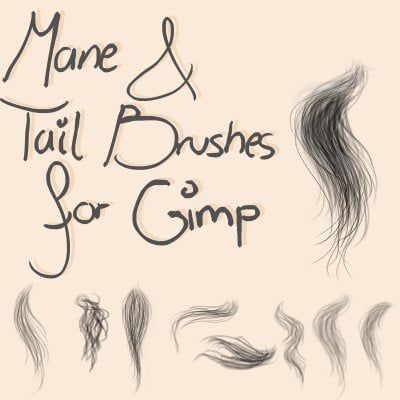 The Mane and Tail Brush Pack is great for drawing animal hair, especially horse tails and manes. While I agree that this is a little bit specific, but I've personally found this pack to be extremely convenient when painting animals.
So go right ahead and download this pack of brushes if you're into painting animals.
DeviantArt user Nari has done an absolutely amazing job at making this set of easy to use and versatile brushes for GIMP.
It comes with a large and unique mix of styles which will allow you to add a lot of detail into any art piece that you are attempting, irrespective of the style that you're going for.

It has a lot more options in variety to choose from than the average 'free to use' brush packs that you get out there today. Each of the brushes and their varying textures allows it to be versatile enough to fit a variety of projects and will come handy for both private and professional purposes.
Originally Nari had included around 6 brushes in the pack, then extended it to 11, and gave them varying widths as well.
The sheer versatility of this pack makes it just perfect for serious GIMP artists, who are looking for some unique brushes to make incredibly detailed pieces.
However, this doesn't mean that beginners cannot get much use out of them. The brushes are quite user-friendly, and amateur GIMP artists can indeed get to learn a lot by using them
No matter which digital painting software you're working on, may it be Krita, FireAlpaca or even GIMP, drawing human hair and fur is one of the most difficult tasks to accomplish.
You may be able to represent a few strands quite well, but accurately getting a whole set of hair down is another ball game altogether.
And the right set of brushes actually do help to get human hair absolutely right. Now this brush set from the DeviantArt user el-L-en comes with 8 GIMP brushes which are specifically made to just create hair.
It's an amazing set to work with, especially for the more adept GIMP users, who are looking to make some very unique and detailed characters from scratch.
These brushes are not that easy to use, and you will need to have a solid grasp on most of the basic tools and features of GIMP to make the most of them.
So you are new to the platform, do look up some tutorials first, to help you get oriented with the brush styles and accurately represent hair the best to your ability.
These brushes are best used for making portraits.
It's not every day that you need to use a paint roller in your art piece.
Their use is rather limited in the field of digital painting, but there are moments when their unique texture is perfect for certain art styles and projects.
So if you're looking to make a detailed skyline on your next landscape painting, or thinking of ways to create a picturesque dungeon and cavern themed piece, then rolled paint will help you achieve that unique texture to make your art look very attractive and appealing to any onlooker.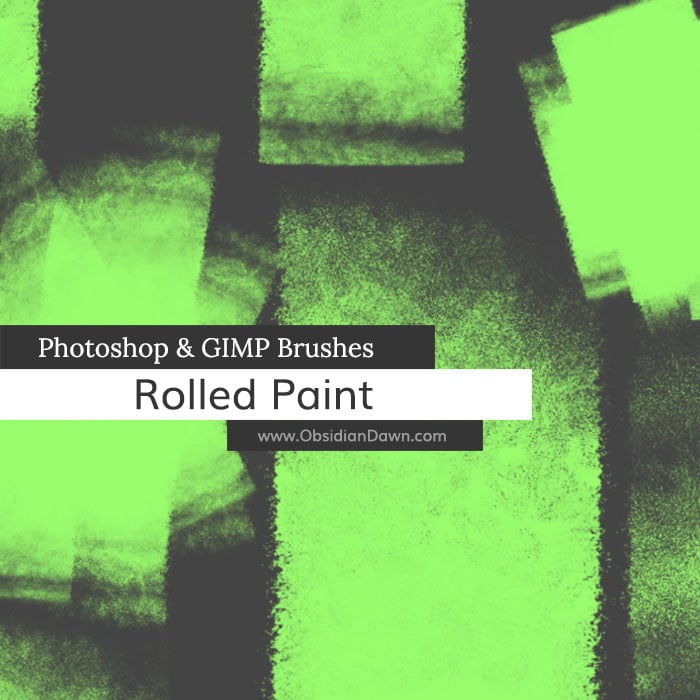 The rolled paintbrushes from Redheadstock is made for both the updated versions of Photoshop and GIMP. And is it's more suited for use in GIMP 2.2 and above, you might experience some performance issues and bugs on the older versions.
Another fantastic aspect of this brush pack is that each brush style inside it comes with a wide variety of textures and width. So, apart from coloring versatility, it will allow you better control over all your pieces as well as the final layers and texturing of your art piece.
Jonas De Ro has made quite a name for himself in the DeviantArt community with some of his incredibly unique digital art and graphic design pieces.
And to help out the wider digital artist community with the GIMP platform, Jonas has created a massive brush set which includes a variety of styles from the more basic to the unique stroke textures.
The pack comes with over 40-50 brushes, and each of them has a rather unique feel to them, and are used differently as well as they vary in both stroke texture and width.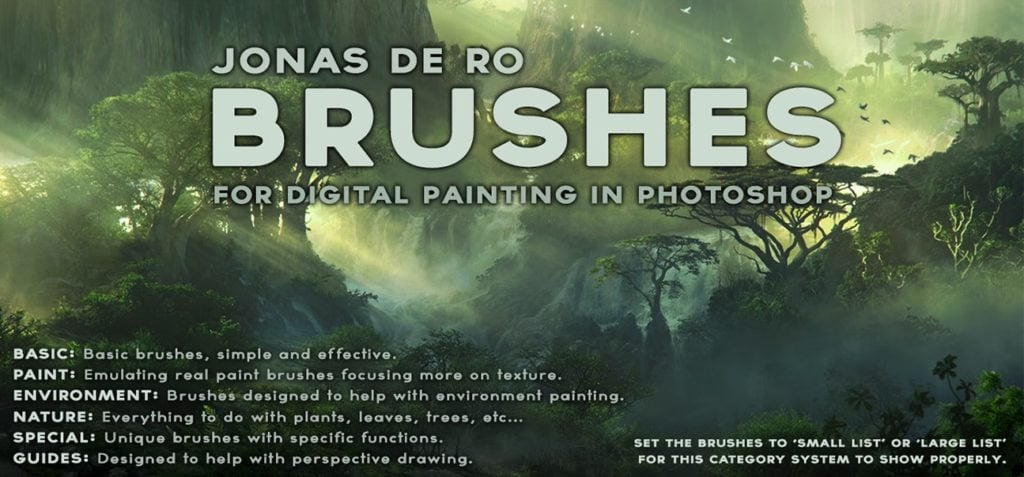 All the brushes in the pack can be subcategorized into 6 different sets:
Basic
Paint
Nature
Environment
Special.
Guides.
Out of all these categories, 'Guides' is the one that stands out more than the rest. The brushes here are used more to jot down an outline and set out ideas on the go and help you create a concrete theme for your next project.
The other brush categories are meant to take that concept and realize it in the form of a painting.
This entire set is simply one of the best for concept artists as well as storyboard painters. And as it's, perfect for character design, a manga and anime illustrator can indeed put them to good use.
If you are still very new to the field of digital painting and are much more familiar with your traditional sketchbook and charcoal pencils, then these pencil brush sets might just be all you need to get you well underway.
The real pencil brush set from Elmerucr feels a lot like graphite on paper and gives off this real pencil-like feel with every stroke.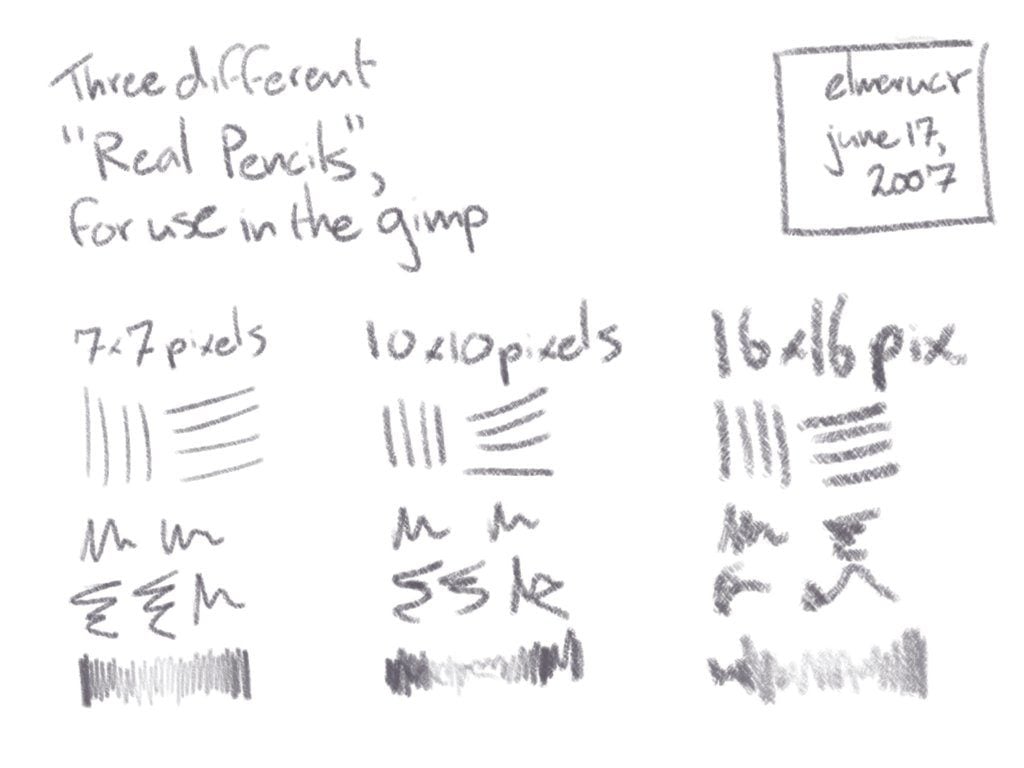 This brush set comes with three different styles of graphite, which can allow you to fit these into a lot of art styles. Though not as varied as the Nari set, these pencils are versatile enough in terms of their texture and can help you get a lot done.
Their quality is rather high as well, and are also easy to use, making them ideal for both professional and personal projects.
They capture the traditional look of pencil on paper quite perfectly and can make your sketches feel very authentic indeed.
Conclusion
So there you have it, a list of the best free-to-download GIMP brush sets for digital artists of every skill level!
We have compiled some of the most popular and versatile brush sets that you can use to enhance your artwork and hopefully create some amazing pieces.
All of the brushes listed above are entirely free to download and can be used flawlessly on the latest version of GIMP. We hope that we've managed to help you out in finding some interesting sets for your work, and we wish you all the best for your future endeavors!
Related Articles
111 Best, Fun and Cool Things to Draw
14 Amazing Free Krita Brushes and Brush Packs for Digital Art
20 Free FireAlpaca Brushes for Digital Painting & Drawing