The one thing to be careful about when finishing wood is checking if the finish has toxins, especially if the wooden piece will touch food or drinks.
With time, we have all become a little careful about the food we eat and its ingredients. It's not just about healthy and unhealthy food but also about the ingredients used in any food. But, all of this is a waste if we end up using wooden kitchen equipment that is finished with something harmful. That's precisely why we have food-safe finishes.
To elaborate on the topic, we are here with some information on wood-safe finishes that you can consider for your next project. There are plenty to choose from, and we have included a comprehensive guide that will help you make an informed decision.
So, without further ado, let's jump right into it!
Food Safe Wood Finish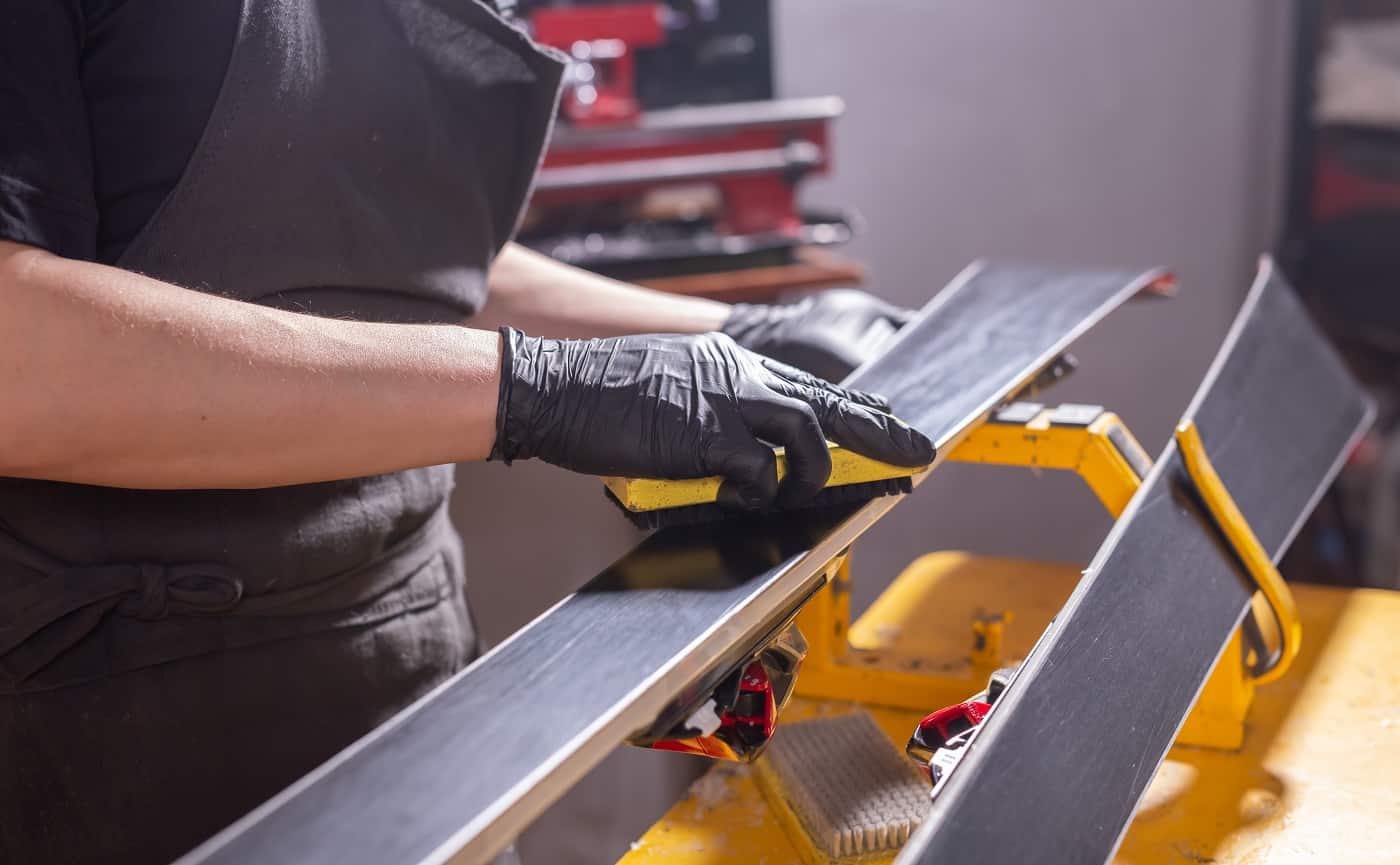 In case you are wondering if a food-safe finish should be used at all times, allow us to give you a better idea. When working on a wood-based project, the use of the piece determines what finish should be used. There are different finishes for different woods, and they are all used depending on whether the piece will be indoors or outdoors.
But, a food-safe finish is ideal for specific situations. It's mostly used if you are working on children's toys, kitchen utensils, any surface where food might be laid out or eaten on, and food preparation surfaces. It is important to remember that the finish needs to cure fully before it becomes safe for food. Let's look at some of the common food-safe finishes now.
If you like to eat candy, then you are probably well acquainted with this finish already. Shellac is a natural finish that can be used as a surface sealer and is quite safe (candies are coated with this). Once applied, it has a glossy finish and can even be buffed and made smooth if a thick coat is applied.
It is an age-old method of polishing and has been popular among woodworkers for a long time. Even though there are pre-made shellacs available on the market, homemade ones last longer. The latter is also safer since it eliminates any chances of it having anything harmful or unnecessary, thereby ensuring stronger adhesion as well.
If you are looking for an oil to provide protection from sun and water damage, then linseed oil is ideal. It comes from flax seeds and is a type of drying oil. Interestingly, similar to shellac, it is a very old finishing product and was used by ancient Egyptians. It was only much later that the Europeans decided to incorporate it by using flax seeds.
One huge reason it gained traction was that it was easy to apply. However, it does take a very long time to cure, which not a lot of people prefer. Once cured, it gives a look that a lot of woodworkers prefer when working on utensils. If thicker layers are added, it can prevent any scratching as well.
Distilled or fractionated coconut oil is another popular choice to finish wooden cutting boards and butcher blocks. The fractionated variant is very refined, and that prevents it from going bad. It is a non-toxic, readily available oil which is a superior choice for your wooden board. It helps by moisturizing the board, which prevents it from cracking or splintering.
Since it has a soft finish, it is easy to apply and will give a smooth look. Moreover, it is economical and usually nut-free, which makes it better in case someone in the family is allergic to nuts. The only issue is that coconut oil is non-drying, which means it will have to be applied time and again.
One great vegetable-based oil is Carnauba oil which comes from the Brazillian palm tree. Not only is it a natural product, but also safe for consumption as it has no toxins. It gives a shine to any wood it is applied to, and when mixed with beeswax, it gives the wood some water resistance as well.
Much like any wax, this too does not penetrate the wood. For an effective coating, it will help to apply at least 2-3 coats. Once cured, it is soft to touch and has a fabulous shine. Although it is durable, it does need to be applied again over time as it tends to wear out.
Paraffin wax is made out of petroleum, just like mineral oil. It is a soft, colorless wax that is usually used for the preservation of jams and cheese. Other than that, it is not harmful to the skin as well, and it is used in a lot of salon treatments because it has no smell or taste.
It is natural and, because of its low melting point, can easily be made into a wood finish in the comfort of your home. However, just the wax will not be enough if you are looking to add a layer of protection, but it is a preferred product to add a shine.
In case you are looking to make a paraffin wax wood sealer, the easiest way to go about it is first to boil it till it's liquid. Then, add solvents like turpentine or any mineral spirits which do not smell and then stir. It needs to be stirred till it is thin and can soak through the wood.
To protect dining tables, bars, or any wooden surfaces from water and alcohol, walnut oil is the one to count on. Not only is it sweet-smelling but also non-toxic making it safe to use at home. Woodworkers in Europe usually choose walnut oil for their kitchen utensils since it provides proper protection.
However, it is important to remember that this contains nuts and will have adverse effects on anyone with nut allergies. It also has a tendency to become rancid over time if not cured properly. After application, ensure that it is adequately exposed to oxygen for optimal curing.
Another very popular drying oil is pure tung oil, made from the nuts of the tung tree. It is widely opted for by woodworkers since it is water-resistant. It also offers a certain amount of hardiness and is low maintenance.
However, it does need to be reapplied from time to time. In terms of food safety, it can be used on wood surfaces but only needs three days for proper curing. Once fully cured, it can also reduce the number of food particles that stick to wooden surfaces.
One of the best things about this is that it does not affect people with nut allergies. The only thing here to ensure is that it is pure and does not have solvents and varnish blends.
Ideal for cutting boards and butcher blocks is mineral oil which is non-toxic and non-drying. Made from distilled petroleum, this oil is perfect if you're looking to give the wood a natural look. Since this is a penetrating oil, it can go into the pores of the wood and cover up small issues that are on the wood's surface.
One of the best things about mineral oil is it has no smell eliminating the possibility of odor in the food if used on kitchen utensils. However, make sure it is only used on water-based stains and not oil-based stains. Also, FDA only lists refined oil as safe for food, so crude mineral oil must be avoided.
Mineral oil is not very durable and needs to be maintained by recoating at least once a month. But, it is affordable compared to other finishes and gives a very soft look to any surface.
Finally, we have beeswax, which is another one of those products that have been used for centuries. It comes straight from the honeycomb, making it entirely natural, consumable, and devoid of harsh chemicals. This is one of the main reasons that it is so popular even among modern woodworkers.
It can provide adequate protection when applied, but it needs to be re-applied from time to time because it does not go deep into the wood. After curing, it can be buffed to give a natural yet warm look to any surface which is smooth to touch.
People who use beeswax swear by mixing it with oil, like tung oil, which makes it easier to apply since it hardens quickly. Some people also mix lemon oil, giving it an anti-bacterial benefit when using it on food-related wooden surfaces.
Things To Consider
Curing Time
One of the first things that need to be considered is to ensure that the finish has been fully cured. Now, in case you were thinking cured is the same as dried, we are here to tell you otherwise. While curing and drying seem like the same thing, drying is more surface level. When it comes to food-safe finishes, curing is more important.
Curing time is the time needed for the finish to completely dry, from the deepest level to the top. When it comes to food-safe finishes, the finish must be cured fully before any food is placed on it. While looking for a food-safe finish, make sure you check the drying AND curing time which should be on the bottle.
Not All Oils
Now we know that most of the finishes on this list are wax or oil-based, but that does not mean all oils can be used. We strongly advise against using vegetable or olive oil to coat any wooden piece, especially utensils. These oils are made using fats from these vegetables and do not cure on the utensil.
This leads to the oil coming off the wood and mixing with the food giving it a bad taste. Moreover, the main issue here is that the oils have a shelf life which means that eventually, they will turn bad. And, while there might be any known instances where consuming rancid oil has led to anything fatal, why risk it.
Toxicity
While most finishes, especially those on this list, are safe for food, they still pose a threat. People who work with wood regularly would advise using masks for protection against particles, but these do not have any effect on chemical vapors. Ensure that you are in a well-ventilated area when using any finish and if that's not possible, invest in a respirator for breathing protection.
In terms of toxicity levels in food-safe finishes, we recommended boiled linseed oil and tung oil as they have the least amount of toxins. This is closely followed by shellac and water-based finishes and then lacquers. As we mentioned, they are all safe but still have some level of toxins in them that you need to be wary about.
Choosing The Ideal Finish
Penetrating Oils and Surface Sealers
It is vital to decide what the end result of the finish should be before picking one out. If you are looking for something that lacks protection but makes up in overall look, we suggest opting for penetrating oils. These oils are easier to apply and will go into the wood, giving it a more natural finish once dried.
However, if the finish is to be applied to an outdoor piece that needs protection from harsh weather conditions, then a surface sealer is better. It may be tricky to apply but definitely protect the wood for a long time. Some common surface sealers that are also food safe are shellac and lacquer.
Drying Penetrating Oil and Non-Drying Penetrating Oil
As we just mentioned, penetrating oils give an excellent finish but do not offer a lot of protection. In this category, there are two types of oils that you can choose – drying and non-drying. Drying oil is ideal if you are looking for an oil that cures appropriately (although it won't be as tough as surface sealers).
Non-drying oils are not exactly a finish but more like a treatment since it does not cure and remains wet. They can be washed off if needed and will also transfer to anything that touches the treated surface. There is also a need to re-apply them more often than other finishes.
Some common drying oils are tung, walnut, and linseed oil, while mineral and coconut oil are common non-drying oils. There are also some oils that are not food safe but can be classed under non-drying type oil like peanut, olive, and rapeseed oil which is usually avoided.
How To Apply Food Safe Finish
To apply a proper coat of any penetrating oil finish, you will need two things – a rag, preferably free of lint, and a pair of gloves. The process is fairly simple; all you need to do is pour oil onto the wood and spread it. In this step it is essential to spread it in the direction of the wood for ideal application.
After it has been applied and has soaked for 10 mins, it's time to wipe the excess. If needed, more coats can be applied. If you want a smoother coat, use a 400-600 grit sandpaper in between coats. Make sure the coat fully dries before wiping and reapplying.
Additionally, always remember to read what is on the finish bottle or do a quick search on the internet before doing these steps. These are some of the necessary steps to follow when using any finish, so get some more information before getting into the process.
Word of Caution
One very important thing to remember when dealing with oil-based finishes is that the rag used to apply the finish needs to be disposed of properly. Before we get into why, we must understand polymerization. The curing process of an oil based finish happens when it is mixed with oxygen, and that process is polymerization.
However, during polymerization, heat is generated. When the oil is spread out on wood, the surface area is usually a lot, and the layer is thin, which is why there is no heat. But with the rag, there is a need to be cautious since the rag has a lot of oil. With just the right amount of oxygen, it can catch fire.
This becomes an issue since the rag can set things on fire, like the trash box it is dumped in. And, that's why the cloth needs to be disposed of with utmost care. The process of getting rid of the cloth is straightforward and will ensure your and your family's safety.
Once you're done with the cloth, spread it out and drape it on the mouth of a 5-gallon bucket. Set the bucket in any room and forget about it for a few days. After a few days, check if the rag is dry and if it is, then toss it inside the bucket. In about a week, toss the rag out.
The reason this is effective is because the metal  will not get damaged on the off chance that the rag does heat up. It won't catch fire, and even if it does, there is no chance of it spreading.
FAQs
Is this a durable finish?
The durability of any finish depends on the shape of the wood, to a large extent. If the wooden project has grooves and crevices where the finish can collect, there is a high chance of a bacteria build-up. Similarly, even if there are any edges like in a cutting board, the finish will eventually wear off.
However, your best bet would be to use a soft finish for kitchen utensils. If the utensil will see a lot of force, a softer finish is better so that they do not flake when being used. This also reduces the chance of the flakes mixing with the food. For any other wooden surface, a hard finish is ideal.
Will heat affect the finish?
As we have discussed before, penetrating (drying) oil finishes tend to heat up while it is curing. However, once the finish is cured on the wood, there is less risk of spontaneous combustion. It will be beneficial to ensure that the wood is fully cured before using it.
In terms of any external heat, check with the manufacturer and see the label on the bottles. It is vital to understand if heat can break down the finish in case it is exposed to high temperatures. This is especially important in the case of any wooden utensils.
Are non-food-safe finishes dangerous?
Unlike olden times, wood finishes no longer have any kind of hazardous ingredients like lead or mercury. This means even if there are a few finishes that are safe for food, the others could also be used. In theory, once fully cured, any finish is okay to eat off of, and the keyword here are the words "fully cured."
Any finish is usually fully cured in 30 days. The easier way to tell is if you can still smell the finish, it is not cured. There is no hard evidence that proves that regular finishes cause any harm or shouldn't come in contact with food. Even the food-safe finishes have some solvents that allow thin layers and quick drying time.
So, while specific finishes are labeled safe for food, the others do not have any evidence of being harmful. However, the FDA does have guidelines that layout which can be considered safe. The choice on which to pick is entirely yours.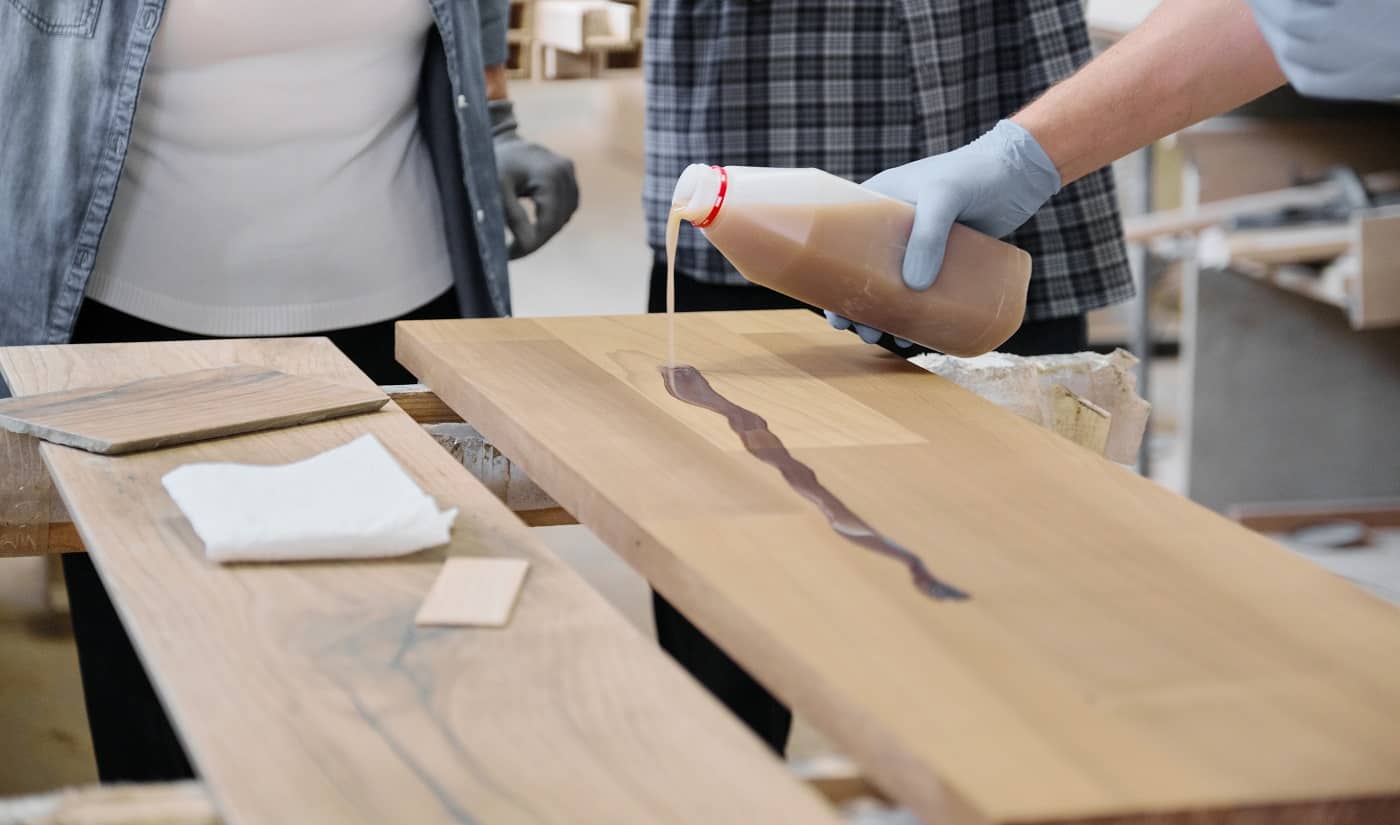 Final Words
There you have it! A quick review and guide on the best food-safe wood finish of 2022. We hope that this has been eye-opening and will be of use when you look for the perfect finish.
Before we leave, we would like to point out that a lot of research goes into understanding which finish is safe and which isn't. However, if you are conscious about the toxins, choosing a food-safe finish might be better for your peace of mind.
Whether it is for wooden utensils or any wooden surface that teething pets might chew on, we recommend food-safe finishes. After all, it is always a bit safer to go for something that you know will not cause any damage.
And on that note, we shall now take your leave, but we will be back soon. Until next time!
Related Articles
11 Best Nonstick Cookware Brands
13 Best Pastry Mat [Reviewed & Buyer's Guide]
9 Best Tamale Steamer [Reviewed & Buyer's Guide]
9 Best Chinese Cleaver [Reviewed & Buyer's Guide]
Are Red Copper Pans Toxic? [All You Need To Know]
Ceramic vs. Stainless Steel Cookware 101 [All You Need to Know]
11 Best Chef Knife Bags Under the Microscope
13 Best Steak Knives Right Now
11 Best Electric Knife Sharpeners
How to Build a Hidden Cabinet Knife Drawer Safe For Children