In the Harry Potter movies, Albus Dumbledore said that people could swim in the deepest oceans or jump over the highest mountains in their dreams. 
And it wouldn't be an exaggeration to say that at times we have all dreamt of traveling to faraway places, with nothing but mountains and trees all around. We long to escape the walls that enclose us, often feeling sad or frustrated by the dull colors that keep staring back. 
Even though it's possible to travel our sorrows away, you can do something more affordable and change your interior decor. Allow us to introduce you to the world of floral wallpapers, where you can find innumerable colors and designs reminiscent of some of the world's most awe-inspiring natural wonders.
Modern Floral Wallpaper Inspiration Ideas 
1. Laundry Room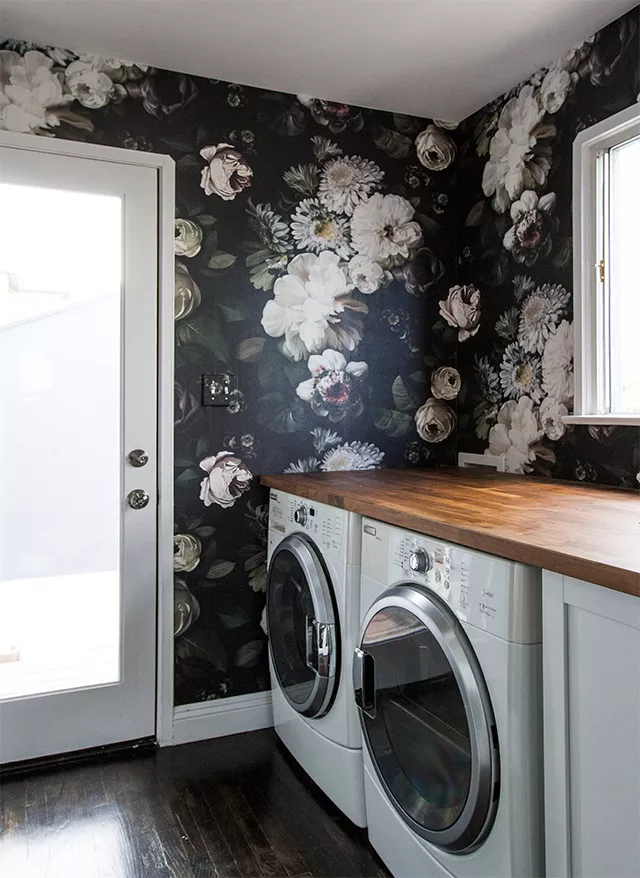 Floral prints are all the rage right now, with leading fashion designers adopting bold floral prints for redecorating different rooms of the house. An innovative technique to incorporate floral wallpapers is redecorating the laundry room with gorgeous flowers. So, you can enjoy the beauty of flowers in the garden and also be surrounded by them when inside. 
Since laundry rooms are usually small, adding a floral print will guarantee a pop of color without any supporting accessories. We recommend playing with romantic and dark hues for a vibrant appearance.  
2. Cherry Blossoms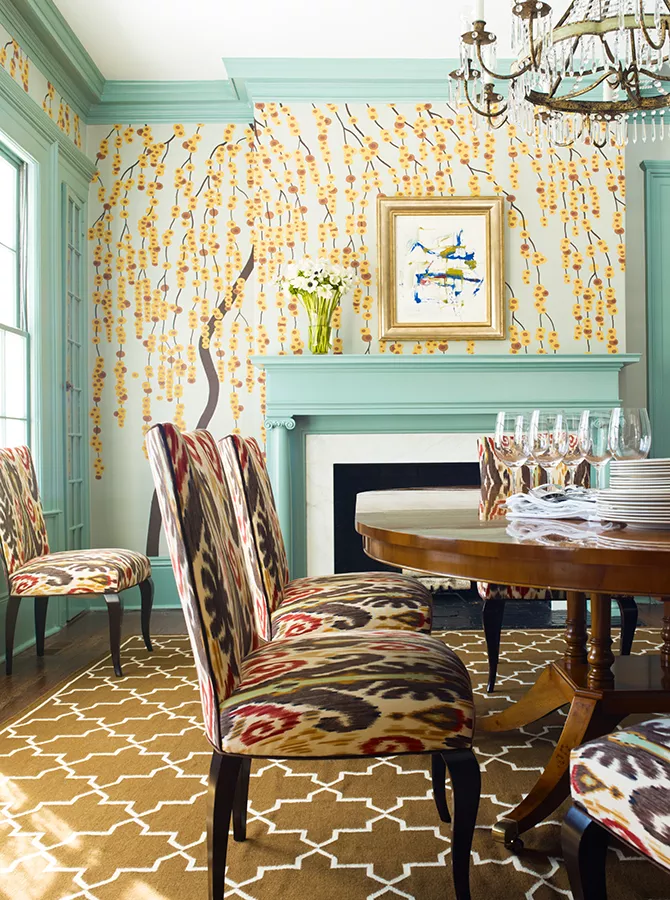 Some home decor experts use pink and yellow detailing throughout the walls while ensuring that the shades don't overpower other features. Cherry blossoms are one of the most popular options when it comes to choosing a colorful floral wallpaper. It's especially suitable for a dining room that needs renovating as the bright colors improve the appearance of the old furniture by adding a modern twist.
3. Bold Floral Prints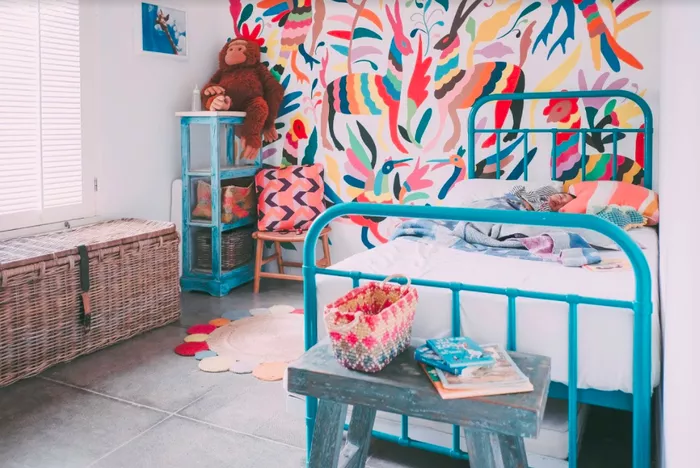 A common misconception when using floral wallpapers is that the design consists predominantly of flowers which isn't the case necessarily. For instance, when redecorating your kid's room, you can create fun and whimsical animal shapes through floral prints, experimenting with different shades. You can repaint the whole space and have matching furniture, like a bright blue bookcase and bed. 
4. Subtle Floral Feature Wall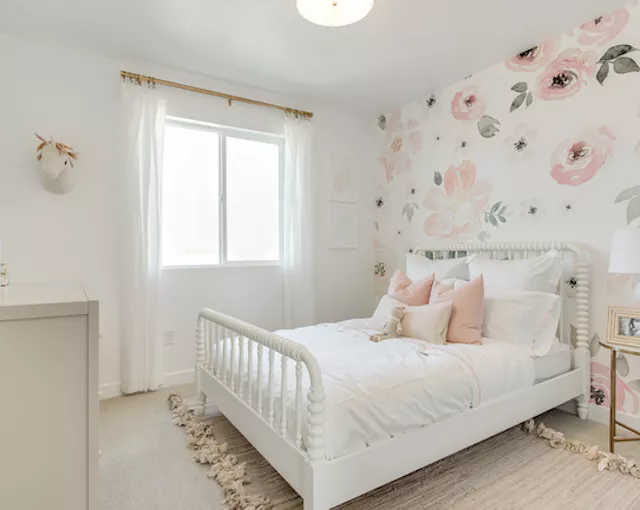 As the previous three options dealt primarily with bright colors, we have mixed things up with this subtle floral pattern. Although a bit feminine for some homeowners, it's an ideal option for kids who love the outdoors. But you can use this design in any room, particularly if you don't like loud shades or if vibrant patterns won't pair well with the interior decor.
You'll be pleased to know that the large roses deliver a lively appearance to any space having neutral colors. 
5. Show Courage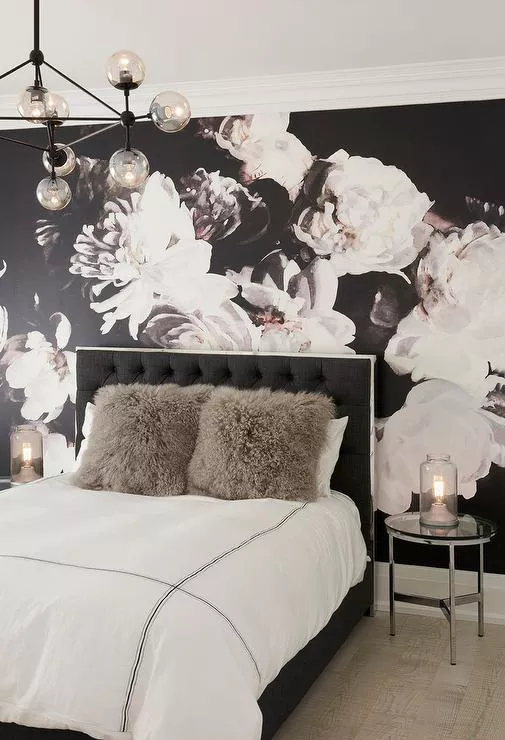 If you're not new to floral wallpaper designs, might we suggest showing more courage? To take your interior decor to the next level, it would be best to add bold colors to the master bedroom. You can incorporate floral wallpaper to create a contrast between romantic and moody prints while there's no need for fancy furniture – simple accessories will suffice. Most designers suggest dark wallpapers or mural patterns.
6. Murals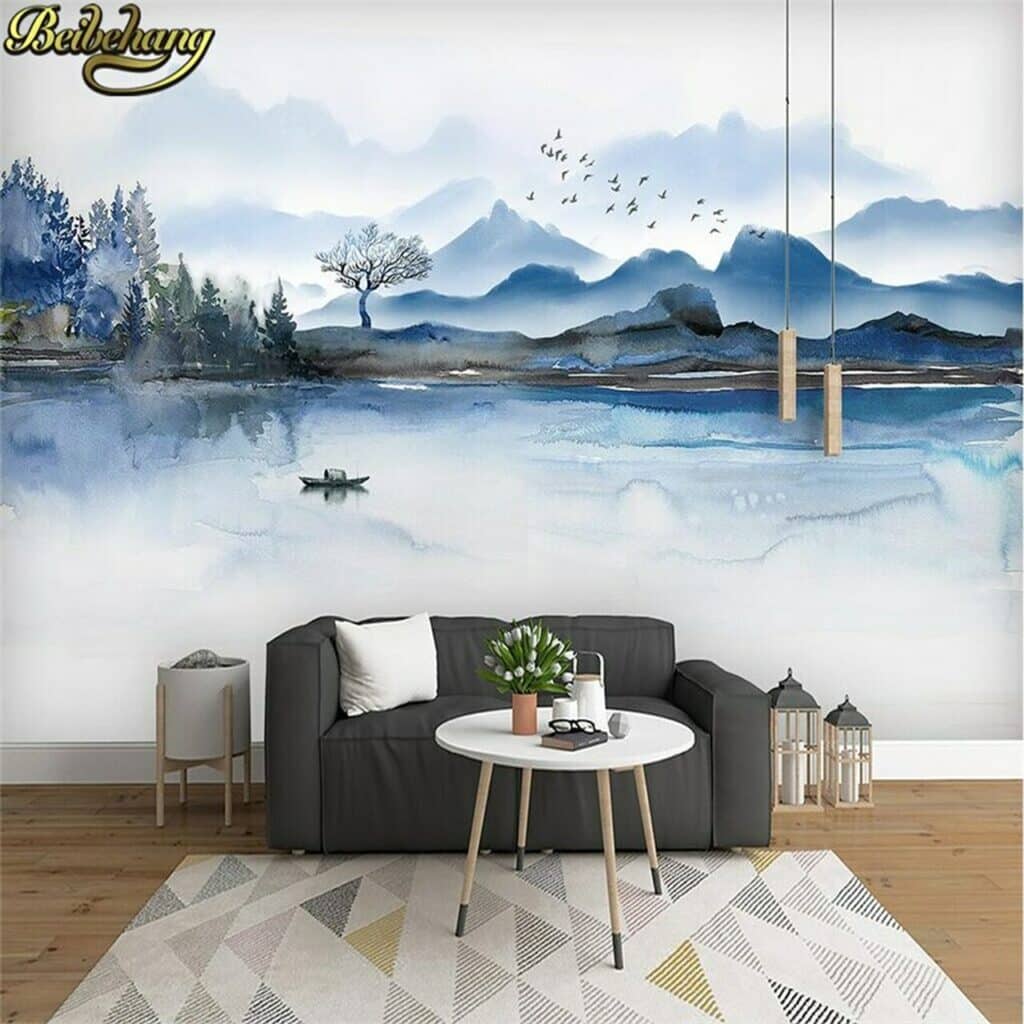 Many homeowners are inspired by mural art and wish to replicate something similar in their homes. Unless your artistic talents are profound and you're planning to paint the walls, try using paneled mural wallpaper. This design looks great in the living room or study, lending an artistic appeal to a creative environment. 
7. Graphic Walls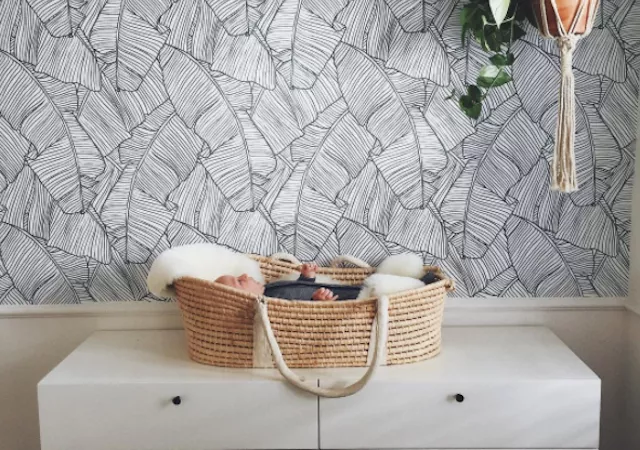 When most walls in your house are white or some other neutral shade, there's no need to tinker with the decor. Thanks to the ink-drawn lines and stunning patterns, this graphic texture is most suitable for floral wallpaper. The crisp lines will make the furniture stand out while creating an elegant vibe.
8. Nature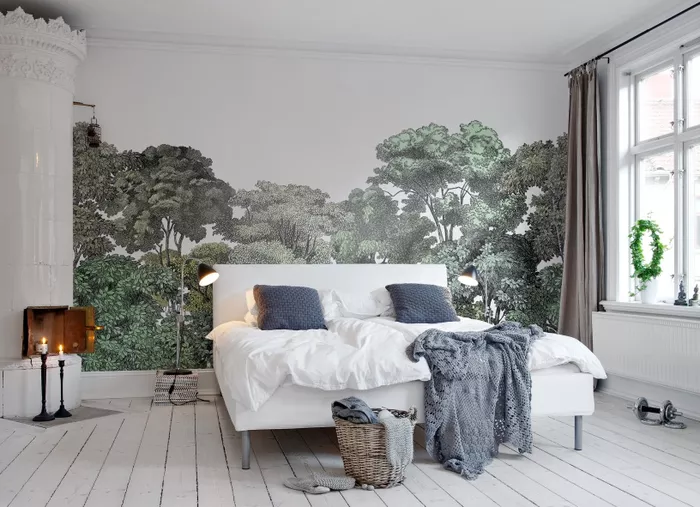 There are few better ways to decorate the bedroom than with the green hues of nature. We turn towards nature for peace whenever we are stressed, and you can replicate a similar feeling with these lush, rainforest florals. It would work better in a Scandinavian setting, whereby you can have eucalyptus plants instead of roses. 
That said, the soothing tones would even look gorgeous in the bathroom or living room. 
9. Geometric Florals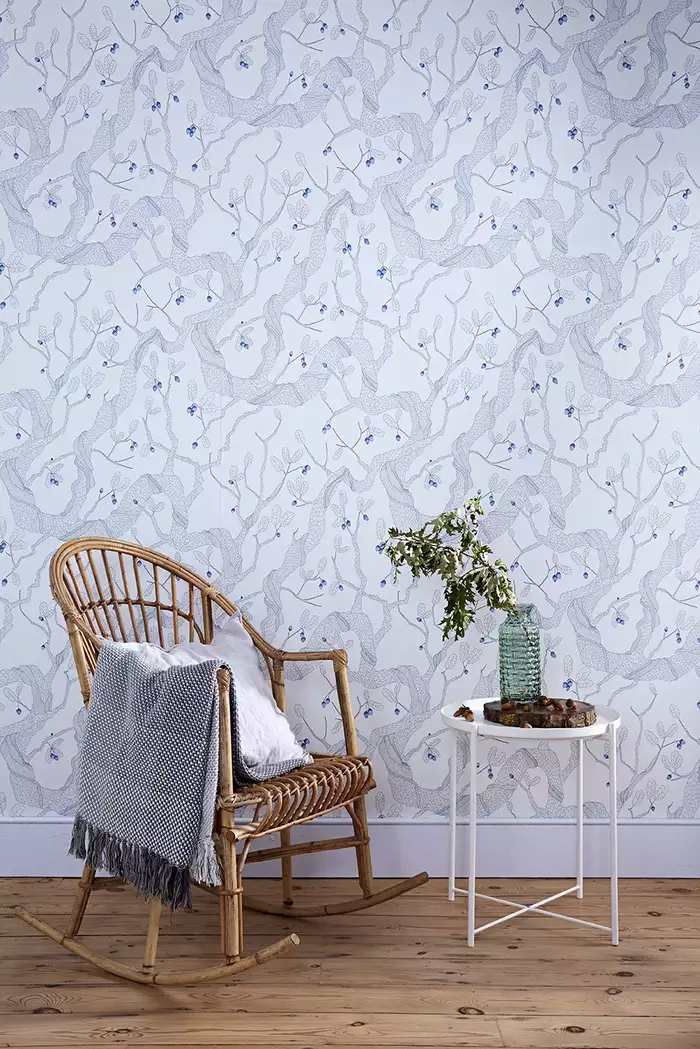 Carrying on from the jungle theme, this next option will please botanists, but it also has something for mathematicians. Geometric patterns look great on a large floral wallpaper because the intricate designs will please the perfectionist in you; use it in the nursery or at any entrance.
10. Vintage Floral Wallpaper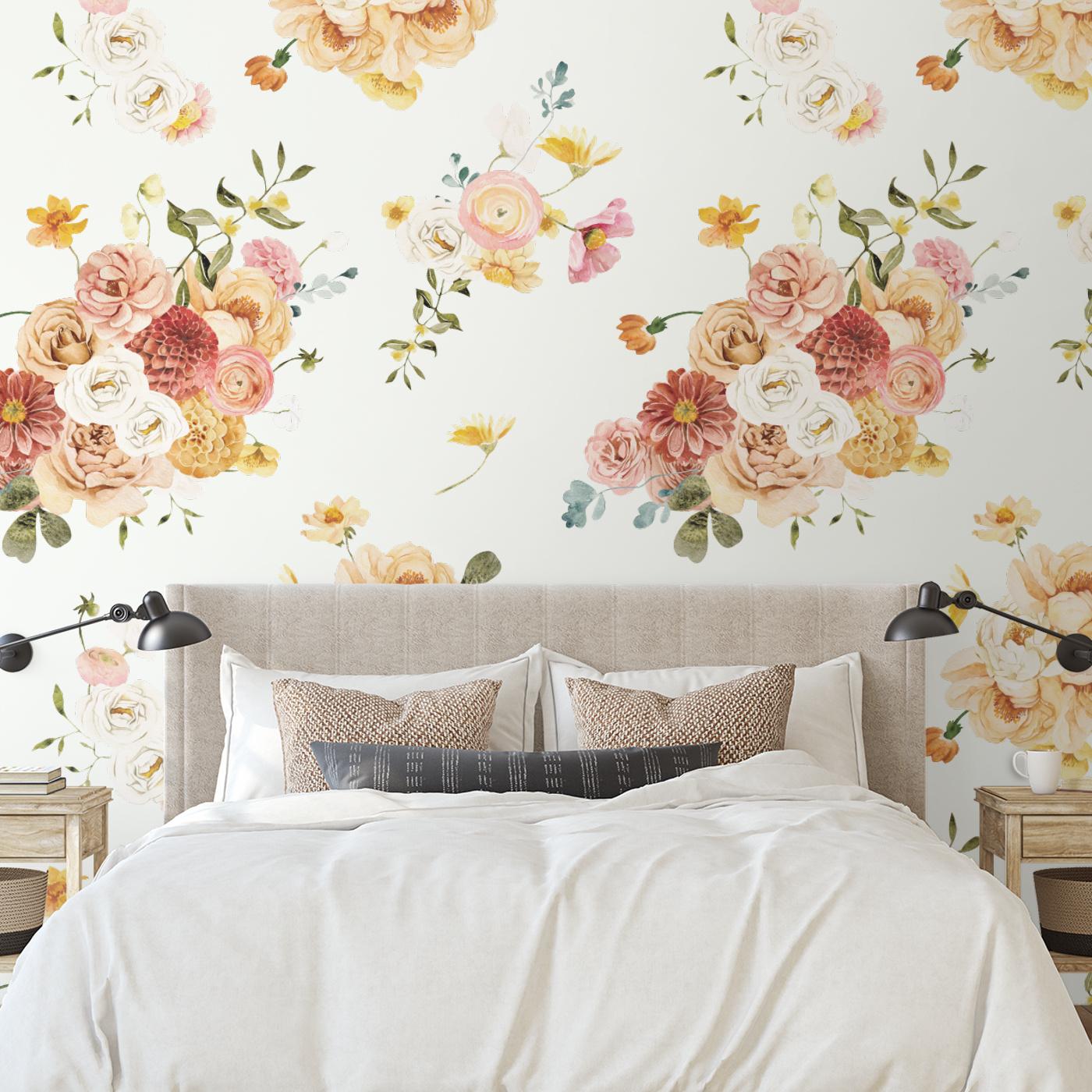 You can't go wrong by recapturing the old-world charm of simpler times by using bold and vintage floral wallpaper inside the house. It mostly consists of dark and moody tones, allowing this deeply romantic print to turn the bedroom into a lavish space befitting royals. Some people even use it in the dining room, while the remaining space retains its neutral appeal. 
In other words, the gothic print perfectly contrasts with the existing simple design. 
11. Whimsy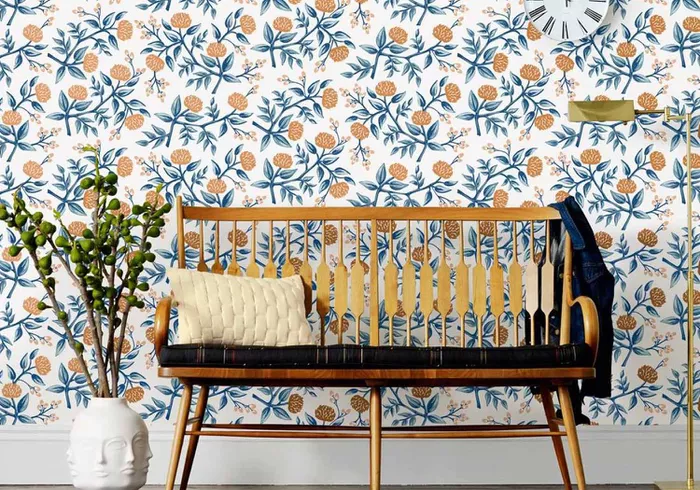 When you're confused about redoing the walls of your home, the easiest thing to do is start redecorating the halls or entryway. For that, this gorgeous floral wallpaper is ideal and will remind you of vintage greeting cards and times spent with grandparents. Simply add modern mid-century furniture in the foreground to pair them against the rivetting backdrop.
12. Rainforest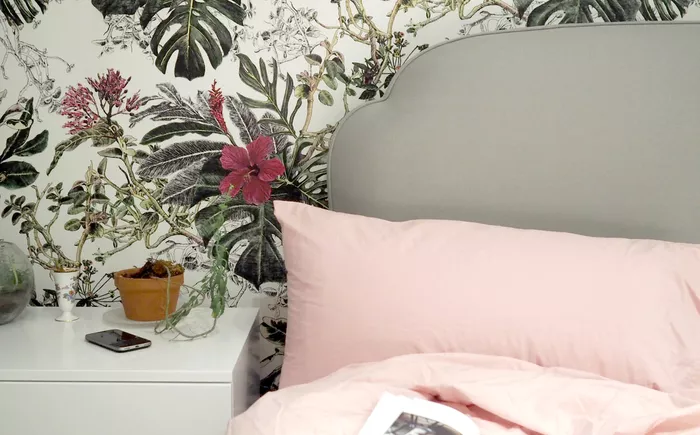 If we say rainforests, you would think of a luscious habitat teeming with birds and wildlife. And this wallpaper will transport you to the South American jungle right from the comfort of your home. We loved the neon shades contrasting with the olive and hunter green tones. Most exciting is that it pairs beautifully with beige and soft pastels. 
13. East Coast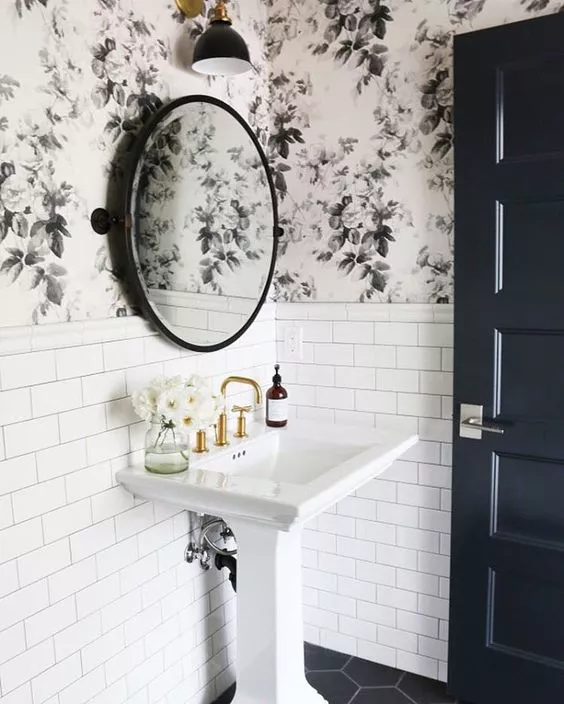 This wallpaper is perfect for people who dream about living on the East Coast and is suitable for a small space like the powder room or bathroom. It acts as a low-impact, high-effort design, complete with a black and white vintage print. You can use it as a graphic wallpaper as it pairs well with the bathroom tiles to deliver a chic appearance. 
14. Monochrome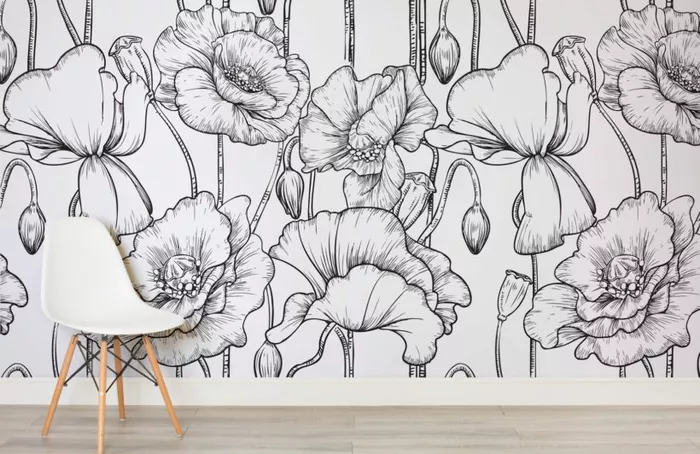 Rather than using colors, you can use monochromatic floral designs, comprising intricate drawings and sharp lines that will go well with light wooden floors. In short, it creates a unique sense of style. 
15. Green Floral Wallpaper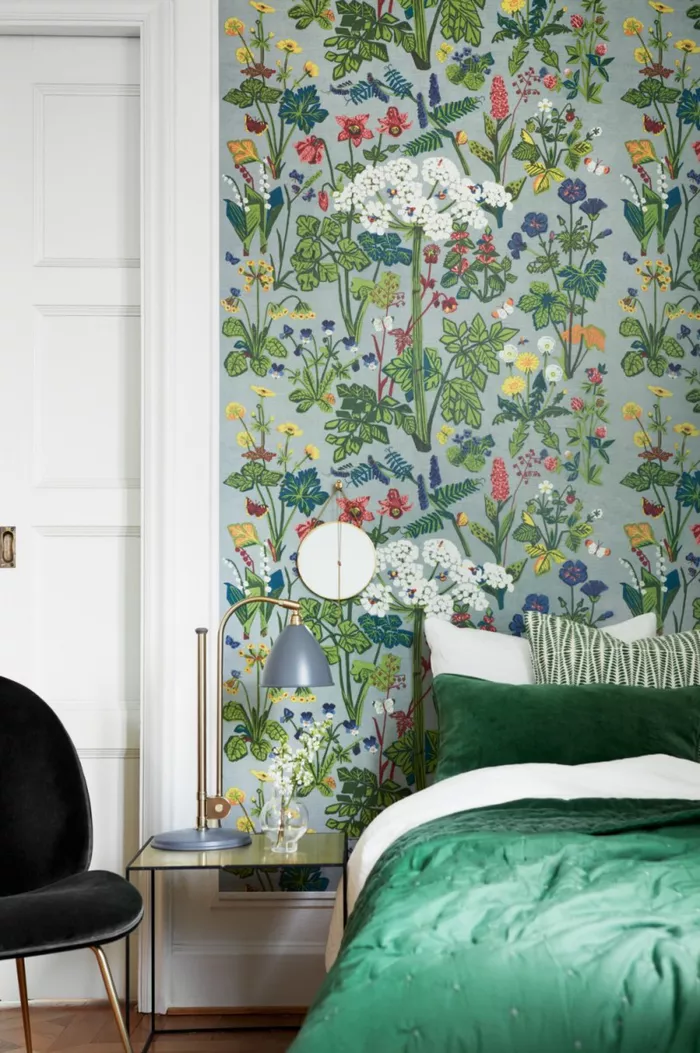 If you don't have any specific idea of how to decorate the walls, we suggest going with green. You can play with subtle shades ranging from classy rainforest green to rich, velvety, and geometric patterns. It's also possible to add green furniture, like a vibrant green bedspread, that will tie well with the floral print of freshly cut flowers.
16. Rose Print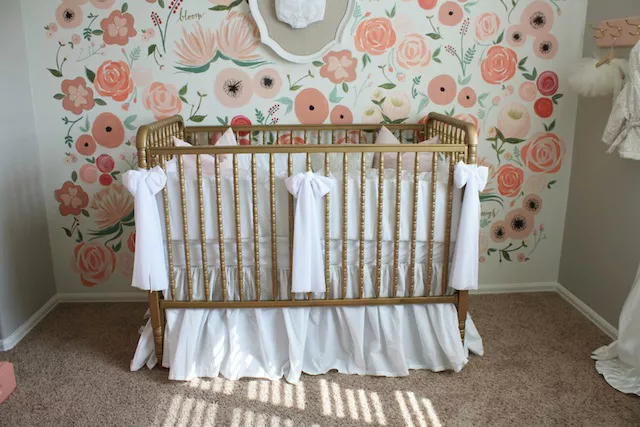 Although it's pretty common, rose wallpaper is a classic and looks the part in any nursery or kids' room. It's ideal for people with a feminine and soft taste. But you can reprint it with a twist by using soft pastel shades, poppies, and, of course, a blend of roses to make the wall pop. 
17. Darkness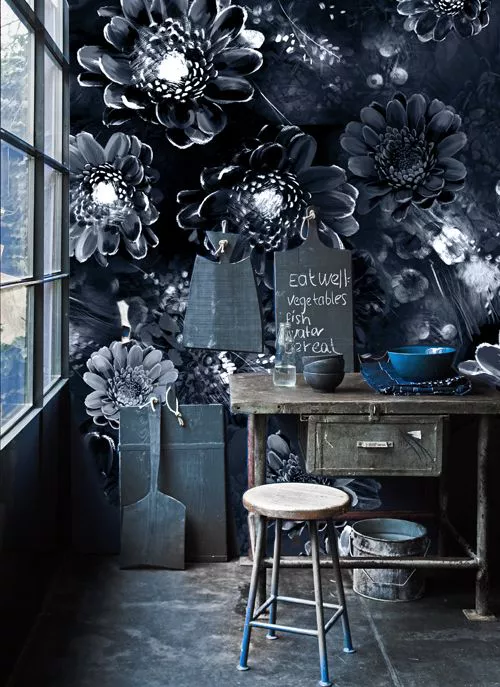 Has anyone told you that darkness can be beautiful? That's exactly what we are advocating here because, contrary to what you may believe, light and brightness don't work all the time. Instead, try black, white, and dark blue with floral patterns to create a mixture of grit and elegance. 
In the foreground, you can have industrial furniture to liven up the dark blue floral wallpaper in the background.
18. Pink 
Any person looking for a colorful floral wallpaper would invariably think about using pink, but the trick is to include more details and less color. This wallpaper will look great at the entrance or in the hallway, provided you can add some vintage floral deets served with a modern twist. In short, it's a delicate way to enhance any space, such as a country-chic kitchen or formal setting. 
19. Banana Leaves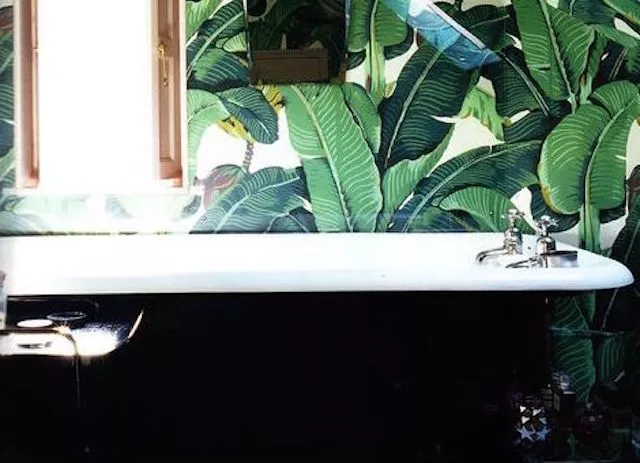 Another shade of green that will add depth to the walls is banana leaves, which is a Pantone color with a lush appearance. This trendy hue looks inspired in the bathroom, and we love how it contrasts with a black tub. But you can also make the rich green banana leaf decor work in any room. 
20. Artistic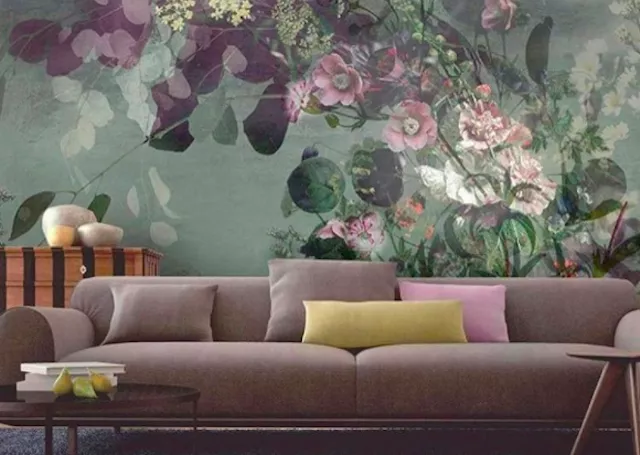 Do you visit the museum and look at famous paintings for more inspiration? Then, you'll love this artistic wallpaper that features realistic floral designs combined with muted and modern colors. The tricky part is adding accessories that go well with muted shades, so you can try including mustard yellow, white, and purple furniture.
21. Succulents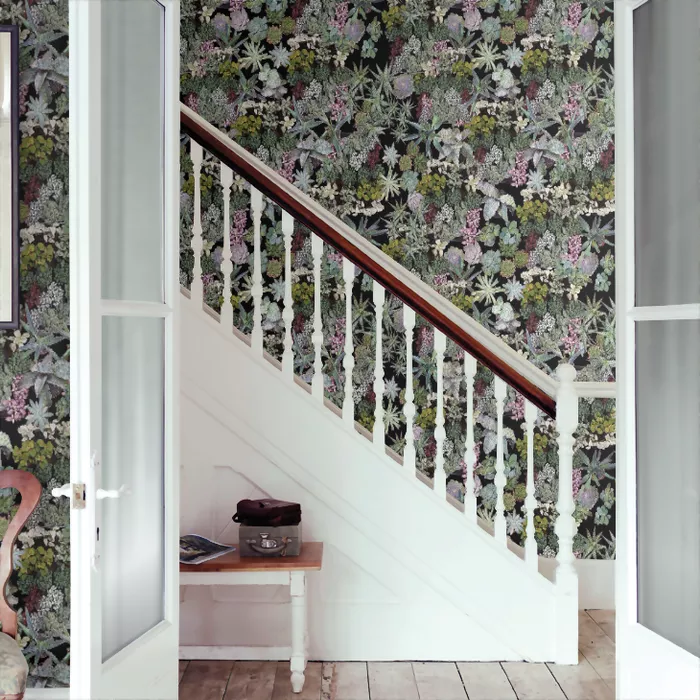 If you have succulents at home, you know that they make a great house plant. But did you know that they are also great for designing walls? Wallpapers having succulent prints are at home on the staircase or in the powder room as they scream attention. The eye-catching design will be hard to ignore, increasing the attractiveness of your house manifold.
22. Upgraded Cherry Blossom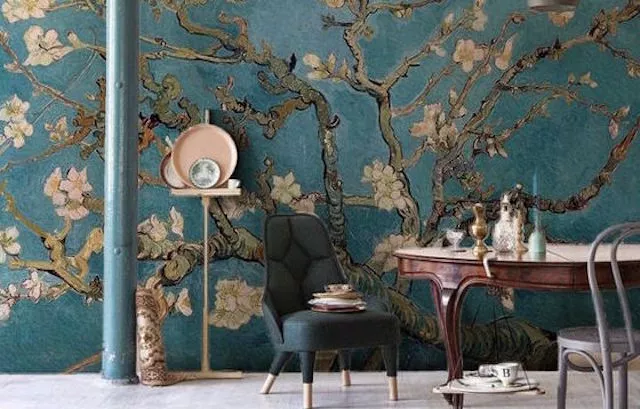 We have spoken about cherry blossoms previously, but here's a different take on this design. It's more of a high-class look, featuring darker shades of blue as a backdrop on which you can draw the cherry blossom tree. In the room, it would be best to have traditional furniture to create the appearance of an adult space.
23. Elephant Leaf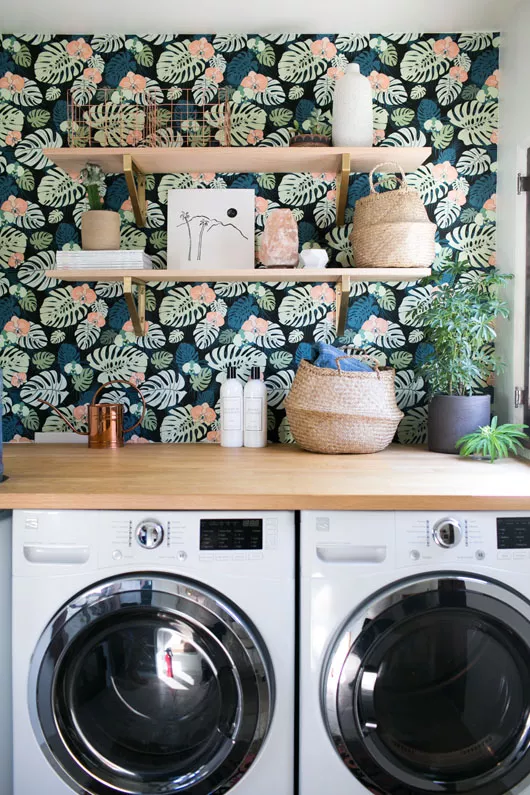 We have taken things up a notch with this elephant leaf wallpaper. Elephant leaves are big and create a stunning appearance even in a basic laundry room, thanks to various colors. While the predominant shade is green, you can experiment with other color gradations and install trinkets and shelves on the wall. 
This will help tie the different elements together, making your laundry room as vibrant and energetic as the rest of the house.
24. Monkey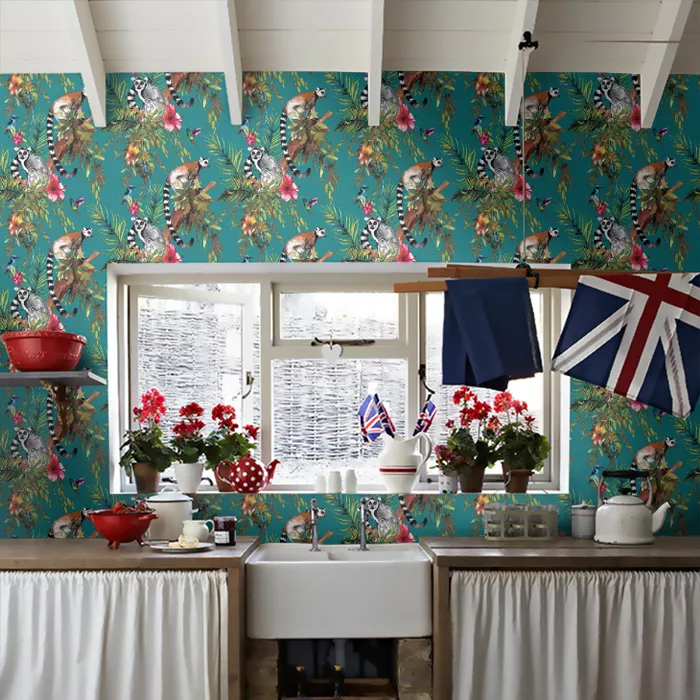 Monkeys are considered a nuisance in many parts of the world because of their mischievous attitude, but this very nature makes them a fantastic candidate for wallpaper prints. Rather than just adding flowers or trees, you can include a couple of monkeys or lemurs on the branches. It makes for an amusing yet attractive floral print, sure to be a conversation piece among guests. 
So, to ensure that the wall doesn't escape people's attention, you can use the wallpaper in the living room, sitting room, or kitchen. We found that it works best with simple and rustic kitchen furniture. 
25. Bold Wallpaper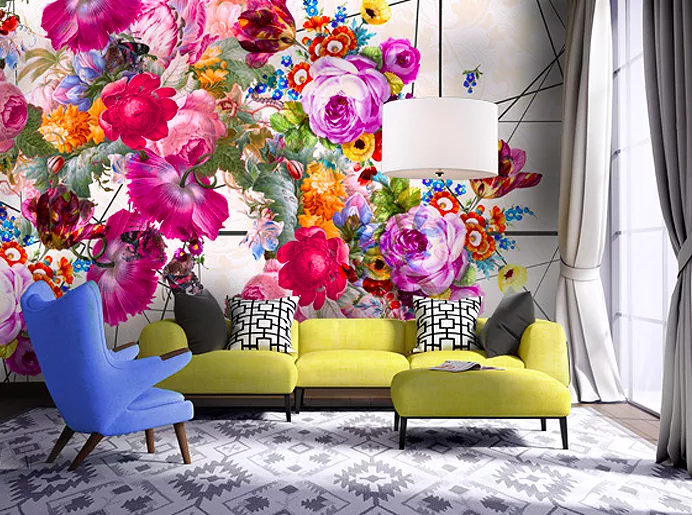 Bold wallpapers make a statement due to their attractive patterns, eye-catching designs, and exquisite drawings. Every time you walk into the room, the colors will lift your mood. Long story short, most things have to be over the top, like matching splashes of red or orange with bright yellow furniture. As silly as it may seem, this design doesn't overpower the room but lends it a refreshing quality. 
26. Girls' Room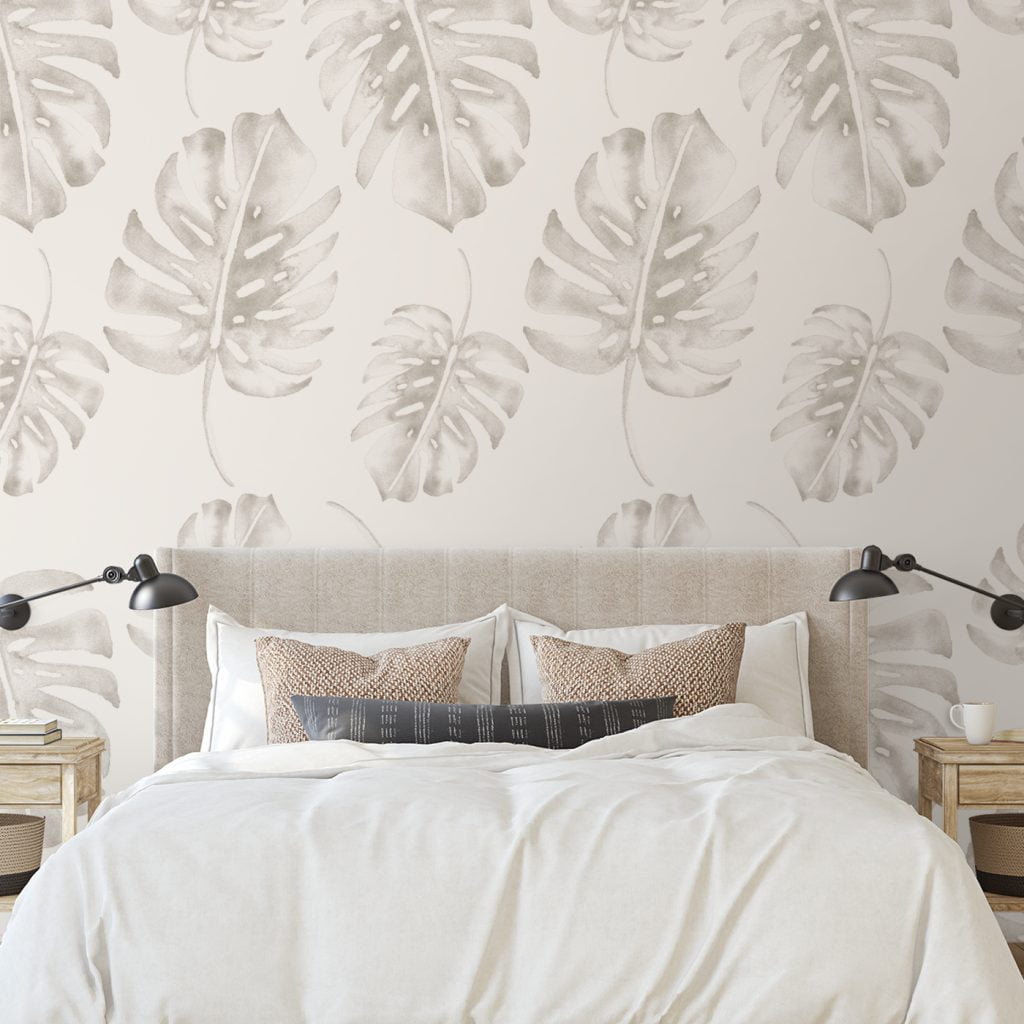 Decorating girls' rooms is slightly tricky, especially when your kids are growing up. Going with a floral wallpaper is the obvious choice for most parents but opt for something unique, like gold and white floral patterns to cover the headboard. You can even choose watercolor wallpapers to strike a chord with the kids' artistic side.
Final Words About Floral Wallpapers
These are just some floral wallpaper ideas that you can try, and there are more options available on the market. 
If you're not sure which one to go for, try using removable wallpaper so that you can take it off and redecorate the room again when needed. The bottom line is that there are so many colors and designs to choose from you are bound to find a desirable print worthy of any interior decor.
You'll be able to create a suitable atmosphere based on whether you're redecorating the study, bedroom, kitchen, or living room. Even your kids and pets will have fun at home, and won't be bored by dull shades that sully the mood!
Related Articles
41 Different Types of Wallpaper Options
How To Decorate A Large Wall In The Living Room
What Color Goes With Navy Blue And White | Things to Know
Wall Decor Ideas To Consider For Your Next Makeover Project