Are you tired of looking for the best fence for sheep? If so, don't worry, as it's a common search. 
Whether you have just started sheep rearing or are seasoned at it, the task of finding the perfect fence can be tedious. On top of that, you need to remember the rules and regulations laid down by the state while fencing an area. 
Irrespective of everything, the main concern while purchasing the fence is to get something long-lasting. More often than not, some fences fall short when it comes to protecting your sheep from predators. For keeping your flock safe, you will need to think about getting the best product, even for temporary fencing.
Having said that, the task of choosing an appropriate product can quickly get confusing due to the sheer number of choices. Hence, we thought of helping you out by suggesting some of the best fences we have tried. 
So, without further ado, let's get started!
Best Fences For Sheep 
One of the most common and robust options has to be welded wire fencing. By the name, you can understand that the metal mesh has been welded to provide extra protection against bending. And, when you take proper care of this fencing, it can last for up to fifteen years. 
You will need to stretch it between the posts using a tractor or a stretcher after attaching the wire on a side post to install this fence. Furthermore, some people like to add strips of barbed wire to the top and bottom of this fencing to keep predators away. 
While installing it on a sloped area, you should keep in mind the height of the fence. Try to go for a high fence to deter predators from entering the area. This type of fencing is available in different options depending on the height and even styles. So, make sure to check out various options before choosing one for your flock. 
Besides, you should remember that repairing welded wire fencing can take some time, especially when trees or other heavy objects fall on it. Moreover, during snowy months, pushing too much snow towards the fence might cause warping, which may lead to requiring re-stretching. 
Having said that, you don't need much to install the welded wire fence except for some posts, cable ties, the wire mesh and a couple of people.
We found the Wire Cloth Man vinyl coated welded wire to be a favorite of many because of its premium quality. The product is available in a variety of heights and lengths to let you customize it according to your farm. And, because it's lightweight, you wouldn't need to struggle with it during the process of installation. 
On viewing the woven wire fence, you might get a bit confused as it looks similar to the welded wire mesh. However, there is a subtle difference in the design as the wires in this fence are woven together for more stability. These fences usually have a distinct zigzag diamond shape. 
Furthermore, the woven wire fencing is available in several finishes, including galvanized before weld, galvanized after weld, and vinyl coated. The openings on the mesh are uniform to provide equal protection throughout the perimeter. 
Installing the woven wire fencing is just as easy as the welded wire mesh, and it even works well for uneven grounds. Having said that, if you are going for the chain-link woven wire, try to avoid cutting through any chains as it may dismantle the whole fencing. You can even add electric offset wires along with electric fence chargers to electrify this perimeter fencing.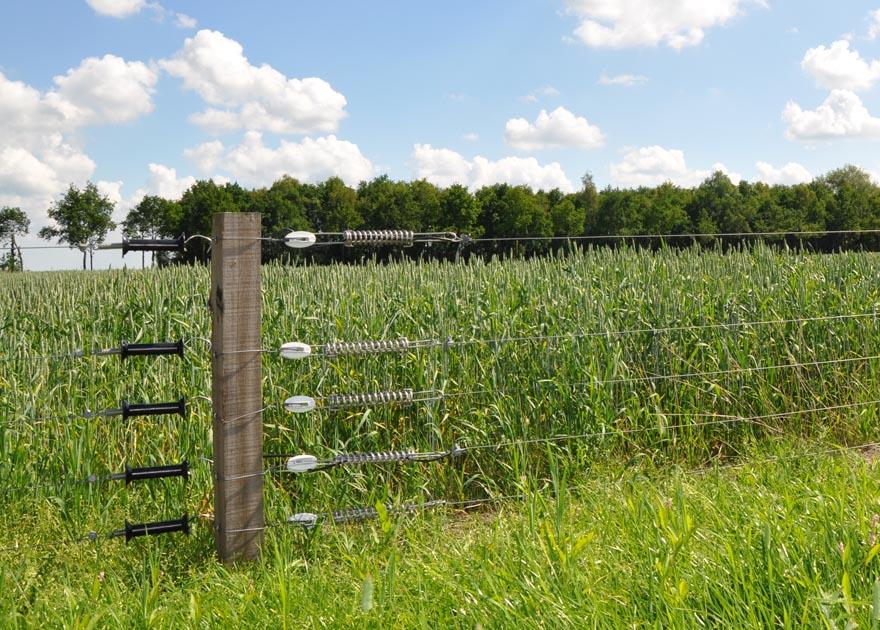 This is another option in our list that has been popular for use in all kinds of farms. The popularity of all kinds of electric fences comes from their ability to keep the predators away at all costs. In this fence, five to seven galvanized wires are installed parallelly. 
However, if your budget allows it, there is always an option to install more strands to increase the height of the fence. 
The high tensile electric fencing works well for creating a boundary in large pastures, and it can also be used to section small areas for individual flocks. Apart from keeping the predators away, this kind of fencing lets your sheep learn to remain in their designated area. 
One of the things to know about high tensile wire electric fencing is that it doesn't come cheap. On top of that, you'll need to arrange to attach the fence to a source of electricity to get it working. Even though it can take a while to put up this fence, it does last a long time without much maintenance. 
To work with high tensile electric fencing, you will need a number of things, including high tensile wire, t-posts, fence wire de-reeler, wire tensioner, tensile wire crimper, and a post driver. If you don't have any idea about installing fencing, it's best to leave it to a professional. 
A side note – the ground wire is usually not attached to electricity to avoid its close contact with the land which might be hazardous for your sheep. 
When it comes to keeping sheep or, for that matter, any livestock, there are many farmers who want temporary fencing for temporary paddocks or rotational grazing. In that case, going for costly permanent fencing like high tensile fencing might not be the best option. 
However, the option of going for plastic mesh fencing is always there as it's easy to install, and you can take it out according to your preference. The plastic fencing usually comes with plastic stakes that make driving them into the soil easier. 
Additionally, if you have a small flock, then plastic fencing can help contain the sheep within a particular area of the farm or pasture. On top of that, these meshes are much more flexible compared to wire fencing. 
Having said that, because it's made of plastic, the mesh does have a tendency to get tangled. But if you are a bit careful, these temporary fences can be installed without getting into any trouble. To install this perimeter fencing you will need heavy duty zip ties, the plastic mesh and t-posts. 
Along with different colors, the plastic mesh temporary fencing is available in a variety of sizes and styles. One thing you need to check is the holes or wire spacing present in the mesh to ensure that it isn't too large to let in predators. 
5. Electric Poly Rope Fencing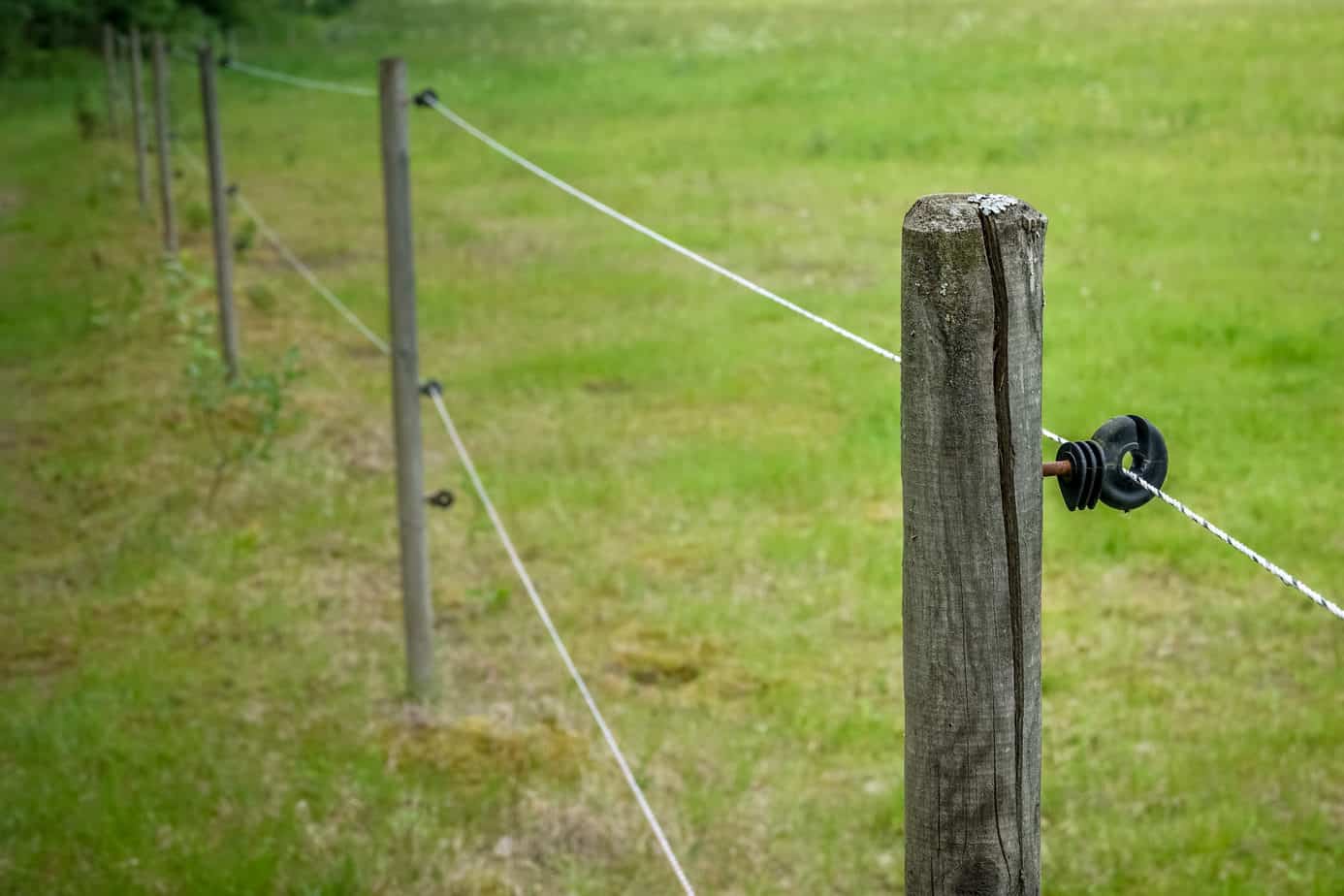 If you are looking for the convenience of an electric fence but aren't ready to pay the price, the next best option can be electric poly rope fencing. Rather than coming in the usual mesh design, these come in the form of a rope, and you will need to arrange for the fence posts for installation. 
Because these come in the form of ropes, it's on you to decide on the post spacing and fence line spacing. The electric poly rope is often used to divide farmland or separate livestock based on flock size. 
One thing to remember is that these ropes aren't as strong as the steel wire fence. Hence, even the slightest disturbance or bad weather may end up disrupting the setup. 
Nevertheless, the use of electrified poly rope can be an excellent way to teach your sheep to obey physical barriers. And, it does make good semi-permanent fences, particularly for rotational grazing. 
While buying the electric poly rope, you need to ensure that it has been made for the specific livestock. Usually, for a sheep farm, you need to get a poly rope that has been specified for sheep, goats, or similar-sized animals. 
Another thing you will require to set up the fence is galvanized steel connectors. They work the best in holding the rope together while ensuring easy conduction of electricity. Do check the size of the connectors so that they can easily fit with the ropes. 
Even though we have already mentioned options that can be used as an electric fence, electric netting has become a popular option, especially for temporary fences. These are usually available in rolls of plastic mesh that are intertwined with thin metal wires for conducting electricity. 
Moreover, installing these nettings is pretty easy as they already come with spikes to set them on all kinds of territories. Most brands claim that you can set it up within a few minutes and even take it down just as quickly. 
The selling point of these electric fence wires is to provide adequate fencing while cutting down on the costs. Nonetheless, it's essential to find suitable electric netting that would work for your flock. And, while buying the electric fence system, you will also need to get an AC/DC or solar energizer of the recommended capacity to power the electric netting. 
On top of that, your electric fence will most probably come with pre-installed fence posts, so you will need to drive them into the soil with plastic struts. Make sure that the openings are small enough to deter predators found nearby. 
Electric Netting Options 
Among the different products available on the market, the Premier ElectroNet sheep and goat netting fence is a well-made product that's easy to install and durable. It also has a pretty good length to cover a large area. 
Other than that, there's also theTrident electric sheep/goat netting, another highly recommended sheep fence with eight conductive lines. The dark green color also keeps it visible for humans to stay away from the electric fence. 
While going through the various options for electric fences, we also found the Petween electric fence netting that works with diverse livestock animals, including sheep. This perimeter fence is made of UV-resistant plastic to increase its durability even when you use it under bright sunlight. 
Next, there's the Starkline All-Purpose electric utility netting that works well to build interior fencing for sheep or goats. It even contains fiberglass posts to keep electrified wire steady. Similar to the prior product, this electric wire netting comes 100% pre-assembled to avoid confusion while installing. 
If you have been searching options for sheep fencing for a while, there's a chance of coming across barbed wire fencing. It's one of the most common techniques used in livestock fencing to deter predators. Along with being cheap, barbed wire fences are widely available compared to other fencing options. 
Installing barbed wire fences is pretty similar to putting up any fence line. You will need to secure the barbed wires on several fence posts to keep them in place. The material of the posts will depend on you, but earlier wood posts were the primary option. These days, everything from fiberglass posts to steel posts and even concrete posts are available for enhanced durability. 
When purchasing the barbed wire, the essential factors are the length of the wire and the gauge. Barbed wires are often wrapped around posts, so consider that before deciding on the length. 
Another deciding factor is the style of barbed wire that you want to get, and the high tensile barbed wire is made of high-quality materials. 
Now, if you have decided on creating your sheep fence with barbed wire, it's crucial to care for your safety. Hence, buy some protective gloves and work from the bottom up to getting hurt by the wires. 
You do need to know that many people are against the fence style of barbed wires as it can harm both the predators and your livestock if they come too close to the fence. However, to avoid that, many people have opted to use barbed wires with other fence wires to minimize the chance of anyone getting hurt. 
To be honest, when it comes to semi-permanent fencing for sheep, nothing can beat the traditional sheep fencing option like using wood panels. The wooden fence panels can be joined together to create a strong barrier to deter predators and protect your sheep from wandering out of the grazing ground. 
There was a time when almost all livestock farmers used to use wood fences, but times have surely changed. One of the key reasons behind this is the highest cost margin of wood that doesn't allow you to cover many areas. On top of that, wood fences can easily get damaged due to rain or snow and require pretty hefty costs to repair. 
But, if you are looking for interior fences to divide your farm or garden into smaller sections, then wood fencing options can still work. Remember to apply weather protection paints on the wood fence to increase its durability. 
Furthermore, there are options available where the wooden fence has been combined with welded wire for extra protection. However, these are only meant for a relatively small space. Whatever be your choice, try to calculate the approximate number of wood fence panels you will need. 
Usually, a lot of digging is involved in installing the wooden fence as you want the picket or wood posts to sit in the ground firmly. Even though a single person can do the job, it's always better to consult a professional. 
9. Diverse Options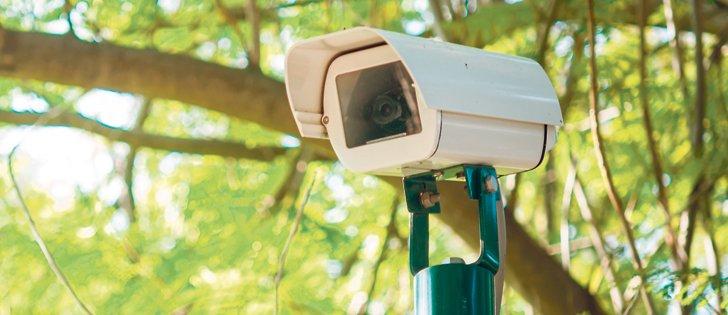 Apart from the sheep fencing options that we have mentioned till now, there are a couple of other ways to deter predators from your farm. One of the most effective methods is using bright lights as they do a great job of scaring away all kinds of animals. Something like solar lights can also do the task pretty well when you position it at the right place near the fence. 
Additionally, if your budget is higher, think about installing surveillance cameras around your farm. Along with keeping an eye on the predators, cameras work well to keep track of free-range animals and protect you from losing livestock.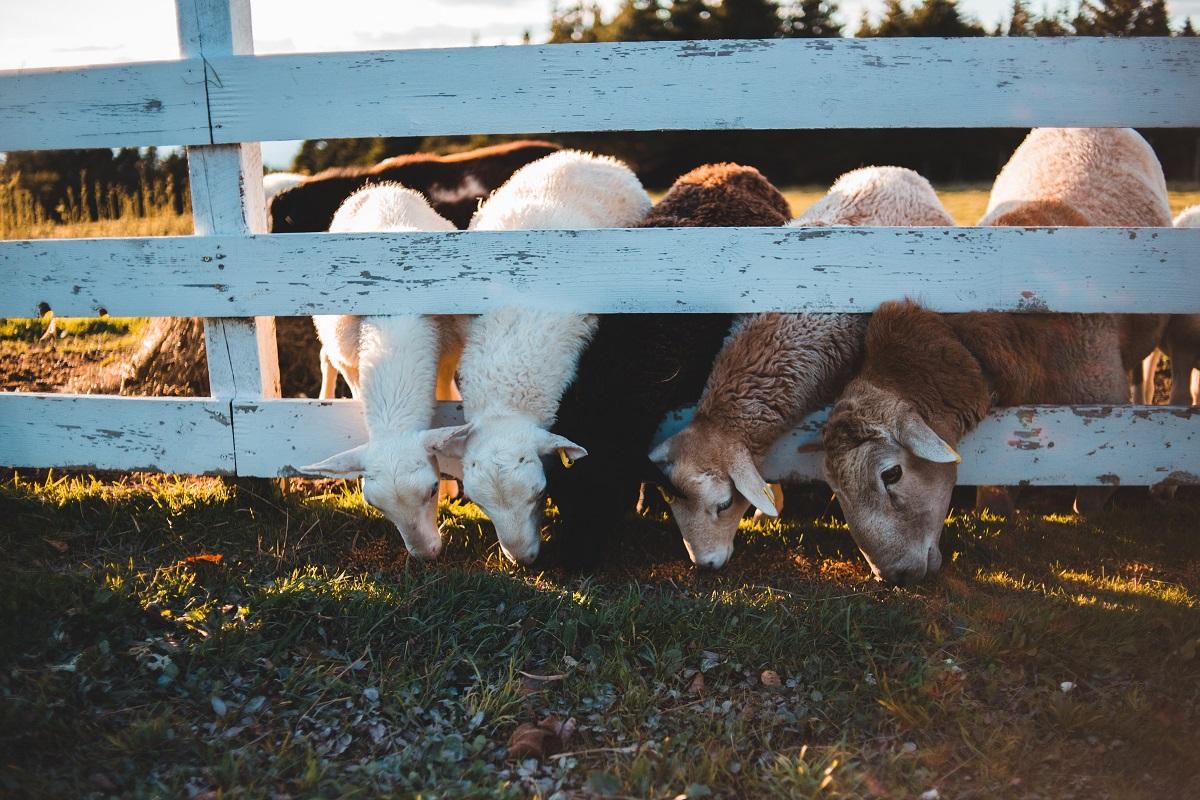 Final Thoughts 
That's all the options of fencing for sheep that we had in stock for you. We would like to say that every farm may have a different requirement based on the size of a flock or even the type of sheep you are keeping. 
Hence, before choosing any particular fencing option, make sure to do your thorough research. Besides, we have tried to keep a balance of various fencing options present across the budget. If you are new to rearing sheep, it might be a good idea to consult a professional who has experience in fencing areas for livestock. 
With that, we have reached the end of this topic. Don't forget to tell us about the fence you prefer for your sheep. 
Till then, goodbye and take care! 
Related Articles 
Best Fence For Noise Reduction
13 Best Solar Electric Fence Chargers
10 Best Electric Fence for Chickens
7 Best Electric Fence Chargers
7 Best Sprayers For Staining A Fence
How To Build A Horizontal Wood Fence
Get Creative With These 23 Fence Decorating Ideas and Transform Your Backyard
17 Best Fence Design Software Options
26 Insanely Cool Garden Fences Ideas to Materialize This Summer
33 Brilliant Home Fence Gate Design Ideas to Protect Your Home in Style