If you're new to raising goats, you must learn how to keep these beautiful creatures safe. And goat fences can be a great help. 
Goats are inquisitive by nature, so they tend to wander off anywhere and everywhere. Although they are peaceful creatures, leaving them to loiter around your backyard might not be such a good idea for the plants in your garden. They can cause a rampage on your flower and garden beds and ruin all the plants. 
Fencing is the best option to confine goats and prevent them from running away. However, choosing the right fence could leave you in a pickle if you're inexperienced. 
And that's why we're here to help you.This article will provide a detailed list of some of the best fence for goats that you can use. 
So, without wasting any more time, let us get on with it! 
Why Do Goats Escape From Fences?
How many times have your goats attempted to escape their fencing? More times than you can count, we're sure. Goats are curious animals, and they don't hesitate to jump over a fence or chew on the wires. 
However, at times, they might escape the fence purely by mistake. Goats are itchy animals as insects often get into their coats when they feed on bushes. So, they tend to scratch themselves against the fence, which can easily break the fence wires and rip apart the staples and nails. And with a broken fence, it becomes that much easier for goats to wander off anywhere. 
That said, including makeshift playsets, such as old tires, can help you get their attention away from the fence. Furthermore, goats are herd animals and are happier in groups. So, a goat in a herd is much less likely to test your fences than a goat living alone. 
Best Fence For Goats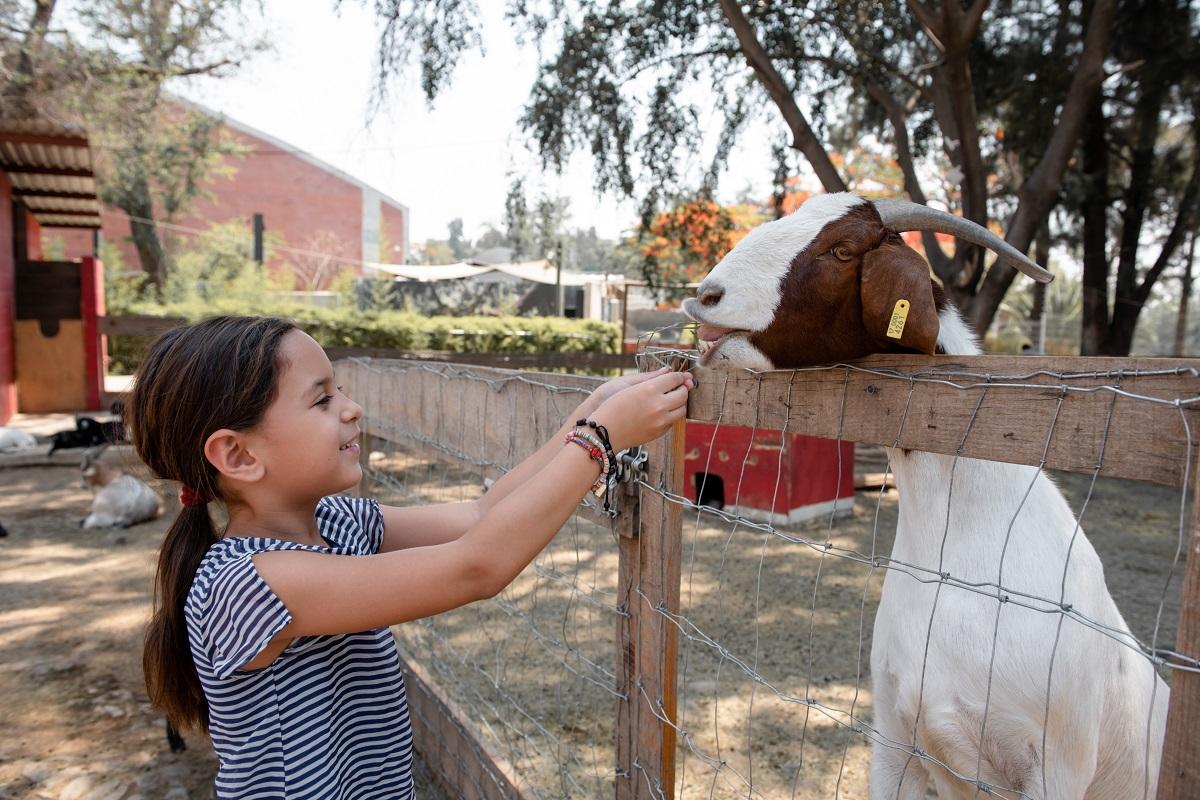 When you are breeding goats, it is best to choose the fence depending on the size of your breed. You'll need taller fences if you have a large breed, such as a Boer. But if you have a smaller breed, like a Pygmy goat, you'll need a fence with a durable bottom so that the goats can't squeeze under the fence and escape. 
Furthermore, to make it even easier for you, we've compiled a list of the best goat fencing options for confining your goats. So, let's take a look! 
1. Woven Wire Fence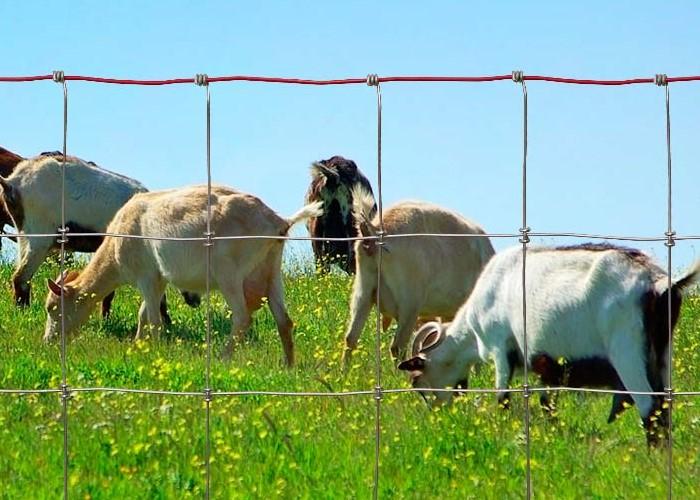 Cattle herding and rearing can be a huge challenge even for the best farmers. So, if you're planning to start breeding goats, we'll suggest you start small. And if you're new to herding or breeding, it is best to start with basic equipment and slowly climb your way up. 
That said, a woven wire fence can be a good option if you're breeding goats within a small area. The woven wire fence, also famously known as the square wire fence, is ideal for heavy-duty uses in a goat farm. 
However, the woven wire fencing style can be expensive. It can cost you a small fortune to install this style of fence in a widely spread area. So, it might not be the best choice if you're planning to raise goats over a large farm area. 
On the other hand, if you're planning to add a small expansion to your existing farm area to breed goats, a woven wire fence can be handy. 
Furthermore, the sturdiness of this fence ensures that it doesn't rip away even when the goats start rubbing themselves against it. Also, if you have horned goats, it won't fall apart when the goats constantly test it with their horns.
However, this style of goat fence might not be suitable for confining small goats. The goat kids might get their heads stuck in the large square heads of the woven face. Or perhaps, they may slip through these large square grids. So, it is best to consider all these factors if you finally decide to install this fence style for your goat farm. 
The welded wire fence is similar to the woven wire fence, but it is less durable than the latter. It also costs much less as compared to a woven wire fence. So, if you are planning to breed goats across a large and wide pasture area, welded wire fencing will be a much more affordable option. 
Furthermore, the square grids in welded wire fencing are small, so you don't risk losing smaller goats. That said, the goat kids won't be able to pass through or get their heads stuck in the small square grids. 
However, the fencing materials are not very sturdy, so this style of fence cannot hold up well when the goats rub themselves against the fence or push it with their horns. Additionally, you'll need to secure the bottom of the fence so that the goats cannot squeeze under it and escape. Most goat owners often use large slabs to hold the fence to the ground. 
Overall, this fence style can be a good choice if you're planning to raise a small breed over a widespread area. 
And if you're looking for a good welded wire fence, you may like the YARDGARD 308302B by Midwest Air Technologies Inc. It is a galvanized welded wire fence model available in various lengths. It comes in 25-inch, 50-inch, and 100-inch rolls. 
You can also choose between different heights, ranging between two and six inches. Moreover, the fencing comes with a galvanized zinc coating that makes it resistant to rusting. 
3. Chain-Link Fence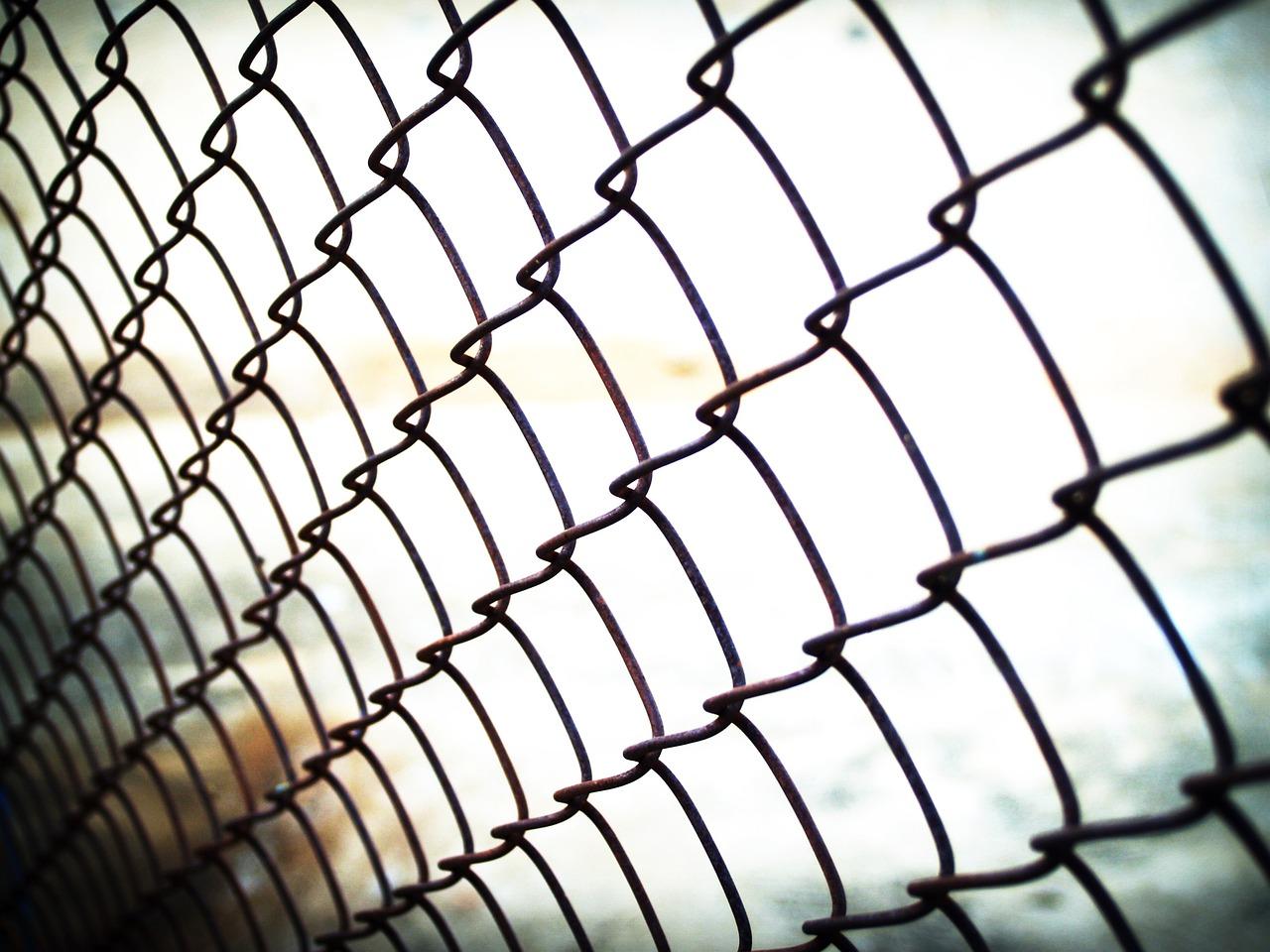 Chain-link fences are quite easy to install and can be used as a multipurpose fence to confine goats, sheep, cattle, and even poultry. A chain-link fence comes with fence attachments that you can easily install without hiring professional help. It comes with vertical, upright poles made of either iron, steel, or concrete, in addition to the steel chain-fence attached to these poles. 
Additionally, chain-link fencing is highly durable and requires almost no maintenance. So, it can easily withstand the goats rubbing themselves against the fence or racking their horns on it. This fence style is also very well-grounded, so the goats can't squeeze under it and escape. 
Moreover, this fencing style also prevents goats from slipping through the chained grids as the grids are very small. Also, the smaller goats do not risk getting their heads stuck in the fence. Hence, chain-link fencing can be suitable for breeding both young and adult goats and keeping them safe within a confined space. 
And that's not all; chain-link fences are highly affordable. So, you won't have to break the bank even if you want to install this fence style across a large farm area. It works perfectly for both small and large spaces. 
4. Goat Feedlot Panel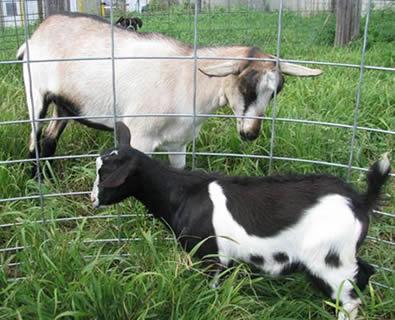 If you're planning to breed and raise your goats in a small and flat area, installing feedlot wired panels might be a good idea. This fencing material is exceptionally sturdy and ideal for heavy-duty uses. Indeed, you need not worry about the wire panels bending or collapsing when the goats rub themselves against it or decide to test their horns on it. 
Moreover, if you decide to breed more than one animal within a single pen, this goat panel can work beautifully to separate goats from other animals and cattle. This cattle panel style also comes with grids that can be either 4″ x 3″ and 4″ x 4″. So, rest assured, smaller goats won't slip through the panels or get their heads stuck in the panel grids. 
The fence panels are also well-grounded, and you won't be needing any additional slabs to hold them to the ground like in welded wire fences. At the same time, the goats won't be able to squeeze under this feedlot panel because of the sturdy and well-grounded bottom. 
The cattle panels are also low-maintenance as they come with a one-piece welded construction having a four gauge wire. Hence, you need not worry about any maintenance cost if you decide to install these goat panels in your pen. 
They are also available in different sizes. But, we suggest you go for those cattle panels that are at least 4-feet tall and 16-feet long. It is a pretty standard size for safely confining your goats in the breeding area.
5. Combination Of Welded Wire And 3-Board Fence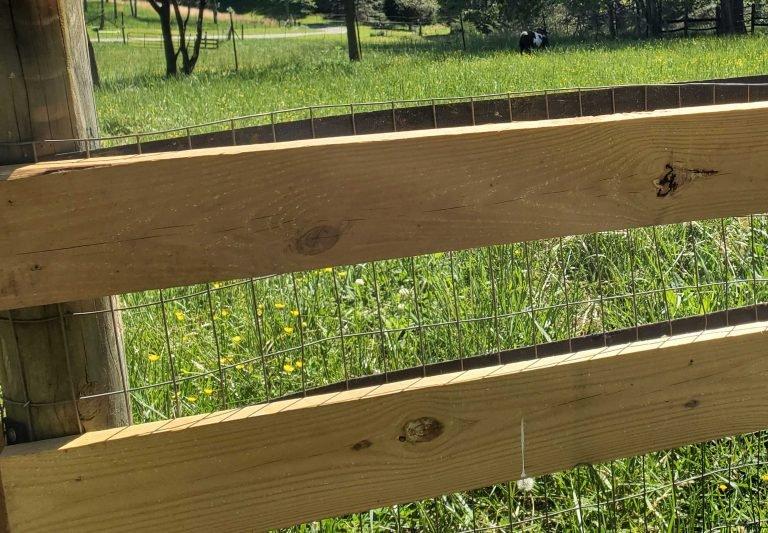 If we are being honest here, the combination of welded wire fencing with wooden boards is the most durable and effective style offense when dealing with goats. But, it can be pretty expensive. So, we don't recommend this fencing style if you are planning to breed goats over a huge farm area. 
However, installing this fence style can be a good option if you want to separate your goats from other farm animals. Additionally, you can easily prevent the goats from getting their horns caught in the fence by choosing the welded wire fencing having smaller square grids of around 2-by-4 inches. Furthermore, the welded wire fencing also ensures that the goats won't slip through the wooden slats. 
You can also save a lot of money if you decide to install this fencing combination, as it does not require the more expensive woven wire fence. As the wooden boards offer all the added protection, installing a welded wire fence will do the job. Hence, you need not go for the costlier option of installing a woven wire fence with wooden boards. 
Moreover, the welded wires also work exceptionally well with the wooden boards. They lay flat and straight against the slats without causing any bends in the fencing. Thus, it can be a great and effective solution in keeping your goats safe within a small farm area. 
Electric fencing is the most effective and inexpensive style of fencing when it comes to confining goats.Here, the only expense comes while purchasing the charger. You can either go for a traditional electric charger or solar electric fence chargers. 
It is worth noting that high-voltage electric chargers that produce 7,000 to 10,000 volts of electricity can easily keep the goats from escaping. Furthermore, electric fences are also effective in keeping predatory animals away from the breeding area and ensuring your goats' safety. Also, these fences are fairly affordable and available in different models.
For instance, you can go for the Premier Electronet 20100 netting fence for sheep and goats. It comes with PVC posts with six-inch metal spikes. You can purchase a Premier Solar or an AC/DC charger for optimum results.  The Petween Electric Fence Netting can also be suitable for confining both goats and large poultry. However, in the case of this product, the electric fence for chickens differs from that for goats. 
Alternatively, the Trident Electric Netting can be a good option for confining goats and sheep. It has a height of 35 inches, which can be ideal for raiding larger breeds. Additionally, the eight conductive lines ensure that the goats can't slip through the wires without getting shocked. 
The Starkline All-Purpose Electric Utility Netting is also a good electric fence for goats. The galvanized spikes and nine fiberglass posts ensure the durability of the fence. It is best to pair it with a high-voltage charger or energizer to get the best results. 
Fencing To Prevent Goat Kids From Escaping
Dealing with adult goats is one thing, but if you're trying to confine baby goats, you have to go the extra mile to ensure their safety. If they are not contained within the fenced area, they can get into a lot of trouble as they are easy prey for the predatory animals. So, it is best to select a fencing style that can't slip through easily. 
A woven wire fence can be a good option as they usually come with small square grids that won't allow the young goats to slip through the fencing. But, you need to carefully ground the fence so that the baby goats can't squeeze under it and escape. 
In contrast, an electric fence might not have any effect on baby goats, and they can easily slip through the wires as they cannot feel the sensation of any electric shock. But as they grow older and start to feel the effects of the electric shocks, they'll naturally stop testing the fence. 
As the kids grow bigger, you must lower the fences to the ground so they can't slip through the wires without getting shocked. It is better to keep these tricks and tips in mind when you're fencing the breeding area to prevent the baby goats from wandering off anywhere.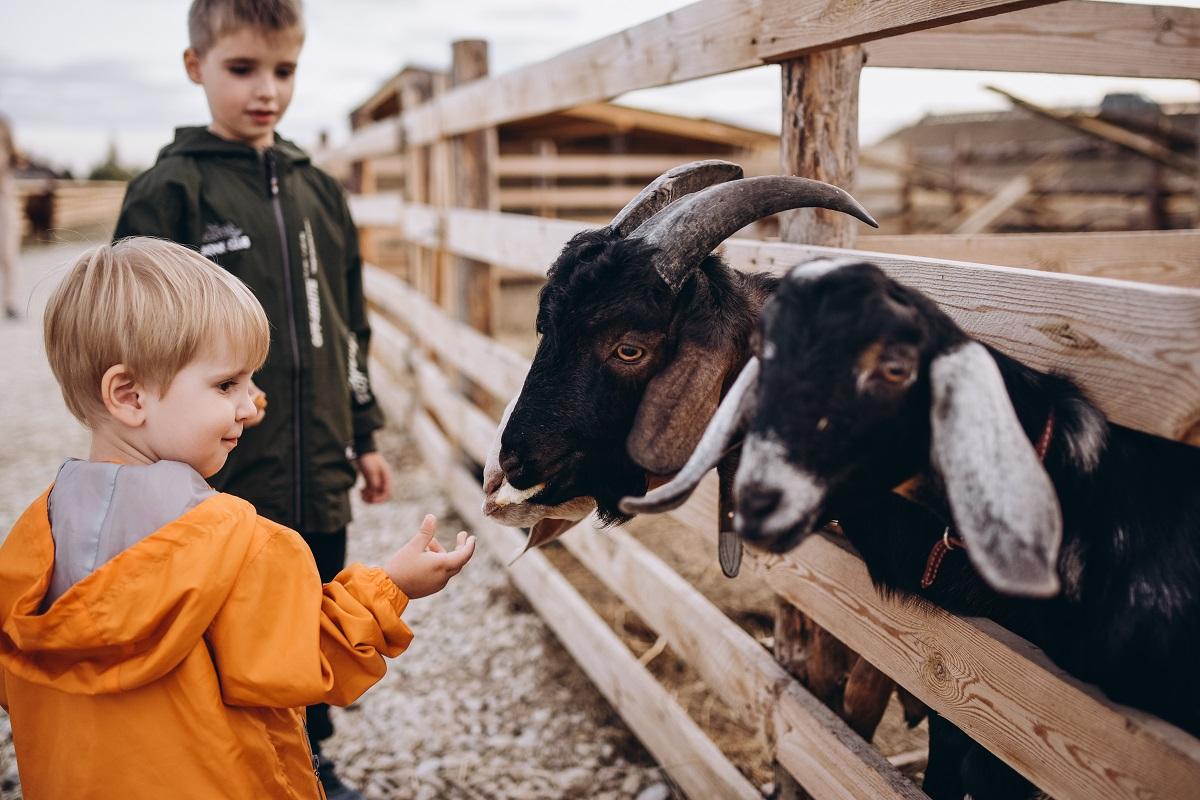 Final Words 
Choosing the right fencing option to prevent goats from escaping a safe breeding area can be an overwhelming task. You have to consider what's best for the animals. And we hope you're feeling a little more confident about installing the right fence for your goats after going through our article. 
We suggest that you consider the breeding area and your available budget before finally selecting a fencing style. However, an electric fence is always an affordable option suitable for large and small farm areas. 
You can also try the combination of welded wire fencing with wooden boards if you have a small breeding area as it is very sturdy. Anyhow, we think it is best to have multiple options available while installing the best fence for your goats.
So don't sit on the fence anymore, and buy the best fence for your goats today. 
Related Articles 
Best Fence For Noise Reduction
13 Best Solar Electric Fence Chargers
10 Best Electric Fence for Chickens
7 Best Electric Fence Chargers
7 Best Sprayers For Staining A Fence
How To Build A Horizontal Wood Fence
Get Creative With These 23 Fence Decorating Ideas and Transform Your Backyard
17 Best Fence Design Software Options
26 Insanely Cool Garden Fences Ideas to Materialize This Summer
33 Brilliant Home Fence Gate Design Ideas to Protect Your Home in Style