Pyrography, or wood burning, is a wonderful art which allows you to create lasting designs on wood using certain tools such as pokers and today we have an epic selection of free printable wood burning patterns to get you started.
Whether you're new to the wonderful art of wood printing, or you've been practicing it for a while, there are a number of options both in books as well as online which are available for you to browse through.
Here, we present to you 28 of the best wood burning patterns, with the correct mix of both beginner-friendly and professional level patterns, these are extraordinarily random in topic, if you are looking for a couple of really simple patterns to get started with, the Colorful Journey realized by Homesthetics in collaboration with Designaissance is perfect to start with, a bit playful in nature and extraordinarily easy to follow. You can find the Colorful Journey here, click each item to get to the step by step tutorial where you will find the template you are looking for.
If you are uncertain where to start we have reviewed on Homesthetics best wood burning tools & pyrography pens that will help you get started on your pyrography endeavors.
Without further ado, let's begin with the our random collection of patterns!
Free Printable Wood Burning Patterns
Monogrammed Cutting Board Pattern
Cutting boards are one of the most common daily use items which are invariably made of wood. So, why not spice things up and give your cutting board a personality of its own? You can easily monogram your cutting board using the most common wood burning techniques. This would also make for a wonderful gift. Check this article out for step by step instructions!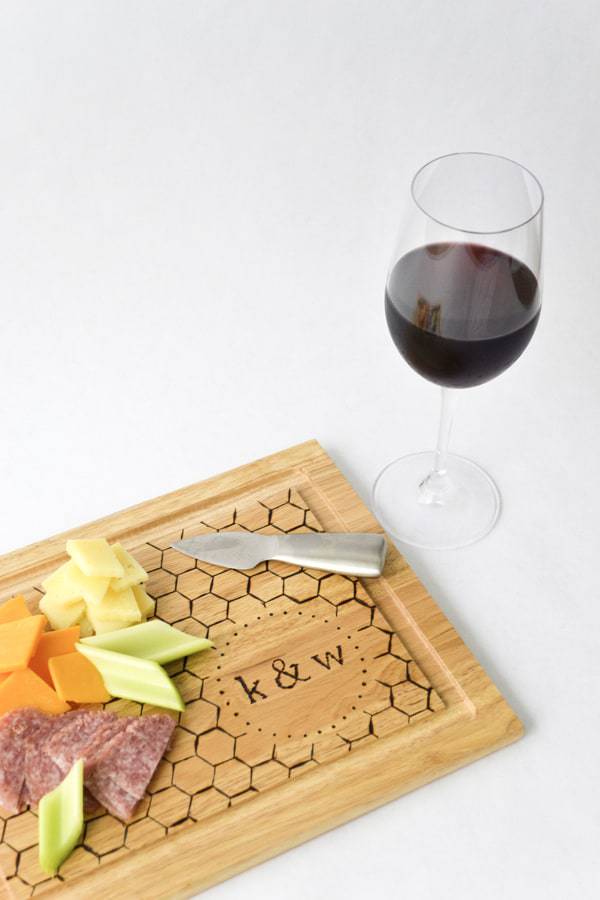 Flowered Deer Pattern
For those of you who have been practicing wood burning for a long time, here's a challenging enough project – this is an incredibly detailed artistic deer, with exquisitely crafted features. There are a number of lines, curves, shapes and details to keep you busy for a long time. This is much larger in scope than the rest, so make sure you get some practice in before going for the kill!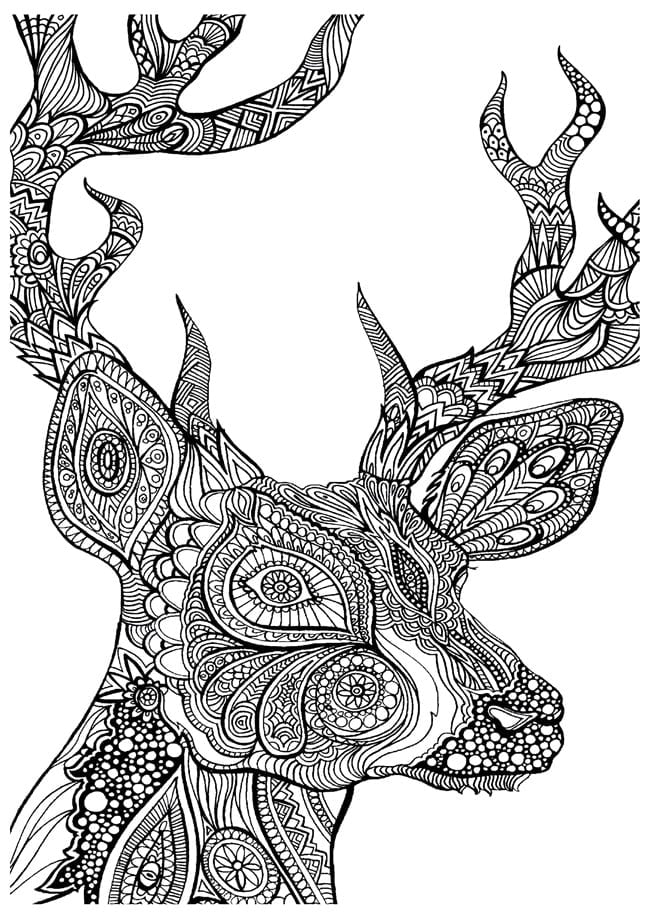 Image via www.everythingetsy.com
Artistic Owl 

Pattern
Owls have long been associated with art, ever since prehistoric eras – and this pattern is atavistic to those eras of tribal designs and patterns. This one, just like the deer pattern, will require you to have precise control over your wood burning pen angles as well as pressures. There are many fine details, such as creases, curves and areas which require detailing!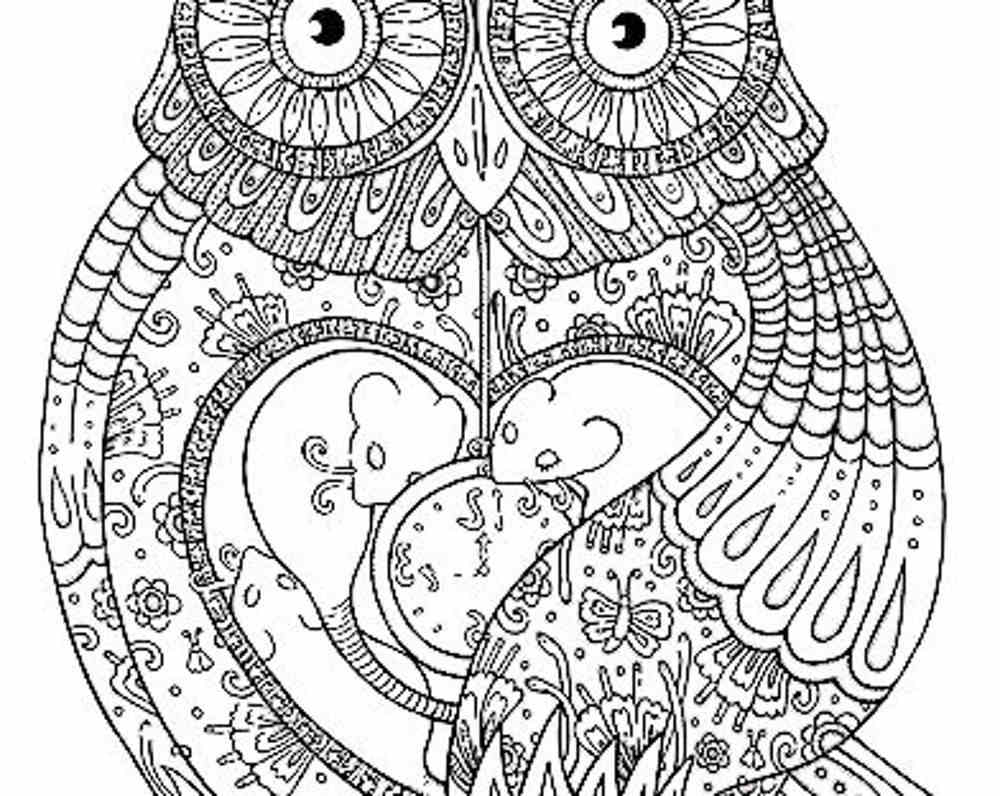 Download the free pattern here.
Puzzled Turtle Pattern
This pattern is equally recommended for professionals and beginners, simply due to the fact that it has many familiar tribal patterns which will be easy to do if you have experience. In case you're starting off, this will serve as an advanced level project which is sure to bump up your areas of competence once you're done. This Hawaii-themed turtle design is sure to get heads turning!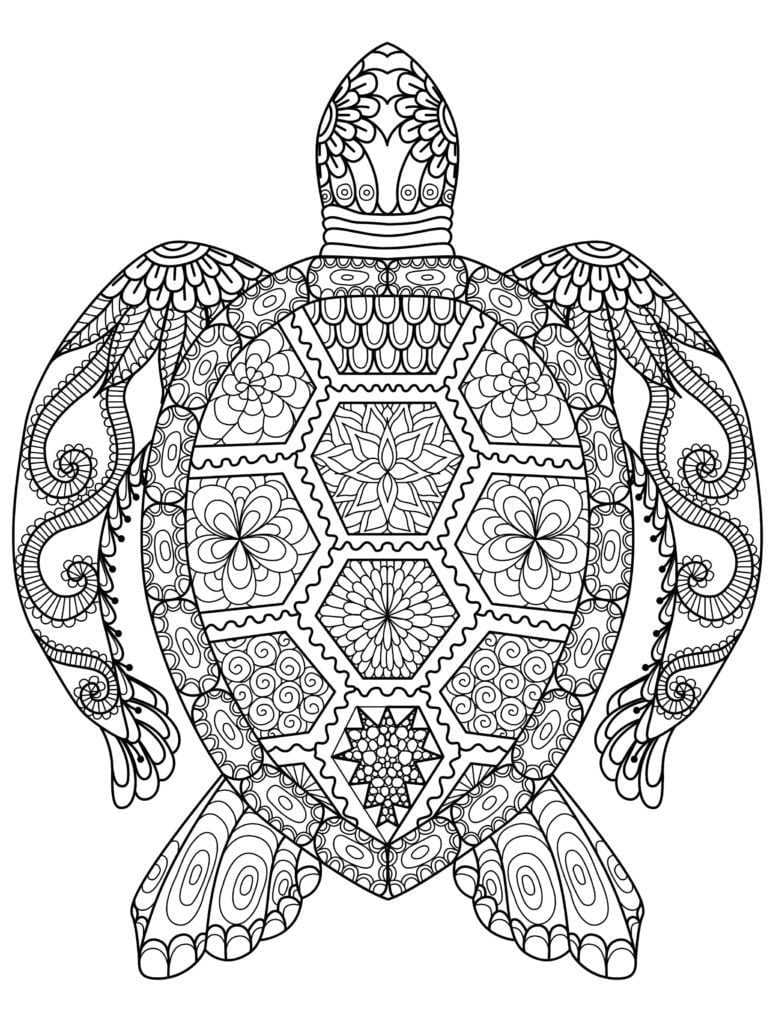 Image via ziho.me
Hatched Unicorn Pattern
The unicorn, which has been part of many fantasy themed artistic designs, finds its way to wood. This unicorn based pattern is perfect for those who prefer fantasy-related designs over the more realistic ones. It is not as complex as the owl and deer patterns as described above, although it has its fair share of crevices, lines, curves, and unique shapes.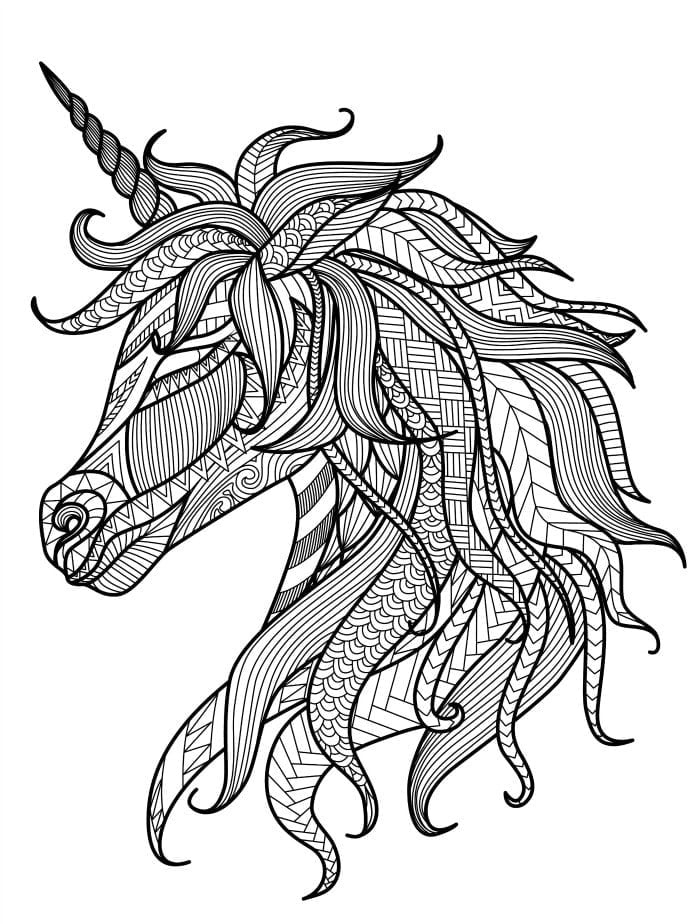 Download the free pattern here.
Funky Leaves Pattern
This pattern is sure to be a hit among those who like to surround themselves with horticulture and floral designs. This design is an ideal fit for gardens, nurseries, and houses which are set in the midst of nature. Further, flowers are generally liked by everyone, so this will be perfect for a gift!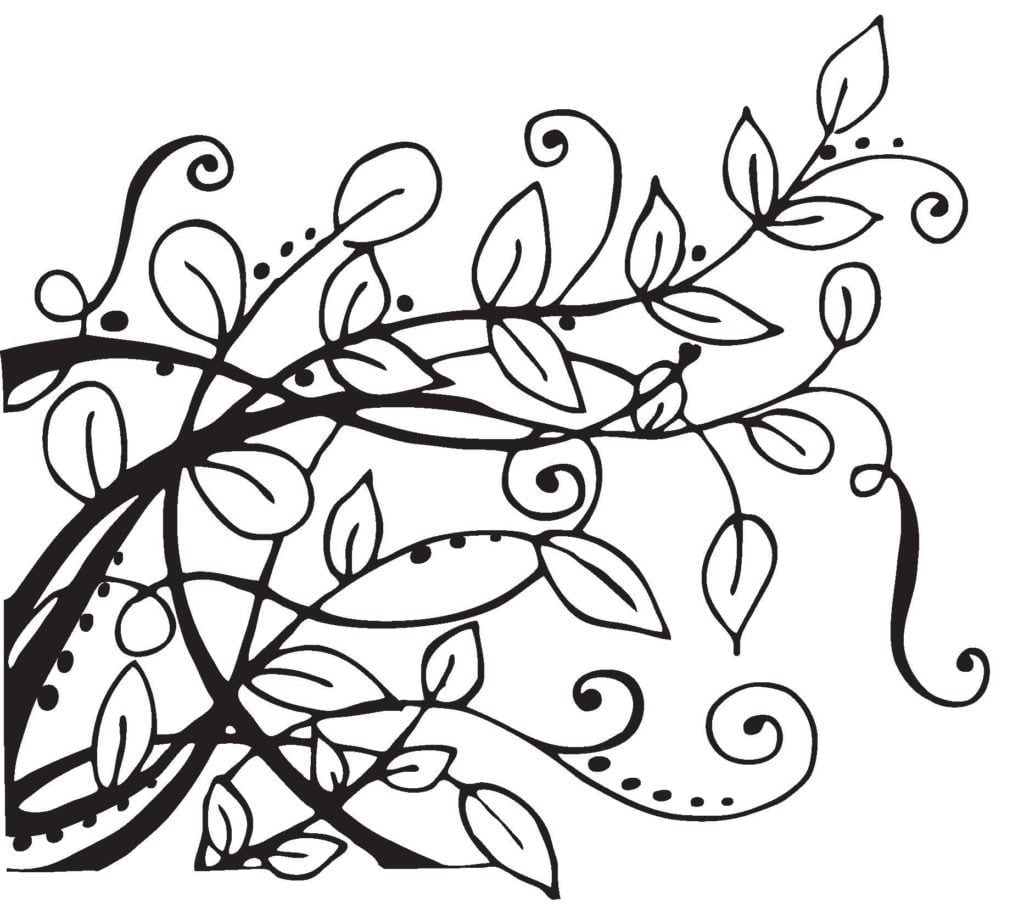 (Source)
Mallards in Flight Pattern
For those of you looking to start off with something easy to burn on to wood, yet makes a lasting impression, this pattern might very well be your next project. This pattern is slightly different, in the manner that it does not have the focus on a single object – it describes a scenery. Strongly recommended for beginners!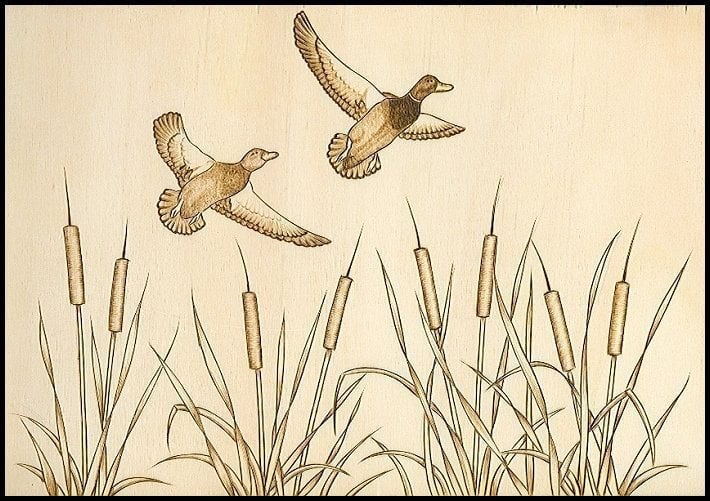 Download the free wood burning pattern here
Serving Turntables Finished in Wood
Serving turntables are another wonderful place where you can display your skills in pyrography and transform your turntables into masterpieces individualized as per your preferences. The turntables so finished are still as usable, but now have your wonderful imprints on them.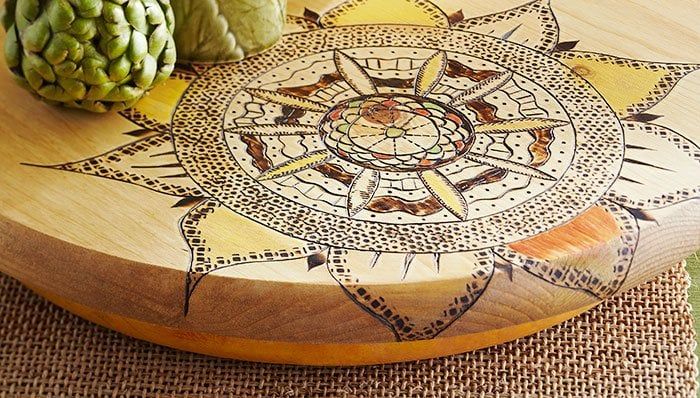 Image via lowes.com
Head Horse Pattern  
This pattern is best suited for those looking to give an antique, classical feel to their surroundings. Further, this pattern is one of the easiest on here, with simple shapes and lines and a few tough areas – largely straight lines and curves. You wouldn't have to mess around tricky angles with the wood burning pen, while getting a wonderful design in return!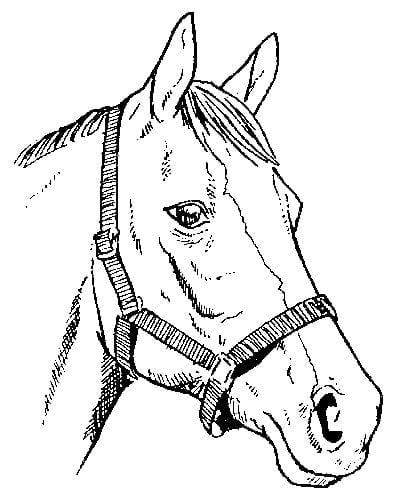 Image via pinterest.com
Lighthouse on the Rocks 
The humble lighthouse is always a symbol of peace – and appreciated equally by all. Bear in mind, however, that this scenery has a lot of small details and nitty gritties which make it slightly difficult than most of the other designs covered here. Hence, it is best to go through this design once you have a hang on your basics.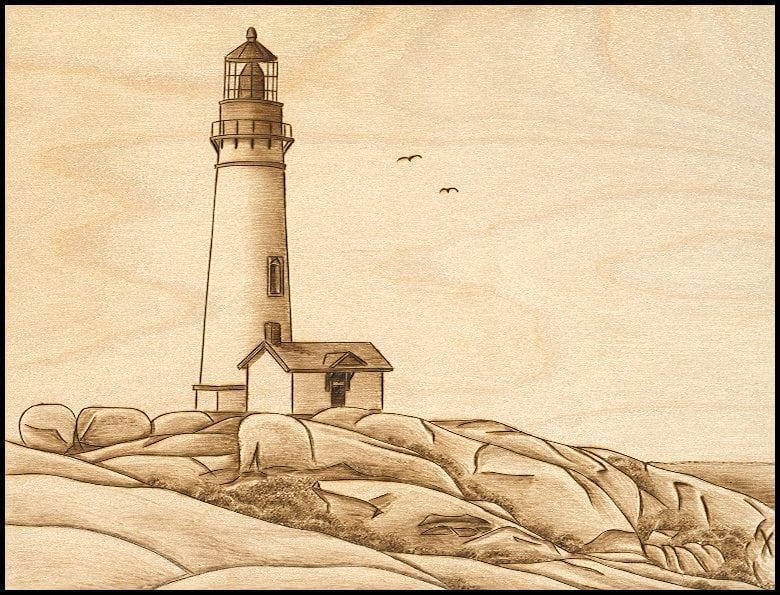 Image via suewalters.com
Intricate Elephant Pattern
This design is very trippy and psychedelic, and has many tribal-esque elements within it. The curves and the fine details are a bit hard to pull off, but at the same time, the end results are worth looking at again and again. A definite recommendation for those of you who love incorporating psychedelic elements in your surroundings!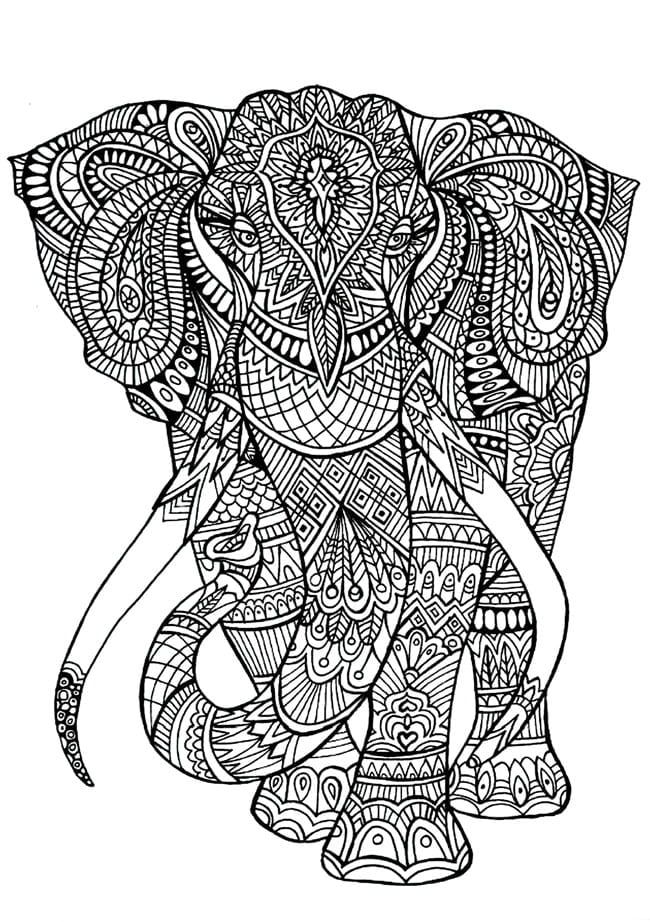 Source Unknown
Negative Black and White Lion Pattern
This lion pattern symbolizes aggression and confidence, and hence, serves as a wonderful gift to your loved ones! This pattern is dramatically different in design thinking from the rest, given that it isn't having too many details, but is powerful nonetheless.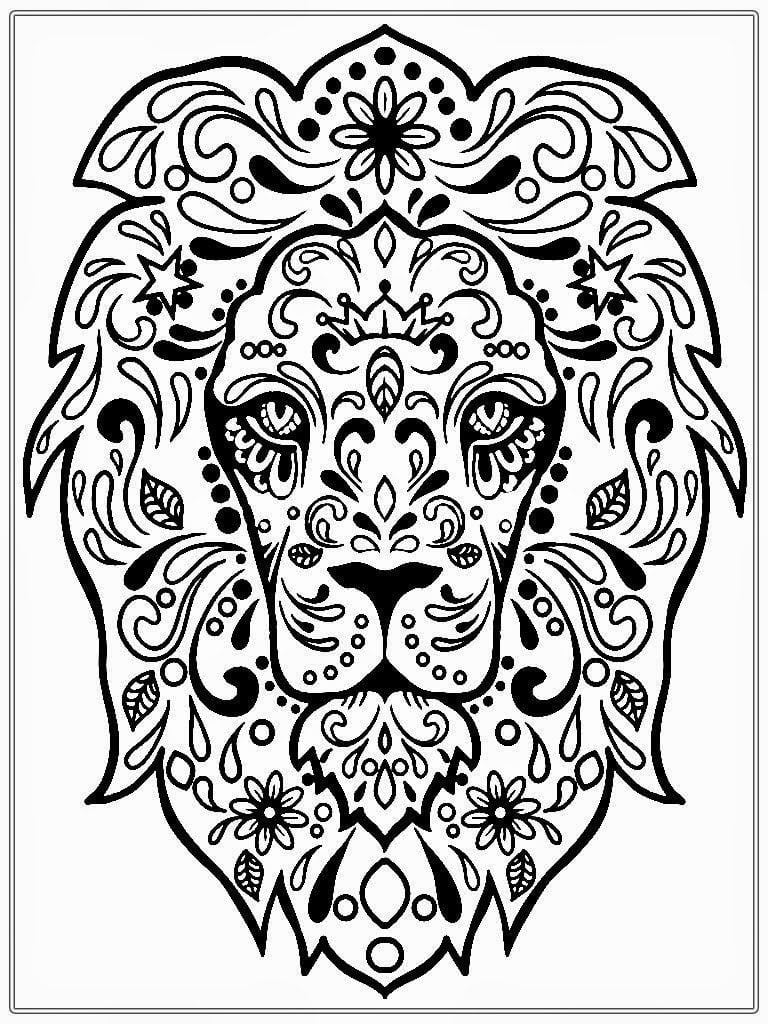 Image via drodd.com
Leaf Patterns
There patterns are a strong reminder of our roots with nature. These leaf based patterns are widely liked, and hence, if you intend to gift someone a wood etching of your own, this leaf based pattern is likely to shine. It is not at all hard to complete if you have even the slightest experience, but it is a bit niche and left-of-field.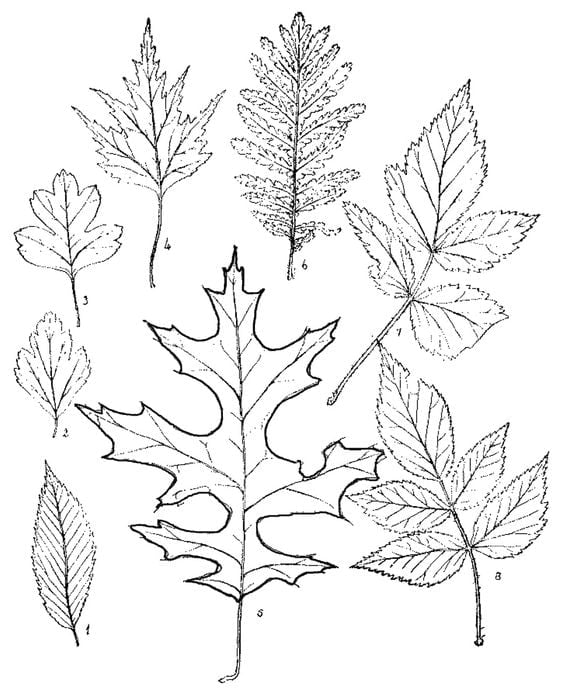 Image via pinterest.com
Traditional Tattoo-styled Patterns
If you're someone who designs tattoos, or has tattoos and wants to try something different for a change, you've come to the right place! You can just as easily etch out designs you have in mind for tattoos right on the wood surface, and the results tend to come out brilliantly. It isn't done very often, hence you might end up with something completely unique!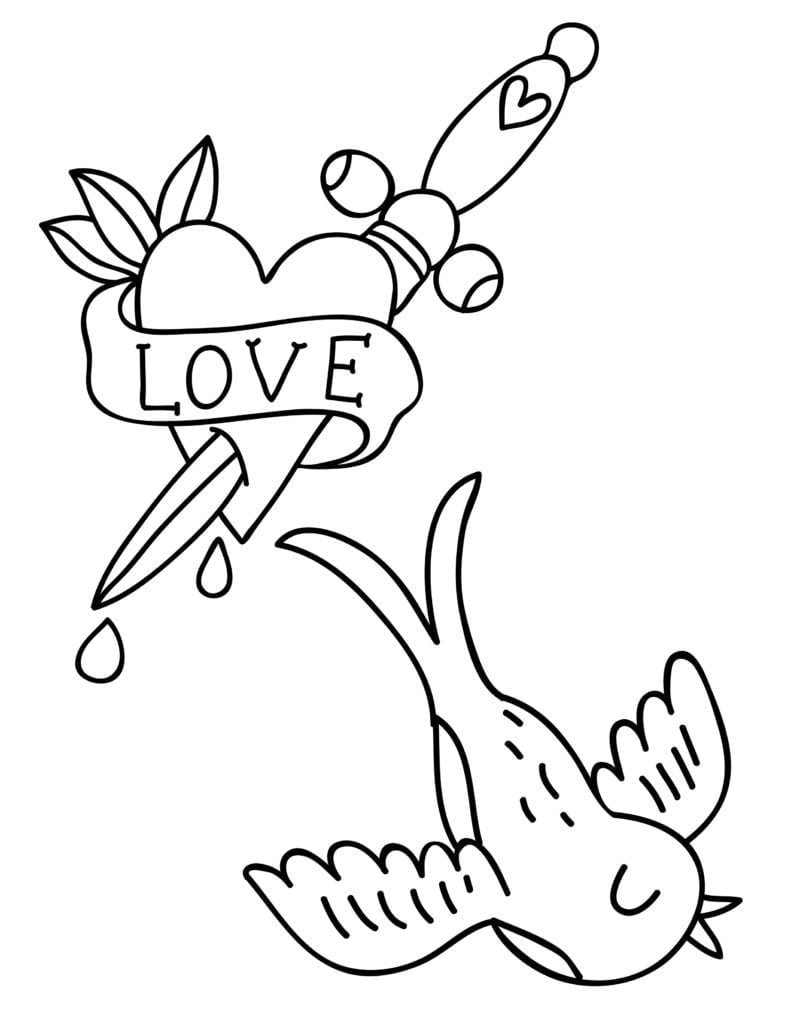 Image via grafficalmuse.com
Minimalist

Beginner Friendly Owl Pattern
This minimal owl pattern is perhaps the most beginner friendly pattern on the list – it does not require any kind of "special" skills or years of experience to finish. Hence, if you're just starting out, you know what to put on top of your list of projects!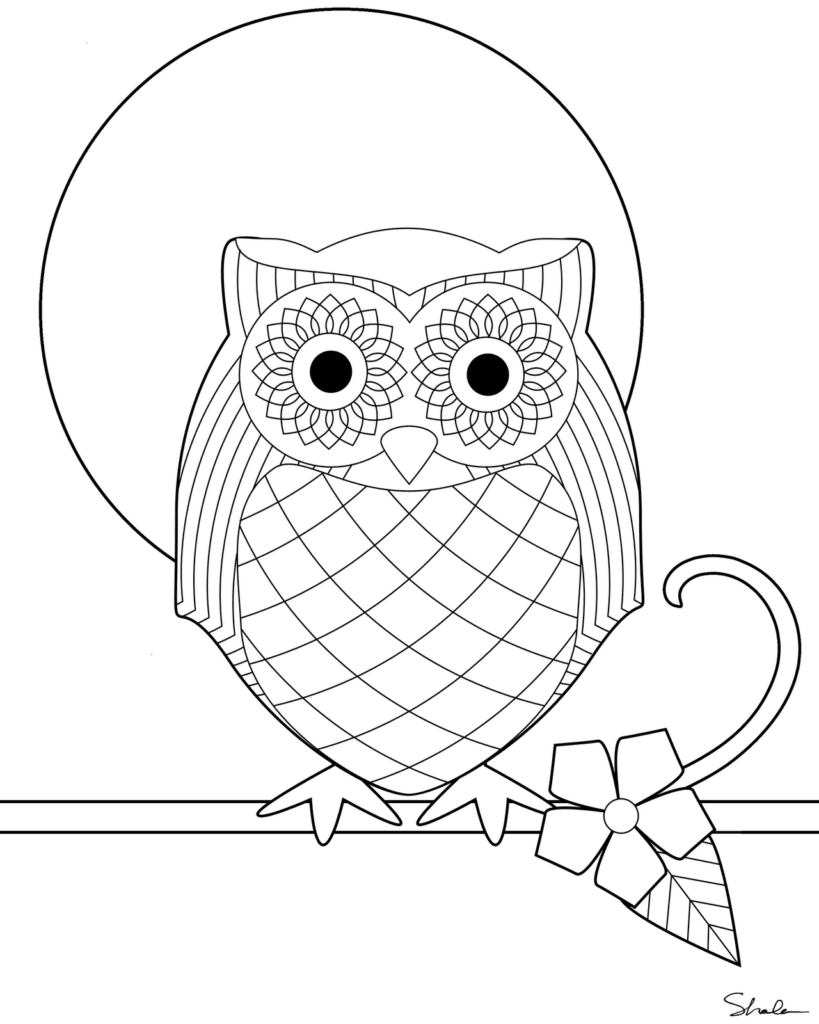 Image via printablee.com
Star Wars

Storm-trooper

 Pattern
For those of you who are fans of Star Wars, or are close to people who love Star Wars, here's a surprise! You will enjoy working on this relatively easy to create wood printing pattern, which is sure to win the hearts of those close to you who are Star Wars enthusiasts. You can, as a challenge, also consider etching Darth Vader or Yoda!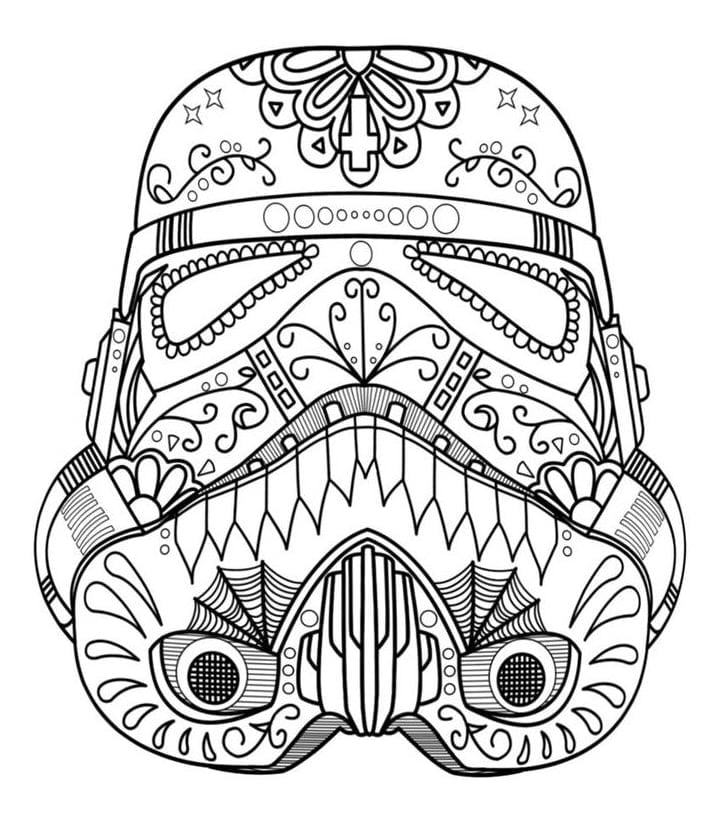 Image via azcoloring.com
Realistic Owl Pattern
The realistic owl pattern is rather different from the ones mentioned above, simply for the fact that it doesn't have those artistic overload of small lines, smaller curves and a number of finer details. Those finer details are now swapped out for the realism and finer details of the image of an actual, existing owl.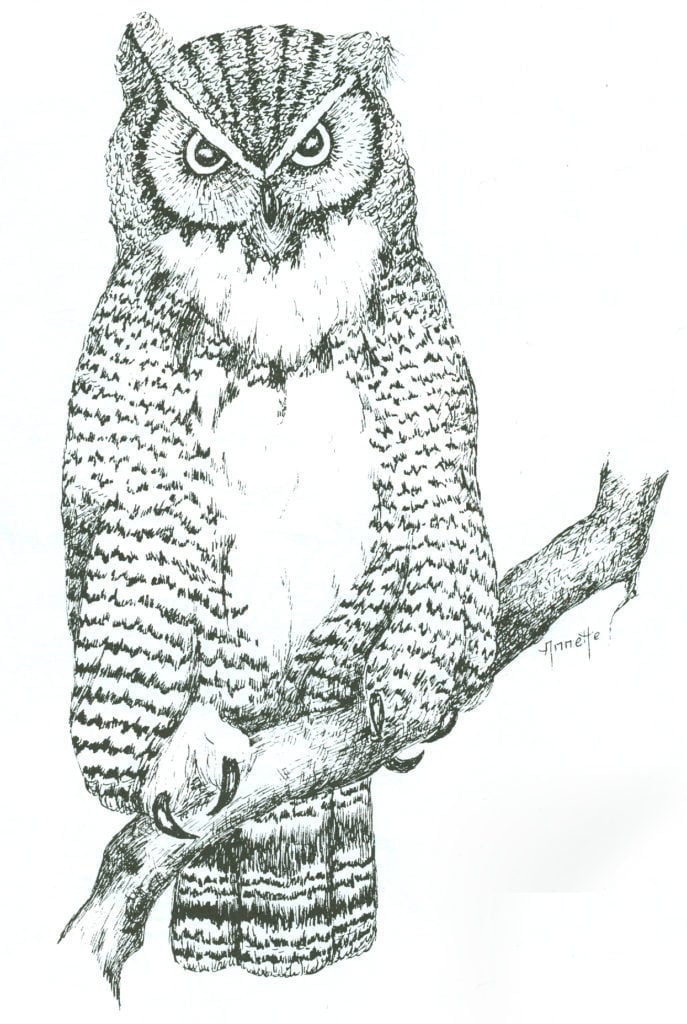 Image via walnuthollowcrafts.wordpress.com 
Mountain Hut Pattern
Here's a pattern for the countryside lovers – if you live near the countryside, or enjoy the countryside a lot, here's a small project which you can complete in very little time! This is easy to create, yet wonderful-looking once completed, and creates a lasting impression on anyone who sees it. This is perfect as an addition to your bedside or as a hanging near the living room!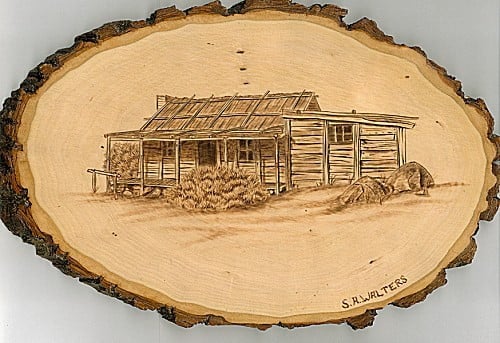 Image via suewalters.com
Etched Wooden Spoons
The etched wooden spoons are a wonderful way to get a professional looking product out of a simple spoon! You can, with relatively little effort, design your spoons the way you want them to look – a wonderful way to create personalized daily use wooden spoons, display items or even gifts for your near and dear ones!

Image via designmom.com
Bonsai Tree Wood Burning Design
Bonsai trees have long been associated with symbolizing peace, and hence, the pyrographical structure that you'd be left with would be a calming, soothing and wonderful image which you have just created! The wood burning design of Bonsais is unique, and would feel at home in a place where you like to meditate or relax.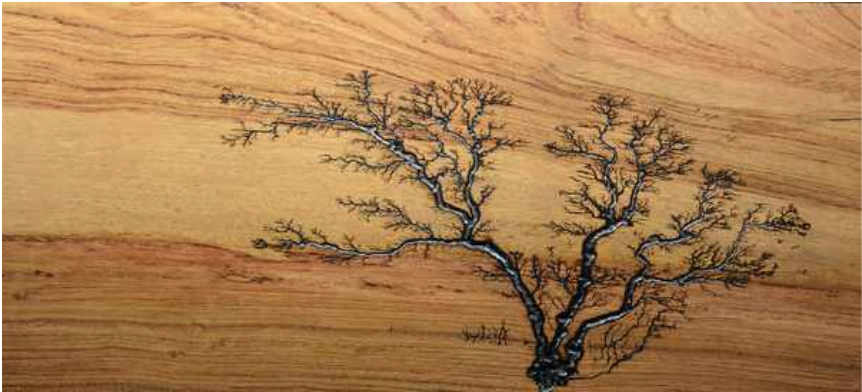 Image via Imgur
DIY Etched Birch Coasters
Etching is also possible on those hard but small coasters made out of birch wood. However, you should definitely try to get some practice in on increasingly smaller sizes of wood in order to get the proportions correct. The results are a brilliant set of coasters which are completely personalized and very artisanal.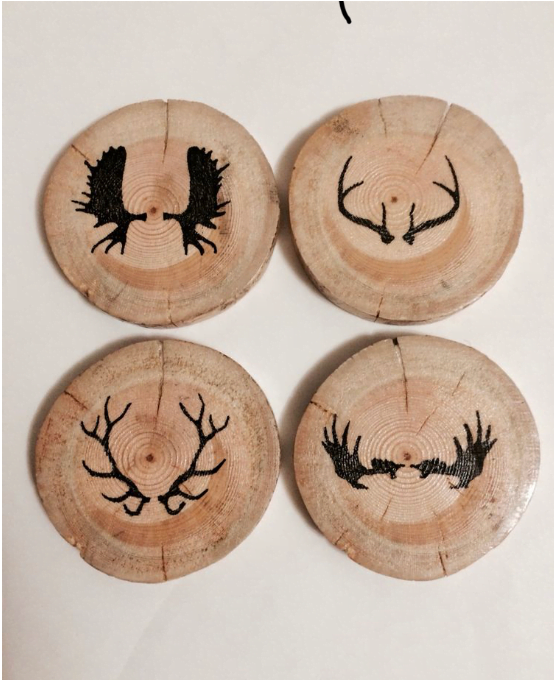 Image via pin.it
Spiral Tree Wood Burning Pattern
For those of you who enjoy oriental and tribal designs, yet want something easy to start off with or brush up after a long hiatus, here's the perfect design! This tree is incredibly easy to design and etch – a set of few small movements to create the spirals, and yet the end result looks splendid.

Image via marfahr.wordpress.com
Frogs on the Ground Pattern
Frogs have long been associated positively with Buddhist mythology and lore, so if you belong to or are interested in Buddhism, or like frogs in general, you have a wonderful opportunity in the form of this wood burning pattern. Not the hardest pattern to implement, you would have a wonderful time in finishing this project up!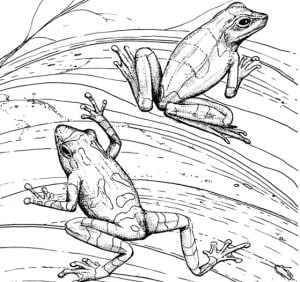 Image via popularwoodworkingprojects.com 
Majestic Eagle Pattern
The majestic eagle is a sureshot symbol of growth and courage, and hence, it makes for the perfect gifted design for your loved ones! This majestic eagle has been detailed very nicely by the original artist. This design is recommended only for the professionals as well as people who have gained enough experience working on wood burning. Beginners could also give it a try, though!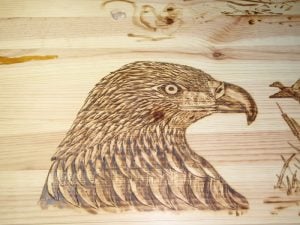 Image via popularwoodworkingprojects.com 
Celtic Wood Design Pattern
This trippy and classic looking design pattern on wood is historic, and looks brilliant in the flesh. Hence, for anyone looking to practice those wonderful intricate shapes and impossibly pretty detailing, the Celtic wood design pattern is perfect! This would go well on living room pieces, bedroom decor, and even your bookshelf!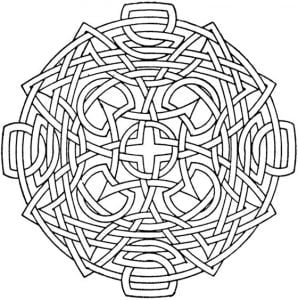 Image via popularwoodworkingprojects.com 
Oriental Dragon Pattern
This design is a solid hit among people who are fond of East Asian culture and artistic traditions. It is likely to go well with artisanal decorations for the Chinese New Year, as well as the year round festivities associated with Chinese traditions. If you can pull it off, you will surely love the final result.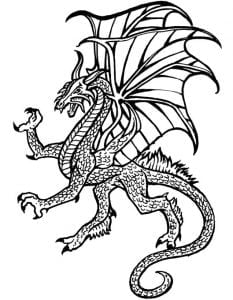 Image via artonwood.co.uk
Wood Burning Based Alphabet Pattern
This pattern is wonderfully designed for those who like to deal with language, and those who have kids at home, as it can serve as a wonderful decoration or learning tool. This is very easy to implement too, making it the perfect beginner's design to start working on!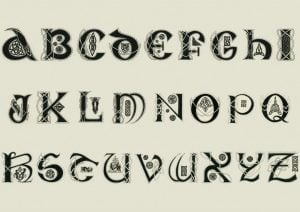 Image via DeviantArt
Christmas Themed Wood Burning Pattern
With winter just around the corner, you would not want to miss out on this Christmas themed wood burning design! This pattern has been designed fully describing a wonderful typical winter's day – and hence, the design looks great to gift someone for Christmas or to keep along with the other Christmassy decoration items – another fun family tradition!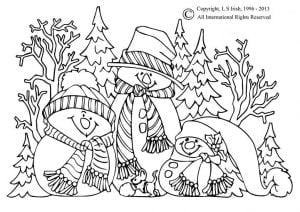 Image via guidepatterns.com                                                                                                                                                                                                        
Final words              
With this, we wrap up our list of the 38 best wood burning designs! We intended to cover as much variety in this list as possible, covering a range of wood items from chopping boards to spoons as well as a number of distinct designs. We hope you enjoyed this as much as we did – now, pick up your favorite from one of the designs above and get cracking!