Been a long time since you met your friends? Want to hang out with them this weekend? Well you have to plan something then, right? This is where the difficult part comes in. We all want a chance to hang out with our friends during a weekend and just settle down and have a good time. But when it comes to planning the whole thing, everyone struggles. Who's got the time?
It isn't really that hard though. You just need to put your mind to it for an hour and start preparing for it. Fortunately for you, you've stumbled upon this guide and are now reading this article. Once you're done you'll be 19 ideas closer to hosting the coolest Get Together ever! So get reading and start preparing once you're done!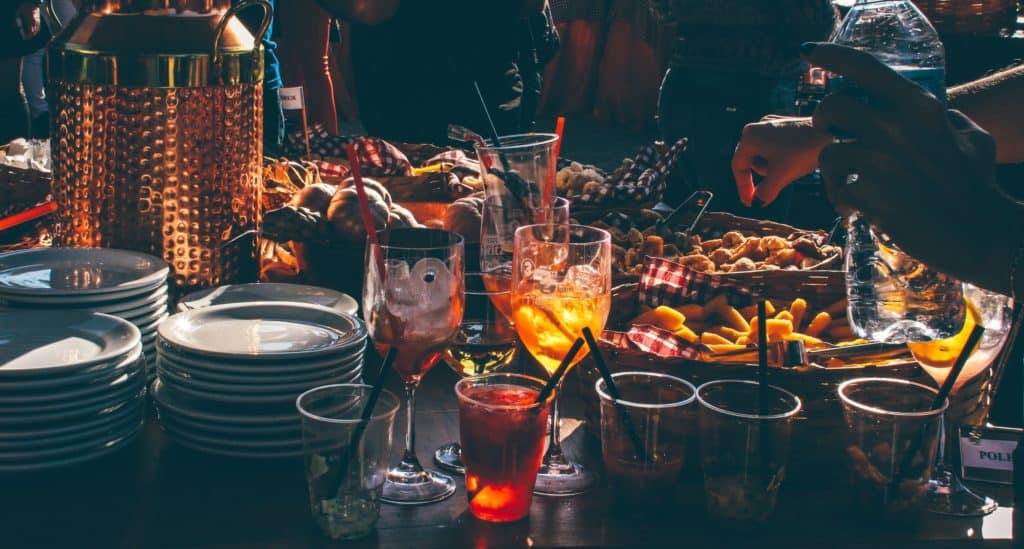 Featured Image via Vinicius Amano@viniciusamano
Stock up on a great Film Library

What better way to hang out with friends than to sit back on the couch with all of them around you and catch a great film? This is especially fun if you're watching a movie that just goes with friendship and relations as its main theme! Stuff like The Hangover or The Fast and the Furious work really great. More light hearted flicks like The Intern also work!Just have a bunch of these available and nearby the television set ready to play whenever your friends decide it is time to catch a movie together!

Stock up on Booze

Another important thing is to stock up on the Alcohol. There's a very cost-effective way to go about this. Usually, everyone's needs are met if you have certain amounts of each type of Alcohol available but make sure you have a lot more beer than the rest. Beer is cheap and pretty much anyone will enjoy it.
Image via Gabriel Gurrola@gabrielgurrola

Keep a few board games ready

Another really great idea for get-togethers is Board Games. They're a great way to bond among multiple people. Games like Scrabble, Monopoly and Carrom are great for this! You could also keep some unorthodox games like Battleship and Chess.Another idea along a similar theme is card games. Uno is one of the best games to play with a group of friends and offers pretty much unlimited fun with all its twists and drama. There's also Cards Against Humanity.

Plan out a few activities

Keep a few activities in mind to keep your friends indulged beforehand. You know your friends the best and you'll also know what kind of activities they'll love indulging in! It could be anything from drinking games to dancing to outdoor sports!Have a schedule planned out. It could start with something like a simple ice-breaker to get things going, like a game of Truth or Dare. You can then go on to things like watching a film, playing board games, going out there and having some fun playing a sport or some physical activity.Just start out subtle and keep increasing the social indulgence with each activity. You'll have a ball of a time and it'll really make your friends want to meet more often too!

Food Preparations

There are plenty of things you could do here. A great meal goes a long way towards increasing bonding between people and that is a known fact. It's up to you to decide how you'd want to go about this but rest assured there are plenty of ideas to experiment with here.You could order from a nearby restaurant and have them deliver it at the perfect time when everyone would be hungry (Goes in accordance with the planning of your activities). You could prepare the meal yourself if you love cooking or experimenting with cooking.As a matter of fact, you could also invite a few of your friends over to help you with planning out the meal. Come to a collective decision as to what food y'all want to enjoy or what you'd enjoy cooking together. This is as much a bonding activity as any other.

Keep a Food Dehydrator at Home

If the get-together is at your house, make sure that you have a food dehydrator. Dehydrated food is much better to eat. It feels fresher and it is healthier. It also reduces waste. You won't have to take the trash out next morning, or you might be too hungover to do that. So, it's pretty good to have the best food dehydrator as a backup.

Plan an outing

Who says get-togethers have to be just at home? You could plan a whole outing with an itinerary. Maybe go to the mall and hang out. Go window-shopping, visit the gaming arcade, have a great meal full of fast food! Everything works out!You could also plan a visit to an amusement park or theme park. Call your friends and decide the best mutual date. Make sure all of them are confirming and keep their schedules clear. Go ahead and plan it!
Image via Muhammad Haikal Sjukri@pantiumforce
One of the most fun ways to have a get together is a Pool Party! What better way to beat the heat in the summer than to go to the local swimming pool and play some games in the water?

Keep a check on the topic of discussion

This is an important factor in ensuring that your get-together is going well with your friends and nobody goes home with any doubt or sour moods. Keep the topic of conversation light. Indulge in celebrity topic or discuss a light hearted movie or book. Most importantly, DO NOT allow the conversation to switch to Politics.When it comes to politics, everyone has a world view of their own which is bound to differ with someone else's at some point. This can really lead to some arguments or bitter fights. Whenever you feel the conversation is headed in this direction change activities or indulge your friends with a different topic.

Have some good music playing in your house.

Music goes well with just about any gathering. It genuinely is an art that brings people together. Keep a playlist ready and start playing it half an hour to 45 minutes before your buddies arrive. This will ensure that your friends enter your house to some great music while also setting you in the mood for a get together.

Keep the Bathrooms clean and the bedrooms tidy

This is another important thing to pay attention to. Get-togethers, especially those with alcohol involved can really get out of hand for some people and people tend to need to visit the bathroom or lie down and catch a break quite often. So just go the extra mile here and have your bathroom and a room in your house prepared.Clean up the commode and arrange your bed. Keep your bedsheets in order and the pillows clean with fresh covers.
Image via Ali Inay@inayali

Arrange for a Karaoke Night at your place

Karaoke Nights are the best! Call your friends over and tell them you're having a Karaoke Night at your place. Or you could go to the local pub hosting Karaoke Nights and do the same. But it is a lot more fun if you're doing it on your own at your place or a friend's place.The thing about Karaoke is that people love showing off their taste in music to their friends and it is all the more fun if you get a chance to sing it to them. A karaoke night can really liven the atmosphere up!

Keep the meet up during a sports event

What could possibly be better than hanging out with your friends, enjoying beer watching an NBA or Baseball match? A get-together is really fun when all of your friends are sitting together watching the game in one room. It's arguably one of the most fun ways to hang out with friends.There's cheering, sneering, shouts of joy and moments of anxiety. A sport has it all and it is fun to see all your friends expressing so many emotions at the same time. It can be one of the most fun experiences ever!

Movie Marathons

Another really great get-together idea is Movie Marathons. That's right. We've all wanted to go on that Lord of the Rings or Star Wars marathon with a group of friends and why not? It's among the most fun things to do in life and you definitely can organize that!Call your friends over for the entire weekend and have a no-sleep policy. Start a series and don't get up until the end! Keep the popcorn, drinks and food prepared, your Netflix on and connected and you're good to go!

Video Game Tournaments

We've all wanted to prove that we're the best player at Street Fighter or Mortal Kombat! Well there's nothing better than organizing a get-together where you call your friends over, connect the Playstation and get gaming and more importantly, trashtalking about beating each other!

Scavenger Hunt

Prepare a Scavenger hunt. Plan it out with another friend and invite your group to participate in it! Not only is the scavenger hunt fun in itself but the planning out part of it is a really enjoyable experience and a great group activity to indulge in with your friends, colleagues and co-workers!

Go Camping

Pack your backpacks with tents, jackets, raincoats, a camera, and a sleeping bag and go camping as a get-together! Camping is a very enjoyable experience and it can especially be fun as a get-together. Catching up with them while roasting marshmallows over a campfire next to a lake is a surreal experience and you should definitely try it!

Start a book club

If you're someone who loves reading, chances are you might keep friends around who love reading just as much as you. Call them up, and tell them about this new book club you're starting and bring them in on it.Not only is this a great way to interact and catch up with friends you already know but also a really fun way to meet new people with similar tastes and interests and hang out with them!
Image via Brooke Lark@brookelark

House Party

Host a house party! Invite everybody in the neighbourhood and your friends! Have a disco setup or rent a dance dance revolution machine, stock up on the alcohol and set up an open bar. Send out the invites online or over e-mail.A house party is one of the best ways to hang out, interact with and talk to people while being casual about it! There's nothing people love more than getting invited to house-parties. It's a great excuse to get some social interaction going!

Host a barbecue night at your place in the backyard. Have the grill ready and invite your friends over for it. Set up some hammocks in your backyard, a dining table with some chairs and get going. Bonding over burgers and the barbecue grill is a really great way to spend some time with your friends!
Well, that's all we have for you! If you're reading this now your brain is probably stacking up on some great ideas to organize a get-together with your best buddies! Go on and get planning! Have fun socializing!