Entryways can dramatically set the tone for your visitor's first impression and represent your homes introduction to the world. Natural light, small elegant decorations and an overall airy bright atmosphere will exude elegance and a cozy warm atmosphere. For entryways, mirrors are a perfect addition, as they can brighten things up simply by reflecting light. Moreover, they create the illusion of a bigger space, being the perfect antidote to crowded poorly lit and constructed entryways.
With this topic in mind, we have searched for some outstanding ideas for making your entryways beautiful, clean and spacious looking and we have selected 18 captivating mirrors that can help you do so.
go big and infuse light
A big entryway requires a lot of natural light so we recommend a floor to ceiling huge elegant mirror that will double the light infused through your windows. McGill Design Group and the Chroma Design Collective have designed two entryways that take advantage of the natural light and maximize the feeling of an airy fresh space by using gorgeous big mirrors.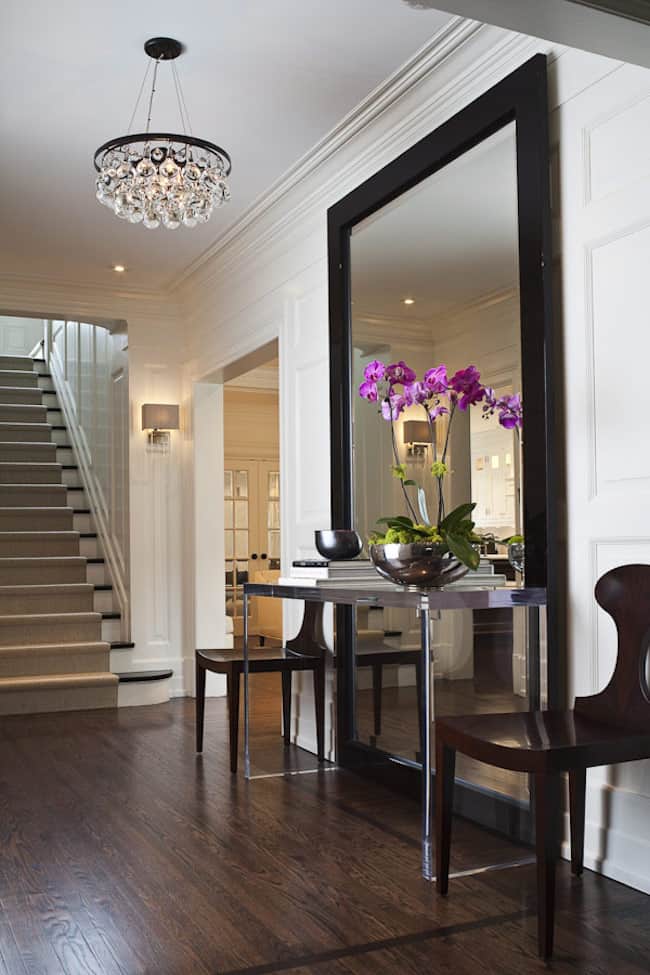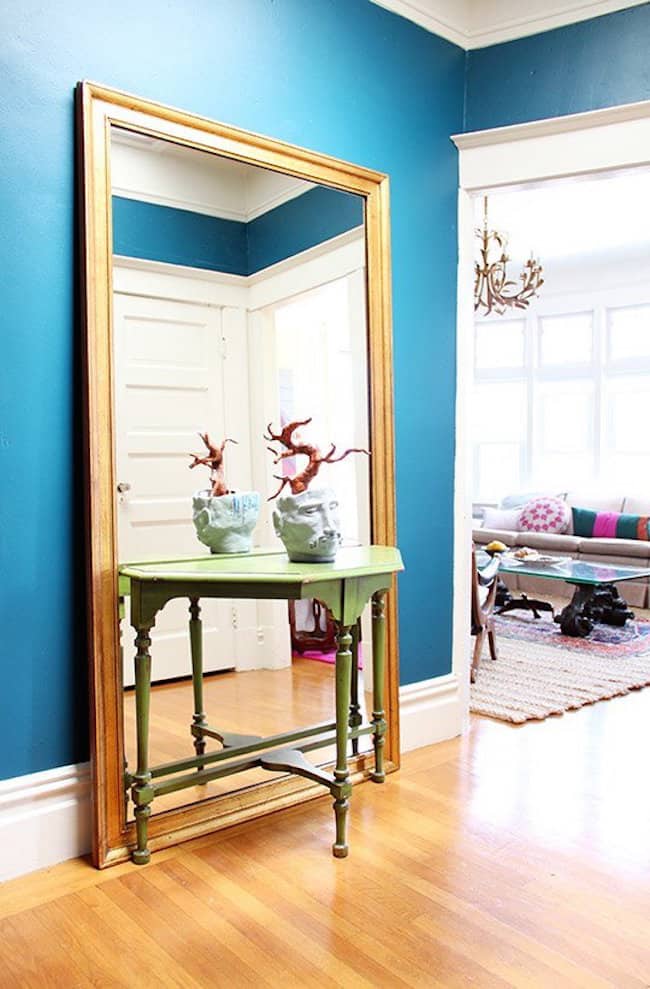 Designed by Su Casa Designs this gorgeous wooden framed mirror fits perfectly into the blank white entryway infusing contrast as well as light. The other furniture elements of the design manage to keep up with the vintage rustic feel of the space.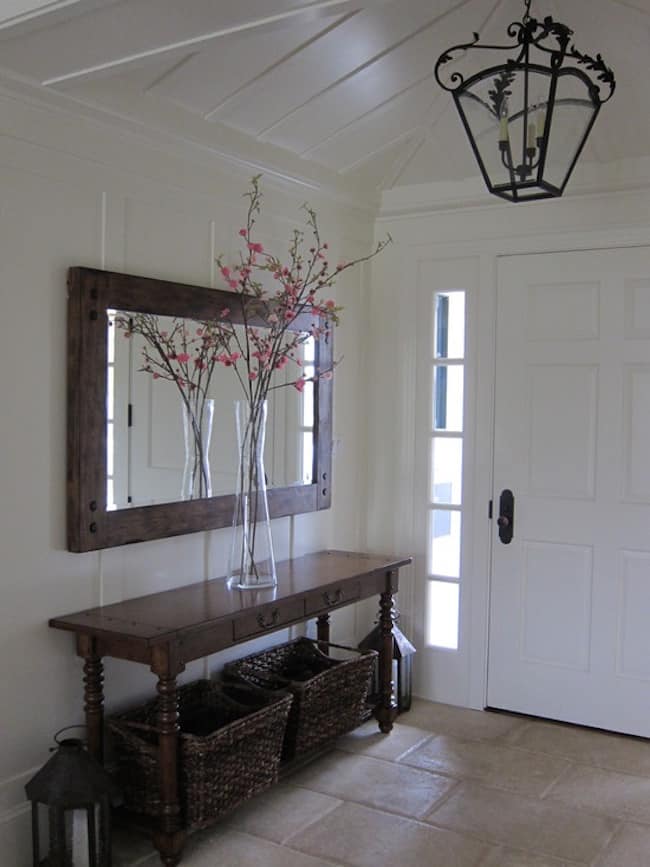 use reflections to your advantage
A small wooden bench placed strategically just under your entryway mirror will add depth to you space. Just check out these examples from Decorating Your Small Space and an Instagram user @megtimjakebay.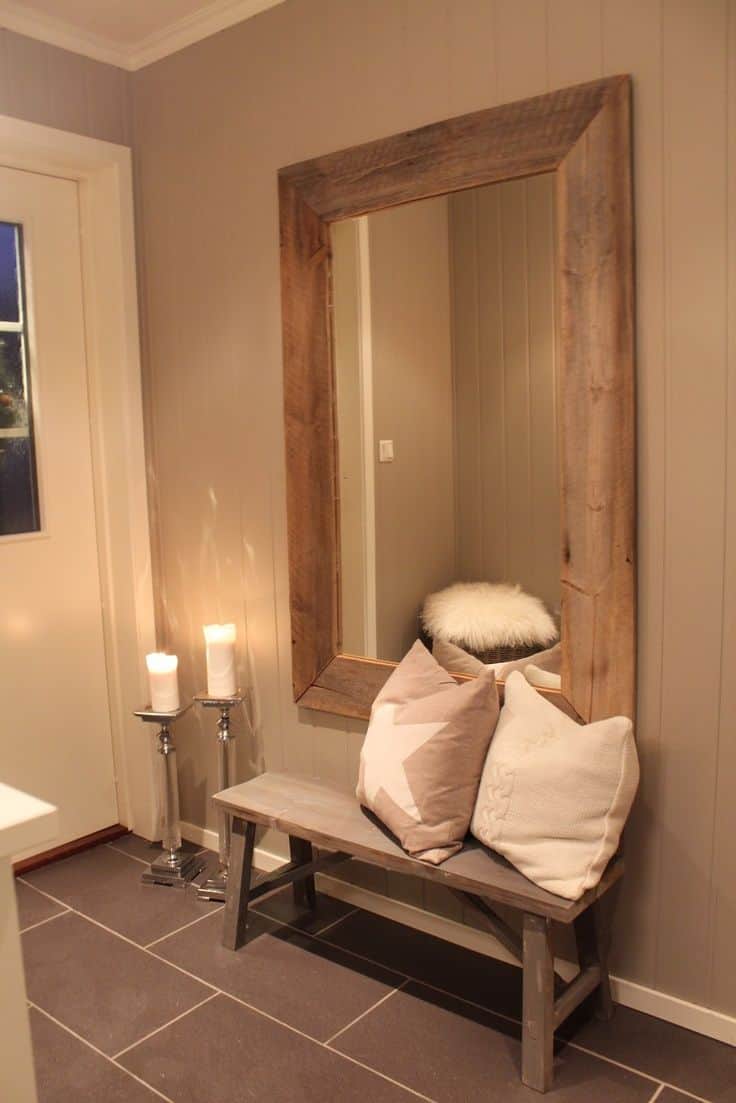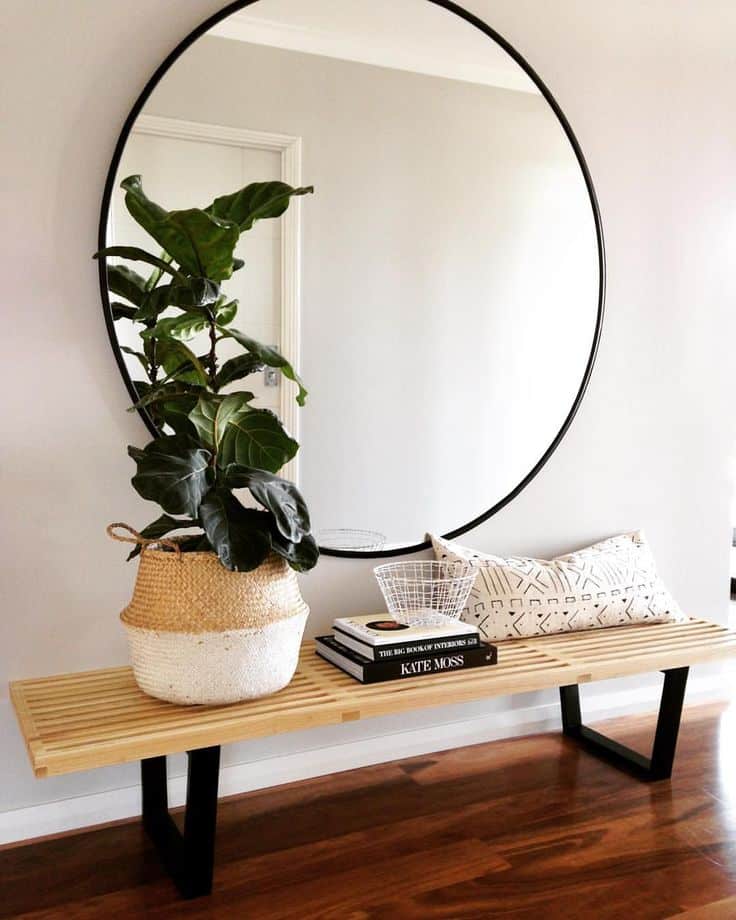 choose a minimal style
Sometimes the best choice is to go minimal and not overcrowd a small entryway. The right mirror and a few special decorations will transform any space into an elegant and attractive one. Have a glance at this great mirror with antlers above it taken from Design Sponge. Another simple round mirror from Refinery29 manages to reflect the perfect minimal decorations with a touch of gold.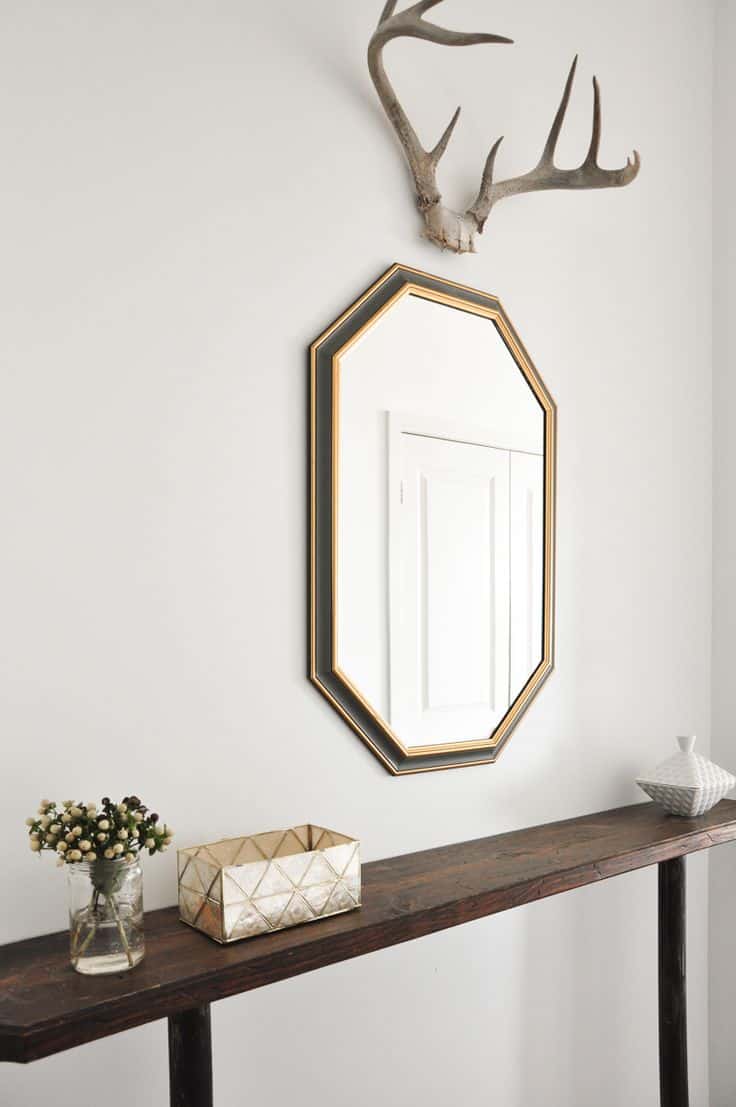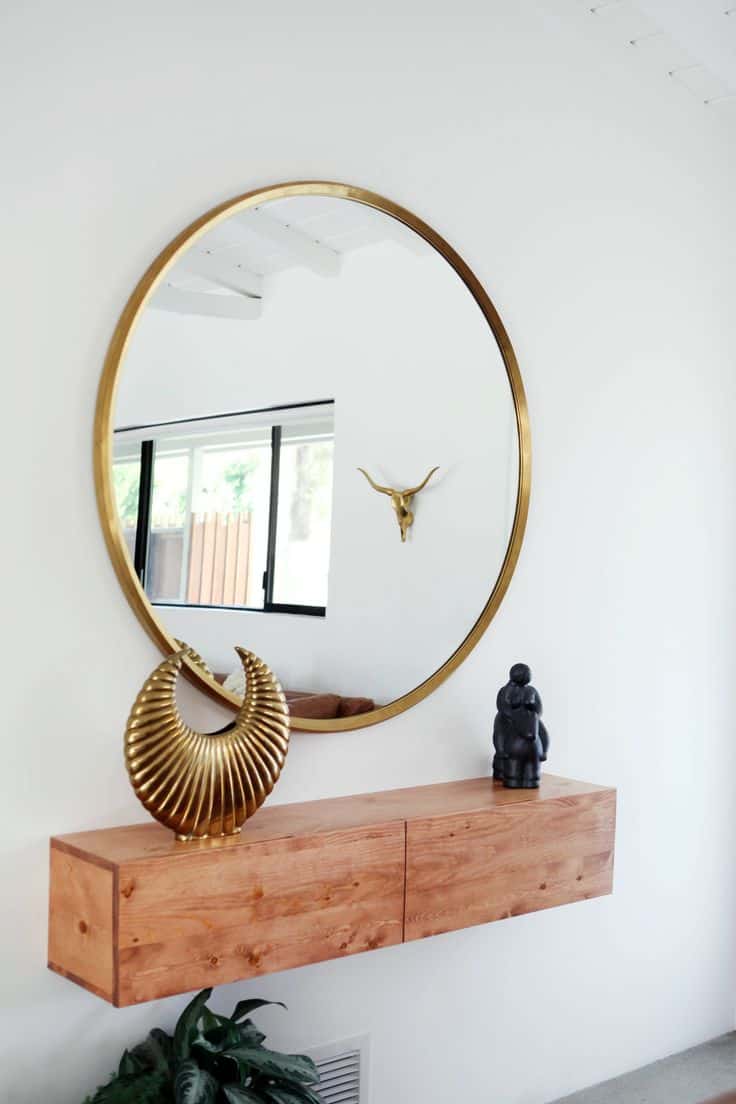 The below three entryways from Notey, Oracle Fox and My Scandinavian Home keep things to a minimum whilst exuding a clean airy properly lit space.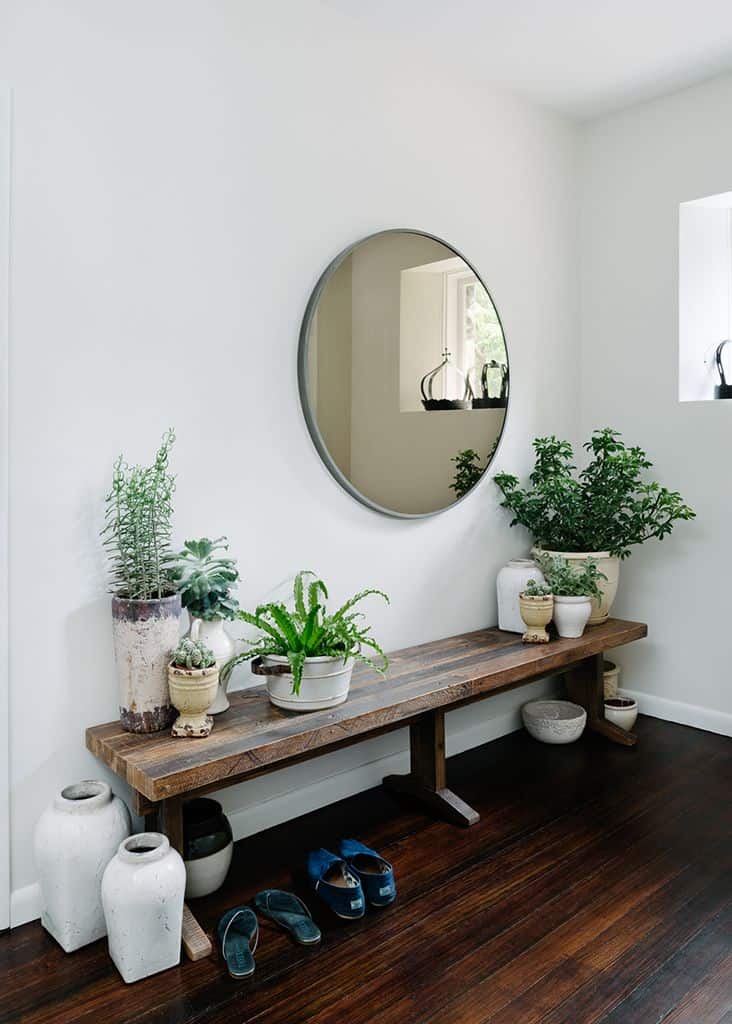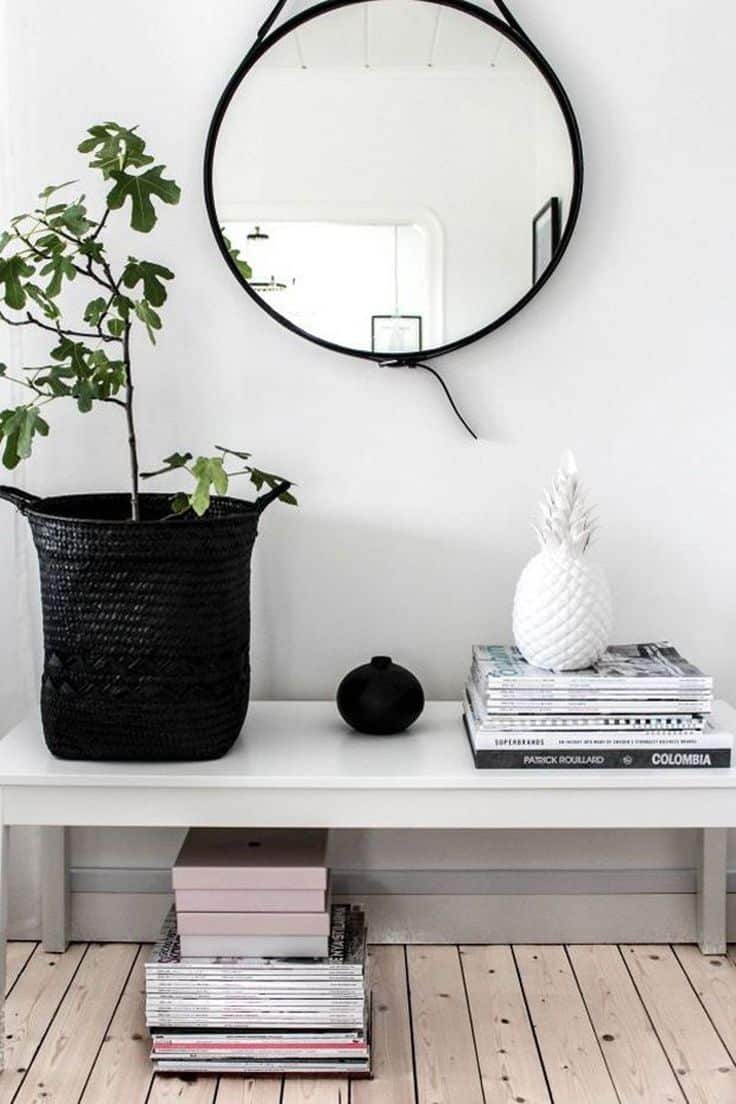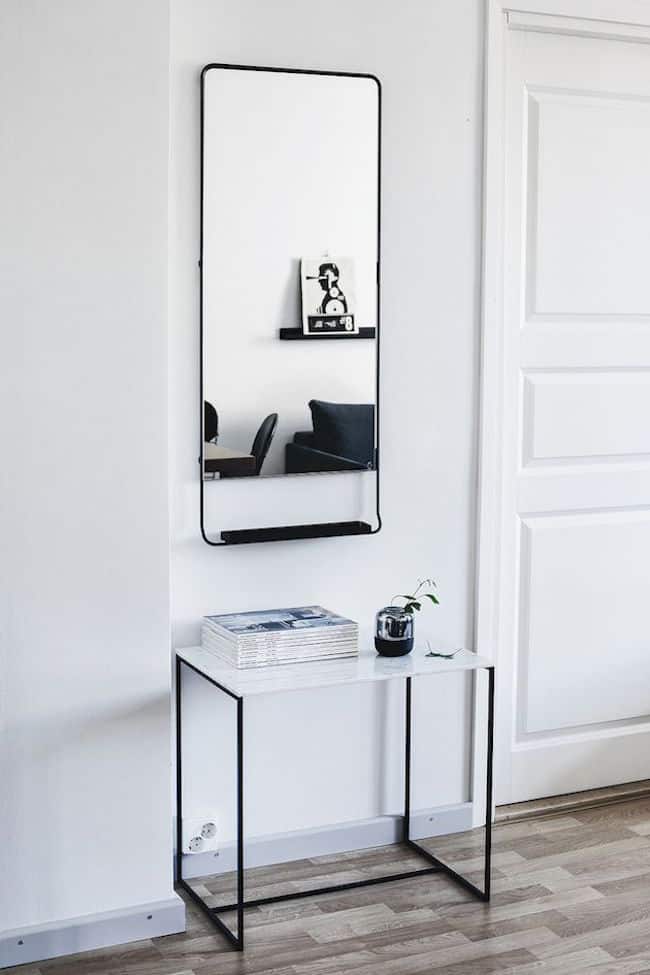 small entryways 
If you are unfortunate to have a small tiny entryway, do not despair.You can opt for a small mirror which will infuse a larger quantity of light in and still manage to look chic.Check out these two small, yet beautiful entryways from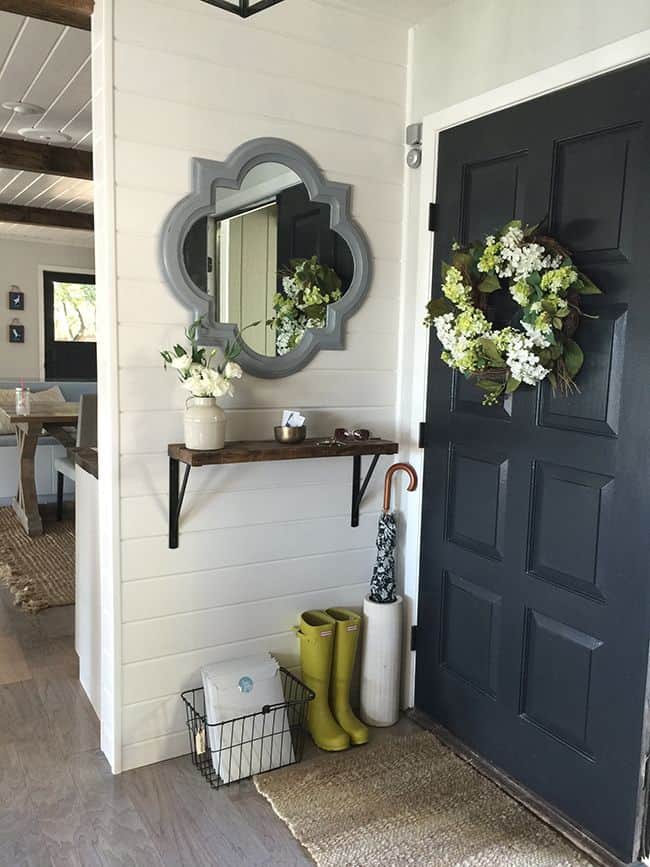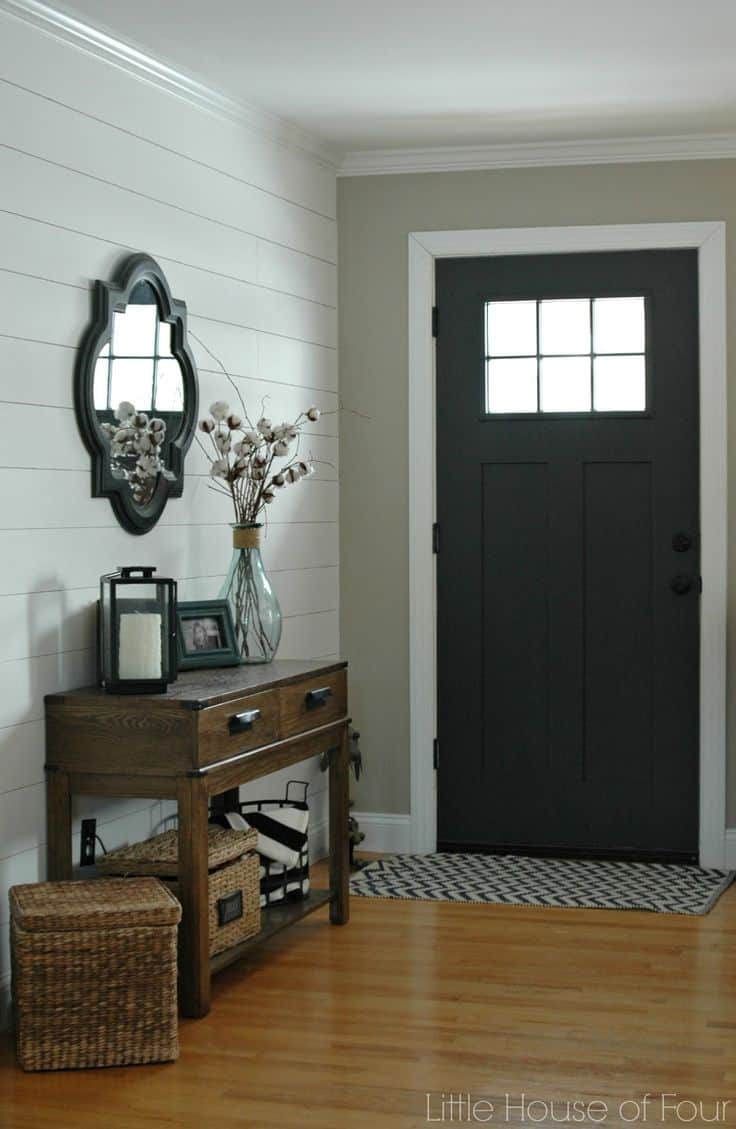 masking the stairs
If your staircase represents a focal point of your entryway, setting something up in that awkward space underneath the staircase can make more sense, instead of placing it on one of the walls behind the front door. Check out these beautiful examples from My Domaine and The Yellow Cape Cod.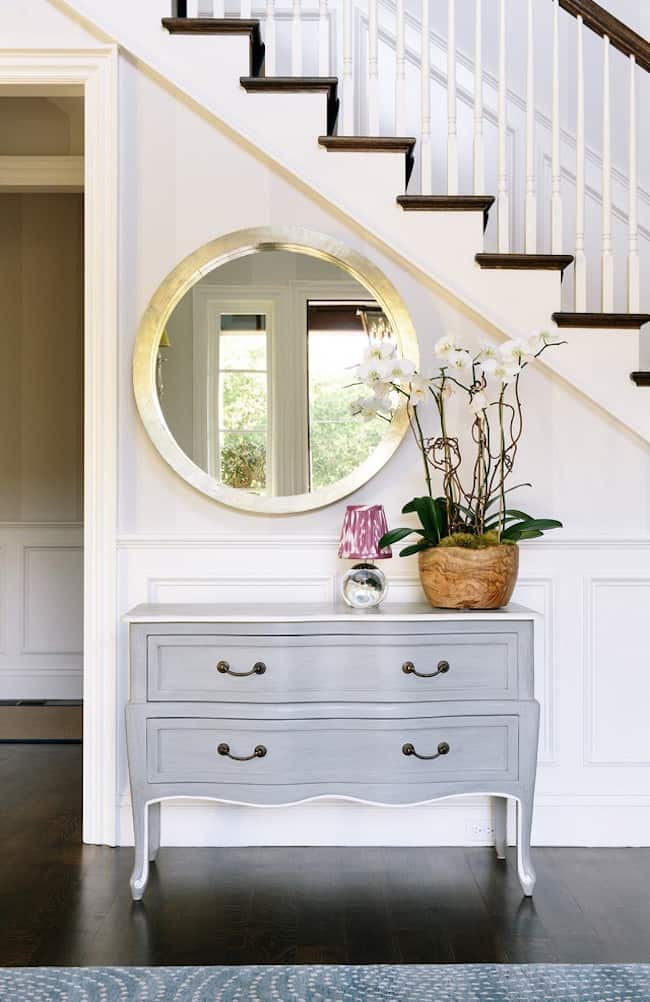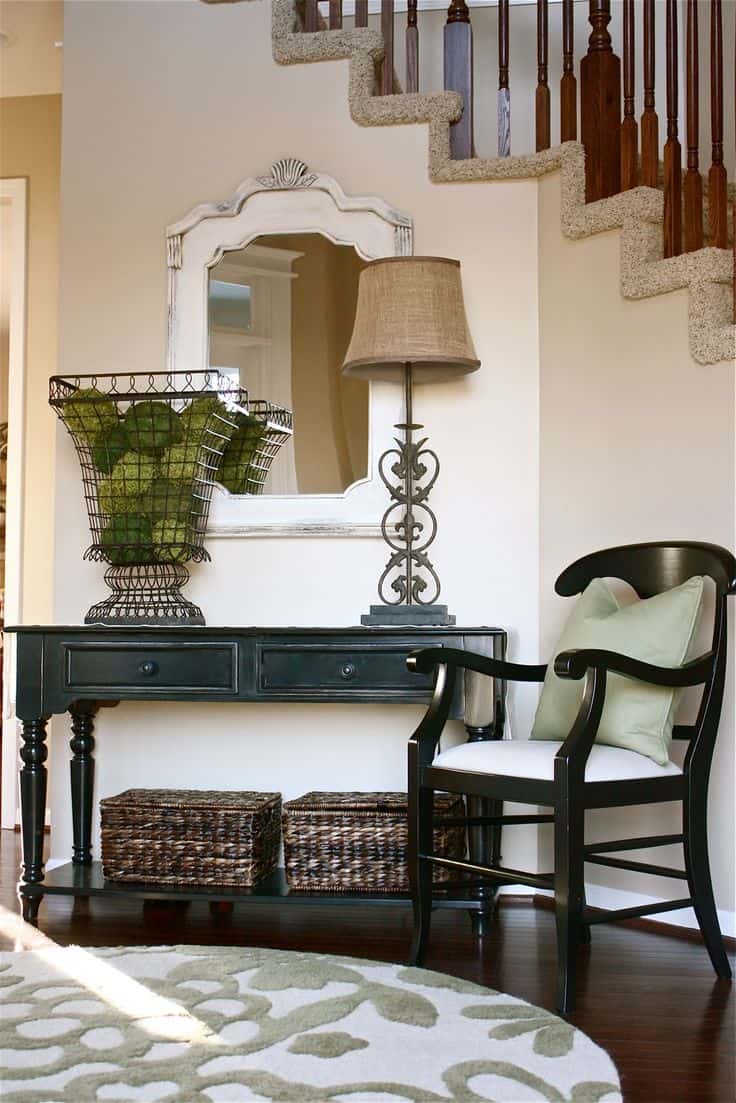 mimic real windows using mirrors
Natural light and its lack in small entryways will always represent a problem you could easily solve by adding a set of window looking mirrors that could fool anyone and enlarge your space.We recommend you these gorgeous examples from Flicker user Shizzi who shows us how easy it is to mistake these mirrors for windows.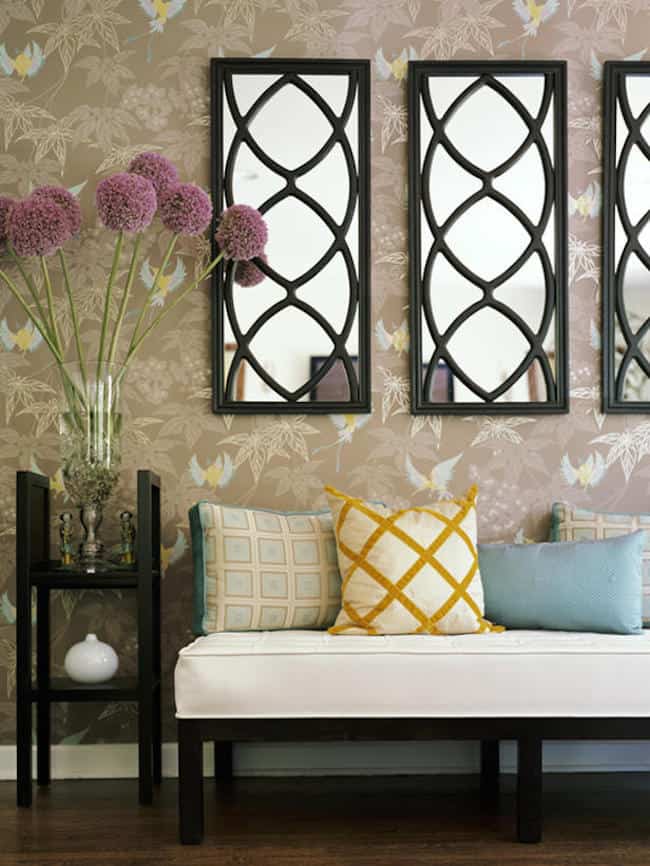 This breathtaking Grand Chateau Window Mirror featured exclusively on How to Decorate took our breath away. Elegant and classy, such a piece would be an incredible addition to any home owner.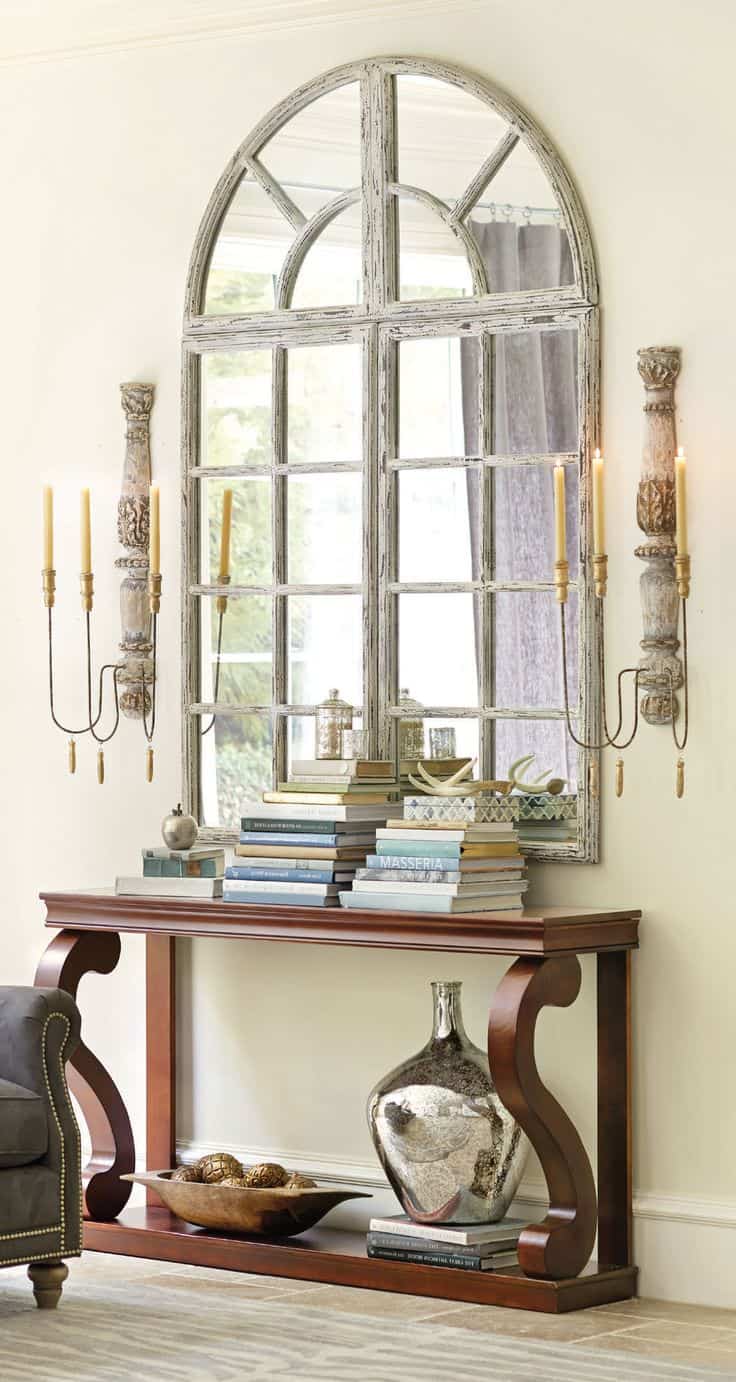 be bold in your choices
Irrespective of the style of your entryway, there is always a mirror to fit. Have a look at this wild entryway design from 11 Magnolia Lane that blends black and gold together. Also see the other chic design taken from Tidbits and Twine, all in black and white.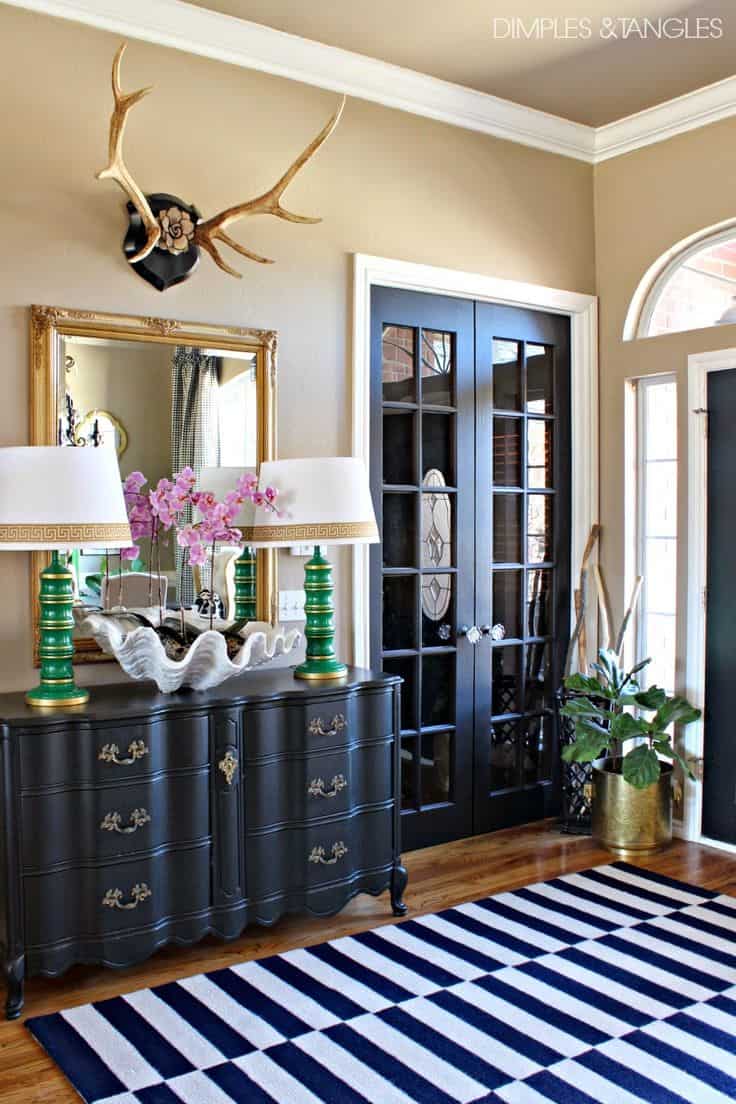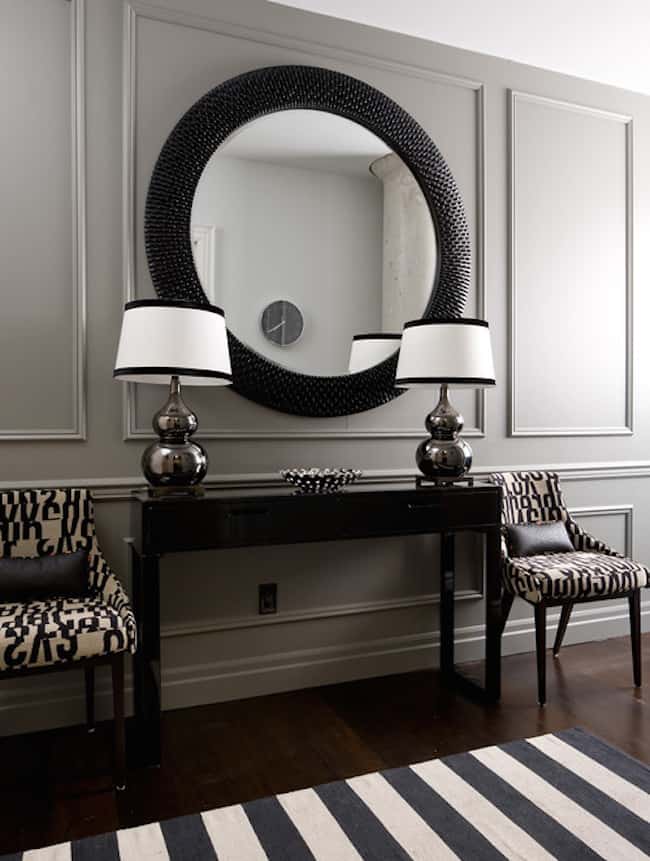 At the end, I would say that having mirrors in your entryway could make it a winner. There are multiple options of shapes, sizes and frames to choose from. You can easily transform and enlighten your entryway simply by adding a mirror.We would love to hear your take on this topic in the comment section below.
Related Articles
11 Best Wall Mirrors Right Now | Buyer's Guide