How challenging can it be to buy something as basic a lawn mower? Not much, right?
Well, most of us think like that as it does not strike as a complex piece of equipment. But when we went on a spree to find the most efficient, easy start mowers, we had to go through several models with different configs.
And, to make things easier on your part, we decided to put together a comprehensive guide so you can acquire the ideal instant boot-up option. Naturally, we came across multiple options, some electric while others battery or gas-powered.
However, it was only after a ton of research that we were able to handpick the best of the lot. We ended up with 9 best easy start lawn mowers that have proven to be worthy recommendations. Also, to be completely sure, we tested each unit and judged them on every parameter to ensure easy operability.
Now without further ado, let's get moving, shall we?
Easy Start Lawn Mowers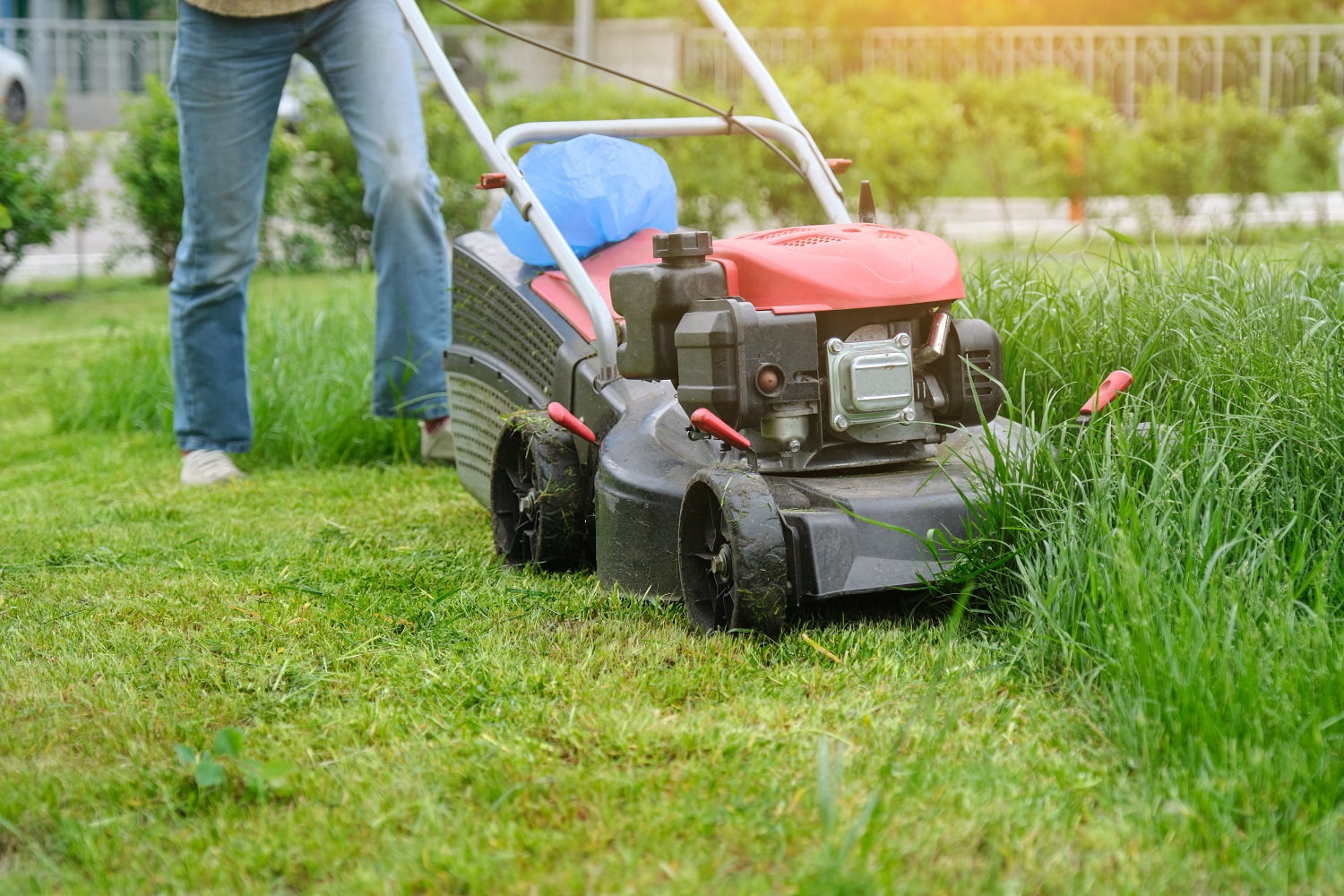 Out top guy from Troy Bilt can deal with small to medium-sized lawns like a boss as it's a self propelled unit that operates with a powerful 159cc OHV engine. So if you need a reliable machine to get rid of unwanted growth in your garden after the rainy season, we suggest investing in this easy start model.
No products found.
Why Did We Like it? 
First and foremost, we like that it comes with 3 cutting options and height settings ranging from 1.25 to 3.75 inches. Therefore, depending on your requirement, you can use this machine to mulch, bag, or even discharge as it includes a standard bushel grass catcher.
Also, we like how conveniently operable it is, owing to the easy-to-drive front and rear tread wheels, in addition to the ergonomic handle. On that note, apart from ensuring smooth navigation across the lawn, the adjustable handle also allows you to choose from a variety of height positions. Therefore, the machine can be operated by all users, regardless of their stature.
Apart from that, this self propelling unit can provide a smooth and clean cut without tiring out your hands. All in all, we recommend this appliance with a built-in 21-inch steel deck to busy homeowners who want to sort out their backyard in a jiffy.
What Could've Been Better?
To be honest, we like this lightweight, 3-in-1 cutting capacity unit the most as it can do the job efficiently without too much noise. However, it is not a very powerful appliance and you may have to devote some more time for mowing sessions if it's a medium-sized lawn.

Pros
Ideal for small to medium-sized lawns
Easy to operate unit
Adjustable handle with height settings
Comes with 3 cutting options
Up next on our list is the Snapper P2185020 that has us thrilled with the superior cutting performance and incredible strength. That being said, this appliance is a powerhouse and will impress homeowners with neat and clean cuts without fizzling. Therefore, if you're looking for a dependable mower to get rid of the hideous overgrowth, give this a shot.
No products found.
Why Did We Like it?
Let's just start by saying that the P2185020 is a fast and ultra-efficient mower that can cut and bag grass using its superior blades. Furthermore, we like that Snapper did not skimp on the construction of the machine, unlike a lot of other brands in the market. Nevertheless, despite having a heavy-duty built, it offers easy maneuverability without damaging the grass.
But what we like best is the Hi VAC bagging feature that works in conjunction with the integral high-speed lift blades to provide your yard with a clean finish. Also, the powerful vacuum suction mechanism ensures effortless bagging of grass without any dirt blowing into your face.
Apart from that, this self propelled model features a rear wheel drive system with 10 inch high wheels that remarkably improve walk-behind mower traction and facilitate smooth-turning. Overall, it is an excellent product that functions on an OHV engine, offering Ready Start technology and quieter operation.
What Could've Been Better?
You might be wondering why we placed it second on our list even though feature-wise, it does better than our top model. Well, the only reason this Snapper product missed the first place is because of its steep price. The item costs a bomb and is not suitable for homes with a small-size lawn.
Pros
Efficient and quiet operation
Durable yet easy to maneuver model
Features superior HI VAC bagging
Highly functional rear wheel drive system
Husqvarna has been making a lot of waves recently with their 22-inch self propelled model, designed to meet all garden grooming needs. Our third entry is an exceptional gas lawn mower that ensures good performance even in the most demanding situations. Hence, you can consider this option if you need something affordable yet highly functional.   
No products found.
Why Did We Like it?
To begin with, this is a phenomenal product from Husqvarna that can make your neighbors envious. We especially like the edgy and elegant appearance of the machine with a mix of vibrant orange and black. 
But we are not all about looks, and so when it comes to performance, this super powerful and innovative mower has ticked all the boxes. Long story short, this appliance features a 3-in-1 grass cutting system including mulching, bagging, and side discharge. Therefore, it is the ultimate choice for moderate-sized lawns as it also runs on the high performing Briggs & Stratton engine. 
And if that's not enough to convince you, the 9 cutting height options coupled with a comfortable handle surely will. To explain further, the mower provides height settings ranging from 1.25 to 4 inches, thereby allowing you to operate the machine on any terrain. 
Lastly, you also get to control the mower speed according to your gardening needs. Therefore, it is easily one of the most versatile products with effortless manual starting on the market.  
What Could've Been Better? 
We are, for most parts, happy with the performance and high adaptability of this gas-powered machine. It is near about perfect except for one glitch, which is the noise it produces while running. However, it is not an unbearably loud and annoying mower, so it's not like you'll end up with a headache after a session.  
Pros
Super powerful, gas lawn mower
Features a 3-in-1 grass cutting system
Provides 9 cutting height options
Allows you to adjust the speed
Cons
Machine is a little noisy 
The Lawn-Boy 17734 is designed to make your life easier with its seamless electric start feature even though it runs on gas. Furthermore, this is another self propelled model that has surpassed many competitors, primarily for its durable 21-inch stainless steel deck, which makes it a tough, long lasting choice.
Why Did We Like it? 
First off, the 17734 functions on a gas-powered 149cc Kohler OHV engine, which makes it suitable for use on moderately sized yards. Also, it's pretty low-maintenance since you do not need to change the oil in this model, simply topping up from time to time will do. 
However, the key feature of this appliance is its adjustable rear wheel drive mechanism, which enables smooth cutting with minimal effort, whether you're working on a flat or sloped area. Moreover, you can conveniently navigate across the yard at your preferred cutting height by manipulating the two levers on the side of the handle. 
Other than note, we like the 3-in-1 cutting function made easier with the large and sturdy collection bag. So if you've to engage in an unusually long grooming session, you don't have to worry about emptying the mower frequently. All in all, we're very impressed with the superior cut and low emission performance of this sleek and rugged machine. 
What Could've Been Better? 
This Lawn-Boy product has missed a few slots mainly because of its substandard performance on wet grass. So if you need a mower to clean the yard after some frequent spells of rain, this may not be a suitable option for the purpose. Nevertheless, it is still a reliable model for light-duty yard work.  
Pros
No oil change required
Works on both flat and sloped areas
Comes with a large and sturdy collection bag
Features two adjustable levers for altering the height
Cons
Not suitable for wet grass
So if you intend to spend a little more and buy a lawn mower with a wide range of features and higher capacity, we recommend investing in this Momox model. Furthermore, we consider this to be an excellent acquisition, especially for its convenient cutting function and easy DIY engine maintenance. 
No products found.
Why Did We Like it? 
Firstly, this machine looks like something from a James Bond movie, and that's not a description you can often use for a lawn mower. Nevertheless, we had to make sure that it looks as well as plays the part, and as far as its performance goes, we are really impressed.  
To begin with, this self propelled unit has made its place on our list, mainly because of its top-notch features. That being said, it is a unique appliance that combines battery-operated electric start and 163cc gas-powered Briggs and Stratton engine. Therefore, with this, you can have the best of both worlds as you can boot it up in seconds and also achieve superior cutting. 
Also, when it comes to handling and design, we love the 360° rotation feature on the front wheel, which allows precise cutting while surpassing all obstacles. Other than that, we like the 10 minutes quick charge option that proves very useful when you don't have the time for a full charge.  
What Could've Been Better? 
We could hardly find any flaws with this Momox model, especially in terms of performance and features. However, the design of the machine itself could be problematic for some users if they only used conventional mowers in the past. Long story short, this unit works on three wheels, unlike most other models and could take time getting used to.  
Pros
Low-profile, stylish modelv
Battery operated electric start
Front wheel offers 360° rotation
10 minutes quick charge provides up to 20 starts
Cons
Three-wheel design can be tricky to operate
We are halfway through our recommendations, and now is a good time to introduce this reliable and environment-friendly model from Ryobi. On that note, we are impressed with the performance of this battery-operated beast that can clear away unwanted growth in small and medium-sized lawns without the slightest malfunction.   
Why Did We Like it? 
Not all of us need a premium model with all the bells and whistles for a small or medium size backyard. Nevertheless, cleaning and grooming are still necessary as you don't want a horror show on your lawn this rainy season.  
That's why Ryobi has cleverly created this high capacity model to provide efficient and affordable mowing solutions. To elaborate further, this sleek and powerful machine uses a powerful 5.0Ah battery that can charge to full capacity under 90 minutes, much faster than most other battery-operated models. 
Other than that, this cordless, self propelled unit features rear wheel drive to ensure superior uphill traction and seamless straight line mowing. Furthermore, this mower offers a 2-in-1 mulching and bagging function and capability and 7 height adjustment levels on the handle for comfortable user experience. 
Lastly, it's an eco-friendly alternative that runs without oil or gas and is ideal for homeowners looking for a lightweight, easy start unit. 
What Could've Been Better? 
We are very satisfied with the performance of this battery equipped model, and we especially like how easy it is to push around. However, while testing the product, we noticed that the battery drained pretty quickly when the propeller was used. Apart from that, there's no other drawback in this cordless mower. 
Pros
Charges to full capacity under 90 minutes
2-in-1 mulching and bagging function
Features 7 height option
Eco-friendly model, requires no gas or oil
Cons
Propeller drains battery faster
Our seventh entry from the house of Oneinmil is an excellent machine that will impress even the most experienced gardening enthusiasts. That being said, it comes equipped with the highly functional 173.9CC OHV gas-powered engine that will make your mowing routine a breeze. So if you need a reliable machine to tidy up things in your yard, give this item a shot.  
No products found.
Why Did We Like it? 
If you thought we ran out of gas-powered options, we have this versatile unit from Oneinmil to surprise you. For starters, this is a comparatively lightweight model and is quite easy to operate for most users. 
We especially like this self propelling machine for its unique rear-wheel drive system that allows you to push the unit forward effortlessly. Also, the option for variable speed provides exceptional maneuverability while mowing in tight spaces. Apart from that, we are very impressed with the Autochok electric start that turns up the machine with the push of a button. 
But the list of positives does not end here! You'll also appreciate the 4-in-1 bag, side discharge and mulching function that lets you disperse grass clippings to the side, thereby returning key nutrients to your lawn for healthy growth. Besides, the 8 cutting height settings combined with the 10-inch rear wheels ensure a smooth grooming experience.  
What Could've Been Better? 
We found a few possible concerns in this otherwise high-quality mower. Chief among them being the slow propeller function and the noise it emits while running. The latter is not a major inconvenience if you have sufficient time in your hands; however, the noise could be an issue for some users. 
Pros
Powerful 173.9CC OHV gas-powered engine
4-in-1 cutting functions
Provides 8 adjustable height settings
Lightweight and easy to use
Offers variable speed options
Cons
Slow self propelling function
Mower is a little noisy
Despite its position on our list, the GreenWorks 25142 Corded Lawn Mower is one of our favorites for its simple features and easy operability. It is among the most affordable options in the market right now that has wowed users with excellent cutting performance and convenient plug and go function. 
Sale
Why Did We Like it? 
Firstly, we like how lightweight and manageable this unit is, making yardwork equivalent to taking a walk in the garden. All you gotta do is push the button to start and then take a stroll, while this corded mower quickly and efficiently deals with unwanted growth. 
Furthermore, its 16-inch cutting deck is ideal for your small yard as it can complete the job quickly and efficiently. Other than that, this electric model is capable of 2-in-1 mulching and rear discharge functions. And frankly, that's actually a pretty useful feature given its bargain bin price tag. 
Moreover, we also like the 5 position height adjustment and 150 ft cord length of this unit, allowing comfortable use across different areas in the lawn. Also, we love the foldable handles on this model, enabling compact storage. Overall, it's a great cost-effective option, especially if you need a noiseless, low-maintenance machine for your small-sized yard. 
What Could've Been Better? 
There are not many downsides to buying this GreenWorks unit, but we did notice some flaws while testing it. For instance, we would've preferred if the collection bag was larger and far easier to remove. Other than that, we also found some quality control issues which should be resolved by the maker's stat. 
Pros
Highly affordable model
Features 5 height adjustment settings
Comes with a 150 ft cord
Low maintenance and easy to store
Noiseless operation
Cons
Collection bag is quite small
Quality control issues
Now that we've reached the end of our list, we would like to finish off with this electric lawn mower by Sun Joe. So if you're on a shoestring budget and need a dependable unit to fix your lawn after the onslaught of rains, we recommend using this appliance to get the chore done. 
Why Did We Like it? 
You will love this compact and lightweight unit that can simplify grooming sessions in a snap. It starts instantly with a push of a button and works exceptionally well in tight places. Therefore, you can rely on this to deal with overgrown grass in otherwise inaccessible corners of your yard.  
Furthermore, MJ401E comes equipped with a durable steel blade that cuts a 14-inch wide swath with every pass. And while it does so, the 10.6-gallon hard-top rear bag simultaneously collects grass clippings and detaches easily for instant disposal.
In addition to its outstanding mowing capacity, the model also provides 3 position manual height adjustment and rugged all-terrain wheels to help you navigate across the lawn comfortably. Also, this small size mower packs the power of a gas machine in an electric unit and functions without any releasing harmful carbon emissions.  
Lastly, if low maintenance and easy storage are what you seek from your new mower, then this lean and green appliance is your best bet. 
What Could've Been Better? 
Don't get us wrong, this is a great alternative to gas-powered units as it is more eco-friendly and emits low noise. However, it is a corded electric mower, but the package does not come included with the cord. Therefore, you must get the compatible cord for the mower to work at optimal capacity. 
Pros
Compact and lightweight model
Low maintenance and easy to store
Comes with a sturdy, hard-top rear bag
Features rugged, all-terrain wheels
Cons
Cord is not included in the package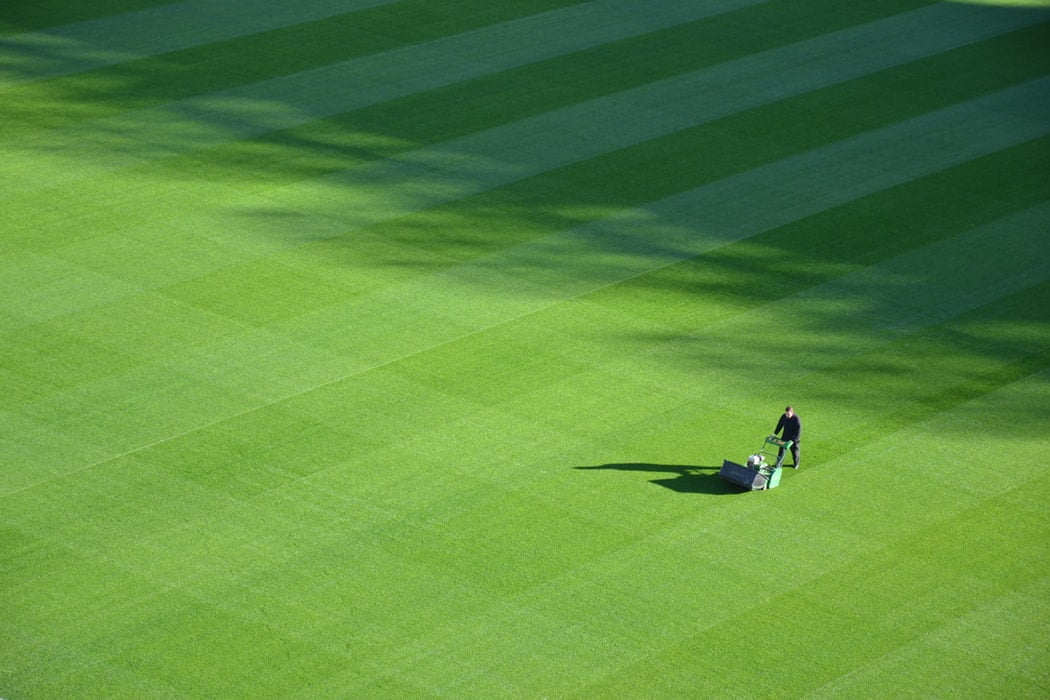 Easy Start Mower Buyers' guide
Knowing the 9 best easy start lawn mowers is hardly too much information. You still need to figure out which one of these options works best for you. And since you cannot take each model out for a test drive, we want to help you assess all our candidates and select the most worthy unit. And that's why this guide becomes relevant. 
We have listed the various factors you need to consider when buying a lawn mower. Read on to know more…
Electric, Gas, or Battery?
First and foremost, you must decide what type of mower you want for your yard. A gas-powered one will obviously ensure higher capacity and less cutting time, but then those tend to be a little noisy, release carbon emission, and need oil top-ups. On the other hand, electric models are more eco-friendly, but they keep you tethered to a cord. Nevertheless, you also have a no oil, no wire, battery-operated option, which needs charging to run on full capacity. 
Deck size
As you already know by now, that the deck size indicates the width or swath of grass a lawn mower cuts with each pass. Generally, 14-20 inches is the usual range of deck sizes you'll find on these units. Therefore, depending on the lawn size, you should focus on this double-digit spec to get the maximum use out of your machine. If you've got a considerably bigger space to groom, choose a higher capacity model for quicker completion. 
Mower size and width
Obviously, the size of the deck is proportionate to the size of the overall machine. That being the case, a big-sized model will relatively require more effort to push and maneuver, especially if you've to deal with thick grass. Hence, it's best to choose a mower that's convenient to use and control, since you'll want to spend productive time together. Also, a compact machine is easy to store and does not take up much space. 
Height adjustment
Now, this is a crucial factor that you cannot ignore at any cost as you do not want to cut the grass too short because it will turn wilt or die. Also, you definitely don't want to attempt cutting tall grass with a unit that's too low to the ground. Therefore, it's wise to invest in a model that has multiple height adjustment settings for seamless and effective cutting experience. 
Mulching vs. Collecting
Both gas mowers and electric mowers can dispose of the grass clippings in several ways. After you've made a choice between them, check to see if the model has an attached collection bag, mulches the clippings to be left on the yard, or just ejects the cut grass out of a side chute. Most mowers have a 3-in-1 option letting you collect, mulch, or toss, so its best to choose with this trio mechanism.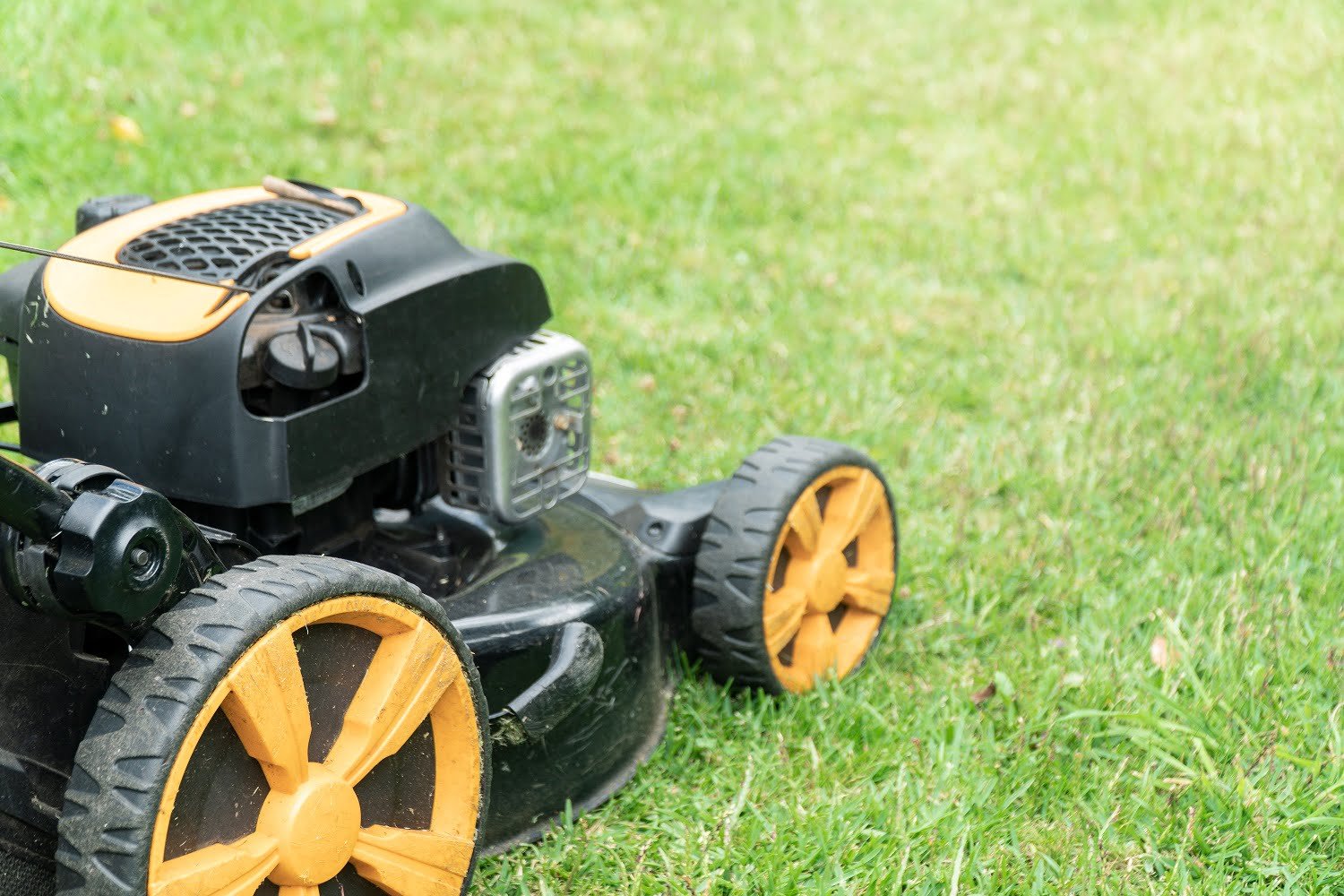 Verdict
Lawn mowers should ideally give you a seamless driving experience and cut grass the way you like. They're hardly among the most complicated home appliances, but it'd be wise if you read up on all the specs and pick a unit best suited to your lawn size, enabling superior functionality and neat finish.
On that note, we have come to the end of this brief and informative guide about easy start mowers. And we hope you were able to select the most suitable option from our itemized reviews that'll best meet your needs.
But before signing off, let's reiterate our findings. The Troy Bilt TB220 is the best overall, and the Husqvarna 22 Inch Self Propelled offers great height settings. Moreover, the Oneinmil Electric Lawn Mower Self Propelled is the best budget buy, while the Ryobi 20″ RY40190 is the most eco-friendly option.
Let us know in the comments section below if you agree with our verdict.
Till next time!
Related Articles
5 Best Self-propelled Lawn Mowers Right Now
The 5 Best Lawn Mowers for St Augustine Grass Right Now
Best Lawn Edging for a Legendary Garden 
4 Best Walk Behind Brush Cutter 
13 Best Trimmer Lines | Multi-Sided, Round, Square, Twisted & Serrated
13 Best Inexpensive Lawn Mowers For Small Yards
6 Best Electric Start Self Propelled Lawn Mowers 
11 Best Battery Powered Lawn Mowers 
How to Clean the Lawn Mower Carburetor Without Removing It?
13 Best Brushless Cordless Lawn Mower