I love ducks. Do you have or plan to have water fowl as pets? Do you have ducks on your farm or in your backyard? Well, it's winter time, so that means ducks need extra protection from the harsh weather that's going to follow and in this article we have just the duck houses plans for the job !
Ducks are quite vulnerable to cold climate. They prefer hibernating and staying warm in an insulated shelter. Why not take this chance to to make your ducks and chickens comfortable this winter?
If your ducks have small hatchlings, they need security and protection from wild predators like foxes and wolves. The coops provide that security to your birds.
So you can take up a DIY backyard project for the winter, and make a strong and durable duck house for your precious bird friends. Here are some ideas you could use !
If you`ve found the duck house plans below interesting we invite you to check various other free woodworking plans, we have curated lists that will show you how to build a deer stand, bat house, tiny house, rocket stove, diy tree house, cat tower, garage, fire pit, porch swing, greenhouse, small cabin, farmhouse table, pole barn, rabbit hutch, diy dog bed, a playhouse, a chicken coop, a coffee table, a pallet fence or a gazebo.
Free DIY Duck Houses Plans and Duck Coop Plans
1. The Repurposed Doll House
Making best out of waste is a very economic way to go. If you don't have enough experience with carpentry, reusing an old or a second-hand doll house would be a very simple option for your ducks and geese. Doll houses are just about perfect for ducks as most ducks aren't much bigger than your average doll.
A few touch ups, finishing strokes, wooden repairs can be easily done. And you'll have your very own repurposed coop for your birds.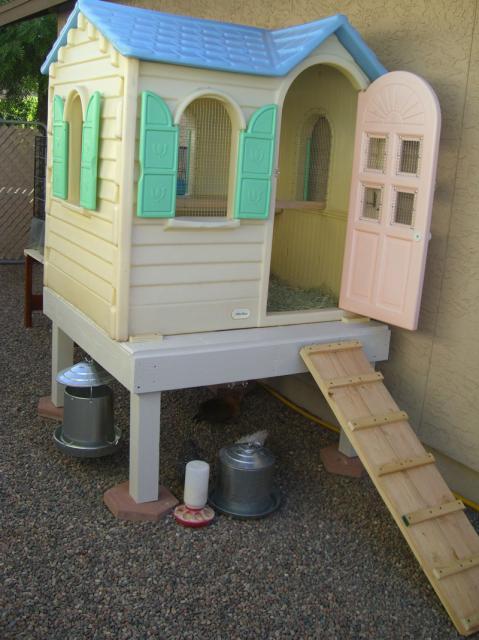 More details at backyardchickens.com
2. The Cob-style Duck House
A small cob cottage is very easy to build with natural raw material. The tiny size of this duck house makes it preferable for ducks to live in cozily, after all they deserve warmth and comfort too in addition to safety and shelter.
The temperature inside the duck house can be regulated using soil and stone. So the ducks, geese, or chicken don't feel awfully warm in summers or chilly in winters. The grass thatched roof gives it a very natural feel.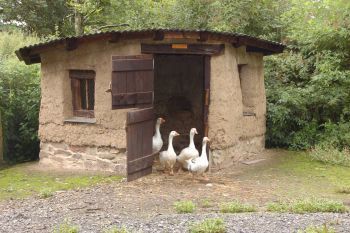 More details at lasthomelyhouse.nl 
3. The Barn Coop and Run
How about adding a little farm theme to your chicken and duck coop house? If you have a lot of birds around on your farm house, you could definitely use this idea to house them.
The barn house is quite huge, with multiple levels for both chickens and ducks. The netted enclosed run gives a space big enough for the birds to roam around. So if you're interested in letting your carpentry experience show, this is a very fine design.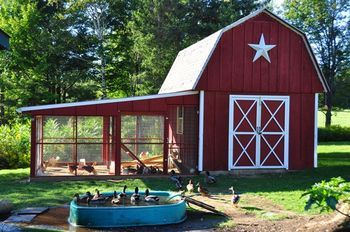 More details at backyardchickens.com
4. The Triangular Ark Duck House
Are you looking for a duck house design which isn't difficult to build? This design is something quite unique, different than most traditional duck houses. It follows the easy A-Frame construction technique, so building or replicating this design is not a time consuming task.
This duck house built in a triangular shape can fit in a small space, yet it seems comfortable for birds. The roof is sturdy enough to shelter your winged friends from harsh rains and snow and the extra space in the ceiling helps in air circulation with warmer air accumulating above and heating efficiently. It is available for purchase, and has a hatch on the side for effortless cleaning.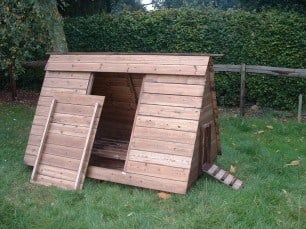 More details at smithssectionalbuildings.co.uk
5. The Round Roof Duck House
This design offers a very modern look for the duck house. It also seems like it would need less wood than other coops because this design has a metal sheet used for the roof. Metal sheets also remove the risk of rot for the wood or a termite infestation.
It also has a small running space outside the roofed area covered with nets, for extra protection for your ducks and chickens.
This is an easy DIY project, but it can also be purchased. I'd suggest you go for the former option as it is more fulfilling to build a house with your own hands for your little feathery friends.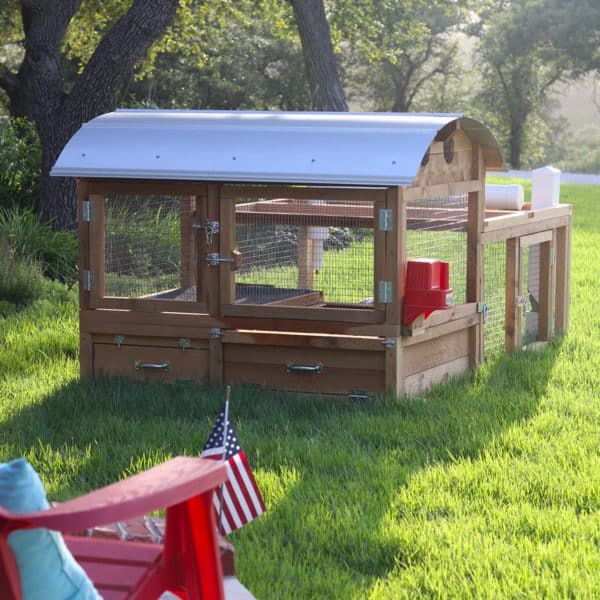 More details at urbancoopcompany.com 
6. The Cabin Duck House
Country houses or cabins can be quite comfortable for your birds just like they are for us humans. Now you can build your ducks a coop resembling a country house on your own.
It's a very easy to build backyard project but can be time consuming if you don't have enough carpentry experience. It's spacious and high enough for the ducks to fly and roam around. You could also build it next to a pond for your birds.
Additionally, if you're looking for providing your feathery friends with some extra comfort and are willing to put more efforts and risk exhaustion, then you could dig a deep moat around the duck house and fill it with water, connecting it to the pond via a canal.
Sure, it sounds tiresome, but it can also be quite fun an exercise and in the end, when the moat is ready and your ducks fly into it at ease, you can look at it and feel like it was worth the effort. But, of course, this is merely a bonus.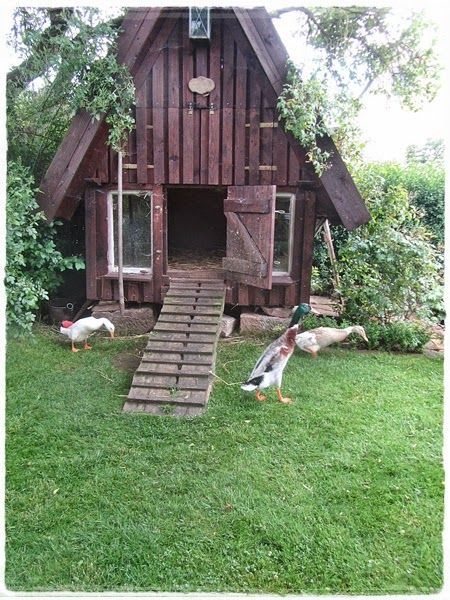 More details at meine-landlust.blogspot.fr
7. The Hotel Coop
This is a very innovative and cute design for your duck house. It follows the western inn theme for the interior and exterior decor. This idea adds a little character to an otherwise unassuming coop. Perhaps, with this theme running, you can name the ducks after heroes and villains from famous Westerns and when they brawl, you get to have fun witnessing them fight, though there is no gunslinging involved.
'Eggcelsior' sounds like a cool name for the hotel, and the rates put out on a board are quite funny.
It looks quite spacious for fifteen to twenty ducks or chickens. The entire construction procedure is given in the link with visual step-by-step aids, which is of course a great aid when following a how-to guide.

More details at backyardchickens.com
8. The Simple English Duck House
This duck house follows the traditional duck house building technique. It's a miniature simple looking shed house, but you can modify it in a lot of ways.
Adding a splash of color on it can change the entire look of a simple decor and make it stand out against the surroundings. Doesn't it look pretty against the frozen background?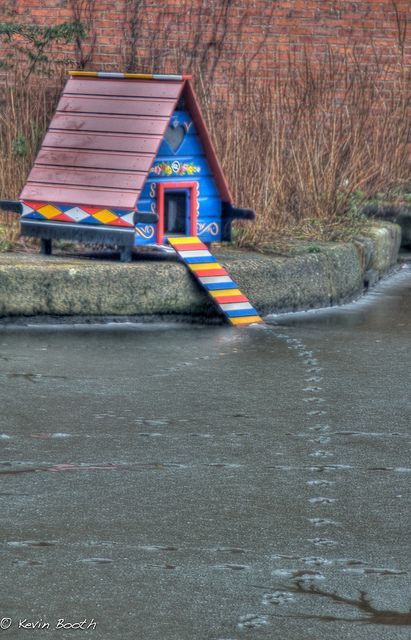 More details at flickr.com 
9. The A-Frame Playhouse
The A-Frame houses are one of the older and traditional designs that still set the trend today. They can be modified and redesigned easily – paints, metal, glass, repurposed wood, and so much more. And they work not only for houses for humans, but for our animal friends too. From kennels to pens, they are popular amongst all kinds of residents.
An A-frame playhouse which is repurposed for ducks can be kept well ventilated with windows and doors and the vaulted ceiling ensures good air circulation and extra space to fly inside. Enclosing the duck house with nets can assure you that the birds don't escape.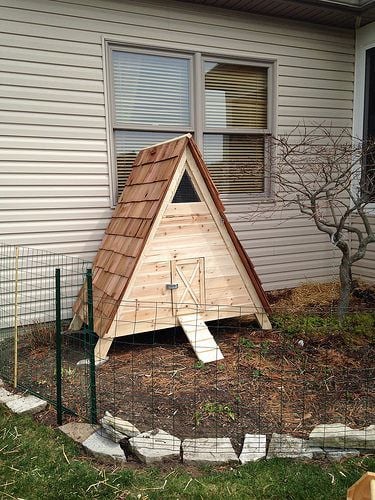 More details at diydiva.net
10. The Poolside Duck House
As the name suggests, this duck coop has a private attached pond inside an enclosure for ducks. This helps them during colder temperatures and it is also easier for ducks to wade in. The duck house seems simple, with a cubic room and four-way slanting roof. It's raised high from ground with a ramp for the duckies. Seems cute, doesn't it?
More details at backyardchickens.com 
11. The Modern DIY Playhouse
Now this idea is quite clever. It's a small minimalist wooden shack, but really cozy inside. The windows are made from plexiglass for protection, but the placement allows a lot of sunlight to enter the room.
The barn door gives a nice vintage look to the contrasting modern built of the coop. It seems pretty simple and economic to build this from old wooden pallets. It can even be painted in your colors of choice.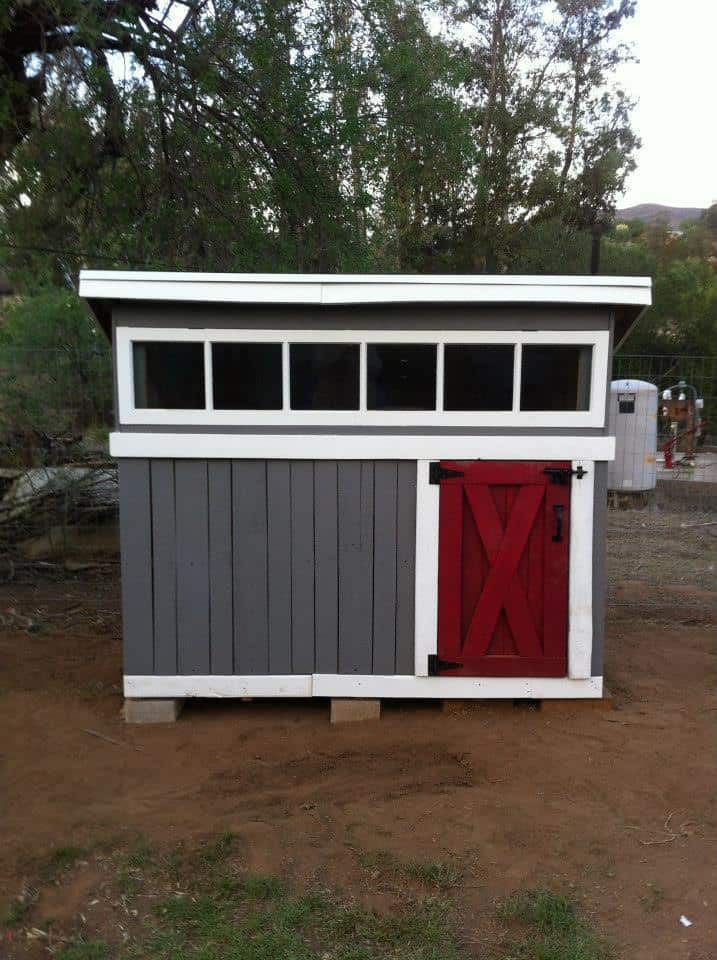 Source Unknown
12. The Floating Duck House
How about building something off the land? If you have a pond or a small lake around your house, you could definitely try this design for your duck house.
It will float around easily if you use sturdy wood, and it will be durable too. You could anchor the coop in one place or keep it floating around. The ducks will be happy to come home in their tiny lake house.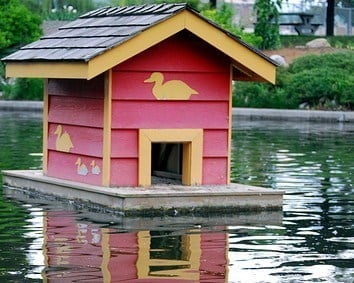 More details at youtu.be
13. The Cottage Duck House
This is a very adorable idea for a coop. It's similar to the country house above, with the framework of a cottage. It doesn't look too difficult to build with simple tools and basic building skills. You'll need basic cuts of wood for this duck house.
It seems small yet comfortable and cozy. It has a small ramp with cute railings on its either side, how quaint! There's also an enclosed run for the birds to roam about.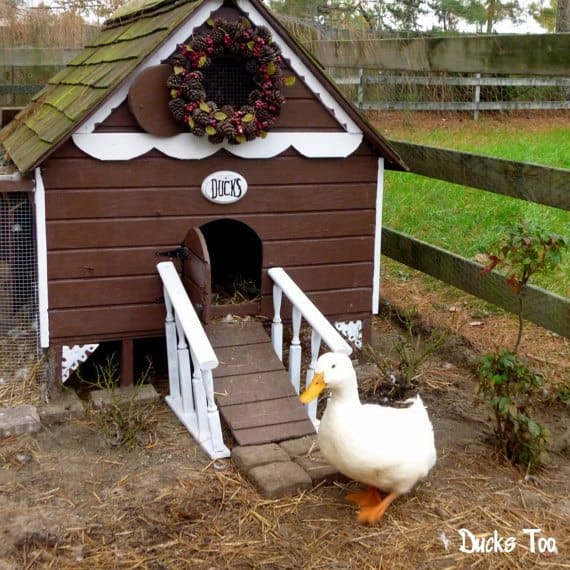 More details at etsy.com
14. The Rustic Pallet Coop
This is an easy design for an economic duck house. It uses old wooden pallets for construction. The best things about wooden pallets are the sturdiness, durability and the ability to modify them into something extraordinary.
It can look amazing as a rustic underground shack. The window at the top can make sure that your ducks get enough sun and air for their healthy growth. This is not accompanied with any instructions, but if you have basic experience with wooden projects, this won't be difficult to replicate.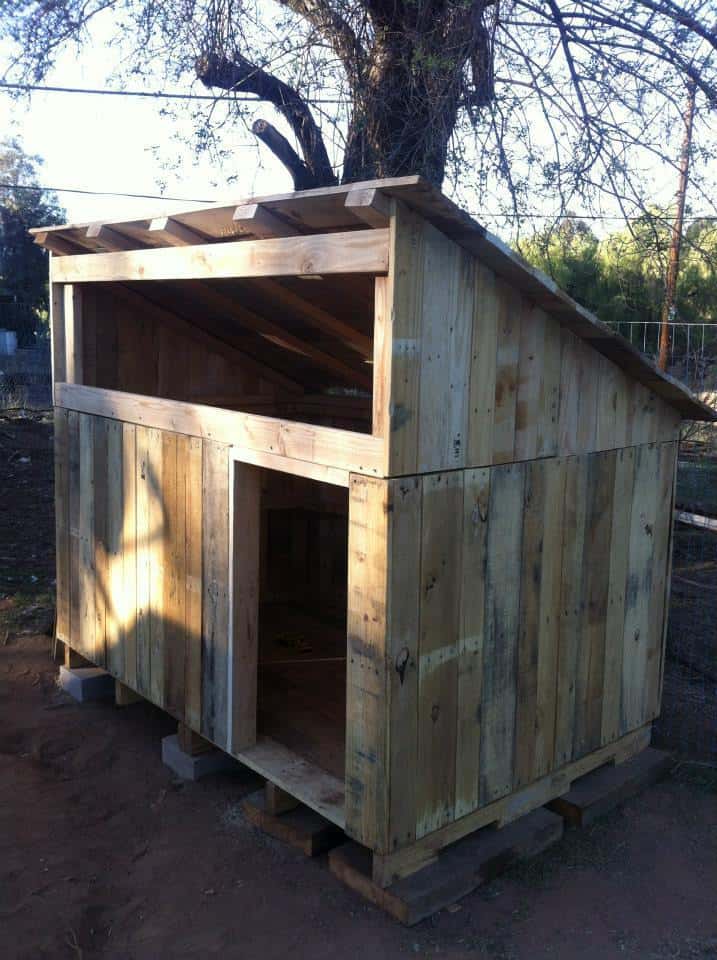 Source Unknown
15. The Simple Duck Harbor
This is another type of simple duck house. It's built on stilts so you can easily install it on the shores of a lake. It can even be installed in your backyard.
It's easily constructable if you have basic carpentry knowledge. Otherwise it can be purchased and redecorated to suit your style.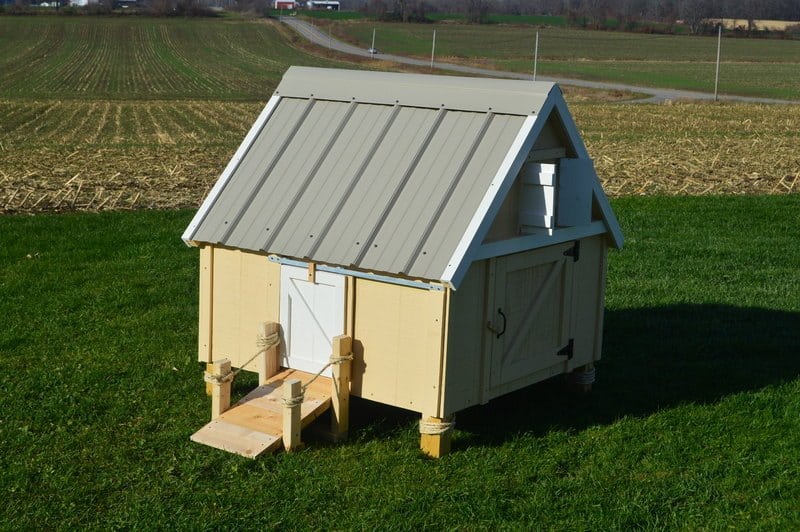 More details at rochestercoops.com 
16. The Duck Tractor
Duck tractors are a really good idea for sheltering your ducks. They're low and can be kept safe from foxes and other predators. You can decide the size according to the number of ducks you have.
Adding a water tub inside, with a bird feeder, can benefit your ducks. You could use a lot of hay for the ducks' nests and make the coop comfortable. Cleaning the tractor can be easy too.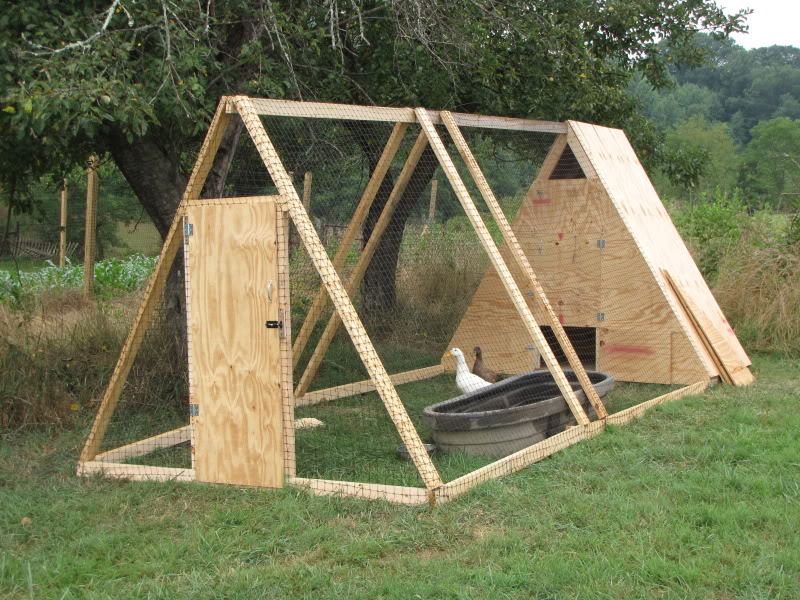 More details at zombiehunters.org 
17. The Aquaduck Floating Duck House
This floating house is available for purchase, as well as a DIY backyard project too. The designers made it with the basic intent of keeping the ducks and their nests safe and away from the predators. The best way to do that is to float your duck house in a pond or a lake.
The base is made of styrofoam and wood which makes it lightweight and durable. The roof hatch can be opened for cleaning and feeding purposes. Over all, this product ticks all the boxes of efficiency.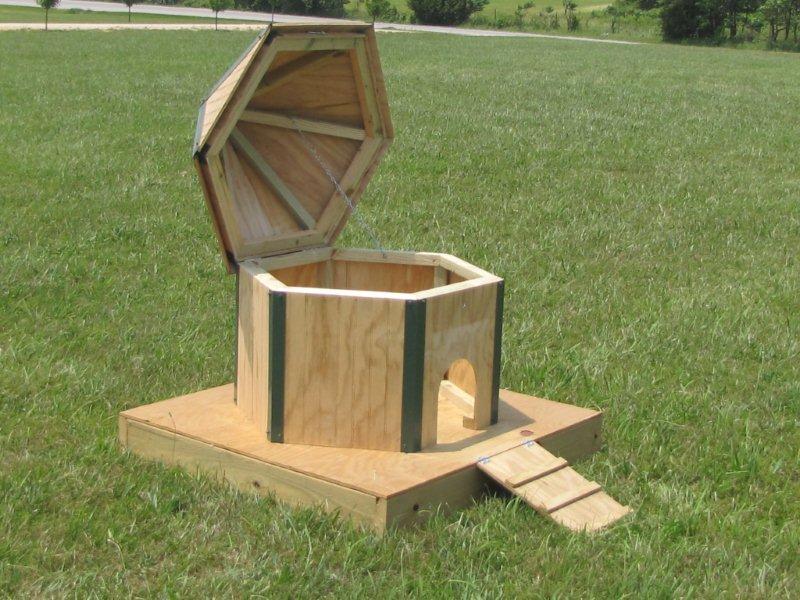 More details at discount-pumps.biz
18. The Lake House for Ducks
This lake house is quite a luxurious and spacious. If you cant afford to leave your ducks out unsupervised, they have enough space to run and fly around. It even has a detailed ramp leading to the lake.
The construction might seem difficult, but considering that youll be needing wood just for the framework of the house and stilts, it won't be much time consuming. It can be covered by screening nets for protection. So if you have a lot of ducks or chickens on your farm, you can definitely go for this duck house.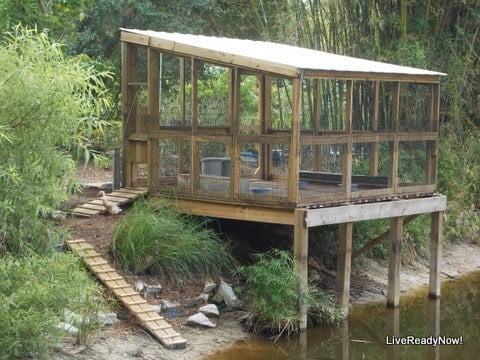 More details at livereadynow.com
19. The Pallet Duck Coop and Run
Here's another pallet made economic design for your duck's shelter. Pallets just seem quite handy and repurposeful for backyard projects like these. They're also easy to assemble and install and can fit anywhere.
Like this duck house, which is fixed adjacent to the house. It has a small shelter for ducks, which can probably fit less than five at a time. It also has a fenced run, which can be made with pallets or pickets. You can add a small pool within the fenced run, so you won't have to let your ducks out every time.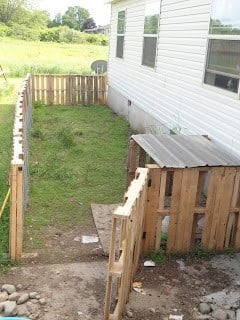 More details at tacticalhousewife.blogspot.com 
20. The Simple Duck and Goose House
If you're looking for a simplistic approach to building a duck house, this can be the design you've been searching for. It's a basic cubicle made with simple wooden planks.
It has a slanted roof to avoid retention of rainwater and snow. It doesn't have windows, but it has aint vents on the top to regulate the cold wind. The door is large enough, so it makes the cleaning job easier.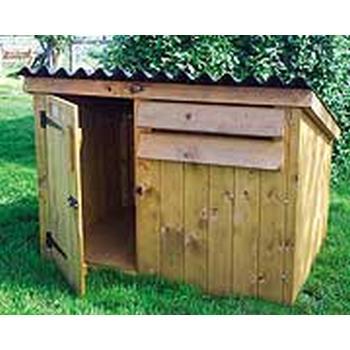 More details at domesticfowltrust.co.uk 
21. The Designer A-Frame Coop
This idea is brilliant for a small or medium sized duck houses. It follows the A-Frame construction technique with some small window openings from the side or the top for sunlight and breeze. The rooftop is strong and sturdy, so the duck house is good for sheltering your ducks and their young ones.
I like the fact that the ramp can be folded in to be a door to the duck house. Using sturdy wood can keep the duck house safe from stormy winds and harsh weather. Painting the exterior in peppy colours will certainly add some charm to it.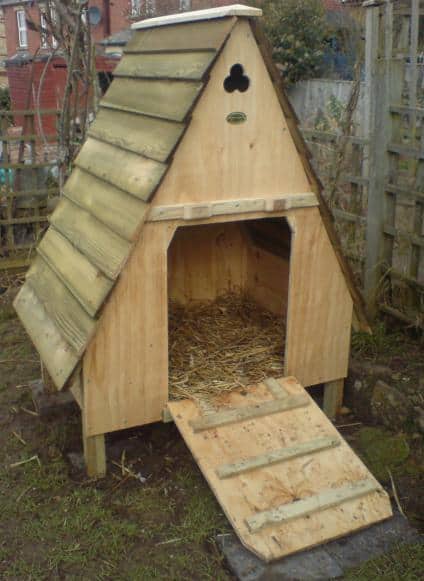 More details at backyardchickens.com
22. The Economical Duck and Chicken Coop
If you're a little tight on the budget, but you still want to build a charming and huge coop for your chickens and ducks, try this design. The website claims to have spent very little finances on it, but it does manage to look colorful and trendy for your backyard.
There's no tutorial available for this, but there's a step-by-step visual aid for the entire structure, so you can have judgement as to how to build it. The size seems huge enough to accomodate 20-30 birds easily. You can even fortify the entire duck house with nets.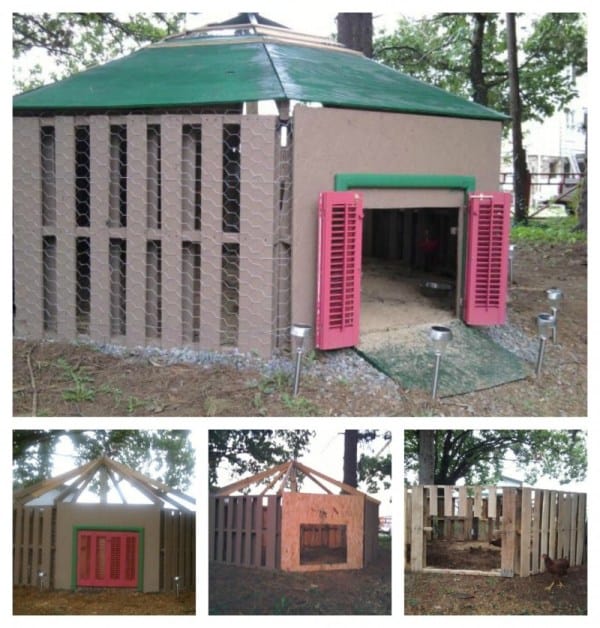 More details at thepoultryguide.com 
23. The Carport Duck Coop
This idea is quite clever and amazing. It has been converted into a spacious duck and chicken coop from a carport or a garage. The best thing about this repurposed coop is that it doesn't need to be constructed. Adding screening nets can keep your birds safe from predators.
It also has a small shelter inside the enclosure, so the birds can take shelter whenever the weather gets unfavorable. You can add a small or a large pond inside the enclosure so the ducks can enjoy swimming, and you won't have to supervise constantly. This design seems nifty and easy to execute, so you can try it for sure.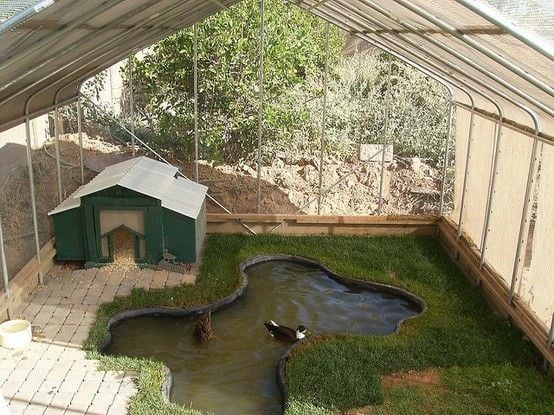 More details at backyardchickens.com
24. The Waddle On Inn
Here we have another thematic duck house for your little birds. It's a simple duck house, but elevated on a platform, possibly to keep predators away. It does add a lot to the looks of it.
There's a ramp built to it, which leads directly to the main shelter.
The decor seems quaint and pretty from the outside. It has windows with flower boxes and a nice wind dial on the top. It actually looks like an inn from the wild, wild west.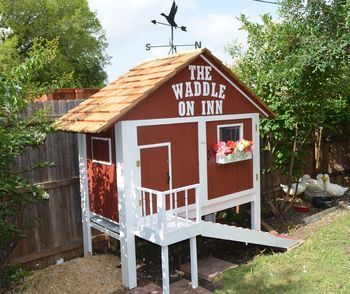 More details at backyardchickens.com
25. The Duck Hut
Another inexpensive duck house made out of a few wooden plywood pieces. I love how ingenious this design is. Simple in built and looks, yet safe for all the ducks. You could even say that your ducks need to duck and enter the hut.
It's installed deeply into the ground so it won't fly off with harsh winds. The low entry makes sure your ducks stay safe from predators, rain and snow. The roof seems high enough for the ducks after entering.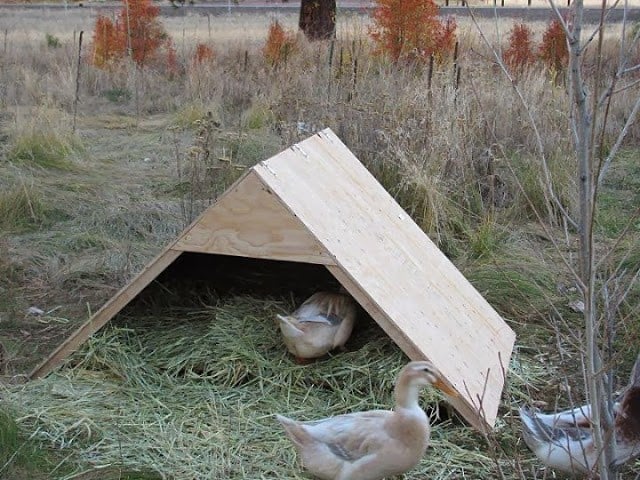 More details at fresheggsdaily.com 
26. The Modern Duck House
If you don't want a pre-fabricated duck house, you can build your own design from scratch. Like this modern duck coop and run was made by a beginner, and it turned out to be quite a success. So even if you're inexperienced with carpentry, you can give it a try too.
You may attach a slide door for the entrance of the enclosure. It's more or less like the duck tractor mentioned above, but it seems more extensive, large and safe. It has a wooden roof on the entire enclosure.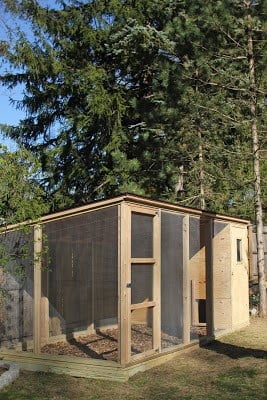 More details at frankiemakes.blogspot.ca
27. The Floating Cottage Duck House
Here is another idea for a floating duck house. You can build it, or buy and modify it. It is a simple house, tiny but comfortable for 2-3 ducks.
It has a pretty decor to the entire exterior. It even has a small ramp leading into the water. The railings on the side are too adorable to miss. So if you have a pond in your backyard, this duck house will look really charming, floating around in it.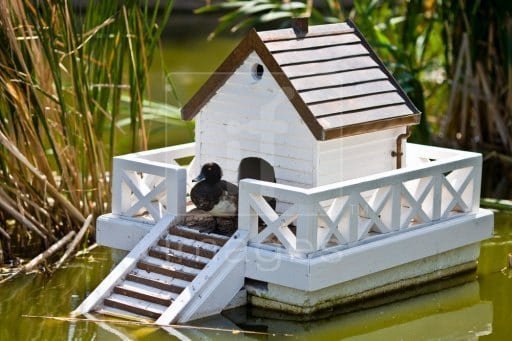 More details at hlstudios1.wordpress.com
28. Custom Floating Duck Houses
This design complements the above mentioned Aquaduck Floating Duck House, but it's custom made and easy to make it yourself. But if you're not interested in a DIY project, you could easily get it built on this website.
The house is simply built with two entrances and a ramp from the floating platform. The roof can be detached for cleaning purposes. If you want to decorate it more to add color to your pond, you could paint it in pretty pastel colors as well.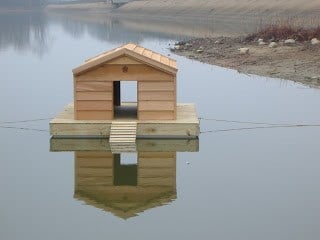 More details at greenswoodworks.blogspot.com
29. The Cable Spool Duck House
Most people reuse cable spools after their intended purpose is complete. Cables spools can be really useful in backyard and DIY projects. This duck house is made of a similar repurposed cable spool.
It has been covered with wood from all sides, and a ramp is attached to it as well. There are two doors, one for the ducks, and one to make cleaning easy. All in all, this seems like a cozy shelter for your ducks, and doesn't seem expensive or difficult to build.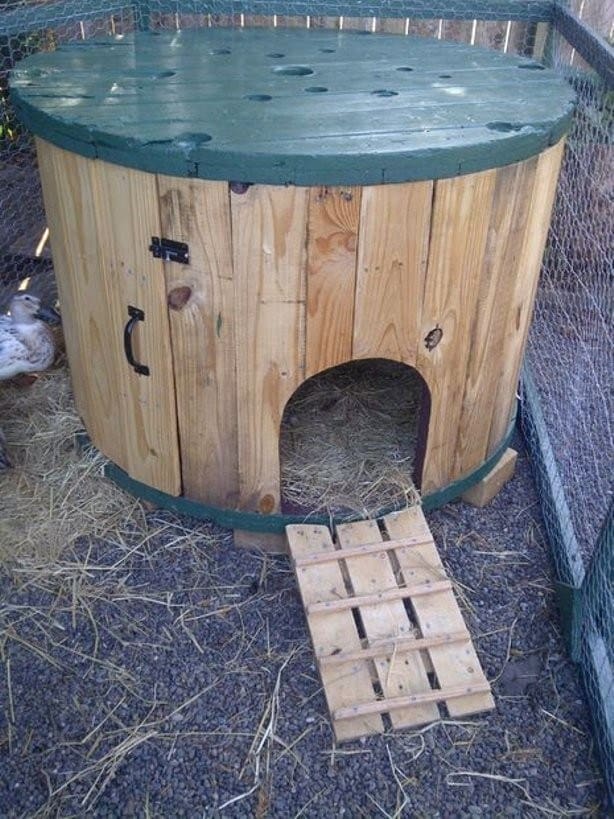 More details at instructables.com
30. The Easy DIY Duck Tractor
This duck tractor is quite easy to build and assemble. The variety from above doesn't seem too sturdy, so if your ducks are especially vulnerable to predators, you could give this model a try.
It has strong wooden walls, giving it more stability. The roof is made out of wood and covered with metal, so it gives extra protection from heat and rain. This duck tractor does seem efficient that way.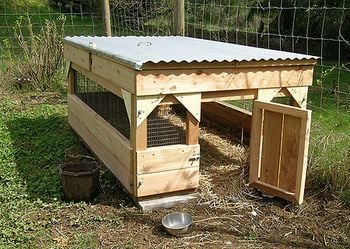 More details at backyardchickens.com
31. The Simple Pallet Bird Coop
This bird coop is made out of repurposed wooden pallets and boxes too. It's easy and simple enough to build, and it can fit in small spaces conveniently.
You can add splashes of colors, colourful doors and decorative ramps for some extra charm. This duck house is inexpensive and can be built easily with visual and verbal instructions.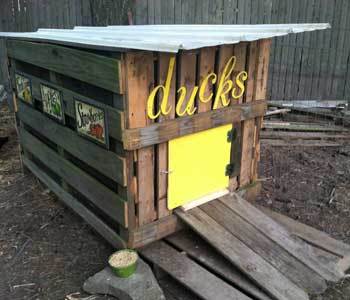 More details at homegrown.org
32. The Ducks Only Coop
This is a simple outdoor duck house, easy to build and charming in looks. It seems like a place ducks will feel comfortable to nest in, or sleep peacefully. There's even a side door for cleaning purposes.
You can build it on the ground or elevate it on a platform. Although if you choose to build it on a platform, you may consider adding a ramp for proper entry of the ducks. Adding fun signs like "Ducks Only" will make it look prettier. There is no tutorial available for this duck house, but if you have enough experience, you can build it according to the picture.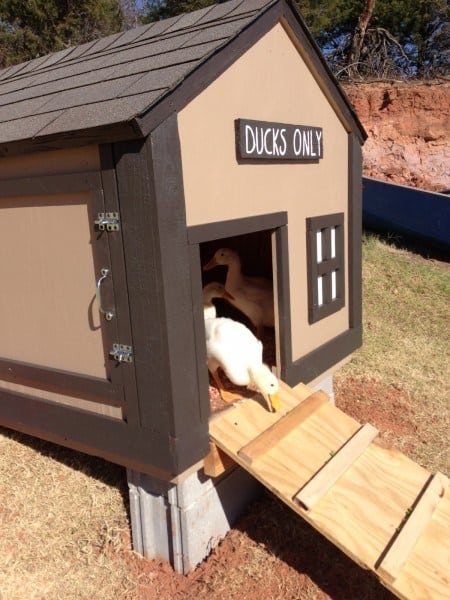 Source Unknown
33. The Playhouse Duck House
We often wonder what to do with a playhouse when kids grow out of it. Do you have such a playhouse sitting in your backyard? You can easily convert it into a spacious duck coop.
It has a human sized door, modified to keep ducks safe. And it also makes the cleaning easier. It has enough space for a storage and nesting too. So your flock can live in this shelter comfortably.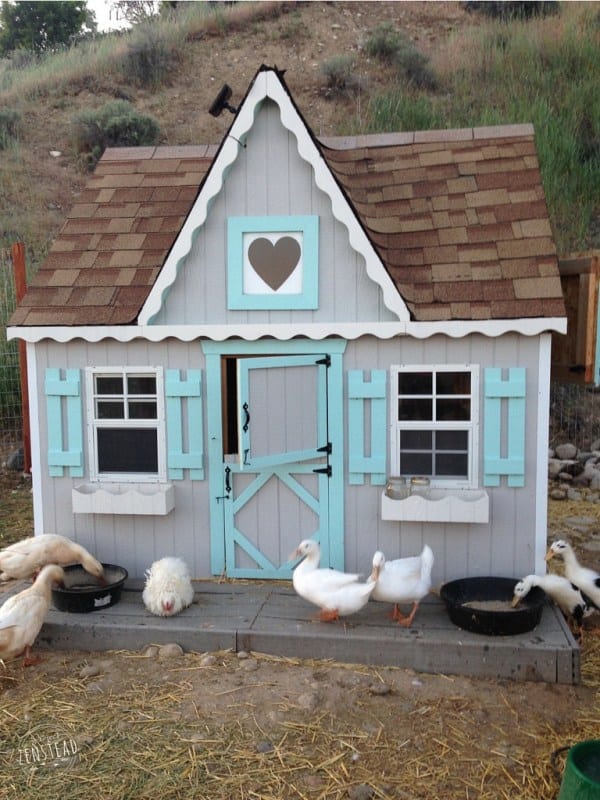 More details at projectzenstead.com
34. The Gaggle Duck and Goose House
This duck house can be built as well as purchased from this site. If you're skilled with carpentry, you could take an idea form the picture and build it in your backyard.
The shelter uses logs for construction, so it gives a cabin look to house. It is also portable since it has wheels attached to it. If you plan on keeping it stationary, you can modify it that way. The human sized side door allows you to clean the duck house properly.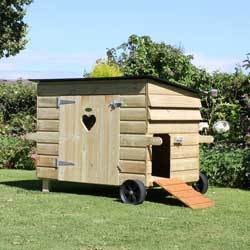 More details at flytesofancy.co.uk
35. Enclosed Duck Tractor
This duck enclosure seems quite fancy, but is very easy to build. It's enclosed on all sides with a door big enough for humans.
There's also a repurposed kid's swimming pool used as a pond for the ducks. The shelter is small but can accommodate around 4-5 ducks. The whole enclosure is covered with a metal roof, so there are no weather or fox troubles.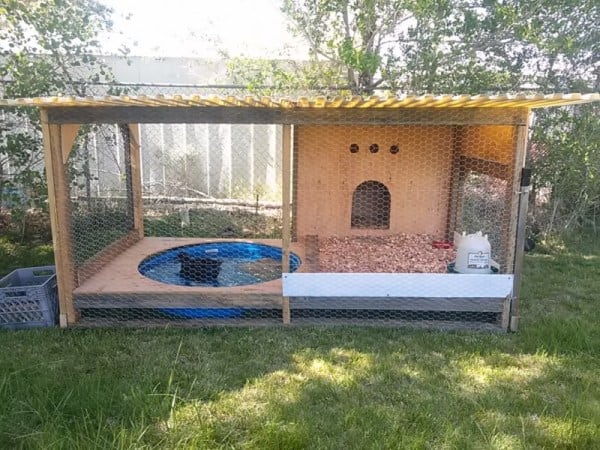 More details at backyardchickens.com
36. The Straw and Barrel Coops
This coop is another cheap idea for a duck or chicken house. Using old wine and whiskey barrels is a really clever idea. The wood keeps the shelter naturally cool.
The straw coop is easy to build from straw mats. If you find a similar dollhouse, you won't have to worry about making anything. You can add hay and grass for cushioning and nesting.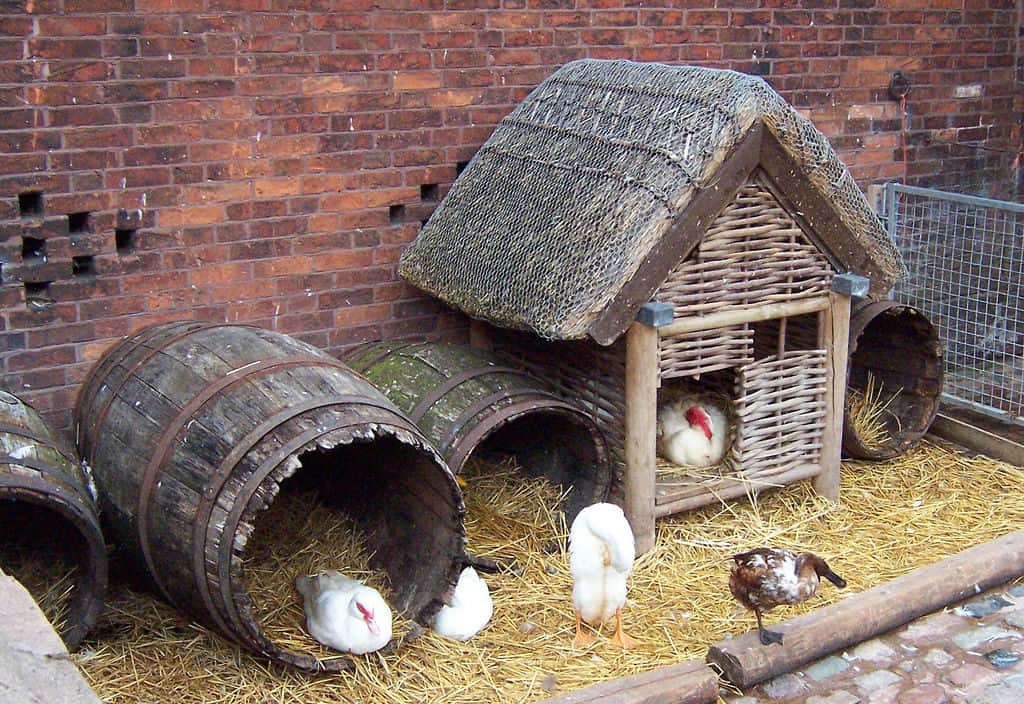 More details at flickr.com 
37. Recycled Water Tank Duck House
This was actually intended to be a chicken coop, but you can use it to shelter your ducks too. It's a bigger version of the barrel coop, and they have actually used an old metal water tank here.
With some pallet reconstruction, you can easily modify this into a duck or chicken house. Adding a ramp for the birds near the entrance will make it convenient.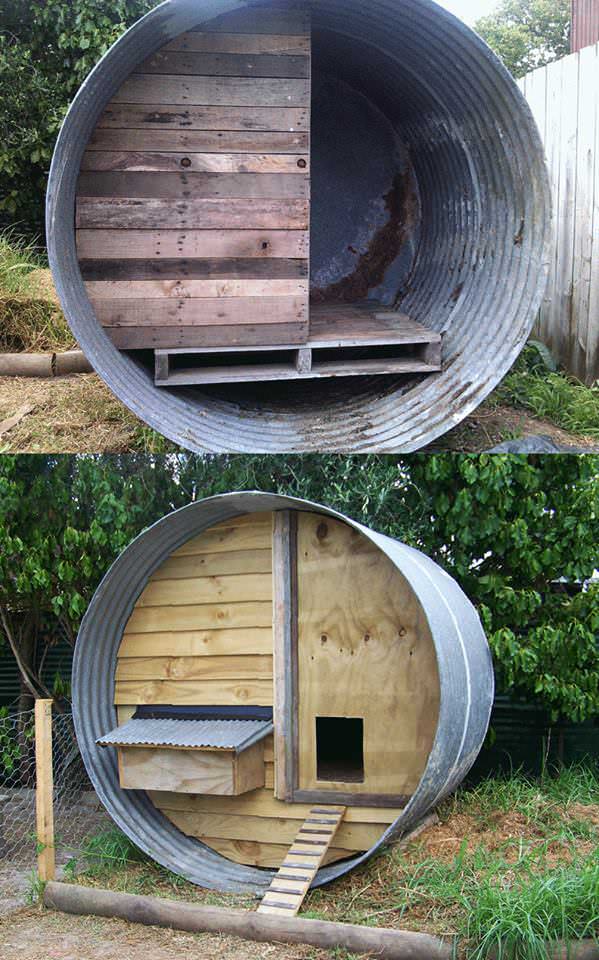 More details at recyclart.org 
38. The Plastic Barrel Duck House
This duck house is made up of old used barrels. The video has a proper step-by-step tutorial. You can make the plastic habitable by adding straw for cushion.
Although it seems easy to build, it's efficient as a makeshift shelter for ducks and chickens. I wouldn't recommend using it as a duck shelter for a long time or in hot summers.
More details at youtube.com 
39. The Duck Shed
This duck shed is quite easy to build if you have basic experience with woodworks. Even if you don't, the tutorial to build one is quite comprehensive and simple, with step-by-step visual aids.
Using recycled wooden pallets and planks will make it less costly. The top of the duck house is covered with screening nets for better ventilation. There's also a brooding box on the side for little hatchlings.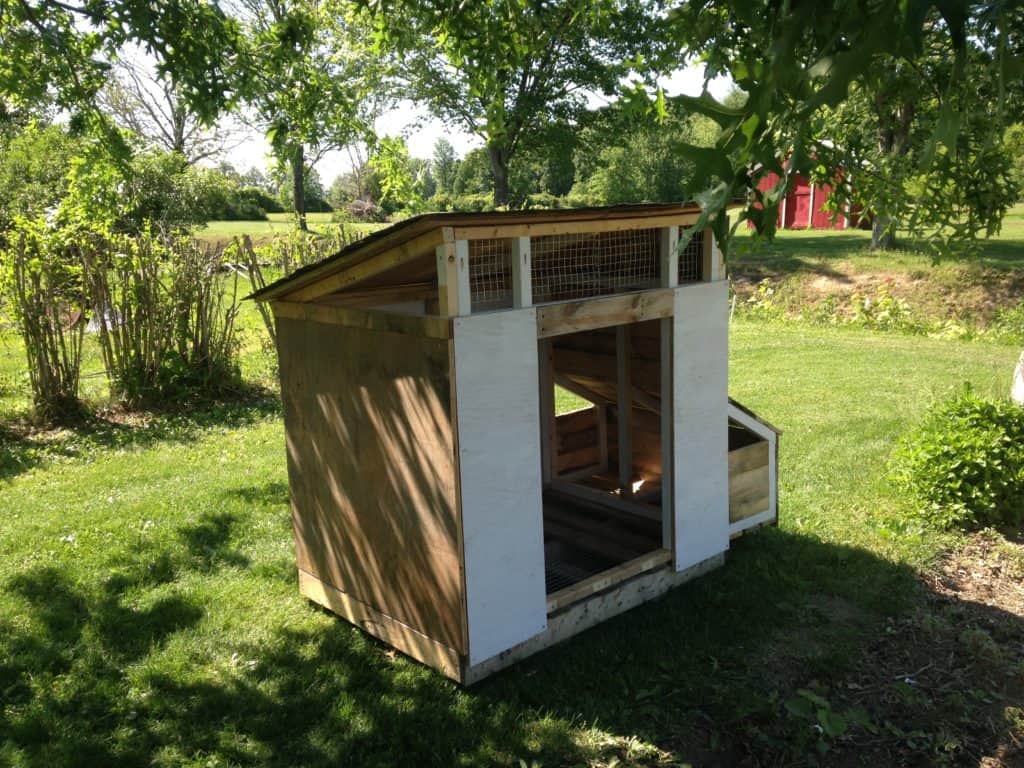 More details at needlesandnailsblog.wordpress.com 
40. The Deck House for Ducks
As the name suggests, this duck house is built on a deck. It's an elevated platform resting on stilts, and there's a small ramp for the ducks to climb towards their shelter. The deck is open from all sides, but you can add railings for security and extra charm.
You can fix a tub next to the duck house for your ducks to swim in. You could give the duck house extra protection by installing it inside an enclosure, but otherwise the duck house is not safe against predatory attacks.
More details at backyardchickens.com 
There are surely quite a lot of options at your disposal for building a duck house. From traditional coops to spacious A-frame cabins, fun and innovative themed houses to pool inclusive residences.
So how many of these ideas did you like? I'm pretty sure you must have had your own ideas popping up too. But hey, that's the best part, you can modify these ideas as you like!
So get those tools out of the box, get your thinking hat on and let the imagination help you make your very own duck house.
41. The Quacker Box
This duck house is a very ingenious one. It can be built with the help of this easily comprehensible tutorial. It's a duck tractor which is enclosed on all sides with a screening net. There's a shelter and a run for the ducks.
Moreover, the roof of the shelter is a modified to a green roof or a mini garden with small plants and herbs. So if you're looking for some unique and garden inclusive ideas, this could be what you're looking for.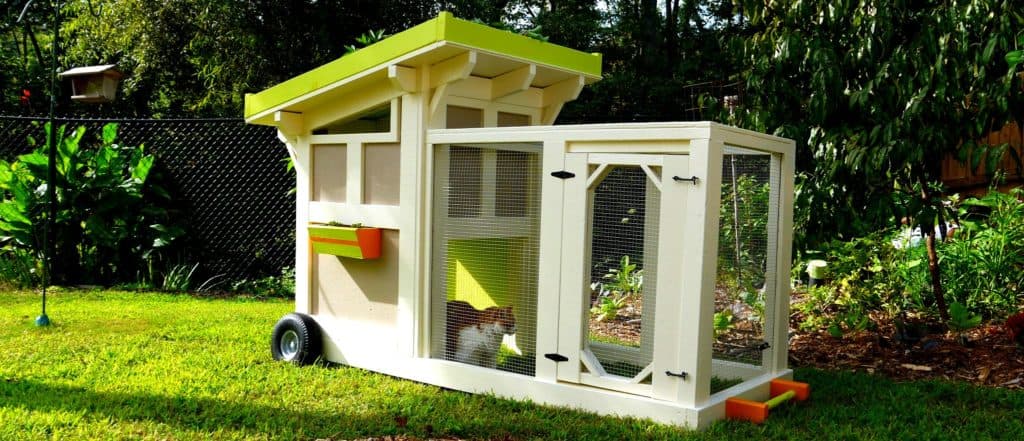 More details at tyrantfarms.com 
42. The High Post Duck House
If ducks are frequent visitors in your backyard, but not pets, you can make this inclusive bird house. It rests on a high post, so animals won't try to prey on the ducks. It also helps shelter these ducks during wintertime and gives them a much needed asylum and a lot of warmth to trudge through the harshness of winter.
The tutorial is very easy to understand and replicate. It gives proper dimensions for the duck house, and can be easily modified. In the end, when you build a shelter for these strays, you will feel quite satisfied, and not just with the outcome but with the purpose this task fulfils.
More details at myoutdoorplans.com 
43. The Wooden Crate Duck House
If you have wooden packing crates just sitting around, you can modify and repurpose them into a duck house. Packing crates are usually quite sturdy to withstand shock and carry heavy material. You can very well use this property of the crates to make a stabilised duck house.
You can make a small door to the side for the chickens or ducks. The crates can also be opened for thorough cleaning. Painting them with bright pastel colors can add charm to an otherwise mundane wooden box.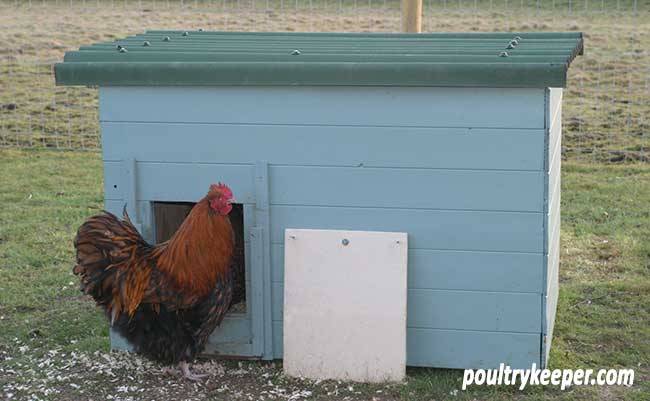 More details at poultrykeeper.com 
Alright then! Now you know about 43 for most favorite duck house plans and how you can execute them to build shelters for them. Why don't you go ahead and give them a try? Almost every one of these ideas is easy to execute and the structures you should last long if they are built the right way.
Related Articles
30 Portable Chicken Coop Plans You Can Easily Move
Barndominium 101 | Floor Plans, Pricing Guide & Pictures
57 DIY Chicken Coop Plans in Easy to Build Tutorials – 100% FREE
47 Free DIY Swing Set Plans for a Happy Playing Area in Your Backyard
49 FREE DIY Router Table Plans For an Epic Home Workshop
43 DIY Duck Houses Plans and Duck Coop Plans to Build Now
57 DIY Bookshelf Plans and Ideas For Healthy Home Libraries
163 Free DIY Pole Barn Plans and Designs That You Can Build Easily
37 Free DIY Tiny House Plans for a Happy & Peaceful Life In Nature
27 Insanely Cool DIY Rocket Stove Plans for Cooking With Wood
39 FREE DIY Bat House Plans to Shelter the Natural Pest Control
19 Adorable Free Cat Tower Plans For Your Furry Friend
23 Awesome Free Deer Stand Plans You Can Start Right Now
23 FREE Detailed DIY Garage Plans With Instructions To Actually Build
13 Epic Free Rabbit Hutch Plans You Can Download & Build Today
101 Simple Free DIY Coffee Table Plans
The Rise of Barndominiums and Why You Should Buy One
10 Best Electric Fence for Chickens in 2022
Best Floors For a Chicken Coop Options Right Now
32 Best Chicken Coop Kits for Sale