The bathroom is often the most neglected part of any household and needs a proper paint job. So, you must use the best paint for the bathroom ceiling and walls. 
Excess moisture deposition on the walls leads to the formation of mold and mildew, which are potential health hazards. That's why it's essential to use special paint that shields your bathroom walls from moisture and adds a natural shine. 
Also, any paint you use should come with a mildew-resistant additive to last longer. However, it's best to avoid paints that are intended for exterior use. Although these specially formulated paints offer waterproofing abilities, they contain hazardous amounts of VOCs that might cause respiratory problems. 
That's why it's essential that you select the right paint for your bathroom with careful consideration of all factors. And in this guide, we have explained these in detail and shared some quality tips to keep your bathroom mold-free.
Before we continue, for DIYers looking for exact painting techniques for furniture that will help you out with changing the way your old furniture looks without calling a professional. We have a solution for you, checkout our next article to know more.
So without further ado, let's jump right in! 
Why Do You Need Special Paint For Bathrooms?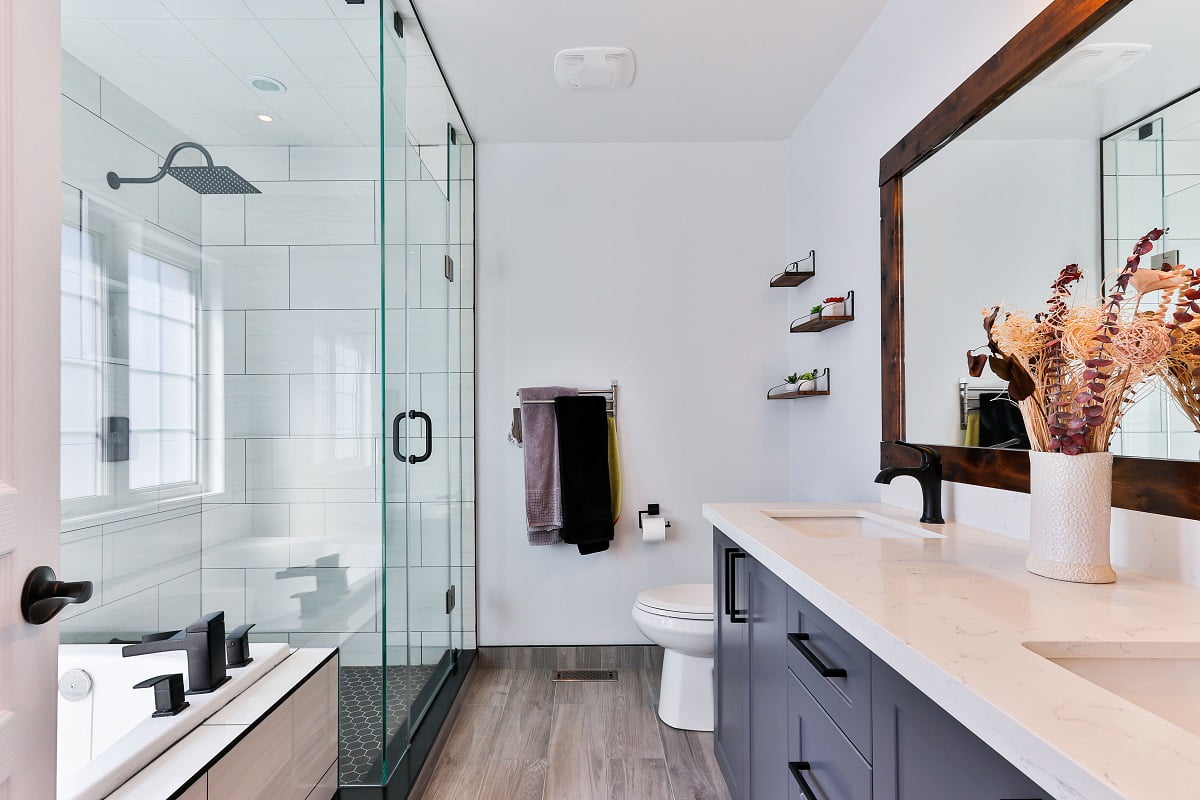 Bathrooms are areas prone to maximum moisture and must be your primary concern when applying a fresh coat of paint formulated for the space. 
Damp air from showers or steam baths, as well as direct splashes of water from the sink, bath, or shower, can easily damage the top layer of paint. Moisture can also seep into the plastic or drywall surface beneath, leading to mold growth and peeling paint. 
Specially formulated moisture-resistant paint for bathrooms absorbs moisture from an area of high humidity, thereby hindering mold formation. Also, these glossy paints make wiping down stains easy and deliver an aesthetic and classy look to your modern bathrooms. 
What Are Some Of The Best Paint For Bathrooms?
Before you start painting, apply one or two layers of primers. Primer bonds with the paint to ensure it remains on the walls for many years and also keeps it dry. So, a good primer is essential if you want long-lasting paint for your bathroom. After that, it's essential to choose the right paint.
In this section, we will discuss the types of paints available, along with their pros and cons, so you can decide which suits your bathroom better. 
A. Eggshell, Matte, And Flat Paint
Matte finish walls add a soft touch to an otherwise glossy and smooth room and deliver a designer and luxurious appeal. However, professional painters avoid using soft paints in bathroom projects because they are more susceptible to mildew infestation in high humidity. Plus, these aren't much easier to clean. 
Over the years, painting technology has improved significantly, and there exists flat, eggshell, and matte paint that makes cleaning easier and incorporates mildew-resistant properties. And once the paint is cured, you can use water, soap, and a clean cloth to wash the walls.  
B. Satin Paint
Satin paints sit just in between glossy and acrylic eggshell paints. These paints have a protective coating that's easier to clean than traditional eggshell or no-sheen paints. So, if you want a softer-gloss finish texture on your bathroom walls while still reaping the benefits of a glossy finish, a satin finish paint should be a no-brainer. 
C. Latex paint
Latex paint is one of the better options for painting bathrooms because it has mildew-inhibiting properties. However, do not go for water-based latex paints, as these can get washed away due to prolonged exposure to moisture.
D. Semi-Gloss Paint
Semi-gloss paints are the most versatile of all. This modern paint is mold-resistant, easy to clean, and an excellent choice for bathroom walls. There are plenty of semi-gloss options available on the market to choose from. 
However, the downside of this paint is that it looks good on smaller surfaces like bathroom cabinets and windows and not on large surfaces like living room walls.  
E. High-Gloss Paint
High gloss paints are the best choice for your bathroom walls, as they deliver protection along with great looks. So, it's like hitting two birds with a single stone. These finishes are easiest to clean, and gloss repels moisture to seal the paint. Plus, compared to satin or semi-gloss for bathroom, these are more durable and long-lasting. 
What Additives Make A Paint Suitable For Painting Bathrooms?
If you don't have access to specialized paints, you can add certain additives to traditional paints to improve their quality. Two of the most used additives for paint include:
A. Anti-microbial Additives 
Moisture and heat present in your bathroom create a humid environment that's ideal for the growth of mold spores. Ignoring this can cause serious health issues and breathing disorders in the long run. To eliminate this problem, you can add antimicrobial additives to the paint to prevent mildew growth and give your walls a longer life. 
B. Corrosion Inhibitors
While painting metallic elements like wall hooks, cabinets, curtain rods, and others, you must add corrosion inhibitors to the paint. It cuts the oxidation process and ultimately inhibits rust formation.
Tips For Painting Bathrooms:
Tip 1
Select the bathroom décor first, and then go on to choose the paint shades. This practice allows you to gauge colors that will complement the decor. 
Tip 2
Understand the type of paint you're looking to apply to your bathroom. Some paint textures require multiple primer layers before applying the main paint layer, while for some, a single coat is enough. If you're unsure about it, consult a painting expert to guide you through it. 
Tip 3
When painting, use old newspapers and masking tape to cover your floor tiles and bathroom fixtures. It protects them from the damage of the dripping paint. 
Tip 4
Purchase a paint sample and apply it to a small section to visualize the colors better. 
Tip 5
Always go for quality rollers and brushes rather than opting for cheaper ones. Using high-quality products gives you superior results. 
Tip 6
When choosing colors, go for the ones with the most natural reflection, like white. These show stains easily and create a natural ambient light around the space to give it a healthy glow. And make sure to keep your bathroom well-ventilated to minimize the bathroom moisture.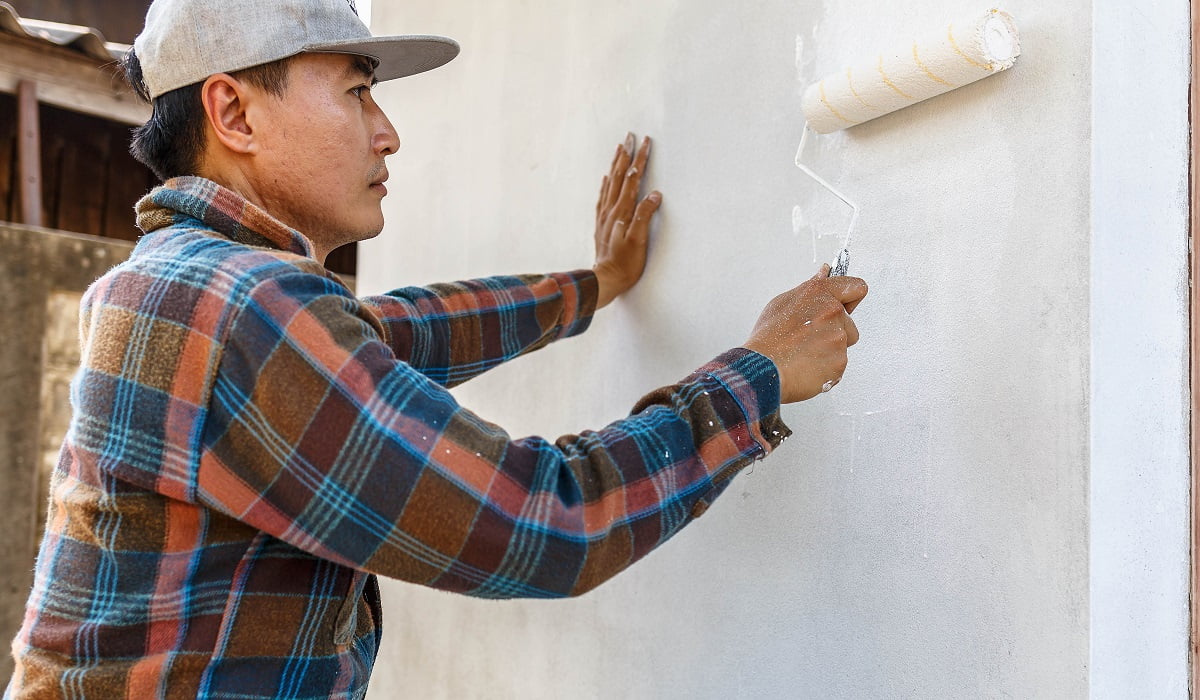 Special Paint For Bathrooms Final Words
We hope with this guide, you understand the reason why bathroom walls need special paints. And if you're confident about the task, by all means, attempt it yourself. However, if the painting job seems overwhelming at any point, the safest option would be to hire a painting expert. 
Hiring professional help will ensure that your paint job is done with expertise, and you won't have to worry about the longevity of the paint. Also, professionals ensure that you get suitable paint for your bathroom (and other) walls.
That's all for today!