Everything that is uncommon to human kind, everything that we cannot easily do fascinates us; we attempt swim, ski, fly, levitate and sky-dive; we search the incredible in everything. One of the most common dreams is the fly; we`ve encountered this dream in Sunday morning cartoon and Discovery`s jet pack documentaries; we all think we`re ready to fly but we simply don`t have the means yet and while that might be true we have found a way to build an experience on that dream, one that makes us fly in a way without endangering ourselves but on the contrary : empowering and calm us, exactly what flight ought to feel like.
Cool hanging beds that you could replicate with do it yourself projects are subject of conversation today; these can levitate in your backyard, patio, living room or bedroom to conjure an extraordinary experience truly.
An old trampoline and simple hardware accessories can shape your next DIY hanging bed in 3-4 hours only to reward you with a  tool of relaxation for years to come. Numerous alternatives can be found online for this magnificent craft; one could replace the trampoline with branches, reclaimed pallet wood or old boats; the options are limitless yet in the following article you will find 17 smart hanging bed design ideas curated with great care; they`re easy to replicate, extraordinary graphic and insanely comfortable.
Cast a glance and find peace and relaxation in a simple shape floating above the ground.
 DIY Hanging Bed Tutorials and Ideas Follow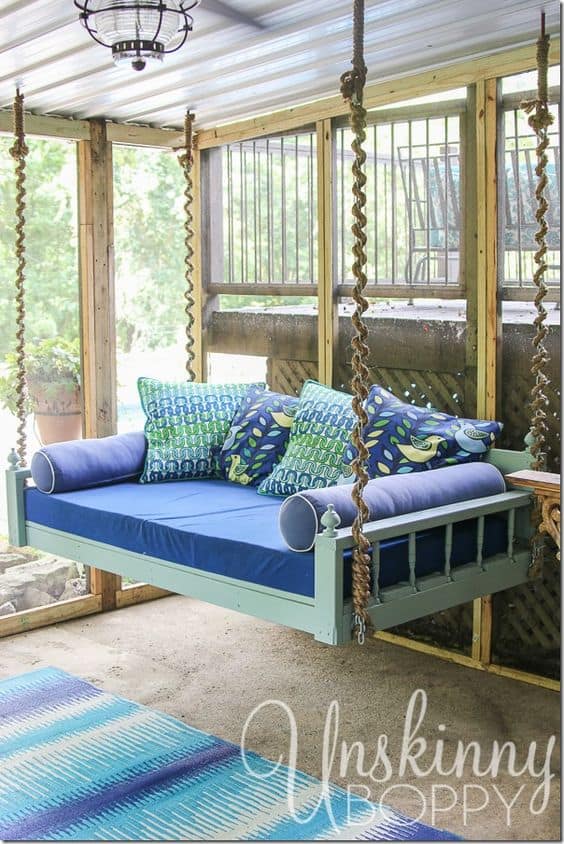 An old furniture piece and simple chain embellished with rope represent key elements in the magnificent color above; simply choose the color that fits your needs and bring a comfy mattress to swing away your problems.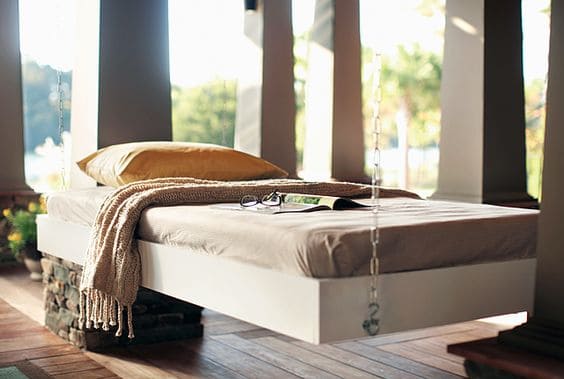 The simplest pallet bed frame can levitate to shape your porch hanging bed, enjoy your morning coffee and daily read in peace.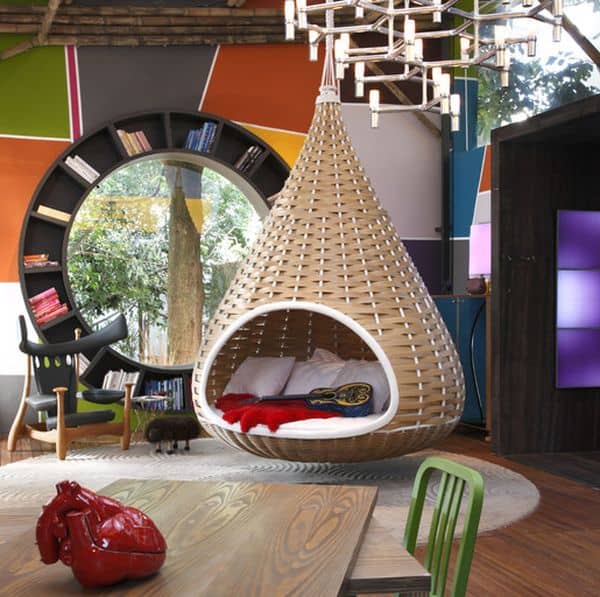 A sculptural and exquisite presence to emphasize one`s living room.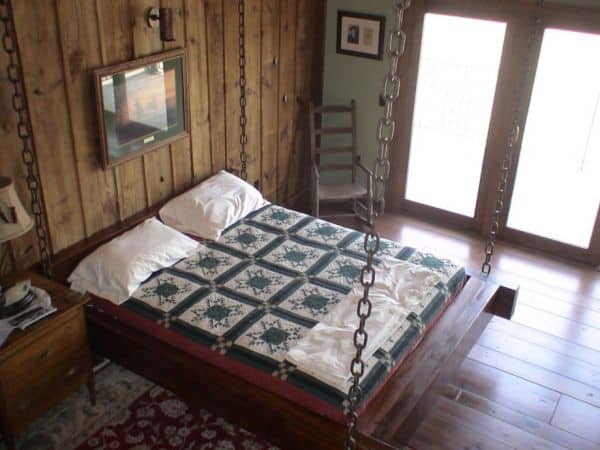 Heavy iron chains carying a heavy wooden floating bed might break patterns yet the rustic design above can be definitely considered original.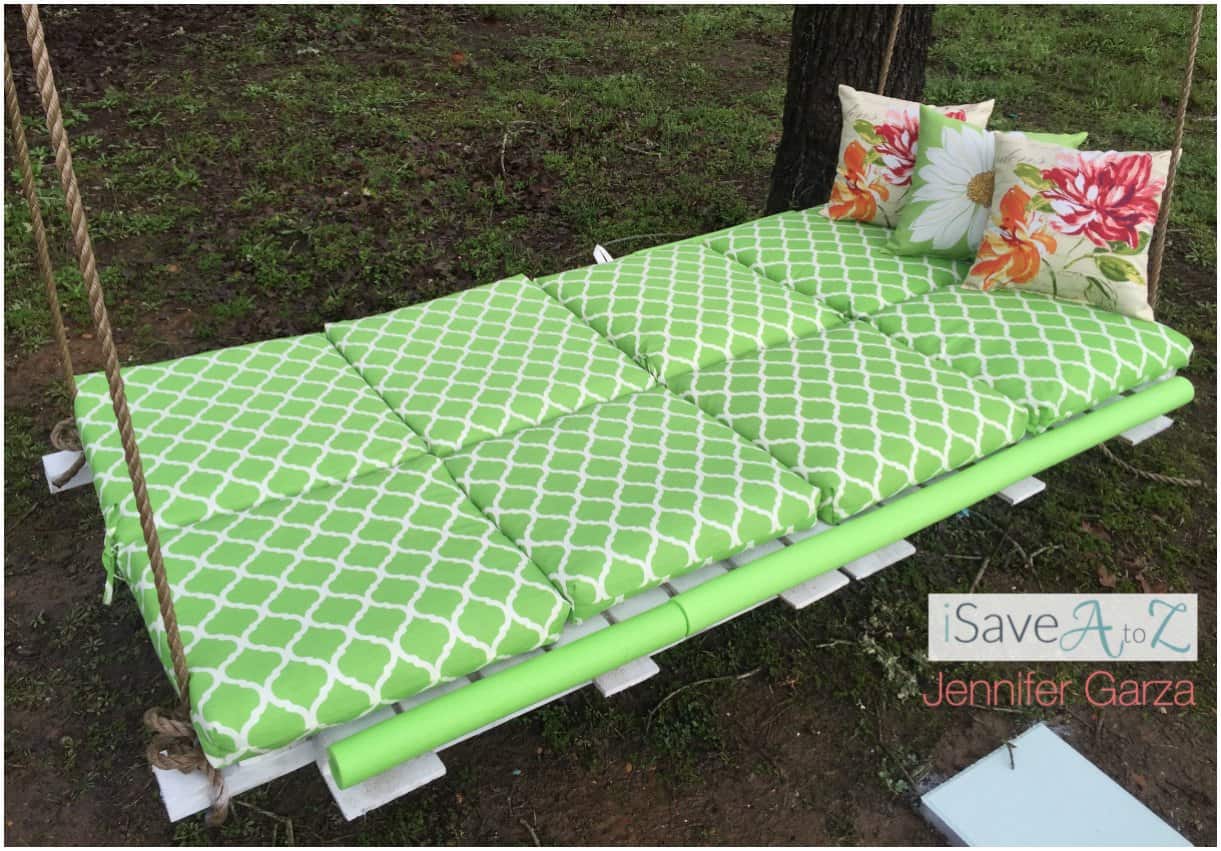 One pallet to shape your floating couch needs can be nested outdoors too; simply follow the tutorial below to build this tool of relaxation.
Tutorial @ isavea2z.com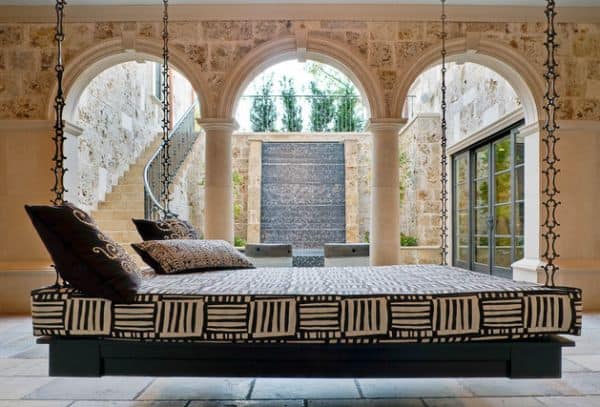 Imposing elegant black and white hanging bed design with sculptural iron chains of great resilience, built to withstand the challenges raised by the outdoors.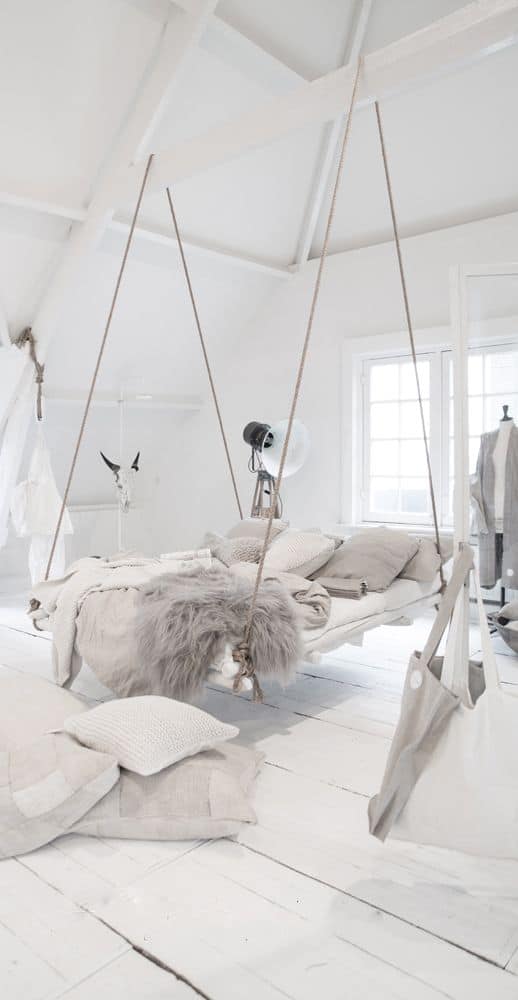 An ethereal ambiance can be obtained with any wood, sufficient light, stark white and world`s most plush and comfortable textures. The serenity above can bring only calm.
via weloveboho.com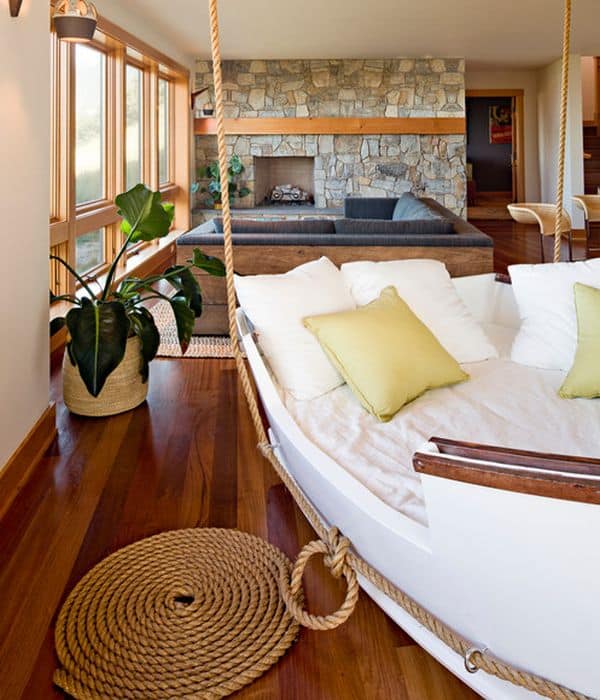 To salvage a boat and use it to shape a hanging bed might be a dream anchored in one`s passion to sail. The craft is extraordinary graphic and practical regardless; if you encounter the opportunity, embrace it.
via Jessica Helgerson Interior Design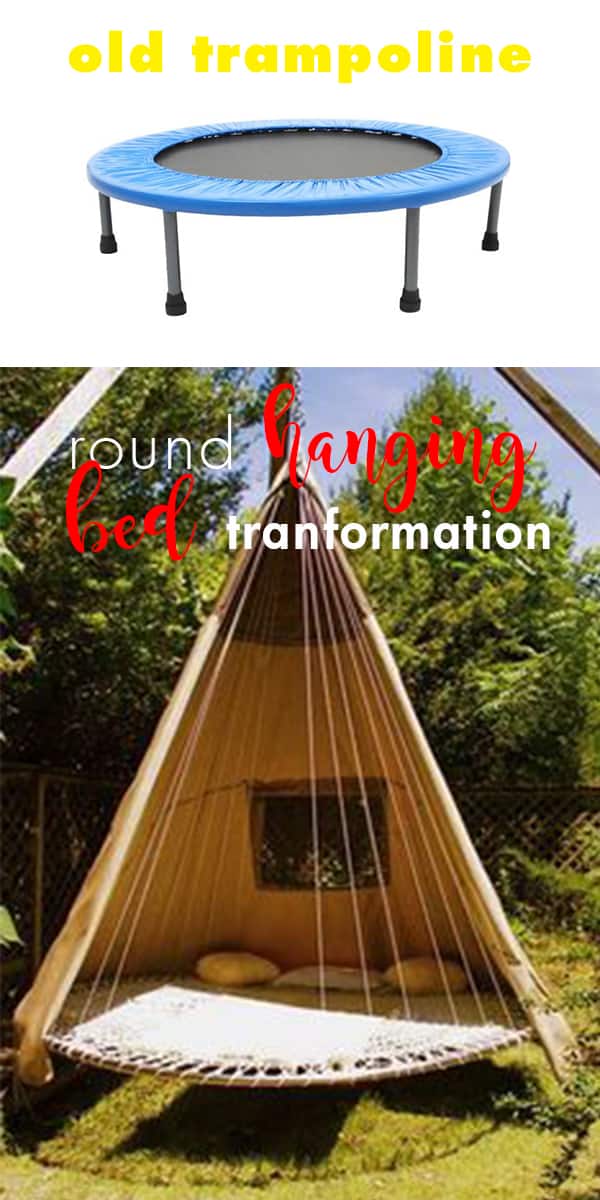 The process is extraordinarily simple and can last a lifetime, enjoy the process, you`re shaping memories !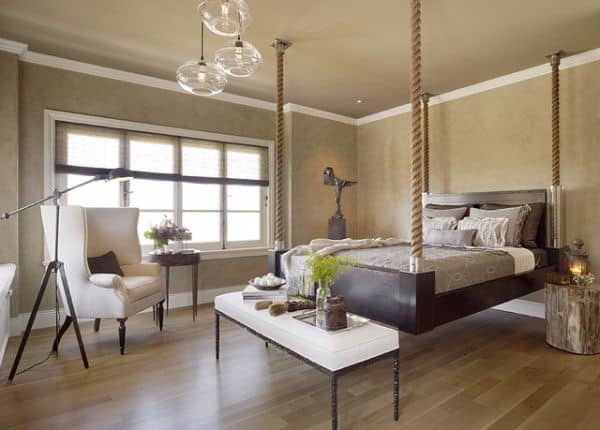 The rustic here brings small accents that anchor a contemporary modern interior beautiful in reality. The neutral tones used paired with elegant sculpted details bring a touch of sophistication.
via Cathleen Gouveia Design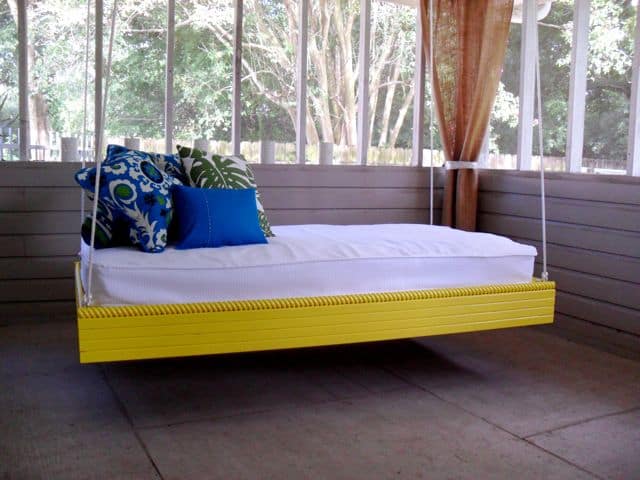 via Megan Mcfarlain; Tutorial @ ana-white.com
A full size bed on the porch might be the best piece of furniture that you could nestle in your household. Summer evenings and nights spent in there can be memorable.
by Vintage Porch Swings LLC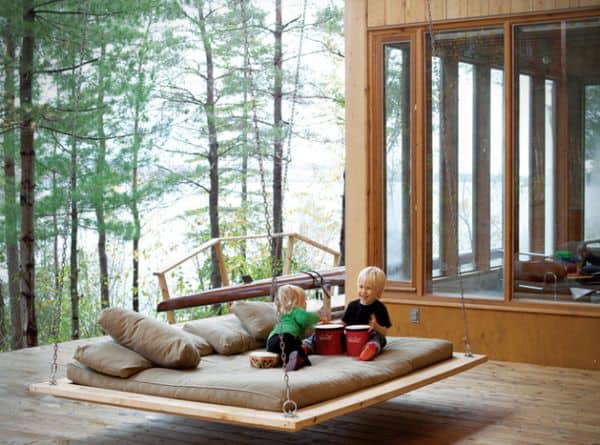 A suspended bed on the porch of your forest cabin might be the ultimate relaxation tool.
Source Unknown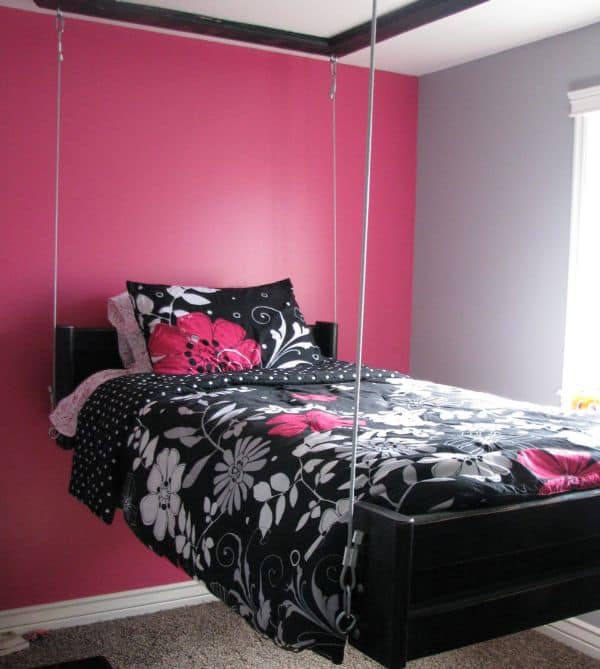 Source Unknown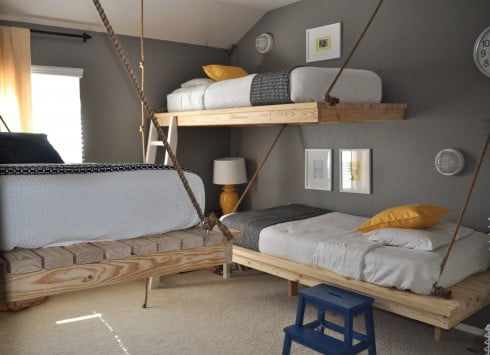 via ana-white.com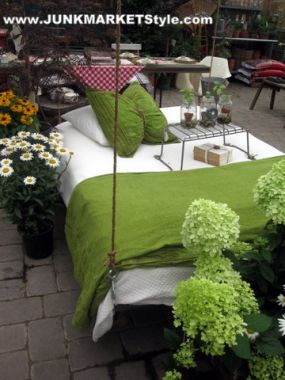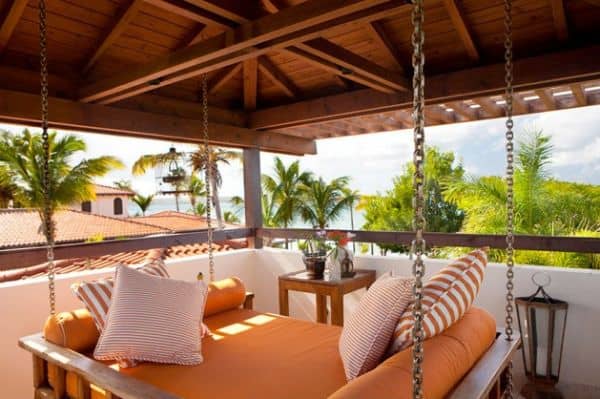 A privileged resort might nestle an exotic outdoor bed yet nothing stops you from crafting your own in the comfort of your own home.
by MCM Design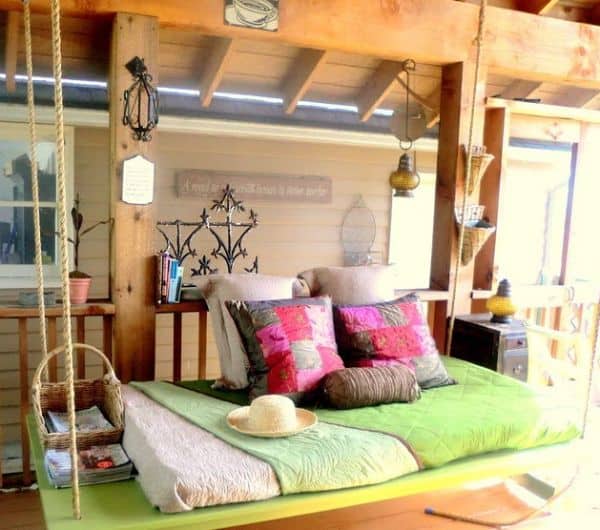 The simplicity of a simple hanging bed on the porch anchored with rope may bring immense smiles, joy and supreme relaxation in times of need.
via Iro Findrilaki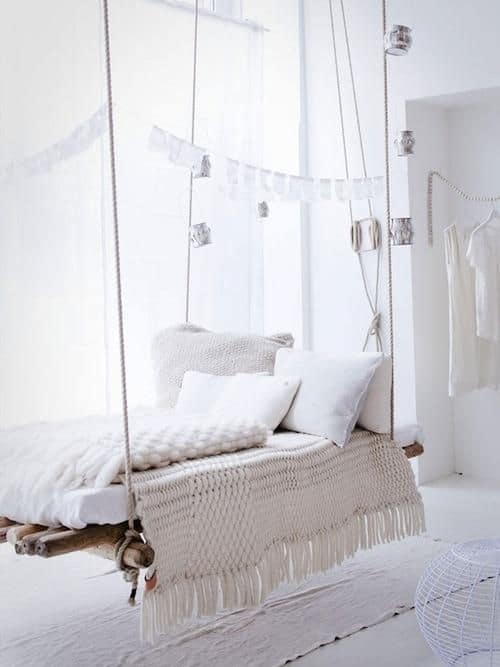 via bloglovin
Hanging beds bring a great array of options in terms of design, options that respect simple principles that can easily be reinterpreted to one`s needs. Use the hanging bed to save space and emphasize the feeling of space in a room without sacrificing on color, design and experience.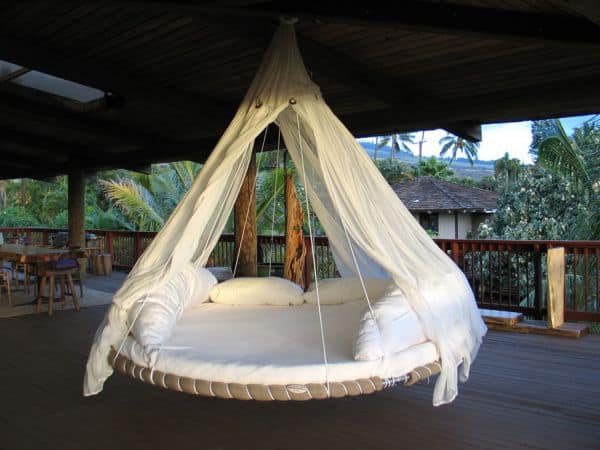 To dream of flying while slowly flying in mid air in your circular suspended round bed might be an experience for your bucket list.
via Floating Bed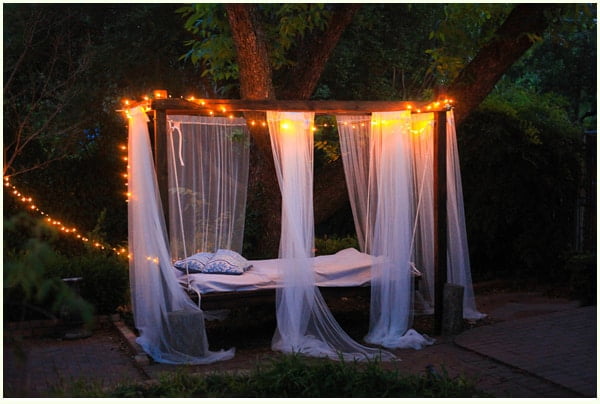 A highly detailed project that requires a little bit of time and dedication only to reward the crafter with the ultimate outdoor experience !
Tutorial @ runtoradiance.com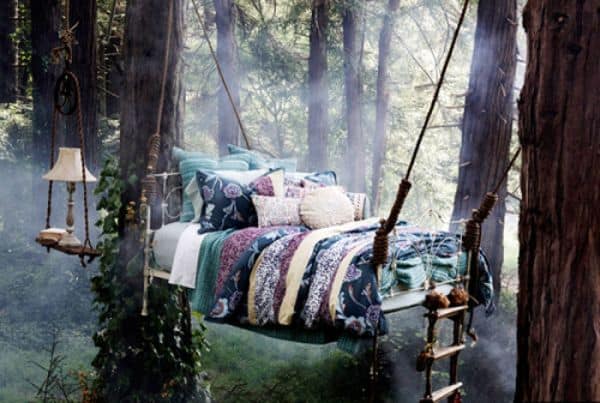 A romantic getaway surely looks different for various couples yet intimacy in the naturalness of mother Earth is a constant in these dreams.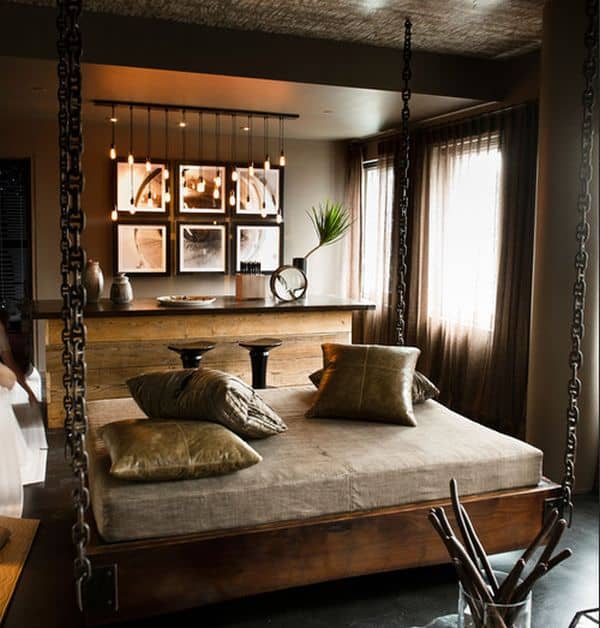 Indoors the rustic and industrial design language can be united to form a perfectly balanced cozy experience that floats to one`s needs.
via IPD Partners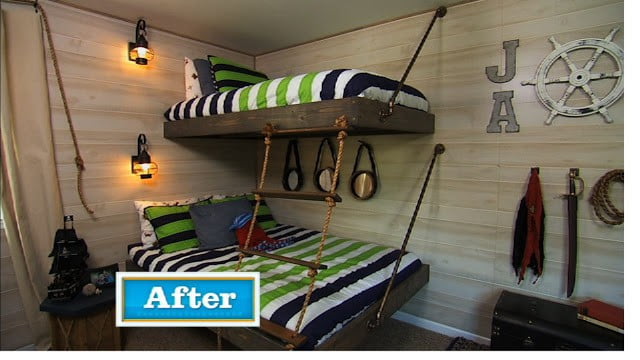 Tutorial @ eastcoastcreativeblog.com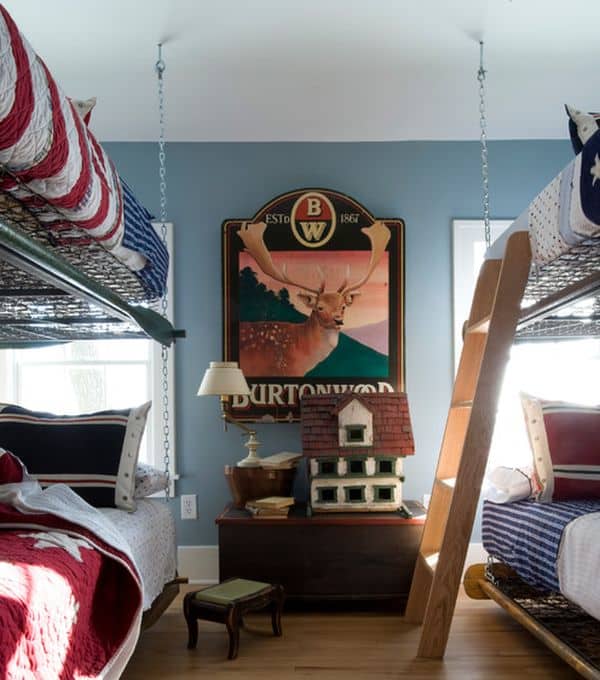 A design easy to realize that will serve you for decade a in full comfort.
via Market of Fleas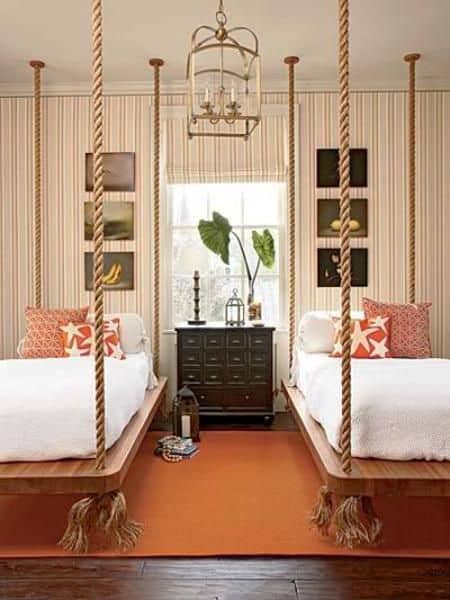 via Peachtree City Architects & Designers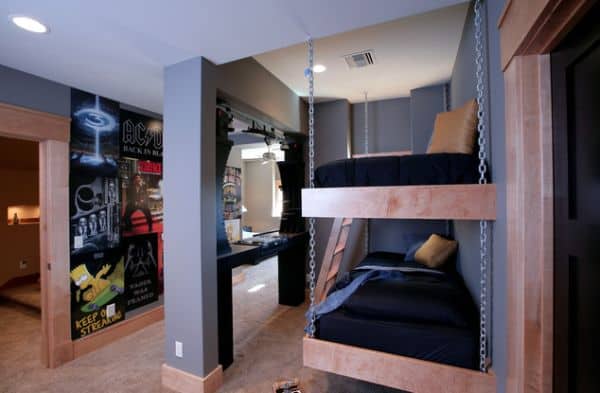 Hanging bunk beds are definitely an option for the enthusiast crafter, a practical and inexpensive solution for small spaces.
via Visbeen Associates, Inc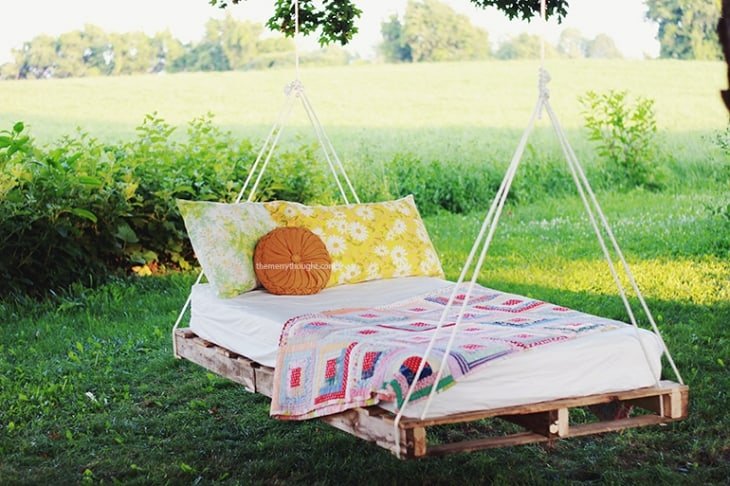 Wooden pallets tailored to match your mattress along a rope, a pillow and the textile of choice can aid you create the floating reading nook that you actually need outdoors.
Tutorial @ themerrythought.com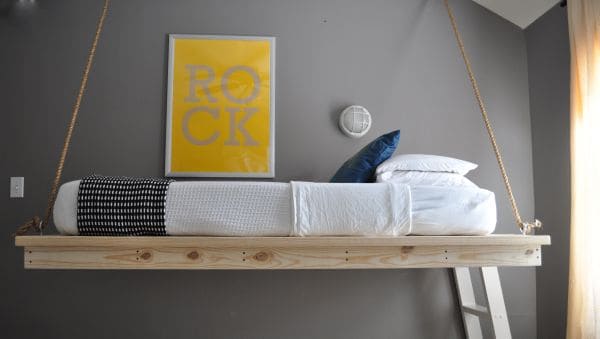 Source Unknown
A beautiful hanging bed with neatly sculpted wood and colored rope can make a great diy hanging bed for children.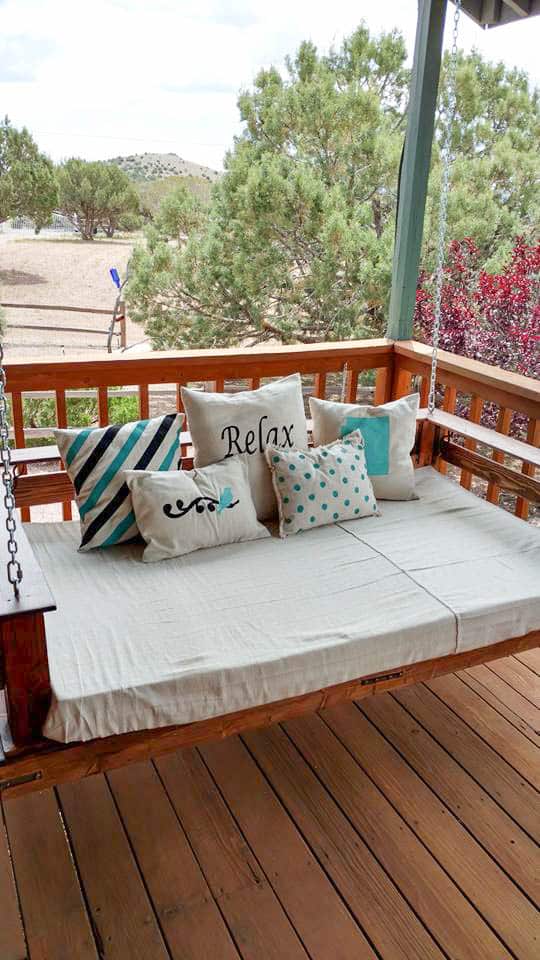 Tutorial @ grillo-designs.com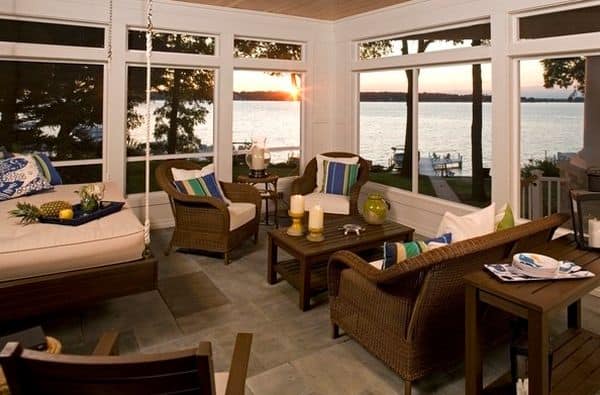 Your porch with expansive views towards the ocean may enjoy an outdoor hanging bed a great deal.
by Stonebreaker Builders & Remodelers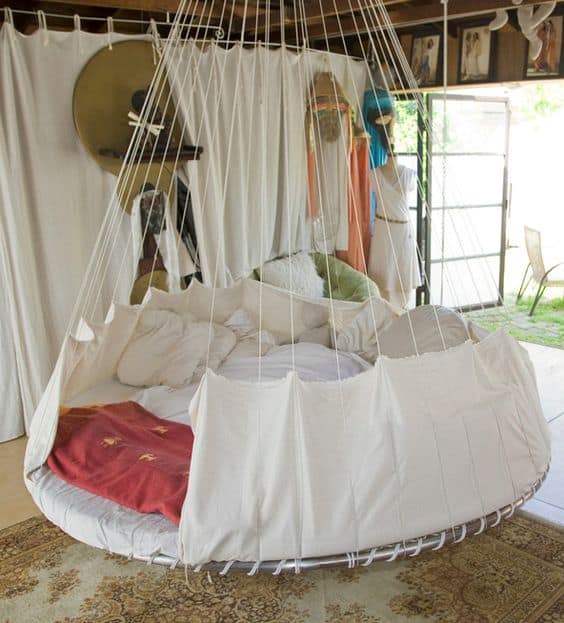 via totalbeauty.com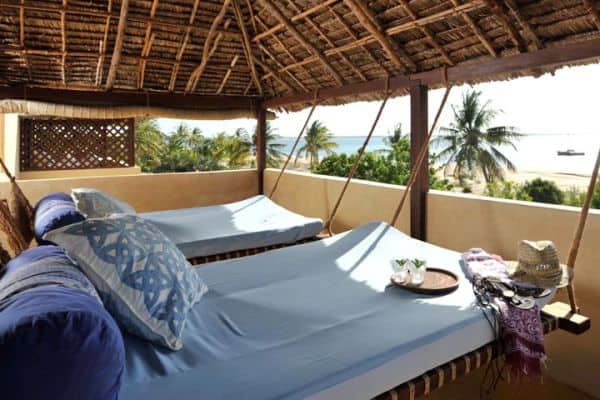 If the ocean`s blue is not sufficient blue textiles and a cold drink can build up on that peaceful atmosphere thus helping you swing your problems away.
Source Unknown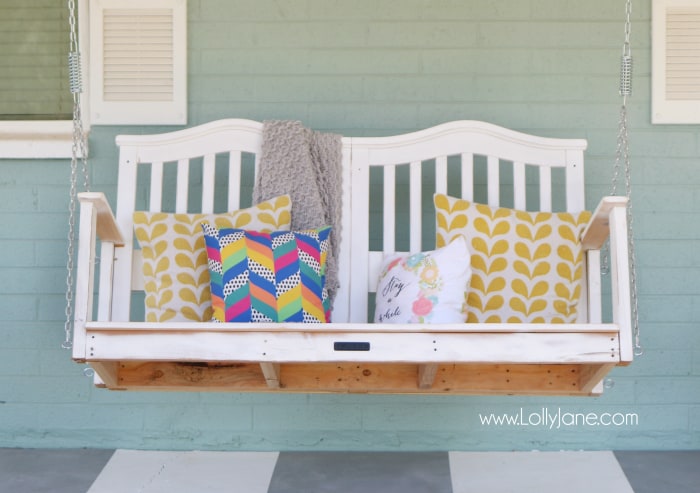 Transformed from an old baby crib the swing bed above simply stuns one with the immense possibilities.
Tutorial @ lollyjane.com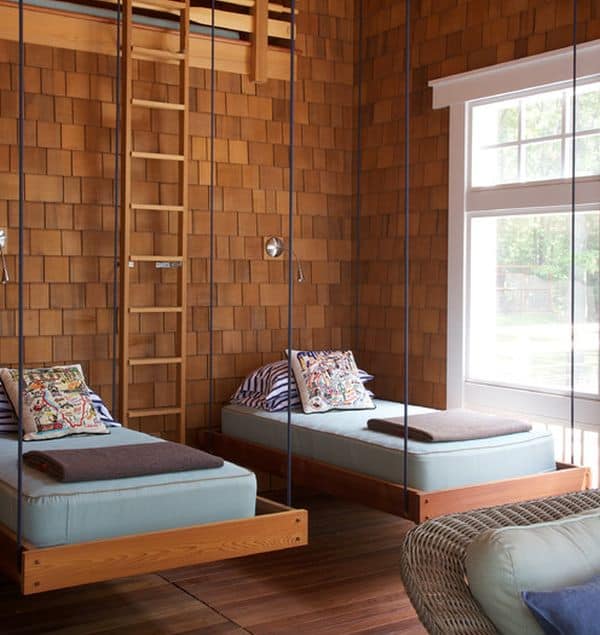 Earthy tones have been used to shape a sober elegant atmosphere filled with naturalness; the bed`s cable have been chosen wisely to create the illusion of suspension.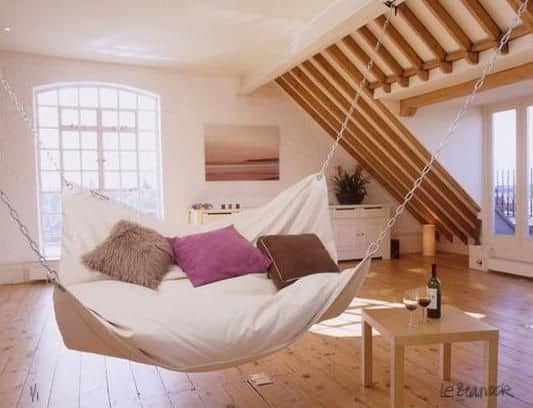 Nothing simpler and nothing greater, a cozy experience to enjoy your attic space fully.
Source Unknown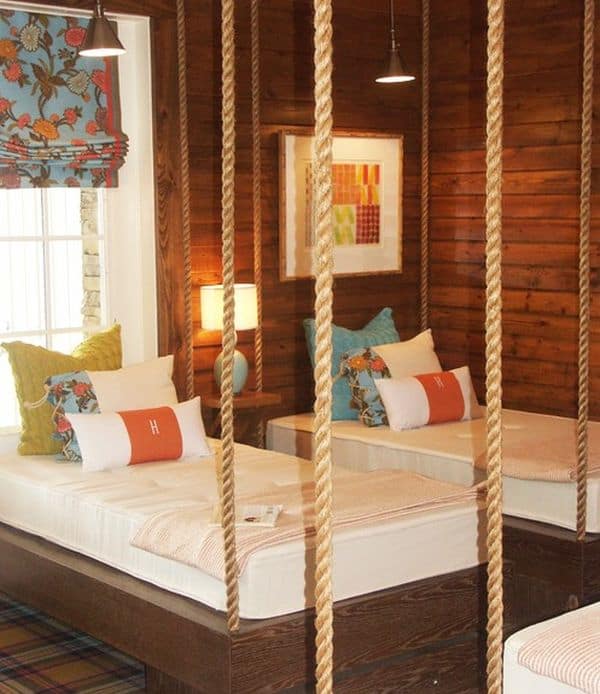 In this room with small beds for children naturalness defines a rustic setting built by wooden walls, plaid flooring and ropes that suspend the beds.
Source Unknown
How do you see these diy hanging bed tutorials and ideas? We would love to hear from you in the comment section below !
Related Articles
12 Ways To Put Your Bedroom Corner Space To Good Use
29 Brilliant Easy to Build DIY Platform Bed
21 Mindbogglingly Beautiful Fairy Tale Bedrooms for Kids
21 Super Small Nightstands Ready to Fit in Petite Bedrooms
37 Simply Spectacular Tree Bed Designs to Pursue
Recycled Pallet Bed Frames – DIY Pallet Collection
15 Creative Small Beds Ideas For Small Spaces
30 Small Bedroom Interior Designs Created to Enlargen Your Space
37 Smart DIY Hanging Bed Tutorials and Ideas to Do
Bedroom Christmas Lights Ideas For A Cozy Atmosphere
32 Dreamy Bedroom Designs For Your Little Princess
100 Inexpensive DIY Headboard Ideas for Your Bedroom Design
47 Stylish Floating Bed Design Ideas
53 Incredible Hanging Beds to Float in Peace
33 Epic Navy Blue Bedroom Design Ideas to Inspire You
6 Best Vacuum Cleaners for Mattress  
Intex vs. SoundAsleep vs. King Koil | Air Mattress Comparison & Buyer's Guide
10 Most Comfortable Hammocks to Swing