A diy coffee bar in your home can help you entertain family, friends, loved ones. It can serve coffee, tea and all their variations rapidly, professionally, allowing you to focus on having a good time, enjoying their company and stories.
Coffee bars have no strict set of rules, you simply need mugs and a coffee maker, preferably an automatic one. The options when it comes to design are limitless, from fee market salvaged furniture up and pallet wood bars up to extensive bars and dedicated areas you can tailor anything that fits your needs in terms of space and design.
DIY Coffee Bar Ideas 
1. reclaimed wood coffee bar
Reclaimed wood has an immense value, it can shape the extraordinary, here taking the shape of small coffee bar, made to entertain.
via etsy.com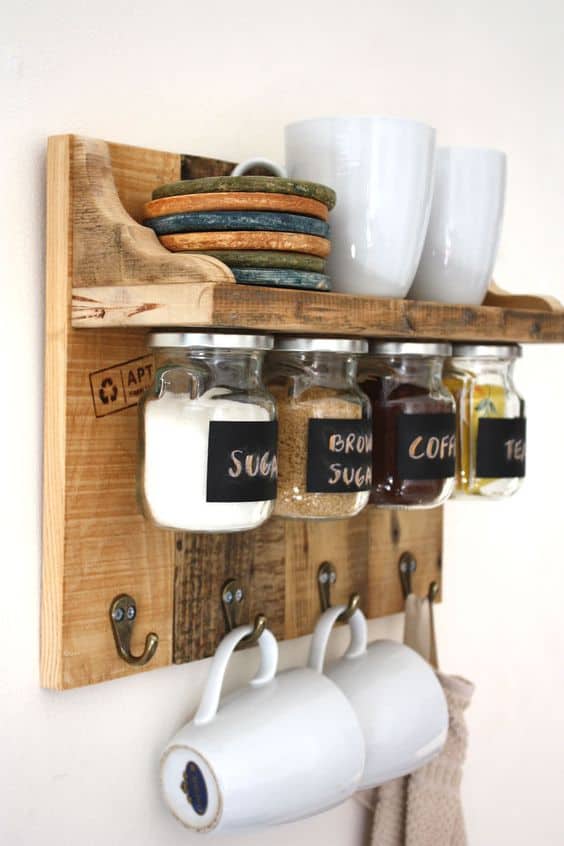 A slice of pallet can showcase your mug collection, use it and bring coziness and warmth in through wood.
via etsy.com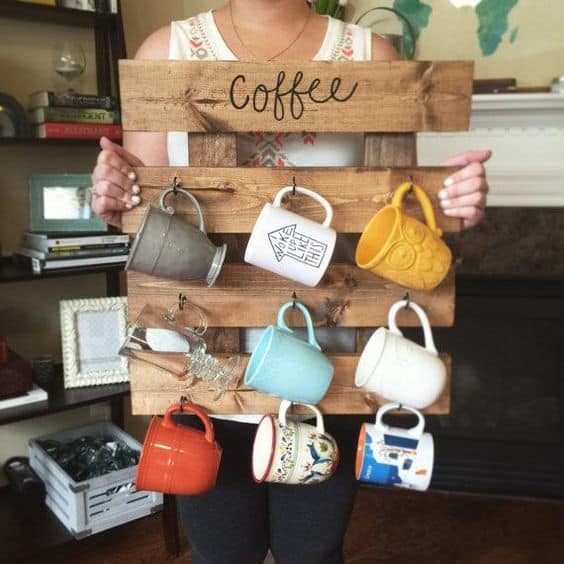 A simple and clear setup inspired by the Scandinavian-design can enhance your space, the presence of coffee at your grasp in a beautiful shape is something to cherish.
via foreverinpursuit.wordpress.com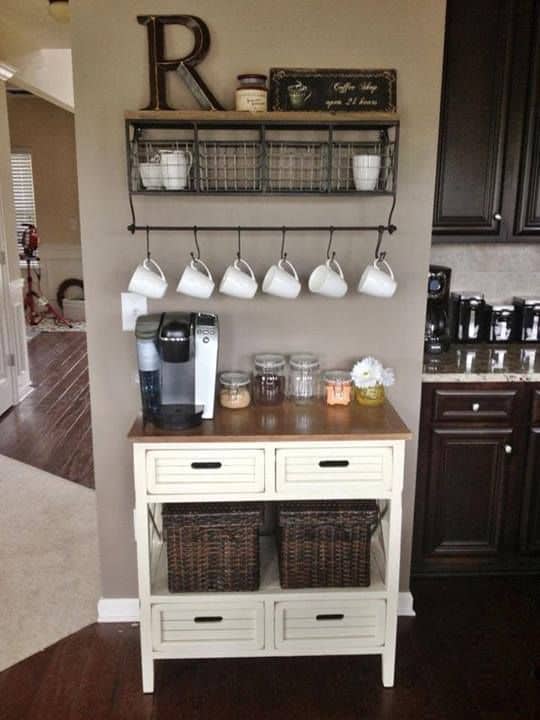 4. coffee and sugar at your grasp
In the office a coffee station would help a great deal, regardless of proportions, size and features a coffee can comfort you in times of need, it can make you more productive.
via instagram.com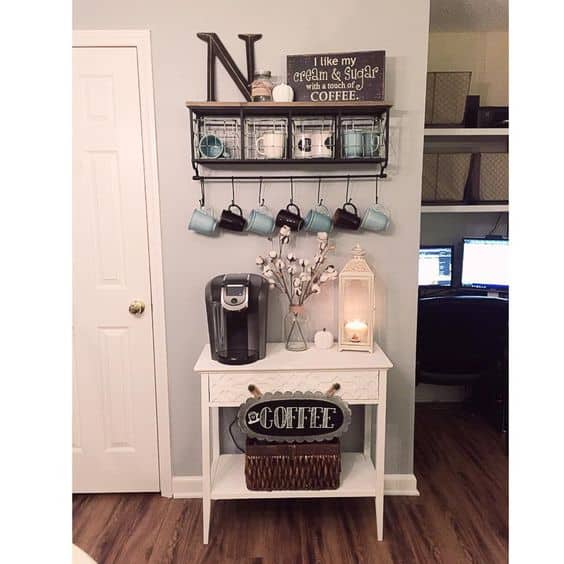 5. wood and black in a graphic display
Contrast between black and wooden surfaces ought to be pursued, it speaks of nobility, elegance.
via thevintagewren.blogspot.com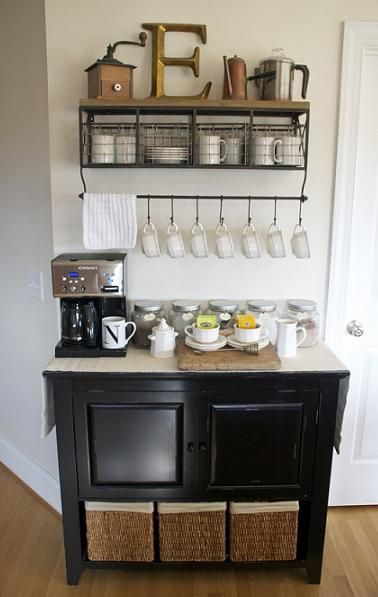 6. concrete top, rustic wood and chalkboard
The rustic presence combined with concrete and chalkboard is splendid. Slices of wood and inserts of greenery near glass recipients also contribute to this epic setting.
via The Tale Of An Ugly House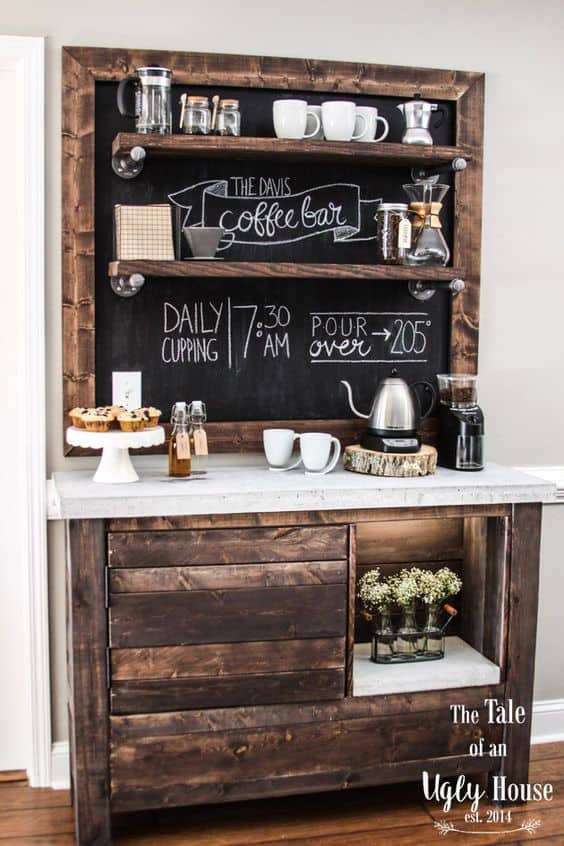 7. complete set in wooden simplicity
Old wood interiors create warmth, they set a delicate ambiance that roots the individual in well being, a strong feeling of appurtenance in the setting is evoked.
Source Unknown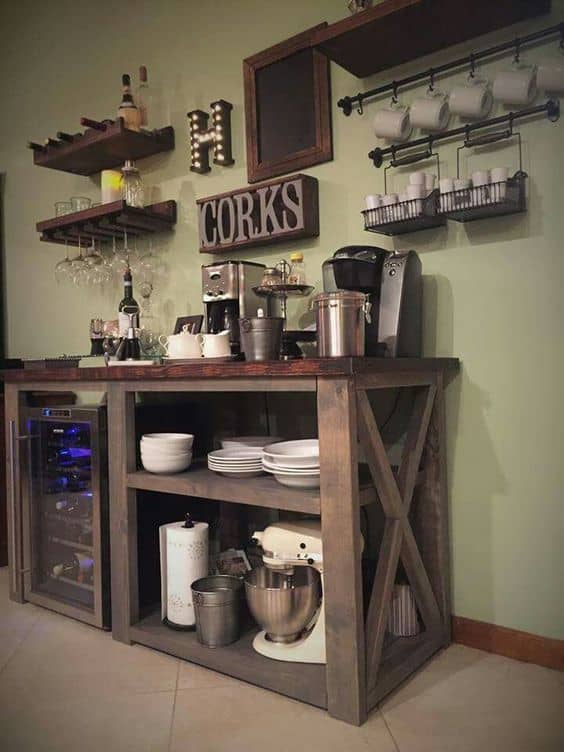 White worn-out side by side with chalkboard frame and a splendid leaf wreath is here completed by delicate typography and wire baskets.
via instagram.com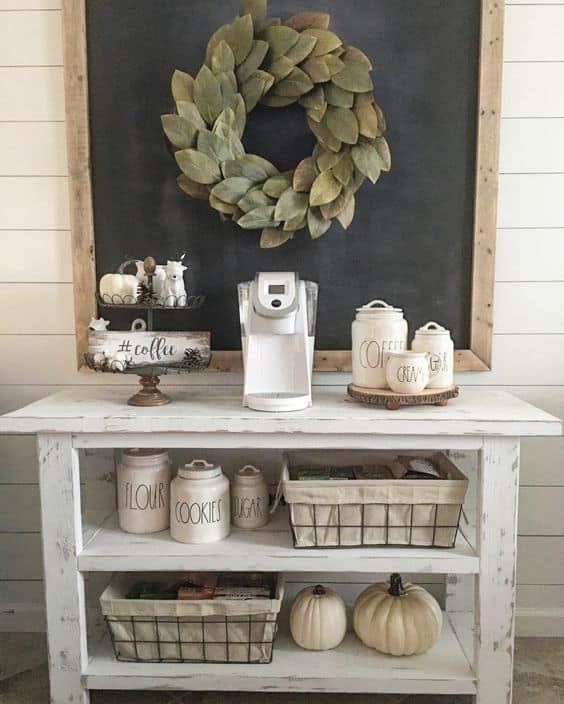 9. diy coffee bar tailored from scratch
Follow a swift tutorial and craft your diy coffee bar from scratch, emphasize it with all the right coffee-related elements.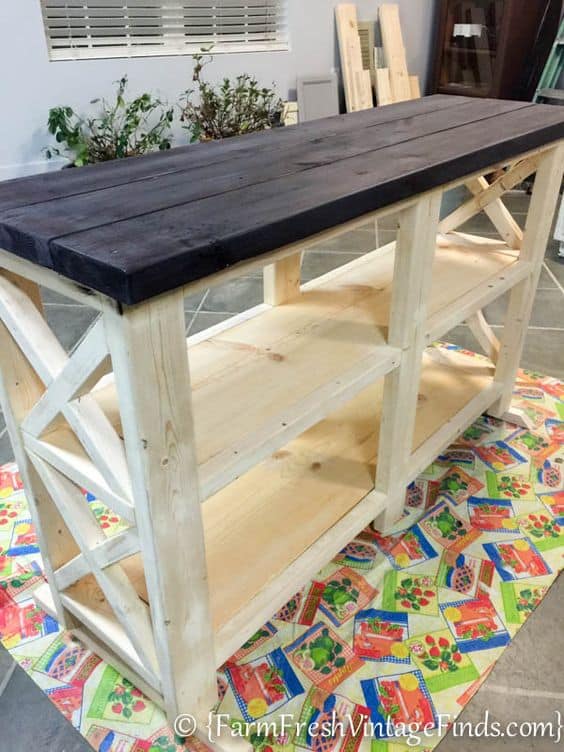 10. petite teal coffee station
One low height teal and wire composition, practical and beautiful.
Souce Unknown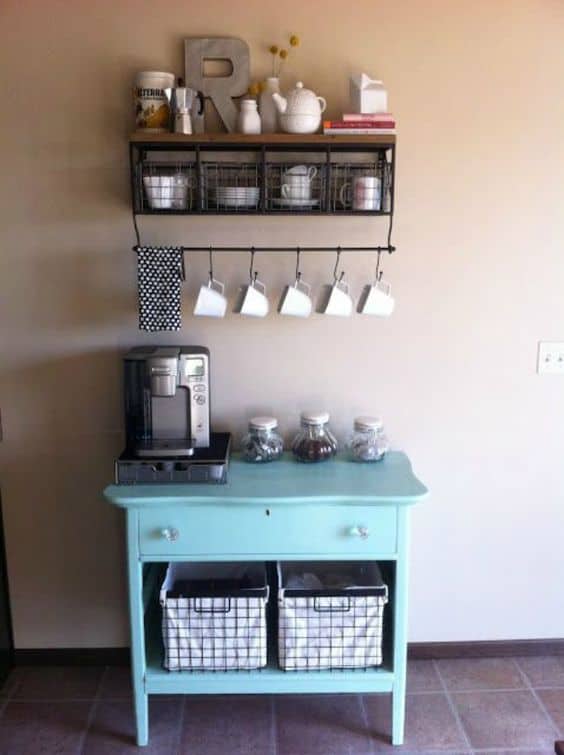 11. traveling inspired coffee bar
A corner of your home inspired by your daily and yearly adventures would be something phenomenal, use elements that you greatly care for to shape epicness.
via DIY for Life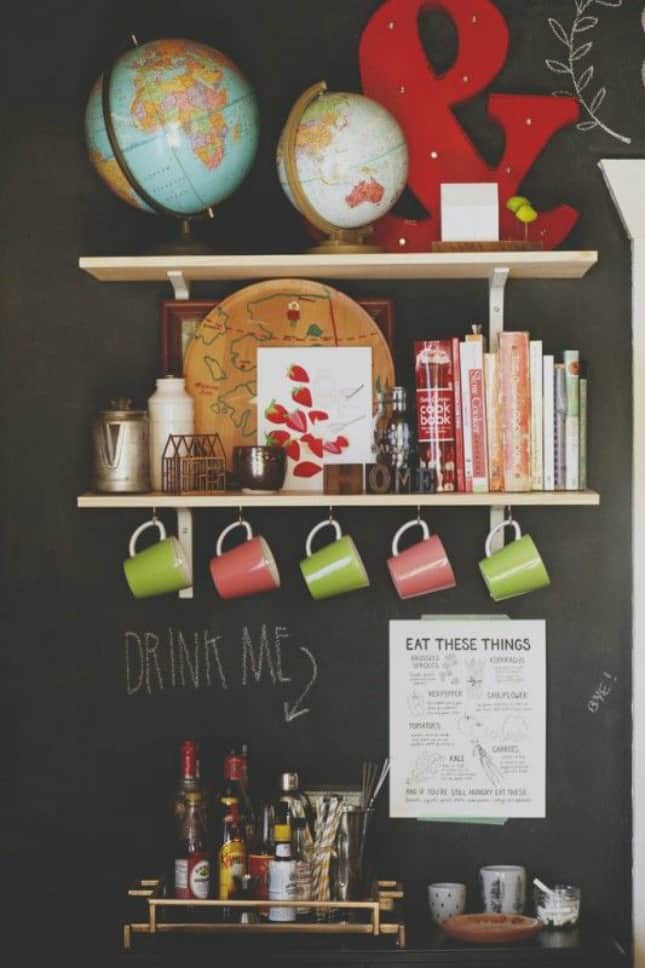 12. shabby chic containers shape coffee bar
Tea and coffee collectibles from all around the world may define your coffee bar.
via Moorea Seal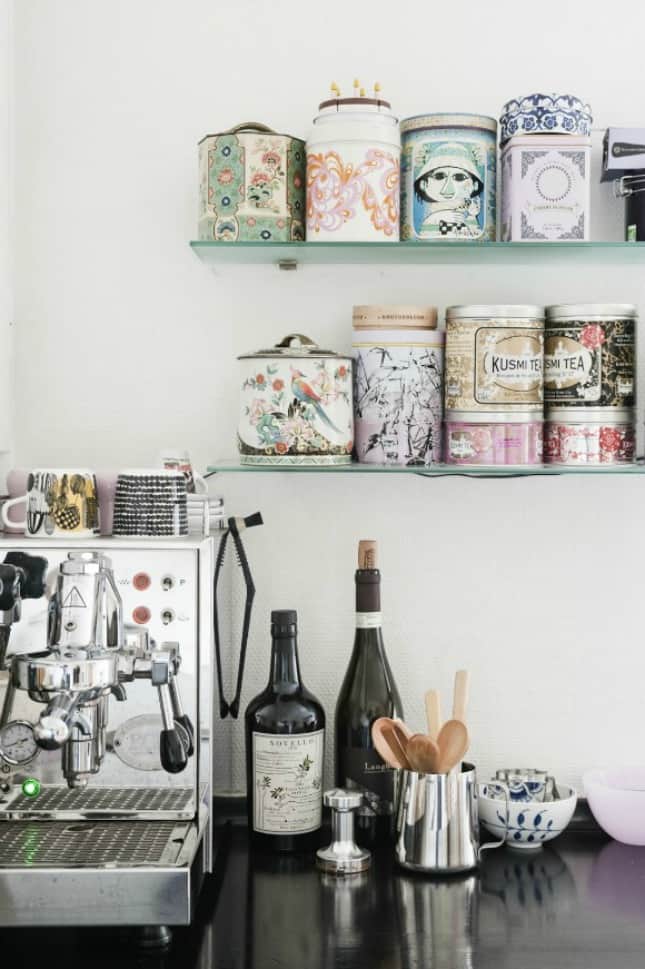 13. one chalkboard and all the coffee
One chalkboard sign that presents your options might be sufficient, add greenery for a delicate epic contrast.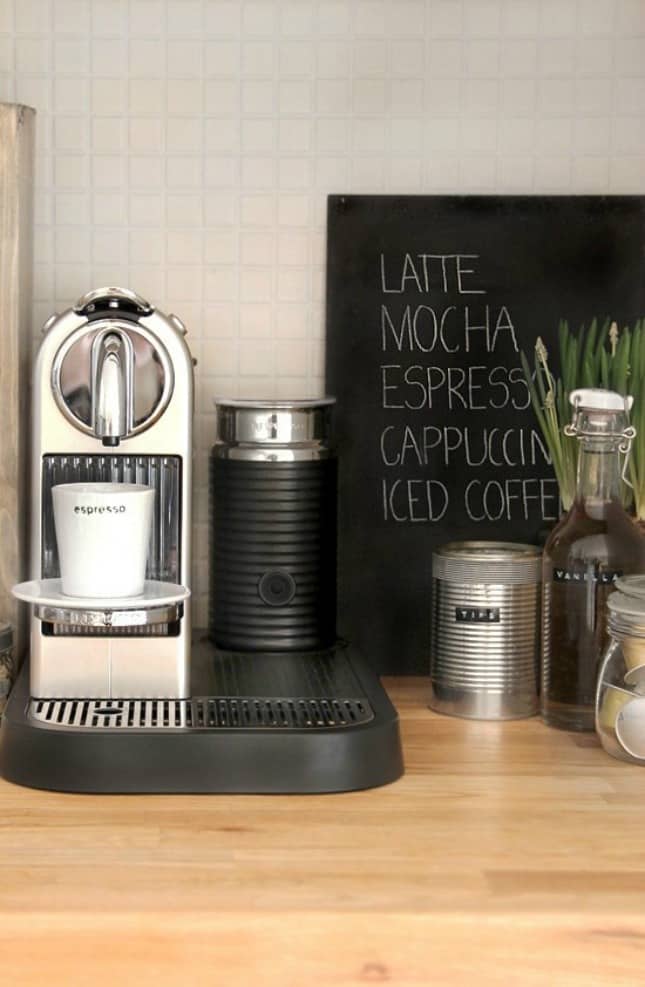 14. chalkboard wall and rustic floating shelves
Extended counter-top space can help a great deal, use it if you have it.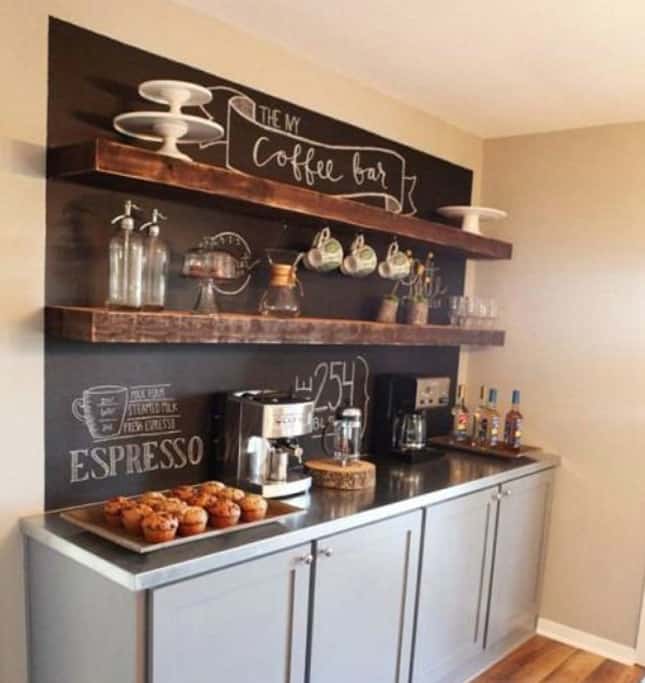 15. simple coffee mug gallery 
A collection of petite coffee mugs can look epic on open shelves, all aligned and ready to be used.
via Poppytalk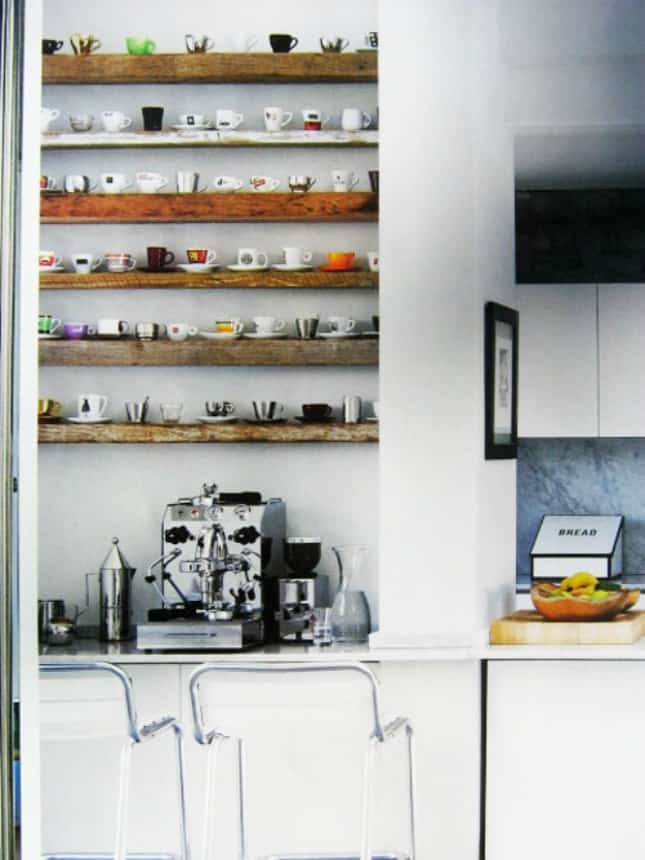 16. simple hideaway diy coffee bar 
De-clutter your space by hiding the coffee inside the cabinets, swift rapid and insanely practical is this solution.
via The Kitchn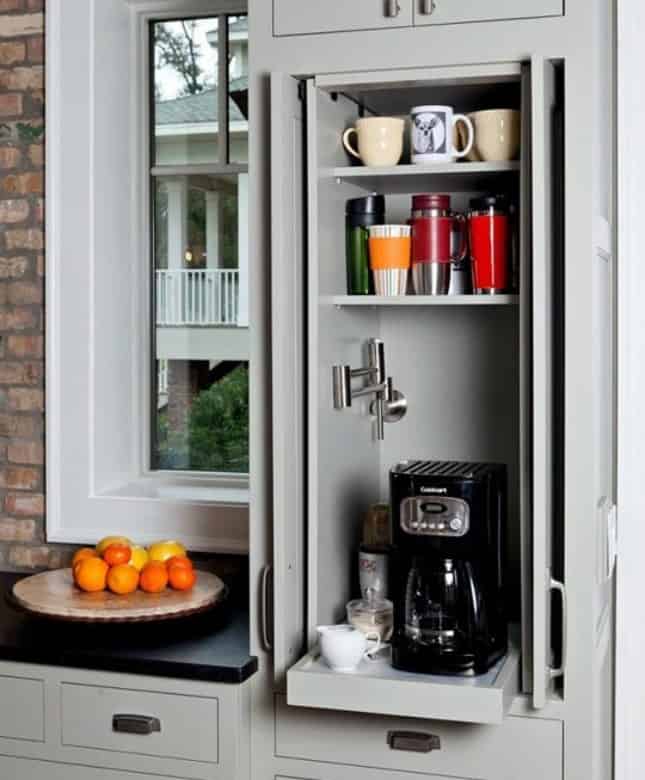 17. minimalist black and white coffee station
Photography in the vertical plane, all the utensils needed for an epic coffee on a metal cart.
vis sfgirlbybay.com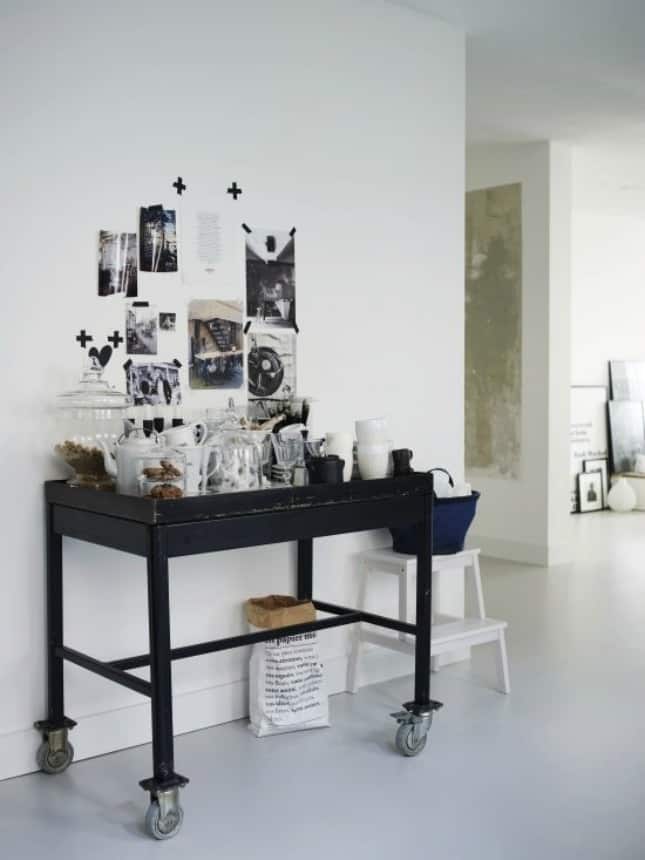 18. simple cheerful coffee house
Prepare a cup of cheer in your coffee house with open shelves and a little bit of counter space.
via Caught In Grace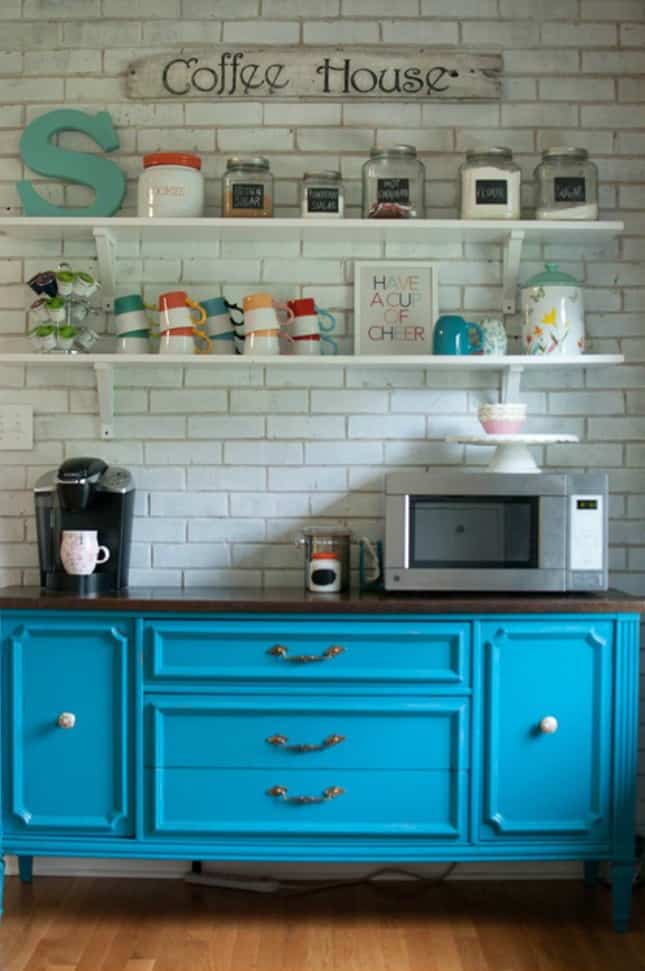 19. small coffee table corner
No huge intervention this coffee bar should be, simply design it to comfort you.
via Jenna Antonelli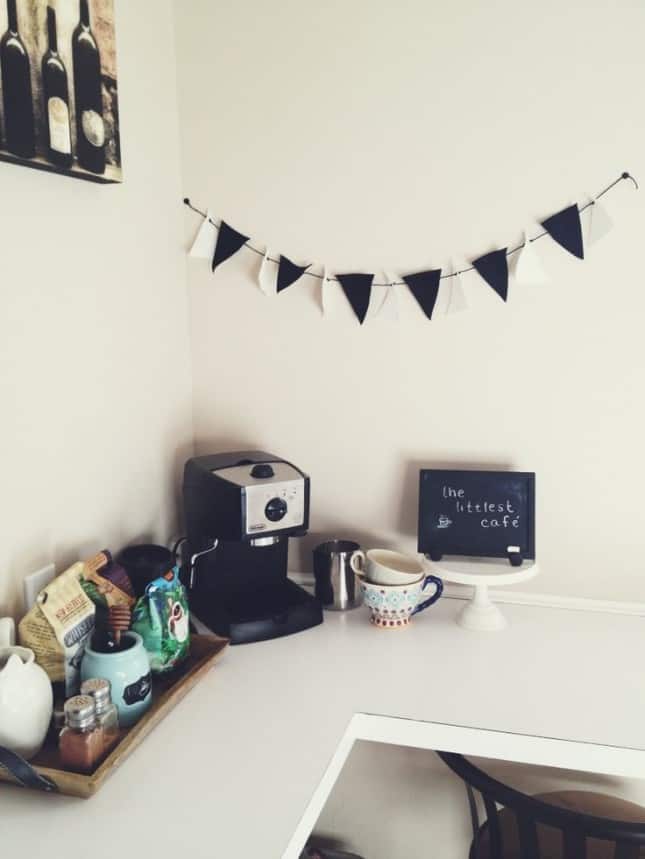 20. neutral taupe PROFESSIONAL coffee display
Impressive and extensive coffee station that would surely make a big group happy, a great tool for entertaining.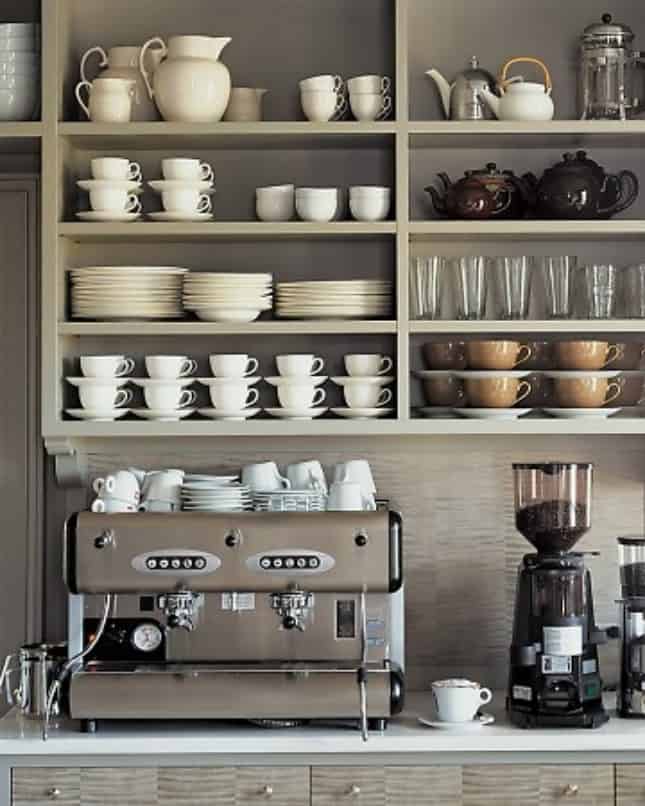 21. modern gray coffee station 
Simple, delicate.
via Crazy Mary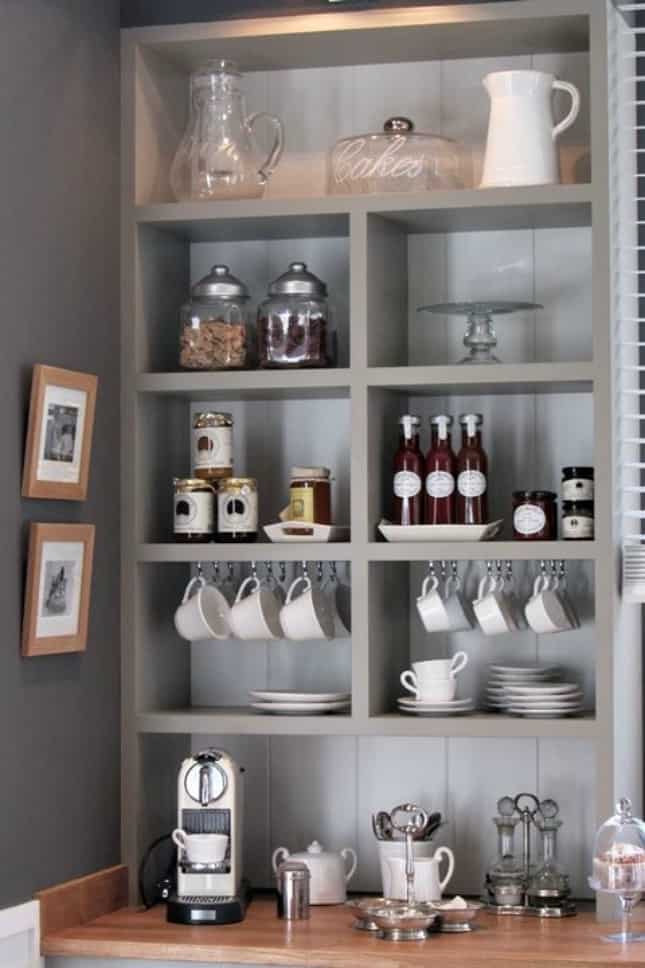 22. black pallet and red salvaged furniture
One piece of furniture salvaged from the flee market wearing red and one pallet keeping everything in your grasp in black, creating contrast.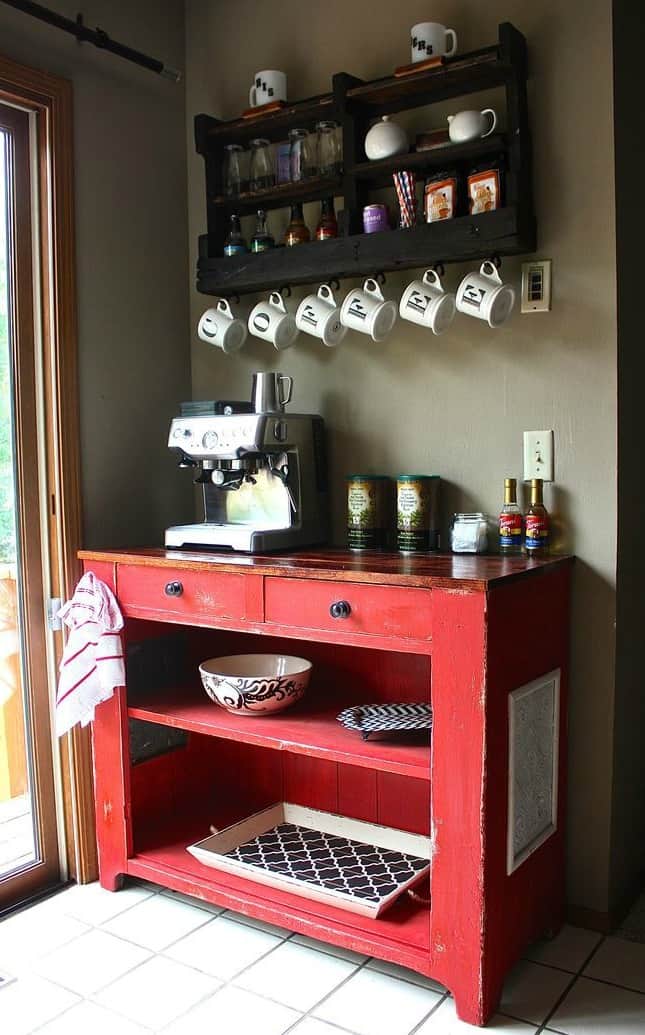 23. white coffee cart EMBELLISHED by light
Airy ambiance, flooded by light.
via Decor Pad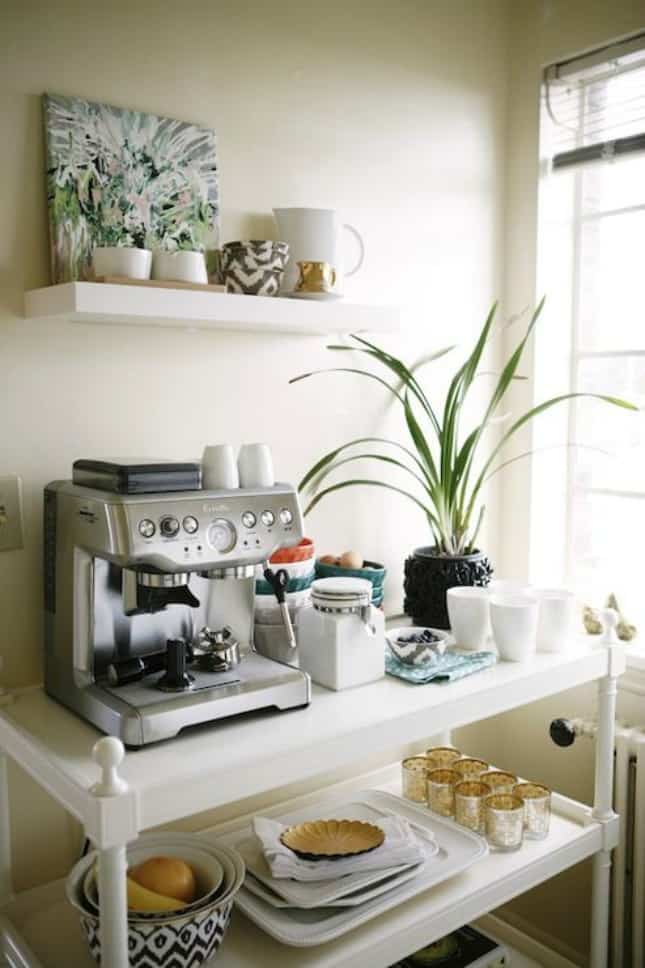 24. small brilliant diy coffee bar
Use the bottom part of your bar to keep your wines at your grasp too.
Source Unknown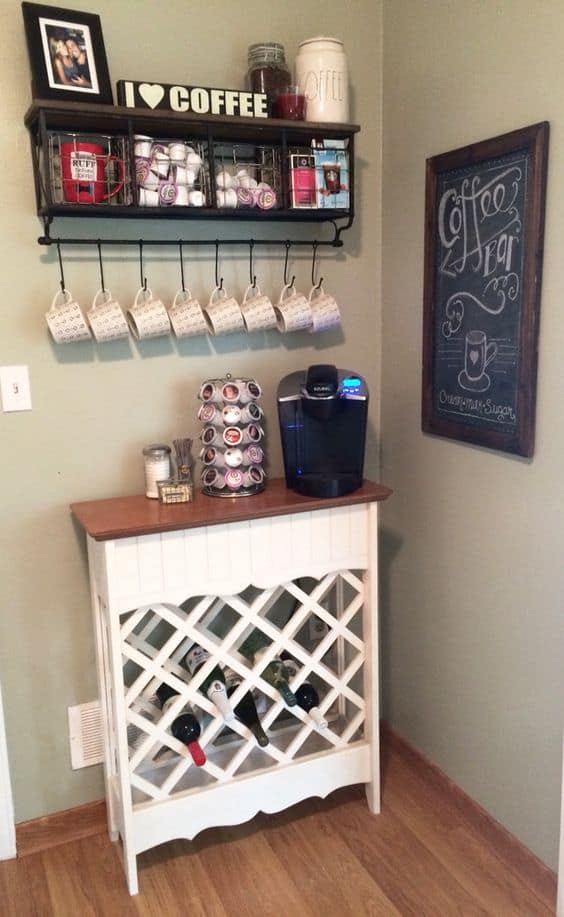 25. wire in black enhances wood and stark white
Simple, balanced, harmonious, beautiful.
via indulgy.com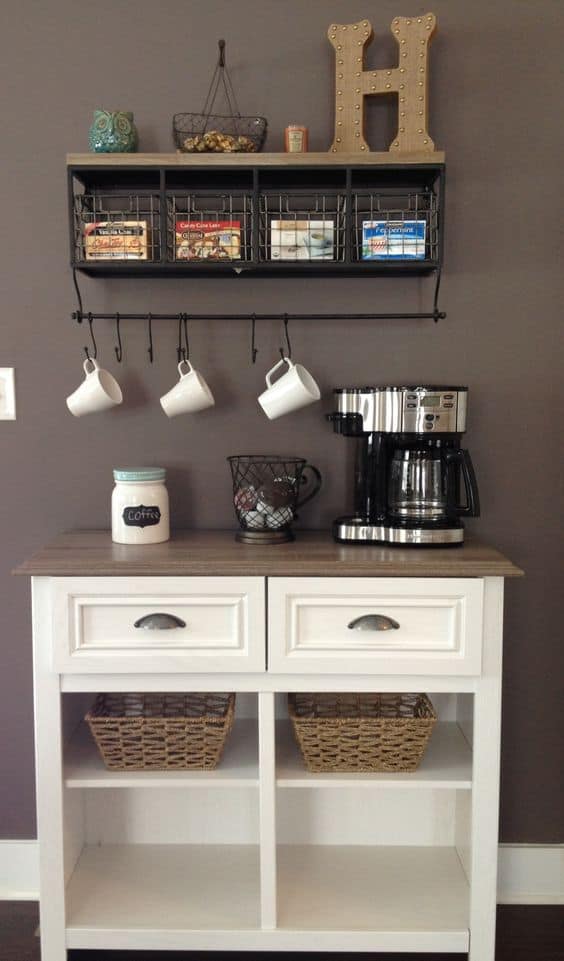 26. natural wood coffee bar in white setting
In diy projects wood will always be the ideal material, easy to work with, accessible and incredibly beautiful material that can emphasize any setting, any space.
via eatwell101.com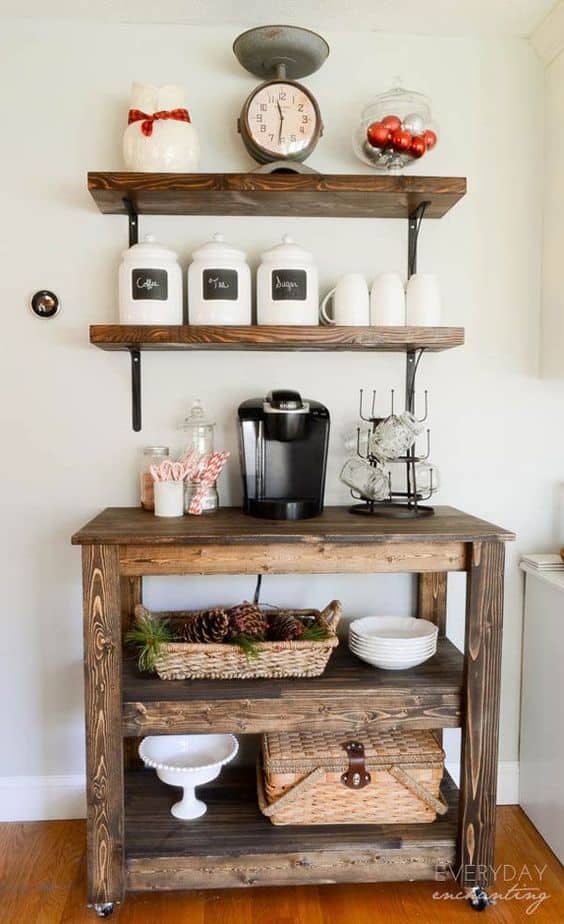 27. refurbish an old furnishing to your needs
A new light on an old piece of furniture can shape the ideal diy coffee bar, hit the flee market in the search of old gems.
via creativethings.stfi.re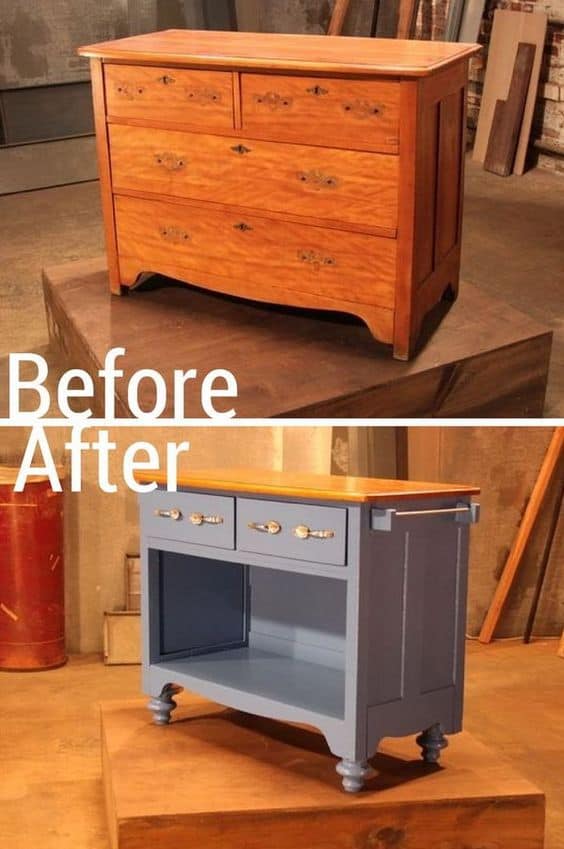 28. pallet wood tailored as mug display
A coffee mug display would put your collection in the right light whilst keeping them accessible, use it wisely.
via delicatecontruction
29. simple iron and wood coffee bar cart
A simple diy coffee bar cart that can be particularized a great deal, design that here shines in golden hues carrying wooden surfaces.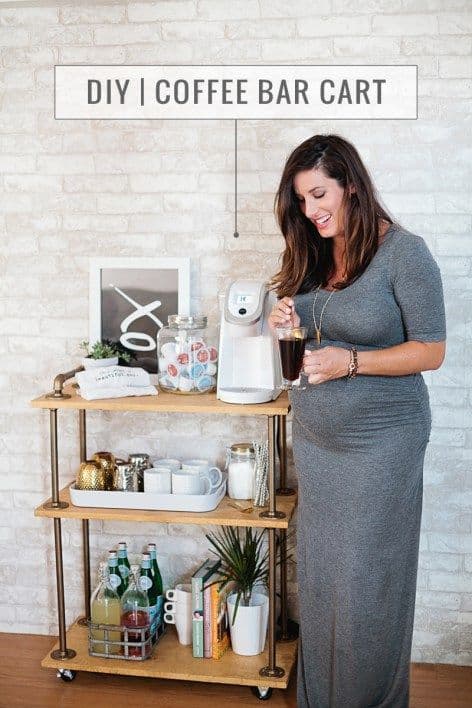 30. vintage floating coffee bar 
Wood and wire team up beautifully, here black creates an epic slight contrast on the olive green background.
Source Unknown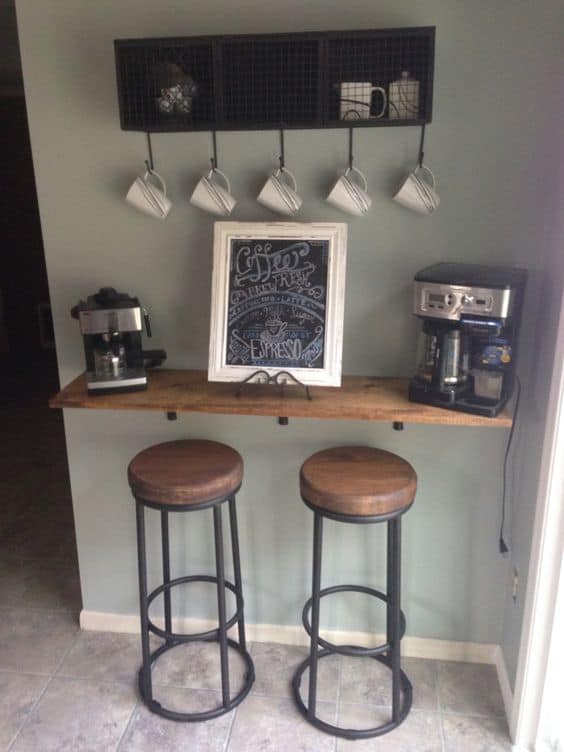 31. wall art coffee stash 
Inexpensive yet highly graphic and in case of emergency, vital, the wall art coffee stash is something that any coffee enthusiast would appreciate.
via nurseslabs.com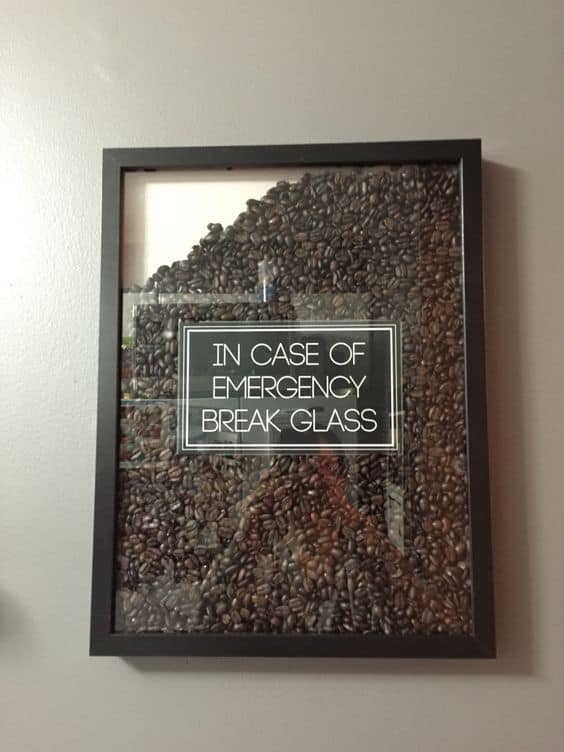 32. shabby chic in a diy coffee bar
One coffee bar can translate into an epic side-dresser and floating shelves, simple presence that will help you entertain your guests.
via siempreguapaconnormacano.blogspot.com.es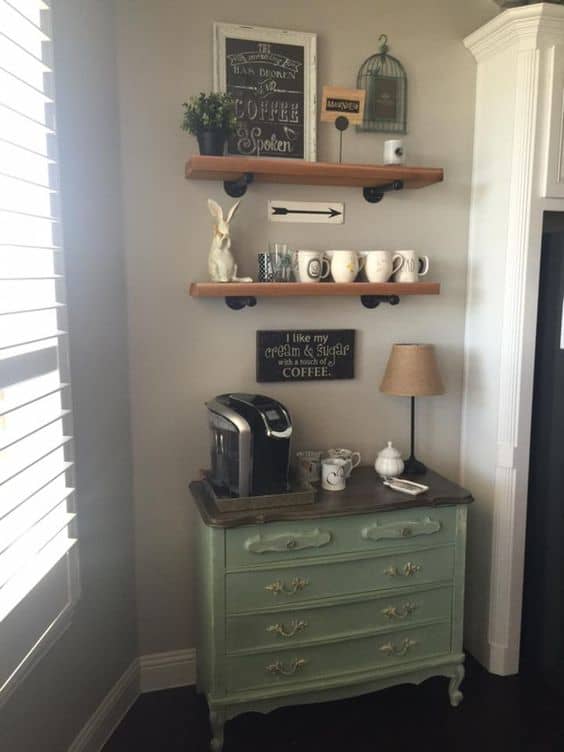 Black and white balanced by wood in multiple states. Typography and metal elements complete the setting brilliantly.
Source Unknown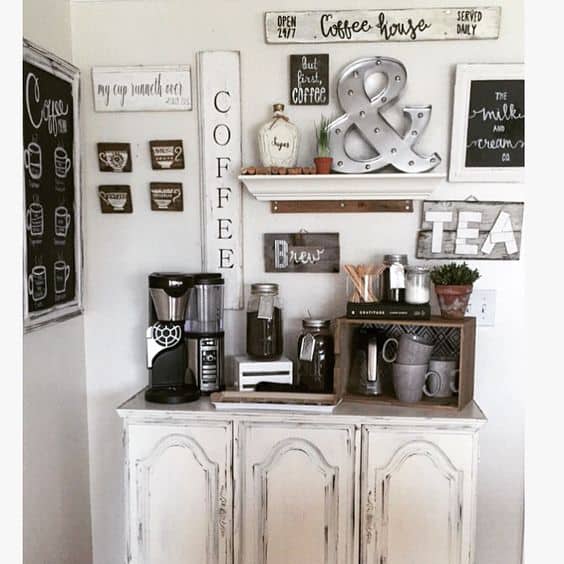 34. memory in a sensible coffee bar
Small things in life add another dimension. Here the word faith and the happy couple smiling framed represent items with which one identifies, a personalized space that suddenly became much more than a coffee bar upon their arrival, here one finds calm, peace.
Source Unknown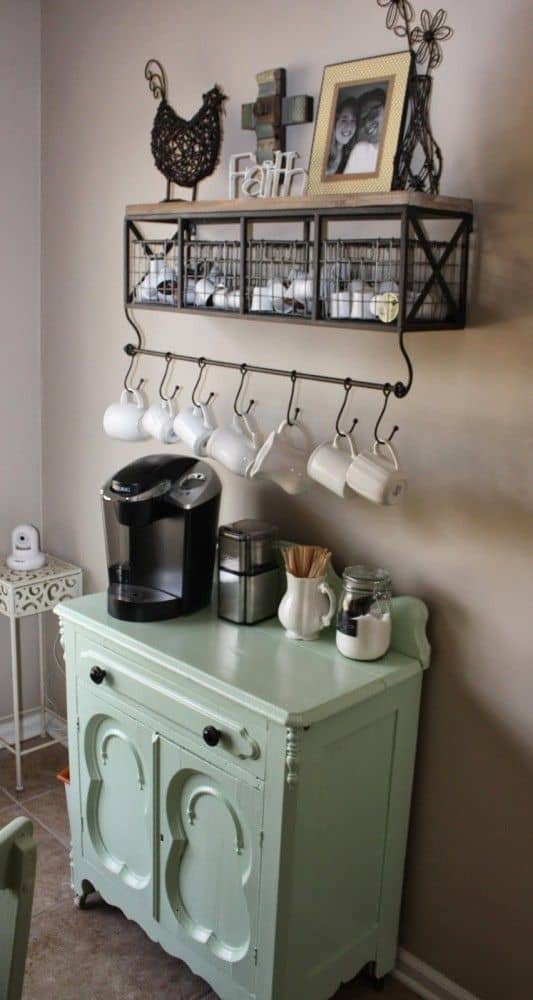 35. RE-PURPOSE an old window for coffee
A simple addition to a coffee and tea station can be an old window, one ready to carry your mugs and potentially display memories. One glass surface can also carry things that you could write down, a spicy coffee recipe or a tea combination that you love a great deal.
Source Unknown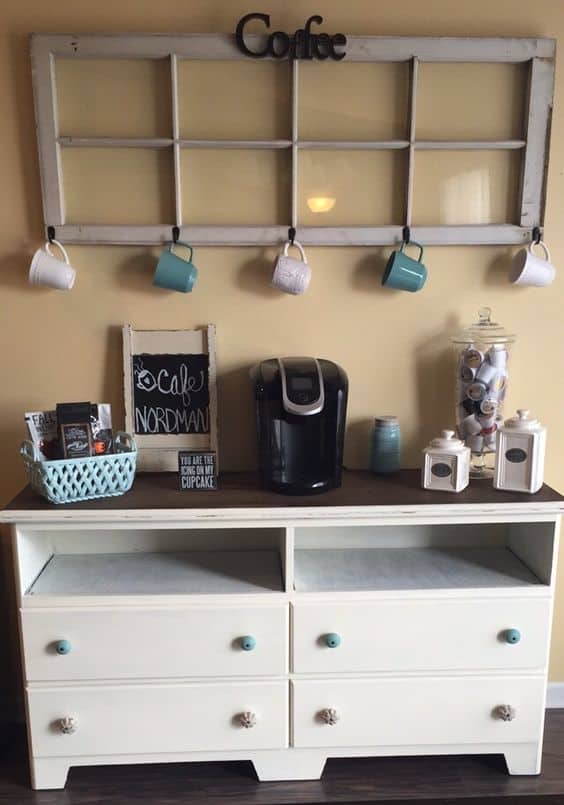 36. put unused space to good use
Sugar, cream or coffee, whatever you drink it needs a space of its own. The picture below exemplifies how unused space can rapidly gain a really interesting position in your kitchen. Shape your space to fit you needs, coffee is a very important need.
Source Unknown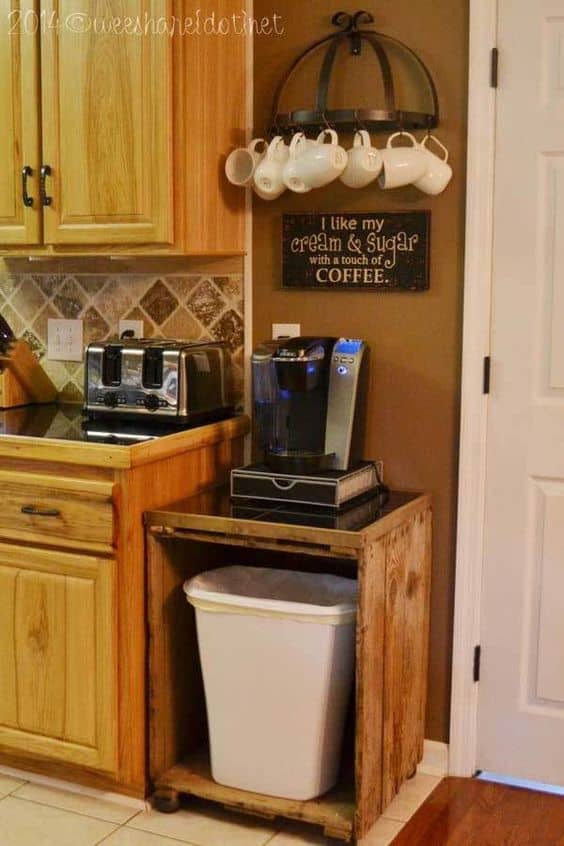 37. use an old door to create your coffee heaven
One old side table and one old door can shape something really cool, shabby-chic looking, exemplary through a design language that can cost little to nothing.
via kitchenfunwithmy3sons.stfi.re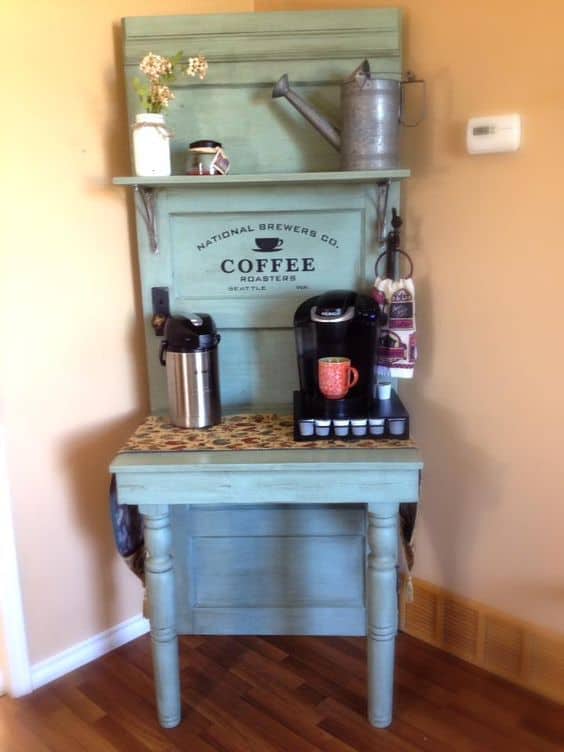 38. blue copper and white team-up
Copper matched with that blue hue below is simply extraordinary, a combination with which you simply cannot fail. The white brought by the mug is the cherry on the top, exemplary balance in such a simple design shaped by color and texture.
via jenwoodhouse.com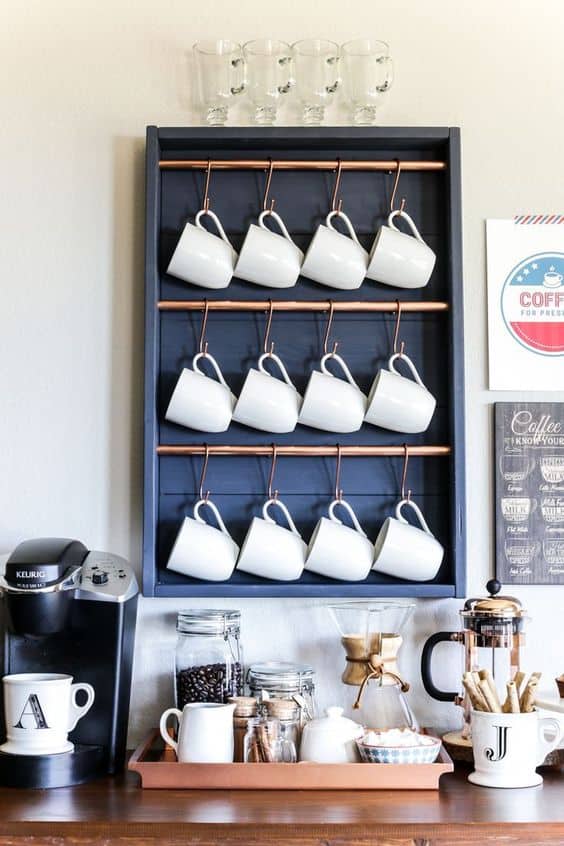 39. use TYPOGRAPHY to enhance your coffee lab
One could argue that typography cannot be overdone and the design makes this statement justice, it`s simple on its own but the abundance of great fonts and messages makes it stand out.
Source Unknown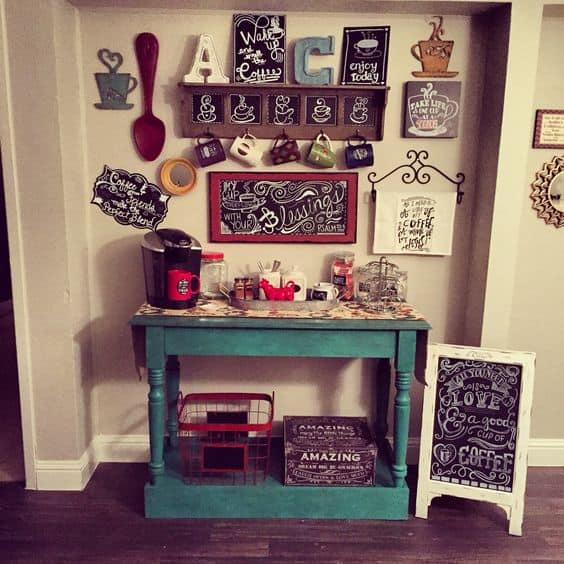 40. reclaimed wood and wire 
Wire hooks are a recurring element that can make a diy coffee bar great justice yet in the composition below the reclaimed wood stands out through simplicity, the white-wood is subdued to its setting yet it complements the scene elegantly.
via 1001pallets.com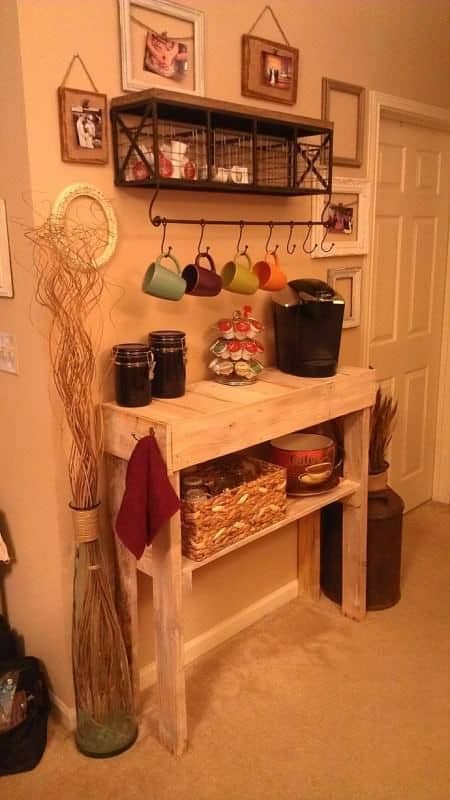 41. one simple coffee corner
A small portion of counter-top and all the right utensils can be enough sometimes; simple choose a space to particularize as a coffee bar and make it work as you see fit.
via instagram.com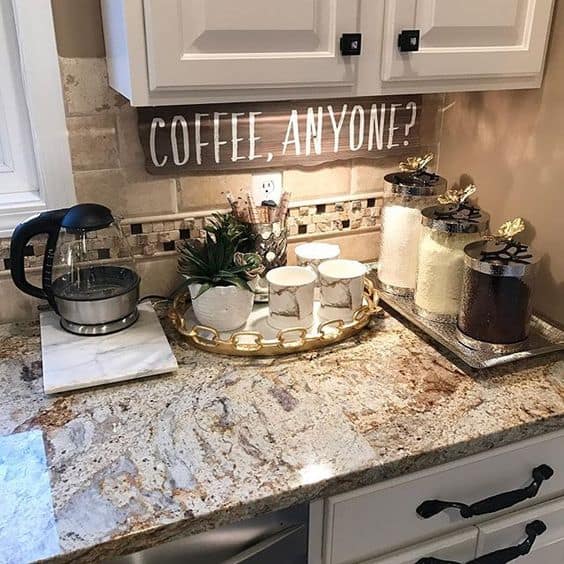 42. chalkboard and FLOATING SHELVES
Chalkboard and the right typography can redefine your coffee bar, here emphasized by wooden textures, small pieces of greenery and earthy tones the composition is beautifully balanced.
via decoholic.org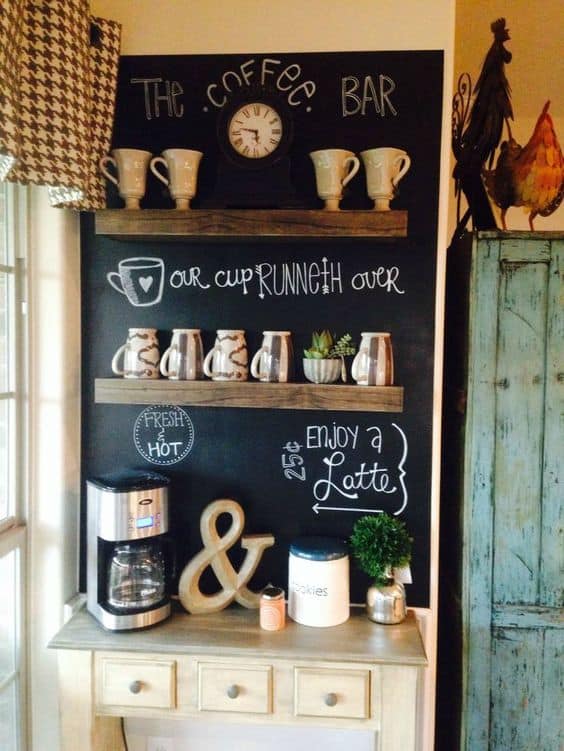 43. good IDEA diy coffee station
One small bar cart can receive a marble counter-top to enlarge its surface and accommodate all the utensils needed.
via cool-homedecorations.xyz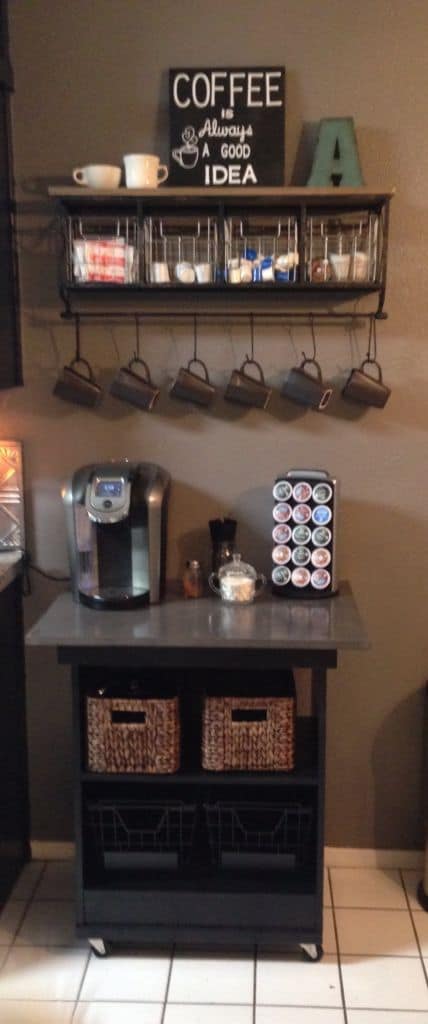 44. exquisite French baker coffee bar design
An exquisite coffee bar might not be everyone`s cup of tea but there are options. A French-inspired design wearing white will not clutter your space despite the immense amount of detail.
via Junk Chic Cottage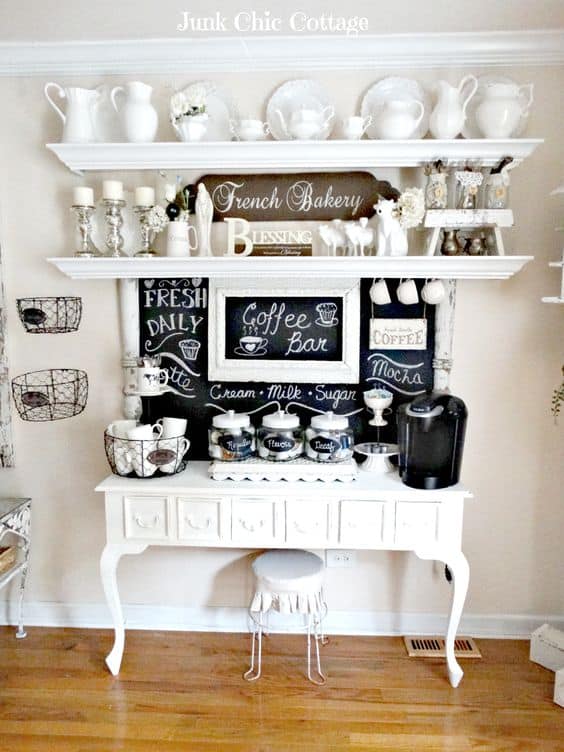 45. metal and wood diy coffee table
Any side-table can carry salvaged wood tops, here the texture is clear, visible; they`re piece of wood with memory, piece of wood that contrast with black yet bring in a great deal of coziness and warmth.
via katiegen.com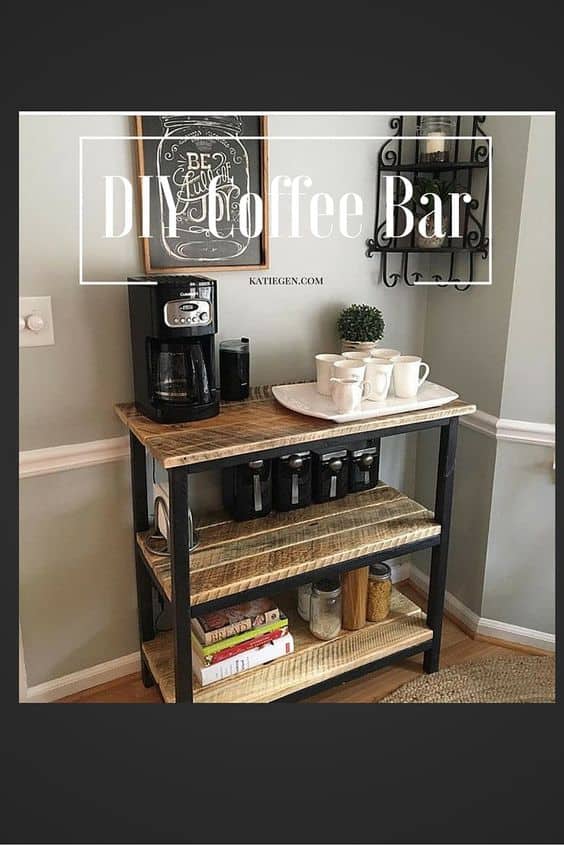 45. coffee station inside kitchen cabinets
It makes sense to hide your coffee station inside the cabinets, it is easier to maintain, it de-clutters your space and it offers a little privacy yet accessibility it lacks.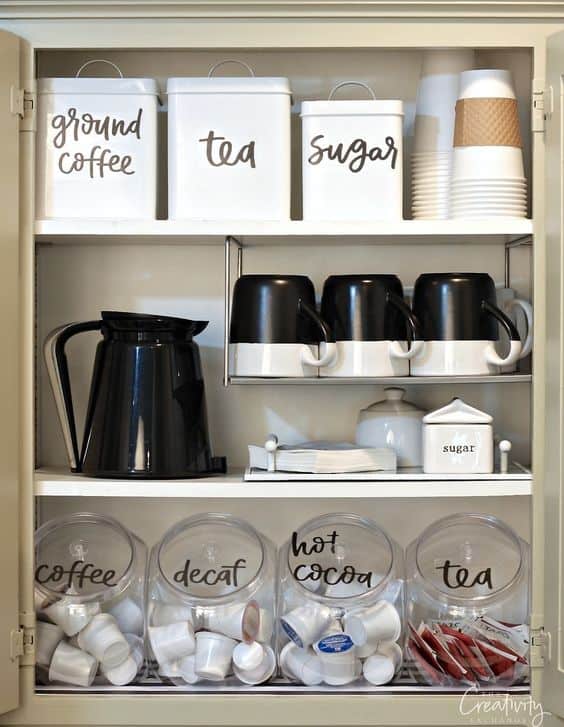 47.  old and beautiful RE-PURPOSED 
An old furniture piece can be updated with the right color, here it serves the noble purpose of sharing coffee and tea to guests and family alike.
via diybeautify.com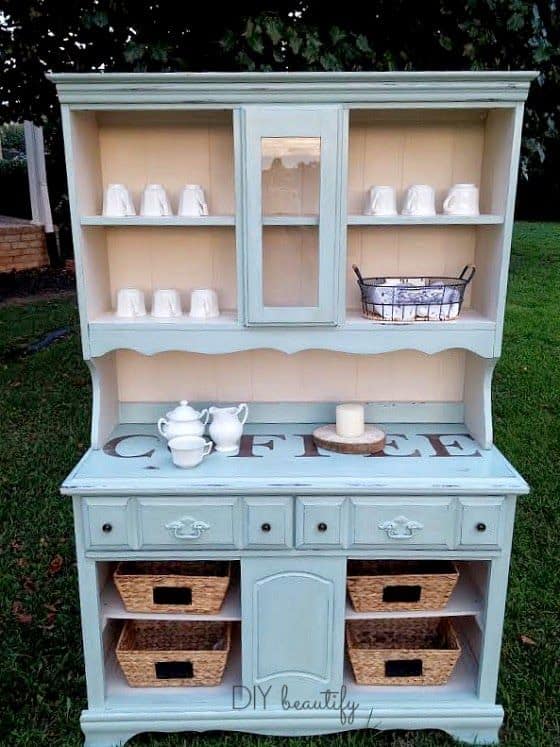 48. gray and wood coffee and tea bar
Simple floating shelves can highlight your coffee bar, use mugs and frames to personalize your space with ease. Here the dark gray segment accentuates the bar a bit.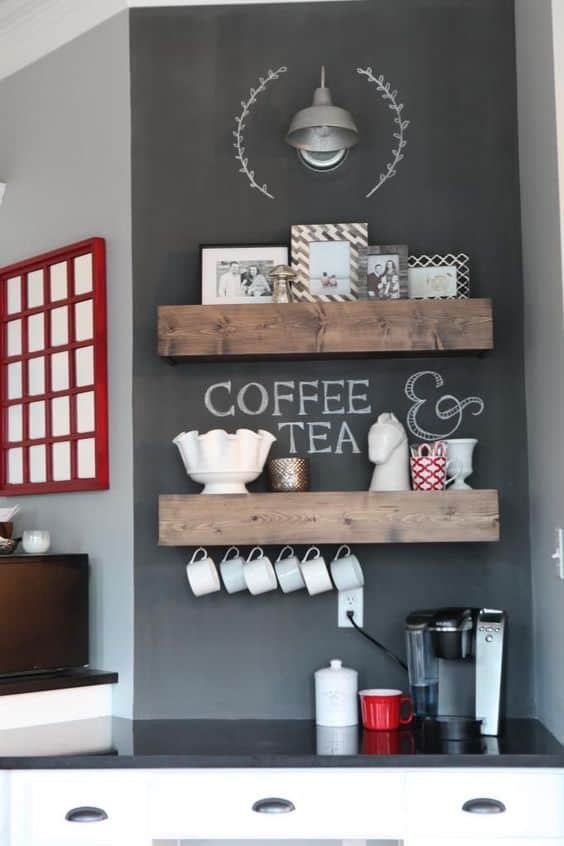 49. simple ikea elements in coffee bar
You can use simple elements to shape the extraordinary and happily IKEA shelters lost of these. Simply shape your coffee corner to fit your needs with items that you actually love and the ensemble will surely end up beautiful, functional, ready to entertain.
via reddit.com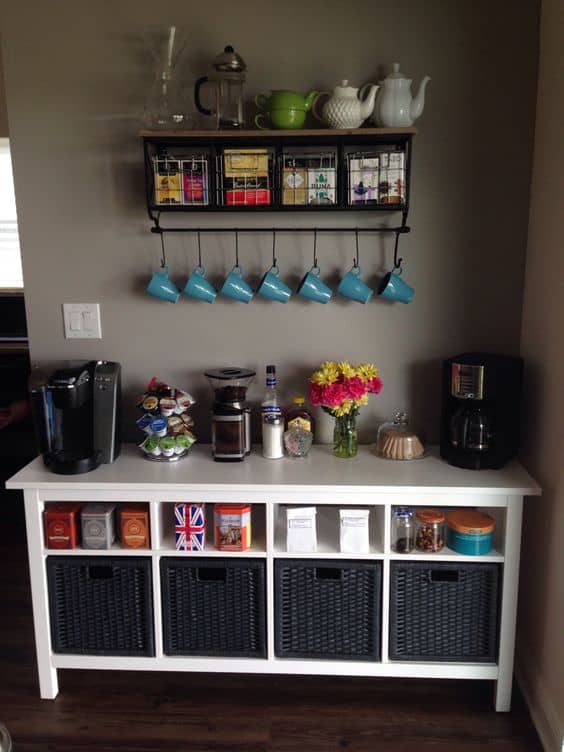 Coffee bars are something really splendid in one`s home, they welcome the individual and guests alike with something cozy, warm, something that most of us cherish. What do you think about these spaces and how do you see the ideal DIY coffee bar? We would love to hear from you in the comment section below !
Related Articles
43 Super Cool Bar Top Ideas to Realize