We all have dealt with days that were so humid that even breathing seemed like a chore. 
This feeling occurs on particularly hot and balmy days when the air is saturated with moisture. Since it cannot take any more moisture, the sweat on our bodies ceases to evaporate, making us feel sticky and overheated. 
Fortunately, dehumidifiers can be an excellent solution to deal with discomfort on such days. There are several options from different manufacturers that you can select from and add a dehumidifier to your bedroom. And choosing the right product from the vast number of products can be a challenging task. 
That is why, after conducting extensive research, we have brought you detailed reviews about the best dehumidifier for bedrooms on the market today. 
Additionally, we have included a buyer's guide to help you select the right product. So, without further ado, let's get straight to it.
Best Dehumidifiers For Bedrooms Reviews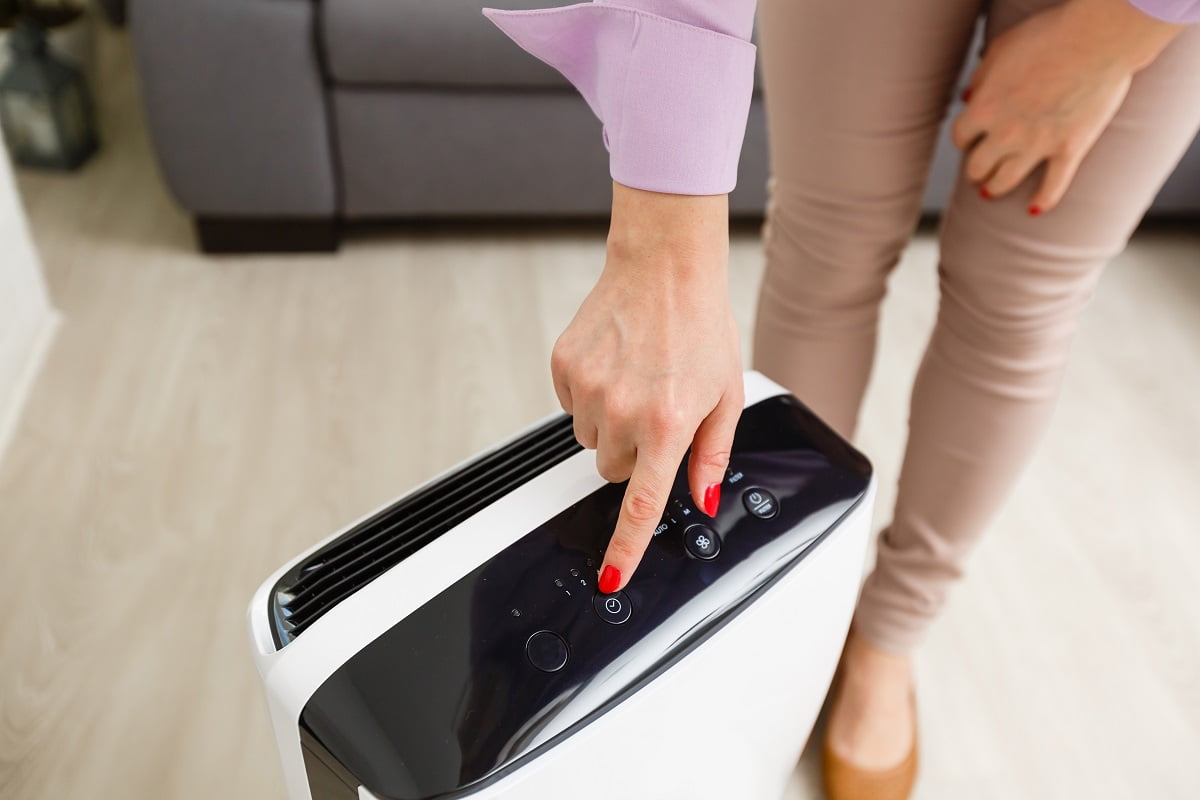 We begin with the HME020030N model from hOmeLabs, one of the leading manufacturers of home and kitchen appliances. This humidifier is designed for the modern home and comes with a sleek design while delivering exceptional performance to ensure maximum comfort in your bedroom.
Sale
Why Did We Like it?
If you are looking for a dehumidifier capable of absorbing moisture from the room efficiently without resulting in a huge electricity bill, then the hOmeLabs HME020030N is the best choice. No matter if you have a medium or large-sized room, this is an ideal product that can help you save electricity. 
The problem with many dehumidifiers is that even if they perform well, they have a terrible appearance that clashes with the decor of the room. You will be pleased to know that the HME020030N model has a modern and sleek design that lends a pleasing aesthetic. 
Also worth mentioning is that this is one of the easiest to use dehumidifiers. You just need to adjust it to the ideal moisture setting, and it will turn off automatically once the tank is full.
And the best part is that all these functions operate without noise, ensuring a peaceful environment all day and night. 
What Could've Been Better?
We did not come across any significant downsides to this product, except for the fact that the auto-defrost feature did not work at times. That said, the auto-defrost may work erratically — sometimes defrosting the dehumidifier during high temperatures when it is not needed. However, it does not affect the operation of the rest of the machine.
Pros
Easy to use

Modern and sleek design

Noiseless operation

Energy-efficient
Cons
Auto-defrost may not work at times
Next up on the list is the Vremi VRM010184N, another suitable dehumidifier for medium to large spaces. The manufacturer has designed this product with convenience and style in mind while ensuring superb performance for absorbing excess moisture from the air. 
Sale
Why Did We Like It?
There are several things to like about the Vremi VRM010184N, but perhaps the most prominent one is its ease of use. Once you adjust it to the required moisture level, it will run on a 24-hour cycle to absorb as much moisture as possible from the room. 
You will be able to feel the difference within minutes of starting the machine as the room begins becoming drier and more comfortable.
Also, this dehumidifier does not require a lot of maintenance and can be easily cleaned. That said, it is easy to remove the dust from the filter. The straightforward maintenance process further ensures that this dehumidifier lasts for a long time.
Additionally, this product from Vremi doubles as a portable piece due to the built-in wheels and handles that allow you to shift it from room to room easily.
What Could've Been Better?
While this product works incredibly well, one thing to note here is that this dehumidifier is relatively loud compared to similar products. On that note, it might not be the most appropriate choice for light sleepers who intend to use it in the bedroom. For them, there are quieter options available on the market. 
Pros
Easy installation

Easy to clean and requires low maintenance

Portable

Appealing design
For the uninitiated, Pro Breeze is a well-renowned manufacturer of home appliances, such as dehumidifiers, heaters, etc. Like other products from the brand, the PBA_PB-03_US model offers the perfect combination of superior performance and innovative features, topped off with a modern design.
Sale
Why Did We Like It?
The compact size of this dehumidifier, in addition to the built-in wheels, allow you to take it with you when you go on trips. Furthermore, the tank capacity of the water tank is quite huge, due to which it can easily extract up to 18 ounces of water per day. 
Another feature worth mentioning is the auto shut-off feature, which is great for saving energy. You can now know when the tank is full as this feature will turn the dehumidifier off, and the LED light will turn on. 
The FBA_PB-03_US model also offers an ultra-efficient and quiet operation because of the built-in Thermoelectric Cooling Technology. That said, it is ideal for installation in bedrooms, and even with the dehumidifier running, your sleep won't get disturbed. 
What Could've Been Better?
This electric mini dehumidifier from Pro Breeze is undoubtedly a fantastic product that can be easily installed and used. However, an important thing to remember is that this dehumidifier does require a lot of power. Due to this, using it for an extended period can result in hefty electricity bills. 
Pros
Portable and travel-friendly

Efficient

Silent operation

Modern design
Cons
It consumes a lot of power
If you are looking for a dehumidifier that not only removes excess moisture but also makes adjustments intelligently, then the Waykar 2000 is one product to look out for. This easy-to-use device comes with a unique design that can fit in with the decor of any room.
Sale
Why Did We Like It?
Coming from a brand that specializes in the production of humidifiers and dehumidifiers, the Waykar 2000 works like a charm to improve the air quality, even for large spaces. It can reduce humidity by 30% to 85% in areas as large as 2000 sq ft. 
Since it works so well for spacious rooms, its operation is even better in close quarters, such as bedrooms, as the effect becomes more concentrated. What is more, the manufacturer has designed this dehumidifier for modern sensibilities. 
And besides the modern design, the Waykar 2000 comes with 360-degree rotatable wheels and ergonomic handles that allow you to move it around with ease. That means if you are looking for a portable option, this is one of the best choices to go for. 
Additionally, the fan operates silently without creating any sound for relaxing evenings. 
What Could've Been Better?
The Waykar 2000 is the best dehumidifier for the bedroom if you want the perfect combination of modern looks and excellent performance. However, it does not come with an Energy Star certification, which might be a deal-breaker for those looking for an energy-efficient device. 
Pros
Intelligently maintains desired humidity levels

Light indicates when the tank is full

Comes with a 30-day money-back warranty
Midea is one of the world's largest manufacturers of household appliances, focusing on creating user-friendly products for the best experience. On that note, the MAD22C1AWS model is a perfect example of the unmatched quality and performance that products from the brand deliver. 
Why Did We Like It?
This 1500 sq. ft. dehumidifier is ideal for different sizes and types of spaces, including the basement, bathroom, bedroom, etc. It can help you maintain the humidity levels at a healthy 45% to 55% for a comfortable environment.
One of the features you are going to love is the auto-restart function, which can limit disruption due to power shortages. It does this by engaging your selected settings as soon as power is restored, so you do not need to adjust the settings again.
Apart from this, the auto-defrost function prevents the collected water from freezing. Frozen water can damage the machine, but that is not an issue to be concerned about with this excellent machine.
There is also a continuous dehumidification mode that will keep your home at the required humidity level 24/7. Here, too, you can adjust the settings once and be at ease the rest of the day. 
What Could've Been Better?
It is hard to find a downside to this excellent dehumidifier that offers such a stellar performance. However, you must note that the reservoir is not very easy to remove or reinstall since it is relatively heavy. You will need to put in an adequate amount of effort to do so.
Pros
Easy operation

It makes very little noise

Conserves energy

Has wheels for portability
Cons
Removing and resetting the reservoir is not easy
The next product on the list is the Tosot GDN35BB-A3EBA2A, which comes with a host of exciting features and delivers excellent performance at a great price. This dehumidifier is yet another nifty solution to improve the humidity levels of your room while also saving energy. 
Sale
Why Did We Like It?
The GDN35BB-A3EBA2A is one of the highest-rated dehumidifiers available on the market, and with good reason. It is one of the most efficient products and can remove up to 35 pints of water in a day, making it an excellent choice for the bedroom.
Among the several noteworthy features of this dehumidifier, we especially liked the auto-drain feature that stops the machine as soon as the reservoir fills up. Apart from saving you the effort to drain the water manually, you also save energy since the dehumidifier will not keep running needlessly. 
On that note, the automatic drainage can be used by hooking it up with a ¾ inches dehumidifier drain hose. This feature was undoubtedly one of the things that set this product apart from the competition since most dehumidifiers require manual emptying of the tank.
Also, the control panel allows real-time monitoring of the humidity level easily, so you can make adjustments as required. 
What Could've Been Better?
In our opinion, this dehumidifier from Tosot is a great choice for any room. The only thing we noticed is that it does not come with any manual that explains the operation of the product. Fortunately, you can look up the instructions online. 
Pros
Helps save energy

Easy to use

Silent operation

UL-approved for safety
Cons
Does not contain an instruction manual
The HA81W model from Gocheer is the next product on our list, and an equally exceptional product in the category. It is one of the most compact and lightweight dehumidifiers on the market and comes equipped with a 2000 ml water tank for efficient performance.
Why Did We Like It?
The Gocheer HA81W is equipped with in-built wheels and ergonomic handles that provide portability. If you are someone who goes on frequent trips and needs to take their dehumidifier with them, you will love this product.
Anyhow, the HA81W model can remove up to 1000 ml of moisture from the air, making it ideal for high-humidity areas, such as bathrooms, basements, and even bedrooms. Additionally, at less than 40 decibels, the silent operation makes it suitable for bedrooms.
This dehumidifier also comes with an auto shut-off feature. That said, it will automatically power down once the tank becomes full to prevent overflowing. Anyhow, the indicator lights up when the tank needs to be emptied.
Emptying the tank and refitting it is also a simple process requiring very little time or effort. 
What Could've Been Better?
To be honest, we were very impressed by how effective this dehumidifier was in reducing humidity levels. However, it works best in rooms up to 50 sq ft. For spaces larger than that, other options are available on the market that offer better coverage. 
Pros
Large tank

Energy-saving

Easy to use

Runs silently
Cons
Not suitable for huge rooms
Moving onto the next product, we bring you the Pohl Schmitt MD500, one of the most powerful mini dehumidifiers you can get right now. It offers unparalleled humidity control and is ideal for smaller rooms due to its compact size. 
Sale
Why Did We Like It?
The lightweight and compact design caught our attention right from the start. We could easily carry it to different rooms where required without a hitch, due to the in-built wheels. Yet, despite the small size, it delivers an impressive performance and can easily cover areas as large as 2200 cubic feet. 
Not only that, but this excellent machine can absorb moisture quickly from any room due to the Peltier technology, removing up to ten ounces of water in a day. Also, once the 17-ounce water tank is full, you can easily remove and empty it before re-installing. The entire process did not take us more than five minutes to complete.
It just doesn't end there! This device is also an excellent option from a safety point of view. The manufacturer has made it a point to ensure that the dehumidifier does not contain any chemical substances that might be harmful. 
What Could've Been Better?
When compared to similar competing products on the market, the Pohl Schmitt dehumidifier has a relatively small heat sink. While the smaller sink does not affect its performance and the dehumidifier works well, a larger heat sink would have made absorbing moisture even faster and more efficient. 
Pros
Easy to move around

It consumes very little energy

Safe to use

Works silently
Seavon is a well-known brand for its high-performance home appliances that are meant to make life easier and more convenient. That is why the next product that we bring to you is the MD-819 from the brand. It has an ultra-quiet operation that can alter the air to the desired humidity level. 
Sale
Why Did We Like it?
Equipped with a 500 ml capacity water tank, the Seavon MD-819 can easily cover up to 2200 sq ft, making it one of the best dehumidifiers for any bedroom size. It can also easily be used in other areas, as the compact form makes it easy to carry around. 
Besides being portable, the small size also helps save space in your bedroom.
Apart from this, this mini dehumidifier has built-in thermoelectric cooling technology, which allows continuous operation while keeping the noise levels below 30 decibels. For a quiet sleeping environment, the MD-819 is the best dehumidifier you can get for the price.
You will also be pleased to know that it has only one switch, making it highly convenient to use. This ease-of-use comes along with efficient performance, and the dehumidifier can remove up to 400 ml of water every day while using only 0.23 KW of electricity. 
What Could've Been Better?
The only downside to this otherwise fantastic product is that it lacks a proper way of emptying the catch-tray. The only way to do that is to turn it upside down and let it pour or drip out of the hole. Unfortunately, this technique does not empty the tray. 
Pros
Easy to use

Helps conserve energy

Quiet working

Saves space
Cons
Lacks a proper way for emptying the tray
The final product we have for you comes from the house of TCL, one of the leading technology companies that excel in the manufacture and development of gadgets and home appliances. The TDW20E20 is a perfect example of why its products are so popular, offering innovative features with stellar performance. 
Why Did We Like It?
Those looking for a dehumidifier that offers precise humidity control for easy removal of moist air are sure to love the TCL TDW20E20. It comes with multiple operating modes, allowing you to adjust the settings depending upon how much moisture you want to remove.
This dehumidifier is also excellent for winter operations due to the auto defrost functions which prevent the coils from freezing even in temperatures as low as 41 degrees Fahrenheit. It is one of the best dehumidifiers with continuous operation, though, you can set it to turn automatically on or off with the 24-hour timer. 
TCL has gone one step further regarding what features manufacturers offer. Not only does this dehumidifier come with an indicator light, but there is also an audible alarm to let you know when the water tank is full. We wish more manufacturers would offer such a feature.
What Could've Been Better?
We were delighted with how well this dehumidifier works, offering effortless humidity control. However, we did face a problem while trying to empty the water tank since it does not have any handles, and we had to hold it by the sides. The manufacturer should work on improving its design. 
Pros
Can be adjusted according to preferences

It does not freeze even in winters

Has washable filter for easy cleaning
Cons
Challenging to empty the tank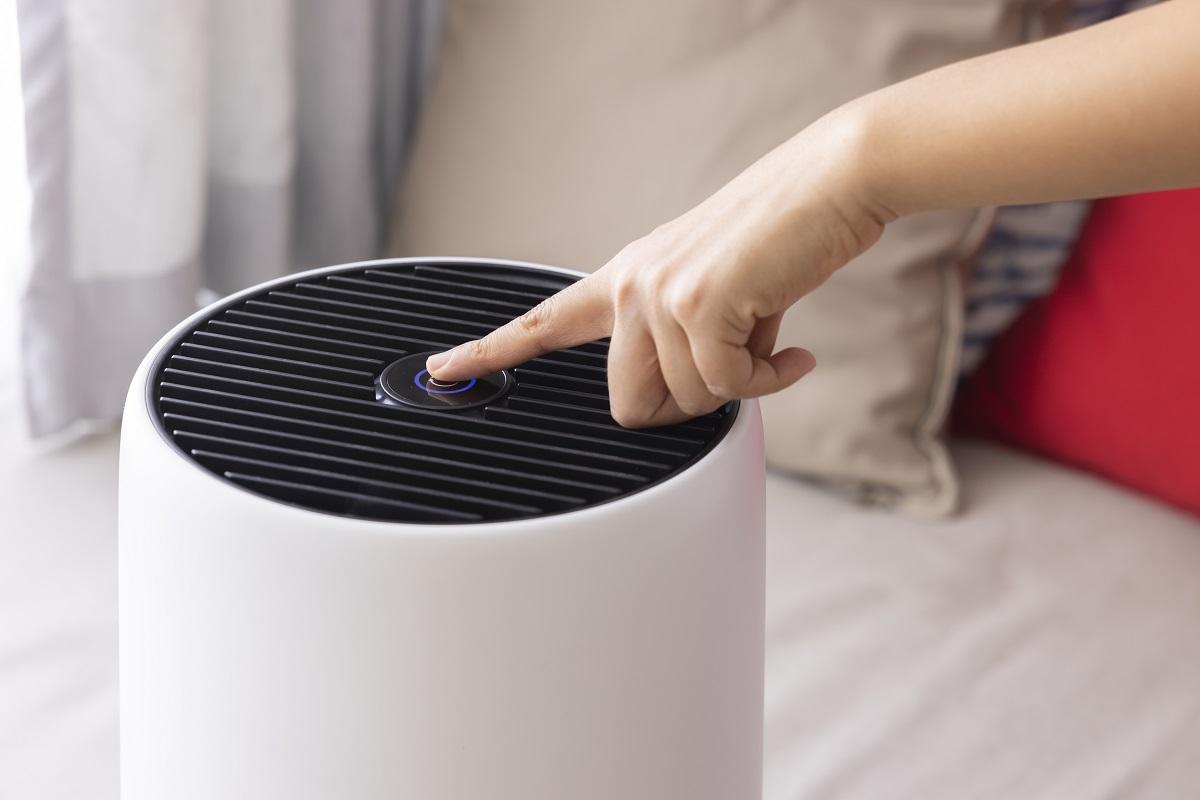 Top Bedroom Dehumidifiers Buying Guide
By now, you must have gone through our list of the top ten dehumidifiers. So, were you able to make a decision? Well, it's not that simple. 
We know that selecting the best product from a list can be highly confusing. Besides the brand name and price, other significant factors need to be considered when buying a dehumidifier. 
For that reason, we have compiled this comprehensive buyer's guide, explaining a few essential points that will help you make the right decision. Read on to learn more.
1. Size Of The Dehumidifier
The size is one of the most important factors to consider when purchasing a dehumidifier. Dehumidifiers are available in several sizes, ranging from less than 30 pints and going up to 70 pints. Select the size best suited for the indoor humidity levels and the size of the space where it will be installed.
2. Size Of The Room
The size of the dehumidifier is directly proportional to the area that needs dehumidification. Different sized rooms require different sizes and types. Calculate the cubic meters of the space where the dehumidifier needs to be installed before purchasing the product.
3. Type Of Humidifier
As mentioned above, several different types of dehumidifiers are available on the market suitable for different kinds of spaces. The whole-room unit type of dehumidifier is the easiest to use, while mini dehumidifiers offer portability and save space. Select the type of dehumidifier that is best for your requirements.
4. Maintenance
Another essential factor to consider is the amount of maintenance required by a dehumidifier. Dehumidifiers that require less maintenance over more extended periods are generally better as they help save effort and money. 
That is what makes desiccant dehumidifiers a better option because they do not use refrigerants and have a longer life span.
5. Drainage
A dehumidifier works by sucking in moisture from the air, which is collected by the unit and needs to be drained. Dehumidifiers from different manufacturers come with varying types of drainage solutions. For instance, dehumidifiers with duct systems can drain the water automatically, while other types may require manual draining. 
Select the dehumidifier after considering the amount of time you can set aside for draining it.
6. Ease Of Use
How easy it is to use a dehumidifier plays a critical role in selecting the right product. Some dehumidifiers come with a one-touch operation mechanism that allows setting it and letting it run automatically.
On the other hand, some options offer greater manual control through adjustable settings. These are the factors you need to consider when considering how easy to use the product. 
7. Moisture Removal Efficiency
The more efficient a dehumidifier removes moist air from a room, the better. Efficiency depends upon various elements, such as the size of the room and the rate at which the dehumidifier can absorb moisture. 
Remember that efficiency is always considered in relation to a specific area size, and the same dehumidifier may not work well in different-sized rooms. 
8. Energy Conservation
Nowadays, many dehumidifiers come with an energy star certification, which means they use a lesser amount of power for their operations. Energy conservation is vital since it helps keep the electricity bills low. 
Different types of dehumidifiers require varying amounts of power to run, with whole-room units needing a more significant amount of power than portable ones. 
9. Cost
Before making a final choice, you also need to consider the cost. After determining the type, size, and additional features required, you can compare the available options based on the pricing. It is recommended to go for an option that is neither too costly nor compromises on the quality and performance for the sake of affordability. 
Dehumidifiers For Bedroom Frequently Asked Questions Frequently Asked Questions About the Best Dehumidifier?
How will I know if I need a dehumidifier in the bedroom?
If you are observing strange musty smells in the room, it could be due to mold growth from excess humidity in the air. Some people also feel extra warm and clammy in their rooms without any structural or furnishing changes in the space.
Additionally, if the windows show condensation or wooden floorboards start to look uneven, the structural damage could be a sign that dehumidifiers are required. 
Which size of dehumidifier do I need?
Depending on the bedroom size, you will have to place a small or slightly larger dehumidifier in a corner. The smaller dehumidifiers are perfect for cramped, dark, or damp rooms measuring up to 500 square feet. Medium-sized options are better suited to larger areas like a bedroom attached to a hallway sizing up to 1000 square feet.
However, if the humidity situation in your home is severe, it might require a larger and more powerful dehumidifier to control the moisture levels.
Is it alright if I leave the dehumidifier on overnight?
Generally, there should be no problem in leaving the dehumidifier on for hours and even overnight. These devices are perfectly capable of running for a long time, and prolonged use will not affect your health either. Avoid using it when the display shows an error sign referring to issues in air flow or leakages, otherwise, it should be entirely fine.
As a precaution, always check if the safety features like automatic shutoff are activated before sleeping.
How long does it take for the moisture to reduce when using a dehumidifier?
Considering the dehumidifier you have selected according to your bedroom size, the moisture levels should go down within a few days to a week. If there is a long-standing dampness issue with the walls and ceiling, then getting the moisture under control will take longer. 
However, if a serious problem like pipes bursting or water flooding has occurred recently, one dehumidifier might not be enough to get rid of moisture. 
How can a dehumidifier help with my allergies?
Most allergens thrive in an atmosphere rich in moisture. As the humidity in the room increases, so does the population of allergy-causing elements. For instance, many people have an allergic reaction to the presence of mold spores, and mold can grow in low humidity levels of 60%.
Similarly, dust mites can increase in numbers when the humidity levels cross 50% in the room/house. Using a dehumidifier will reduce allergy-causing spores, thus keeping you healthy.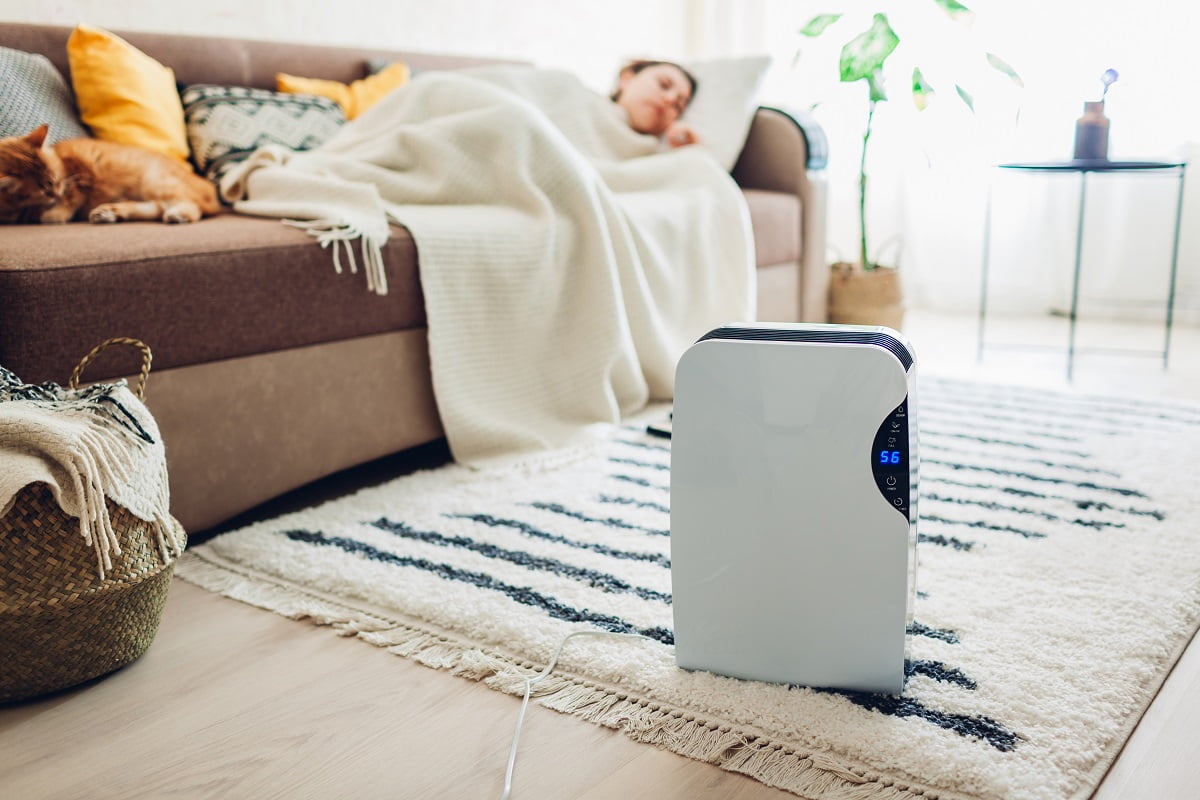 Final Verdict on the Best Dehumidifier
The problem of humidity is one that many people have to deal with due to seasonal or locational factors. People depend on dehumidifiers to deal with this problem since they offer choice and convenience. 
We hope that this review-based guide has helped you learn about the best dehumidifiers to bring you relief. And before we end our guide, let us mention a few of our favorites.
Our top pick, the hOmeLabs, is the overall best product that offers a sleek design and easy-to-use functionality. However, if you are looking for a portable and low-maintenance option, the Vremi  may be a better choice. Finally, the Pro Breeze electric mini dehumidifier offers silent operation capabilities and energy efficiency. 
On that note, it is time for us to sign off. Take care!
Related Links
8 Best Crawl Space Dehumidifier
Best Dehumidifier for Basement
Best Dehumidifier For Apartment
11 Best Dehumidifier For Bathroom
9 Best Dehumidifiers for Basements
10 Best Dehumidifiers for Mold
10 Best Urpower Essential Oil Diffuser
13 Best Bathroom Exhaust Fans With Light & Heater
13 Best Undermount Bathroom Sink
17 Best Bathroom Design Tool Options
How to Fix Rotten Floor Joist Under Bathtub
What Size Humidifiers Do I Need?
15 Best Commercial Dehumidifier