High humidity is never a good thing, especially in smaller households, which is why getting a dehumidifier for your apartment is always recommended.
Not only can these dehumidifiers control humidity levels, but they can also improve indoor air quality, limit environmental triggers for sicknesses, and deal with mold as well. Even smaller dehumidifiers, which may may not seem very powerful can easily cover larger spaces. This is incredibly useful in a small apartment area, where the space is limited.
If you need pointers on how to get started on finding the best dehumidifier for apartment, worry not. Our in-depth guide covers a few of the top models and how to pick the best apartment dehumidifier no matter how much area you need to be covered.
So, without further ado, let's get right into it!
Best Dehumidifiers For An Apartment
IMAGE
PRODUCT
DETAILS

Our Top Pick

Our Top Pick

hOmeLabs

22 pints of moisture removed per day
Covers up to 1,500 square feet
Energy Star certified

VIEW LATEST PRICE →

Frigidaire

Removes up to 50 pints of moisture
Three fan speed settings
Two-gallon capacity water tank

VIEW LATEST PRICE →

Yaufey

Removes up to 32.7 pints a day
Light-touch control panel
Two-meter drain hose

VIEW LATEST PRICE →

GE ADEL35LZ

Removes 35 pints of moisture a day
1.1-gallon tank capacity
Empty bucket alarm

VIEW LATEST PRICE →

TOSOT

4,500 square feet coverage
Removes 50 pints every day
Real-time humidity monitoring

VIEW LATEST PRICE →

Honeywell

Covers up to 4000 square feet
Wi-Fi enabled controls
Drain tube included

VIEW LATEST PRICE →

HOGARLABS

Built-in hygrometer
Removes 50-pints of moisture daily
6.6 feet drain pipe included

VIEW LATEST PRICE →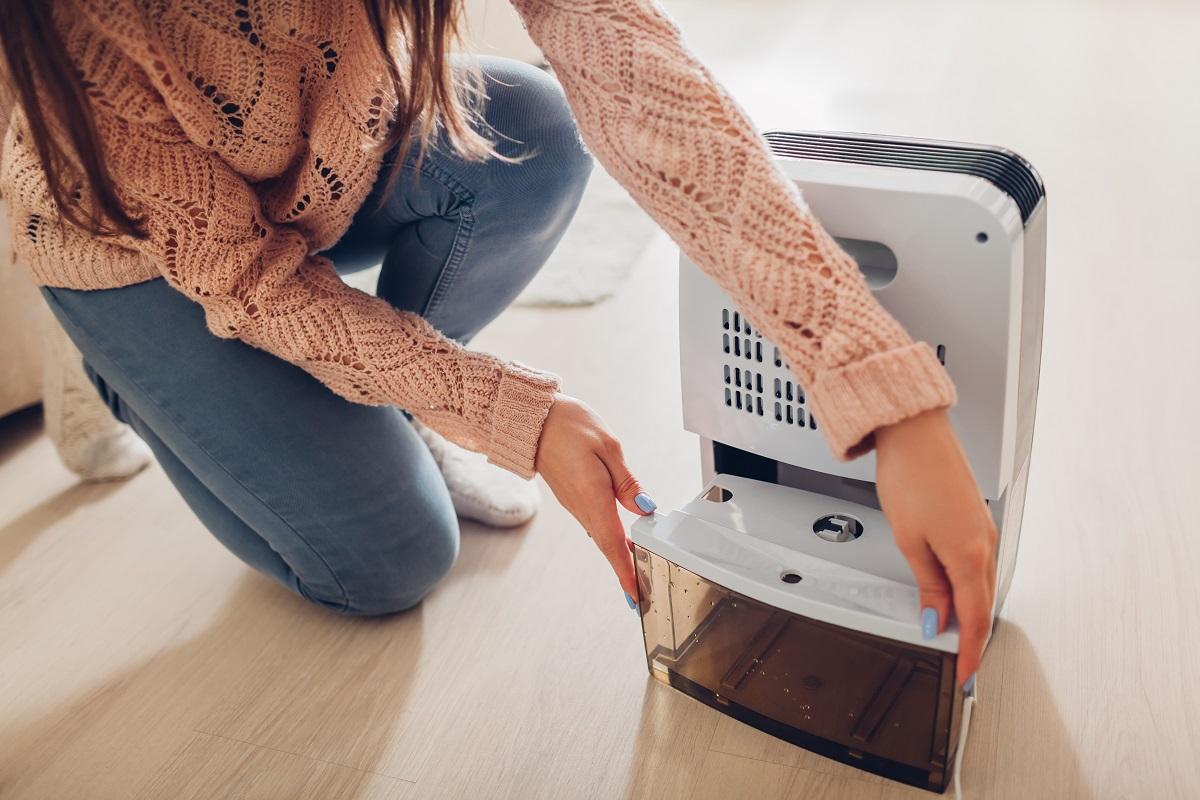 If a compact, efficient, and portable dehumidifier is what you need, then this hOmeLabs dehumidifier is worth checking out. Not only does it have a sleek look, but it can also remove an incredible 22 pints of excess moisture. Whether it is left to work autonomously or through continuous draining, your target humidity levels are within reach with this unit.
Sale
Why Did We Like It?
This dehumidifier unit is unique because of the built-in wheels to help transport it around. As such, the portable construction is perfect if you need to move the unit around the apartment throughout the day. Having the ability to position it exactly where you need is especially important to get maximum coverage, be it for the basement, bedroom, or any other small space.
Additionally, there is an attached drain hose for continuous operation if you need it to run beyond a regular cycle. Otherwise, the collected moisture will gather into a water tank for removal until it is completely full.
Placing this humidifier in a bedroom is also feasible as it runs without much sound. While it is not the quietest dehumidifier, the fan noise levels are quiet enough to allow for binge-watching your favorite series without any distractions.
What Could've Been Better?
Unless a drain hose is attached to this hOmeLabs dehumidifier, you may find yourself having to regularly empty out the water tank. As the capacity is pretty low, it can not hold much moisture. And the 22 pints of moisture removed by it are sure to fill up the tank in no time.
Pros
Built-in wheels

Quiet fan operation

Automatic shut off

Drain hose outlet
This Frigidaire dehumidifier runs efficiently throughout the day, whether on a pump or while using the high-capacity tank. With three fan settings to choose from and a washable filter, it has a user-friendly design to remove excess moisture with ease.
Why Did We Like It?
One of the standout features of this dehumidifier designed for apartment spaces is its built-in filter that can capture dust mites and improve the air quality. Of course, an air filter will eventually need some maintenance, so the filter is washable to keep the long-term operating costs down.
Another feature that came in handy was the large capacity of the water tank. A 20-pint dehumidifier running constantly would have quickly filled up any other water tank. However, the Frigidaire dehumidifier is an exception, as it gives two gallons to work with before needing emptying.
On the other hand, there is the option to have a continuous running drain as well if you don't feel like emptying out the tank every few hours.
What Could've Been Better?
One minor inconvenience that we came across was that the water outlet seal was not as tight as we would have liked it to be. Unless you use a floor drain or have a sealant, you may find some water leaking out from the area between the pipe and the hole.
Pros
Full tank alert

Built-in pump socket

Automatic shut off

Continuous drain option
Cons
Water may leak from the pump outlet
What makes the Yaufey 1 dehumidifier stand out is the ultra-quiet Peltier technology that it employs. With the quiet operation and excellent coverage of up to 1500 square feet, it blends into the setup of any room. Aside from auto-control, it has a defrost and shut-off feature to help make the user experience as seamless as possible.
Why Did We Like It?
There are a few modes and settings that the dehumidifier work can at. One method involves manually emptying out the tank when full; however, the inclusion of a drain hose allows for a continuous draining cycle.
Tailoring the operating times of this unit to meet your energy needs and schedule is made incredibly convenient with the built-in timer and shut-off system. Once the desired humidity levels are reached, the system will shut off by itself to facilitate optimum energy efficiency. Additionally, the auto mode can detect moist air and begin operating to maintain humidity control.
Overall, the user experience is improved upon by including an intuitive touch screen control panel to adjust the customizable settings. What's more, there are wheels and handles along the top of the unit to help you move it around the apartment with ease.
What Could've Been Better?
In case you are not able to attach the included drain hose to an outlet, you may find the manual emptying of the tank to be quite regular. Even in small spaces, we observed that the unit could only run for a few hours before reaching its full capacity.
Pros
Easy transportation

24-hour timer

Automatic shut-off

Quiet operation
Cons
Has only half a gallon tank
This GE dehumidifier is not only portable but is also energy-star certified for humidity control, even in larger spaces. Packing a large capacity tank and a number of modes and speeds to choose from, it is perfect for eliminating moist air in a small apartment without hiking the electric bill.
Sale
Why Did We Like It?
Eliminating humid air is an easy task with this dehumidifier working away; simply set the desired humidity levels on the adjustable humidistat and let it do the rest. Plus, three fan speeds allow the unit to work at varying degrees of moisture removal. Once the desired humidity level is reached, the dehumidifier will automatically turn itself off to preserve power.
Speaking of energy consumption, this unit is Energy Star certified, which means it is obviously energy efficient while performing at an optimal turnover rate. This can help cut down a few precious hours of operation, saving you a few bucks in the process.
Furthermore, the entire unit has a sleek white design with hidden roll wheels for transportation. Built-in pocket handles also help make the dehumidifier easy to move around small spaces without having to lift or assemble anything.
What Could've Been Better?
Of course, in every dehumidifier, there is bound to be a slight increase in the temperature of around the unit when it's operating. However, in the case of this GE model, there was a considerable increase of more than 10 degrees. This may be a cause for concern, especially for those in a small apartment area.
Pros
Three fan speeds

Adjustable thermostat

Auto-restart and defrost

LED digital controls
Covering 3,000 to 4,500 square feet, this 50-pint dehumidifier from TOSOT is a solid investment for any apartment. There is an internal pump and real-time monitoring of humidity, making it one of the best dehumidifiers for convenience. Add onto that a simple control panel and quiet operation, and you get a high-quality dehumidifier unit.
Why Did We Like It?
Being able to gauge the humidity level in real-time is an incredibly useful feature that this unit provides, as the adjustments to the settings can be made accordingly. As this 50-pint dehumidifier has an internal pump, it is possible to leave it running continuously to maintain the desired humidity in small spaces. Once the water reaches a certain level in the drain bucket, any excess collected moisture can be removed either sideways or vertically.
The alternative is manually emptying the drain bucket, which is not as challenging as it seems either. And to further simply the process, the brand has included a swivel handle and spill-resistant baffles to keep the water from spilling.
With an Energy Star rating, this TOSOT dehumidifier is able to run efficiently even on low power. This also helps it to maintain a low noise level regardless of which fan speed setting it is on.
What Could've Been Better?
One caveat to this model is the small capacity of the drain bucket. Because it is a 50-pint dehumidifier, it will fill up quite fast depending on the amount of moisture in the air. Unless a hose is attached to the pump for constant draining, you may find yourself emptying out the bucket every few hours.
Pros
Internal pump

Low peak loudness

Energy star rated<

Washable air filters
Honeywell has designed this modern room dehumidifier with a range of smart features to improve the air quality in your home. A reusable filter, continuous drainage, and heat-safe internal casing are just some features to help make your life easier and healthier. The option to control it wirelessly over Wi-Fi is another unique feature to future-proof this handy dehumidifier.
Sale
Why Did We Like It?
You can tell this Honeywell dehumidifier was built with the user experience in mind. This is evident from the heavy-duty handles and smooth gliding wheels to help make transportation a breeze. A built-in cord winder also helps keep the unit looking neat and clean.
This dehumidifier works well, whether it is manually emptying the water tank or attaching a drain pipe to the pump. If it is not possible to use the included pipe, then the water tank is still convenient to empty out. With a sliding rail, sculpted handle, and splashguard, it is easy to transport and dispose of the collected moisture.
Additionally, Honeywell has also included the option to control the settings from fan speed to humidity all from your phone or tablet. The dehumidifier is also compatible with Amazon Alexa, so voice commands can be used as well, making for a seamless experience without having to interact with the unit directly.
What Could've Been Better?
While using this dehumidifier, it was observed that the fans were constantly in operation even when the desired humidity had been reached. This problem seemed to occur for many other reviewers as well; whether it is intentional or not is unknown, but it is a minor inconvenience that should be noted.
Pros
Easy mobility

Durable filter

Anti-spill guards on tank

Energy Star qualified
Controlling the humidity level in a room is much easier with the HOGARLABS PD11C, featuring three different modes to choose from for optimal performance. With an effective coverage of up to 3500 square feet, it is a contender for one of the best dehumidifiers in terms of versatility.
Sale
Why Did We Like It?
When it comes to the ambient humidity in a living space, there are multiple facets to consider, which is why the three different modes on the PD11C are so useful. A "DEHU" mode keeps humidity at a healthy level, while the "CONT" mode is perfect for particularly damp areas needing constant dehumidification. Furthermore, a specialized "DRY" mode can help air out wet clothes and protect cotton materials from moisture.
Being able to eliminate high humidity is not the only standard that the best dehumidifiers should be held to; the design is a big consideration as well. The PD11C has a top handle as well as embedded side handrails to give a firm grip while transporting the unit.
Some useful maintenance features like a timer and resuming operation after a power outage improves the user experience by allowing for autonomous operation. A hygrometer can also read the levels of moist, cool air in a room to make adjustments accordingly.
What Could've Been Better?
Unless the PD11C is used in conjunction with the included drain hose, then the frequency of emptying out the collected moisture substantially increases. With such a low-capacity tank, the dehumidifier fills up in no time at all, so repeated trips to empty out the tank are inevitable.
Pros
Easy transportation

Three modes

24-hour timer

Reusable filter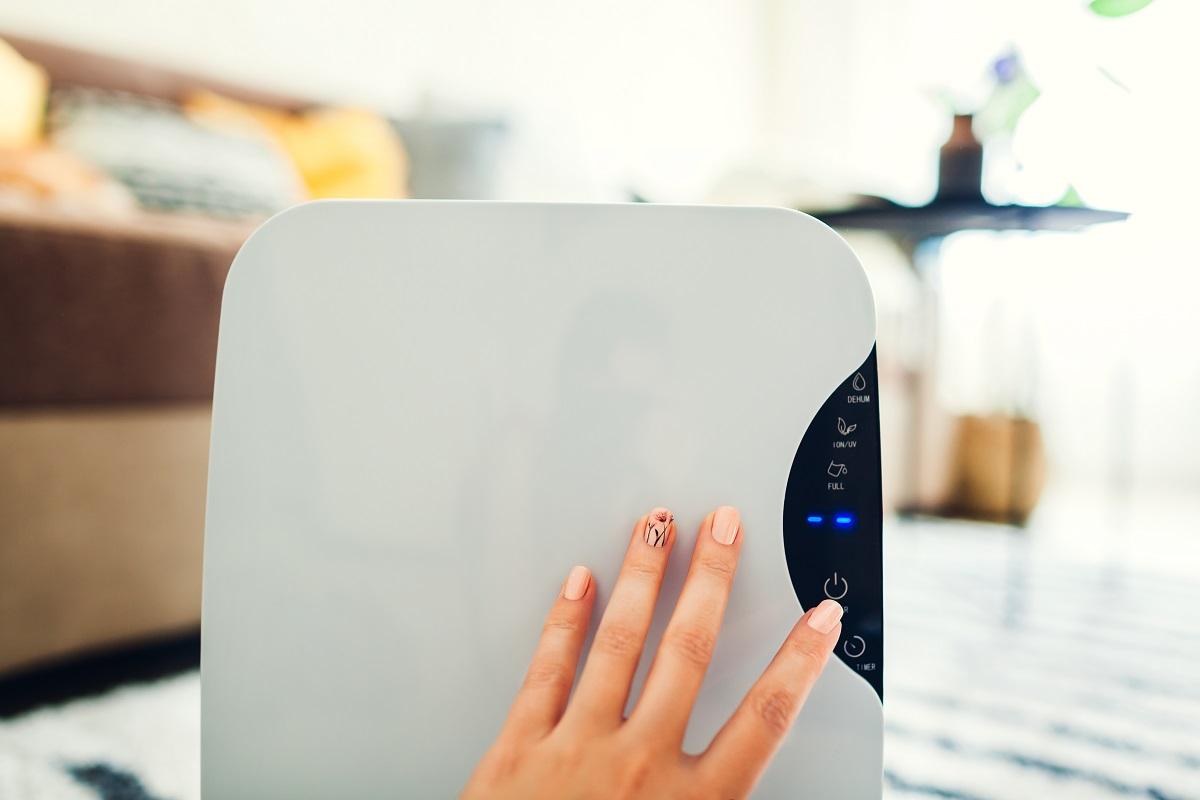 Dehumidifier For Apartment Buying Guide
Before you decide on a dehumidifier for your apartment, there are a couple of things to be aware of. As there is no standard for the best dehumidifier for apartment use, you may not get the same results as other users, even if it is the same model. That is why these factors should be kept in mind so you can get the best performance possible out of the unit.
1. Energy Consumption
Dealing with a musty odor in a compact area can be challenging and time-consuming, especially if the machine is not cut out for the task. As such, the energy efficiency of a dehumidifier is one of the most crucial factors to consider; continuous operation can rack up quite a hefty power bill in the long run.
One of the reasons why having an energy-efficient dehumidifier is so important is that it helps other HVAC unit pieces, like an air conditioner, run more efficiently. The temperature of dry air is easier to change as compared to heavier, moist air. As such, air conditioners may see a jump in efficiency simply by having a dehumidifier in the same room.
Additionally, efficient power consumption can help to cut down on operating costs of the dehumidifier. Some cases see up to 30% less power consumption, which adds up to a considerable amount in terms of power bills. These efficient performers give the same quality air without consuming drastic amounts of power, allowing them to be left running without racking up a huge bill.
As a general guideline, to get the best dehumidifier for apartment areas, a model that is Energy Star rated is a good indication of quality efficiency. These units have been tested and approved as having an efficient and low-power consumption without a drop in performance.
2. Drainage
A. Drain Hose
One of the favorite methods of disposal for excess water in a dehumidifier is using a draining pipe attached to an internal sump pump. This effective combination allows the unit to continuously drain water, which effectively leaves the tank in a constant state of emptiness. The result is never having to empty out the water storage, keeping the machine running 24/7 if you so choose to.
Another benefit of having a built-in pump is the constant air circulation in your living space. Similar to an air conditioner, the moist and dry air will keep moving, eliminating dust buildup.
B. Manual Tank
On the other end of the spectrum, a manual method of removal involves more work; however, it does depend on the capacity of the tank itself. A low pint dehumidifier will not generate much in terms of moisture, so a corresponding volume tank is essential. Pairing a high pint dehumidifier with a low capacity tank will result in multiple trips to empty it out.
3. Air Quality
An additional feature that can help remove mold spores is a filter for air. To keep maintenance costs to a minimum, look for a model that uses a washable filter. Many models do feature a washable and reusable filter, so finding one shouldn't be difficult.
A smart dehumidifier model that acts as an air purifier is one of the best ways to control moisture and improve the quality of air. Not only can it manually adjust its settings to match the quality of the air, but it operates only when needed, which again helps with power consumption.
4. Control Panel
Accessibility should not be overlooked when it comes to selecting the absolute best dehumidifier for apartment rooms. Whether it is electronic controls or tactile buttons, these factors determine how you interact with the machine. A control panel has all the settings and modes as well as additional features like a timer and auto shut off.
Electronic control panels usually use an LED light to indicate the settings and modes that the dehumidifier is currently set at. However, it has the downside of remaining bright, which can be a nuisance in a living space where light is not desirable. Tactile buttons are beneficial in the sense that they offer ultimate control without getting in the way, whether it is light or dark in the room.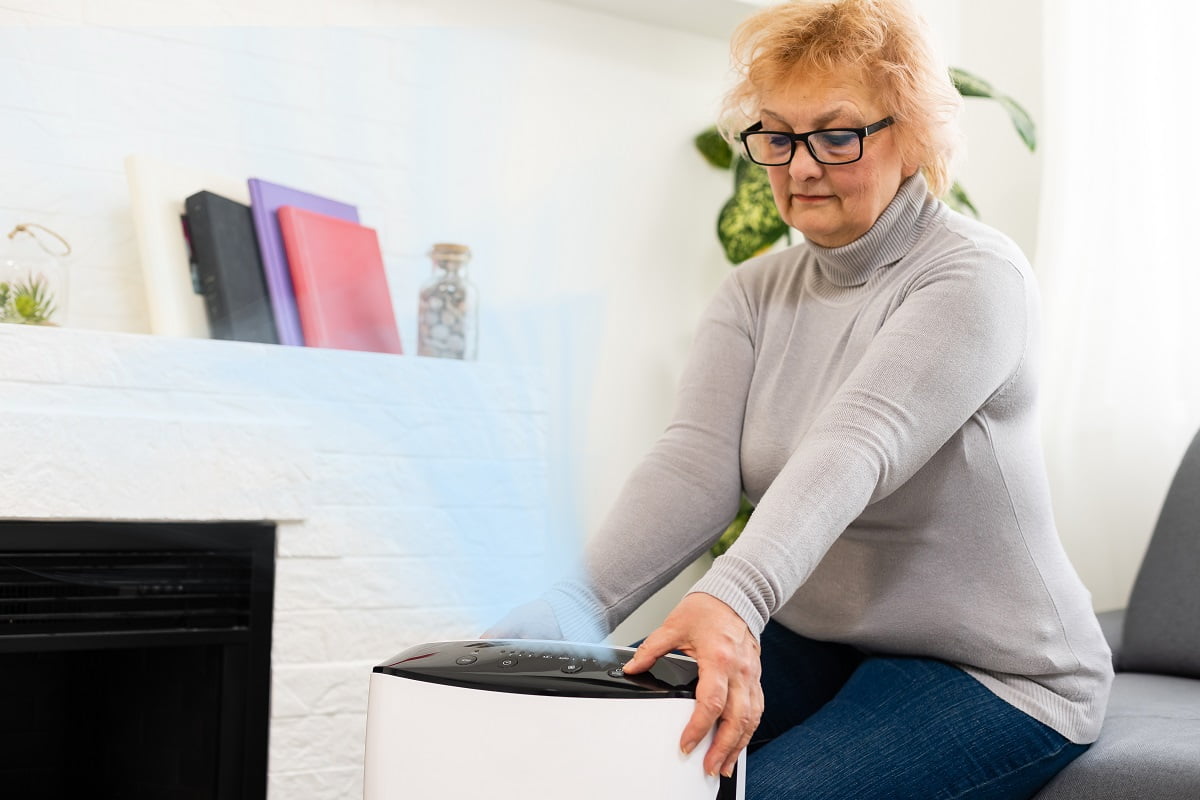 Verdict
With that, it is safe to say you know a bit more about the best dehumidifiers for apartments and how to pick the right one for you.
If you ask us, our all-around choice has to be the hOmeLabs for its efficient operation. However, a close second is tied between the Frigidaire and the Yaufey as they can improve air quality while removing dust mites and other respiratory triggers.
Regardless of the dehumidifier model that you do end up choosing, these machines have a drastic impact on air and health, especially in a compact apartment. So, rest assured, any dehumidifier for apartment use will help you focus on the important things and not worry about how safe the air is.
Take a step in the right direction and get yourself one of these fantastic machines and breathe a healthier sigh of relief.
Related Links
8 Best Crawl Space Dehumidifier  
Best Dehumidifier for Basement
11 Best Dehumidifier For Bathroom
9 Best Dehumidifiers for Basements
10 Best Dehumidifiers for Mold
10 Best Urpower Essential Oil Diffuser
13 Best Bathroom Exhaust Fans With Light & Heater
13 Best Undermount Bathroom Sink
17 Best Bathroom Design Tool Options
How to Fix Rotten Floor Joist Under Bathtub
What Size Humidifiers Do I Need?
15 Best Commercial Dehumidifier