Imagine having a beautiful and perfectly trimmed garden right in front of the house! While it sounds amazing, it can be difficult to maintain. 
That is where we come in! We found that with a good quality string trimmer, you can achieve a well-shaped garden with no weed or excess grass growing on the sides. Although a lawnmower cannot be used to clean the sides, a string trimmer will do the job for you. 
Moving on, you will find different options on the market, starting from corded electric string trimmers to cordless string trimmer options. Some come with a large cutting swatch, while others have a smaller one. You will also find other tool attachments, which can help you use the machine easily. 
We have reviewed the best corded electric string trimmers on the market, which will help you find the ideal option. So, without further ado, let us dive in!
Best Corded Electric String Trimmer 
IMAGE
PRODUCT
DETAILS

Our Top Pick

Our Top Pick

Greenworks

Equipped with 0.080 dual-line bump feed
Powerful 10 amp motor
Quick attachment changes with a quick-connect coupler

VIEW LATEST PRICE →

BLACK+DECKER

Automatic spool feed technology
Comes with high power and low noise 
2-in-1 corded electric string trimmer and edger 

VIEW LATEST PRICE →

Toro

Powered by a powerful 5 amp motor 
14-inch dual-line cutting head included 
Offers benefits of a trimmer and edger 

VIEW LATEST PRICE →

Sun Joe

Powered by a 4 amp motor
Ergonomic handles for a comfortable experience
Equipped with an efficient wraparound flower guard

VIEW LATEST PRICE →

CRAFTSMAN

Powered by a 6.5 amp motor
Wheeled edger to clean corners 
Efficient cutting width of 14 inches 

VIEW LATEST PRICE →

Worx

Offers 2-in-1 features with a rotating shaft
Sports a 90-degree pivoting head
Telescoping pole for people of different heights

VIEW LATEST PRICE →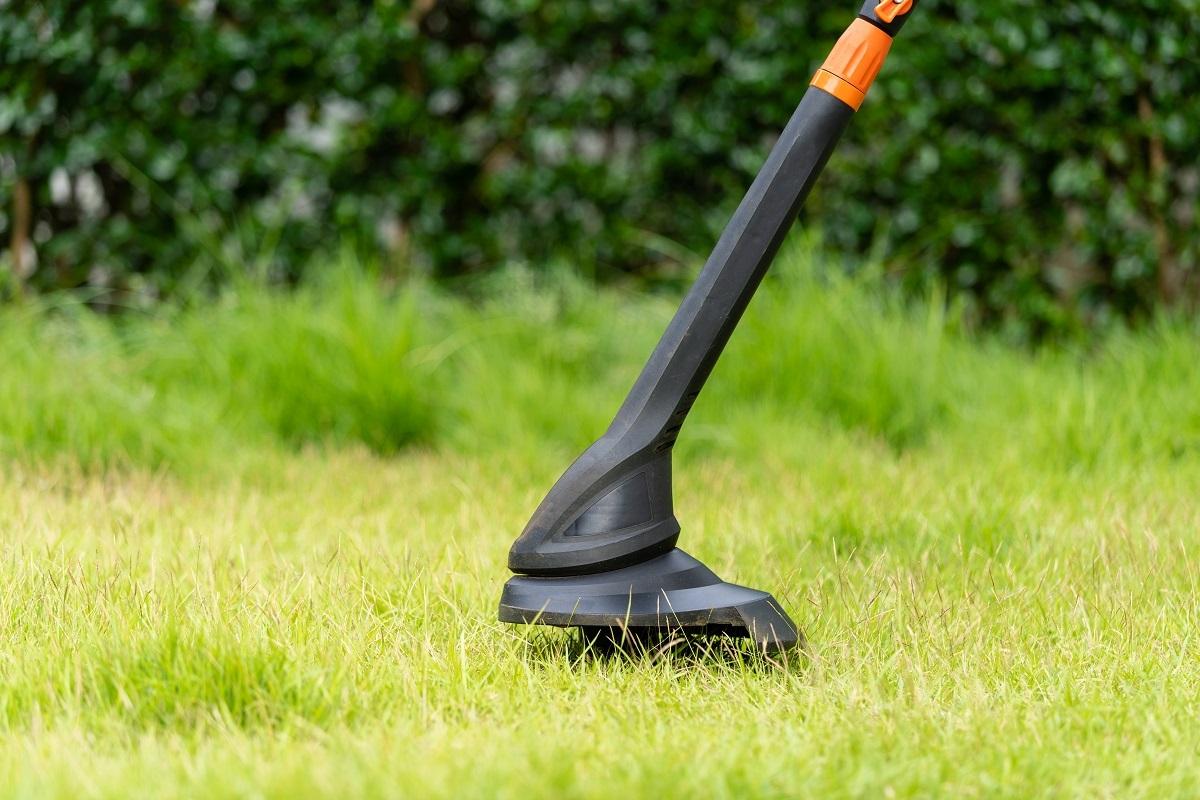 If you are looking for an option with a strong build that can eat through weeds easily, then the Greenworks 21142 string trimmer will fit the job well. It is super powerful, and can be operated very smoothly. We found that we could completely depend on the product in the long run. 
Sale
Why Did We Like It?
For starters, the string trimmer sports a 20 Amp motor along with a straight shaft. You will also get a 0.080 dual-line bump feed, which will help work in a smooth manner. This item is perfect for trimming large amounts of weed and can be used around your garden, thanks to the cutting path measuring 18 inches. 
Next, the cord lock feature makes it very easy to use. It is lightweight and consists of a simple electric start. In addition, you will get shoulder straps to hang it conveniently while working. 
Moreover, if you are a DIY gardener, you may need to use the corded electric string trimmer for long hours. Now let us tell you that the handle is well made and cushioned for you to grip well. Plus, it is molded to enhance the gripping experience, so you will not face any hand fatigue after using the corded string trimmer. 
What Could've Been Better?
If you are going to take the Greenworks trimmer around the garden, then an extension cord will be needed. Please make sure that you buy a powerful one, which can support the product. Otherwise, the string trimmer might not start, or the extension power cord can get damaged. Invest in a good one, and you should not have any further problems. 
Pros
Cutting path of 18 inches

Molded and cushioned grip

Lightweight body

Easy to use with cord lock features
Cons
Needs a powerful extension power cord
Up next is a corded electric trimmer along with an edger packed in one body. The BLACK+DECKER ST8600 is a brilliant option for those looking to take care of small to medium-sized gardens. Read on to know more about its bells and whistles. 
Why Did We Like It?
If you have flower beds in the garden, then this product can help you eliminate all excess growth around them. While it can be easily used in tight spaces, the trimmer head can cut off tall grass too. 
Plus, the cutting width is 13 inches, and that is wide enough for medium-sized areas. Hence, you can sufficiently cover the entire lawn in a short period of time. 
Along with this, you will find that the automatic feed system needs no bumping, ensuring that you can achieve more control. It is easy to handle and maneuver, and you can adjust the height however necessary. The corded string trimmer has a lightweight body, which will make the work process simpler. 
Additionally, the string trimmer comes with power drive transmission technology, which provides one with better torque along with enhanced cutting power. The string head can slice through the excess weed leaving you with a clean lawn. 
What Could've Been Better?
This corded electric string trimmer edger comes with a plug that cannot be used with the general extension cord that you would find in your home. The plug is recessed, and you will need to purchase a cord that fits the design. Therefore, we will recommend waiting till you get the item before purchasing a new cord. 
Pros
Easily cuts through sides of paths and borders

Wide trimming area of 13 inches

Lightweight and easy to work with

Powerful power drive transmission technology
The Toro 51480 corded electric string trimmer is one of our top recommendations as it comes with a hoard of benefits. If you were looking for a reliable and relevant device that could keep your gardens clean, then this can be a great choice. It is also backed by a 2-year warranty which helps in building trust. 
Sale
Why Did We Like It?
When looking for string trimmers, the first thing that needs to be done is to check the motor. This model comes with a powerful 5 amp motor along with a 14-inch wide string trimmer head. The powerful motor ensures that you can cut through tall and thick grass easily. Also, the trimmer head will help you clear weed faster because of its breadth. 
Moreover, you will get a telescoping aluminum shaft that can be extended depending on your height. This provides you with extended reach, making sure you can reach the grass and weed around the far borders. An adjustable handle is attached, which will further help in the process. 
That's not all; you will get an auto-feed trim line where the trimmer will automatically adjust the line once you pull the trigger. Additionally, thanks to this, you'll get the perfect cutting length.
What Could've Been Better?
The only issue that we faced with this string trimmer was that the tap-to-advance string feature was missing. Hence, if you are trimming an area like the sides of a garage, you will have to constantly pause and use the trigger to advance the trimming line. This can make you spend some extra time cleaning up the weed. 
Pros
Assist handles are adjustable

Comes with a 2-year warranty

Telescoping shaft for easy movement

Automatic line feed system
Cons
Tap-to-advance string feature is missing
The Sun Joe TRJ13STE is one of our top choices as it comes with an automatic feed as well as a comfortable handle. Working with it is very easy, and you can take it around your garden in a smooth manner. The corded trimmer will also help you work in narrow areas making it a very trustworthy choice. 
Sale
Why Did We Like It?
While most string trimmers are devoid of this feature, Sun Joe will provide you with a flower guard. This wraparound flower guard protects one from coming in contact with the trimmer. It will help you work with ease without having to constantly watch over the edge. 
Next, the corded electric string trimmer comes with a 180-degree rotating shaft that will help you use it as an edger. You can take care of the corners and sides of footpaths and garden walls. 
Moving on, you will be getting a powerful 4 amp motor. This will help you work through heavy weed growth and tall grass quickly. 
Plus, the corded trimmer has a 13-inch head, which will make it easier to work through your garden. The wide head will clear your path quickly, and you can get the job done within an hour. 
What Could've Been Better?
The bottom sides of the product are made of thin plastic, and you will have to be careful while using it. Make sure that you do not put any extra pressure on the bottom, so that it works out well. Just keep this in mind, and you should have a pleasant experience. 
Pros
2-year warranty provided

180º rotating shaft

13-inch cutting swatch

Auto feed system
The CRAFTSMAN CMESTE920 is a very efficient corded electric string trimmer that can be used to work around the garden easily. You will also be receiving replacement parts, making it one of the most efficient options. We used it on our farm, and it was able to clear it efficiently. 
Sale
Why Did We Like It?
What are the qualities that you can expect the best corded electric string trimmer to have? You will probably be looking for a good cutting width, wheels for easy movement, and a pole that is adjustable. Well, this string trimmer has got all the qualities and more. 
It runs with the help of a 6.5 amp motor, which is known to provide excellent performance. The string trimmer can easily eat through overgrowth and can help you finish off the job quickly. 
Next, this is a wheeled weed eater that is easy to maneuver. You can remove tough weeds from the corners of the lawn without any issues. This corded string trimmer can be used to shape the sides in an even way. Also, the 14-inch cutting head will help you cut with utter finesse. 
That's not all, as you will be getting 2 replacement spools along with the pack. There is no need to buy anything new, and that should save you money. 
What Could've Been Better?
The only issue we faced with this corded string trimmer is that the cord can get in the way when working. This especially happens when you start a long way away from the power plug. However, you can work with it easily if you can hold the cord with the pole together to keep it out of the way. 
Pros
Push-button feed system

Comes with 2 replacement spools

Ergonomic telescoping pole

Dimensions of 8 x 4.38 x 37.13 inches
The Worx WG119 is one of our final choices when it comes to finding the best electric weed eater. We have family members of different heights in the house, and this device can be used by them all. Paired with a pivoting head along with other amazing features, this option is sure to impress you. 
Why Did We Like It?
To begin with, this product comes with a dual-line feature that will provide you with a new trimmer string every time you work with it. You can always achieve the right length, thanks to this. Moving on, you can use the telescopic pole to reach further away while you stand at one spot. 
Equipped with modern and cutting-edge technology, the product is equipped with a flower guard. This will keep you from accidentally cutting plants while working on the leaves. You can use this around ornamental plants and for landscaping. 
To add to the comfort, this hedge trimmer comes with a handle that can be used in multiple positions. You can work with it in a way that you have complete leverage. Also, the 90-degree pivoting head will help you work on slopes and inclined areas. 
What Could've Been Better?
The hedge trimmer is slightly heavy and may cause a problem for people who are not used to working with weight. You might face some amount of fatigue at night. However, if you do not use the trimmer for long hours at a go, then this should not be a problem. 
Pros
Powered by cutting-edge technology

Flower guard to protect surrounding plants

Automatically feeds trimmer string

Gives you complete control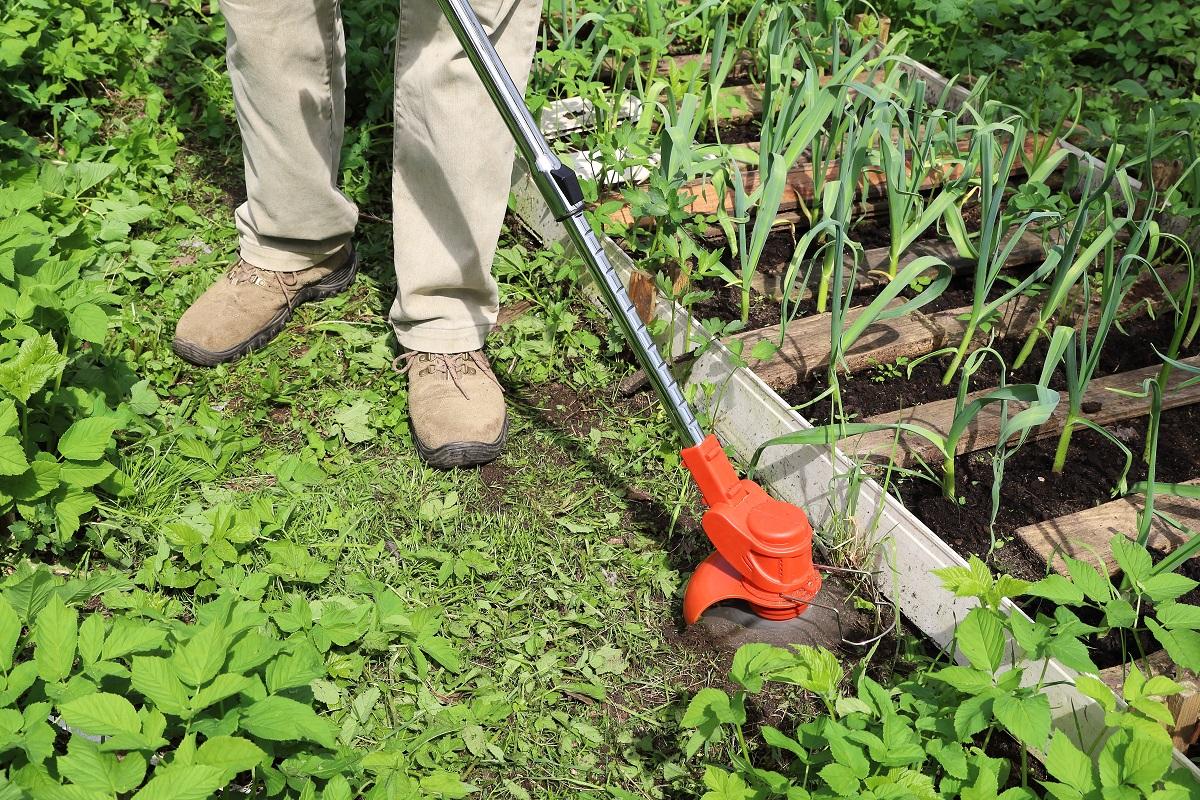 Corded Electric String Trimmer Buying Guide
While looking for the best string trimmers, we also found battery-powered string trimmers along with gas-powered string trimmer options. These do not have a power cord making movement easier over large spaces. 
However, batteries can be expensive, and you may need to pause work to recharge them. With gas-powered trimmers, the machine can become pretty heavy, which may not be a feasible option.  
Now that you know about the best corded electric string trimmers on the market, we will move on to some of the important factors to keep in mind. 
Remember that you will need to make a choice based on your purpose rather than choosing the most expensive or popular string trimmer. List out your needs, and then see which one fits the best. 
To know more, keep reading. 
Size Of The String Trimmer Head 
The width of the head of string trimmers will determine how much weed and grass can be removed at one time. If you have a large garden or a lawn, then opt for a wider head measuring around 18 inches. Then you can remove a lot of grass at one time. 
On the other hand, you can opt for a thinner head if you have a small to medium-sized lawn. Also, if you need to cut around edges and in tight spaces, a thin head will work better. 
Adjustable Shaft
The shaft or the pole should technically be adjustable. It should be fitted in such a way that people of different heights can use it. This will make it more versatile. 
Length Of Cords 
One of the major problems with corded string trimmers can be a short cord. A cord that does not allow you to cover the entire garden could be problematic. In this case, you will need to purchase extension boards separately. However, if you are doing this, ensure that the extension cable is long and dependable. Only then will it prove to be of help. 
Flower Guard 
Some products come with a flower guard, which can protect surrounding plants from getting affected while working. You do not want to damage the ornamental plants while you remove the weed around them. 
Also, a flower guard will prevent you from accidentally coming in contact with the trimmer. This can prevent unnecessary accidents.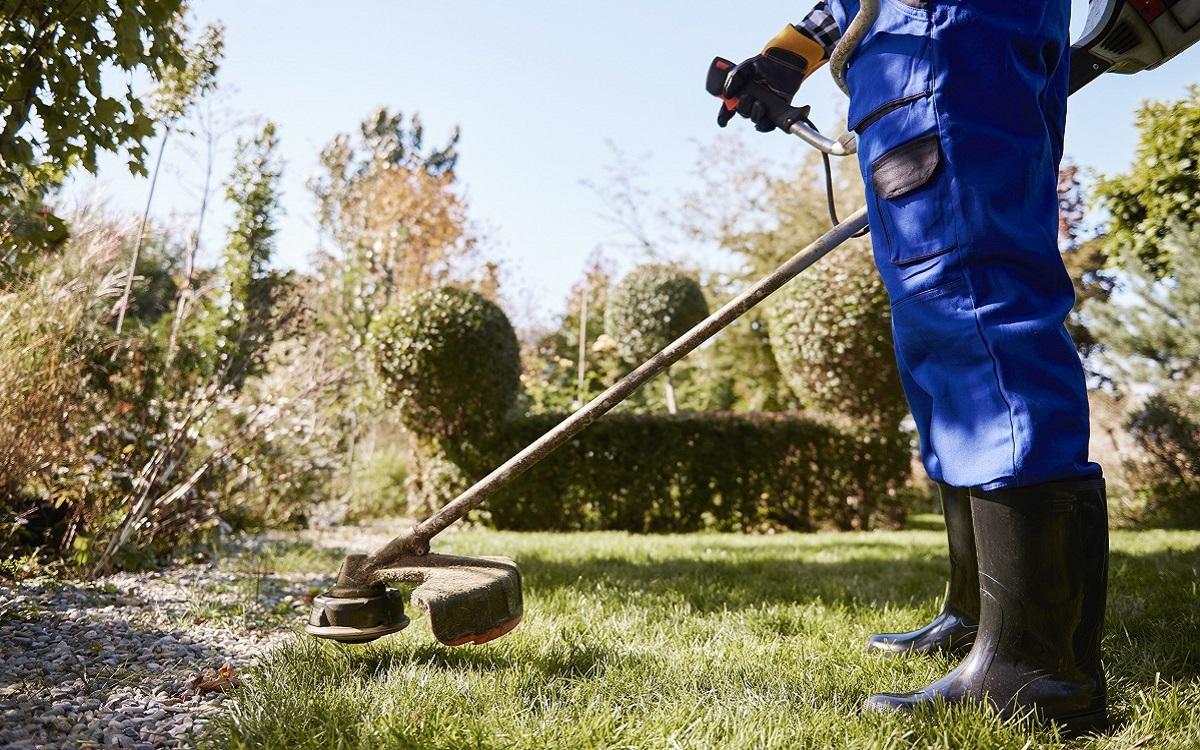 Verdict 
When it comes to picking the best corded electric string trimmer, we hope you will make the right choice after having taken in all the information. There are other brush cutter and weed eater options to explore too on the web. We also found 4-cycle weed eaters that work for some people.
We will now be taking you through our favorites. The Greenworks is one of the best corded electric weed eaters, which comes with a powerful build.
On the other hand, the BLACK+DECKER will fit your medium-sized gardens well. But the Toro will offer you the benefits of a trimmer and edger.
With this, we have reached the end of this guide, and hence, it is time for you to make a choice. Let us know about your favorite option in the comment section below. 
Take care, bye! 
Related Articles 
5 Best Self-propelled Lawn Mowers Right Now
The 5 Best Lawn Mowers for St Augustine Grass
Best Lawn Edging for a Legendary Garden 
Top 10 Longest Pole Saws For Tree Pruning 
13 Best Lawn Tractor Batteries 
Who Makes The Best Lawn Mower Engine Today?
7 Best Lightweight Hedge Trimmer
13 Best Potting Mix For Orchids
How to Sharpen Reel Mower Blades?
4 Best Walk Behind Brush Cutter
7 Best Shoes for Cutting Grass Comfortably 
9 Best Small Riding Lawn Mower