During the pandemic, we all had to become self-reliant, which included learning to cook our food. 
Then again, having the right equipment is always essential for preparing a sumptuous meal. Today we've decided to discuss two of the top brands when it comes to choosing the best cookware. 
Copper Chef and Red Copper are highly popular, but what makes their products stand out? For starters, the non-stick nature of the Copper Chef frying pan is second to none, while Red Copper delivers more in terms of durability. Also significant is the affordable pricing offered by both brands, attracting a large group of buyers. 
But how will you choose from the many premium-quality units available out there? We've narrowed down six top-notch models, three from each brand, that are taking the market by storm. 
So, light the flame and let's cook some tasty dishes. 
Copper Chef Vs. Red Copper – Top 6 Reviewed
IMAGE
PRODUCT
DETAILS

Our Top Pick

Our Top Pick

A-00438-19 Fry Pan

Aluminum construction
Hard-anodized pans
Steel induction plate

VIEW LATEST PRICE →

A-00482-01 Fry Pan

Cerami-Tech technology
Stainless steel induction plates
Glass lid

VIEW LATEST PRICE →

12-inch Fry Pan

Stainless steel induction plates
Cerami Tech technology
Three-piece cookware set

VIEW LATEST PRICE →
IMAGE
PRODUCT
DETAILS

Our Top Pick

Our Top Pick

BulbHead 10824

Ten piece set
Copper-infused cookware
Scratch-resistant coating

VIEW LATEST PRICE →

BulbHead 10687

Ceramic coating
Copper-infused cookware
Measures 10 inches

VIEW LATEST PRICE →

BulbHead 10688

Aluminum cooking rings
Scratch-resistant
12-inch pan

VIEW LATEST PRICE →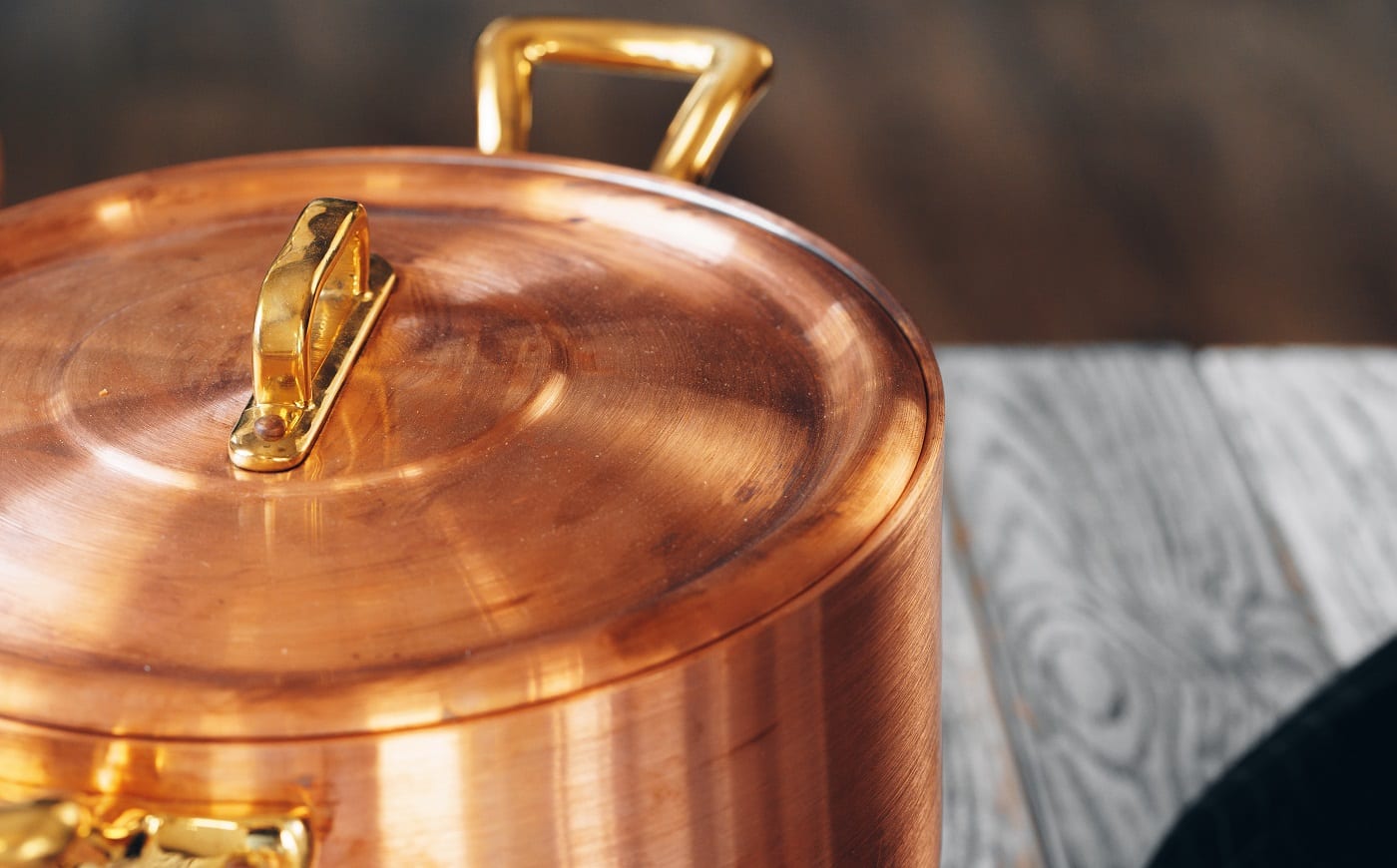 Top 3 Copper Chef Reviews 
The A-00438-19 fry pan model from Copper Chef is highly sought-after, owing to its innovative plates and patented non-stick design. Plus, it's easy to clean, and you can cook various dishes, leading to a positive response from buyers. No wonder it finds a spot on most wish lists.
Sale
Why Did We Like It? 
We'll begin by discussing its stainless steel induction plate, which allows even heat distribution throughout the surface. This ensures that the food is perfectly cooked. Moreover, you can place this pan in the oven or on any stovetop, running on electricity, gas, or induction.  
Coming to its non-stick coating, we loved how Copper Chef has developed a Cerami-Tech technology to prevent sticking. It delivers an unmatched performance as it doesn't allow even butter or cheese to stick to the surface. Additionally, it's easy to clean, and you can put it into the dishwasher. 
Apart from that, the engineers have included hard-anodized pans featuring a heavy-duty aluminum construction. Therefore, it'll last a long time, offering much-needed reliability to stand out in the market. 
Lastly, its compact yet sufficient dimensions provide greater maneuverability.
What Could've Been Better? 
We noticed that it doesn't come pre-seasoned, so you'll need to be patient to carry out the proper seasoning. This isn't a serious issue, but it takes time which is slightly frustrating. And after seasoning, you can cook anything, but eggs pose a challenge since it's tricky to flip them over. 
Pros
Consistent heat distribution

Cerami-Tech technology

Dishwasher-safe

Robust

Measures eight inches
Cons
Challenging to turn eggs

Seasoning is an issue
Our next model has retained Copper Chef's non-stick Cerami-Tech technology and stainless steel induction plates. But it has also made some exciting additions, prompting buyers to rush to the store to make a purchase. Not surprisingly, it has quickly climbed the charts to rank among the top products.
Why Did We Like It? 
This five-piece set features a skillet, grill pan, and frying pan complete with a lid to regulate the temperature. Furthermore, the glass lid allows you to look inside, ensuring that the food is unburnt. Therefore, you can serve delicious meals for every occasion, which, in turn, makes this fry pan set highly popular.  
Now, since it comes from the same brand as the A-00438-19 model, we weren't surprised to see its patented Cerami-Tech non-stick technology. Hence, users don't need to worry about food stains as it's easy to clean; as such, it becomes easier to maintain the quality of various components. 
What's more, the inclusion of stainless steel induction plates prevents hot spots. But that's not the only good thing about it; we noticed that it reduces cooking time without compromising on heat distribution. Speaking of heat, it's important to note that it can withstand temperatures touching 850 degrees Fahrenheit, highlighting its durability.
What Could've Been Better? 
Users have reported that the coating wears off after regular use, but there's no need to worry as it doesn't affect performance. On the other hand, you might start to see a few scratches, which isn't ideal. Besides, with the coating no longer intact, the unit appears discolored, which chefs may not like. 
Pros
Durable

Consistent heat distribution

Prevents hot spots

Can withstand heat up to 850 degrees Fahrenheit

Five-piece set
Cons
Discoloration

Coating wears off
We've already discussed two Copper Chef models, so what makes our next recommendation stand out? Well, it offers exceptional versatility, leading to a long line of buyers outside stores. But that's just one of its many quality aspects, and if interested, you can read the following review to learn more.
Sale
Why Did We Like It? 
If you're looking for versatility, you'll love what this model offers. Firstly, it consists of three non-stick cookware sets measuring eight inches, ten inches, and 12 inches to cook various dishes. On top of that, these skillets feature aluminum construction for long-lasting performance so that you get an excellent return on investment. 
Another exciting addition is that of the ergonomic handles, delivering maximum comfort and high maneuverability for the best results. Therefore, you can cook for extended periods without feeling fatigued. Additionally, the little holes on its handle allow users to hang this skillet from the wall, thereby acting as a great space saver. 
Other than that, we find the usual features from Copper Chef, namely the Cerami Tech technology and its stainless steel induction plates. While the former prevents sticking for easy cleaning and a smooth experience, the latter permits even heat distribution throughout the pan.
What Could've Been Better? 
There are a couple of issues with this product, which might lead to potential buyers opting out. Firstly, like the A-00438-19, it needs seasoning, which is time-consuming and requires patience. Also, the color starts to fade due to washing and regular use, which isn't ideal. 
Pros
Various sizes

Ergonomic handles

Space-saving

Comfortable

Long-lasting performance
Cons
Needs seasoning

Incurs scratching
Top 3 Red Copper Reviews 
After the Copper Chef reviews, it's time to look at what Red Copper has up its sleeve. For those searching for reliability, you can try the 10824 model that provides fantastic value for money, making it highly popular. Additionally, it delivers exceptional versatility in your cooking needs.
Why Did We Like It? 
At the very outset, let's talk about its durable design before moving on to the other aspects. The engineers have developed a tough-grade, copper-infused ceramic cookware set that prevents sticking and is long-lasting. As a result, it's easy to clean, thereby making it low-maintenance, which is sure to please you. 
Further adding to its robustness is the scratch-resistant coating, which prevents damage, ensuring users can use it daily for consistent output. Moreover, it can withstand extreme temperatures up to 500 degrees Fahrenheit, allowing you to cook fast while promising an even distribution of heat. 
However, significantly it's PFOA and PTFE free, meaning there are no harmful effects, thereby keeping your family safe. Along with that, this ten-piece set is extremely versatile, consisting of different sized fry pans, sauce pots, and an aluminum steamer insert. 
Finally, it comes with glass lids permitting you to keep an eye on the food while effectively regulating the temperature. 
What Could've Been Better? 
You can't put this model in the dishwasher, which is inconvenient. It must be cleaned by hand, meaning you'll have to spend longer on maintenance. Other than that, we noticed that the coating starts wearing out after daily use, leading to discoloration, although it doesn't affect performance. 
Pros
PFOA and PTFE-free

Various sized pans

Withstands up to 500 degrees Fahrenheit

Aluminum steamer insert

Glass lids
Cons
Coating fades after regular use

Not suitable for dishwashing
Our next recommendation is the 10687 model, which isn't eye-catching by any means, but there's a reason it has generated substantial buzz among potential buyers. Chefs love its ceramic coating and heat-resistant design, ensuring it has ticked all the right boxes to be a valuable addition to your kitchen.
Why Did We Like It? 
Right away, you'll notice that this copper-infused model is heat-resistant, allowing for even heat distribution throughout its surface. Furthermore, it's PFOA and PTFE-free, so that you don't need to worry about harmful chemicals and can cook delicious, healthy food daily. 
We loved its scratch-resistant ceramic coating, meaning it doesn't chip, flake, or peel for long-lasting performance. Hence, chefs can cook various dishes such as eggs, vegetables, brown chicken, and chops. 
Also noteworthy are the aluminum rings that prevent hot spots while making it easy to clean. What's more, you can easily transition from stovetop to oven-top, thanks to its high-temperature resistance of 500 degrees Fahrenheit. Therefore, professional chefs and homegrown cooks alike will get nothing short of the best, making it a highly sought-after unit. 
What Could've Been Better? 
If we've to nitpick, we would say that you can only clean it by hand, which is a disadvantage. You can't put this unit in the dishwasher since it might cause fading and damage the surface. So, the only option is to scrub it with baking powder to clear the leftover food. 
Pros
Scratch-resistant

Versatile

Withstands up to 500 degrees Fahrenheit

Aluminum rings

Even heat distribution
Cons
Not dishwasher safe

Needs baking soda for cleaning
The 10688 model is the top choice among customers, thanks to its innovative additions. With aluminum rings for efficient heating and an ergonomic handle delivering maneuverability, it's not uncommon to see this 12-inch pan in most kitchens. Rest assured, cooking tasty dishes will be easier than ever.
Why Did We Like It? 
This copper-infused fry pan has several similarities to the 10687 model, so why does it feature on our list? For starters, we loved its aluminum cooking rings which have several benefits. It allows even heat distribution throughout its 12-inch diameter while preventing hot spots for a smooth experience. 
Plus, the manufacturers haven't used PFOA or PTFE materials, making it non-toxic and suitable for daily cooking. In that regard, its scratch-resistant construction proves useful, allowing you to maintain its quality for a long time. Moreover, you can cook various items like eggs, vegetables, and meat without any hassle. 
Coming to its other attributes, you'll love its seamless transition from stovetop to oven, highlighting its versatility. As a result, users can sear food in the oven or try different cooking techniques for various occasions. 
Another interesting addition is its ergonomic handle, reducing fatigue while improving maneuverability. 
What Could've Been Better? 
Our only gripe is that the red button on the base of the pan causes wobbling, which may lead to hesitation among buyers. Although it doesn't affect cooking, you'll need to be watchful as the food might fall out. Also, it takes time for the pan to warm up to the proper temperature. 
Pros
PFOA and PTFE free

Non-toxic construction

Ergonomic handle

Easy storage

Versatile
Cons
May wobble

Takes time to heat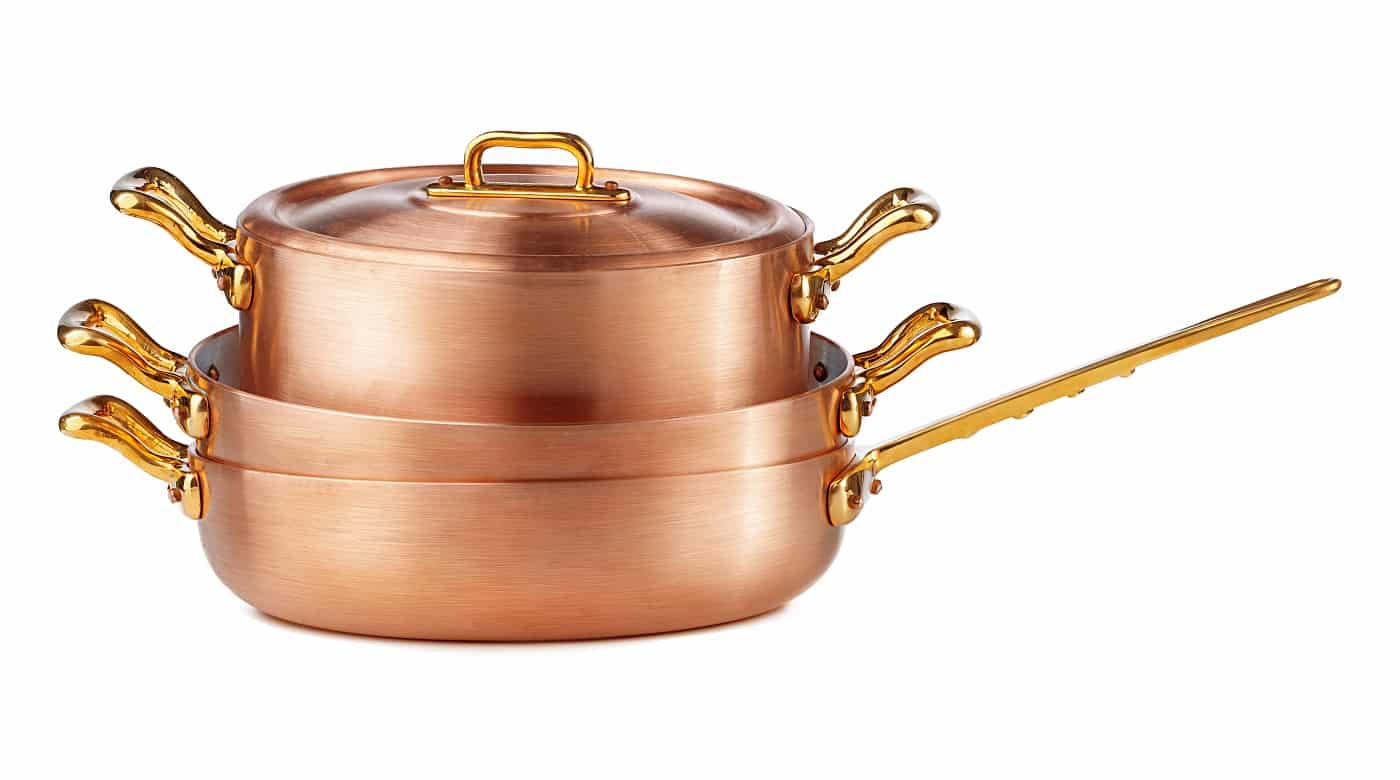 Copper Chef vs. Red Copper Buyer's Guide 
Let's progress to the buyer's guide, where we'll be highlighting the essential aspects of both brands. Although we've looked at six different products, there are bound to be similarities between them. 
Therefore, in this section, we've listed the important points that will help you choose among the top models. 
Non-stick Nature 
First and foremost, premium-quality models come with a non-stick coating, allowing you to prepare various dishes with ease. As you've seen, users had trouble flipping eggs with some of the products on our list. So, check whether the non-stick surface is ideal for cooking different food items. 
Durability 
The next important attribute is sturdiness which offers reliability, making the unit worth your money. If it lasts a long time, you can cook tasty meals daily without any hassle. Plus, all the components should be corrosion and impact resistant for the best results. 
Cleaning 
Finally, after everyone has had their fill, it's time to clean, and you need to check whether you can wash the pan in a dishwasher. If not, it needs to be washed by hand, but remember not to scrub too hard, as it might cause the coating to wear-off.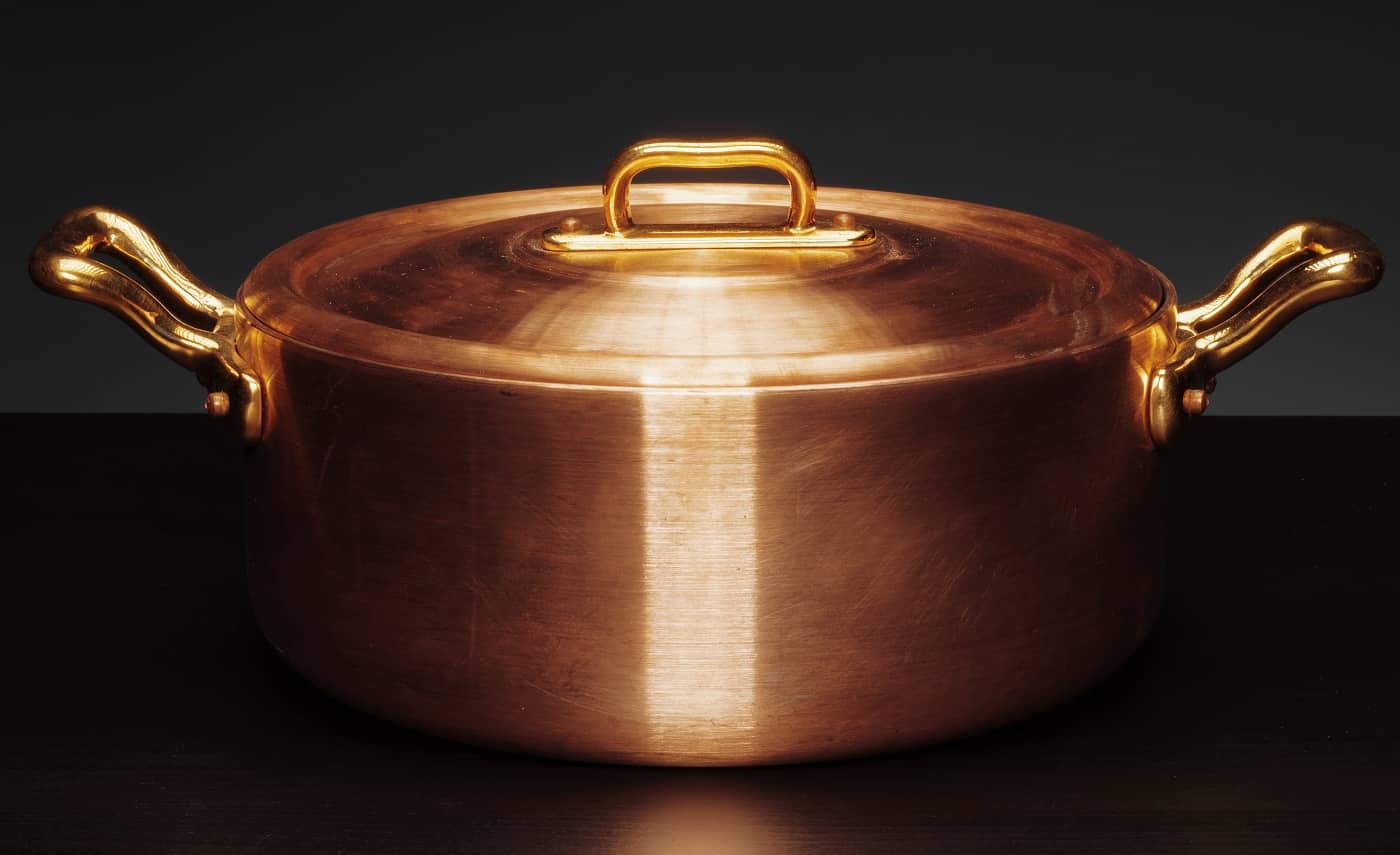 Verdict 
Those were our picks of the top models from Copper Chef and Red Copper, and hopefully, our guide piqued your interest. 
There's a lot to choose from, and it's easy to feel overwhelmed. So, a simple technique is to ask yourself how you wish to use the frying pan. This will help declutter the brain. 
But for those who are still unsure which unit to pick, we've decided to highlight our favorite products in different categories. After a lot of thought, we found that the Copper Chef A-00438-19 Fry Pan's sturdy structure and non-stick design is the most well-balanced combination. 
Apart from that, among the Red Chef products, the BulbHead 10824 is incredibly versatile and easy to use. That's all the time we have, but we'll be back soon with more exciting product reviews. Till then, don't stop experimenting with new recipes; cook satisfying meals for every occasion with your new frying pan. 
Take care, adios! 
Related Articles
11 Best Nonstick Cookware Brands
13 Best Pastry Mat [Reviewed & Buyer's Guide]
9 Best Tamale Steamer [Reviewed & Buyer's Guide]
9 Best Chinese Cleaver [Reviewed & Buyer's Guide]
Are Red Copper Pans Toxic? [All You Need To Know]
Ceramic vs. Stainless Steel Cookware 101 [All You Need to Know]
11 Best Chef Knife Bags Under the Microscope
13 Best Steak Knives Right Now
11 Best Electric Knife Sharpeners
How to Build a Hidden Cabinet Knife Drawer Safe For Children