For parents who are excited to welcome a new member of the family, having everything set up before the baby arrives is essential. Clothes, the crib and the toys inside the nursery room are all important. One accent in the room that is equally important and creates a lovely effect inside an infant's nursery is the baby mobile. Baby mobiles can feature different characters and come in designs that fit baby boys and girls alike. These are available in many baby shops and malls, but DIY baby mobiles add a little more loving touch to the entire nursery design, leaving a personal mark on the ensemble.
DIY Baby Mobiles Ideas
wispy dream catcher baby mobile for a little princess
Dream catchers are known to help a baby get better sleep and better dreams. Dream catchers also make great mobiles because of their use of beads, wispy feathers, twine, and sticks. The design can be personalized and make use of other materials that will complement the whole look of the DIY baby mobile.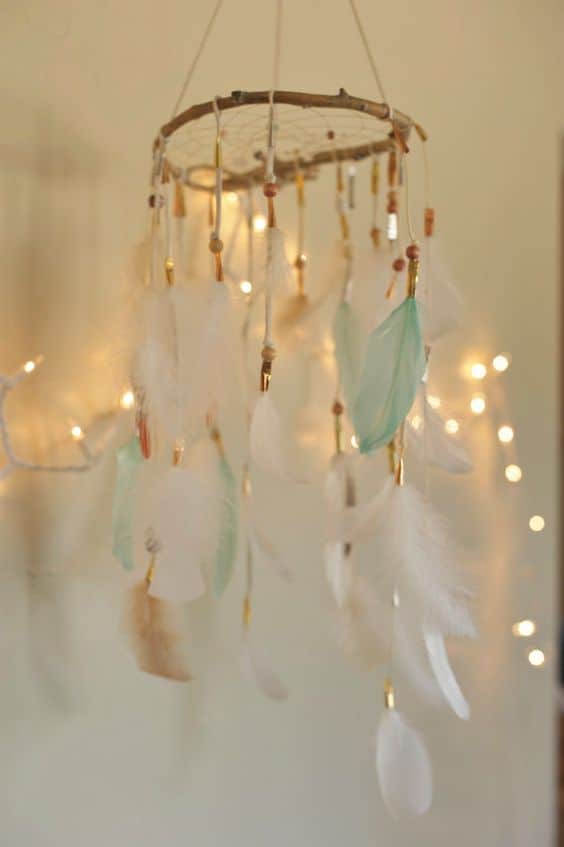 Another dream catcher baby mobile for a little prince
This dream catcher baby mobile uses darker colors but still looks dreamy enough to capture all those bad dreams. The darker feathers mixed with white feathers and minimal use of beads make this DIY mobile best suited for little boys.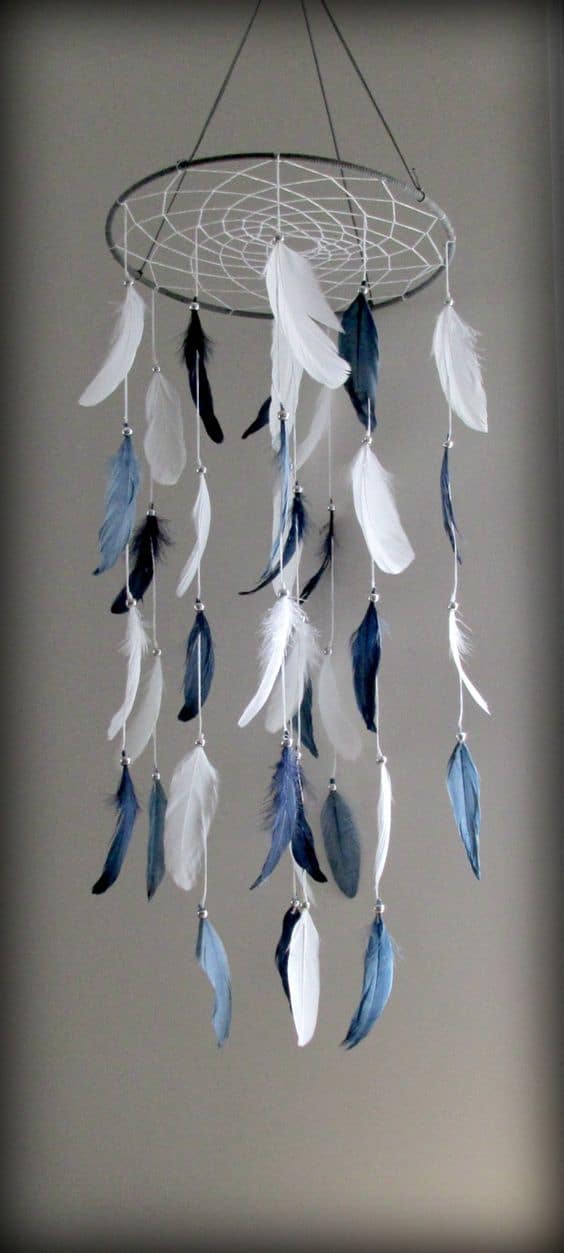 felt flowers that remind of summer
Flowers are a refreshing sight and even infants find interest in flowers. This DIY flower mobile brings the same interesting feature of flowers with the colorful memory of summer.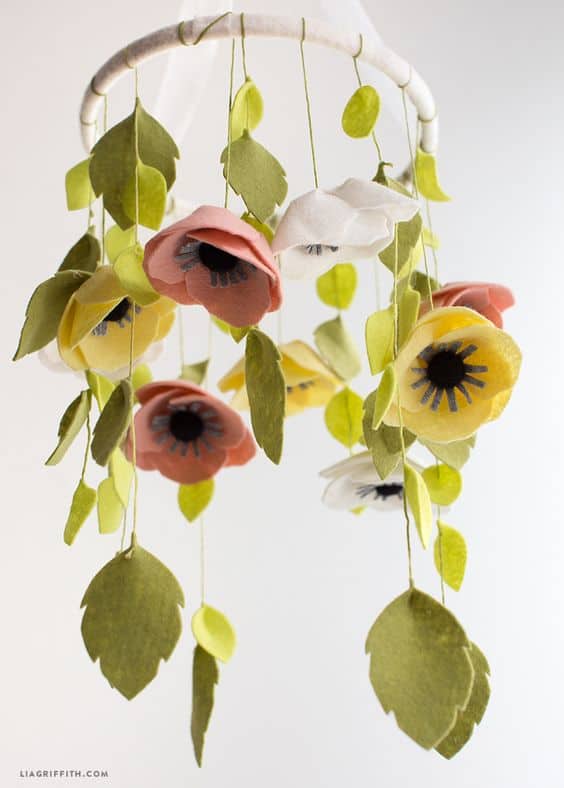 yarn balls colors made with love
Yarn is a vert common material to people who love making crafts and arts because of the many selections of colors available as well as for its versatility. This is also the reason why yarn is ideal for making colorful baby mobilse that will keep the little tyke busy for hours.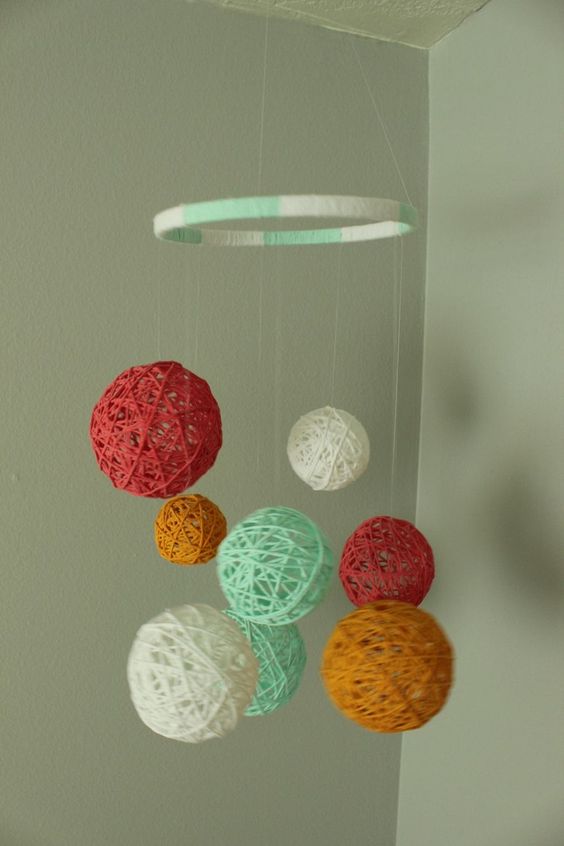 a dreamy raining crystal mobile
Feathers, flowers and colorful balls are definitely lovely, but nothing is dreamier than crystals. The natural sparkle of the crystals imitate the lovely raindrops. Add a little fluff and you get a wispy cloud. Voila! A dreamy raining crystal baby mobile that will amaze anyone.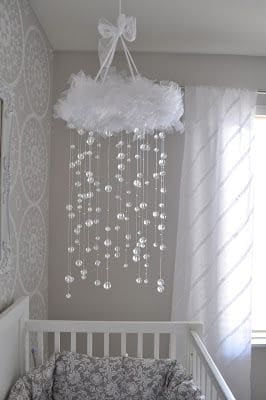 cute bumble bee from pipe cleaners
The usual circle base for mobiles is great, but using other shapes can also make a DIY baby mobile more interesting. This DIY mobile design inspired by busy bees flying around their treasured honey used pipe cleaners which are sturdy enough for a makeshift branch and flexible enough to shape into these little bees.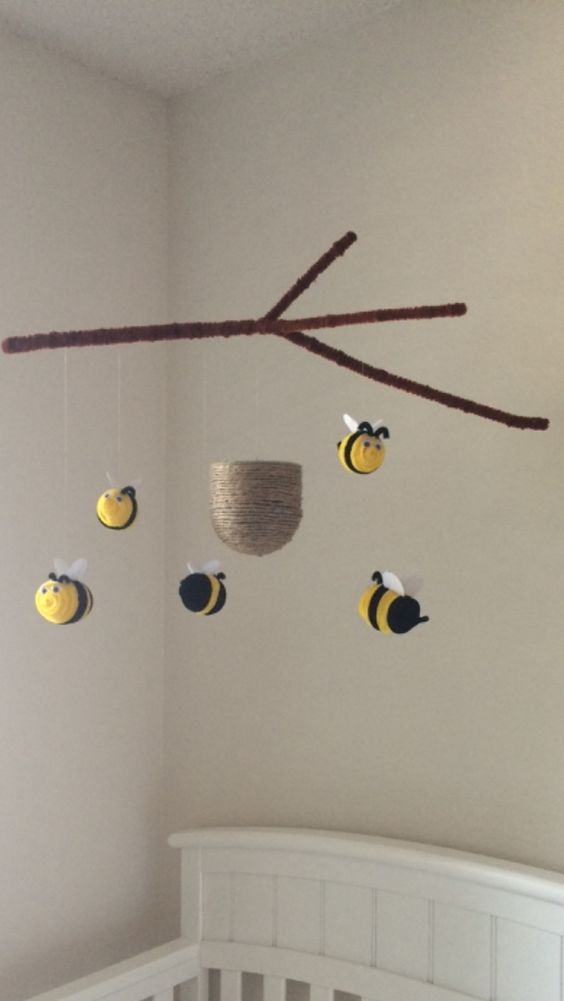 a beautiful mix of flowers and crystals
Flowers of soft palettecolors and crystals are a combination that girls of all ages will find attractive. A DIY flower and crystal baby mobile is perfect for a little princess's room.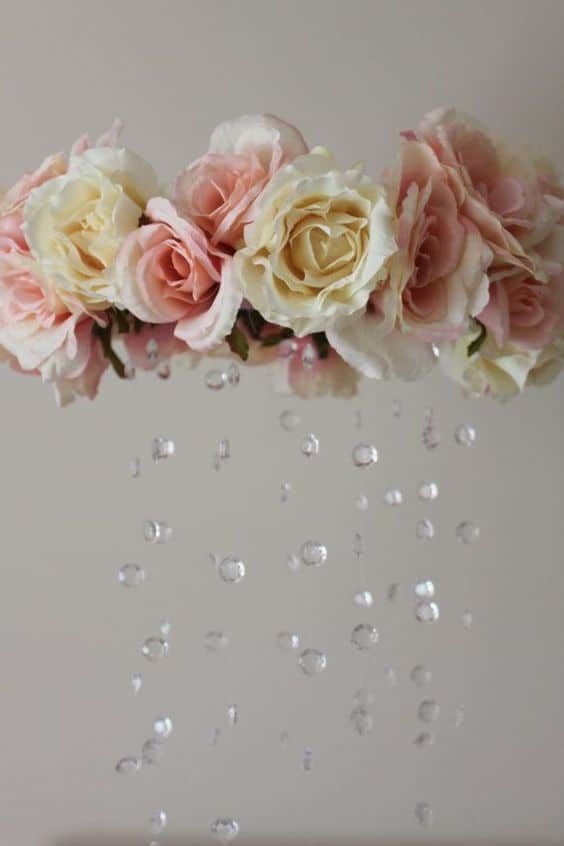 sleeping under the bright moon and twinkling stars
Stars and the moon on a clear night are a sight to behold. Bringing the effect of the moon and stars inside an infant's room can be easy as painting on a starry night on the ceiling.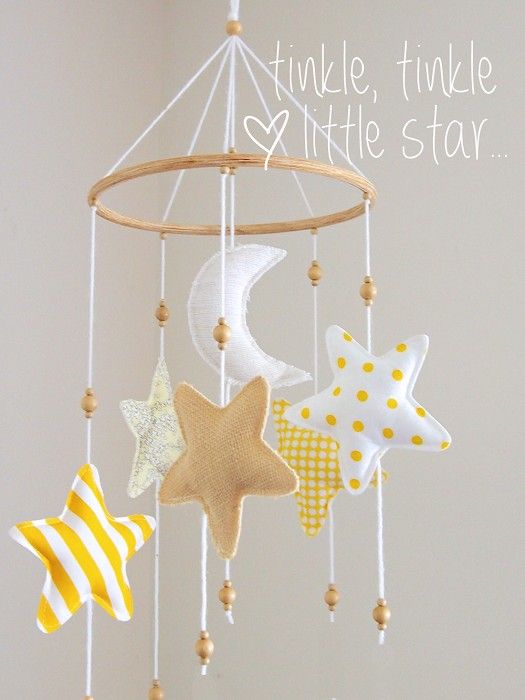 dainty pompoms against darker walls
Large pompoms have become a go-to decor for the past years, and even for baby mobiles, this form of art is still very ideal. It has the same dreamy effect of flowers and the right colors that can make it stand out from the rest of the room.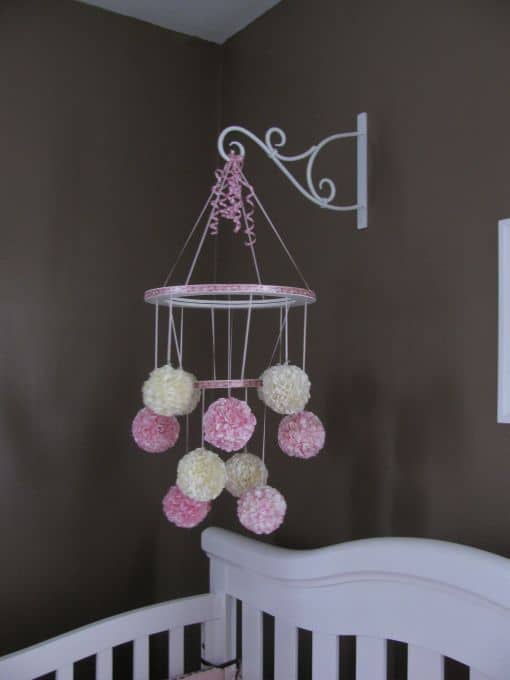 woodland mobile for an adventurous tyke
This woodland mobile made from felt can bring on adventurous excitement and will surely be a big treat for the baby's little eyes.

colorful felted balls to entertain the little one
Children love balls of any size and any color. This love for balls can be awakened at an early age by putting up a DIY felted ball mobile in different colors and sizes. The colors in this design were chosen randomly for a versatile design.

cute little woodland animals baby mobile
Little animals definitely have a special charm for both children and adults. This is why choosing baby animals to represent on the baby mobile is a wonderful ideas, stimualtng the child's creativity and imagination like nothing else.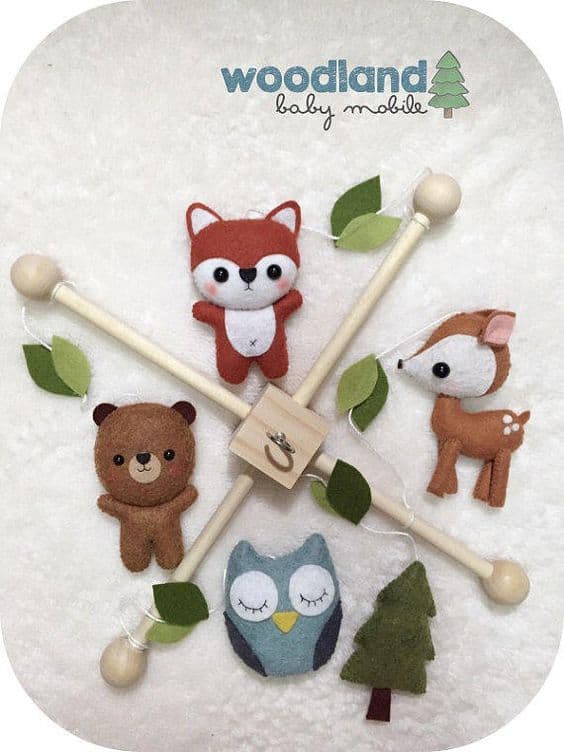 arrows for the adventurous little bub
Little boys will become adventurous and will go into different directions. This DIY baby mobile depicts the same adventurous spirit one child will have as he grows. The colors are also very beautiful and complement each other as well as the room as a whole.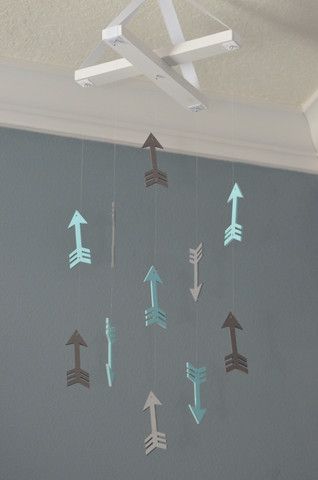 burlap, ribbons and trimmings for a dreamy baby mobile
Cloth trimmings and unused burlap and ribbons are often discarded by many, not knowing that these materials can actually create lively and lovely crafts. One fine example is this DIY baby mobile made from different such materials.The mix of colors make the mobile pop out from the background while preserving a subtle delicate appeal.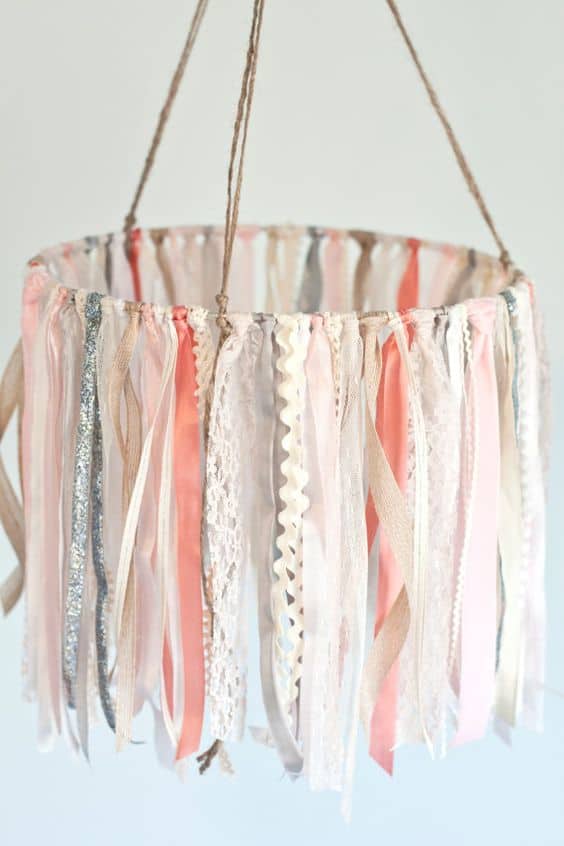 easy to make cut trunk baby mobile
Another very commonly disposed material that is perfect for crafts is wood trimmings. Wood trimmings like this slice of trunk can actually be transformed into stunning crafts that can fit any purpose, even a baby mobile. Add a little detail and a few decorations here and there and you will have a perfect mobile that may even last longer than any store bought baby mobile.

dainty rose blossoms for a dreamy diy baby mobile
Using rose blossoms in a baby mobile creates a simple yet stunning effect suitable for a girlish nursery.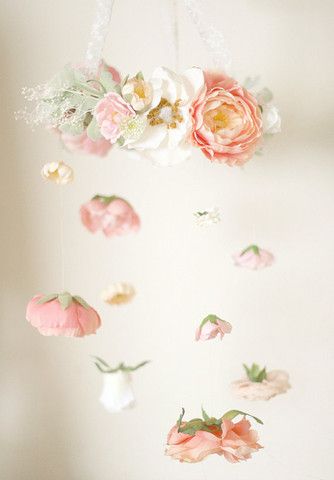 enjoying the beauty of the sea with diy whale mobile
While land animals are pretty, sea creatures are majestic. This DIY baby mobile with whale and fish designs captures the same majestic look of the sea.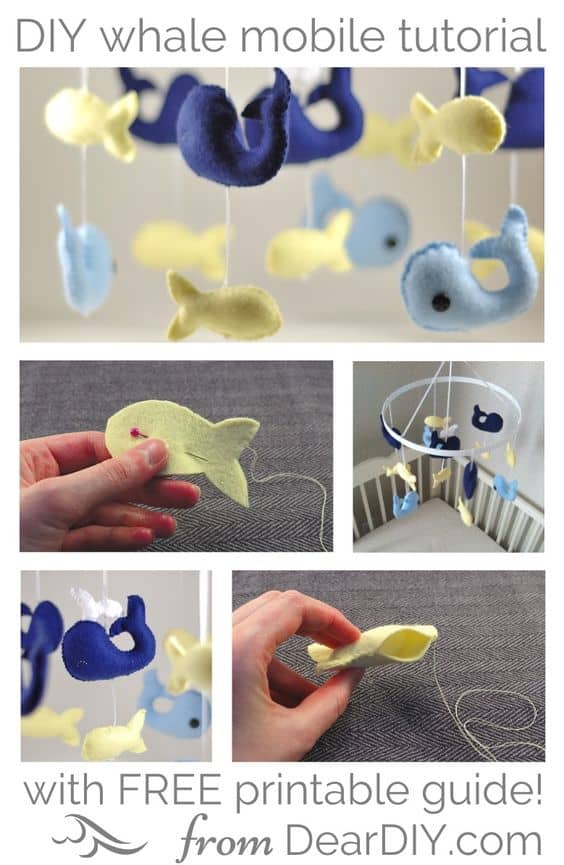 up, up and away diy baby mobile
Clouds and hot air balloons are very common in many children's room, and having a mobile with this design is but natural. It creates a lively design inside the room and makes use of a great mix of colors.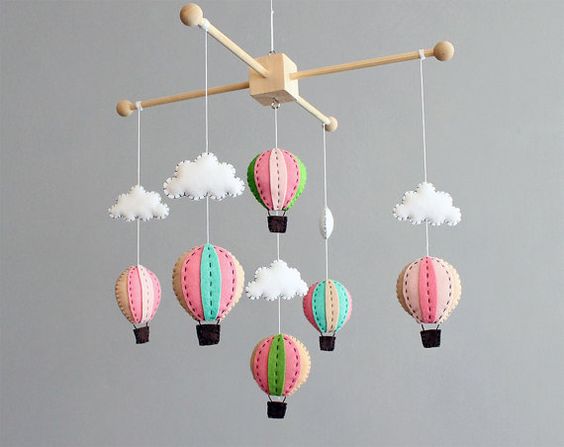 Have you ever considered building a diy baby mobile? Feel free to share your projects in the comment section below.
Related Articles
10 Best Baby Push Walkers in 2022 | Reviews
10 Best Sit-and-Stand Strollers of 2022 Reviewed | Buyer's Guide