Living spaces come in great shapes and sizes yet the average square feet per individuals keeps shrinking as densification is propelled forward and with this current we get the wonderful opportunity to design and envision cozy new spaces. A clutter-free decor becomes a challenge, yet the setting encourages a simpler life, a more beautiful, breathable environment that distances himself from clutter and chaos. Creative new solutions need to be envisioned as a result to satisfy our needs for storage in small spaces and new challenges arise; 19 ingenious low-cost DIY Closets have been curated to aid the individual solve the clothes storage demand in a graphic, creative manner. Cast a glance and surge inspiration for greatness and coziness in small spaces.
Clothes Storage Solved by 19 Ingenious Low-Cost DIY Closets Swiftly
1. brick and wood sculpting a fashion showcase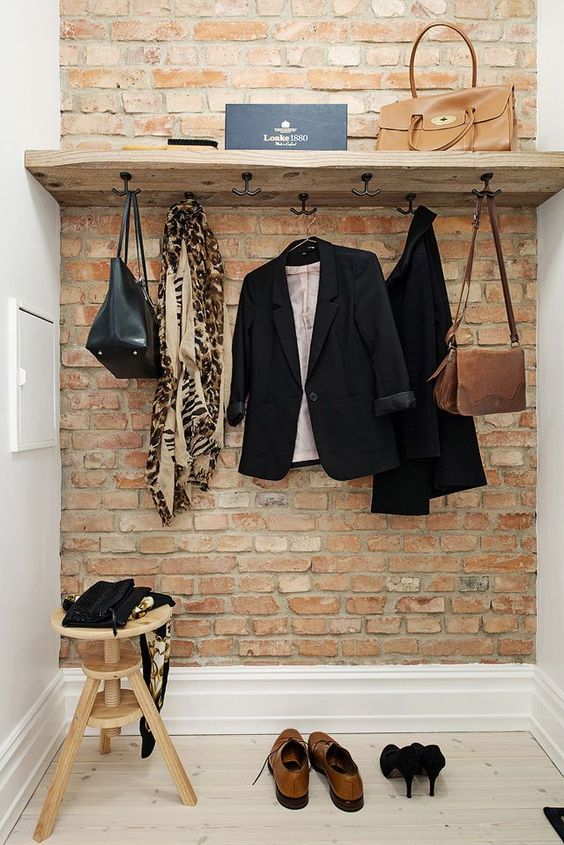 The individual can proudly present his closet upfront with a wooden piece and simple hooks, not cluttering space but empowering with his own graphic pieces of clothing. The more items you want to showcase in your open closet the denser the image, the less effective in terms of graphics.
via bloglovin.com
2. organize your closet with additional laundry baskets
Simple baskets can help a great deal; in open shelving wicker can be quite graphic where in-closet directly plastic can be less expensive and easier to keep things clean.
3. transform petite drawers into vertical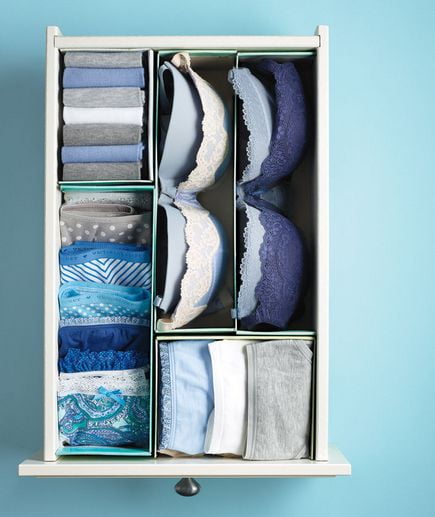 A simple drawer in good standing can become an organization asset in the vertical plane. Using in-drawer compartmentalization is utterly important in all settings, all you need is clean cardboard and you are good to go.
Photo by Levi Brown
4. use pvc pipes to tailor inexpensive solutions for hangers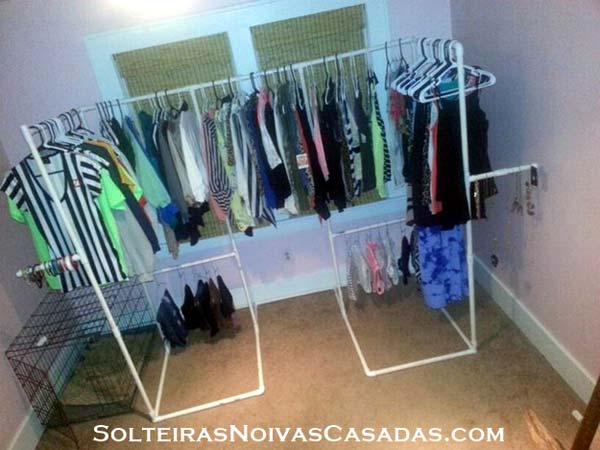 Rectangular closet solutions get around easier yet when versatility is summoned things can become expensive very fast.Unless you use modular items, pvc pipes are a solution.
via solteirasnoivascasadas.com
5. Iron pipes used beautifully for open closets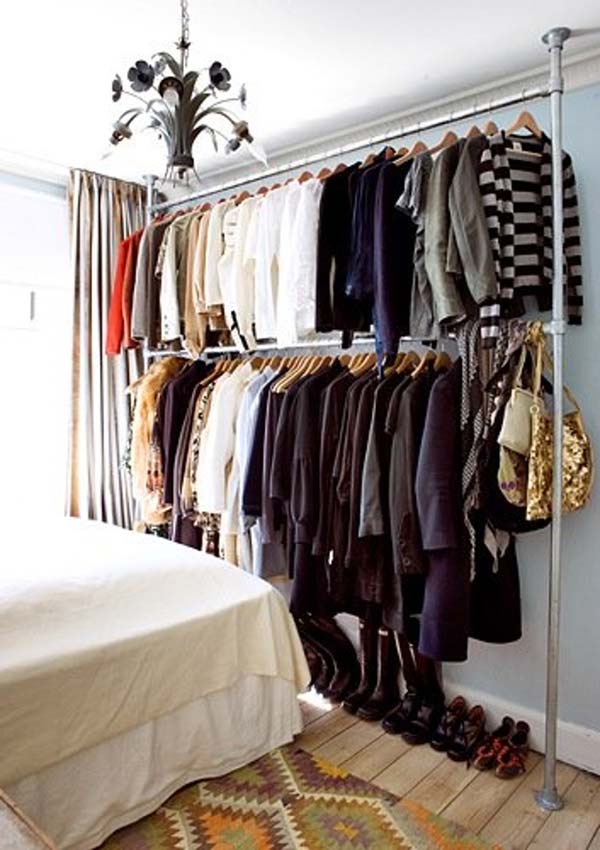 Extraordinarily beautiful and inexpensive solution that can be tailored in half an hour with the right tools. Match the iron vintage allure with wooden hangers and the result becomes really graphic at once.
via boligpluss.no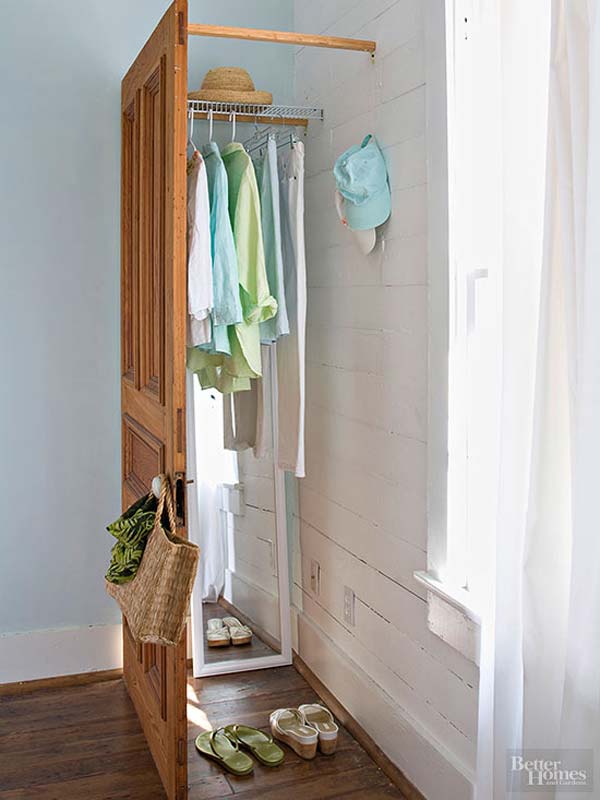 Extraordinarily graphic and inexpensive solution for a small changing corner. Place a tall mirror to emphasize the experience and you are good to go.
via bhg.com
7.  Use a simple shelf to create a DIY dressing room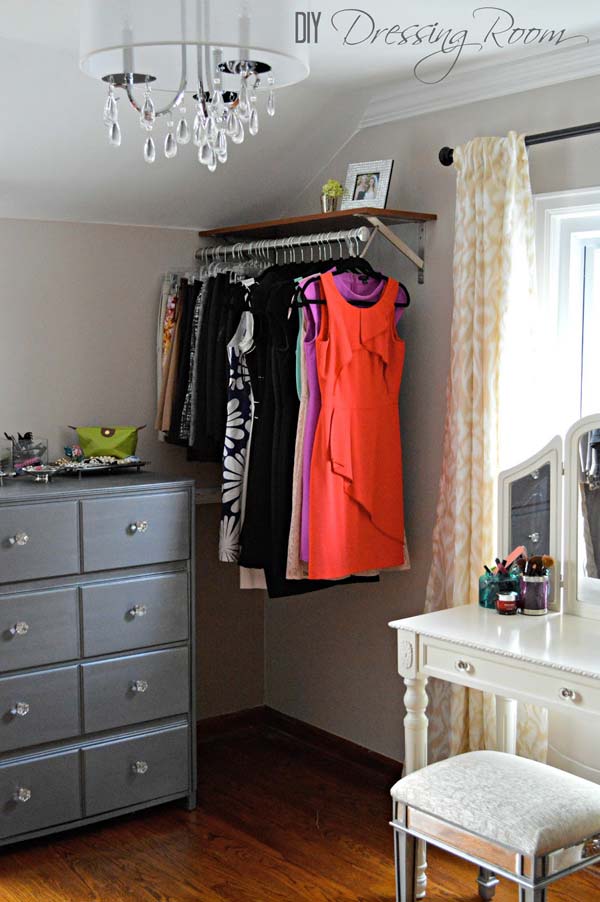 Any shelving can feature a towel bar that can function as a dressing room. The most interesting shirts and dresses can be proudly set on it thus doubling as a beautiful showcase.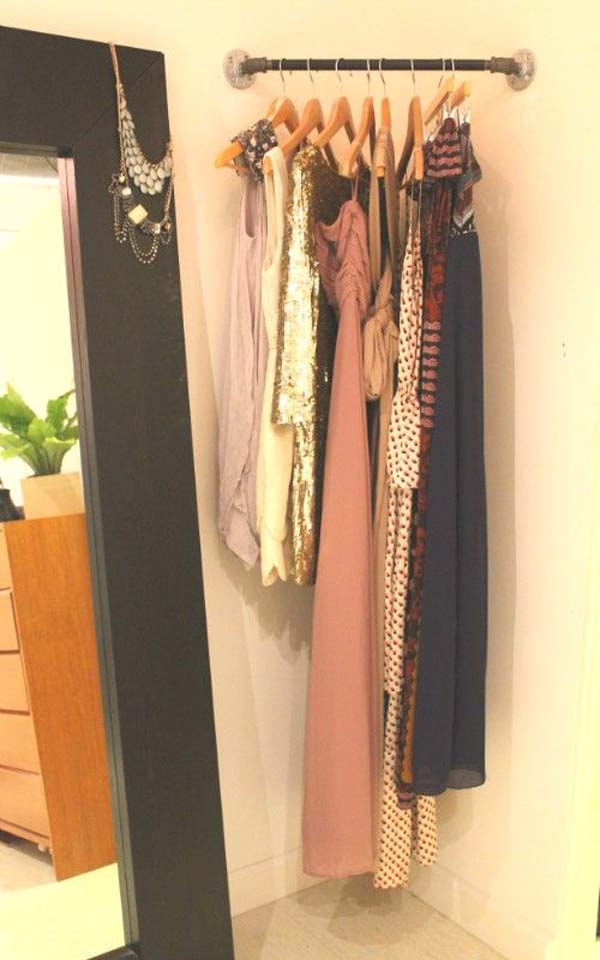 8. use reclaimed pallets to construct a pallet diy closet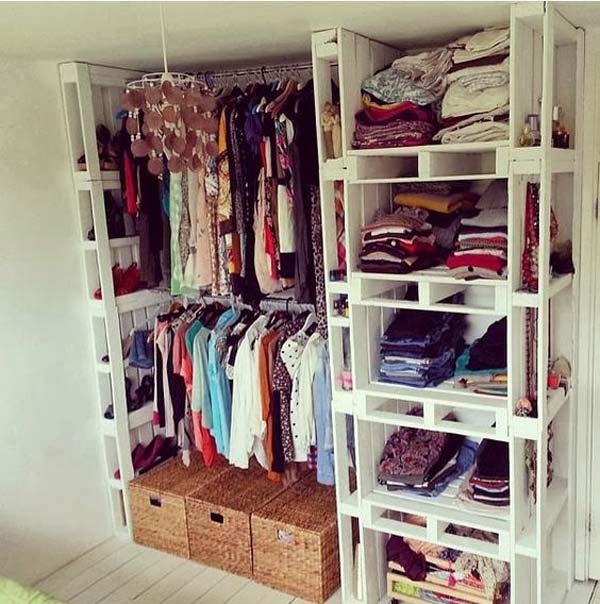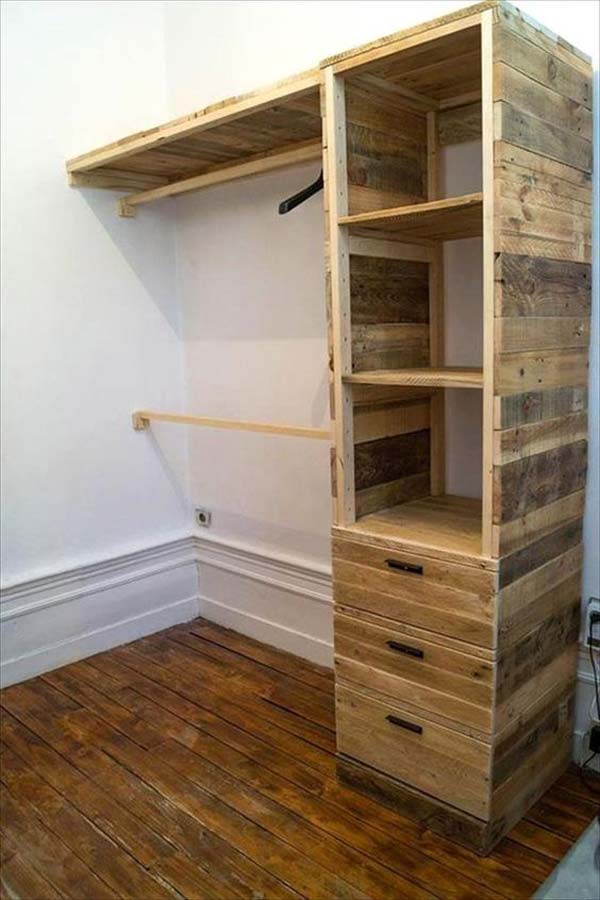 You can use pallets directly or salvage the wood contained to use on great superbly crafted closets envisioned for your space, tailored for a great fit.
Source Unknown.
9. replace the simple headboard with clothes storage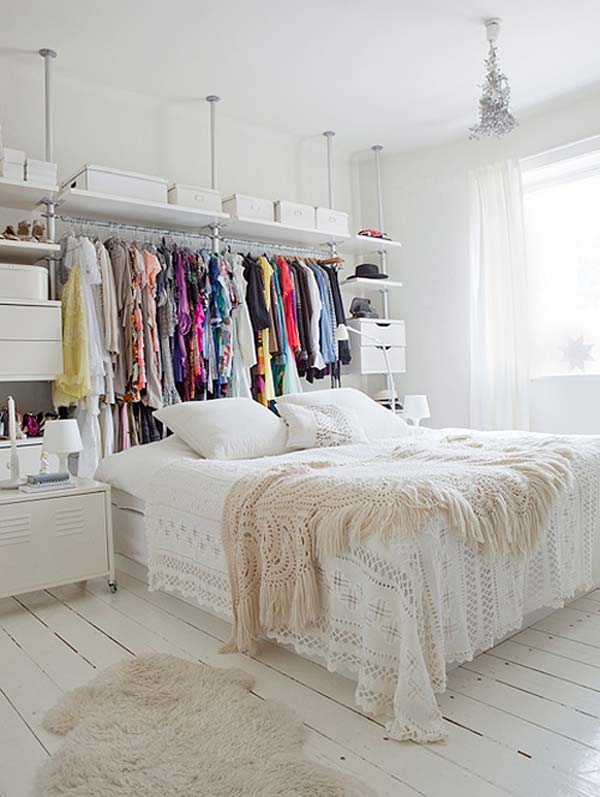 Sometimes one headboard simply ain`t enough, using the colorful clothes as graphic display and stark white shelving around to embrace airiness.
via decor8blog.com
10. reshape a bookshelf for small clothes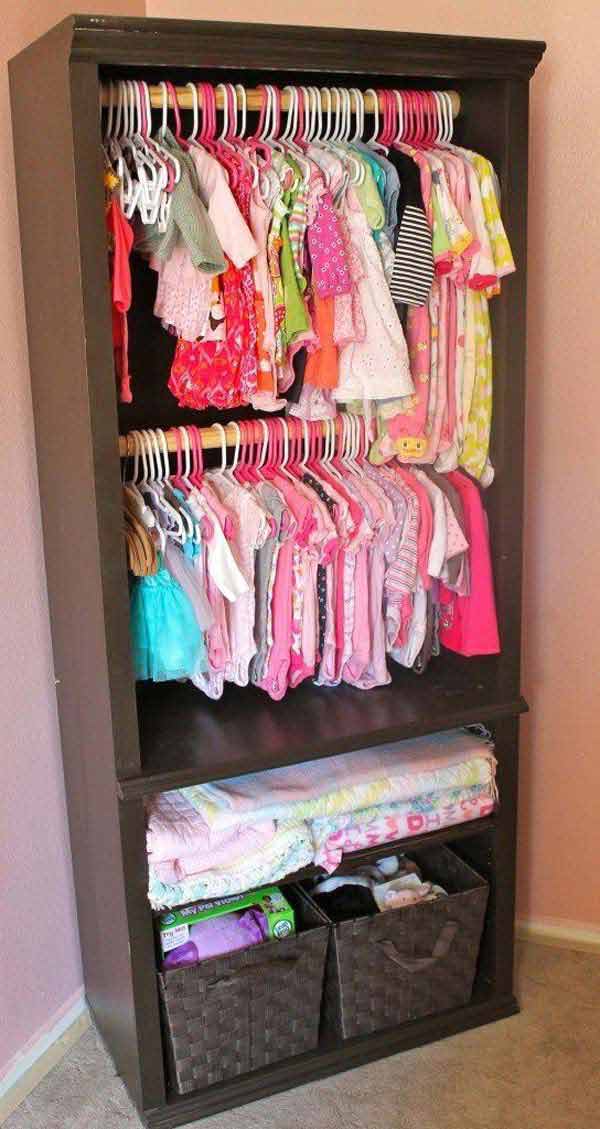 Easy curtain rods can be installed in your old bookshelf, transforming the ensemble in a highly functional open closet.
11. use old ladders to create epic clothes racks

The shabby chic design line could be enhanced with a withered wood element. Salvage wood and use it to your advantage.
via dishfunctionaldesigns.blogspot.com
12. one ladder in the right color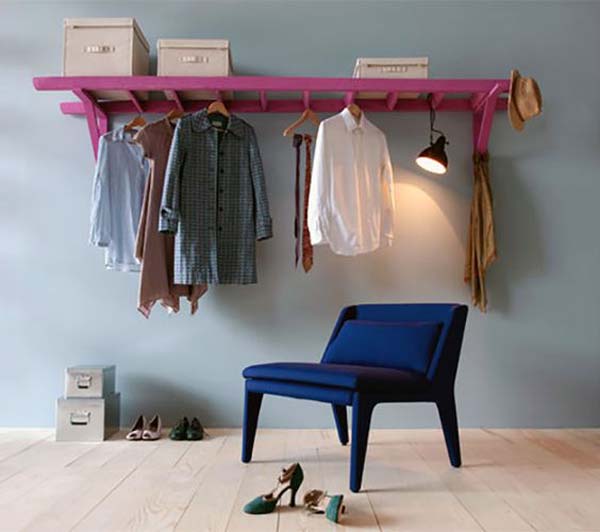 If withered wood and shabby chic are not an option for your design line you could swiftly use color to reshape wooden elements.
13. tailor thrift shop finds into unique closets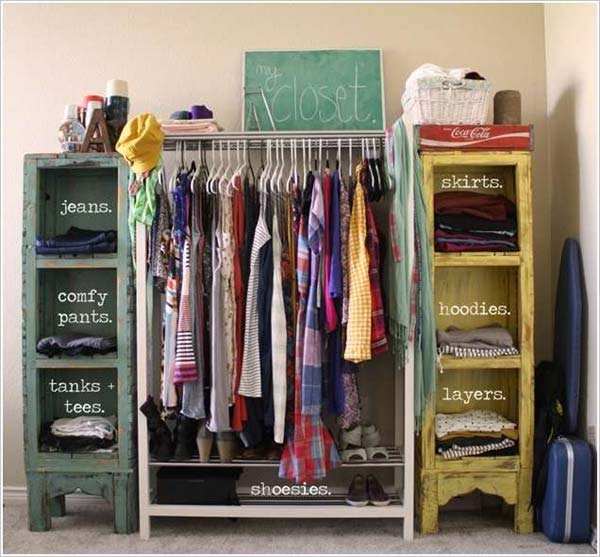 Any thrift shop golden nuggets that one finds can be put to good use. The more diverse the items the merrier, embrace items with memory.
14. use a metal file cabinet to store clothes in vintage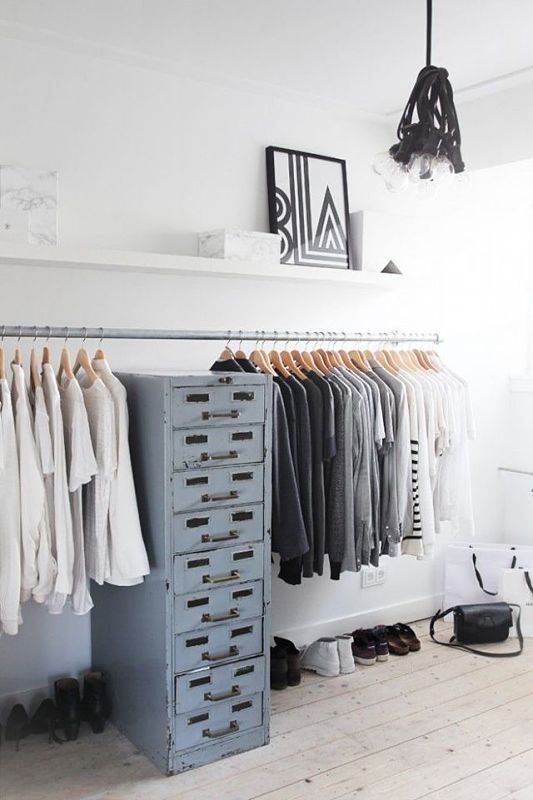 Vintage comes in many shapes and sizes yet metal ought to be present in the setting. To use an old file cabinet in your clothes storage is not only beautiful but insanely practical as well.
via lepetitegirl.com
15. nestle CLOTHES in a small entryway closet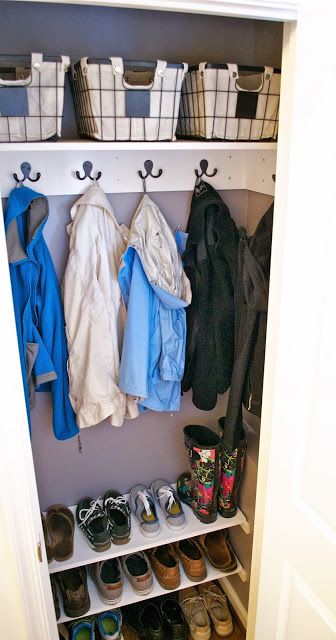 Super simple solution able to encourage a clutter-free ambiance. Put every inch of space to good use, tailor everything to your needs.
via holly-b-baking.blogspot.com
16. stark white clothes and open shelves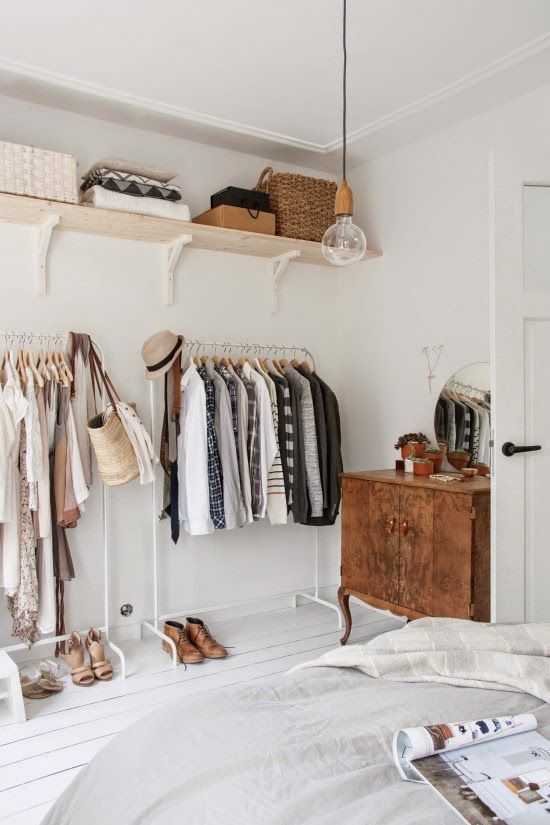 Light, white and graphic elements.
17. reclaimed wood used to store clothes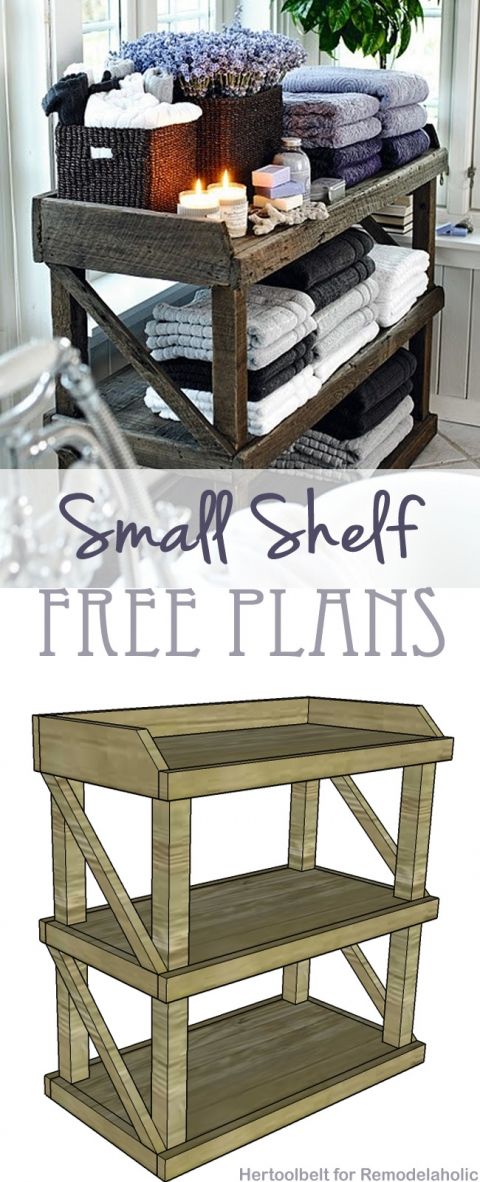 Wooden pallets have a lot of wood to offer and in it coziness and wood resides. Use the simple plans featured by Remodelaholic to tailor your own storage solutions and take advantage of this beautiful resource.
18. beautiful branch caring clothes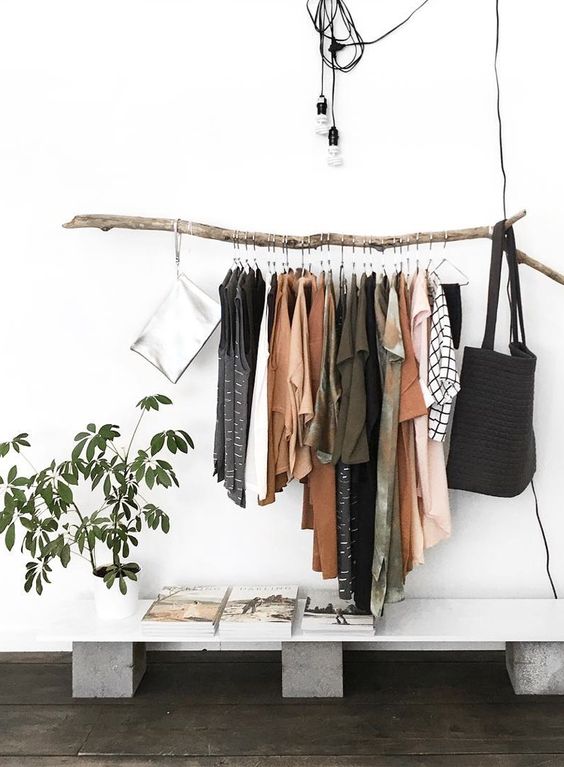 The naturalness of a branch can empower an interior greatly with its sculptural allure. Suspended in stark white with transparent fishing lines for an extraordinary airy look.
via annesage.com
19. use stored ikea chairs as temporary storage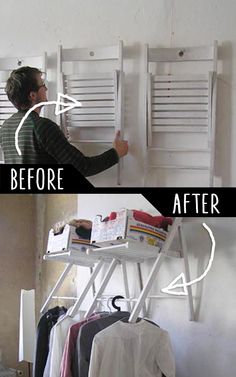 Super simple and insanely efficient solution to realize within minutes.
via yiconglu.com
What do you think? We would love to hear your Low-Cost DIY Closets ideas in the comment section below, how do you store your clothes ?
Related Articles
13 Best Lint Remover Today | Buyer's Guide