To be honest, looking for the best paint for furniture is more challenging than it seems, especially for wooden furniture. 
Most people think they need to buy expensive wood paint or stains to give their furniture a refreshing look. While that can be true in some instances, you can also experiment with paints already present in your home. 
One such option has to be acrylic paints which are quite versatile and can be used on a number of surfaces. However, they aren't the most common options for painting wooden furniture. That's why we thought of creating this guide to let you know whether it's worth the effort to paint furniture with acrylic. 
This guide should also give you a better idea of things to remember while painting wooden furniture, so without further ado, let's get started! 
Can You Paint Furniture With Acrylic Paint?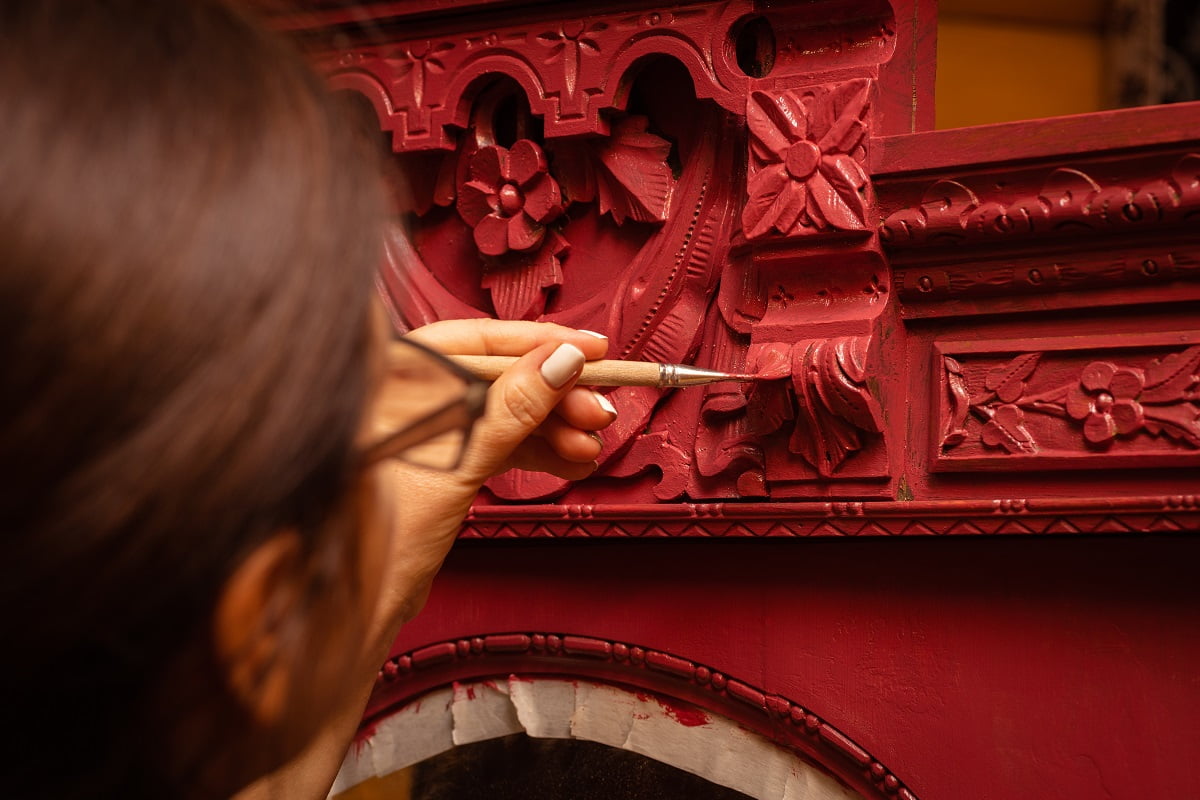 Yes, acrylic paints can very well be used for painting furniture, particularly those made of wood. In fact, options such as acrylic latex paint and acrylic chalk paint have been the go-to paints for homeowners. You just need to use a proper primer and prep the surface of the furniture before painting to make the acrylic paint long-lasting. 
Apart from wood, acrylic paints can be used for other furniture materials like metal, plastic, and wicker. If in doubt, buy an acrylic paint that's manufactured for use on furniture to get expected results. Many professionals actually like acrylic paints on furniture as they're typically water-based, which makes cleaning up and fixing mistakes easier than other paint options. 
It's even better that brands have got on the trend of using acrylic paints on furniture and have formulated paints that can be used to paint outdoor furniture. They are perfect for painting wooden porch or lawn furniture that are regularly exposed to rain, snow, and harsh sunlight. You can find multiple indoor-outdoor acrylic paints online. 
Steps To Follow While Painting Wooden Furniture
It's not the best idea to paint directly on wooden furniture; that's why we will let you know about the steps to follow to get the desired results. This will surely help you revamp any furniture piece even if it isn't in the best shape. 
1. Select The Right Acrylic Paint
Believe it or not, the type of acrylic paint you choose for the furniture will make a big difference in getting the desired look. One of the best things about acrylic paints is that they are available in a number of finishes and colors, so you'll never run out of options. 
An essential factor to remember while picking suitable paint types is whether the furniture will be placed outdoors or indoors. It's recommended to pick an acrylic latex paint or other acrylic paints meant for outdoor use for furniture kept on porches or lawns as these are durable paints. 
You should also spend some time deciding on the finish, as at times, a matte paint works better than the usual satin sheen of acrylics and high gloss paints. We recommend looking up things like how to paint furniture with Farrow and Ball before selecting an acrylic paint to ensure it's easy to use for DIY projects.
2. Clean The Wooden Surface
Before you can proceed to paint any furniture, it's essential to get the surface as clean as possible. So, use warm water and soap to get rid of any dirt, debris, and oil stains. Sometimes, outdoor furniture may have tough stains, but you can easily remove them with a strong detergent and a scrubbing sponge.
3. Sand The Wood
The next step is to sand the surface of your furniture to achieve a smooth texture. Applying acrylic paint on wood can often highlight even the most minor damages, but light sanding will help remove dents, nicks, or scratches. Sanding is also a great technique to remove old paints from painted furniture. 
In case there are more significant dents or cracks, use a wood filler to smoothen the surface. And remember to sand again afterward so that the entire surface of the furniture is even. 
4. Apply A Primer
We know that prepping wood furniture takes a lot of time, but believe us when we say that the outcome is pretty impressive. Don't skip on this step and ensure to coat the entire surface of your furniture with a good-quality primer. 
A primer is essential when using acrylic chalk paints as it can hide blemishes. Moreover, a wood primer will help the paint colors to shine through without you needing to apply several coats. You should also prime furniture as it guarantees that the paint will last longer. 
5. Apply The Paint
Needless to say that this is the most crucial step when you want to paint any furniture. Remember to get high-quality paint brushes as they help to avoid brush marks, especially when using homemade chalk paint. Always apply the paint in even brush strokes with slight overlaps to achieve a smooth and durable finish. 
If the furniture is quite large, use a paint roller as they are easier to maneuver for beginners, and the job takes less time. Also, read the instructions to know how many coats of paint are required to avoid applying too many layers. We recommend leaving the first coat to dry for 24 hours before you return to check if it requires any touch-ups. 
6. Finish With A Sealant
If you want to protect the look of smooth surfaces and ensure the paint lasts for a long time, never forget to use a sealant. A top coat of transparent sealant works best on both indoor and outdoor furniture to preserve their look after a paint job. 
Moreover, remember to let the paint dry completely before applying the sealant with a paint brush or roller for a lasting finish. A paint sprayer filled with sealant may also work well for applying the final coat on a large piece of furniture. 
Paint Furniture With Acrylic Paint Frequently Asked Questions ?
Can you paint raw wood with acrylic paints?
Technically speaking, you can use water-based paint like acrylic paint on raw wood. But, we wouldn't recommend doing so as the finish wouldn't be the best. It's best to prime wooden furniture before painting to achieve the best result because priming ensures that the paint job will last for a long time, especially with a sealant. 
Furthermore, painting on raw wood with acrylics isn't recommended as it often delivers a patchy finish. 
Can acrylic paint be used on stained wood?
In many cases, a piece of wooden furniture is stained to highlight the wood grains and protect it from termites. You can proceed with painting stained wooden furniture, but make sure to follow the steps of wood preparation properly. 
When the stain is glossy, a little bit of sanding should get rid of the shine while it would also let you smoothen uneven spots on the wood. A few coats of primer can even help subdue dark stains to provide an accurate finish with the acrylic paint. 
Can you use acrylic wall paint on wood furniture?
When it comes to painting outdoor furniture, many people prefer to paint them to match the color of a particular wall. The good thing is that you can actually use the same acrylic wall paint on the wooden surface of the furniture to get an even finish. 
We especially recommend chalk-style paint due to its matte finish, which many people use to create a chic look. Remember to check out how to use chalk paint for furniture to achieve a smooth finish. Other than that, you can also find acrylic latex paints that work for walls and wooden furniture.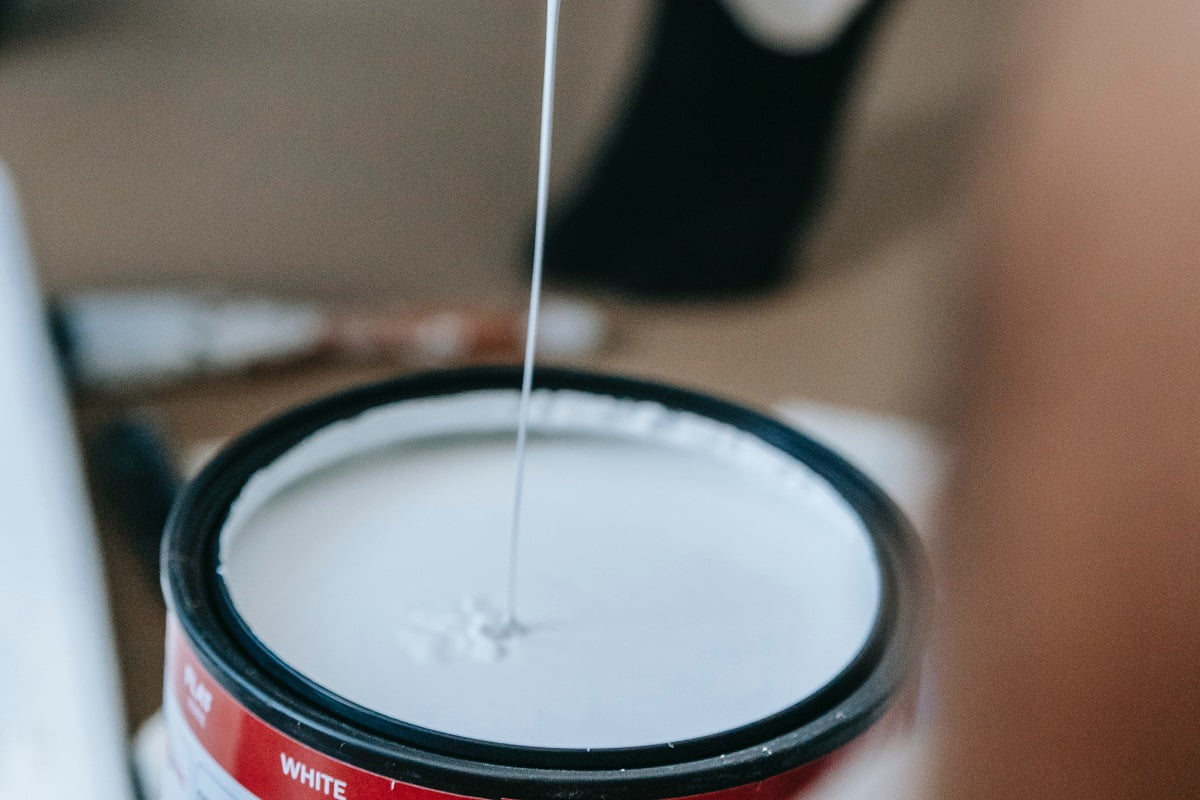 Paint Furniture With Acrylic Paint Final Words
All in all, go forward with the furniture project if you have been wondering whether to use water-based acrylic paint instead of the usual furniture paint. We hope that this guide will help you get the desired finish. 
In case you're still wondering if the acrylic paint lying in your garage is going to work, consult a professional. They may also help you figure out whether your wood furniture would benefit from a coat of oil-based paints. 
Other than that, whenever you're working with paints, ensure to follow the instructions mentioned on its packaging and use protective gear. If it's your first time in furniture painting, we recommend using a non-toxic acrylic paint. 
Want to read more articles on paints and painting like this article? Check out our next article on how to erase a colored pencils drawing to gain more knowledge on the subject.
Until next time, goodbye, and have fun painting!