Nothing beats the timeless and luxurious charm of brass.
Now, you might associate this versatile, warm-toned metal with your grandmother's cutlery. But it is quickly making its way to most modern kitchens for a chic and classy look. And the fact that brass pairs well with most colors and textures (marble, wooden, etc.) also makes it a popular pick.
However, brass is quite an eye-catching material, so incorporating it into your surroundings without overpowering the rest of the decor can be challenging. So, here are some ways to use brass and make your kitchen the talk of the town!
Kitchen With Brass Accents Ideas
Install A Brass Faucet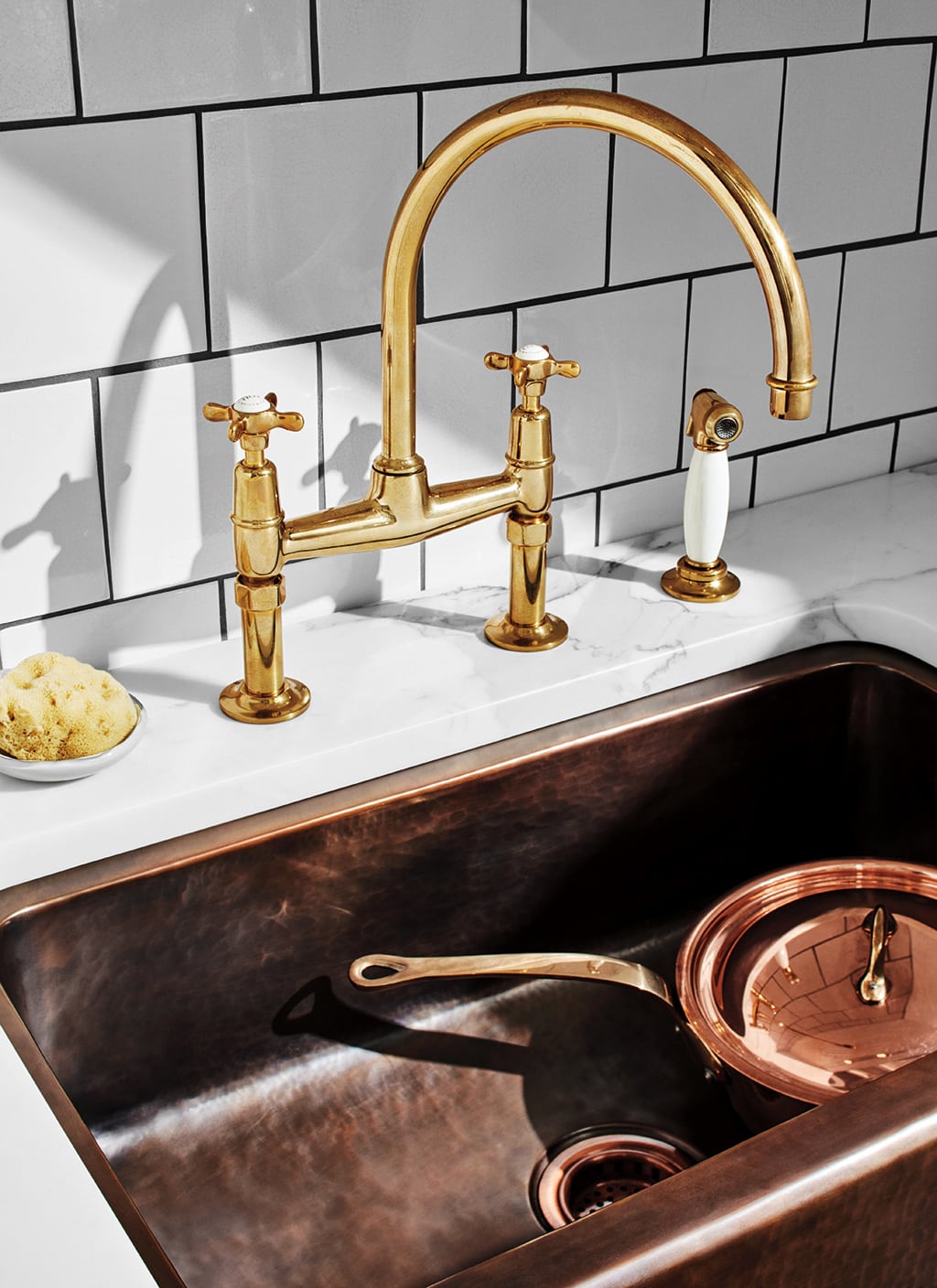 With the kitchen being one of the most important rooms in a house, it should provide the best of style and functionality. And what better way to add a touch of vintage charm to your kitchen than to install a dainty brass faucet?
Besides, nowadays, you get a variety of faucet designs and shapes to choose from, making them more than just a basic need in the house. Sporting vintage-style knobs, wide curves, and a polished brass finish, the right faucet can even become the showstopper in your kitchen!
Opt For Appliances With Brass Details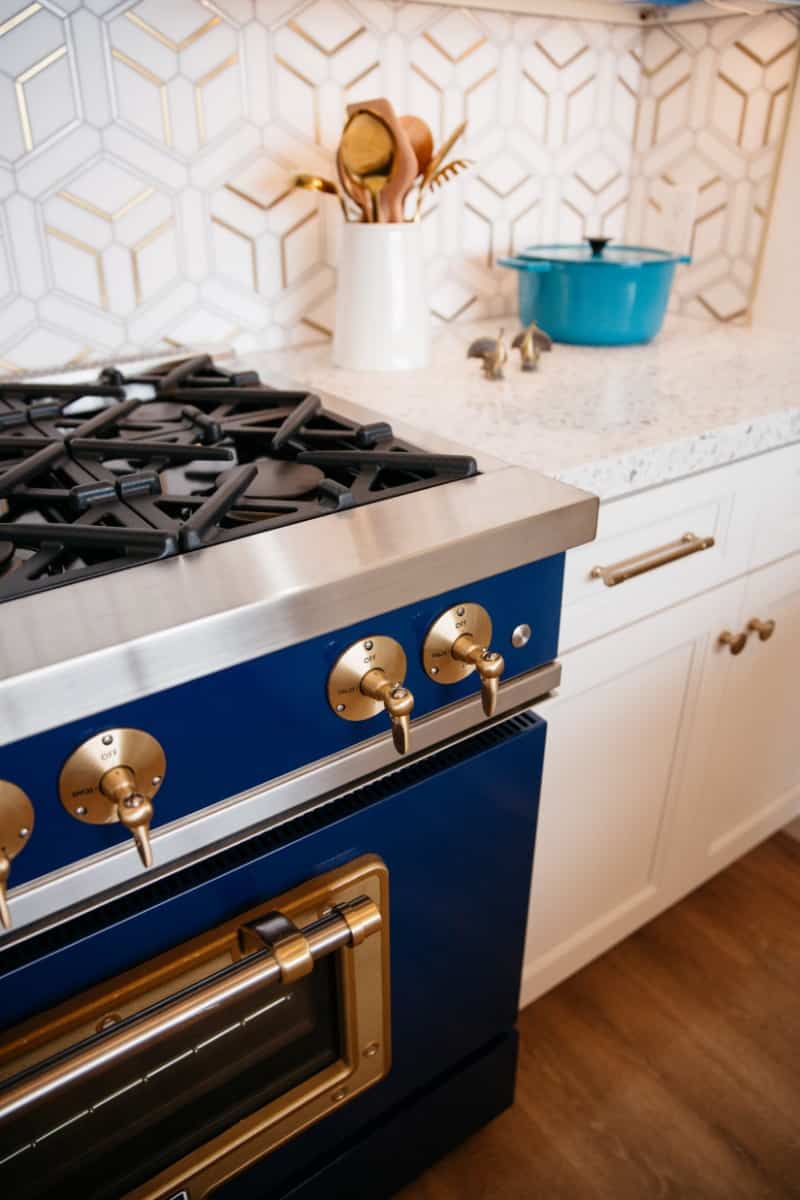 If you tend to pick and drop trends as they come and go, you might want to opt for appliances and cookware with brass accents. How about an oven with a brass handle? Or a gas stove with brass knobs? This way, you won't be committing to the shiny metal but still making the most of this charming trend.
And when you think you want to try something else, simply store the appliances and splurge on something new. A shopping spree once in a while hurts no one!
Hang Pendant Lamps With Brass Accents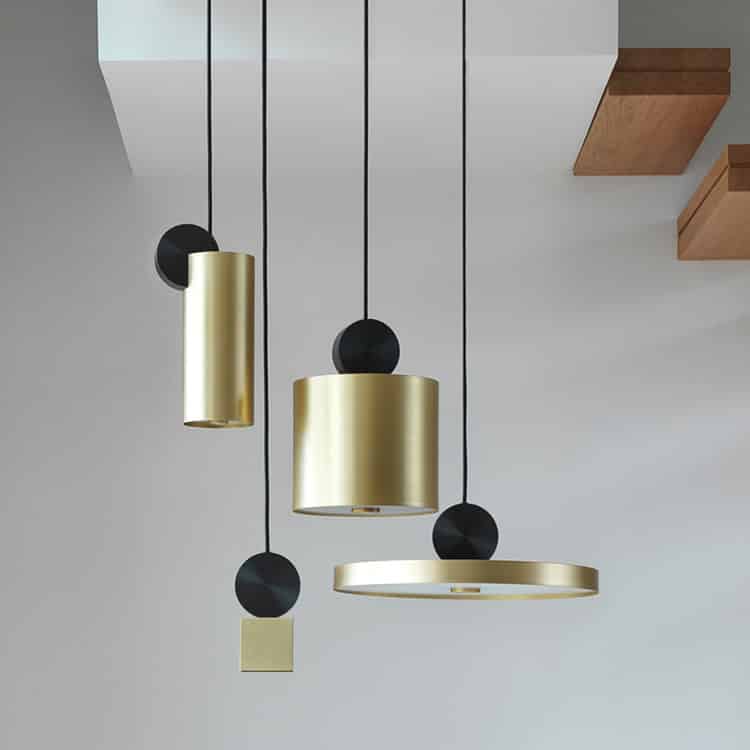 Good lighting is a must in a kitchen. And some pendant lamps will not only make a great source of light but also add that sophisticated brass touch. Be it over the dining table, the kitchen counter, or the sink- there's no way you can go wrong with these sleek and stylish lights.
The designs on such lights range from traditional florals to modern geometric lines. Additionally, you can opt for different shapes and sizes for the lamp according to the available space in the kitchen.
Another lighting idea would be some naked bulbs with dainty brass holders. Especially if you have a small kitchen, opting for this minimalistic choice of lighting will give you more space while adding oodles of style.
Bar Stools With Brass Polished Legs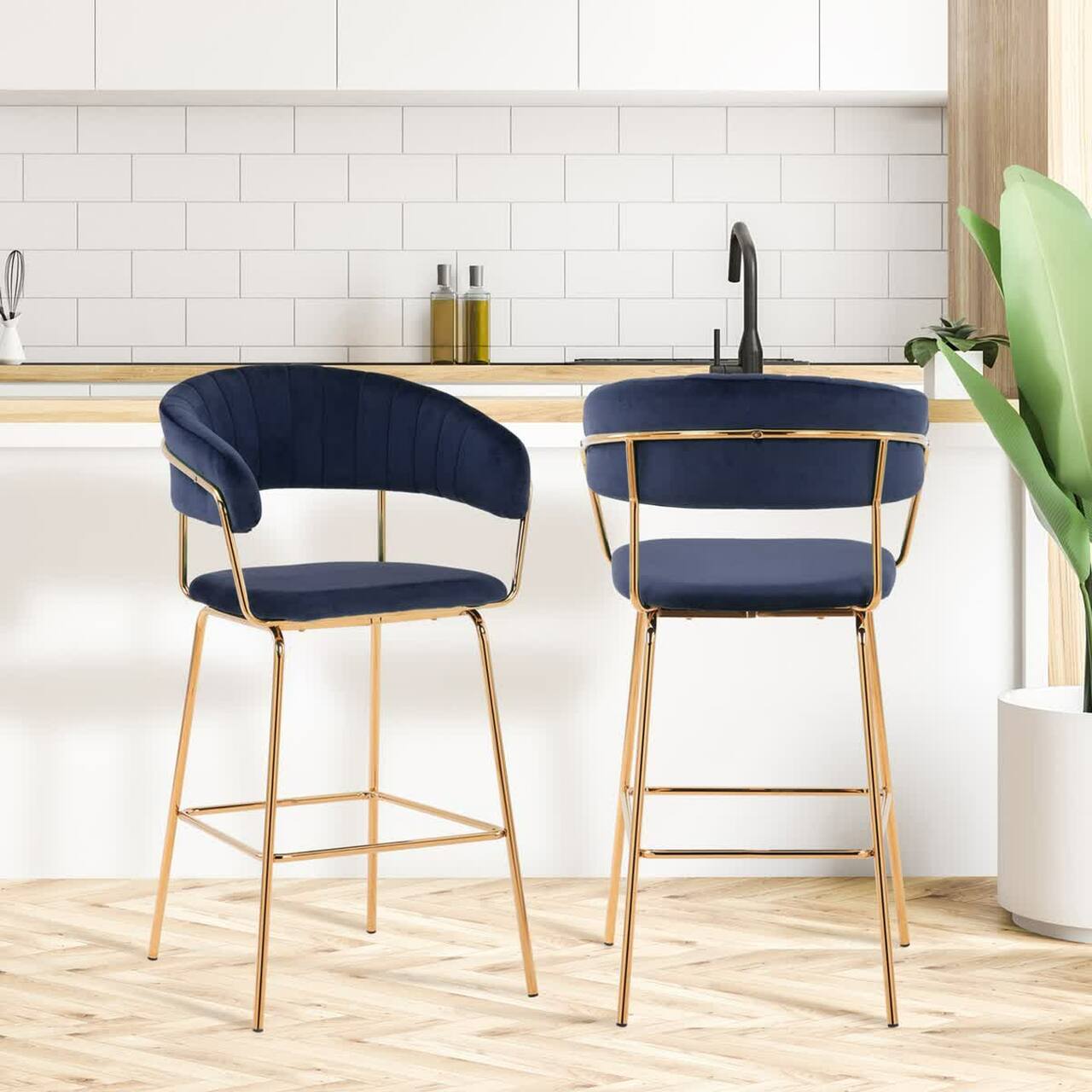 Bar stools are anyway a quick-fix to a dull and drab kitchen. Now, imagine them with brass details- perfection! 
Adding bar stools with brass legs is probably the easiest way to add some oomph to any space. Choose a neutral color scheme to compliment most kitchen styles or go all out with bright jewel tones to create an impactful juxtaposition. 
Also, you can either use brass-detailed bar stools as a finishing touch to a brass-themed kitchen or let them steal the spotlight alone. Either way, these bar stools will instantly transform your kitchen into a retro haven!
Invest In A Brass Hood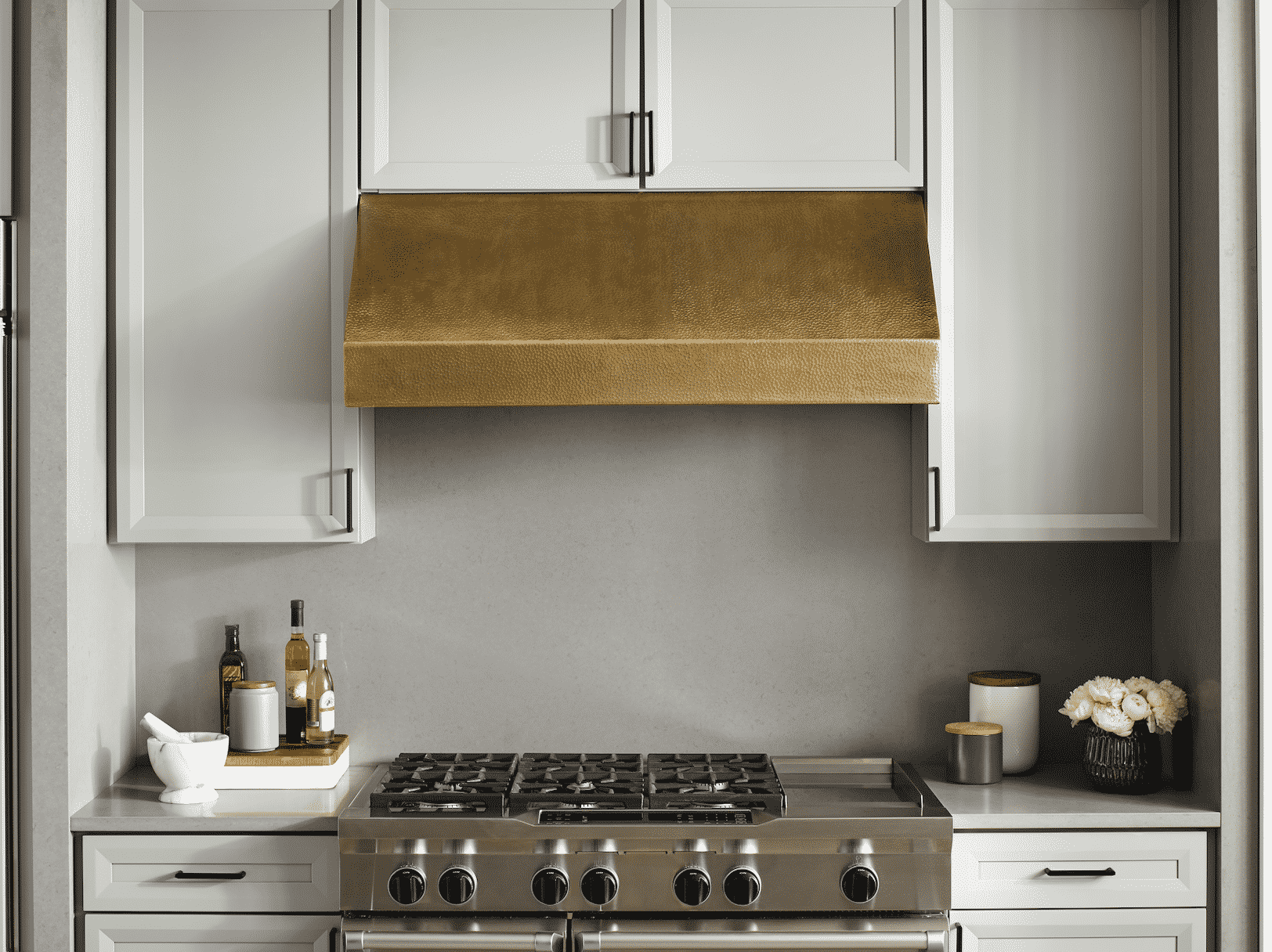 Lastly, you can go for a brass hood over your gas stove. A range hood is an essential fixture in a kitchen, and installing a brass finish unit adds a dash of luxury and exquisiteness.
And like the previous style, a brass hood will look great as is or with other brass accessories. So, put on your styling hat and get started!
Colors That Compliment Brass Accents
Now, just because brass is in trend does not mean you should jump onto the bandwagon unwillingly. The decision depends on your personal preference and the current color scheme of the kitchen. Although brass is a warm-toned metal that compliments a wide range of colors, sometimes, it may not work out.
Thus, here are some cabinet colors that will make an ideal canvas for brass fittings and fixtures. Let's take a look…
Beat The Blues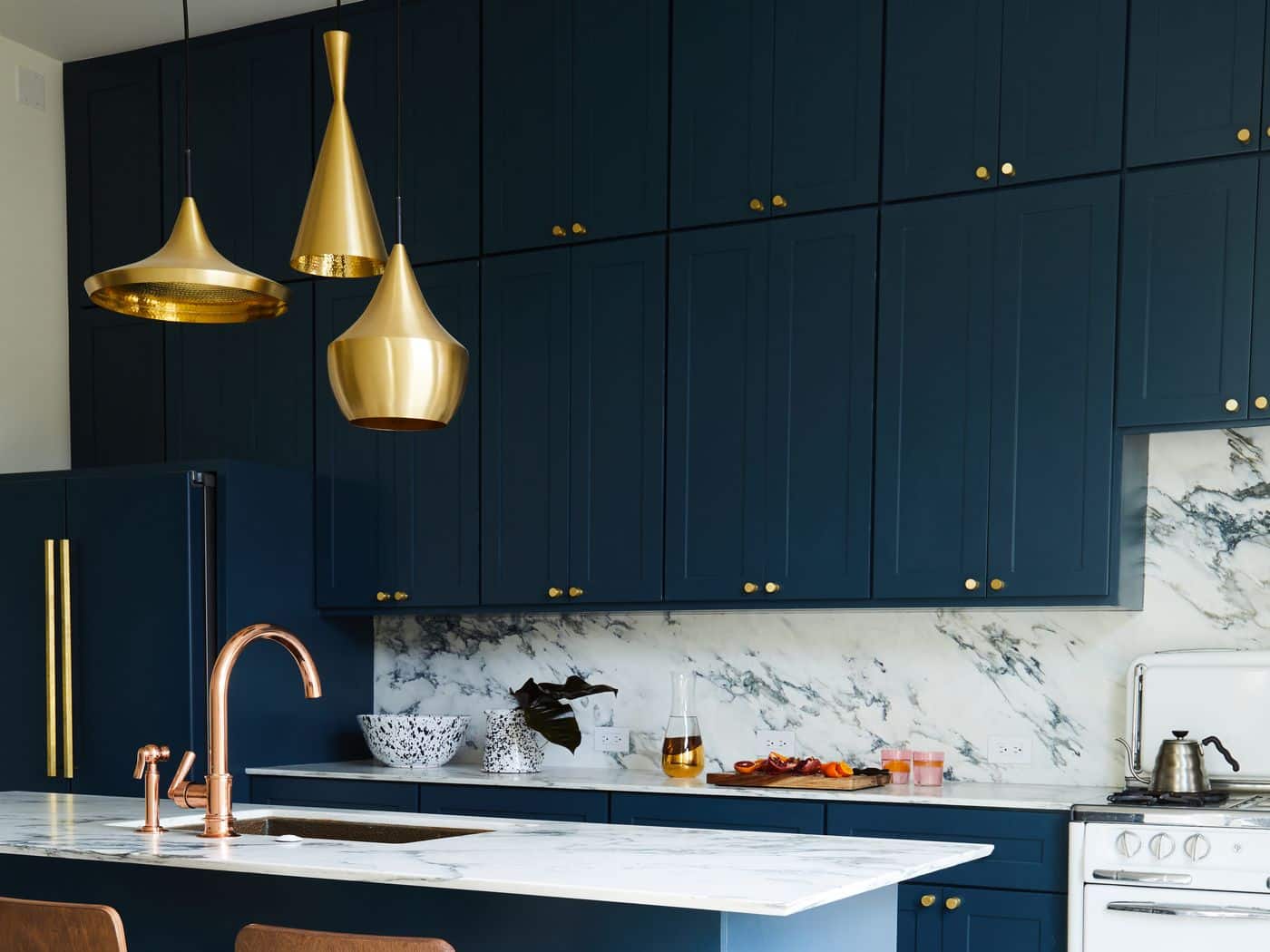 Nothing looks better with brass than some rich shades of blue and green. From refreshing turquoise to everyone's favorite color at the moment, sage green- brass looks best with the cooler side of the spectrum.
You can even experiment with grey cabinets and brass handles. The contrast between the muted cool and warm colors will create the perfect chic look in your kitchen.
Since brass works with cooler tones, avoid mixing it with warm colors like red, orange, and yellow. However, you can opt for cool-toned reds (shades of red with blue undertones) like vermilion, mahogany, and more.
All-White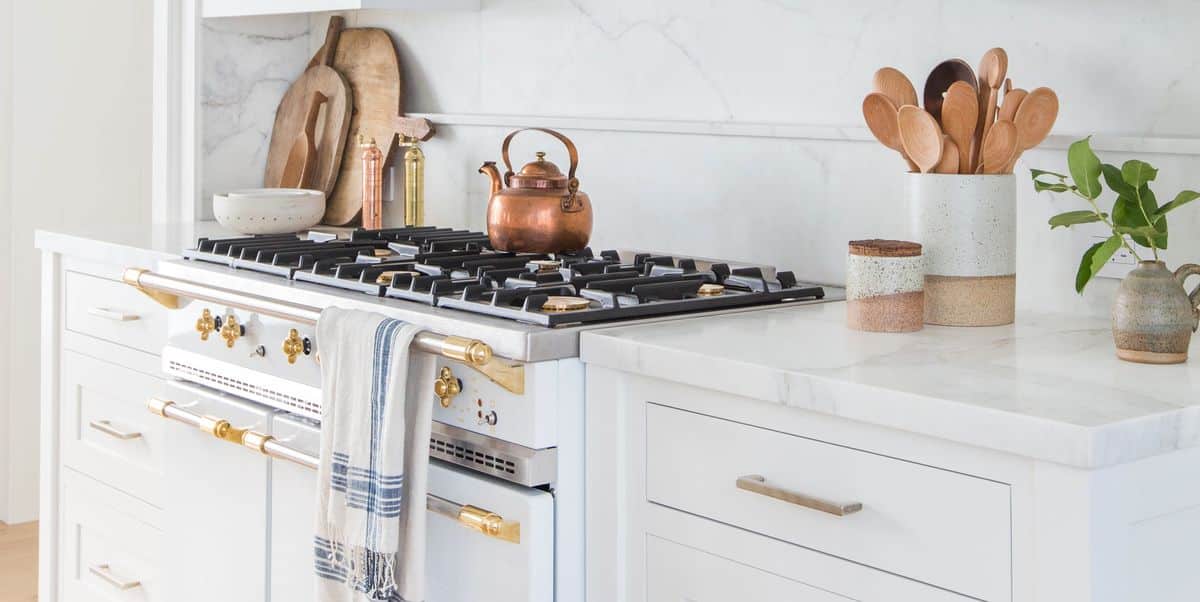 Brass and white make a foolproof color combination that looks modern yet classic. Unlike other colors, white is always pleasing to the eye and creates a clean base for brass fittings to shine. Plus, an all-white room often gives the illusion of more space, so that's another advantage.
However, do keep in mind that white isn't the most forgiving color when it comes to cleaning and maintenance. So, if you don't mind regularly sweeping and mopping the kitchen, this mid-century vibe is ideal for you.
Black Beauty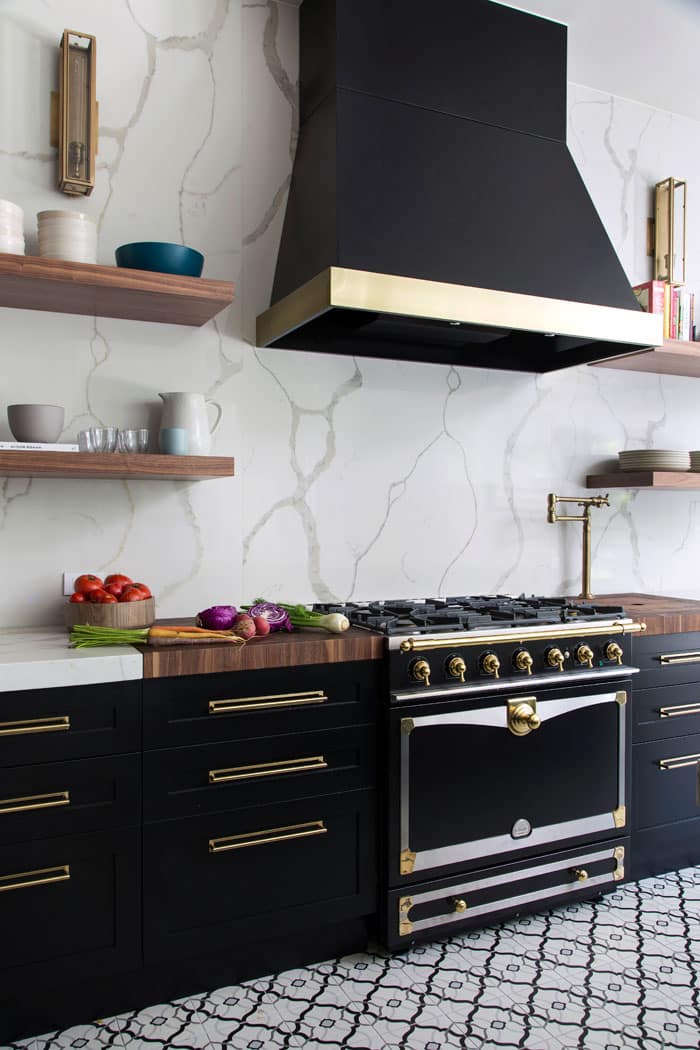 There's a reason why so many people love the color black. It practically looks good with everything… even brass!
Like all-white, an all-black look also provides an elegant contrast against brass accents. In fact, black does a better job in making the warm-tone metal pop. Or get a custom kitchen renovation with both black and white, and finish it off with brass accents for a contemporary and fun vibe.
Conclusion
And that's a wrap! We hope these styling tips will help you jazz up your kitchen with brass. With so many styles to choose from, we're sure you'll find something for your kitchen, too.
But before we sign off, here's a pro tip- try to opt for brushed brass or any variety that requires less maintenance. Or else you'll end up scrubbing your fixtures instead of whipping delicacies in the kitchen!
Let us know how you plan to infuse brass elements into your kitchen or if we missed out something in the comment section below. We'll be back with more interior decorating and styling guides soon.
Related Articles