Steam mops have become the workhorse of household and office cleaning.
Be it dust, debris, grime, furs, bacteria, or even germs, steam mops can get rid of them effectively. And while searching for one, you must have stumbled upon Bissell 1806 and Bissell 1940 steam mops. Bissell has been crafting top-notch cleaning products for years, which is why it is most popular among homeowners.
Both steam mops are easy-to-use, lightweight, and highly versatile. So, how do you know which one is ideal for your beautiful floorings?
To help you choose the perfect one, we've designed this comprehensive guide just for you. We'll take you through the ins and outs of the two steam mops, and their plus and minus points. Thus, you can compare the two products and choose the best one for your home.
So, without further ado, let's get straight into the deets!
Bissell 1806 vs. Bissell 1940
For over 140 years, Bissell has been catering to homeowners' cleaning needs. Their smart and innovative home cleaning solutions have transformed the world of cleaning. Whether you're looking for vacuum cleaners, steam cleaners, or carpet washers, Bissell has it all.
Bissell is one of the leading manufacturers of floor care products. Because of its versatile range, Bissell has become a household name. Speaking of performance, the products of Bissell are pretty user-friendly and help you clean the sofa, carpets, flooring, and even the air you breathe in a breeze.
With its user-friendly products, you can not only eliminate germs and bacteria but also wipe off pet hair and stains. Whether you've accidentally overturned a glass of orange juice on the sofa or a bowl of cornflakes on the carpet, Bissell's wide variety of top-notch quality cleaners are perfect for cleaning various types of spills in a breeze.
One lesser-known fact about Bissell is that with every purchase you make, a small amount of it goes to Bissell Pet Foundation to save homeless pets.
Bissell as a Brand
Bissell 1806 Steam Mop
Accidents can happen anywhere, anytime. Thus, it's time you get your hands on this PowerFresh Deluxe Steam Mop by Bissell. With its SpotBoost Brush, the versatility of the 1806 Bissell steam mop is almost limitless. From cleaning muddy paw prints of your dog on the sealed hardwood ceramic floors to stubborn messes on granite marble, Bissell 1806 PowerFresh steam mop can clean anything in a breeze.
Instead of bending over to scrub stubborn mess on the floor, let the scrubby pad of the Bissell 1806 work for you. On top of that, its washable microfiber pads eliminate 99.9% of germs and bacteria, which is definitely a wow factor. Moreover, you can also add a fragrance disc to this steam mop, thanks to its spring breeze fragrance discs.
The Bissell 1806 steam mop is pretty user-friendly. With its power cord of 25 ft and a weight of 6.2 lbs, you can move it around the house and clean the nooks and crannies of your home with ease. This cord length of 7.62 meters makes it perfect for hard-to-reach areas. Plus, we love the design with its eye-catching sapphire blue and white color combinations.
What's more, this Bissell steam mop features a water tank which is pretty convenient to fill. Simply lift the cap of the water tank and use a measuring cup to fill demineralized or distilled water into the water tank. With 560 ml of water tank capacity, you can clean your home in a breeze.
Similar to other Bissell steam mops, this 1806 comes with adjustable steam settings. You can switch between high and low according to your needs.
This 1806 Bissell PowerFresh steam mop with its 9.5 x 13 x 46 inches is a great option for your home because it offers convenient storage. Overall, this 1806 Bissell steam mop is perfect for giving your home a thorough clean.
Bissell 1940 Steam Mop
The Bissell 1940 steam mop is an upgrade to the previous models manufactured by the company. With its flip-down easy scrubber, the Bissell 1940 steam mop leaves no stones unturned when it comes to versatility. From dried gums to stuck-on messes, the Bissell 1940 PowerFresh steam mop lets you clean the house to your heart's content.
Similar to our previous 1806 Bissell steam mop, this 1940 steam mop comes with a washable microfiber soft pad and a scrubby pad that eliminates 99.9% of germs and bacteria from home. With adjustable steam settings, this Bissell Powerfresh steam mop lets you control steam flow according to your needs.
Moreover, it's safe for almost all kinds of floorings. Whether you want to use it to deep clean the sealed hardwood ceramic flooring or the linoleum flooring of your living room, the Bissell 1940 cleans mess from all kinds of floorings.
Additionally, this steam mop features a carpet glider that will suck even stuck-on dirt to help you maintain the beauty of your carpets. Plus, this Bissell PowerFresh Steam Cleaner is compatible with fragrance discs. Therefore, you can spring breeze fragrance discs and add freshness to your home.
Moving on, a water tank capacity of 16 oz is decent enough to clean the entire home without the hassles of refilling.
Also, this steam mop is pretty user-friendly. Featuring a 23 ft power cord along with a swivel steering, this steam mop is ready to use within 30 seconds.
With its dimensions of 11.6 x 7.1 x 28.6 inches, it is pretty lightweight. Thus, you can clean it for hours without straining your arms. Plus, it is highly durable and comes with a warranty of 2 years.
Bissell 1806 vs. 1940 Compared
Bissell has been on the market for more than 140 years. Therefore, investing in Bissell steam mops guarantees that you're investing in the best. Of course, you cannot go for both the steam mops. To pick one between the two steam mops, you must know what sets them apart.
So, we've gone into the nitty-gritty of the two steam mops by Bissell and selected some points that you must take note of before choosing one for your home. Move on and take a look.
1. Steam Settings
When it comes to steam, the Bissell 1940 edges over the Bissell 1806. With three digital buttons, the 1806 PowerFresh Deluxe steam mop lets you control the steam levels. While the first button lets you control the power, the other two buttons allow you to adjust the steam levels between high and low.
Meanwhile, the 1940 Bissell mop steamer comes with three customizable steam settings. Whether you want high, medium, or low steam output, you can easily customize it using a digital pad.
Therefore, the 1940 Bissell steam mop is the best bet any day for stubborn stains because of its variable steam levels. However, if you're just looking for a steam mop that can carry out cleaning tasks excellently, the Bissell 1806 is the perfect pick for you.
2. Water Tank Capacity
One thing we absolutely love about steam mops is that they eliminate the need for frequent refillings because of their spacious water tanks. The Bissell 1806 features a water tank of about 560 ml which is pretty impressive. Its 12-amp heater unit coupled with a 19-oz water tank ensures you clean your home without any difficulty. Thus, you can clean an entire apartment without refilling the water tank.
On the other hand, the Bissell 1940 comes with a water tank capacity of 15-oz. Although it isn't as great as the former model, it is decent enough to get the tasks done. This 15-oz water tank capacity coupled with a 1500-watt heater unit lets you clean your living room fuss-free.
Also, both the steam mops generate continuous steam within 30 seconds. However, one thing that we liked about the Bissell 1940 is its removable water tank. Therefore, this makes refilling an easy task. Alternatively, the Bissell 1806 comes with a measuring cup. Although you cannot detach it for filling and refilling, you can use the measuring cup for refilling the tank.
All in all, for large apartments, the Bissell 1806 is a smart pick, while the Bissell 1940 steam mops are perfect for small cleaning chores.
3. Power Cord Length
Now, when it comes to investing in a steam mop, it's important you get one with a long power cord because it allows you to clean easily. And that's why in a tussle between the two models by Bissell, the Bissell 1806 edges over the 1940 steam mop.
The Bissell 1806 steam mop comes with a long power cord of about 25-feet, which is pretty impressive. You can clean your room without any interruption. Alternatively, the Bissell 1940 features a power cord of 23-feet. With 1806, you can easily clean those nooks and crannies inaccessible by the 1940 steam mops.
Thus, when it comes to power cords, the Bissell 1806 is the best bet.
4. Weight
While looking for a good steam mop, most people tend to look at its weight. This is because the lighter the mop, the better it performs. The Bissell 1806 steam mop, with its 9.5 x 13 x 46 inches, weighs about 6.4 lbs. Meanwhile, with a dimension of 11.6 x 7.1 x 46 inches, the Bissell 1940 weighs about just 6 lbs, which is pretty lightweight.
However, while testing, we noticed that the Bissell 1940 isn't an ideal pick for taller people. Therefore, the Bissell 1806 edges over the 1940 steam mop.
5. Accessories
Coming to accessories, the Bissell 1806 and 1940 pretty much come with the same set of accessories. In the package of the two models, you will find a soft microfiber pad, a scrubby pad, and 2 Spring Free Fragrance Discs.
However, the Bissell 1806 comes with a measuring cup to make refilling the water tank an easy job. Meanwhile, the package of the Bissell 1940 includes a carpet glider that makes it usable on carpets too.
Also, the Bissell 1806 comes in handy in cleaning stubborn, stuck-on messes, thanks to its SpotBoost Brush. Alternatively, the flip-down easy scrubber of the Bissell 1940 works amazingly for cleaning tough, dried-on messes.
If versatility tops your list, then the Bissell 1940 is a fuss-free and excellent pick for your needs. However, if you're simply looking for a cleaner to clean and sanitize, you may opt for the Bissell 1806.
6. Warranty
Speaking of warranty, both models from Bissell come with a warranty of 2 years. Bissell has been manufacturing top-notch quality products for the past few decades. Therefore, if you're investing in one, be rest assured that they will last longer than others on the market. With top-notch durability, you can rest assured that they will withstand daily wear and tear.
Frequently Asked Questions
1. Bissell 1940 vs. 1806 – Which Steam Mop Is Better?
Both the steam mops perform incredibly well. Therefore, picking one between the two is undoubtedly a daunting task. However, the Bissell 1940 is a smart pick for stubborn, stuck-on messes. Its three customizable steam settings coupled with an easy scrubber make it a perfect pick for your daily cleaning tasks.
Alternatively, the Bissell 1806 is an excellent option if you're on a budget. Featuring a water tank of 560 ml, a 25-ft power cord, and a fragrance disk, the Bissell 1806 performs excellently in cleaning and sanitizing your space.
2. How To Maintain Steam Mops?
Unlike other house appliances, steam mops require minimal maintenance. Before beginning with steam mops, make sure you keep a few things in mind. Use demineralized or distilled water to fill the water tank of your steam mops. Also, rinse the microfiber pads after every cleaning session and replace them every few months.
Moreover, after every use, tuck it away in the laundry room or store room carefully to prevent the body from any damage.
3. What Is The Difference Between Bissell 1806 and 1940?
The main difference between the two models is the capacity of the water tank. While the Bissell 1806 can hold up to 560 ml of water, its counterpart can hold up to 473 ml of water. Moreover, the Bissell 1806 comes with a SpotBoost brush against the flip-down easy scrubber of 1940.
Plus, the Bissell 1806 features two customizable steam settings against the three adjustable steam levels of the 1940 Bissell steam mop.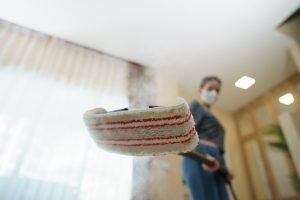 Summing It Up
We agree cleaning isn't fun. But, who would love a dirty home filled with germs, bacteria, and grime? Of course, none of us! Therefore, it's time to toss that old bucket mop and bring a steam mop to your home to make your back-breaking task easy.
That said, it's finally time to bring the curtains down. We've reviewed the best steam mops offered by Bissell to see if the two models were worth the hype and, dare we say, both are excellent products.
To be honest, choosing one isn't easy. However, if you ask us, we'd say that the Bissell 1806 is the winner overall because of its affordability, functionality, and water tank capacity. But if budget isn't an issue, then the Bissell 1940 is worth every penny.
Related Articles 
55 Best Robot Vacuum Names For Your Little One
Bissell Crosswave 1785A vs. 2306A [Two Wet/Dry Uprights Legends Compared]
Bissell 3624 Vs. 2694 [SpotClean Portable Cleaners Compared]
Hoover Power Scrub Deluxe Vs. Hoover Turbo Scrub [Comparison]
Roborock H7 Vacuum Cleaner Review
13 Best Bagged Canister Vacuums 
10 Best Shop Vacs For Dust Collection
7 Best Xiaomi Vacuum Cleaners for Healthy Homes
13 Best Shop Vacs  | Buyer's Guide and Reviews
13 Best Vacuum for Stairs | Reviews and Buyers Guide
13 Best Robot Vacuums You Can Buy Under $200 
8 Best Robot Vacuums Under $150 | Reviews & Buyer's Guide
13 Best Backpack Vacuum Cleaners | Reviews & Buyer's Guide
13 Best Non-Electric Vacuum Sweepers 
Best Samsung Robot Vacuums| POWERBot Buyer's Guide
6 Best Vacuum Cleaners for Mattress That Promote Healthy Sleeping
19 Best Upright Vacuums with HEPA Filter| Reviews & Buyer's Guide
Dyson AM07 vs Dyson AM06 Fan Comparison
Shark NV682 vs. NV683 vs. NV752 | Upright Vacuum Comparison Review
Vornado 530 vs 630 vs 660 | Room Air Circulator Fans Compared
Bissell BigGreen 86T3 vs. BG10 | Carpet Cleaner Comparison & Buyer's Guide
13 Best Canister Vacuums for Pet Hair
ILIFE A4s vs. iRobot Roomba 690 Compared | Robot Vacuum Face-Off
Shark ION ROBOT 700 vs 720 vs 750 | Robot Vacuums Compared
ECOVACS Deebot N79 vs. N79s | Robot Vacuums Compared & Buyer's Guide
Lasko 7050 vs. U15701 vs. 655704 | Floor Fan Comparison
PureClean PUCRC95 Automatic Robot Vacuum Cleaner Review
Oreck Commercial ORB550MC vs. Orbiter Ultra Multi-Purpose | Buyer's Guide
iRobot Roomba 675 vs. 680 vs. 690 | Robot Vacuums Compared & Buyer's Guide
13 Best Central Vacuum Systems
The Best Vintage Vacuum Cleaners To Collect
11 Best Wet/Dry Handheld Vacuum
13 Best Steam Cleaners for Hardwood Floors
6 Best Miele Vacuums For Cat, Dog, And Pet Hair
5 Best Central Vacuum Hose Replacements
12 Best Vacuums for Tile Floors
6 Best Central Vacuum Inlet Valve Replacements
14 Best Wet/Dry Handheld Vacuums
12 Best Robot Vacuums For Under $300
McCulloch MC1385 or Vapamore MR100
13 Best Steam Cleaners for Hardwood Floors
15 Best Robot Vacuums Under $300
12 Best Lightweight Vacuum Cleaners For Elderly
11 Best Central Vacuum Attachment Kits, Powerheads & Brushes
15 Best Lightweight Vacuum Cleaners for Elderly [Buying Guide]
11 Best Vacuums For Tile Floors
7 Best Central Vacuum Hose Replacements To Consider
5 Best Miele Vacuums For Cat, Dog, And Pet Hair
11 Best Upholstery Steam Cleaners