Disclaimer | This article may contain affiliate links, this means that at no cost to you, we may receive a small commission for qualifying purchases.
What is life without pasta?
Delicious spaghetti, fettuccine, linguine – these are the foods of the Gods. When healthy living and pasta come together, you get the zoodle. Zoodle makers are the best companions for any vegetable-based diet, which makes it all the more important to invest in the best.
What we look for in our zoodle makers is not just the ability to dish out noodles from veggie favorites like sweet potatoes, squash and, of course, zucchini. While drawing up the best of the best, we look out for some important markers of excellence. These include ease-of-use, versatility, durability and, most importantly, safety standards because zoodle-making should be a family affair.
Kids love it, adults love it – so stop paying extra for packaged cut vegetables from the market. Read on to pick your favorite zoodle maker that will make each meal a healthy delight of professionally chopped vegetables. All this without having to go through culinary training and, of course, sliced fingers.
Top Zoodle Maker
IMAGE
PRODUCT
DETAILS

Our Top Pick

Our Top Pick

Spiralizer 7-Blade PS-10

Wide range of blades
Lifetime no-hassle replacement guaranteed
A sturdy suction cup at the bottom

VIEW LATEST PRICE →

Brieftons 7-Blade Spiralizer 712038653027

Attachable storage caddy for blades
Weighs slightly more than 0.5 pounds
An elaborate user manual

VIEW LATEST PRICE →

Fullstar Vegetable Spiralizer

Manual equipment – does not require electricity
Device cap doubles as a food holder
Dishwasher-safe

VIEW LATEST PRICE →

Sedhoom 4-in-1 Spiralizer

Blades are made of food-grade stainless steel
Blades are switched by clockwise rotation
Entire device made of 2 components – body and handle

VIEW LATEST PRICE →

Sboly Vegetable Spiralizer

7 blades of varying sizes
Made of BPA-free plastic and food-grade stainless steel
Suction with lever

VIEW LATEST PRICE →

Kitchen Supreme Handheld Spiral Slicer ks110204ss

In-built blades within the mold
Option to slice vegetables into two different sizes

VIEW LATEST PRICE →

The Original Zoodle Slicer ZS001

Built-in blades that can julienne and make floras
Finger guards to maximize safety
Delivered ready-to-use, no need to assemble

VIEW LATEST PRICE →

Mueller Pro Multi-Blade Spiralizer MU-PRO

Hefty - weighing at 3.09 pounds
Five blades made of 420-grade stainless steel

VIEW LATEST PRICE →

Adoric 4-in-1 Handheld Spiralizer

Four different blades for different shapes
Stainless steel blades
Open design accommodates different sizes of vegetables

VIEW LATEST PRICE →

Mealthy 5-Blade Spiralizer 4335496302

5 blades for five different types of zoodles
Blades marked with respective sizes and names
Compatible with recipes on Mealthy phone app

VIEW LATEST PRICE →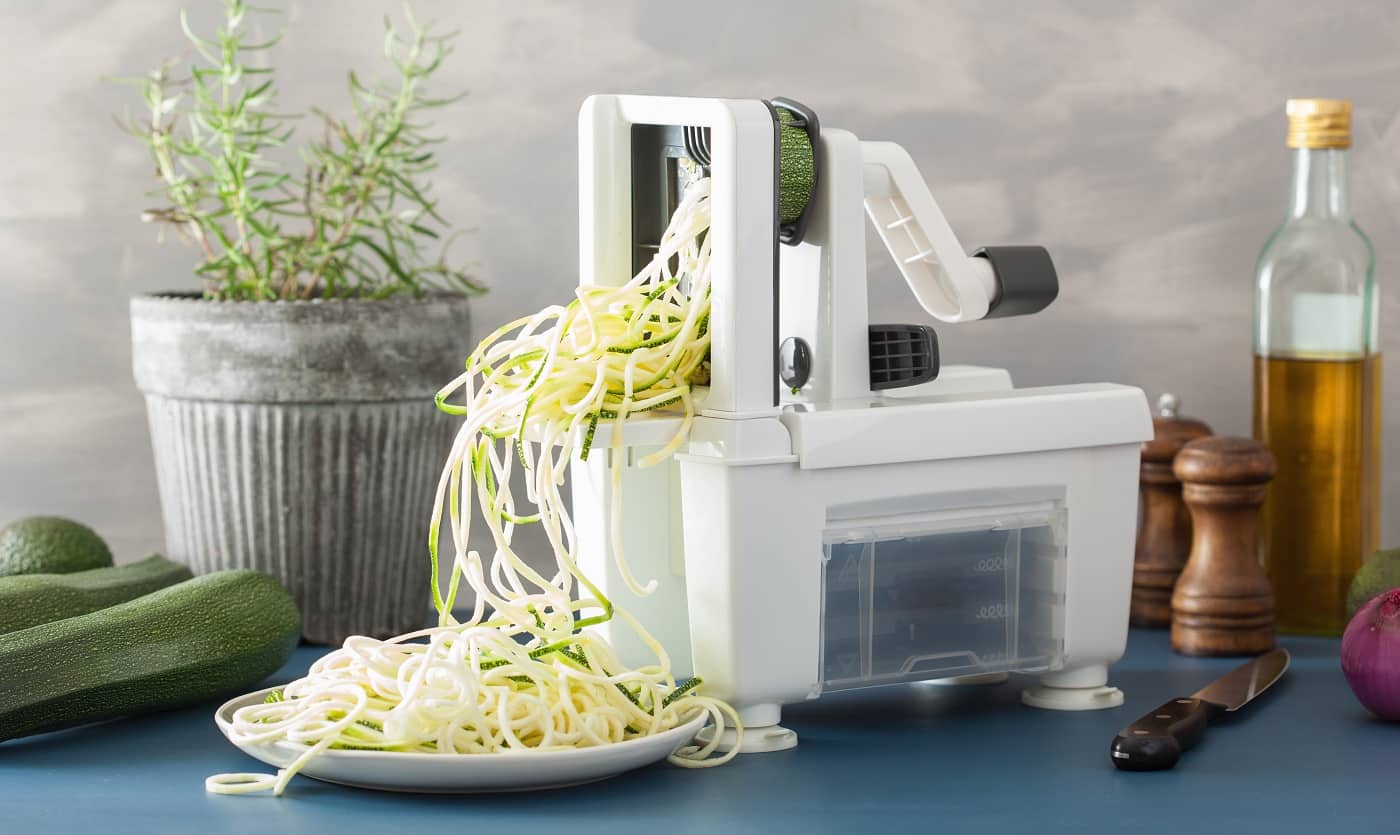 From the trusted brand Spiralizer, the Spiralizer 7-Blade is your best friend for all the noodle-making in your journey to tastier and healthier living. True to its name, there are seven blades in the box for all seven days of the week. With this, you never have to be bored rolling out the same spaghetti strands every day.

Why Did We Like It?
The product itself does best what it is made to do – slicing vegetables indiscriminately and in record time. The vegetable holder has long spikes, which allows users to firmly place vegetables as long as 10 inches. Zucchini and butternut squash pasta aside, this is also a great tool to evenly slice potatoes to create thin chips with just the right textures.
Moreover, recipe options are endless with the wide variety of blades provided. If that isn't enough, included with the purchase of this equipment are 4 recipe e-books that will surely give you ideas for healthy and nutritious meals.
The setup was completed in a jiffy, and it can be easily assembled even by those who might not be too tech-savvy. Straightforward and easy-to-use, the end result is always thin and even. After use, the blades easily come off and can be run under the sink. Using a brush to clean it, as per manufacturer recommendation, effectively gets the job done as well.
What Could've Been Better?
It is hard to find any faults of this product, and the raving reviews stand as a testament to it. However, it is worth noticing that the suction cup may not be compatible with all surfaces. Built-in storage is also limited as it can only accommodate 3 blades.
Pros
Strong and durable even though it is made of plastic

Provides a set of blades for differing widths and shapes

Easy to assemble and quick to use

Safe to handle
Another popular zoodle maker and spiralizer on the market is the Brieftons 7-Blade Spiralizer. It is a popular pick by many reviewers for its sturdy make and the strength with which it is able to prepare vegetables. Developed over many years, this product is an upgraded and improved version, and it shows!
Sale
Why Did We Like It?
Similar to our topmost recommendation, the Brieftons version of the 7-Blade Spiralizer provides the perks of downloadable recipe ebooks and a policy that covers buyers with lifetime hassle-free replacement. Although there is a marked difference in size, the strength and durability of this product cannot be doubted.
Fast and efficient – this zoodle maker effectively cuts down prep time for a range of recipes and meals that are not limited to pasta noodles. What it lacks in size, it makes up for by creatively adding storage units to the product itself. The Brieftons 7-Blade Spiralizer contains a storage tray that comes with an air-tight lid. This tray doubles up as a catcher for the cut vegetables – how neat!
That's not all; the new 7-blade model has taken great care to optimize user-friendliness. This is most apparent in their well-designed and thorough user manuals, and responsive customer care service.
What Could've Been Better?
The suction cup remains an underlying issue with the products in this range. While the cup does hold on to granite and glass, it is useless on wooden surfaces. Moreover, for some users, the effectiveness wears off even on compatible kitchen countertops.
Pros
Compact and easy to store

Comes with an elaborate user manual

Helpful and responsive customer care service

Storage for blades acts as a container that can be used to catch cut veggies
The Fullstar Vegetable Spiralizer has a genius design – although it is compact, it is built to make optimum use of all its features. It differs from our previous two recommendations in terms of design – this one is handheld and manually operated. To add to it, there is no reason why this zoodle maker can't be taken out to picnics and camping.
Sale
Why Did We Like It?
Bigger is not always better! For those who have smaller kitchens or smaller storage spaces, this pocket-sized zoodle maker is ideal. Small families, students, and those who live alone will surely find this nifty little product quite useful.
But don't be deceived by the miniature stature of the Fullstar Vegetable Spiralizer – the super sharp and sturdy blades can chop up approximately 4 zucchinis in a matter of 5 minutes!
Now, we know that bigger spiralizers require a tray for catching the finished food – concern for tidiness becomes even more important in smaller kitchens. This handheld device, luckily, incorporates the food storage into its design. As the food is worked by the cap above, the strings of fruits and vegetables fall below into the cup.
Also, this product is priced reasonably – given that all zoodle makers essentially serve a single function, which it does efficiently.
What Could've Been Better?
If the Fullstar Vegetable Spiralizer sounds too good to be true, we must tell you the shortcomings of this adorable, little zoodle maker. Owing to its small size, twisting the cap to make noodles is a serious workout for the wrist. For the same reason, the length of the noodles is comparatively less satisfactory.
Pros
Does not depend on electricity or batteries

Portable and easy to store

Food holder is integrated into the design

Value for money
Cons
Strenuous on the wrists over longer periods
Small but effective – this understated spiralizer by Sedhoom does not kid around! This product is definitely compatible with all who are downsizing, yet do not want to part with their pasta machines. With four settings that can produce noodles of different widths, this zoodle maker comes at a throwaway price but lives up to its name.
No products found.
Why Did We Like It?
There is quite a lot to like in a low-maintenance zoodle maker that does what it promises!
For starters, the sharp blades easily churn out thinly sliced noodles from a piece of vegetable in under a minute. While the thickness remains the same, noodles can be made of four different widths with this tool.
An interesting feature that's often overlooked is the lid at the top which keeps one safe. More so, it allows produce to be cut until the very end. Compared even to the 7-blade spiralizers, this helps the Sedhoom Spiralizer reduce waste.
About the size of a mug – this compact zoodle maker, or spiralizer, does not cause any inconvenience in terms of kitchen storage. Without much to assemble, this is great for everyday use – you need just take it out, and it is ready to slice vegetables.
If you love it as much as we do, it would surely help to know that it fits easily inside a lunch bag, and can be carried to work to spiral out fresh summer salads to order!
What Could've Been Better?
This handheld zoodle maker ranks below some of its counterparts for the sheer fact that it does not come with any container to collect the fruits and vegetables that it cuts. Apart from being the messier alternative, it shares the drawback of being a tad tiresome, due to the small-sized handle.
Pros
Sharp and effective blades

Easy to assemble

Portable and easy to store

Safe lid helps to reduce waste
Cons
No provision for catching produce that has been cut
A relatively new entrant to the Spiralizer game, the Sboly Vegetable Spiralizer learns from what others had been doing wrong. With added features for user-friendliness, this one is definitely a top contender.
Why Did We Like It?
More often than not, it's the small things that make all the difference!
There is no doubt that the 7-blade spiralizer from Sboly has perfected the science behind making noodles out of vegetables. What gives it a special touch are the tidbits that come with the package.
In the box, you will find 5 blades of varying width, a suction pad, a container to catch sliced produce, and even a cleaning brush.
That being said, look out for the special feature in the suction pad. It comes with a lever that has to be turned to firmly hold down the contraption in place. So, it is safe to say that there will be no more sliding when you are slicing.
Likewise, extra care has been taken to maximize user-friendliness. The container that catches the sliced veggies is of one of the best sizes on the market and can hold a generous amount. And before we forget, special props to the designer who thought of labeling the blade containers. 
What Could've Been Better?
Fitting and aligning vegetables on the holder may require some practice. Even if done properly, the center of the vegetables remains un-spiraled. This equals vegetable waste of about half an inch in diameter. Of course, you may add these to their soups and salads to minimize waste.
Pros
Lever feature on the suction cup

Labeled containers for different blades

Long vegetable container

Educational user manual
The makers from Kitchen Supreme bundle up a set of useful goodies with each order of their Handheld Spiral Slicer. Not just a kitchen tool for downsizers, this one promises to give gourmet-like results. Long story short, you can add this as another top-notch option in the line of handheld and compact zoodle makers.
Why Did We Like It?
Handheld vegetable slicers, in general, are a great pick for convenient cooking because of their small size and portability. Needless to say, the Kitchen Supreme Handheld Spiral Slicer is compact enough to be easily tucked away in any drawer in the kitchen.
Unlike bulky spiralizers that are built like tanks, this elegant piece comes pre-assembled and ready to use. It is truly a boon to every working individual's weekday dinner. The sharp design gives it a sophisticated touch – enough to even bring it out to garden parties.
What adds to the appeal of this particular brand's spiral slicer is the value for money. Packaged in a complimentary storage and travel bag, one can find a few other useful tools in there. The device comes with a brush to clean the in-built blades, a little book of quick zucchini recipes, and an equally nifty and efficient ceramic vegetable peeler.
What Could've Been Better?
Larger vegetables have to be cut down to size to fit into the device. Use the provided safety cap to make turning the last bit of vegetable safer and easier. However, this does not work as well on softer vegetables.
Pros
Easy to store

Portable

Complimentary kit, neatly packed in a storage bag

Sophisticated design

Easy to clean with the complimentary brush
Cons
More suitable for firmer and smaller vegetables
Blanch them, stir fry them or eat them raw – the recipes on the e-book that come with this zoodle maker prove the countless possibilities. That's not all; you can get this handheld zoodle maker at the cost of a packet of pre-cut noodles from the supermarket. Read on to know all the deets about this one…
Why Did We Like It?
Even after a long-winded discussion on efficient and trusty zoodle makers, the Original Zoodle Slicer still manages to set itself apart.
This one is a whimsical and fun-looking number that, we believe, will be well-liked by kids. We count this as a big pro in a world where it is no secret that kids are notoriously fussy eaters. Involve them in the zoodle-making process and make vegetables cool again!
After all, "zoodle" is a fun word, and making zoodles should make one feel as silly as the word sounds. Just take extra precautions around children with this device, because it still slices like its more serious counterparts.
What gives the Original Zoodle Slicer its unique quality is the design. It is made up of two cones – bearing likeness to an hourglass. While one cone creates strings of noodles, the other creates floral patterns. Not just kids – even adults can benefit from this. Presentation matters, and as the saying goes: we eat first with our eyes!
What Could've Been Better?
The actual process of making noodles is not ideal. Although the Zoodle Slicer is capable of making the shapes it promises, it is not easy to have a tight grip on the vegetable as it often twists through the opening. One may use a fork for greater grip, and to reduce the chance of any accidents.
Pros
Creates an interesting floral design

Easy to store

Comes with a lifetime warranty

Cleaning brush, recipe e-book, and vegetable peeler included free of cost
Cons
Difficult to twist vegetables through openings
One can say Mueller Austria has already become a household name for kitchen appliances. This European giant will soon give competition to home-grown companies, and for good reason. Durability, outstanding craftsmanship, and value for money – these are the hallmarks of every Mueller product. And their spiralizer is no exception!
Mueller Spiralizer
Why Is The Mueller Pro The Best Choice? - We offer you...
Finally Available In The USA And Now Bonus Rolling Chopper...
Why Did We Like It?
As soon as you place an order for the Pro Multi-Blade Spiralizer from Mueller, the manufacturer sends you an email with a book of delicious recipes. The anticipation for the sturdy zoodle maker to reach itself is a thrill. And when it does reach, it doesn't disappoint – neither the zoodle maker nor the recipes.
Brilliant engineering and craftsmanship in one, it may be tricky to figure out how to put together this device at first. But of course, careful planning and execution come hand in hand. What you don't receive in pre-assembled devices in terms of safety and forethought, you will definitely find here.
Once this initial part is taken care of, the item really does prove to be sturdy, trustworthy, and perfect overall. The selection of five blades is great at creating all types of veggie noodles. It's especially great for making angel hair pasta from squash, cucumber chips, and curly fries.
What Could've Been Better?
Assembling the spiralizer takes time, and may not be everyone's cup of tea. The instructions given are not easy to follow and can be improved. We recommend looking for online sources and instructional videos before setting it up. Disassembling it, however, is much easier.
Pros
Quite sturdy

Easy and well-thought-out storage options

Craftsmanship and design are impeccable

Includes one innovative rolling chopper from Mueller free of cost
Cons
Complicated assembly instructions
This budget option tries very hard to minimize all the troubles that come with opting for a handheld spiralizer. Sometimes, consumers prefer handheld spiralizers over countertop ones out of necessity, rather than choice. For them, this little number by Adoric provides a great option.
Why Did We Like It?
While the bargain price was the first thing that caught our attention, the features are what made us hold on to this handheld spiralizer.
Being small and compact, it has all the benefits of easy storage and the convenience of not having to assemble and disassemble. Adoric goes above and beyond to maximize this comfort and ease by adding the switch function between blades.
Moving on, users don't have to bother with changing blades anymore – which can sometimes be messy and unsafe. And, of course, adds unnecessary clutter. With this spiralizer, just a click of one of the three buttons will provide a noodle of different thicknesses.
As for the blades, they are sharp and effective in making clean-cut noodles. But fret not for your fingers – the food holder makes sure you are safe, and that the entire vegetable is sliced with minimal wastage. We recommend you to directly run the spiralizer under warm water after use for optimal ease of cleaning.
What Could've Been Better?
The button feature for switching between different widths is a game-changer. Our only complaint with this particular feature is that there was not too much of a variation in width between the noodles created by different blades.
Pros
Sharp blades and clean cuts

In-built button to switch between blades

No unnecessary clutter

Food holder included

Comes at a bargain price
Cons
An issue of variety in terms of thickness and width

No catcher or container for sliced food
Mealthy takes pages out from the best of the lot and gives us an overall thoughtful product in the Mealthy 5-Blade spiralizer. The makers at Mealthy proudly claim that they have thought of everything. Their promise of providing a full refund in case of customer dissatisfaction is a testament to their conviction.
Why Did We Like It?
This 5 blade spiralizer from Mealthy sells the entire experience. Along with the zoodle maker, you will receive a bunch of extra tools to make your health journey that much easier.
What piqued our interest first was the complimentary recipe book. These easy recipes make use of produce that can be found in any supermarket or even your own vegetable garden. The adjoining pictures of the finished meals can even make a hardcore non-vegetarian's mouth water.
For those who love these recipes, there is more good news. Log on to the Mealthy app and gain access to healthy recipes, videos, and more. Once you know what you want to eat, prep-time won't be long with this spiralizer that cuts vegetables like butter. It takes just about 30 seconds to spiralize one zucchini.
That being said, the clear plastic container that comes with the spiralizer is of a generous size, and can hold much more.
What Could've Been Better?
Oddly enough, the cleaning brush that is delivered with the box is of slightly inferior quality. This, particularly, is a letdown as it does not reflect the sturdiness and durability of the spiralizer itself.
Pros
5 sharp and efficient blades

2 storage caddies for blades

Complimentary recipe book

Long plastic container to store and catch vegetables

User-friendly manual
Cons
Quality of cleaning brush needs improvement
Ending our favorite pick of spiralizers with this great little find from Mitbak. One look at this product, and you may just be sold. Why? Because it's clearly not made of plastic. Even with its steely aesthetic appeal, it is light and won't take up much real estate in your kitchen.
Why Did We Like It?
We have nothing against plastic – but we also cannot ignore that stainless steel is incredibly easy to clean and provides so much sturdiness. When Mitbak gives us a chance to buy a steel spiralizer at the price of plastic ones, who can ignore it?
The Mitbak vegetable spiralizer looks like it has come out of a professional kitchen. The silver hue from the steel adds an industrial touch, and will probably make one feel like they are in an industrial kitchen. Durability is not an issue with this contraption that has been built to last.
Another thing that is instantly noticeable about the spiralizer is its size. Less than 9 inches in length and 5 inches in height – it does not take up much counter space. It does, however, work with the force of an industrial-grade machine. Even the suction cup underneath bonds itself to the kitchen counter with equally great strength.
What Could've Been Better?
With most countertop zoodle makers, integrated storage or even separate caddies are appreciated. The Mitbak zoodle maker does not provide any provision for storing its detachable blades. These are generally easy to lose, and quite difficult to replace individually.
Pros
Aesthetically pleasing design

Sturdy and built-to-last

Easy to clean

Does not take up space
Cons
No storage or catch containers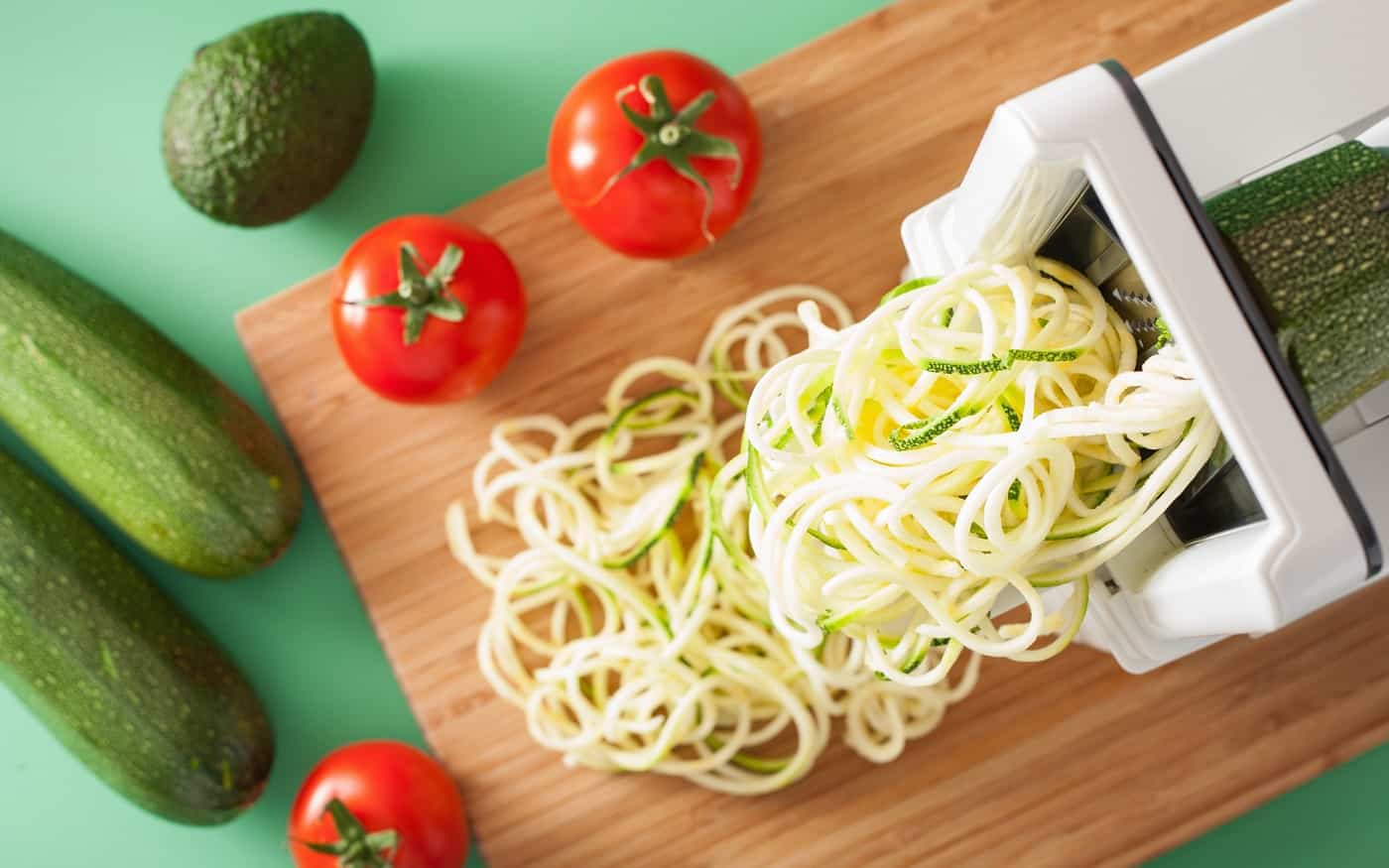 Zoodle Maker Buying Guide
Sometimes having too many great options only makes it harder to pick the best out of the best. To narrow things down, there are a few questions to ask yourself before checking out with your personal favorite.
Will you be using this kitchen device on the daily? How many plates do you serve up in one meal? What kind of produce will you be spiralizing?
But first things first – handheld or countertop?
Handheld Zoodle Makers are the preferred choice for those looking for an affordable and compact spiralizer, These are especially ideal for first-time users and curious zoodle makers who seek to graduate to bigger options eventually.
Those who have smaller kitchens and households may find it easier than others to make meals with these handheld devices. These are definitely not suited for those with ailments, such as arthritis, as some elbow grease is involved.
Best-suited for those who are not looking for regular usage or bulk-prepping veggies.
Countertop Zoodle Makers are bulkier and take up more space, but they offer greater value for money.
Compared to the handheld zoodle makers, the countertop models are usually fitted with much more comfortable rotating hand cranks. Adding to this, they usually have more blades to produce a variety of different noodles and slices.
Once you decide which suits you best, you can use these pointers for a better idea of which zoodle maker to go for :
Blades
Many zoodle-making companies try to entice consumers with a variety of blades. However, it is unlikely that they will regularly use all of these. What is of more importance is whether these blades are sharp enough to provide clean cuts, and that there is enough storage provided for all the blades.
Storage
The zoodle maker you pick should be easy to store within your home and in your kitchen. In terms of storage, add another point if the device provides in-built storage for blades. Some manufacturers may, and some may not provide separate containers for blades and sliced vegetables.
Ease of Cleaning
It is best to run blades under warm water right after they are used for optimal ease of cleaning. Bulkier zoodle makers usually pose more issues of cleaning. Some manufacturers provide cleaning brushes meant for this very purpose.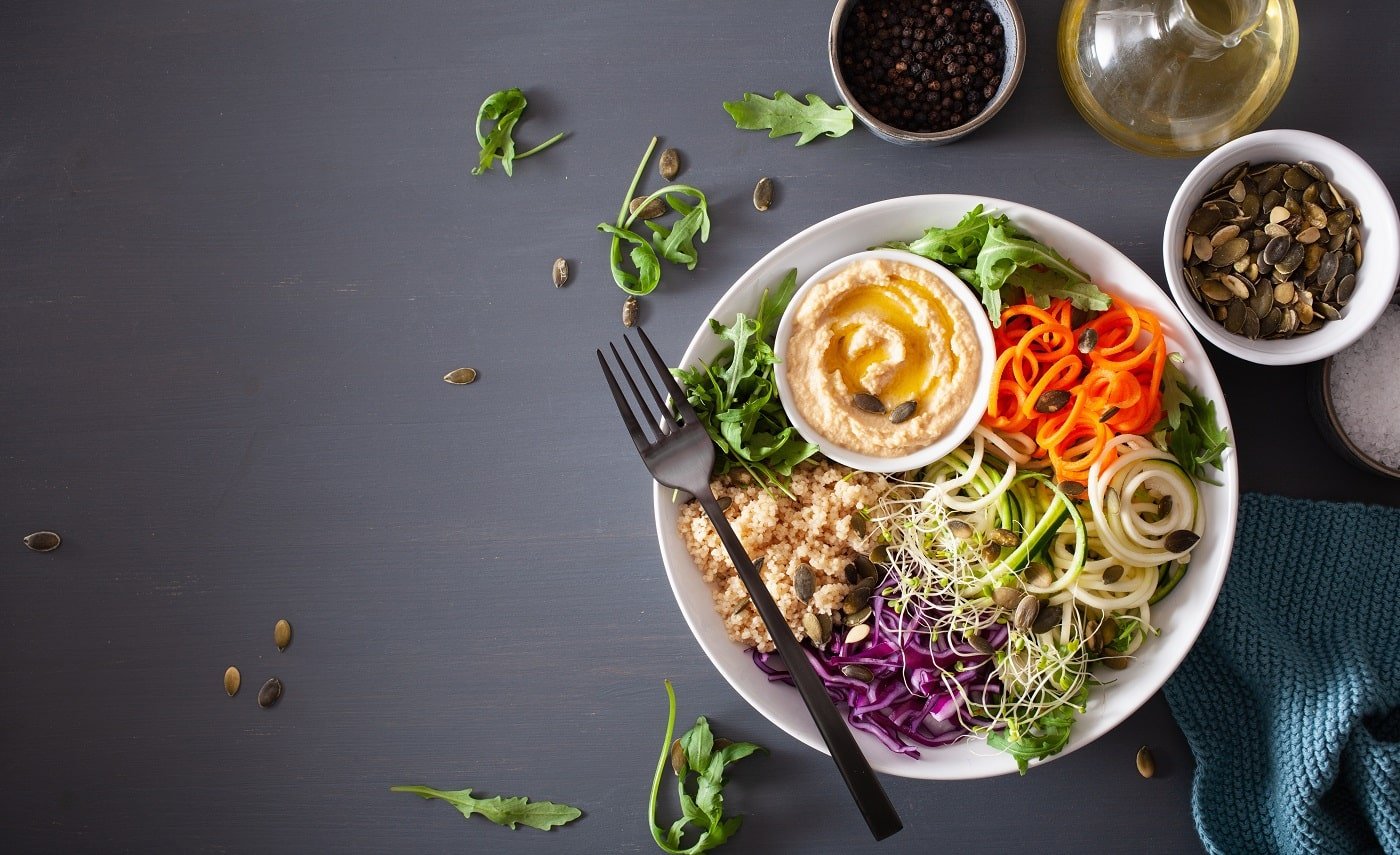 Verdict
Zoodle makers are so much more than just creating noodles out of vegetables.
Having one of these choppers at home guarantees chef-like precision every single time – no matter the quantity. Think about all the prep time that you save and all the better-looking meals you get.
With models and models of inexpensive kitchen gadgets on shelves, who can argue that vegetable-centered meals still have to be bland and boring? Or even cumbersome?
From today's findings, we believe that Brieftons 7-Blade Spiralizer takes the cake for offering the most at its reasonable rate. Smaller than its other 7-Blade counterparts, and more versatile than the handheld spiralizers, the Brieftons model takes into account the user experience like no other.
Budgetary consideration, variety, ease of use, storage constraints – these were the guidelines for drafting up this comprehensive list to help in your journey to eating better.
Keep up the spirit and always remember – with the right companion to spiralize your food, staying green will never be a bore again.
Related Articles
Related Articles
13 Safest Electric Kettles without Plastic 
11 Best Under Cabinet Range Hood 
Vitamix 5200 vs Vitamix 5300 [All You Need to Know]
4 Best Ways To Reheat Chicken Wings [Oven, Refrying, Sauté, Microwave]
13 Best Electric Kettles Right Now | Buyer's Guide
10 Best Food Scales Buyer's Guide and Reviews
15 Best Electric Smokers – Guide & Budget Picks
13 Best Kitchen Shears Right Now Reviewed
13 Best Mini Freezers for a Chilly Year  
10 Best Hot Dog Rollers | Buyer's Guide and Reviews
13 Best Cappuccino Makers to Enjoy Today | Buyer's Guide
11 Best Range Hoods to Consider
11 Best Bar Stools Today | Buyer's Guide and Reviews 
13 Best Wine Coolers Right Now
7 Best Hand Crank Ice Cream Maker  
Best Apple Peelers on the Market