Getting easy access to the water on your property can be an issue for a lot of people. It is something people rarely ever think about because most of the time, you do not really need access to a large amount of water in a very short time. When you do need the access though, it can become quite problematic for homeowners and you know how they say that it is better to be prepared for something even if you don't need it rather than needing something and being unprepared. 
At A Glance: Our Top 3 Picks for Yard Hydrants
A yard hydrant will make getting access to water in your property not just possible but very easy. This is a piece of plumbing hardware which is often overlooked by home owners but it can come in quite handy in a lot of situations. For instance, using the best yard hydrant can make it really easy for you to irrigate your garden, wash equipment or even provide the livestock with water (if that applies to you). 
When you have the best yard hydrant properly installed in your home, you can use it at all times of the year whether it is burning hot or freezing cold. Of course before you correctly install the best yard hydrant in your home, you need to find it and finding it is easier said than done. This is the reason why you will find this guide incredibly helpful. 
We have gone through the effort of testing out several different yard hydrants and we have selected the best of the best to tell you about. Now yard hydrants are not all made the same and they all have their own unique qualities which set them apart. This is the reason why we are going to discuss three different yard hydrants which we found to be the best among the lot we tested out. 
We will start off with our own choice as the best which is the Woodford Y34 and then talk about the yard hydrants from Simmons Manufacturing and Frost-Free by RYDAP which are in this guide as the best yard hydrants in their own right. 
Best Yard Hydrant+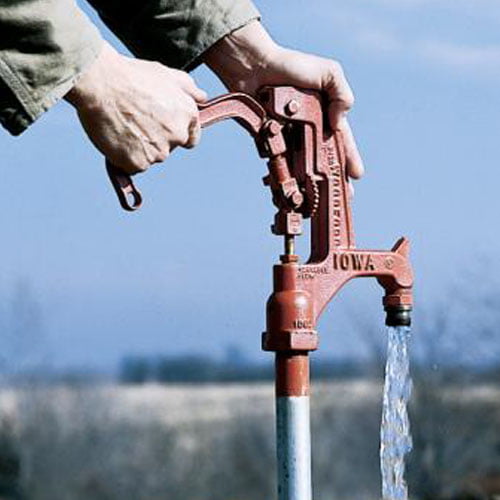 Sale
The editor's choice and the best frost free yard hydrant out there in the market right now has to be the Woodford Yard Hydrant. It was quite a few decades ago that the first yard hydrant was created and the company which made it has produced one of the best yard hydrants right now. 
Woodford has a reputation for making some of the best in the industry since it is the first manufacturer of the hardware in the country and it is still going strong. While each of the products they have brought out have been impressive, the Woodford Yard Hydrant Y34-4 is a particular model which we feel is the perfect one when it comes to the design and the overall ease of use that it gives. 
Design and Materials
The Woodford Y34-4 is a product proudly designed and manufactured entirely in the United States. There is no cutting corners through shifting aspects of the production to other countries to reduce the labor costs. This is a one hundred percent American-made yard hydrant and it features a solid cast iron head and handle. There are other parts of the hydrant made using high grade metal which includes a steel operating rod and the valve body which is made using brass. All of this means that you will not get headaches from time to time in order to replace any cheap plastic parts which wear out way too fast. This thing is built well and it will last you a very long time. 
The Y34-4 also features various features in its overall design which other manufacturers often do not pay heed to. One of these is the long life graphite packing used by Woodford. One quality about it which really makes the Woodford Y34-4 Yard Hydrant stand out as the best yard hydrant in 2022 for us is the fact that it features a variable flow plunger. This feature will essentially give you complete control over the rate of flow from the hydrant depending on what you need to use it for – a pretty useful feature. 
Another very important quality about the Woodford Y34-4 is the fact that it is freeze-proof. You can rely on this piece of plumbing hardware to keep on providing you water even in sub-zero temperatures and that is not something a lot of others have to offer. 
Overall
This is a well throughout and tough yard hydrant. It can operate properly in any conditions and it is rugged enough to last a very long time. These are the qualities expected of it but there is more to it. The Woodford Hydrant is very easy to install and it is even easier to use for a wide range of applications from irrigation to landscaping or any other application due to the adjustable shutoff valve. 
Pros
Zero water restrictions

Adjustable flow rate

Freeze-proof

High quality materials

Durable design
Cons
Packaging could be improved

The handle does require a fair bit of strength to operate
Simmons Manufacturing is a reputable name when it comes to household plumbing hardware. They cater to a wide range of needs for the American home and all of their solutions come through high quality products. From foot and check valves to well caps and even torque arrestors, this company knows how to make a lot of fantastic hardware and all of them are extremely well made. 
Among their excellent line of products is the Simmons 803SB. We consider this one to be our top pick as the best yard hydrant when it comes to the most extreme conditions. This is a premium quality product and the performance reflected that when we tested it out. The 803SB is frost proof and almost as good as the Woodford model that we discussed. 
Design and Materials
The 803SBhas a pretty straightforward design as far as yard hydrants go. The hydrant itself is four feet in length and when it is installed properly, the fire hydrant goes 3 feet below the frost line underground. The hose connection, the part that you will be able to see even after it is installed above the ground will also extend 3 feet. 
Quality is a very big deal for Simmons Manufacturing and they make sure they use only the best for all their products. The 803SBis made using heavy duty cast iron which can handle the rough use yard hydrants can see on a day to day basis. 
There is a capable ¾ inch NPT female featured on the Simmons yard hydrant which makes it one of the entries as the best yard hydrants in 2023 but the issue is that it does not feature an adjustable shutoff valve like the Woodford model. You can either turn on the water flow or turn it off. There is nothing you can do besides that. If you want to make it adjustable, you can always add an in-line valve to the hose which you have to purchase separately. 
The fact that you can bury it 3 feet below the ground allows the 803SB to be capable of providing a steady flow of water even in freezing condition. 
Overall
There is just so much to like about the Simmons 803SB. This is a premium quality frost proof yard hydrant that is durable, reliable and can operate even in the most extreme cold. If you live somewhere near the North pole and you need a reliable source of water on your property, you can count on the 803SB to give you access to the water you need. 
Pros
Sturdy construction

Frost proof

Easy to install

Affordable
Cons
Cast iron may crack if left completely exposed to extreme cold temperatures

No adjustable shutoff valve
Frost proof, budget friendly and something that provides amazing value for the money, the Frost-Free Yard Hydrant by RYDAP is every bit as good as you can expect it to be and that is the reason why it is on this guide for the best yard hydrants. 
When you look at the price tag, you might just feel like this is way too cheaply priced to be of any real use over the long term but you would be surprised. This 5 foot long frost proof yard hydrant is every bit as good as one of the best hydrants your money can buy even if you are spending drastically lower money on it.
Design and Materials
The Frost-Free a very affordable yard hydrant. You might assume that they have used very cheap plastics to create this one so cheap. On the contrary, Frost-Free have invested in some very capable, heavy duty and lead free cast iron along with a brass rod and hose connector along with a double o ring seal which makes sure there is a good seal on this yard hydrant no matter how many times it is used. 
The cast iron head is not all there is too it. The bucket hook and the handle are purposely designed to be larger than they should be so that the yard hydrant becomes ergonomically more suitable and easier for you to use. The stand pipe on the Frost-Free Yard Hydrant is made using an inch thick galvanized steel. You can rest assured that it will keep on standing for a very long time. 
The plunger system on this is pretty reliable. It is a self draining system that you can adjust with the turn of a screw without too much effort. For a yard hydrant in this price range, this is more than just a convenience – it's a blessing. 
The Frost-Free gets even better and this is one of the qualities which really cements its place among the best yard hydrants your money can buy despite the cheap price: it is frost proof. The bury depth of the yard hydrant is six feet and the self draining shut off valve is also located below the frost line once you set it up. You can expect this hardware to provide running water for irrigation no matter how cold it gets outside. 
Overall
The 6 foot long Frost-Free Yard Hydrant is one of the best in the market. Despite the fact that this yard hydrant belongs to a completely different price range from the other two products that we have discussed in this guide, this is still quite an impressive bit of hardware which we would recommend. It does not offer the same convenience as the others in some respects but if you are someone on a budget and you are looking for a superior quality yard hydrant in your home, the Frost-Free is that reliable piece of equipment you need to get the job done. 
Pros
Deep bury depth

Frost proof

Very affordable

Easy handling and operation

Adjustable self draining shutoff valve
Cons
Cast iron head might crack if left uncovered in cold conditions

Up and down brass rod feels like it is poorly made
Buyer's Guide for Frost Proof Yard Hydrants
While all of the information about the three of the best yard hydrants should drastically narrow down the options you need to consider, there is still more to it if you want to make a wise decision to fulfill your needs keeping in mind your requirements.
Let's take a look at a little information which will provide you additional help when it comes to making a decision about the best yard hydrant you can invest your money in to make the most of it.
What Exactly is a Yard Hydrant?
A yard hydrant is essentially the most convenient access point for you to be able to use the water fresh from an underground source on your property like the well. It allows you access to fresh underground water from anywhere.
A yard hydrant is a specialized bit of plumbing hardware that connects to that buried underground water supply and allows you to use it virtually any time you need it. Most of the hydrants like this have shutoff valves and handles made using cast iron which are above the ground so that it is easier for you to turn the water supply on and off easily.
What Do People Use Yard Hydrants For?
Most of the time, property owners utilize yard hydrants for a variety of applications which can include landscaping, watering gardens or irrigating their lands. They can even use it to ash equipment, cars and their trucks. You can install a yard hydrant in order to access the water underground in several locations on the property and use it throughout the year as a steady supply of water for irrigation purposes along with many more uses.
Here is How a Yard Hydrant Works
In order to make the most of the best yard hydrant, you should understand how it works. While each of the yard hydrants are different in a lot of ways, they share the same basic method of operation. The concept is pretty straightforward actually.
There is a galvanized steel pipe which is connected to an underground source of water and it has a shutoff valve on it. There is a drain hole, a cast iron head and a handle. When you connect to the underground source of water, you can get easy access to the water underground for a variety of applications.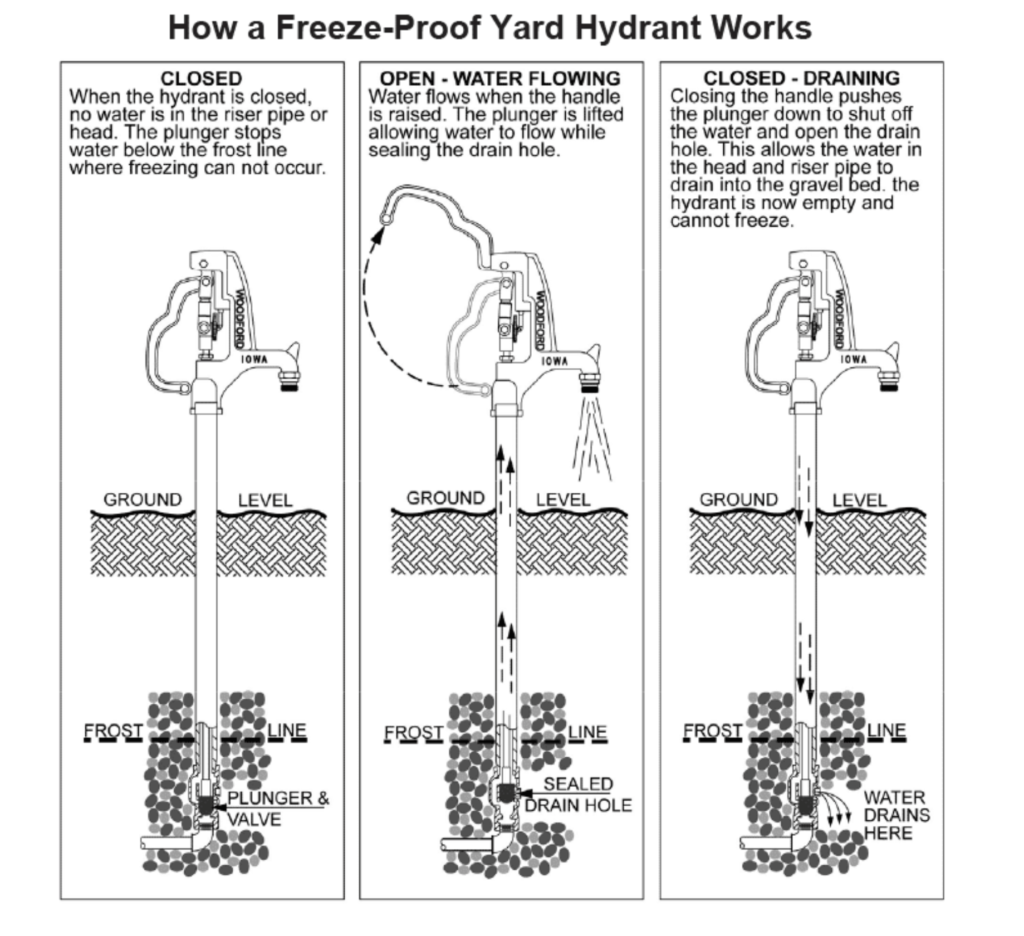 Keeping this concept in mind, there are two ways in which a yard hydrant works: Open and Closed.
When the hydrant is open, it allows the water to flow. When the handle lifts, the plunger goes up and this seals the drain hole which directs the water upwards and out the pipe above ground.
When the hydrant is closed, the handle is pushed down which closes the plunger. As the plunger closes the drain hole opens up again and the water from the head drains to completely empty the head and keep it from cracking due to freezing water.
What is a Shutoff Valve?
Also known as the stop and drain valve, this is an important part of a yard hydrant. This component is placed below the frost level underground and it is operated using a handle that is attached to the control rod above ground.
As the handle and rod lift, the valve opens which allows water to flow from the main pipe and up the riser pipe which eventually leads it out the hydrant head. As the shutoff valve's closed, the water flow is halted, the drain hole opens and the water drains from the riser pipe and into the ground below so that it doesn't freeze within the head.
Yard Hydrant Installation Tips
Here are a few important things that you should remember when you're installing the yard hydrant so that you can make the most of it.
Gravel Aplenty
You should use a lot of gravel during installation because it is necessary for adequate drainage that prevents water from freezing and damaging the equipment.
One-Inch Water Supply Pipe
Using an inch thick supply pipe for the water allows for a reasonable supply of water.
Adjust As Needed
While installing any plumbing equipment, make sure that you have made the necessary adjustments to the area to accommodate the hardware. Make sure there is a proper water flow in the area.
Testing for Proper Drainage
When you install the yard hydrant you also need to make sure it is performing well and these are the steps you need to take to test the proper drainage.
Open the shutoff valve and allow the water to run.

Close the valve and hold the hand on the head of the spout.
If you feel there is suction, the drainage is happening properly.
Where to Install the Hydrant
One thing you should make sure is that you should never install the hydrant too close to the well because the drainage might contaminate the water. Other than that, you can install it anywhere on the property as long as there is no restricted water supply in the area.
Tips on Using it in Different Seasons
Yard hydrants are pretty straightforward to use. That being said, there are a few things you need to keep in mind to make the most of them.
If you are using it a lot during the hot summer months, it is better to use a hose bib or something like a globe valve. What this does is that it allows you to leave the valve open during the hot months and you can leave the gravel completely dry when you need to close it during the winter months to keep it from freezing.
On the other hand, if you are using it a lot in the colder months, it is better to draw off around 20 to 25 gallons of water. This melts the ice which will build up in the pipe naturally due to the conditions.
Unfreezing the Yard Hydrant
No matter how good the best yard hydrant is, there is always the chance that the hydrant can freeze up. Faulty valve adjustments, plugged mains or even improper use can do that.
If it ever freezes, you need to take action as soon as possible by thawing it so that it does not get damaged. If the above ground area is frozen, a torch electric heat tape or simply hot water can be used. Underground freezing can be dealt with by removing the head and pouring hot water down through the riser pipe.
The Bottom Line
There are a lot of yard hydrants out there and all of them perform the same basic function. Some of them are easier to operate and maintain than others.
The fact that you are reading this means you are probably new to yard hydrants and you needed some advice. We hope that through this guide, we have provided you a comprehensive answer to all of the questions you may have or might not have even thought of at first. You should be able to pick out the best yard hydrant that will match your needs and take good care of it.
Related Articles
The 5 Best Lawn Mowers for St Augustine Grass
Best Lawn Edging for a Legendary Garden
The 2 Best Gardening Gloves for Awesome Gardners'
4 Best Walk Behind Brush Cutter
7 Best Shoes for Cutting Grass Comfortably
13 Best Potting Mix For Orchids
9 Best Small Riding Lawn Mower