Be it a DIY gardening project or a professional looking to carry tools around, a wheelbarrow is extremely essential.
Imagine working in the garden and having to carry in and out all your tools and supplies by hand. It would probably take hours to do so. Also, cleaning up dirt, gravel or soil and then transporting it would be impossible without a wheelbarrow.
It is a silent helper which never receives too much attention but is a very vital part of transporting supplies. The issue is to choose one among the huge number of options in the market. Ranging in size, number of wheels, weight capacity, and price, the options are seemingly infinite. But don't worry; we are here to help make it easier for you.
Below, we have listed down the top 13 products keeping in mind all the specifications that one may need. Read on to find the dream wheelbarrow which is going to make your work so much easier.
Top Wheelbarrows of 2022
IMAGE
PRODUCT
DETAILS

Our Top Pick

Our Top Pick

Marathon Dual Wheel Yard Rover

300 lbs load capacity
Weighs 29 pounds

VIEW LATEST PRICE →

WORX WG050 Aerocart 8-in-1 All-Purpose Wheelbarrow

3 Cubic foot tray size
300lbs load capacity
Weighs 48 lbs

VIEW LATEST PRICE →

Mac Sports WTC-124

Convenient compact storage option
Adjustable handle for effortless transport 
2 mesh cup holders

VIEW LATEST PRICE →

The Ames Companies, Inc M6T22 M6T22KB Wheelbarrow

60" Wooden handles
Load capacity of 300 lbs
Tray size of 6 cubic foot

VIEW LATEST PRICE →

Yardmax YD4103

Operates with a motor
4 heavy-duty tires
Tub capacity of 660 pounds

VIEW LATEST PRICE →

Ames True Temper R6STSP25

6 cubic foot steel tray
Load capacity of 400 lbs
27 inches high

VIEW LATEST PRICE →

Gorilla Carts GOR4PS

600-pound capacity
Weighs 31.5 lbs
Tray size of 4 cubic foot

VIEW LATEST PRICE →

Bosmere W302 Folding Wheelbarrow

Folding wheelbarrow for easy storage
29 inches high
Weighs 9.5 lb

VIEW LATEST PRICE →

Lifetime 65034 Two Wheel Wheelbarrow

550lbs load capacity
Tray size of 6.5 cubic foot

VIEW LATEST PRICE →

Giantex Heavy Duty 2 Garden Cart

Rustproof with a steel frame body
Cushion-grip loop handle
Weighs 25 lbs

VIEW LATEST PRICE →

Polar Trailer 8376 Utility Cart

Load capacity of 400 lbs
Weighs 49 pounds

VIEW LATEST PRICE →

VIVOHOME Collapsible Folding Outdoor Utility Wagon Cart

Foldable design
Adjustable handle according to preference
Large tub space

VIEW LATEST PRICE →

Garden Star 70018

Weighs only 18lbs
Tray size of 4 cubic foot
13" Pneumatic tires

VIEW LATEST PRICE →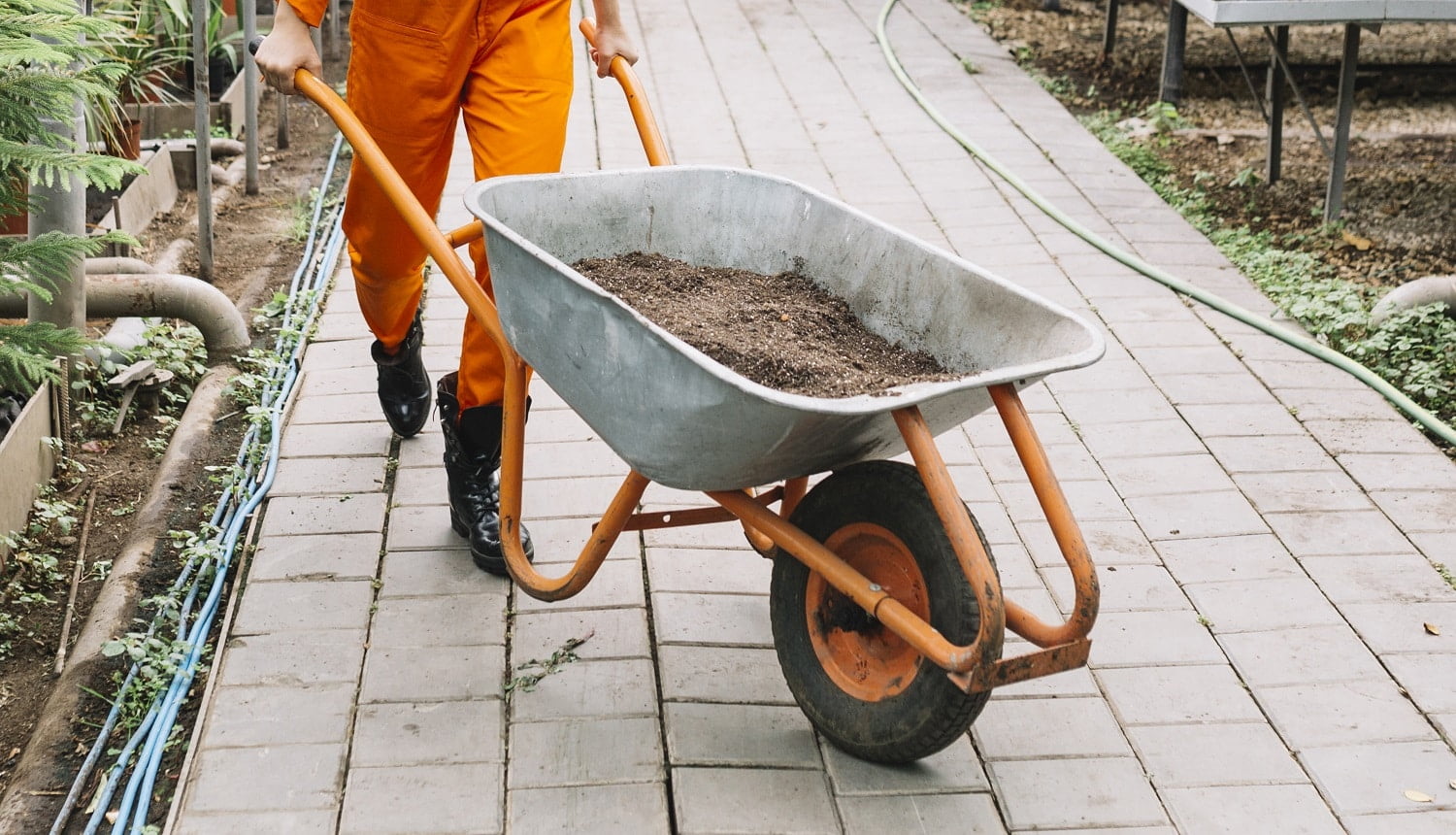 If you are looking for a wheelbarrow that your kids, as well as older members in the house, will easily be able to push, this is a great unit. It is made specifically so as not to tip over regardless of who pushes it. We were delighted with the stability of this unit.
Why Did We Like it?
This is one of the most lightweight wheelbarrows and is considered to be 25% lighter than other models. The lightweight design, combined with a 300 lbs load capacity makes it a great choice to have in your home.
We used it to collect and carry firewood and mulch, and we did it with ease. Also, because of the small size of it, it can easily be pushed around even when it is loaded to the brim. 
To add on, rust-resistant poly material is used to make the body. We have often left it outside, and it has rained at night. The body still has no signs of rust, which impressed us.
Lastly, the two wheels instead of one along with a loop handle made it easier to be pushed as well as ensured that the unit did not tip over. The flat-free tires also help in the process, and they are guaranteed to last without you needing to worry about filling them.
What Could've Been Better?
We were slightly disappointed with the quality of the hardware used in making this product. The washer was paper-thin, and though it has not broken down, we are not very sure if it will be able to sustain any kind of fall or external force. We strongly believe that the body could be made of stronger material.
Pros
Double wheels

Rustproof 5-cubic foot poly tray

Looped handle

25% Lighter than a standard wheelbarrow
This is one of the most versatile products on this list. If you are looking for a wheelbarrow that does much more than it is supposed to, this one will win your heart. The WORX WG050 Aerocart 8-in-1 All-Purpose Wheelbarrow can easily transform into a yard cart, bag holder, dolly, extended dolly, cylinder carrier, rock/plant mover & trailer tote.
Sale
Why Did We Like it?
The tub of this model is very compact but weighs 48 lbs making it sturdy. To add on, there are two wheels to balance the cart properly. It can hold up to 300 lbs of weight, and it distributes the weight evenly. This ensures that you do not have to stress your joints. This is one of those few devices which will not have you complaining about a backache after continuous usage.
To build on to the sturdiness, this unit has a steel body and frame, which makes the device durable and lightweight. The wheels are made of hard rubber, which makes sure that they can carry the barrow efficiently. Also, they do not leave black marks on the floor, as some tires tend to do.
What Could've Been Better?
We loved the operational capacity of this product and the versatility that it offered. But this comes at a price and this unit is expensive. If the budget does not pose to be a hindrance for you, go for the device without thinking twice! But if budget is an issue, then the high price may be a problem.
Pros
Dual, oversized hard rubber tires

Multifunctional and versatile

Easy to move

8 different cart functions
If you are looking for a compact cart to carry recreational equipment, the Mac Sports WTC-124 is your best choice. From taking the kids to their baseball match to gearing up for a day of badminton, this cart will help you carry your necessities very easily. 
Sale
Why Did We Like it?
This product has been specially designed for sports use. We loved how you could easily fold it and carry it in your car or mini truck.
Once on reaching the location, it can be taken out and used to carry essentials for the match or tournament. The product is meant for lighter usage and thus should not be used to carry very heavyweight objects or do grueling gardening work. 
One additional feature which no wheelbarrow has on this list is a pair of cup holders. Since this one is made to carry sports essential, you have something to keep your energy boosters in. Our kids totally loved this, and we have bought two of these very products for both of them. 
Moreover, the cart interior is made of 600Dfabric, which is light and easily washable. Since it is fabric, it tends to get dirty over time, but that would not pose a problem. Two mesh holders in the front of the cart complete this product. 
What Could've Been Better?
If you were planning to take this out on a beach with soft sand, please refrain. We tried to do so, and we failed miserably as the cart kept tipping over. It is important that the ground is sturdy for the wheelbarrow to work smoothly. Other than this, it worked perfectly well on other surfaces. 
Pros
Pull and Push Wagon

Four large wheels

Easy to fold and put away

Equipped with a carry case
Cons
Does not work well on soft sand
If a professional grade steel undercarriage is on your mind, well, we have the perfect product for you. The Ames Companies, Inc M6T22 M6T22KB Wheelbarrow is known to be a professional's choice and can be used for heavy-duty work. 
Sale
Why Did We Like it?
This device measures 58.75 inches in length, 25.5 inches in width, and is 27 inches in height. This provides ample space to carry a lot of weight. The unit is equipped with a 16-inch tire which is tubed to increase its durability.  
The model comes with leg stabilizers, which make sure that it stands straight without tipping over. We have used it in rough terrains, and it has worked very well for us.
 Also, it comes with 60-inch wooden handles that are firm and helps in pulling the heavy steel tray around. The tub has high walls, which again helps in preventing things placed inside from falling off. 
To top it all, the steel tray is made seamless to increase its durability. Front braces are also provided for additional stability. All the hardware is made of high-quality materials, which makes it very easy to assemble. Follow the guidelines in the manual to do it without hindrance. 
What Could've Been Better?
We found that the finish is not durable, and the product is not very scratch resistant. We had tried taking out dirt from the wheelbarrow using a shovel, and there were scratch marks everywhere. We would have wanted it to be more durable when it comes to the finish of the unit.
Pros
Heavy Gauge Steel Tray

16″ Tubed Tire

Patented Leg Stabilizers

40% more tip-resistant

Steel undercarriage
Have you ever imagined a wheelbarrow that can be operated without any physical pressure? Well, we have the Yardmax YD4103, which operates with a motor in it! Human power cannot always be depended upon, and for such cases, the yard max is proving to be a beneficial option. 
Sale
Why Did We Like it?
The motor inside this machine helps in handling repeated moves as well as longer moves. It may not play a part in hauling heavier loads, but the 660 pounds capacity is enough to prove that this is a sturdy and trustworthy device. 
Adding on, the wheelbarrow is equipped with 4 tires that are strong and hold their ground firmly without any sign of wobbling. The motor takes care of the easy and smooth movement of this device without it needing to be physically maneuvered. 
Also, the wheelbarrow has the capacity to spin on a zero-turn radius. If you need to be working in narrow spaces, this cart will be of great benefit as you would not have to be struggling with it. 
What Could've Been Better?
The product worked exceptionally well, but the price tag resonates with its benefits. It is pretty expensive, and that is expected considering the number of features that the device comes with. It is on you if spending so much on a wheelbarrow makes sense. Know your requirements before purchasing this model. 
Pros
Works with a three-speed transmission

Easy to maneuver

One-hand release to unload

Spins on zero turn radius
This is another very good choice for professional use where you are looking at rough usage. The Ames True Temper R6STSP25 is built to last you for years without faltering. If you are a gardening professional, this could be your go-to choice without a doubt. 
Why Did We Like it?
The device comes with a large 6 cubic foot steel tray and is 27 inches in height. The height is such that a person does not have to bend down while pulling or pushing this cart. 
Made of sturdy steel, this product has extra steel rails around its tire. We found these rails to be beneficial as they provided more strength to the cart, preventing it from tipping. It is accompanied by comfortable hand grips, which add convenience to the model and make it easy for you to carry heavy loads. 
The steel frame additionally provided the product with benefits and made it more suitable for heavy gardening or contract work.
 Another benefit of purchasing this model was that we could enjoy years of usage without having to take it to the store for maintenance. It comes with basic features that are essential and are affordable for all. 
What Could've Been Better?
We noticed that after a month of usage, the wheels started wobbling. We had to get them fixed, and this happened again after another month and a half. Whereas we have no complaints about the functionality of this product, the wheels are not very trustworthy. 
Pros
Flat-free tire which does not need to be filled with air

Comfortable handle grips

Easy to assemble

Long Lasting
This is a unit that works well on many types of terrains. While most carts tend to tip over when they are pulled on rough terrains, the Gorilla Carts GOR4PS works like a beast and can tackle the roughest of terrains with ease. This could be used for professional purposes if necessary. 
Sale
Why Did We Like it?
What we liked about the product is the 38.7-inch x 20-inch rust resistant poly bed tray. The space to carry things is larger than most of the units listed here. Also, it comes with a carrying capacity of 600 lbs. This is a bigger capacity than any of the previous units.
We also liked that there are 4 wheels that this cart has. The wheels are 13 inches pneumatic ones and are super sturdy. We took it uphill while doing some work, and while coming downhill, it was loaded with stones and gravel. The wheelbarrow came down the slope easily. 
Lastly, the product is very easy to assemble. It comes with a manual with detailed instructions about how to assemble and which part goes where. You should not take long to do this by yourself. 
What Could've Been Better?
We will recommend that you inspect the parts very carefully before trying to assemble the unit. This is important as we found a crack in our product. It was sent back and immediately replaced. The second product had no such cracks. So it is essential you check your unit before going further. 
Pros
Patented dumping feature for easy unloading

The redesigned frame is durable

Easy to maneuver

1-year limited warranty
The Bosmere W302 Folding Wheelbarrow is another wheelbarrow that can be folded. It may not be the sturdiest option on the list, but it sure comes with a set of perks. We were pleased with the level of functionality that this unit showed. 
Sale
Bosmere Folding Wheelbarrow
LARGE CAPACITY – The Bosmere Folding Wheelbarrow opens up...
FOLDS FOR EASY STORAGE – Folds flat to take up as little...
Why Did We Like it?
The product comes with solid flat-free tires, ensuring that you do not need to worry about refilling them once in a while. These are quite sturdy and will hold your cart straight without having it tip over even on uneven terrains. 
The significant portion of the cart is made of PVC polyester canvas material. It is very easy to wash this material and would not be of any problem. You can use it to carry sports gear as well as gardening equipment, depending on your needs.
Another great feature is storage. With this product, you do not need to worry about storing it in your garage or home. It folds flat to 45inches high and 13 inches wide, which makes it easy for you to slide under workbenches or behind furniture. 
What Could've Been Better?
We noticed that the wheel started to wobble after using the cart a few times. This happened post-loading it completely. Because we stayed within the maximum weight limits, the wheels were expected to stay in place. We had to get the wheels fixed before we could begin using the product again. 
Pros
PVC Polyester canvas material

Three storage pouches

Powder Coated Frame

Easy to clean
This wheelbarrow speaks of efficiency while it proves to be a boon for the environment. We were very impressed with this quality as no other carts in this list have this feature. We bought the Lifetime 65034 Two Wheel Wheelbarrow a few months back, and it has been working very smoothly since then. 
Why Did We Like it?
The tub is big and measures 6.5 cubic feet. This ensures that you can put in a lot of materials at one time. With a weight capacity of 550 lbs, we had no complaints about its efficiency. 
Also, we thought of the device to be very stable. It has a wide wheelbase design and a low center of gravity. This gave it more stability even when loaded till its maximum limit.
The comfort grip handles are a boon, which makes sure that you do not put a lot of strain on your hands. The tub is equipped with a tapered front that gives you additional control over the load when you need to dump it. 
Further, it is environment friendly, a quality which left us impressed. It is made with 100% Post Recycled Consumer Material, which is beneficial for the environment. Lastly, the product comes with a two-year warranty which assured us longevity. 
What Could've Been Better?
We have one complaint about this product. The product cannot be left in the damp as it is prone to catching rust. We had kept our one in the garage, but due to the damp weather, it caught rust pretty soon. We will recommend you to keep cleaning the unit time and again to prevent this from happening. 
Pros
Wide wheelbase

Tapered Front Tub

Dual Heavy Treaded Tires

Powder Coated Steel Frame
If you want a mini wheelbarrow that would act as your helping hand while gardening, weeding, or hauling, this unit will serve well. It is a treat to have for all backyard and gardening enthusiasts who do not want a huge product but a smaller one for their personal needs. 
Why Did We Like it?
This cart is designed for basic usage. It is sturdy and does simple tasks easily. Also, we found that elderly people, as well as children, could easily move the cart as it was lightweight and compact.
Our kids were into DIY gardening, and this cart was a piece of perfect additional equipment that they needed. It fits small to medium-sized gardens and backyards with utter perfection. 
Further, the tub is made of powder-coated steel, and the best part is that it is rustproof. When kids are using it, there are chances of them leaving it outdoors. This product will survive well even if it rains in the night while it is kept outside. 
All you would need is a screwdriver and a wrench to assemble this product. We loved how easy it was to put the parts together without stressing on it for more than a day. 
What Could've Been Better?
The one thing which disappointed us was the air-filled tires. They are not very sturdy, and one of them blew out suddenly by itself after using it for a month. This seemed strange, and we got it replaced, but now we are very careful every time the cart is taken on rough terrain. 
Pros
Small yet sturdy

Weather-resistant

330lbs load capacity

Easy to assemble
Are you looking for a cart to haul things around in a campsite or yard? Be it an event you are planning or a camp you are organizing, the Polar Trailer 8376 Utility Cart is one of the best ways to transfer things around. We were impressed with the variety of features it offers.
Why Did We Like it?
The best part about this device is the vast space of 10 cubic feet that it offers. Paired with a lighter steel frame, the large tub lets you put in all your essentials into it in one go. The lighter steel frame ensures it does not add on to the weight of this cart. 
Also, this unit comes with two sturdy wheels on both sides, which allows the unit to have perfect balance and prevents it from tipping over. We had used it at a campsite, and we were very impressed by how smoothly it worked on rough terrains. 
Adding on, the large space of this tub allows you to fit in 400 lbs easily without the need to buckle in items or put a strain on objects kept inside. This is a great product to be used for professional purposes. 
What Could've Been Better?
We loved all the features of this product, with the exception of one. You cannot tip this cart forward to unload it as the front would touch the ground even before your contents can be unloaded from this tub. This appeared to be a problem for us as we had to shovel out the content. 
Pros
High impact polyethylene tub

Carries up to 400 pounds

Tub size of 10 cubic feet

Light frame
This is another outdoor foldable wheelbarrow that will help you in carrying your essentials during a field trip, campsite, or sports and can easily be stored inside a car or a bus. We took it with us for a camp visit, and there was no space constraint in the vehicle at all. 
Why Did We Like it?
The tub is made of PVC-coated 600 Oxford cloth material. The best part about this is that it can be taken out and cleaned when necessary. It is very easy to wash, and you can connect it back to the cart in seconds. The fabric is supported by a tubular steel frame, which is very strong and provides a firm base for the fabric. 
Also, its folding dimensions are 27.2″ in length, 11.4″ wide, and 9.1″ tall. Thus it folds and becomes very compact. This makes it easy to store wherever you wish to. For people who have a shortage of storage space in their homes, this cart will be an excellent option to choose from. 
To add on, you can change the height of the handle according to your height and ease of operation. With swivel wheels and an adjustable handle, this device can be rotated 360 degrees in tiny spaces. 
What Could've Been Better?
The weight capacity is pretty low at 176 lbs. This is suitable if you want to carry a few essentials or food materials at a campsite or sports arena and can be used to carry grass and weed but nothing more. It will tear if you put in anything which is heavier than these items. 
Pros
Easily transport large items

Double-mesh front pockets

Fit for hauling tents, beach umbrellas, and outdoor gear
Cons
Weight capacity of only 176 lbs
If you are looking for an affordable wheelbarrow that will cater to all your needs, the Garden Star 70018 is a great option. It does not create a hole in your pockets while it works efficiently and does not leave you complaining. Without further ado, let us get into the features. 
Why Did We Like it?
Do you have a friend who loves gardening? This would be a wonderful gift to give to gardening and backyard enthusiasts. Being a compact and lightweight machine, this product has a 4-foot cubic tray and works very well for medium gardening needs. 
To add on, this product is powder coated and comes with a rust-resistant zinc finished frame. This makes the body super sturdy, and rust cannot effect it even when left outside for long periods in damp weather. 
Further, with two easy-grip handles, the cart can easily be moved about and taken places. It comes with one giant wheel which keeps the cart from tipping over. 
The wheel is 12 inches in diameter and does not need air to be filled in. This is beneficial as you would not have to run to fill the air every once in a while during heavy usage. 
What Could've Been Better?
Though the product functioned well, it had taken us more than two hours and two people to assemble the product. They mentioned 5 easy steps, but these steps took us a lot of time to accomplish. The process was time-consuming and can be a hindrance to you as well. 
Pros
Affordable price

The perfect cart for hauling

Suitable for a small yard and gardens

Powder Coated with rust-resistant Zinc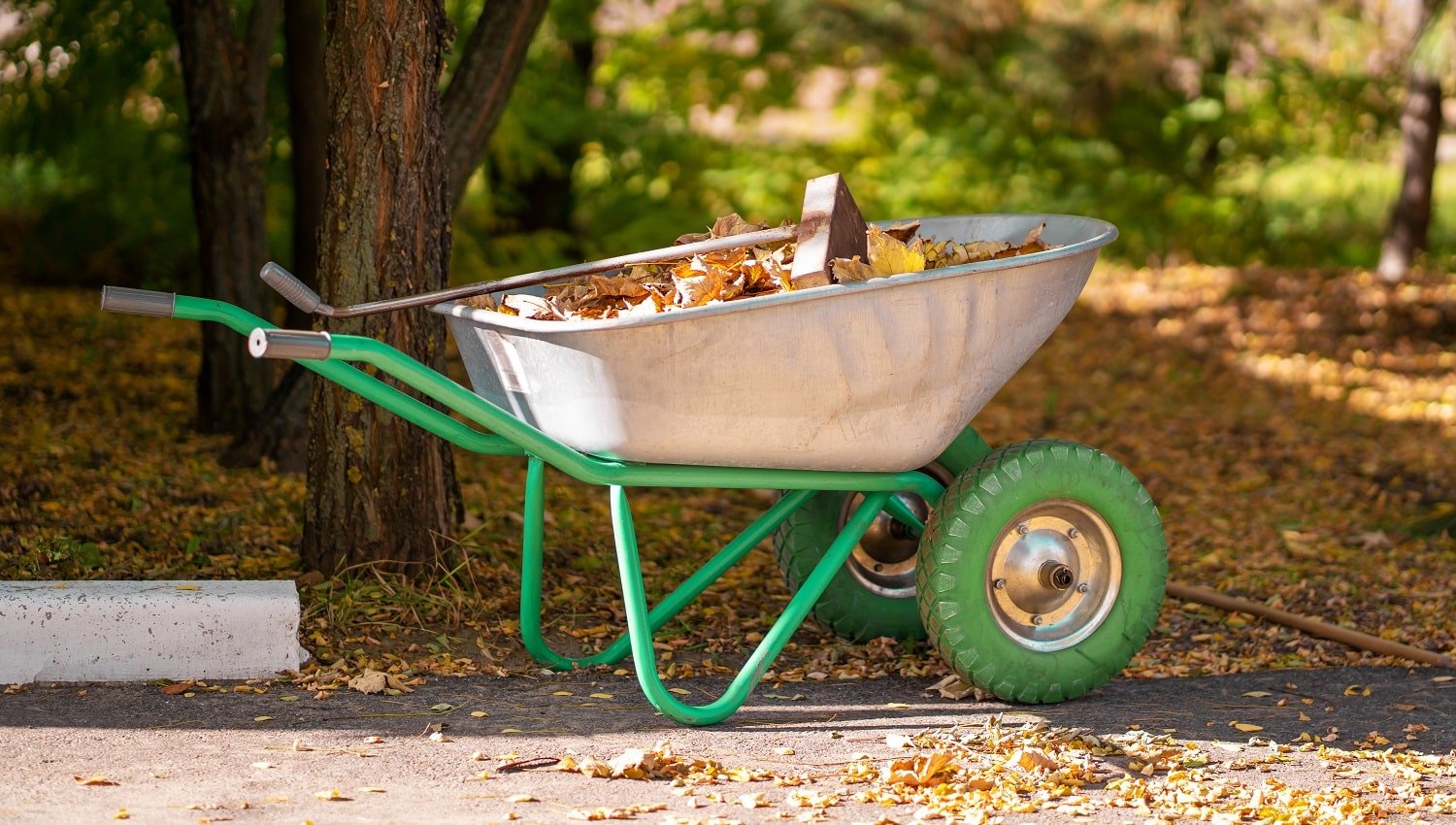 Wheelbarrow Buyers' Guide
It may sound easy to buy a wheelbarrow, and you may be wanting to pick the best of the lot, but there is a big chance you may go wrong. It is essential to keep your requirements in mind before purchasing a unit as the best may lack a certain feature, which turns out to be important for you. 
Wheels
Some wheelbarrows have 1 wheel while some have 2 or 4 of them. The ones with 1 tire are very easy to turn and work well for small or narrow spaces. 
On the other hand, carts with 4 wheels are more stable, and there is less fear of the cart tipping off. Those units with two wheels are in the middle and offer a combination of easy maneuverability along with stability. So choose wisely here.
Also, there is a difference between wheels which are flat-free and do not need to be refilled with air and air-filled tires. The air-filled ones will ensure a smoother performance, and they are cushioned.
 But again, there is a chance of the tires becoming deflated or a pin may prick through. The flat-free tires save a lot of time and do not need to be serviced often. 
Weight Capacity
This is a crucial factor because different wheelbarrows have different weighing capacities. The size and maximum weight capacities are one of the few things you should consider before buying a cart. 
If you want to be pulling around bricks and buy a cart with less weight capacity, the purpose remains unfulfilled. You will have to buy another cart to compensate soon, leading to spending a lot of extra money.
While fabric carts have a capacity of 200 pounds or lower, plastic tubs usually have a capacity of 400 pounds. If you want to transfer stones or bricks, your best bet is the steel cart, which can take weight up to 600 pounds. Please check the material that has been used to make the tub before you buy it. 
Tub Material
Are you a gardening enthusiast and need a cart to pull around supplies, or do you need one to clear away wastes and weed? Are you looking for a cart that can be used to carry your sports supplies in? Choose the tub material according to what your answer is. 
While most common wheelbarrows come with a plastic tub, some are made with PVC polyester material. The plastic ones are made for gardening and professional work where there could be wet content as well as mud, gravel, or stones. These usually are sturdier and can carry more weight than their cousins made from fabric. 
There are steel wheelbarrows too, which are the strongest and can help you carry stones or metal parts easily. They have a higher weight capacity and would not break down with eight more than 400 pounds. 
The fabric ones are generally for sports supplies or campsites wherein you need more space, but the weight is less. These can come with additional features like mesh pockets and bottle holders. The advantage here is that all fabric tubs are foldable and can be stored away easily while you cannot do so with the ones made with hard material. 
Handles
There are some devices with a single handle, while the other has two handles. One handle or a push bar is easy to handle but may make the unloading of the cart a little difficult. Two handles work well for broad-shouldered people and also gives more stability to the unit. 
Also, some handles have soft grips that help in relieving some of the pressure and make the pushing easier. Please pay attention to the specifications mentioned, so you do not go wrong with it.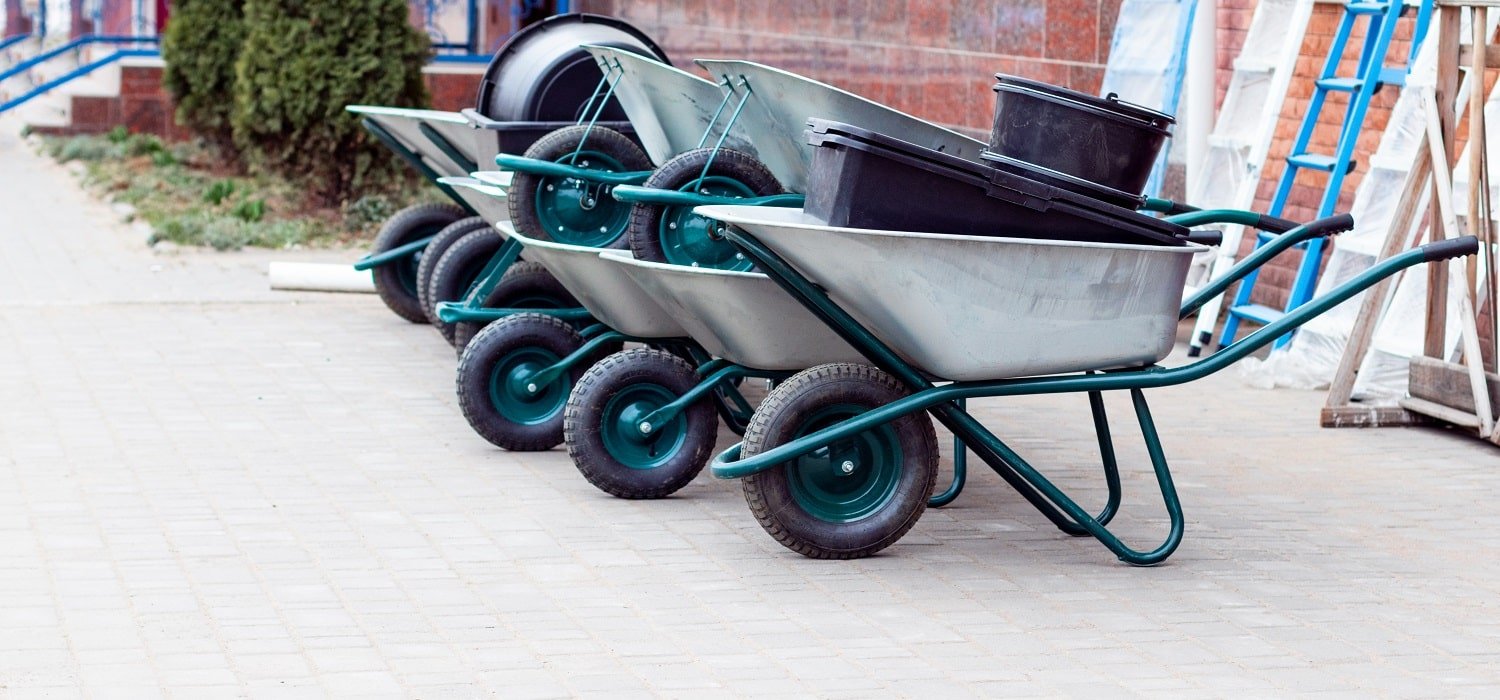 Verdict
It is time to choose a winner, and though it is difficult, we will name our two top choices. 
According to us, the Marathon Dual Wheel Yard Rover is the winner when it comes to a small but efficient cart. It has double wheels and is lightweight. This is a perfect gadget for personal use when it comes to smaller and medium-sized projects.
If you are looking for a cart to use to carry your sports supplies, the Mac Sports WTC-124 is an incredible option and comes with some brilliant features. It has bottle holders and mesh pockets for additional assistance.
We have finally reached the end of this guide, and we are sure that you are now well versed with the best products in the market today. It is time to get the perfect partner for your DIY projects as well as professional ones.
Happy shopping!
Related Articles
5 Best Self-propelled Lawn Mowers Right Now
The 5 Best Lawn Mowers for St Augustine Grass Right Now
Best Lawn Edging for a Legendary Garden 
5 Best Gas Hedge Trimmers Reviewed
4 Best Walk Behind Brush Cutter  | Buyer's Guide
3 Best Yard Hydrant  | Buyer's Guide and Reviews
5 Best Stick Edger | Buyer's Guide
13 Best Trimmer Lines | Multi-Sided, Round, Square, Twisted & Serrated
8 Best Dump Cart for Lawn Tractor & ATVs
13 Best Inexpensive Lawn Mowers For Small Yards
6 Best Electric Start Self Propelled Lawn Mowers  
13 Best Motorized Wheelbarrows
13 Best Watering Timers For Garden & Lawn
9 Best Drop Spreaders Reviewed | Buyer's Guide 
13 Best Seed Starting Mix Right Now [Buyer's Guide]
13 Best Potting Mix For Orchids