If you own a garden or a yard, we know that unnecessary weed growth is a constant problem. However, weed torches have turned dealing with them into a cakewalk.
There are quite a few things that you need to take into consideration when you decide on buying one! How safe is it to use? Does it come with a regulating valve?
All these and a few other considerations would help you understand which torch would be perfect to fit your needs.
However, we understand that choosing one is a tiring task as the market is flooded with hundreds of options. To help you out, we have reviewed 13 of the best weed torches that you can choose from.
And that's not all; we've included a detailed set of pros and cons of the products. Also, we've included an additional buyer's guide to help you make the best choice.
So, without any more delay, let's cut in.
Best Weed Torch
IMAGE
PRODUCT
DETAILS

Our Top Pick

Our Top Pick

Red Dragon VT 2-23C

Generates heat up to 2,000 degrees F
Attachable to any propane tanks above 20 lb
The neck is 27.5 inches

VIEW LATEST PRICE →

Flame King YSNPQ-5000T

High-intensity torch
10-ft hose
Reverse thread POL safety valve

VIEW LATEST PRICE →

Mag-Torch 418571

Comes with a spark lighter
CSA certified 61'' hose
Works with a minimum of 20lb tank

VIEW LATEST PRICE →

JJGeorge Grill Torch Charcoal Starter

Cordless
Flame adjustable up to 1300 degree C
Extended handle

VIEW LATEST PRICE →

Red Dragon VT 2-23 SVC

Refillable propane tank
Hand tighten tank fitting
Generates heat up to 2000 degrees F

VIEW LATEST PRICE →

Red Dragon VT 1-32

Made out of durable steel
Uses 1-pound propane tanks
Lightweight design

VIEW LATEST PRICE →

Red Dragon VT 3-30

500,000 BTU
3-inch diameter bell
10-ft long handle

VIEW LATEST PRICE →

AUSAIL 1

50,000 BTU
Gas vapor
Ergonomic anti-slip handle

VIEW LATEST PRICE →

Houseables WTO-BK-39IN-FBA

Ergonomic handle
Self-igniting mechanism
34-inch long handle

VIEW LATEST PRICE →

Supershop 91037

Heats over 3000 degrees F
Steel Tip Diameter 2 3/8"
Hose working PSI: 350 lbs

VIEW LATEST PRICE →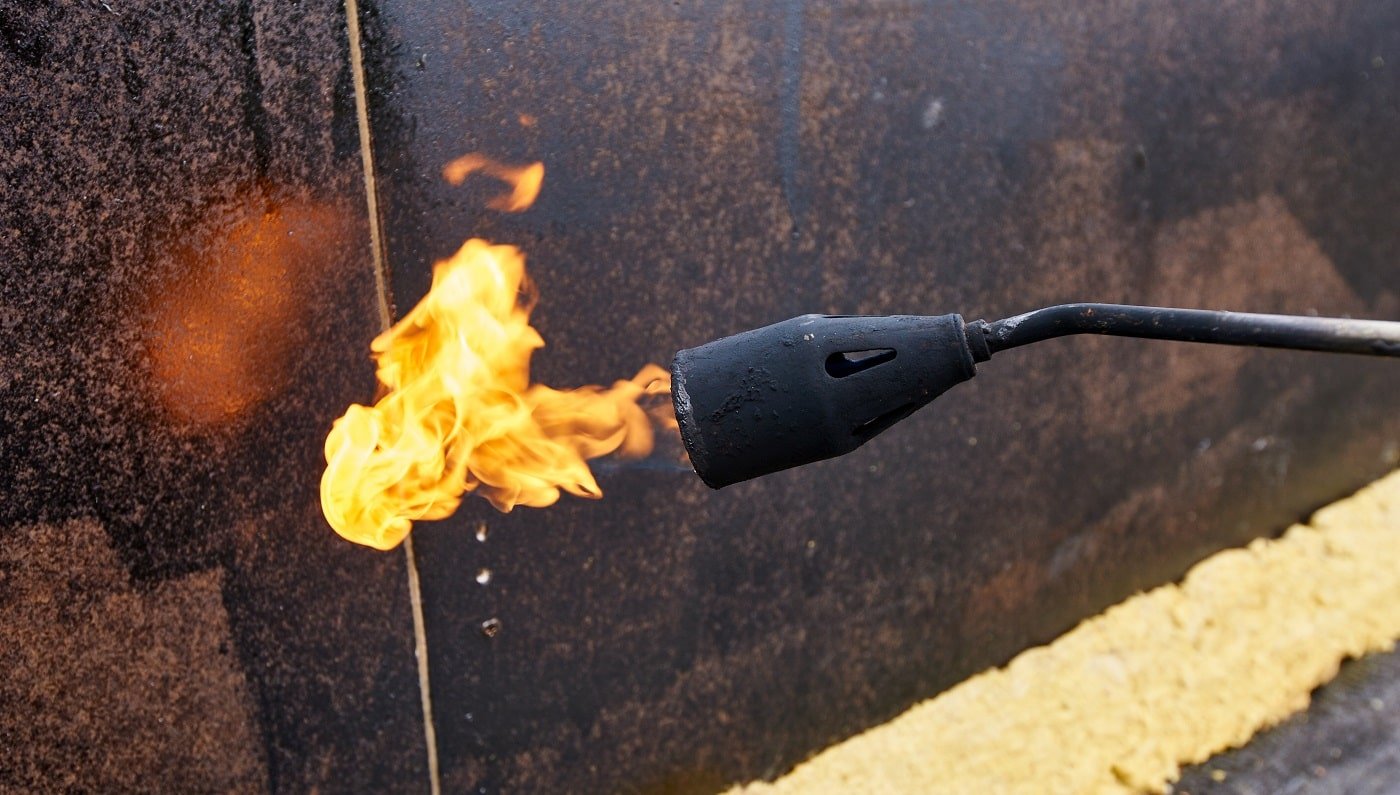 If you are tired of weed overgrowth in your garden and looking for the best solution, Red Dragon VT 2-23 C is a top-notch choice. And not just for burning weed; if you want to melt ice in the backyard or the driveway, we suggest that you consider this.
Why Did We Like It?
One of the best things about this product is that it is suitable for use by everyone. You can be an amateur or a pro; this item is suitable for all levels of expertise. Additionally, to make it simpler, BTU has been lowered down, keeping in mind the safety of homeowners who don't need the magnitude of heat similar to a farm torch.
Moreover, it easily fits with any kind of propane tank. If you have barbeque cylinders at home, you can very well consider hooking them up to the device. Also, you wouldn't need any extra instruments to tighten the fittings. A little hand-tightening, and your tank is all set!
Furthermore, you can consider a squeeze valve as an added accessory. This will help you burn the excess weed in the garden steadily and effectively without constantly throwing flame. Don't worry; the amount you eventually save on propane will pay for this addition.
What Could've Been Better?
It is true that with this device, weeds don't stand a chance. That being said, we faced some difficulty holding the wand for a long time. If you have to hold the wand and operate the valve simultaneously, you might feel some fatigue.
Pros
Very safe for homeowners

Easy to use

Fits with all varieties of propane tanks

Easy to assemble
Cons
Can be designed better for extended use
Next up on our list, we have Flame King YSNPQ-5000T for the ones who are quite mobile and like their devices to be the same. This small weed torch is extremely portable and easy to carry. So, if you are into camping, this might come in handy.
Sale
Why Did We Like It?
What we liked the most about this product is its size. It is small and compact but generates maximum heat output. As a result, you can carry it around and use it on your lawn, or even when hiking. It helps to kill patches of weed and melts ice too. Now that's what we call multi-functional!
Moving on, this item comes with a brass valve to help you easily control the flame. Also, to get started, you don't need any additional lighter. It comes with a self-igniter that is attached to the handle. Yes, you do not have to get close to the fire at all.
Also, the item is very lightweight even though it comes with a long reach 10-foot hose. This makes it very suitable for hard to reach areas without having to carry the propane tank. 
What Could've Been Better?
Even though the handle is quite long and ergonomic, let us warn you that you might need some practice to use this torch. It is rounded at the end, and therefore you will find that the flame shoots down. But don't worry; a little bit of practice and you'll be good to go.
Pros
Very light and portable

Comes with an in-built igniter

Attached brass valve to control flame volume

Generates maximum heat to kill weed
If you are looking for a super-efficient and high-intensity option, we would love to recommend Mag-Torch 418571. This device is a stellar choice for a wide array of burning activity, and not just small patches of weed outgrowth on your farm.
Why Did We Like It?
Of course, this torch does what it says; burn weed. However, what we really found interesting is its capacity to burn asphalt, its utility in roofing tasks, and in an array of other burning applications. It is highly versatile, and with a rating of 500,000 BTU, it pretty much provides the intensity that enables you to throw the flame upward or downward depending on your need.
Moreover, it comes with a 61-inch long CSA certified hose that makes it very easy to handle the torch. It provides you with a generous room to move around unhindered. Carry it around, or put it on a small wagon. You will never have to worry about bending or stooping anymore.
What else can we ask for?
What Could've Been Better?
This weed torch is a pure blend of power and perfection. But we couldn't help but notice that using this for long hours was a little tiring on our hands. It lacks a handgrip that can make it comfortable for the users to carry the hose around.
Pros
Long hose for easy application

High intensity suited for multiple burning activities

Flame can be thrown both upward or downward

Very well built
Did you know it was possible to kill weed patches without the hassle of having to deal with a cord? Well, JJGeorge Grill Torch Charcoal Starter gives you a fast, easy, and cord-free way to burn the unwanted weed outgrowth in your yard.
Read on to know more.
Why Did We Like It?
To start with, we need to say that we really liked how easy and adjustable this device is. The flame can effortlessly adjust up to 1300 degrees celsius, depending on what your requirements are. Also, it comes with a self-ignition technology that makes lighting extremely easy.
Moreover, it comes with an extended nozzle that will help you keep your hand as far from the flame as possible. Therefore, you don't have to hold the propane cylinder right above the patch that you are burning.
Also, we've seen that propane torches often sputter when they're inverted. But with this item, that difficulty is completely eradicated. It comes with a downward nozzle type that totally eliminates this problem.
Lastly, we would like to add that we found this torch's grip to be very comfortable, making it easy to use the product for long hours.
What Could've Been Better?
We are, for the most part, very satisfied with the benefits that this option has to offer. However, one difficulty that we faced was that it didn't come with an attached propane tank. So, you might need to take a quick trip to Walmart or any nearby hardware store to get your hands on a propane canister.
Pros
Easy to move

Generates sufficient heat to kill weed

Spark torch is easy to use

Comes in cantilever style that is easy to handle
Cons
No propane tank included in the pack
If you are considering a weed torch that uses tons of power to get rid of the excess weed but is also safe to use at the same time, Red Dragon VT 2-23 SVC is a good bet. Comes fully assembled and ready to use, this item will take care of all your weeding worries.
Why Did We Like It?
To begin with, you will find it very easy to hook it up with a propane tank. The process is very easy and won't make you sweat even a little. A lot of homeowners also use their barbeque cylinders to attach with this device. Also, you wouldn't need any wrench or other instrument to tighten the parts. It comes with hand-tighten fittings.
Moreover, as we mentioned before, this is extremely safe to use. The handle is sufficiently long, with a length of about 27.5 inches. This long connection is placed for safety purposes so that there's no chance of tripping over the hose.
Also, there's an igniter included in the package that looks like a giant safety pin. All you have to do is bring the two ends to touch to create a spark. This will ignite the propane inside the torch bell. Very smart and easy to use!
What Could've Been Better?
This is one of the best torches available in the market, and we don't have much to complain about. However, you need to be nifty while using it. If there's a magnanimous weed growth in your garden, pass the flame slowly over them to kill the sheltered weed present underneath.
Pros
Easy to use

Makes application safe

Generates considerable heat to kill weed

Compatible with standard liquid propane cylinders
Cons
Requires basic skill for application
Are you tired of small patches of weed growing through tiny cracks in your driveways, walkways, and even between garden rows and along the fences? Red Dragon VT 1-32 is an outstanding choice if you are looking for an option to help you with small weeding tasks.
Why Did We Like It?
To begin, it is a blessing for all looking for a mini version of a weed torch. This provides you the perfect pin-point flame to get small jobs done around your home and garden. Places where you cannot reach with a big flame thrower, this torch gets the job done there.
We know that you would rather not put herbicide for small weeding tasks around the house or garden as this puts your kids and pets at risk of getting in touch with harsh chemicals. This is where we feel that this torch is put to its best use.
Also, this product is extremely lightweight, and the flame is adjustable. Moreover, it comes with a padded handle that makes carrying it super easy and works as protection from heat and burns. Now, this is what we call convenience!
What Could've Been Better?
We are all for this device, but the only catch is that it doesn't come with a propane canister. So, yes, you need to do some extra work to get it started. This weed torch comes fully assembled – simply get a tank from a nearby store, and you're all set to use it.
Pros
Easy to use

Comes with adjustable flame control

Pin-point flame

Spark lighter included
Cons
Propane tank not provided in the package
Well, it is pretty clear by now that Red Dragon is a well-established brand in the market. Next up on our recommendation list, we have Red Dragon VT 3-30 that has been enjoying its popularity as a propane torch for a long time now. Homeowners, this heavy-duty propane torch will take care of all your burning activities around the house.
Why Did We Like It?
The first thing that draws your attention to this product is the power and efficiency that it offers. It has a 3-inch tip and comes with a torch bell with a wide diameter that makes it possible to flame larger weed sections in half the time. Its capacity is what makes it special.
Also, this option has so much to offer than just killing the weed. Want to melt ice or thaw frozen pipes? This device does it all. You can even remove stubborn paint, grease, or plastic that is stuck to a metal with this flame thrower.
Additionally, this item comes with a squeeze valve. So, even though you can use the 500,000 BTU flame whenever needed, you can also moderate the intensity when such high heat is not required. No excess wastage of propane; no money wasted needlessly.
Needless to say, for a brand like this, safety comes first. And it should come as no surprise that this model is completely CSA certified. Concentrate on the job at hand and don't worry about safety at all.
What Could've Been Better?
Once again, we honestly don't have much to complain about. However, we felt that homeowners might take some time to get adjusted to using a weed torch with an intensity as high as this. Also, the kit doesn't come with a propane canister in it.
Pros
Suitable for high-intensity activity

Highly durable

Comes with an igniter

Squeeze valve is present to moderate flame
Cons
No propane tank in the kit
For those who swear by stellar performance, AUSAIL 1 is the best bet. This weed torch is highly efficient and keeps your fatigue at bay. So, be it the lawn or patio, with this item, you can say goodbye to all the weeding problems you've been facing so far.
Read on to know more.
Sale
Why Did We Like It?
The first thing that absolutely needs a special mention about this product is its durability. Completely carved out of stainless steel, this torch can bear high temperature without any problem.
Additionally, we can't help but appreciate the marvelous design that keeps in mind the consumer's ease of use. It is very lightweight and totally eradicates the problem of carrying it around. It comes with an easy balance design that helps you avoid bending or crouching and takes away all the fatigue from your hands.
We say, weeding has never been more comfortable!
Moving on, this product scores high on convenience too. It comes with a control knob that lets you regulate the pressure and the flame's force according to your requirements. Moreover, the narrow torch head helps you pin-point the flame when you need to treat or target small weed patches.
What Could've Been Better?
Despite the high performance of this product and the ease of use that it offers, we wish that it came with a better set of instructions. A more clear guidebook can be really helpful for ones who are using a propane torch for the first time.
Pros
Easy to use

Control knob helps in saving propane

High durability

Very lightweight
Cons
Can come with a more detailed set of instructions
Next up on our list, we have Houseables WTO-BK-39IN-FBA. This outdoor utility torch has the potential to become your lawn and garden favorite. But before you decide on buying one, make sure you read our guide thoroughly to know more about it.
Let's see what this torch has to offer!
Sale
Why Did We Like It?
This is undoubtedly a good choice if you are looking for a quick trigger that instantly produces a large flame. Also, it comes with a controller that helps you adjust the flame size according to your requirements. Be it weed or insect cleanup, this torch does the job and gets extinguished as soon as you switch it off.
Moreover, the design of this torch definitely calls for some extra praise. It is lightweight and gives you complete control. You can even operate it one-handed.
Also, it comes with a slip-resistant foam padded handle to give you the ultimate comfort and balance needed to operate this torch. Go ahead, have fun burning away all the unwanted weed in your backyard and driveway.
Furthemore, it comes with a 34-inch rod that would make crouching or bending completely redundant. This acts as an additional safety measure against potential burns and other types of injuries.
What Could've Been Better?
This product is a steal for the price point that it comes in. However, we should warn you that it doesn't cool off immediately after it is switched off. So, make sure that you do not place the torch head or the handle on anything. Once you are done with your work, place the item on a heat resistant surface to prevent it from any risk of burning.
Pros
Well built

Easy to use

Very lightweight

Comes with a slip-resistant handle
Cons
Takes a while to cool off
Are you looking for a super-efficient propane torch that completely places the control in your hands? Then you are in the right place. Supershop 91037 completely takes weed control efficiently under its wings. Find that stubborn weed patch and burn it away with this wand!
Why Did We Like It?
To begin with, what's not to like about a torch that comes with a flow valve that lets you moderate the flame as you wish? Well, nothing. Supershop 91037 has a turbo-blast trigger that helps you increase the flame to a higher intensity in case you are burning more than just weed.
We have been using it for a few months, and we can assure you that it is quite multi-purpose. So, go ahead, melt that ice on your patio, or remove that hardened paint from your iron fence.
Moreover, you don't have to worry about finding the igniter every time you need to use this torch. We know, losing lighters is more common than what all of us like to admit. The product tackles this problem well. It comes with a piezoelectric ignition that completely eradicates the problem and risk of having to use matches to light your propane wand.
What Could've Been Better?
While using it, there were a few difficulties that we faced. The switch is a little temperamental, and sometimes it takes a few tries to get it started. So, we suggest that you have some patience. Also, we felt that the hose could be a little longer, making it easier for us to use.
Pros
Flame can be adjusted

Can be used for multiple purposes

Comes with an in-built igniter

Efficient for the price value
If environment-friendly weeding is your jam, we suggest that you go for the Qdreclod electric Weed Burner. Fully effective and super-safe this electric torch is the next best thing on the market! It comes with an array of easy use features and doesn't leave behind any harsh impact on nature.
To know more about it, read on.
Why Did We Like It?
As the name suggests, this is an electric burner and quite an effective one at that. As the torch uses electricity instead of gas, it goes without saying that this professional technology releases no harmful effluents. However, that doesn't mean it generates any less heat. The maximum temperature goes as high as 650 degrees Celsius.
But yes, no open flames.
As compared with all the previous products that use gas, this weed burner is very safe and reduces the risk of fire break outs. Moreover, the super long handle also acts as an additional safety measure.
Also, with this option, the danger of damaging surrounding plants goes considerably down. The small nozzle and the directive cone helps in precise weed killing.
Safety and precision, all packed in one!
What Could've Been Better?
There's hardly any complaint that we have with this product. But we would suggest that you go for it only if you are targeting to burn small patches of weed. It doesn't work too well in larger areas. The electric heat generated by this device, however, eliminates small weed patches with marvelous precision.
Pros
Environment-friendly

Come with a long hose

Extremely safe to use

Doesn't destroy surrounding plants in your garden
Cons
Only suitable for targeted burning
We are close to reaching the end of our list, and Bluefire MRAS-8340B definitely needs a mention. This highly convenient and versatile variety swiftly keeps your home and garden weed-free all around the year.
Read on to know more about this garden blowtorch.
Why Did We Like It?
What we liked best about the product is how easy it is to use. With the 32 inches long arm, you can comfortably burn any excess weed in the garden or burn the ice on the driveway without having to crouch or bend over. So, no more worries about hurting your waist or twisting your ankles.
Moreover, we really liked the fact that it allows for single-handed operation. It is designed ergonomically, so the weight is balanced well at the center. Also, the trigger start is located at the handle. All you have to do is to switch it on, and you're good to go.
Furthermore, what increases the accessibility of this item is that it is cordless. Connect it to a propane canister or MAPP to generate a good and high flame to kill all unnecessary weed growth in your garden. Because it is cordless, you will find it very easy to carry it around.
Extra points for flexibility, we say!
What Could've Been Better?
Although we found a lighter present in the kit, we felt that it is not really quite up to the mark. The spark often goes off, taking quite a few tries to get it started. We think that the spark mechanism could be better—a small glitch in an otherwise brilliant device.
So, we suggest that you keep an igniter handy whenever you are using it.
Pros
Highly flexible

Long arm making usage safer

Enables one-handed operation

Multi-purpose
Cons
Can have a better igniter
For our final entry, we have the BISupply Heating Torch. This highly durable weed burning wand is a good option if you plan to clear out all extra weed in your garden without much hassle. We loved how versatile and easy it was to use. Let's take a look at what all we liked about this product.
Why Did We Like It?
To begin with, we loved how adaptable this weed torch is. Be it removing weed, melting that layer of ice on your sidewalk, or cutting and welding materials, this torch will be of use. It generates up to 3000 degrees Fahrenheit of heat, so you can rest assured that it can handle heavy tasks too.
Moving on, this torch's durability surely needs a special mention. It is constructed out of stainless steel and doesn't melt or break due to excess heat. Also, it is completely resistant to rust and corrosion.
Furthermore, this item comes with an adjustable nozzle that enables you to control the flame power as you desire. The jet nozzle and valves are added to control the heat to make sure that you do not burn any plants and cause collateral damages.
What Could've Been Better?
While we do not have any complaints about this great performing torch, we would surely like to add that a detailed set of instructions would've been definitely more helpful. Also, it doesn't come with an attached propane tank. So, you might need to make a quick trip to the supermarket to get your hands on one.
Pros
Very safe to use

Highly durable

Adjustable nozzle helps in controlling flame power

Suitable for multi-purpose use
Cons
No propane tank attached to the kit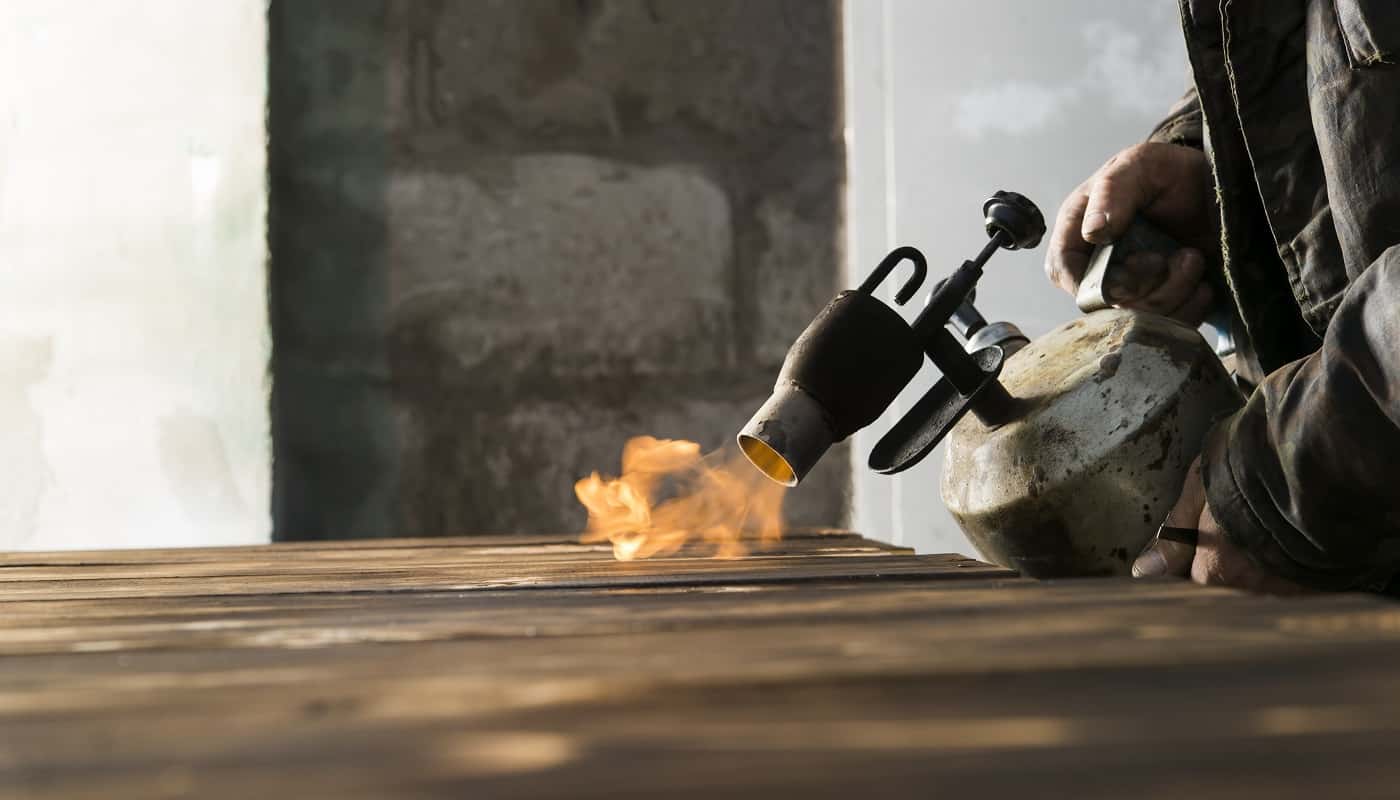 Buyer's Guide
By now, we're sure that you have got a fair idea about what all to look for in a weed torch before you set eyes on one. But we would strongly suggest that you don't jump to any decisions just yet. You are only halfway through the endeavor.
Knowing the top features is simply not enough to help you choose the right one. There's an array of other conditions you need to keep in mind while measuring your options.
We've designed the buyer's guide to break down the necessary requirements for you. A good understanding of these features will definitely help you make a perfect choice!
Let's take a look.
The Weight Of The Device
The purpose of using the torch is a very relevant factor to take into consideration. If you are planning to buy a device to burn small weed patches, or melt light ice blockages in your driveway, go for one that is lightweight.
However, if your goal involves heavy-duty tasks, you might have to consider one that is heavier. This is because the propane canister attached to it is likely to be bigger. No worries there too. Put in on a roller, and you are all set.
So, depending on your needs and your preference of use, choose a type that can be used one-handed or go try out other suitable options.
The Tip Size
Know that the tip/ nozzle size affects the flame.
So, we'd suggest that you really think about your requirements before choosing one. If you are planning to burn tiny, isolated weed patches in awkward spots, it will do you good to choose a pin-point flame. It is delicate and would help you prevent scorching plants when you set the weeds ablaze. Go for a tip that is somewhere between ¾ inch to 1 ½ inch.
On the other hand, if you need to burn substantially large patches of weed, ramp things up and choose a tip that is somewhere between 1 ½ inch to 3 inches. These tips are often called torch bells, and they are highly efficient for the task that they are designed for.
Ease of Use
Well, ease of use should always be your prime concern when you are choosing a weed torch. If you go for an option that is too difficult to use, the chances are that it will remain locked up in your tool shed. Now, you don't really want to invest money on a device that you wouldn't use, right?
Look out for more ergonomic options that give you total control of the wand.
Also, take into consideration the mechanism to follow to fire up the torch. Whether you need a naked flame to kickstart the torch should be a determining factor for you. We would say that this is not really a very good option considering your hands will be very close to the flame once you switch the device on.
Tank Capacity
Once you've taken all the above factors into consideration, the next thing to angle for is a perfect tank size. Don't go for a one-size-fits-all option.
Depending on your need, choose a smaller or a larger variety. 12 to 14 ounces ones are easy to carry around and would not hurt your back. But on the downside, you'll always run the risk of exhausting gas fast.
Larger tanks, on the other hand, will enable you to use the device for longer. But it is quite a task to carry them around since they are mostly heavier. But we have a quick fix to this too! Attach an extension hose to it, and voila, problem solved!
How Safe Is It?
Well, you can never discount safety when you're playing with fire (quite literally).
We would recommend that you always take note of the safety features present in the device. Choosing options that come with a regulator, which enables you to moderate the flame is always a good bet. This way, the flame flow is more consistent, safer, and you get an overall better performance from your device!
Not just this, it also prevents you from producing a flame that your weed torch cannot handle.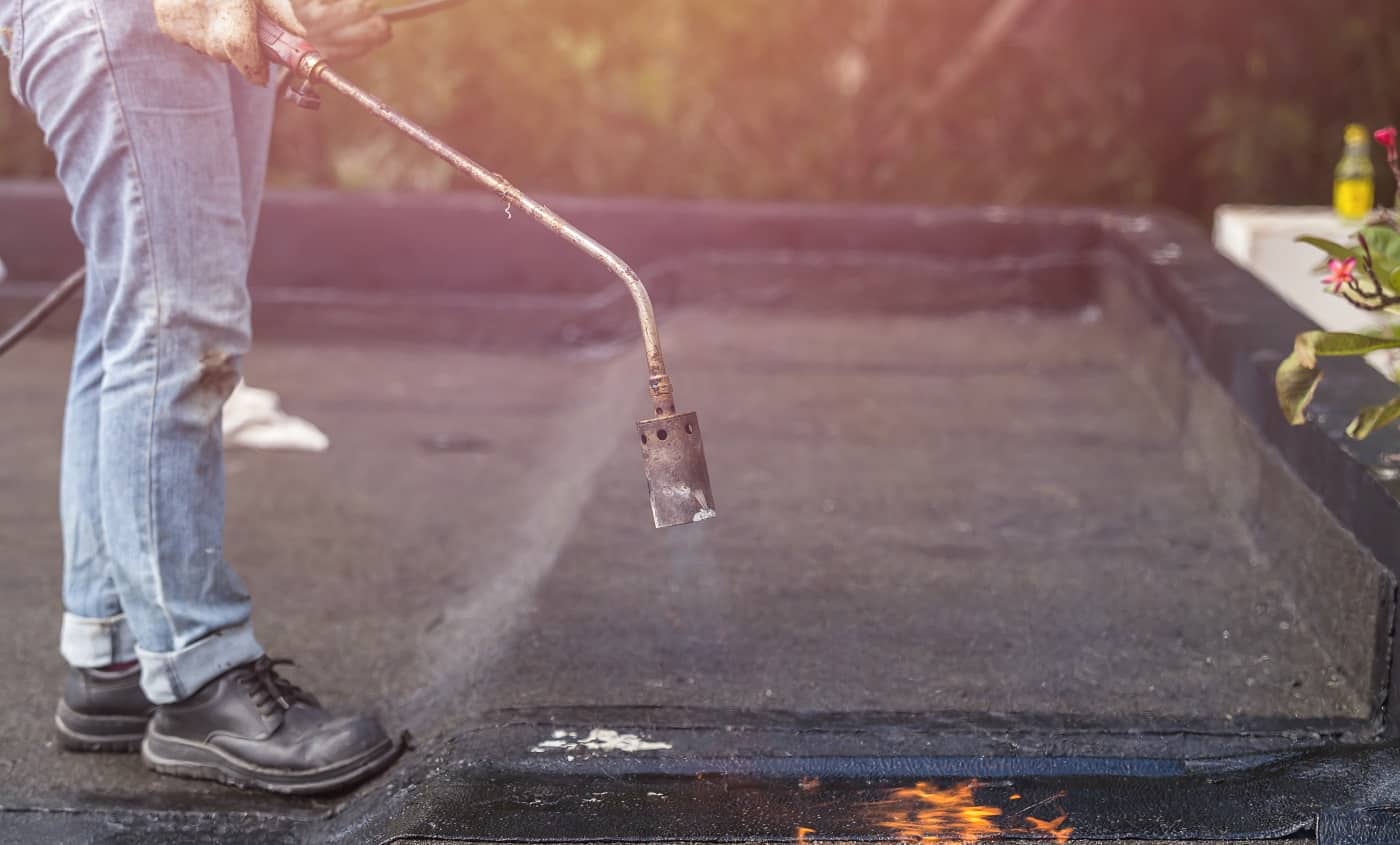 Verdict
And with that, we have reached the end of our comprehensive guide on the best weed torches of this year. We hope this guide has been useful to you. It's been quite a long and exciting ride so far, and now, you're all set to go out and get your hands on that perfect weed torch.
However, before we take your leave, we'd like to share our most liked picks from the list. Our absolute favorite, taking into account all features, is the Red Dragon VT 2-23 C. We had the best experience using this product.
In case you're looking for a high-intensity torch to burn bigger weed patches, we suggest you go for the Flame King YSNPQ-5000T. And if good build and design is your topmost priority, then there's nothing better than Mag-Torch 418571.
We'll say our goodbyes now. Until next time!
Related Articles
The 5 Best Lawn Mowers for St Augustine Grass Right Now
Where to Find Good St. Augustine Grass Seed & How to Grow It
7 Best Shoes for Cutting Grass Comfortably | Buyer's Guide
8 Best Artificial Grass Right Now | Buyer's Guide and Reviews
11 Best Mosquito Fogger Insecticide
9 Best Fertilizers for Petunias Right Now
9 Best Fertilizers for Hydrangeas
13 Best Weed And Feed For Lawns
13 Best Weed Killer for Flower Bed Reviewed
How to Install Landscape Fabric for Weed Control
13 Best Potting Soil For Herbs To Consider Today
13 Best Backpack Sprayer [Buyer's Guide]
13 Best Fertilizer for Palm Trees 
13 Best Fertilizer for Zoysia Grass
How Long After Grass Starts Growing Can You Mow It?
Does Grass Seed Go Bad | Expiration Dates Explained
How to Get Rid of Pampas Grass