When trying to make the best artwork out of your ideas and inspirations, just choosing the right kind of watercolor paint won't do. You will have to pick the right watercolor paper as well.
However, picking a watercolor paper that will both suit your art and your painting style is a very difficult thing to achieve indeed. 
But don't worry; to help you out with your artistic journey today, we have done the hard work and come up with a guide and review on some of the best paper for watercolor that the market has to offer.
Featured Painting by Jadesweetboxx
Each of the products that we have listed today has quite a unique set of features and traits to themselves, and we are confident that at least one among them will be exactly what you are looking for.
So keep reading to find out more about what the current art supply market has to offer.
Best Watercolor Paper
IMAGE
PRODUCT
DETAILS

Our Top Pick

Our Top Pick

Arches Aquarelle Watercolor Paper

One of the overall best watercolor papers in the market
High-quality paper
Lets one choose the shape, weight & the texture of the papers

VIEW LATEST PRICE →

1st Runner-up

1st Runner-up

Canson Montval Watercolor Block

Small and portable
Perfect for Plein air painting
300gsm cold pressed pages have a very versatile texture

VIEW LATEST PRICE →

2nd Runner-up

2nd Runner-up

Strathmore 300 Series Watercolor Paper

One of the most affordable watercolor paper series
Has a nice texture and paperweight
Perfect for beginner painters and student artists

VIEW LATEST PRICE →

U.S Art Supply Premium Heavy-Weight Watercolor Pad

Acid-free
Versatile
Inexpensive

VIEW LATEST PRICE →

Winsor & Newton Classic Watercolor Paper Pad

Fine quality mold-made
Acid-free
Natural warm white surface

VIEW LATEST PRICE →

Canson XL Fold Over Watercolor Pad

Fold over bound with a cold press texture
Durable surface
30 sheets of 140 pound/300 grams

VIEW LATEST PRICE →

Canson Montval Watercolor Block

Performs beautifully with all wet media
Mold-made pads
Acid free 6 x 9 inch paper

VIEW LATEST PRICE →

Bee Paper Cold Pressed Watercolor Paper Pad

Cold press
140-Pound paper
Neutral pH

VIEW LATEST PRICE →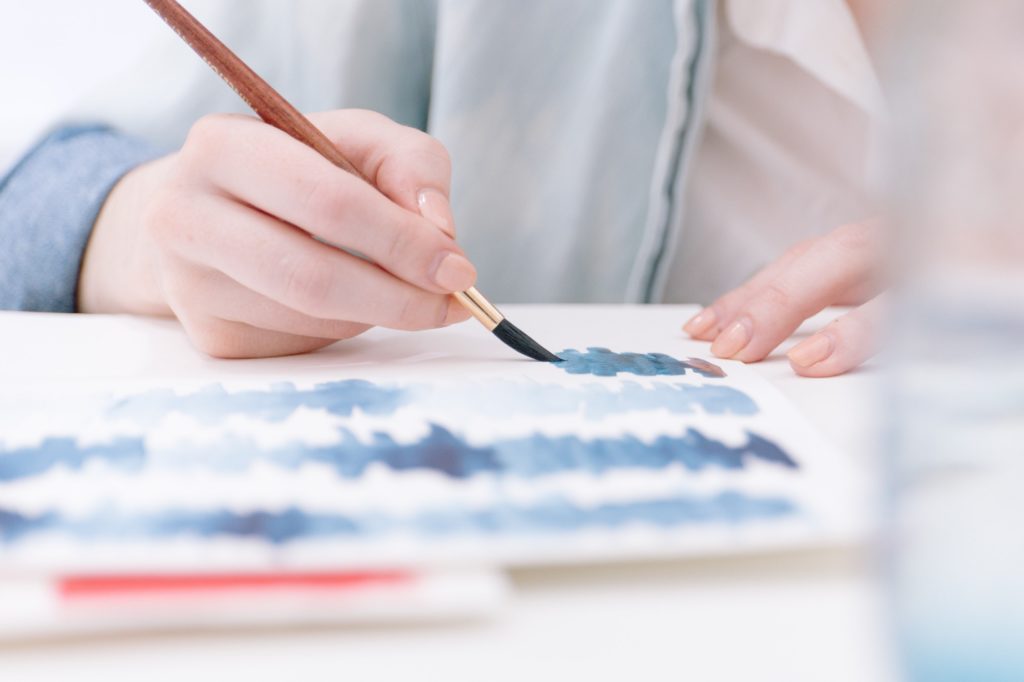 Let`s jump right into the best options on the market and the guide on picking the best watercolor papers follows, happy watercoloring!
Sale
Arches have been in the art supply industry for centuries now; founded all the way back in 1492, this manufacturer withstood the test of time and in recent times became one of the biggest names in the art world. 
They are renowned for their exceptionally high-quality products, and their line of watercolor papers and art sketchbooks are one of the most highly sought after items by all types of painters and sketchers. Their recent line of Aquarelle Watercolor Papers are the overall best choice in our list, and we shall be recommending them for both professionals and amateurs alike. 
Experiences 
What makes the Arches Aquarelle the apple of our eye is the fantastic color absorbency and texture that it's able to provide. The pages are acid-free and pH neutral; hence they will not deteriorate over time; they will not discolor into a pale yellow shade nor will they get brittle over the years.
One common problem that all artists have with watercolor papers is that most of the times they find it very hard to find a model which supports the right height, shape, and weight. It's either too small or too large, or too heavy, or too light.
But with the Arches Aquarelle, you will not be facing such problems. This watercolor paper comes in five different weights of 185, 300, 356, 640 and 850 GMS, along with different height and length variations. Moreover, the manufacturer will also allow you to pick between hot-pressed, cold-pressed and rough paper textures depending on your needs and the artwork that you're going for.
However, these papers do tend to incline a bit on the more expensive side. But given the premium quality that you're getting with the texture and absorbency, along with the privilege to pick the size and the type, one can hardly complain.
Pros
One of the overall best papers in the market

High-quality paper texture and color absorbency

Lets one choose the shape, the weight and the texture of the papers

Reliable art supply brand with amazing customer support
Cons
A bit expensive, and may be out of reach for many buyers
When it comes to plein air painting, the Canson Montval Watercolor Block can indeed be the ideal choice. If you love to sit under a tree in your yard or the park and paint or sketch out your ideas, then this Watercolor Block will be able to fit your needs perfectly. 
It has a very portable design that will easily allow you to slide it in and out of your backpack without adding too much weight and slowing you down. 
Experiences 
The Canson comes in a lot of different sizes. From withstanding slight breezes to heavier gusts, these blocks have the backbone to stand upright on any easel. While these blocks have an excellent thickness and form, the texture and color absorbency that they boast is remarkable as well.
This allows the Canson to fit both professional and amateur painters perfectly well, and you will be able to try out a lot of different colors and painting styles on it while in the midst of nature.
Color absorbency is one of the biggest issues for plein air painters, and Canson particularly had this issue in mind when they set out to manufacture their watercolor blocks. And that's why they have designed these blocks to be cold pressed and comes at a weight of 300 gsm.
So the pages in the block are neither too rough, nor too hard and smooth. They hold color rather well, there is hardly any runoff or spread, and the adequate weight and thickness doesn't let the pages deteriorate under a wet wash.
However, if you travel a lot, often go for rail hiking or even tread a lot through mountain paths and thick vegetation, then we will not be recommending the Canson. They might be portable, but they are not as compact and durable as some of the other watercolor blocks out there.
They will fit a backyard, a park or a coffee shop setting beautifully, but traveling with them too much is really not a good idea.
Pros
Small and portable, can be very easily carried around

Perfect for Plein air painting

300gsm cold pressed pages have a very versatile texture

Comes in different sizes to fit every mode of use
Cons
Not as durable and compact as we would have liked
The perfect watercolor paper for beginners is not something that can be all that easily found. A lot of aspects and features such as archival quality, acidity, pH balance, and color absorbency need to be kept in mind before picking a watercolor paper for the amateur artist.
Though the Arches brand of watercolor papers are more preferred for beginners than others, Strathmore is another brand that manufactures a lot of products for amateur painters as well. And their 300 series is one such model that is just perfect for those who are still new to the field of watercolors. 
Experience 
The feature that attracts us the most towards the Strathmore watercolor pages is the excellent paper quality that it provides but at a very affordable price. These pages come at an amazing 300 gms weight, which is indeed quite rare for a watercolor paper of that price range to support.
The affordability is what attracts a lot of the amateur painters towards this paper series. So if the beginner is not exactly being able to represent his ideas on paper, or is making a lot of mistakes, smudging the lines where he shouldn't and not being able to represent the right color shade, then he will not feel all that frustrated if a page or two goes to waste.
The pages are decently thick and will allow you to try wet washing techniques on them without destroying them or warping them in the process. The texture is decent as well, it holds colors rather well, and spillage and runoff are also at a minimum.
However, the major concerns with the Strathmore are in absorbency. It doesn't absorb the colors all that well and all that fast, this makes the drying process rather poor, and at times you may not be able to represent the colors which you want. They are also not all that portable, neither are they durable; hence we shall not be recommending this paper series for professional or commercial purposes in any way.
Pros
One of the most affordable watercolor paper series in the market

Has a nice texture and paperweight

Perfect for beginner painters and student artists

Holds color very well
Cons
Color absorbency is not all that good

Not all that durable or portable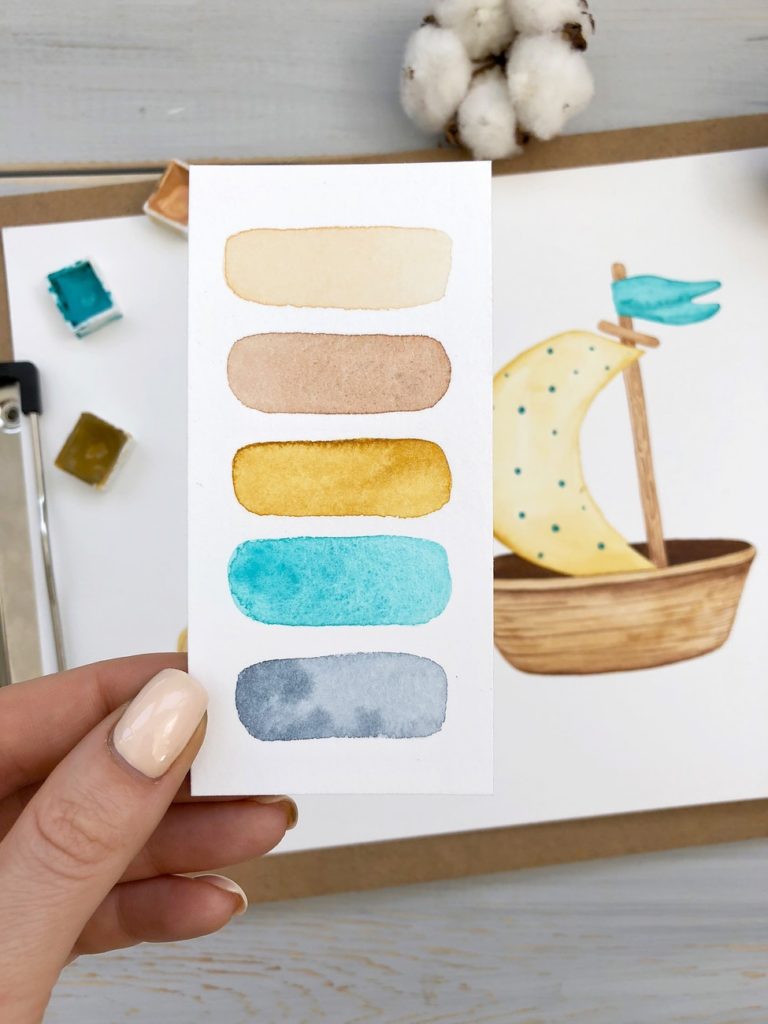 Other Watercolor Papers Worth Mentioning 
Apart from our top 3 picks, here are some of the other Watercolor papers to look out for.
The U.S Art Supply Watercolor Printing Paper pad is another model that is just perfect for beginner painters. You can practice a lot of your painting techniques on it, try out new styles and different color combinations and really hone your artistic skills before moving on to the more expensive and high-end watercolor papers. 
These pages are acid-free, pH neutral and come cold pressed so that it in can be used for a lot of versatile ranges of artistic works. And with a weight of 300 gsm, the pages are thick enough to be great for working with watercolors and other forms of wet media.
However, much of the affordability of these pages stem from the fact that the paper is student quality. Hence the absorbency is not all that great, and color representation may not be what you hope for.
The pages will also become bumpy if a lot of water is applied to it, and though it may not allow the color to bleed through to the surface below, it will tend to flake over time and under pressure.
But for use by beginners and as practice papers, these pages are quite good and is indeed an inexpensive solution.
Sale
What impresses us the most about the Winsor and Newton Cotman Paper Pad is how pocket-friendly it is. Affordability is the name of the game for this paper pad series, and even though they come with a very low price tag, these pages do not compromise on quality in any way. 
For the money that you pay for this model, the Cotman is surprisingly stable, the paper quality is quite impressive, and the pages will not deteriorate anytime soon. It's cold pressed build gives it a very nice texture making it moderately rough and allowing it to hold water and color pigments rather well.
What makes the Cotman so highly rated among artists is its unique durability. Its mold-made design is capable of standing the test of time, and you won't experience any sort of tearing or damage with these papers even if you choose to sponge, erase, or even try to remove your art masking fluid from the paper's surface.
However, the pad only comes with 9 sheets which is significantly lesser than the standard average. Moreover, even though the pages are highly durable, they do tend to curl up when in use. So painting on them outside where there is some wind (plein air painting) will indeed be an issue.
Sale
The Canson XL Fold Over Watercolor Pad series is primarily designed with student artists in mind. So it's not all that surprising why middle school art lovers and college art enthusiasts absolutely adore the watercolor papers of the Canson XL series. 
The paper design during the manufacturing process has been carefully tested and scrutinized by art professors so as to ensure reliability in terms of performance when using a vast range of art media.
The pages of Canson XL are much superior in construction to some of their competitors. They are heavier as well and have the perfect thickness which will not allow the paper to bulk down and warp during a wet wash. Additionally, the pages are durable enough to not just withstand one wet wash, but multiple wet washes as well.
Another amazing aspect of the XL Watercolor Pads is the fold over feature, which makes it very convenient for use for art students and beginners alike. The texture is light and easy and will allow you to try out a lot of painting styles on it with ease.
But as these pages are on the heavier side, they are not as portable as we would have liked it to be. Hence, carrying it around everywhere may not be an option.
The Montval Watercolor Blocks from Canson are all about performance, durability, and ease of use. With a 6-inch x 9 inch size, they come with a very portable design that you can carry around with you in all your travels. 
The durability of these papers is something quite remarkable in our opinion. It can effortlessly withstand any form of scraping techniques; you can erase your existing artworks from these pages over and over without the fear of tearing them or warping them, you will be able to repeatedly wet wash them as well.
Moreover, the Montval Watercolor Blocks are incredibly pocket-friendly, and their easy to use nature will come rather handy for beginner artists who are still trying to learn the art form and need a lot of practice papers within the budget. You can use the pages from these blocks to make small gift pieces for family and friends as well. They support printing media quite well and will definitely help you out when you're making collages or even posters
In terms of texture, the Montval boasts a significant amount of tooth. Some professional artists may not like this aspect of the paper, but for beginners, it is this increased roughness and friction that allows them to practice without much worries. The pages control water and paint significantly better than the average watercolor paper models, but the pack only comes with 15 sheets included, which is much lesser than the standard.
A brilliant texture, consistency, versatile ranges of use and great quality is what defines the Bee Paper Cold Pressed Watercolor Paper Pads. These pages are archival quality, acid-free, pH neutral and can hold up to multiple washings without bulking down. 
The cold pressed nature allows it to have a texture which is rough, but not too rough thereby giving these pages an edge when it comes to watercolor paints and gouache.
Additionally, what makes the Bee Paper such an amazing choice, is the paint flow and brush stroke smoothness that it offers. Each of the pages is made from alpha-cellulose which is a sort of high-grade wood pulp that allows the pad to have a consistent texture throughout all the pages.
However, the adhesive that holds the pages together may smear onto the paper surface from time to time, especially when you want to tear a particular sheet out. So, we would recommend that you avoid that if you do choose to go with this paper pad, and just trip out the used paper so that you can have a relatively cleaner surface to work with later on.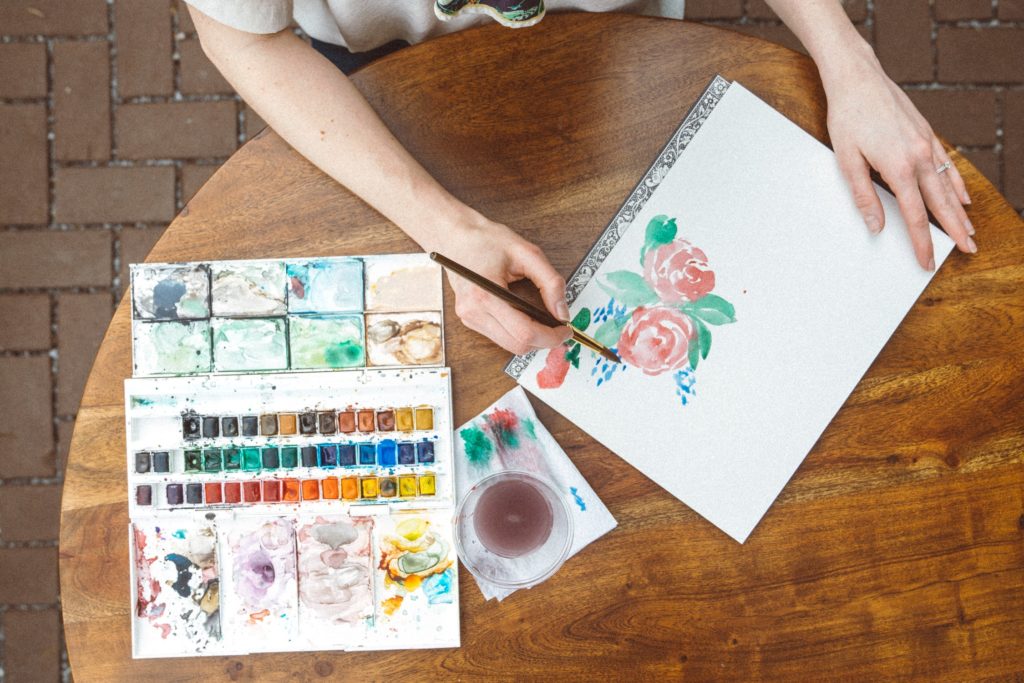 Guide to Picking the Right Watercolor Paper 
Before you plan on investing in a watercolor paper, there are certain things; we believe that you should keep in mind before making the purchase:
The paper quality
Looking out for the quality of the watercolor paper should be a no brainer really, and when it comes to the world of drawing papers, the market contains models primarily of two categories, artists' quality, and student's quality.
The Artists' quality of watercolor papers are popularly known as archival papers. They are primarily made from non-toxic substances; they are acid-free and are designed to be durable and long lasting. Unlike papers that have a bit of acid in them, these ones will not become yellow and brittle over time.
Whereas the Artists' quality papers fit professional users the best, the Students' quality, on the other hand, are made particularly with the amateur and new painters in mind. The paint on these papers will not perform as well, and they will deteriorate over time.
Paper manufacturing method
When it comes to manufacturing, watercolor papers are generally made out of three different processes: handmade, mold-made and machine-made.
And depending on the mode of production, the quality of the paper will change accordingly as well. Handmade, in our opinion, is by far the best, with mold-made coming at a close second. Both these methods create a paper that is long-lasting, durable, stable and will not bulk up or distort even under heavy wash.
Artists' quality papers are specially handmade and mold-made, they also have an irregular surface texture which is pleasing to paint on and represents watercolor rather well.
The Students' quality, on the other hand, is primarily machine-made. They are much cheaper and has a high chance of deteriorating under a wet wash.
Substances that go behind making the paper
It's a well-known fact that paper, in general, is made out of a mixture of water and cellulose fibers.
But what most people are not aware of is that Artists' quality papers are made with cellulose fibers which are 100% cotton. This is the feature which makes sure that the resulting watercolor paper is made strong but also pliable. These cotton papers are usually termed as rag papers and are the more expensive option.
Less expensive papers, like the Students' quality art papers, are usually made using either wood pulp or a combination of cotton and other cellulose fibers. But these papers are not permanent, and we will definitely not recommend them for painting styles which require a lot of scrubbing and scraping.
If you like to put your artwork through a lot of wet wash, taping and masking techniques, then the 100% cotton paper should be the way to go. 
The weight of the watercolor paper
The weight of the paper you buy will primarily depend on its mode of use.
Do you like traveling and capturing the beauty of nature while in the midst of it? Or are you a more home-based painter whose ideas are his only muse?
So depending on your style and preferences, you can either go for a lighter watercolor paper which is highly portable, like in art journals and sketchbooks. Or you can choose to go for the heavier kind for some indoor paintwork.
High-quality paper in recent times can come in both lightweight and heavyweight formant. And apart from portability, the basic differences lie in water absorbency as well.
Heavier paper can absorb more water, hence helping out in the drying process; they rarely need stretching and come at a weight range of 600-850 gsm.
Heavier watercolor papers are much more expensive, but the minimized need for stretching makes it perfect for professional use. While the lighter version of the watercolor papers will fit beginners well, along with globetrotters, who love to paint while outside.
The texture of the watercolor paper 
Now that we have gone over all the objective and the superficial aspects of watercolor paint to look out for let us now talk about something which is a bit more personal and subjective.
The texture of a watercolor paper is a matter which is entirely based on personal preferences such as painting styles. There are primarily three kinds of paper when it comes to texture: hot-pressed, cold pressed and rough.
The hot-pressed paper is one which has a very smooth yet hard surface. It is not a kind of paper which is all that popular, though a lot of professional artists prefer it for a lot of detailed artwork. However, a majority, including the beginners find the surface to be extremely slippery which makes controlling the paint somewhat tricky.
Next up is the cold-pressed paper, which is by far the most popular choice. These papers, though sometimes referred to as 'Not Paper' is extremely versatile and is suitable for both beginners and experienced painters alike.
They are semi-rough and can support a variety of painting styles such as smooth washes, detailed sketches, and even oil-based paint artworks.
Finally, the last paper texture type paper we have is the rough paper. They have a pronounced tooth on the surface which makes them just perfect for washes as it tends to lend such art pieces a subtle luminosity. Detailed works are not recommended with papers of this kind of texture.
Watercolor paper tint 
Most watercolor papers have a slight whitish or cream like tint to them. This allows them to conveniently reflect light off of their surface and help give the transparent watercolor paint a glowing look.
But you can try and customize your artwork the way you please, pick a paper of different colors and tints which can help create different moods and effects.
A lot of colorists today like to leave small sections on paper to 'show through as a substitute for white paper.' But you can always try and tint your white watercolor paper yourself by just putting it through a thin wash.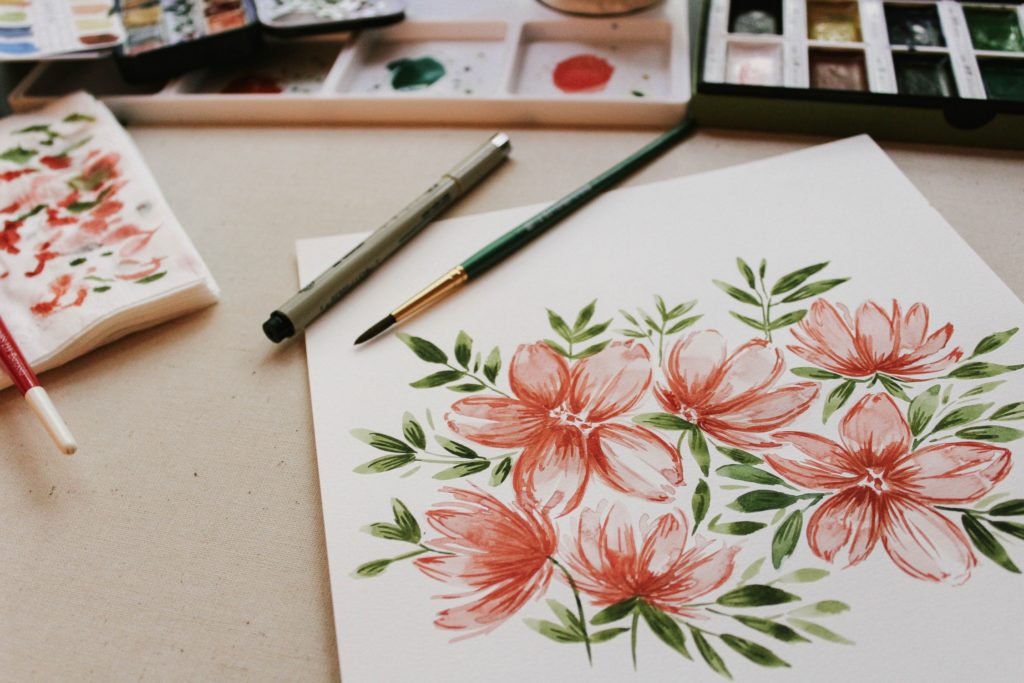 In which form should you be buying your watercolor paper?
Now that you're aware of the different types of quality, texture, and weight that Watercolor papers come in, let us go into a bit about the different forms that watercolor papers and which will suit you the best/
If you're a beginner, then paper pads and blocks can come in handy till you reach the point where you can graduate to using high-quality sheets or boards.
So, let us take a closer look at each of the different watercolor paper forms, from Sheets and Rolls to Blocks, to boards and finally Pads:
Watercolor sheets and rolls 
You can either choose to buy watercolor sheets separately, one-by-one or in a pack. However, as they come in less than 300 pounds in weight, you will have to probably stretch it a little bit beforehand so that the paper doesn't warp or buckle when a wet brush is put on it.
This may not be all that much of a difficult process to speak of, but it can get rather inconvenient and annoying for a lot of painters.
Artists' quality paper, on the other hand, can be bought in rolls. And buying them in a pack or roll can help you save money in the long run.
Watercolor blocks
When it comes to picking alternatives to watercolor sheets, a block can be a great option indeed.
If you don't like stretching out paper, and find to be an inconvenient hassle, then watercolor blocks might just be the way to go.
Watercolor blocks are in essence a pile of sheets that are bound together on all the sides with glue. What this helps to achieve is provide your coloring surface with the much-needed thickness so that when you paint on the top sheet, the paper won't warp or buckle when the painting dries.
You can then easily slice off the top sheet and use the next sheet whenever you like. Though watercolor blocks are a bit more expensive, they are much more convenient to use as well.
Watercolor boards
Watercolor Boards just like the Blocks are another convenient option as well. If you don't like stretching your paper and blocks are also not an option, then you can always consider giving watercolor boards a try.
Traditionally watercolor boards were essentially made out of a watercolor paper and a rigid board. The paper is glued onto the board which provides it with the much-needed thickness and the non-warping property when drying.
But when getting a traditional watercolor board, make sure that you take notice of the type of and the quality of paper that is being provided.
However, there are non-traditional options of watercolor boards as well. These models do not use paper, but rather go for other alternatives such as Amersand and Aquabaord. These two designs have a clay-like surface which is typically 'archival quality' and is perfect for painting with watercolors and gouache.
Some art supply brands even produce premium quality boards which are completely covered by a 100% cotton canvas which supports a variety of water-based paints, even oil-based paints, and pastels.
Watercolor pads 
If you have a passion for plein air or outdoor painting, then watercolor pads can be an absolutely amazing option to go for.
Though watercolor pads primarily come with Students' quality paper, cheap, light and portable; there are many brands who do manufacture and sell pads which are portable but still support a higher quality and texture.
Hence, when buying watercolor pads, it's important to keep in mind your preferences and the aspects which will fit your needs the best.
A majority of these pads come tape-bound and will help you peel each paper off very easily. They come with the optimal amount of thickness which will not let the paper warp when drying your painting and are quite resistant to external environmental elements like wind and sunlight which are often faced during plein air painting.
Wire-bound pads are also another option you can look into. They are really good for traveling as all you need to do is flip over the existing used up page to start working on the fresher and newer one.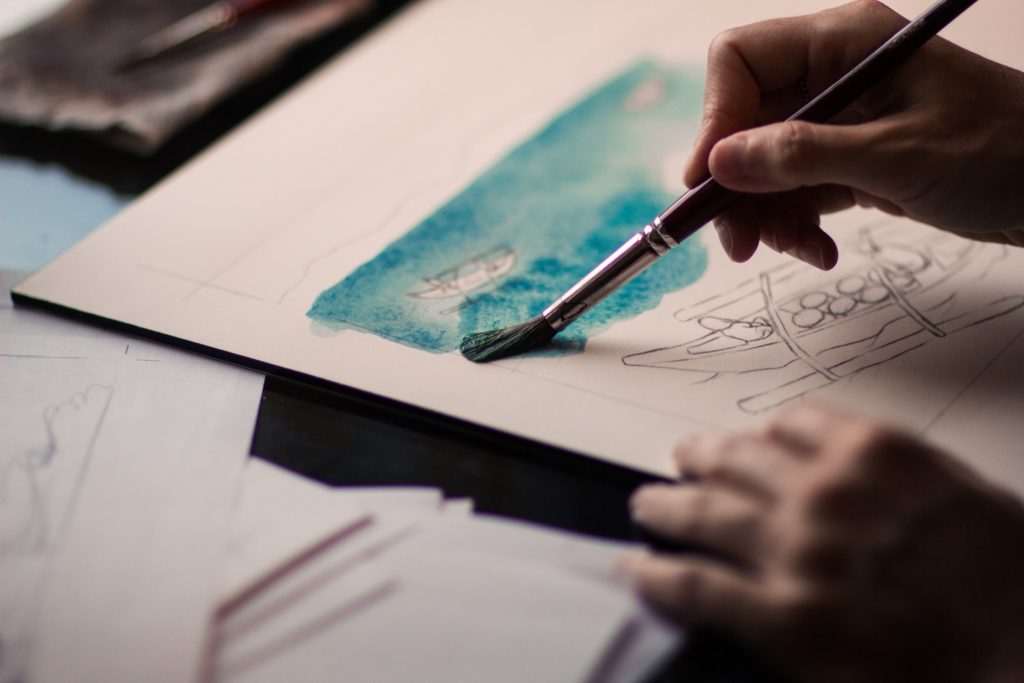 Final Thoughts on Best Watercolor Paper
The current market for art supplies has a lot of watercolor papers to choose from. And not one single design will be able to suit every customer needs and demands. But the ones that we have listed out today are quite unique in terms of their features, quality, modes of use, and color representation. And it's up to your needs and preferences to decide which ones will suit your art and artistic style the best.
We hope you enjoyed our guide today.
Till next time!
Related Articles
Cold Press vs. Hot Press vs. Rough Watercolor Paper Compared
What is Watercolor Paper & How is Different From Other Papers
Best Watercolor Painting Books
9 Best Water Brushes for Beginners, Professionals & Calligraphy
9 Best Watercolor Markers With Legendary Results
13 Best Watercolor Pencils and Water Soluble Art Supplies
15 Best Watercolor Paints in 2023 | Students & Artist Grades
12 Must-Know Watercolor Tips for Beginners & Pros
Why and How to Use Watercolor Mediums to Enhance Your Painting Game
Learn How to Use Watercolor on Wood | Professional Tips & Tricks
13 Best Watercolor Sketchbook for Creatives
11 Best Watercolor Brushes for Beginners & Professionals
15 Must-Have Watercolor Supplies for Beginners & Artists Everywhere
Stretching Watercolor Paper & How To Keep Watercolor Paper From Warping
Learn How to Paint Watercolor on Canvas Easily & Successfully
16 Must-Know Painting En Plein Air With Watercolors Tips & Tricks
Learn The Basic Watercolor Painting Techniques For Beginners – Ideas And Projects
Expand Your Knowledge With Watercolor Painting Ideas
19 Incredibly Beautiful Watercolor Painting Ideas