A good palette enables an artist to take control of the painting. 
No matter what the medium is, a palette always plays a crucial part. But in watercolor, where you have to make more mixed hues and shades than other mediums, it becomes ever more important. 
At A Glance: Our Top 5 Picks for Watercolor Palettes
If you are an artist who understands the gravitas of this equipment and are out shopping for it, then you have come to the right place. 
In this article, we are going to list down our 8 best Watercolor Palettes for Beginners and Professionals. 
We have also added our own experience with the palettes to help you decide what you want. 
So, what's the wait for? Go ahead and give it a read! 
Best Watercolor Palettes for Beginners & Professionals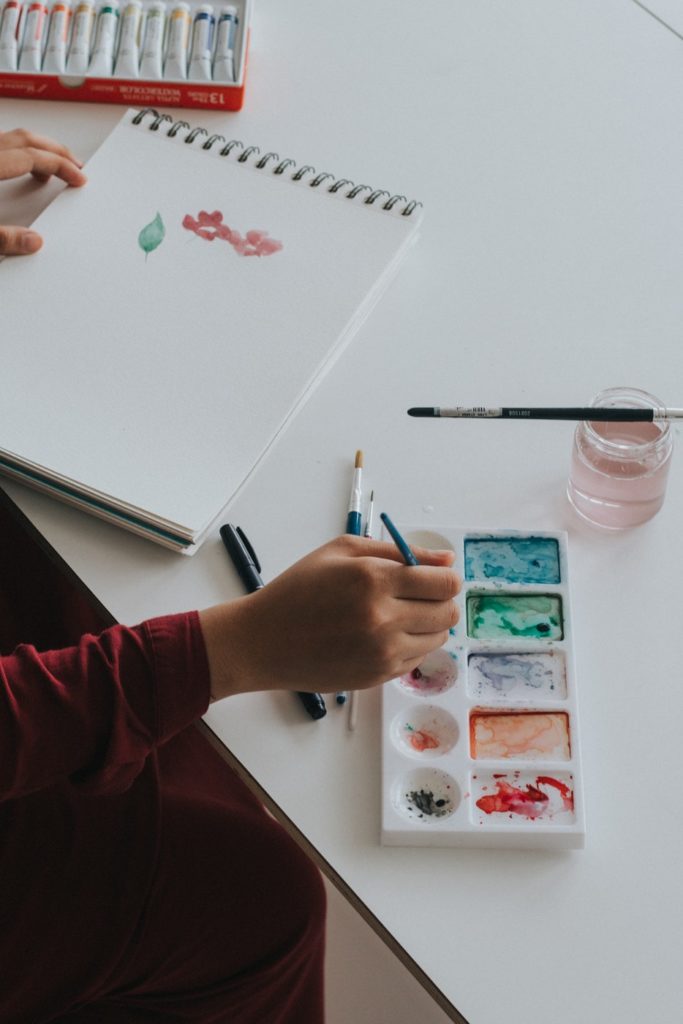 Darice 20-Well Palette is a large watercolor palette that will be a fine addition to any studio. It's a large palette with 20 wells and it's excellent for any kind of mixing using watercolors. The wells are of different types to aid different kinds of use – large circles, flat-squares, slanted squares, and small circles.
Experience
The variety of the wells make the palette extremely handy in doing a variety of tasks. For example, the large circles are great for making more watery mixes with high pigment colors. The slanted squares are good for a sort of gradient-like color mixing with more pigment loaded mix at the bottom of the well.
The flat squares are perfect for even mixing and the smaller circles are excellent for producing more opaque and saturated mixes for details.
Hence, this 20-well palette gives a lot of versatility and functionality, so that, you'd never have any problem managing your mixes through the entirety of the painting process.
But there are a couple of downsides of this amazing palette. For one, it is made from plastic that doesn't seem very impressive or handsome to us.
And the second is that its large size makes it impossible to be used for outdoor painting – plein air. Maybe an addition of a grip or handle of some sorts would have solved this.
Pros
This palette is extremely versatile and functional due to the variety of wells

It is an affordable palette which is great news for beginners

There are 20 wells facilitating to every kind of mixing

It is an ideal palette for studio use
Cons
It's not cut for outdoor painting
Sale
Martin Mijello Watercolor Palette is a perfect addition to any En Plein air watercolor artists. Its sleek and compact design is coupled with airtight and leak-proof technologies. All of these features, make this palette extremely portable and possible to be carried in a backpack.
Experience
The design of the palette makes the possible extremely easy to carry around – even in a small pure. The build is small and compact to make it fit easily. But more importantly, the airtight and leakproof make it much more viable as an outdoor painting palette.
The palette is more ideally built for small scale painting. So if you are a beginner or a casual artist who plans to paint a lot in a portable sketchpad, then this is the perfect palette for you.
It's more ideal for artists who use watercolor tubes because of the design of the wells. Well, you also have slanted wells for getting as much hue as possible without wasting pigments.
Given the size, of course, it doesn't have a lot of wells for large-scale painting. But you can use the plastic insert that is used for keeping the colors separate, when closed, for mixing as well.
Pros
It's small, compact and hasslefree-to-carry

It's airtight and leaks proof

It is perfect for En Plein air watercolor painting

Great for traveling artist as well
Cons
Not very versatile or ideal for studio use
Portable Painter Watercolor Palette is a palette for plein air artists with a genius design and features that will make any such artist fall in love with it. With the dimensions of 5.5"x3"x1.2", this palette can fit easily in any bag or purse for easy carrying. And there's even more!
Experience
In our opinion, if you like to paint with watercolors outside on the streets or somewhere else, then this palette will be the best choice for you.
This palette is extremely portable due to its small size and is leak-proof design. You can carry it around with paint still on the palette without worrying about any spillage.
The palette comes with a black housing out of which it comes out. Once it's unfolded, you get around a dozen of slanted wells of various sizes and another dozen of small mixing wells.
The variety of wells is pretty decent in our opinion and more than necessary for the requirement of outdoor painting. All of the wells work as expected and no matter what we painted, we never felt like we needed more.
An added bonus to this, once unfolded the housing can also work as a stand for the palette and you can use to hold brushes or filled with brushes.
The versatility and the portability coupled with its amazing performance, make this palette an excellent buy for any watercolor artist.
Pros
Extremely compact size with a leak-proof design

Has a black housing for safe carrying which can also double as two brush stands or water reservoirs

It includes additional brushes

Overall, perfect for plein air painting
Cons
Not ideal for studio work, especially, given the price
If you are looking for versatility, then this tin palette from MEEDEN is the one thing you'd want. With 15 configurable designs, this palette can be whatever you want it to be for the occasion. Along with that, the palette is extremely durable and resists any kind of corrosion. Studio and plein air artists will love this palette alike!
Experience
The modularity of this palette makes it remarkable and something unique in our experience. No matter what kind of artist we handed it to for testing, the artist always found it easy and hassle-free to use overall.
Well, there's no voodoo involved. With the 15 customization option, you can essentially make this palette be whatever you want.
The organized pan will prevent your colors from getting ruined and the plethora of wells will make mixing colors absolutely simple. There are 10 small wells and 4 larger square ones.
The metal used in the making of this palette is of great quality as well and you'll notice no corrosion and damage even after long periods of usage.
Also, you can store your brushes easily in the box as well. It's 8.4" long and there's enough room for the conventional watercolor brushes like round, flat, rigger and spotter.
Pros
Durable tin body that is well protected from any kind of corrosion

Extremely versatile and has 15 customization options

Ideal for both plein air painting and studio art

It can also store brushes
Unlike the last entry from Martin Mijello, this 24-Well palette is more suited for studio use, while still being more convenient than other palettes for the occasional outing. It is a bit bigger than our last Martin Mijello's entry but for the bigger size you get 24 wells and it still has a leak-proof closing mechanism. 
Experience
With 24 wells in this palette, it is more than adequate for big watercolor pieces. It's even capable of being used by professional watercolor artists who use different pigments of the same color for accurate results.
Yes, the palette is larger than our last Martin Mijello entry – 3 inches longer and 5 inches wider – but the airtight still makes it possible to be used for the occasional outing and art-class visit.
In our opinion, it's a large palette that is travel-friendly. The mechanism employed in its design will prevent colors from spilling out of the wells and mixing when in a backpack.
Overall, it's a terrific palette that'll please any beginner, intermediate or professional artist. If you are the type who paints mostly in a studio but also want something that is carriable, then there's nothing better than this palette for you.
Pros
Ideal for every kind of artist – beginner, intermediate and professional

24 wells that will not need any wash in between the session

It has an airtight design for hassle-free carriage

It's affordable and has great value for money
Pro Art Folding palette comes in three conveniently different size options that are bound to please any beginner artist around the world – why beginner? More on that later.
Anyway, this palette comes with 24 wells and  5 mixing wells in the large variant of the palette – the one we reviewed. And because of its features, we deem this palette the best option for folks who like to paint standing up.
Experience
Many people prefer standing while working, and there's no denying that there are countless health benefits to that practice.
But if you have that preference as an artist, you might have found it pretty difficult to work with any other palette because most palettes are meant to be kept on some surface while using.
Don't worry because this palette comes with a thumb hole that makes mixing colors while standing a piece of cake. Instead of fumbling around with the palette, you can now focus on painting and it's easy to manage even with the large variant.
There are also 5 holes on the palette to conveniently store brushes while painting. It's a wonderful option for the standing artist!
But there is one downside. This palette doesn't have slanted wells. And if you are an intermediate or professional artist, you might consider it to be a deal breaker. The lack of slanted wells makes using different shades of the same mix almost impossible.
That's why we recommend it to beginners only.
Pros
Comes in 3 different convenient size options

Large variant has 24 wells and 5 mixing areas

Brush storage makes it perfect for plein air painting

The thumb hole is heaven-sent for people who like to stand while painting
Cons
There are no slanted wells
This palette is fundamentally different from any other palette on this list. Jack Richeson's offering is made from porcelain instead of conventional materials used to make palettes, like plastic and tin.
This gives the palette amazing quality and performance for studio use and there is no other palette that we know of that can top this regarding that.
Experience
In our entry about John Pike's palette, we mentioned briefly about the problem with conventional plastic palettes about mixing, i.e., water beading up. With this palette, you can pretty much forget about that the problem ever existed.
Plastic palettes also have porous surfaces and that makes cleaning out the palette extremely difficult. And it can also lead to inaccurate mixing because of the residues. Use of porcelain also eliminates that problem.
Another benefit of porcelain is that it's also excellent for other mediums like acrylics, gouache, and oil. For any versatile artist working in a studio, this essentially means that you can have just one palette to do all of your work.
And with 22 wells in total and a lid that can also be used to store paint, you can't be asking for more as a studio artist.
Pros
Gorgeous minimalist design
It is the best option out there for the most accurate color mixing

Extremely easy to clean
Cons
Not travel-friendly and quite expensive 
Color Around Aluminum Watercolor Palette is our all-around best option on this list. And it has impressed by its brute performance and the versatility. It is one of the largest palettes that we have seen with 65 wells that are slanted and 2 huge mixing wells.
It also has a thumb hole to conveniently hold it while painting. It's an all-rounded winner.
Experience
With 65 wells on this palette, you can't be asking for more when it comes to easy watercoloring. Couple that with the fact that the wells are slanted, makes it even more attractive. Slanted wells are perfect for controlling the pigments on your brush.
If the scale of the palette overwhelms you, you can also pick up the smaller variants – 13, 20, 26, 30, 35 and 39.
It has an aluminum body that gives this palette remarkable durability and a sturdiness that will appreciated by many artists – especially, when using it while standing. Don't you worry though, even with the metal frame, the palette is extremely light.
The lightweight also enables it to be carried around for plein air painting but due to the size you'll have to have a backpack for using this palette.
One thing that annoyed us was the fact that it has only 2 mixing wells while a significant area is wasted just because of the thumb hole. This are could have been easily used for an additional mixing area.
Pros
65 wells that is more than plenty for most artists

Professional grade palette that is the best for studio use and decent for plein air painting

Has a lightweight aluminum frame that gives it immense sturdiness

There are several size options available
Cons
It has compromised on the mixing area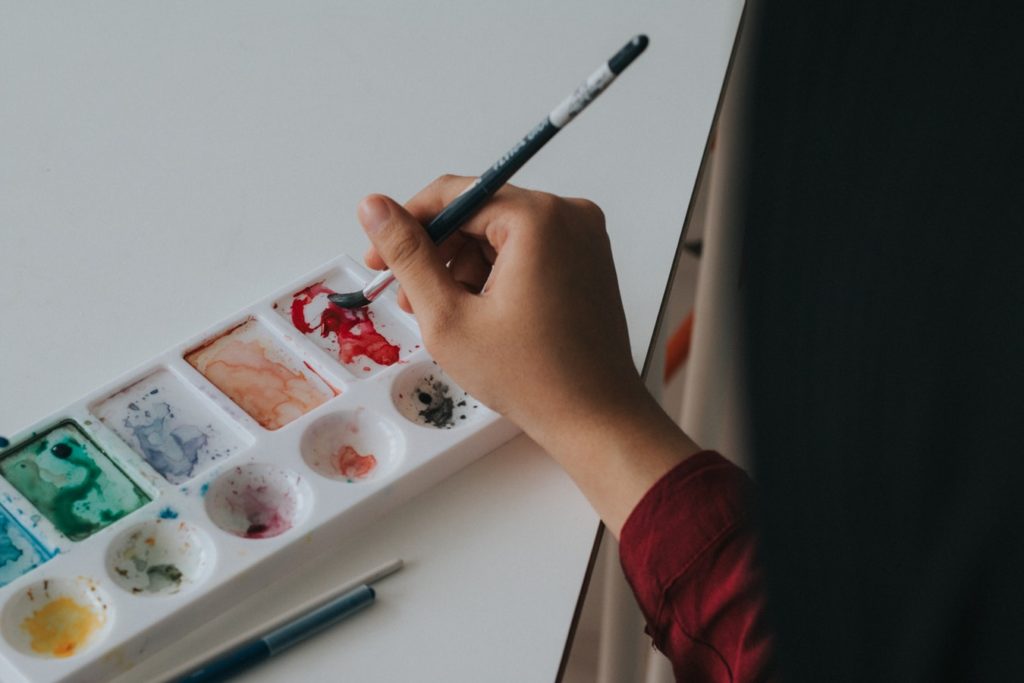 Best Watercolor Palette Conclusion
So, that'll be all for this article. 
In this piece, we have listed all our favorite palettes that we have tried out, and, we have also mentioned our brief experience with them. 
We hope that this list helped you in some meaningful was and we wish you well in your artistic endeavors. 
Thank you for reading!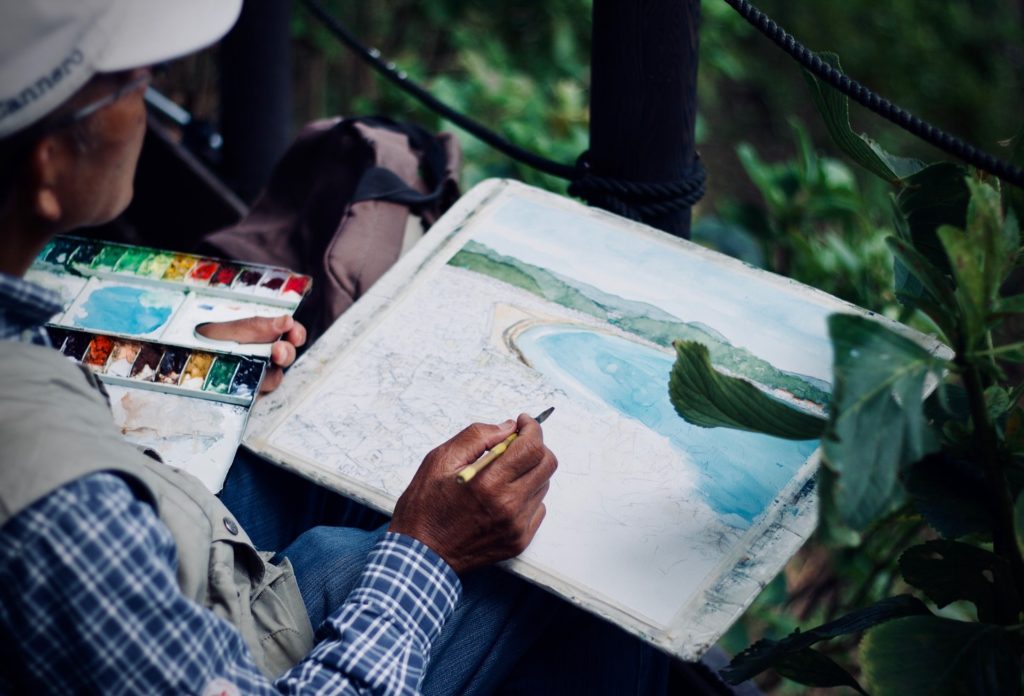 Related Articles
Cold Press vs. Hot Press vs. Rough Watercolor Paper Compared
What is Watercolor Paper & How is Different From Other Papers
Best Watercolor Painting Books Everywhere | Beginner to Expert Grade
9 Best Water Brushes for Beginners, Professionals & Calligraphy
9 Best Watercolor Markers With Legendary Results for Artists Everywhere
13 Best Watercolor Pencils and Water Soluble Art Supplies Today
15 Best Watercolor Paints in 2023 | Students & Artist Grades
Best Watercolor Paper of 2023 |Top Brands Reviewed + Plein Air
12 Must-Know Watercolor Tips for Beginners & Pros Everywhere
Why and How to Use Watercolor Mediums to Enhance Your Painting Game
Learn How to Use Watercolor on Wood | Professional Tips & Tricks
13 Best Watercolor Sketchbook for Creatives Everywhere
11 Best Watercolor Brushes for Beginners & Professionals Reviewed
15 Must-Have Watercolor Supplies for Beginners & Artists Everywhere
Stretching Watercolor Paper & How To Keep Watercolor Paper From Warping
Learn How to Paint Watercolor on Canvas Easily & Successfully
16 Must-Know Painting En Plein Air With Watercolors Tips & Tricks
Learn The Basic Watercolor Painting Techniques For Beginners – Ideas And Projects
Expand Your Knowledge With Watercolor Painting Ideas