We all need a wall clock in our homes, be it as a statement  piece or for knowing the time.
In this digitized era, we rely on digital technology for very much everything. Be it calling someone, performing daily chores, and even knowing what time it is. However, we all want a traditional wall clock not only for keeping accurate time, but also to add a focal point to the room.
Besides, some wall clocks display helpful information like the day of the week or temperature, while others add stylish and classy design elements to your home. 
And you've thought of purchasing a wall clock, you have some decisions to make. Do you need a digital or an analog clock face? And do you need additional features or will a simple and classy-looking watch be adequate? 
In this review-based guide, we'll review the ten best wall clocks out there and provide a detailed buyer's guide to help you make a viable decision. 
So, without further ado, let's dig in!
Top Wall Clocks
IMAGE
PRODUCT
DETAILS

Our Top Pick

Our Top Pick

Bernhard Black Wall Clock

10-inch clock
Silent non-ticking mechanism
1-year manufacture protection

VIEW LATEST PRICE →

Jomparis Wall Clock

Cement gray dial with large 3D numbers
ABS plastic frame
Non-ticking

VIEW LATEST PRICE →

Foxtop Wall Clock

Precise quartz sweep movement
Rose gold color frame 
Large numbers with front glass cover

VIEW LATEST PRICE →

Yoobure Wall Clock

Quiet-sweep movement
Classic black and white design
Powered by one AA battery

VIEW LATEST PRICE →

Hylanda Wall Clock

Superior sweeping movement 
Pale Yellow dial face and brown frame
HD glass lens

VIEW LATEST PRICE →

Hippih Wall Clock

Aluminum clock hands
Black bold numbers
Silent Quartz Movement

VIEW LATEST PRICE →

Stonebriar Wall Clock

Worn blue and white clock face print
AA battery operated
Made from medium-density fibreboard

VIEW LATEST PRICE →

Hippih Decorative Wall Clock

Quiet sweep second hand
1-year manufacturer protection
Hooks included 

VIEW LATEST PRICE →

Bekith Round Classic Clock

Non-ticking Mechanism
Large black numbers
Antiqued bronze frame

VIEW LATEST PRICE →

Epy Huts Silent 10 Inch Wall Clock

Accurate quartz clock movement
Graphic dial with baton hands
10-inch design

VIEW LATEST PRICE →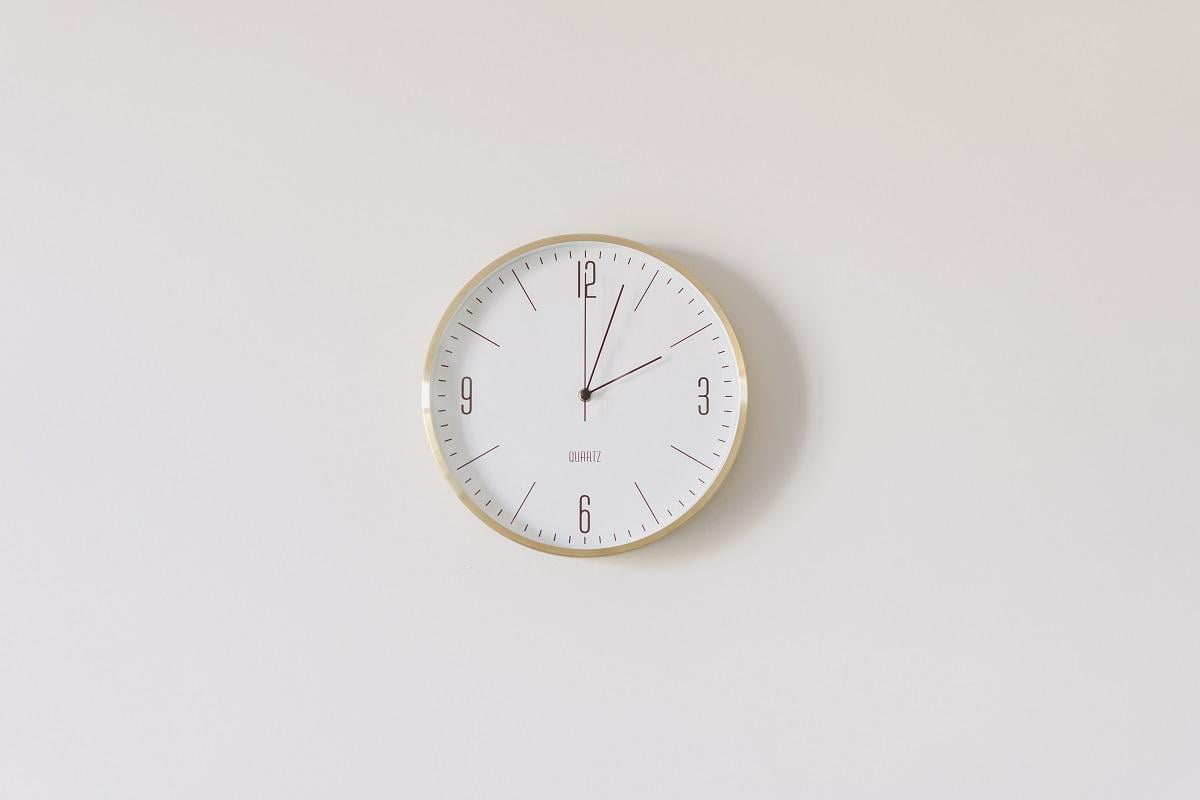 Bernhard Products is a well-known analog clock manufacturer and committed to delivering quality pieces for its consumers. Likewise, this black wall clock is great for any work office, home, or classroom. Its classic frame is sure to align with any room decor, and with 1-year protection, you can get one with complete confidence. 
Sale
Why Did We Like It?
This classy-looking Bernhard wall clock is sure to grab everyone's attention. As mentioned, you can keep it anywhere in your room, and it will merge in with the rest of the decor. The black-colored minute and hour hands, a red-colored seconds hand, and large numbers on the white dial makes it easier for anyone to read the clock from a distance. 
With a dimension of 10.25 x 10.25 x 1.75 inches and weighing 8 pounds, it's very lightweight, portable, and easy to hang. It's made of sturdy plastic and a glass lens, which keeps dust away from the dial and is easier to clean.
Interestingly, thanks to its sweeping movement, this battery-operated clock doesn't make a disturbing ticking sound. So, you can sleep and relax in silence. Plus, their precise Quartz movements always tell you the right time.  
What Could've Been Better? 
The only setback with the product is that it doesn't come with AA batteries to operate and show accurate time. But these batteries can be purchased from any local retail store, so that wouldn't be a significant problem per se.. 
Pros
Easy to hang

Runs silently

Clear display

Lightweight
Cons
Doesn't come with a AA battery
The 12-inch non-ticking wall clock by Jomparis is considered one of the best wall clocks on the market. Its simple and modern design is suitable for any space, be it a kitchen, bedroom, office, or any other room. And it guarantees to display time accurately and maintain a quiet environment. 
Sale
Why Did We Like It?
Firstly, this modern clock can be a quality addition to your space, thanks to its looks as well as the features it presents. Similar to the Bernhard wall clock, the precise quartz movement ensures no-ticking sound and accurate time. So, you can concentrate on your tasks without getting irritated. 
Design and quality are considered absolutely important for a wall clock, and this unit doesn't disappoint whatsoever. It boasts a stylish modern cement gray dial and 3D white numbers, making for an easy time-viewing experience. Plus, the frame is made of lightweight and sturdy ABS plastic, for optimum durability and longevity. 
Moreover, its back slot design includes a hook, so you can hang it anywhere without dropping a sweat. Other than that, these analog clocks are available in several colors for you to select from. And you only need only one AA battery to run this piece for a whole year. 
What Could've Been Better? 
The white-colored numbers might blend with the dial of the silver clock, making it a bit difficult to read time in poor lighting. It would've been better to maintain a contrasting color for the numbers. But aside from this minor inconvenience, we didn't find any other substantial limitation. 
Pros
Completely silent

Sturdy and lightweight

Easy to hang

Looks great
Cons
Time-viewing might be difficult in poor lighting for silver ones
The Foxtop FT-12JMSRG1 is an elegant-looking analog, battery-powered wall clock that aligns perfectly with your space, irrespective of its decor. It's easy to install and use with an easily readable face. And it runs smoothly in both dry and wet conditions, so you can get your hands on a high-quality clock. 
Why Did We Like It?
If you wish to add a glamorous accent to your interior decor, this metallic analog clock by Foxtop is an ideal choice. Like our previous models, this wall clock also comes with a precise quartz sweep movement, guaranteeing accurate time display. 
In terms of design, the sleek clock, with its silver, gold, and rose gold shades with large numbers, makes it easy to read. The frame is made of durable plastic, making the clock lightweight and long-lasting. Also, the clock background is made of solid plastic, keeping it dry in humid conditions. 
Apart from that, it features a front glass cover that makes for convenient viewing while keeping dust away from the dial. And it's easy-to-see hands and large numbers ensure easy readability. Lastly, the unit comes with a hook and a back slot for easy installation. 
What Could've Been Better? 
This unit makes a ticking sound which can be a bit disturbing if the room is extremely quiet, although you might not hear anything in a busy or noisy space. So, it can be a minor setback for some customers who prefer a silent room environment.  
Pros
Easy to read

Displays accurate time

Simple installation

Plastic background keeps the clock dry
Yoobure, with a "high precision" principle for their product design, has developed this precise analog wall clock. With an easy-to-read and a traditional clock face, silent dial movement, and sturdy frame, it becomes the perfect choice for users looking for a high-quality unit for their homes. Apart from that, its elegant design adds an aesthetic look to your interior decor. 
Sale
Why Did We Like It?
This unit features everything one wishes for in a wall clock. To start with, its built-in sweep movement ensures it doesn't create a ticking sound, thereby establishing a totally silent working or sleeping environment. It's a standard feature you'll witness with most products on our list. 
Besides telling accurate time, it boasts a classic style, which suits most interior decors. Also, its black-colored numerals are huge and align perfectly with its background design, making it easier to read time. So, you can install it anywhere you need it most. 
The 10-inch clock weighs 11.6 ounces, making it a lightweight option. Furthermore, the back slot and hook allows you to hang it quickly and complete your daily tasks on time. 
What Could've Been Better? 
The primary issue that we faced after using the unit for some time was that it started lagging after a few months and required a reset. This is primarily because of the faulty battery holder design, twitch doesn't allow the battery to last long. 
Pros
Easily readable

Lightweight

Hassle-free installation

Doesn't make any ticking noises
Cons
It might lag after a few months
Halfway through the list, we have a vintage-looking wall clock by Hylanda. Its elegant and classy design adds up beauty to your interior decor. What's more, its sturdy build, superior silent hand movement, easy readability, and other user-friendly features make it a worthy option for almost any space. 
Sale
Why Did We Like It?
There are several things that we love about this product- it's a 12-inch round-shaped clock with a pale yellow dial face and a brown frame. Anyone who's a fan of mid-century design and loves adding vintage-themed items in their living room will love the look on offer. 
Similar to previous models, this unit also has a superior sweeping movement that ensures true silence, leaving you undisturbed. At the same time, its precise movements ensure accurate time display . Furthermore, its large numbers and HD glass lens make it easy to read and repel the dust falling on it.  
Moving on, this unit is powered by one AA battery, which means operating it won't make you scratch your head. And lastly, it comes with a 1-year warranty, where the company will replace any physically damaged parts resulting from manufacturing defects. 
What Could've Been Better? 
The issue we encountered with this product was its small back hole which made the overall installation process somewhat problematic. It took us an hour to set it up, as the hole wasn't visible from the side. 
Pros
Vintage looking

Non-ticking clock

Clear display for easy reading

1-year warranty
Cons
Can be difficult to install
Up next, we bring you a classic timepiece by Hippih that has a silent mechanism and easy to read dial. With this clock, not only will you be able to add aesthetics to the living room, but you can also ensure to always stay on time. And being lightweight, you can easily hang it anywhere. 
Sale
Why Did We Like It?
To begin with, this Hippih wall clock boasts a classy and elegant look with its round shape and a black border frame.  Hence, it makes for a perfect gifting option for your loved ones on any special occasion. 
Its hands are made of aluminum, which further adds to its classy look. Aside from that, the bold black numbers on the white dial face make it easy to read. 
As with most clocks on our list, it features a silent quartz movement. Hence, it doesn't make any ticking sound and shows precise time so that you won't get late anywhere. 
Furthermore, the frame weighs a mere 1.5 pounds, meaning portability won't be an issue. And last but not least, the package comes with a simple mounting kit that aids the installation process. 
What Could've Been Better? 
Our primary disappointment with the unit is its construction. The clock body is made of very lightweight plastic, which might appear flimsy to your hands. So, we didn't find the price justified according to the construction and material being used.  
Pros
Silent movement

Classy looking

Accurate time display

Easy to hang
Cons
Construction is not up to the mark
Stonebriar has this gorgeous vintage wall clock that brings an aesthetic look to your living room, and anyone can hang this clock without breaking a sweat. It's battery-operated and can even be a perfect gift for the elderly people on their special occasions.  
Sale
Why Did We Like It?
This Stonebriar wall clock measures 13.98 x 13.98 x 1.1 inches and weighs 1.92 pounds, making it a lightweight model and perfect for any room. And it comes with a keyhole hanger making it easy to hang on any wall. 
Its design makes it a standout amongst other products on our list. Featuring a vintage worn blue color, a white clock face print, and lightly distressed black numbers, it gives out an antique farmhouse feel. Its unique look makes it a perfect gift for your loved ones on any special occasion, be it Christmas, birthdays, weddings, or others. 
The unit is made from medium-density fibreboard, making it durable and long-lasting. Apart from that, you can just use a damp cloth to clean it, and it needs a single AA battery to run. 
What Could've Been Better? 
Unlike other models on our list, this wall clock produces a ticking sound, which might irritate many. Apart from that, distressed black numbers on a blue dial make reading difficult in some situations. You might have to get closer to it to read the time. 
Pros
Uniquely designed wall clock

Easy to install

Made of durable material

Lightweight
Cons
Not soundless

Difficult to read time in some situations
Bringing you another round-shaped wall clock by Hippih that features a concise style and large black numbers, making it easily readable, even from a distance. Its simple design makes it a suitable fit for any room, and its sturdy frame makes it last longer. 
Why Did We Like It?
Similar to its sibling product, it features a round face design with large black numbers, making it easy to read. Its elegant and unique design fits beautifully with any of your interior decors. Plus, its sturdy frame and high-quality aluminum pointer make it durable and long-lasting.  
Its second-hand doesn't make a ticking noise, ensuring a quiet and non-disturbing working environment. Apart from that, it comes with a 12-month manufacturer's warranty so that you can purchase the unit with complete confidence. In case you are somewhat bothered with the clock, you can directly contact the company for their assistance. 
The unit also includes a hook that ensures an easy installation. Plus, it needs an AA carbon battery to run, which is readily available. 
What Could've Been Better? 
The clock by Hippih is not as quiet as advertised by the manufacturer. It makes a murmurous sound, which some might find inappropriate. Apart from that, it started to lag after a few months, which was a critical issue with the unit. 
Pros
Round face design

Sturdy and durable frame

Easily readable

Easy to install
Cons
Not as quiet as advertised

Starts to lag after a few months
Now that we've almost reached the end of our list, we present you with a classic wall clock by Bekith. It has an antique, wooden look with hands that move without ticking noise. Also, it features a practical design that allows easy installation. 
Sale
Why Did We Like It?
To start with, this wall clock is made of plastic and has a bronze frame with an off-white clock face contributing to its vintage, antique and classic look. The unique designed clock aligns with any interior decor and any room that demands a peaceful environment. Thanks to its non-ticking mechanism, you won't have to worry about it making any ticking sound. 
It weighs only 1.05 pounds and becomes one of the most lightweight options to have it hung. Its 12-inch round dial and large black visible numbers make it easy to read. 
Apart from that, coming with a wide back slot ensures that you can hang it anywhere easily. Plus, you'll need 1 AA battery to run the clock. Make sure to change it on a periodical basis to avoid any time lag and risks of you getting late to work. 
What Could've Been Better? 
We found the battery slot to be a bit tight with this wall clock. So, getting the batteries in and out of it can sometimes be challenging. Apart from that, the battery holder seems to be faulty and a new battery seems to stop working after a few days of its use. 
Pros
Antique look

Easily readable

Non-ticking clock

Easy to install
Cons
Faulty battery holder design
This gorgeous-looking wall clock by Epy Huts is a beautiful piece to keep as a centerpiece of your living room. Made of crystal-clear glass lens, solid plastic case, and metal hands deliver the most value for money. Also, its precise quartz movement doesn't make any ticking sound. 
Sale
Why Did We Like It?
This classic-looking clock has some handy features that make it suitable for our list. For one, it ensures a silent non-ticking sound owing to its accurate quartz clock movement. And, it shows the accurate time at all times of the day, so you miss nothing. 
In terms of design and looks, it features a graphic dial with baton hands and a minimalist straight cut case, making it suitable for any room. And it comes with a range of dial colors to choose from. 
It showcases white Arabic numerals on a black dial, making it easier to read. Apart from that, it's operated by a single AA battery and is much easier to clean. All these features make it a perfect gift to loved ones on any occasion. 
What Could've Been Better? 
The major setback of this product is the material it is made of. Because it's made of plastic, it is not considered a durable clock and can be damaged if it falls to the ground. Apart from that, the battery holder is also much smaller, and you have to struggle fitting in a battery. 
Pros
Silent clock

Beautiful design

Easy to read

Easy to clean
Cons
Made of thin plastic

Battery holder is tight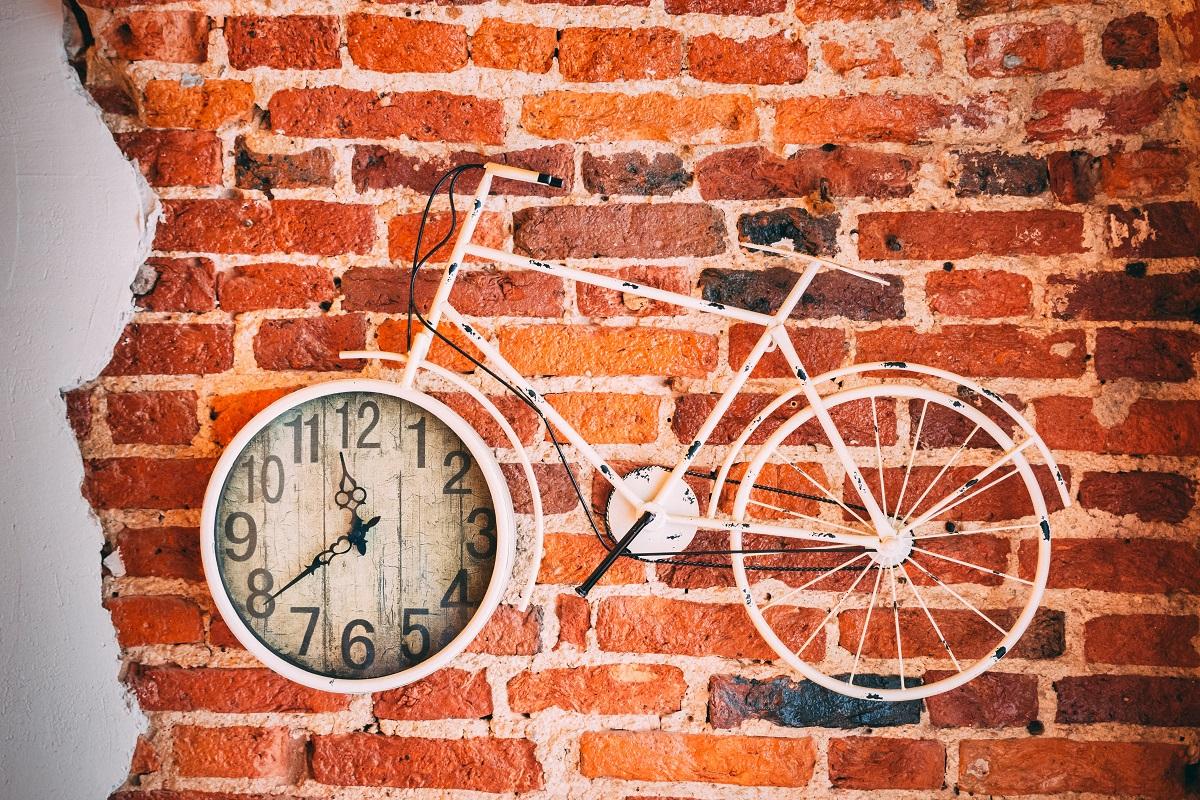 Wall Clocks Buying Guide
For wall clocks, it is challenging to select one from a range of options. We bring you this detailed buyer's guide, which will help you navigate the market. This section will guide you through features you should look out for when going clock shopping. So, let's start. 
1. Analog Or Digital
First of all, it's essential to decide which kind of clock you want, an analog or a digital one. Both need setting up properly before you're manually using them. 
Analog clocks are traditional and typically have three hands, hour hand, minute hand, and second hand. To tell the time, you need to read and interpret the clock face, divided into 12 (for 12 hours) divided into 5 (12 × 5 = 60 minutes). 
On the other hand, a digital clock usually comes with a screen that displays the exact time, eliminating the need for interpretation and making it easy to read. Also, you can have an atomic clock to yourself to get an accurate time interpretation every time. 
2. Ticking Or Silent
The ticking sound in clocks is mainly due to their second-hand movement. It typically applies to analog clocks. Some people might feel unbothered from the ticking sound, while others find it soothing. However, it can be irritating for some, worse when it's placed in places like a library or bedroom. 
Luckily, most wall clocks on the market (many we have discussed on our list) come with silent quartz movement and eliminate the ticking sound. 
3. Size
Another factor worth considering is the clock size. A wall clock is helpful only when visible from every corner of the room, and size plays an essential role in this respect. 
4. Readability
Apart from its size, other factors come into play where readability and visibility are concerned. This includes:
Contrast between numbers and clock face

Numbering style of the clock (numbers or roman numerals)

Contrast between face and hands of the clock 

Material of the face cover, such that it doesn't reflect light

Visible in dark
5. Power Source
The way a wall clock is powered is another factor to consider. Most wall clocks use AA batteries, which are easily available in local retail stores. However, some models use power chords to run. We'd suggest avoiding the latter one, as having a cord means the clock needs to be installed near a power source, which might not be accessible easily. 
It's best that clock batteries are changed frequently as weak batteries can stop the clock altogether. . 
6. Additional Features
Apart from traditional timekeeping, many clocks come with additional functions, especially in digital clocks. These functionalities include date keeping, alarm, humidity, and temperature measurement. 
7. Style
We've already mentioned that a clock is more than just a timepiece, they are a decorative item, and you should treat them as such. And so, when putting on your shopping glasses, pay attention to what it looks like. You have many styles to choose from, like the classical style, modern style, or vintage style. 
It's essential to consider factors like its color, design, and build material. 
8. Durability
As for any products you're purchasing, you might want them to last long. So, it's essential to pay attention to the material of the clock, the manufacturer's warranty, and online reviews posted by customers. 
Wall Clocks Frequently Asked Questions ?
Do you need a wall clock?
It's not an absolute necessity but is an excellent addition to any space.
Should you purchase an analog or digital clock?
It entirely depends on what you need in your space. They both work equally well, as long as you're purchasing a reliable and high-quality brand.
How high should a wall clock be hung?
An optimum height for a wall clock is 57-60 inches above the ground. But, you can hang it anywhere you find comfortable and visible from other rooms.
How do you fix a wall clock?
Based on what's broken, it might be helpful to call for a professional horologist, a specialist in diagnosing and fixing a broken clock.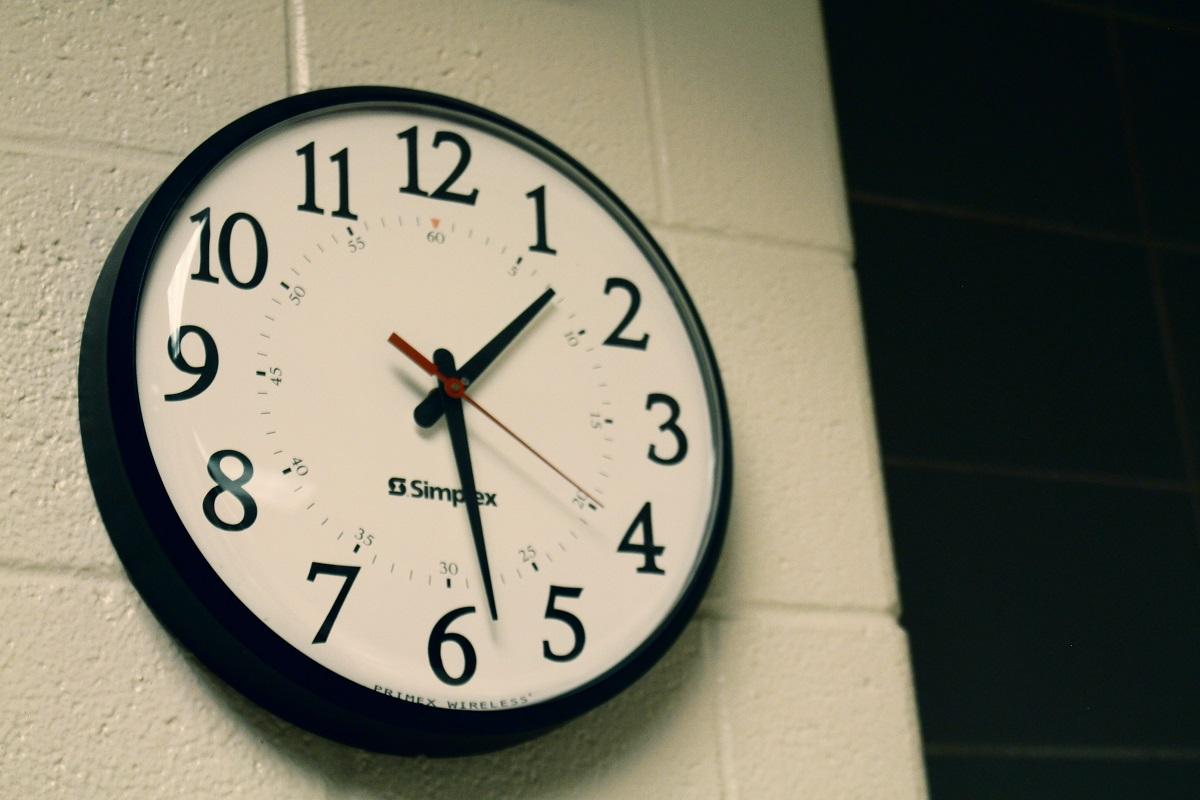 Top Wall Clocks Verdict
Whether you're looking to stay on time or want to add a new item to enhance the look of your room, a wall clock is always an option. So, whatever your reason for purchasing a wall clock, we hope to have helped get your hands to an ideal one. 
Before leaving, we'd like to help you further by mentioning our favorites from the list. Bernhard wall clock will be the best wall clock you can get. Apart from its straightforward design with easy-to-read numbers, it doesn't have any potential issues you have to worry about. 
Our next favorite is the Foxtop modern wall clock that comes in a beautiful rose-gold frame that adds up to your wall decor. And, it doesn't make any sound, and the installation is very straightforward.  
With this, we'd say goodbye. See you later and take care!
Related Articles
8 Best Bauhaus Wall Clocks for Clock-A-Holics
10 Best Copper/Rose Gold Wall Clocks
8 Best Gold Wall Clock to Feature in Your Living Room
29 of the Best Modern Wall Clocks for Design Enthusiasts