Everyone wants a beautiful lawn where they can sip their morning tea/coffee and watch the world go past them!
But, is it going to be a serene and peaceful place if all you can see is poorly managed patches of grass and stubborn weeds?
Whether you are inexperienced in gardening or a professional landscaper, finding the perfect machine for your needs can be a daunting task. There are just too many to choose from, and those are just the regular lawn mowers.
A walk-behind string trimmer is great for cutting thicker grass or weeds because it is efficient and doesn't drain you out.
To help you pick the right walk-behind string trimmer and bring the garden of your dreams to life, we have put together a guide that reviews some of the top products.
Now, let's get to it!
Best Walk-Behind String Trimmer 
IMAGE
PRODUCT
DETAILS

Our Top Pick

Our Top Pick

Southland SWFT15022 Field Trimmer

Easy to start and operate
Can cut through thick weeds and grass

VIEW LATEST PRICE →

Remington RM1159 Walk-Behind High Wheeled String Trimmer

Can be adjusted into three positions
Powerful engine

VIEW LATEST PRICE →

Southland SWSTM4317 2 Cycle Wheeled String Trimmer

Rotating trimmer to cut around edges
Lightweight
Easy to maneuver

VIEW LATEST PRICE →

EARTHQUAKE 28463 M205 Trimmer

Comes pre-assembled
Relatively silent

VIEW LATEST PRICE →

TAZZ 35258 Walk-Behind String Mower/Trimmer

Great for heavy-duty cutting
Never-kill engine

VIEW LATEST PRICE →

Husqvarna HU675HWT High Wheel Trimmer

Comfortable to walk behind
Ideal for cutting tall grass and greenery

VIEW LATEST PRICE →

Southland SOWST4317 Wheeled String Trimmer

Easy to assemble
Ergonomic design

VIEW LATEST PRICE →

Dirty Hand Tools 101085 Walk-Behind String Trimmer

Adjustable cutting heights
Automatic Choke

VIEW LATEST PRICE →

SuperHandy Walk-Behind String Trimmer

All-terrain wheels
It can be used in hard to reach places

VIEW LATEST PRICE →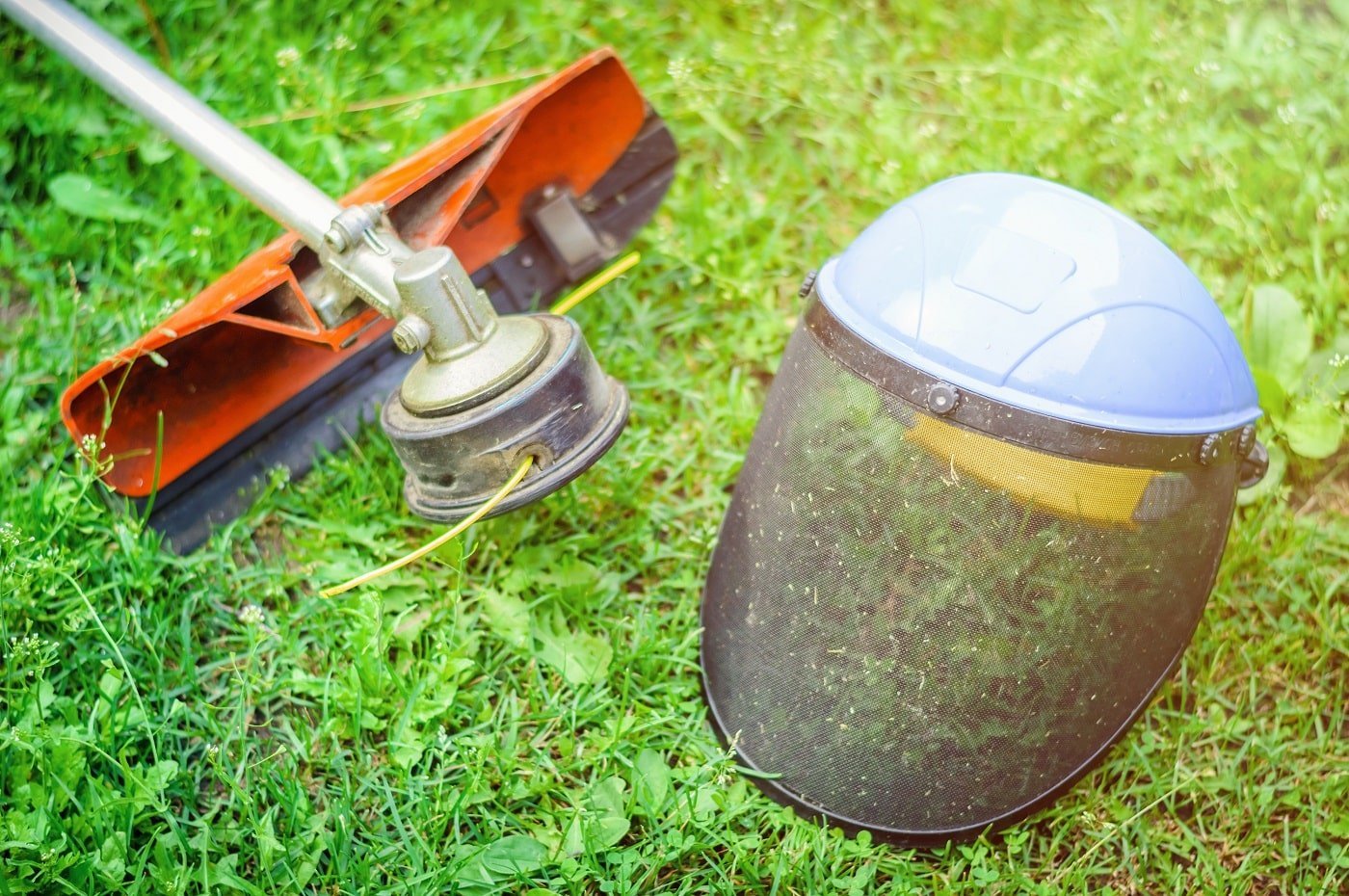 One of our top recommendations is this field trimmer from Southland Outdoor Power Equipment. If you are on the lookout for something that's affordable, easy to start, durable, and easy to store, this is the one for you. Long story short, this Southland field trimmer is a heavy-duty machine that can meet your trimming needs with ease.
Why Did We Like It?
The first thing that stood out for us was how easy it is to start this machine. You don't have to join the gym and buff up only to operate it. It has a manual recoil system that cranks the machine up on the first go.
Once you get it going, nothing can come in its way. The 150cc engine makes this trimmer heavy-duty and rugged. You can expect it to cut whatever comes in its way, even those pesky wooden stalks.
And that's not all; its 22-inch cutting swath ensures you can get rid of anything in not only open ground, but also harder to reach places.
You may think a trimmer like this must be hard to store, but that is far from the truth. This heavy-duty machine is relatively easy to store and doesn't take up too much space, thanks to the foldable handle.
What Could've Been Better?
While having a trimmer that can pretty much chomp down on anything is great, it comes with some downfalls. A common complaint with this machine was its inability to cut on uneven terrain and slopes since it tends to topple over.
Pros
Convenient to store

Foam cushion on handles to avoid any damage to your hands

Cranks up on the first pull

Easy to assemble
Cons
Difficult to maneuver on uneven or sloping terrain
Our next recommendation is the Remington string trimmer. If you are looking for a machine with a powerful engine that can destroy overgrown areas and tall grass without breaking a sweat, this is the one for you. This one is highly recommended for anyone that wants a fuel-efficient machine that is also user friendly.
Why Did We Like It?
First off, the machine has a mighty engine that is ideal for people who have large gardens or a lot of overgrown weeds and grass.
Much like the trimmer we previously reviewed, it doesn't give any trouble starting at the first pull and has a 22-inch cutting swath. So, you can cover a large or dense area for a long time with ease.
Furthermore, it can take down weeds as tall as 5 feet, so you don't have to physically strain yourself to clear out a patch of land with a wacker. Just crank this up and watch it clear the path for you.
Last but not least, the wheels on this machine are high enough so you can push it around on rough terrain without putting in too much effort.
What Could've Been Better?
As mentioned, the wheels on this machine are great, but it can further improve. While the wheels' height allows them to go on rough terrain, their width might not allow them to do so smoothly. As such, the wheels might stop occasionally.
Pros
Can cut through weeds as tall as 5 feet

Powerful engine ideal for more prolonged use

Suitable for use on rough terrain

Easy to store
Cons
You might have to put in more effort on uneven ground
If you are looking for a compact, easy to use machine that caters to basic trimming needs, this is the one for you. Not everyone has acres and acres of land lying around with overgrown grass and weeds. Sometimes, you need a small machine for all those little details. You can count on this one to help maintain the garden.
Why Did We Like It?
One of the top reasons this trimmer is on the list is to highlight its rotating trimmer. It can rotate 20 to 30 degrees, and that is ideal for when you want to cut around boundaries or edges.
Another great feature is that it is lightweight, which means you don't have to depend on hand-held trimmers for your basic trimming needs. You can use this one instead because it has a 0.155-inch string, which is broader and more durable than hand-held machines.
In addition to all these excellent features, storing the trimmer will not be a hassle either. Although the handle doesn't fold, the compact design of the machine allows it to fit anywhere.
What Could've Been Better?
As previously mentioned, the machine is smaller in size and not as powerful as some bigger weed trimmers. So, it is not ideal to use this if you have a larger space or thicker overgrown patches.
Pros
Affordable

Easy to handle

Compact design

Perfect for cutting along edges and boundaries
Cons
Not made for thick weeds or tall grass
Now we have the EARTHQUAKE trimmer, which is deadly. The 150cc engine on this machine will ensure it eliminates everything in its way with ease. It is perfect for residential properties as it doesn't make as much noise as its competitors. So, you can count on this one to keep your property looking fresh.
Why Did We Like It?
Finding the perfect string trimmer while living in a heavily populated locality can be difficult. The EARTHQUAKE trimmer is ideal for people who wish to keep a clean property without disturbing the neighbors.
Sometimes the noise isn't a concern, but assembly is; this string trimmer solves that problem too. It comes pre-assembled, so all you have to do is open it, fill it up with oil, fire it up, and watch it demolish everything that's keeping your garden from looking its best!
Now, coming to the design aspect of this trimmer. It has a low trimming deck that allows you to trim in harder to reach spots like under fences. Plus, the wheels are wide enough, making it easier to handle and smoothly go over rough terrain.
Overall, it is a fantastic product to use for your residential property, has excellent value for money and the five-year warranty is a definite bonus!
What Could've Been Better?
Having a garden as part of your residence doesn't mean it can be full of tall grass. That is where this product is lacking. It is not as useful if you intend on commercially using it or want to cut tall grass.
Pros
Already assembled and ready to use

Low trimming deck

Makes less noise

It comes with a five-year warranty
Cons
Not meant for tall grass or commercial use
The Tazz String Mower/Trimmer has most of the standard features as its competitors and then some! If you are looking for an affordable alternative to the EARTHQUAKE trimmer with some additional features, this is the one for you. This 150cc engine machine is powerful enough to keep the weeds off your property.
Why Did We Like It?
To put it down simply, it has more to offer than it shows. The engine is powerful, and the 22-inch cutting swath can cover a large area in a short time.
Additionally, it has a never-kill engine. That means the engine will keep running even when the cutter is not engaged.
This trimmer is ideal for people who want a machine that doesn't interrupt them while clearing out the property. Constantly switching it on and off can cause malfunctions, and this reduces that risk.
Another feature worth pointing out is that the trimmer can cut through thick bushes and patches of land with heavy growth. It always starts on the first pull and can get to work within 5 mins of unpacking.
What Could've Been Better?
While trying to figure out the downside to this machine, we found that it can get challenging to maneuver. Although the wheels allow it to go over rough terrain, it may not be easy to handle since it is a heavyweight machine.
Pros
Never-kill engine saves time

It starts on the first pull

Can cut through heavy growth

Affordable
Made by American manufacturers Briggs and Stratton, the Husqvarna trimmer is known for its quality. If you are looking for a lightweight, and easy to use trimmer for heavy-duty trimming, then your search ends here. This string trimmer will chomp down weeds, stalks, and tall grass effortlessly and without having you break into a sweat.
Why Did We Like It?
The most crucial feature that caught our eye was that it was easy to use and spoken for in high regard by senior citizens. It is lightweight, easy to maneuver and walk behind, making it quite popular among people who do not want to strain themselves physically.
Another noteworthy feature is that you can adjust the cutter based on your needs. This trimmer has a cutting range of 1.6 – 3 inches.
Moreover, it does not matter how big or small you are; the machine has adjustable handles so that you can adjust it at a comfortable height.
Much like some of the previously reviewed trimmers, this one too has a never-kill engine minimizing interruption while you trim.
Overall this is one of the most user-friendly machines that people of all ages can use.
What Could've Been Better?
It was challenging to find a flaw in this trimmer, but it's worth keeping in mind that the quality of the plastic carrier provided might not be up to your expectations. So, it is best to take note of some brands for a replacement in case the carrier snaps.
Pros
It is quite lightweight

Easy to walk behind

Minimize interrupting with never-kill engine

Adjustable cutter
Cons
Flimsy and breakable plastic carrier for string
Another great lightweight, affordable, and easy to maneuver string trimmer is this one. It has a smaller engine than some of the others we have reviewed in this list but can give them a run for their money. If you are testing the waters with string trimmers, this is the one for you.
Why Did We Like It?
The most significant feature for us was the design of the product. It has a slim structure, making it easy for anyone, beginner or otherwise, to use this product. The stature of the machine allows it to reach under fences, railings, and other harder to reach spots.
However, a smaller framed machine does not mean it doesn't have any power. It can cut through thick weeds and grass as efficiently as any other trimmer on this list.
It is also noteworthy that this small walk-behind machine ensures that you are not left feeling drained after a hard day's work (which would be the case with a regular weed whacker).
Another significant aspect is that it takes very little time to assemble, allowing you to put it to work as soon as you like.
What Could've Been Better?
One of the downsides to this machine that we came across was regarding the user manual. We noticed that a lot of people would have wanted the instructions to be better. It is also important to remember that the smaller engine might not allow heavy-duty work for a long time.
Pros
It is easy to assemble

Easy to start

Great value for money

Small yet powerful for light work

Slim design allows easy storage
Cons
Instruction manual needs to improve

Not meant for long hours of heavy-duty work
Now on the list is a wheeled trimmer that offers some great features for an affordable price. This powerful and sleek-looking machine is excellent for effortlessly trimming tall grass, weeds, and bushes. The machine is also quieter than most of its competitors, allowing you to carry out your work without any disturbance!
No products found.
Why Did We Like It?
This one is like a gift that keeps on giving. One of the first unique features we would like to mention is that the DHT string trimmer has a never-kill engine making it easier to clear any objects in the machine's path.
The next great point is the adjustable cutting height feature of this trimmer. Unlike some that only have 3 cutting options, this one goes up to 5, ranging from 1.5 inches to 3.5 inches.
Another fantastic feature is the string thickness it can hold. Most of the machines on this list can support a string thickness of up to 0.155 (or lesser). But, this one can go up to 0.17, which is very advantageous incase you need a thick string to cut thicker growth.
What Could've Been Better?
A common complaint with this trimmer was that it was not made to cut around obstacles. You might face some trouble turning the head of the machine, but if you need to clear a massive area without swerving it around too much, it will be fine.
Pros
5 different cutting heights

Can hold thicker strings

Secure design for holding a thick string

Never-kill engine
Cons
Not made to go around obstacles
Finally on our list is the SuperHandy Trimmer. This handy and powerful tool is an excellent addition to your garden tools and will help you by cutting off pesky growths like tall grass, weeds, and shrubs like a hot knife on butter. Powered by the 149cc engine it carries, this machine can solve all your gardening problems with its 21-inch cutting swath.
Sale
Why Did We Like It?
The first great thing that this machine has is all-terrain wheels. The wheels are made to suit rough and uneven ground, so you will not be breaking your back while using this.
Moreover, if you are looking for a string trimmer that can cut along flower beds, fountains, and fences, this is the one for you. This machine is made in a way that gives you precise cuts without you putting in too much effort.
SuperHandy focuses on its customers' safety and comfort, which is why it cuts without vibrating too much and is also easy to use. It is also easy to store because of the foldable handles, ensuring it takes up less space in your storage area.
What Could've Been Better?
Unlike most of its competitors, the SuperHandy trimmer does not have oil included in the package, which is a common concern among the people who buy this trimmer. Moreover, there have also been a few issues regarding it starting on the first pull.
Pros
Easy to maneuver on all terrains

Great for tall weeds and grass

Compact design allowing easy storage

It can be used on massive plots of land
Cons
Has trouble starting on the first pull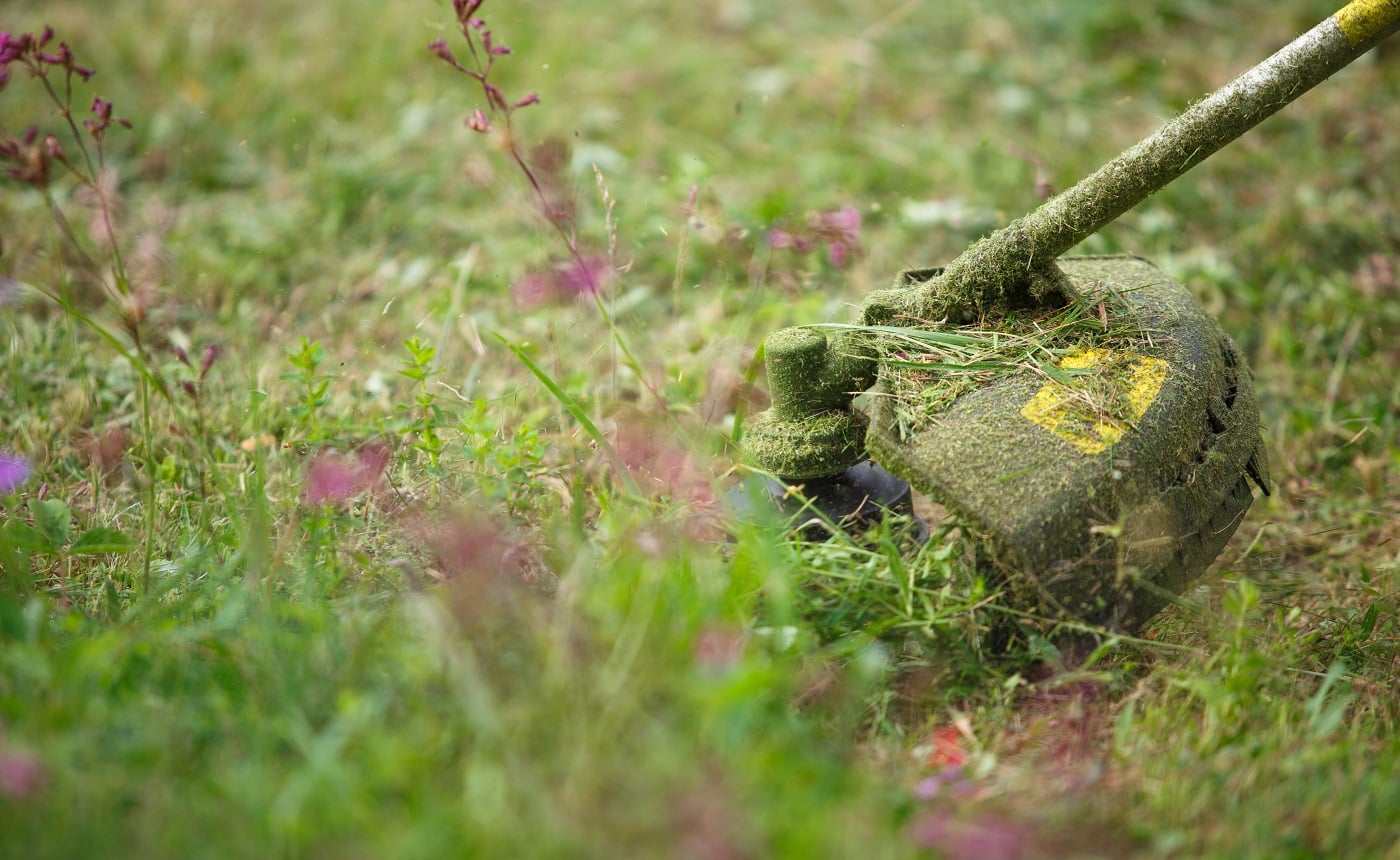 Walk-Behind String Trimmer Buyer's Guide
Now it does not matter if you are new to this or have a fair amount of experience; buying a product that makes your space look better can be a bit daunting.
It can be a little more nerve-racking than usual when you are trying to buy something online. There are no physical machines to look at or a person to clear your doubts continually. Don't let your apprehension for online products come in the way you buy the best product.
After reading our comprehensive guide that reviews 9 of the top string trimmers from 2020, we understand if you are still feeling a little confused.
To put you at ease and give you a clearer idea, read on below to know what to look out for while buying a string trimmer.
Coverage
The first and probably most important thing to look for is the cutting swath of the trimmer. If you are looking for a machine that can cover a lot of area within short periods, then a 22-inch cutting swath is ideal. If you don't have a lot to cover, invest in something smaller like a 17-inch cutting swath.
Usage
Maintaining a patch of land can be hard, especially if you are away from time to time. If you want a trimmer to cut out thick and tall growths from time to time, then a heavy duty machine is the one for you. However, if you wish to occasionally cut weeds and need the machine for some light trimming, it is better to opt for a lightweight trimmer.
Storage
Buying a commercial type trimmer is excellent as it will assist you in carrying out all gardening duties, but in the absence of proper storage space, it will come in the way of your daily life. It is essential to remember how much space you have or can make for your trimmer.
However, mostly all string trimmers have handles that can fold, causing them to take lesser space.
Comfort
It is no secret that you would opt for a string trimmer over a weed whacker because a weed whacker can be physically strenuous. However, it is advisable to look out for a machine that has an ergonomic design. The walk-behind string trimmer should ideally not put any strain on your back and should be easy to push around.
The handle itself should have padding to minimize the effect of the vibration the machine causes. The padding will prevent any damage to your hands and arms.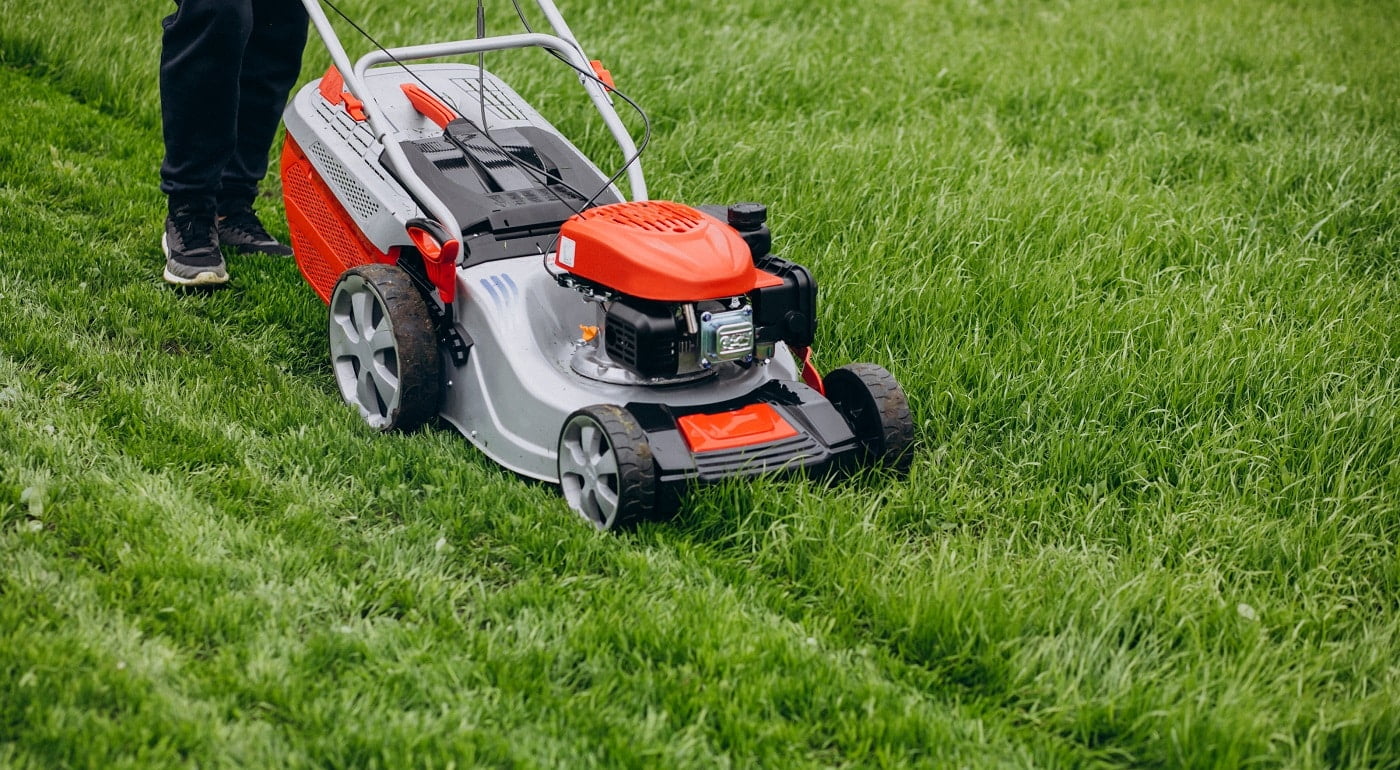 Verdict
Whether you have a large plot of land or just a small residential garden, maintaining it can be strenuous. But what makes it essential is the fact that a well-maintained lawn and surrounding enhances the overall look and value of any property.
On that note, we will be signing off. But before we leave, let us remind you that if you have a residential lawn that needs to be managed, the EARTHQUAKE trimmer is ideal. For bigger plots of land and commercial use, the Husqvarna trimmer and the TAZZ trimmer are great choices.
And with that, we bid adieu to you. Until next time!
Related Articles
Straight Shaft vs. Curved Shaft Trimmer [Guide & Winner]