Living in a rented apartment or a housing area with a ton of restrictions can be challenging.
It can become taxing to get the paperwork done, and permissions handled for various fixtures and installations, especially heating and cooling systems. Plus, it can cost a lot of money which is impractical if the residents are meant to leave in a few months. This is where having a portable air conditioner becomes beneficial.
If you have any building restrictions regarding window air conditioners or intend to keep moving houses, then having a portable AC makes life a bit easier. But, it all boils down to which one is ideal for you. To elaborate on that, we have a comprehensive review of the 9 best ventless portable air conditioners available on the market right now.
So, without further ado, let's begin!
Best Ventless Portable Air Conditioners
IMAGE
PRODUCT
DETAILS

Our Top Pick

Our Top Pick

SereneLife Portable Air Conditioner

Three operating modes
Washable air filter screen

VIEW LATEST PRICE →

Whynter Portable Air Conditioner

Efficiently cools room up to 500 sq. ft.
Eco-friendly

VIEW LATEST PRICE →

Black + Decker Portable Air Conditioner

3 fan levels
Compact design

VIEW LATEST PRICE →

Honeywell Portable Air Conditioner

Dual filtration system
Full installation kit included

VIEW LATEST PRICE →

COSTWAY Portable Air Conditioner

Wide cooling area
Sleep mode lowers noise automatically

VIEW LATEST PRICE →

Evapolar evaCHILL Portable Air Conditioner

Ideal for office desk, table or couch
9 hours working time

VIEW LATEST PRICE →

Quilo Portable Air Conditioner

Continuous drainage system
Saves energy

VIEW LATEST PRICE →

Frigidaire Portable Indoor Outdoor Air Fan and Humidifier

Ideal for outdoor use
5-gallon tank

VIEW LATEST PRICE →

GT Tech Portable Air Conditioner

Type C charging interface
Built-in atomizer

VIEW LATEST PRICE →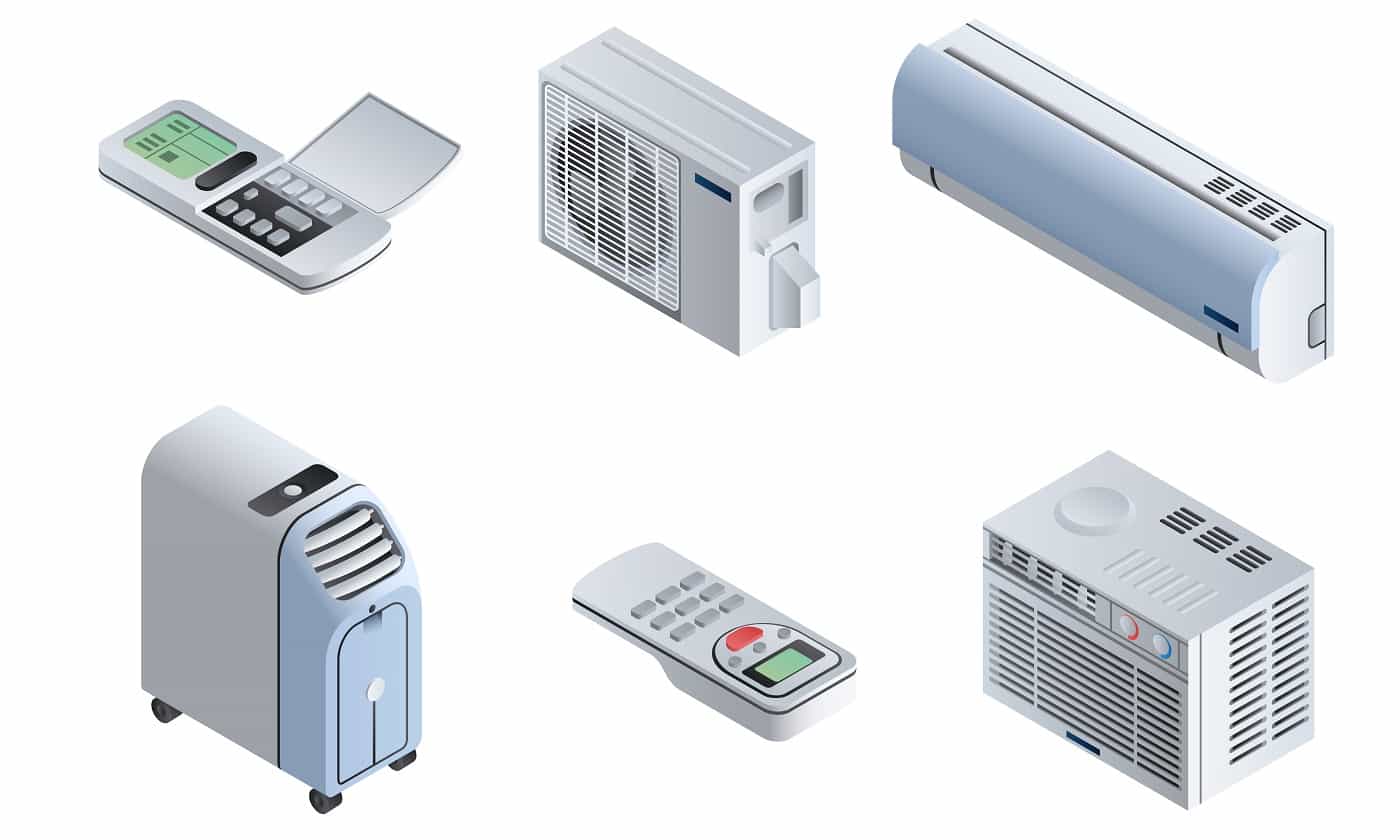 This portable air conditioner by SereneLife is ideal for anyone looking for multiple built-in features. It is very easy to use and works efficiently, just like any window AC. The design is sleek, making it perfect for any home style as it will blend right in. Let's explore some of its features now.
Sale
Why Did We Like It?
The search for an air conditioner that cools the room like a pro and looks good while doing it ends with SereneLife's portable AC. It has 10,000 BTU cooling power and 9,000 BTU heating power, making it ideal for any space. The design is modern and sleek, ensuring it blends in any setting.
In terms of ease of use, it comes with a remote control, the buttons of which are fairly simple and not overcomplicated. This AC has wheels that make it rather portable, in case it needs to be moved around. It also has a variant with Wi-Fi which allows you to control it with your phone.
Additionally, it has a low decibel level, which is ideal for light sleepers or people with babies in the house. It is very easy to set up as well since it comes with a kit and has a moving wind vent for max air circulation.
What Could've Been Better?
Overall, this is a great AC to have in any residential and commercial space alike, but many reviewers found it a bit heavy and bulky. The baseline model weighs 56 pounds, and the weight can go all the way up to 75 pounds. However, the wheels make it easier to move it around.
Pros
Sleek design

Effective cooling and heating

Simple remote

Low noise
Another great portable air conditioner with a sleek design is this one by Whynter. It is reliable, efficient and has won multiple awards that speak for its quality. Whynter designs its products in a way that ensures that they are packed with features, thereby making them powerful without compromising on style.
Sale
Why Did We Like It?
The company designs its air conditioner to enable easy and comfortable living and wants the world to know they are not empty claims. They have won many awards, including Good Housekeeping's "2020 Best Overall."
Another great feature is that this air conditioner is CFC-free and lead-free, making it safe for the environment. It has three operational modes to choose from and many more features that make it highly efficient. If you are looking for a model which improves air quality, has a 24-hour timer, and is easy to install, this is the one.
Moving on to the installation, it is very simple as it comes with a full installation kit. It has an extendable hose and a drain function that ensures there are no leaks in the room.
What Could've Been Better?
While this model is very efficient and cools the room fast, there is no option to keep it on continuously. This can be a noisy disturbance for light sleepers and babies since it will turn on and off by itself through the night. Moreover, the remote only works when pointed directly at the air conditioner.
Pros
Eco-friendly

Full installation kit provided

1 year warranty on unit

Award-winning brand
If you are looking for a powerful portable AC that does not take up a lot of floor space, then the Black + Decker portable AC is ideal for you. It has a sleek design that is ideal for small rooms but has a lot of power, is easy to install, and is portable.
Sale
Why Did We Like It?
Cooling small spaces without wall installation has never been easier, thanks to the Black + Decker portable air conditioner. It is ideal for students living in dorms or people who travel in RV's since it is compact and will fit unobtrusively. The dimensions are 16.5 x 15.5 making it ideal for rooms up to 150 sq. ft. or less.
Now that we have spoken about the space, let's move on to the features. The thing that makes this model stand out is the 3 fan levels it has in addition to the 3 operational modes. The fan speed can be adjusted, and it also has an auto fan mode where it adjusts itself when cooling.
Overall, this is a great compact unit that is easy to install and can cool, heat, and dehumidify any space. It also has a 24-hour timer and sleep mode that controls the humidity and moisture at night as you sleep.
What Could've Been Better?
The only downside to this air conditioner is that it is super-effective as long as the temperature isn't brutally hot outside. So, if you see temperatures up to 30-35℃, the unit will work just fine. But, if it gets hotter than that, it might not cool as effectively.
Pros
Takes very little space in the room

Can control humidity and moisture

Multiple fan speeds

Easy to install
Cons
Not effective if the temperature outside is very high
The next portable air conditioner we are reviewing is the one by Honeywell. This model ensures the air in the room is cool and clean for the safety of your family and you. It is a durable and sturdy unit that aims at filing any space with breathable, clean air for a long time.
Why Did We Like It?
Ideal for spaces up to 350-400 sq. ft., this portable AC will ensure the room's air is free from anything that can harm your family. It has a dual filtration system that filters dust, pet hair, and human hair from the system. The filter reduces impurities from the air and protects the unit from malfunctions making it last longer.
Coming to the installation, it is pretty straightforward. The unit comes with a full installation kit, so you do not have to buy anything additionally. This unit has 3 operational modes, three fan speeds, and also a sleep mode. Additionally, it has a 24 hour time and an auto evaporation feature, ensuring fewer leaks and no bucket needed.
In terms of mobility and storage, the unit has wheels, so there is no need to lift it. Moving it around is pretty simple. It is also a quiet AC, so no babies or light sleepers are affected.
What Could've Been Better?
Some reviewers have mentioned that the unit is a bit bulky and heavy, but the wheels make it easy to move it around. However, the main issue is the hose, which does not complement the unit's look. It ends up making the whole set up look bad.
Pros
Filters out the air

Sleep mode saves energy

Straightforward installation

Low noise
Cons
Design of the hose spoils the overall look
In case you are not looking to cool a whole room in one go and need something that can efficiently spot cool, this COSTWAY AC is ideal. It is a small yet efficient unit that is portable and powerful. Let us give you an idea as to why this made it to our list.
Why Did We Like It?
Everyone has spots in their home that need special attention in terms of cooling. The COSTWAY portable AC is ideal for eliminating those spots as it will efficiently cool the area down. The wheels on this AC make it easy if it has to be moved around, and it also circulates the air evenly in the area.
Now, coming to the features. It has multiple functions like a 24-hour timer, a temperature sensor that displays in Celsius and Fahrenheit, 2 fan speeds, and a "water full" indicator. This unit's sleeping mode lowers the noise down to 56 decibels or lower and maintains the temperature by itself. It has a remote control included for easy usage.
Apart from easy usage, this AC unit is also easy to clean as it has a removable filter that can be rinsed under running water. The installation is also straightforward as it comes with a window kit.
What Could've Been Better?
One of the major downsides we found with this AC unit was that the drain hose was not attached to a bucket. In order to empty out the water, the unit needs to be rolled out and done manually which can get quite tedious.
Pros
Easy to install

Portable

Evenly circulates air

Easy to clean
Cons
Water needs to be manually drained out
There are times when there is no need for a full-blown portable AC. Sometimes all you need is a small device for an office desk or bedside table to keep you cool. For needs like that, there is the Evapolar evaCHILL portable air conditioner. This compact unit is ideal for personal use.
Sale
Why Did We Like It?
Gone are the days where there was a need for multiple bulky appliances. This unit is packed with features that are found in regular-sized air conditioners. This AC has a 3-in-1 function where it can cool, humidify and keep the air around you clean.
Another great feature is that this is very light and small, making it easy to carry no matter where you go. Since this is made for personal use and is portable, it can be used at home as well as outdoors. Ideal to carry on camping trips, road trips, and anywhere where you feel the air is going to be hot.
Additionally, regardless of where it is used, it keeps the air clean, moist and reduces fatigue. It is also very easy to use since all you need to do is fill the water tank, plug it in and press the power button. It is guaranteed to work for at least 9 hours without making any noise.
What Could've Been Better?
One of the biggest downsides of this AC unit was that it has a tendency to leak. Reviews have mentioned that if this unit is kept at a slant, the water starts to spill out from the inside. Apart from the mess it creates, it's also not safe for the unit since it can cause a short circuit.
Pros
Ideal for personal use

Portable and light

Works as an AC and purifier

Easy to use
Quilo is a great brand to look into when looking for a portable air conditioner that can cool rooms from 450-550 sq. ft. This company prides itself on producing top-quality AC units that can efficiently cool the room it is in while saving energy. Plus, it is a sleek and elegant-looking unit.
Why Did We Like It?
One of the biggest challenges with central air conditioners is that it uses a lot of energy, leading to massive bills. But, with the Quilo portable air conditioner, this is not going to be a problem. This unit only cools the room that it is, unlike central air conditioning, reducing energy consumption.
Moving on to the installation. This AC unit is quite easy to install and can be done by anybody. It comes with a full installation kit that has everything you need, including a flexible hose. This easy to use window kit can be used to install the AC near any vertical or horizontal window.
In terms of usage, it doesn't get easier than this. The Quilo AC has wheels that allow for it to be portable. It has multiple features like a quiet sleep mode, three fan levels, a 24-hour timer, and a lot more which are all accessible through the remote that comes with it.
What Could've Been Better?
One of the most common issues we came across regarding this AC was that it was noisy. A lot of reviewers mentioned that despite claiming to be noiseless, this unit makes a lot of noise in every mode except fan mode.
Pros
Easy to move around

Full installation kit included

Energy-saving unit

Easy to understand remote control
If you live in a place where the climate is mostly dry and hot, trust Frigidaire's portable air fan and humidifier to keep you cool. Whether this is kept indoor or outdoor, it is guaranteed to lower the temperature by a significant amount. Let's look into some of its features.
Sale
Why Did We Like It?
Unlike some of the other portable air conditioners we have reviewed, this one is made mainly for outdoor use (although it works fine indoors too). This unit has a lot of power and is able to keep the area cool in places with a dry climate. If you live in a place with an arid climate, we recommend getting this.
Now, let's talk about what it has to offer. This unit has three cooling modes, four fan modes, and a wide coverage area. It is energy-efficient and does not use any chemical refrigerant to keep the area cool, making it eco-friendly. It can cool rooms up to 640 sq ft.
Additionally, this unit has a noiseless operation, making it perfect for people with babies and light sleepers. The design is compact and sleek, ensuring it blends in with any kind of interior.
What Could've Been Better?
While this unit has much to offer, unfortunately, it does not have a long lifespan. There have been a few instances where the cooling option or, sometimes, the whole unit has stopped working. Moreover, the unit also tends to leak.
Pros
Effective cooling

Great for patios and decks

Eco-friendly

Energy efficient
Finally, we will be reviewing the portable air conditioner by GT Tech. Similar to the evaCHILL AC, this one too is meant for personal use and can be placed on bedside, office, or study desks. Apart from being a portable AC, this unit has multiple functions that make it unique. Let's check some of those out.
Why Did We Like It?
To begin with, it is a very small and compact unit which makes it easily portable. It has a soft handle which ensures it does not cause any inconvenience as it is being carried. This unit is also very efficient as it takes about 30 seconds to start cooling without any chemical refrigerants.
Coming to the functions it has, apart from the usual cooling and heating, this unit also works as an atomizer. To use it as an atomizer, all you need to do is add water or ice to produce vapor. Plus, it has a soft light, available in multiple colors, that allows this unit to be used as a nightlight as well.
Moreover, it is super easy to charge. It has a lithium battery which can be charged using any type C charger. It can be plugged into a socket, power bank, or even a laptop for effective charging.
What Could've Been Better?
It was quite difficult to find anything majorly wrong with this portable air conditioner among the glowing reviews. However, one downside that came to the forefront was that it quickly runs out of water and needs to be refilled. Also, the fan speed, although still effective, is not as powerful as advertised.
Pros
Compact unit

Soft handle

Multiple functions

Easy to charge
Cons
Needs frequent water refills
 Portable AC Buyer's Guide
We understand if you are feeling overwhelmed with the amount of information we have thrown your way. However, picking the right portable AC can be a bit of a challenging task. There are many features that need to be looked at and considered before zeroing in on one.
To clear the air of confusion that could be surrounding you, we have put together a short guide elaborating on the important features of any good portable AC.
Runtime
One of the most crucial features to look at has to be the runtime. It will be pointless if the AC stops working when you need it the most. While most units offer 3-4 hours of run time, there are bigger units with up to 8 hours.
Ultimately, it's the size of the tank that determines the runtime, so it would be helpful to pick a unit with a big tank.
Coverage
While this is an important aspect, it also depends on the size of the room. Buying a big unit with wide coverage for a small space like a dorm or an RV will not benefit it in any way.
It will be helpful to measure the space in feet and then check the size of the unit. The ideal unit should fit unobtrusively and still cool every corner of the room.
Usage
Nobody wants an appliance that is difficult to understand and operate. With appliances becoming more user-friendly, it is vital to find a portable AC that doesn't leave you scratching your head in confusion. Having basic things like wheels for portability, clearly marked buttons and a remote with all the features mentioned makes it easy to use the unit.
Special Functions
Having additional functions makes any appliance more attractive, and portable AC's are no different. However, in this case, it makes the unit easier to use as well. Functions like 24-hour timers, dual filtration, easy to remove and wash filter, automatic drainage systems, and sleep mode are crucial and make the unit more efficient.
Noise Levels
If you plan on keeping these air conditioners on all night, keep an eye out for the noise level. Even if you are not a light sleeper, it can end up being a disturbance. This is a crucial point to remember for people with babies in the house as well.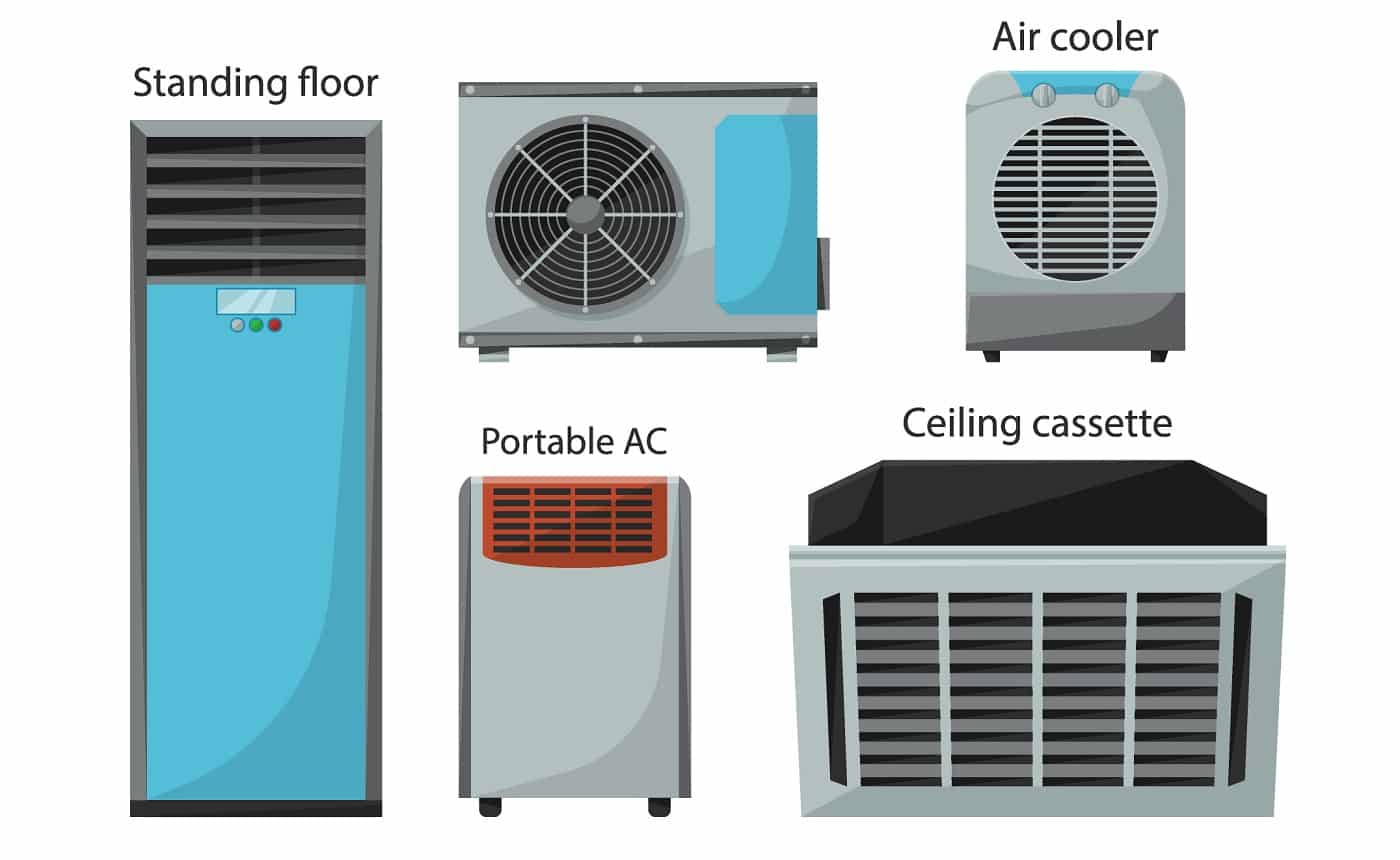 Verdict
There you have it! Unbiased and comprehensive reviews of the 9 best ventless portable air conditioners. We hope these reviews, along with the buying guide, have been informative.
To reiterate, we would like to mention our top two picks. For effective cooling of rooms up to 500 sq. ft., we love the Whynter portable AC, which is efficient and eco-friendly. However, if you are a light sleeper, then we would recommend the one by Honeywell.
We shall now take your leave, but we promise to be back soon with more such reviews and guides.
Stay cool, and see you next time!
Related Articles
10 Types of Air Conditioners to Consider | Buying Guide
10 Best Dual Hose Portable Air Conditioners | Buyer's Guide
13 Best Portable Air Conditioner and Heater Combos of 2022 | Buyer's Guide
9 Best Battery Powered AC Units in 2022 | Buyer's Guide
How To Hide Your [AC] Air Conditioner Unit?
13 Quietest Portable Air Conditioners  
Zero Breeze Mark II Portable Air Conditioner
7 Best Through-the-Wall Air Conditioner
5 Best Soleus Air Conditioners
How To Clean Air Conditioner Coils Properly
Evapolar EvaSMART EV-3000 Personal Air Cooler Reviewed
Replacing or Repairing Your Air Conditioner Unit 101 | All You Need to Know
LG Electronics LP0814WNR Portable Air Conditioner Reviewed
Shinco YPL3-10C Reviewed [All You Need To Know]
Evapolar EvaSMART EV-3000 Personal Air Cooler Reviewed
Zero Breeze Mark II Portable Air Conditioner
Coway AP-1512HH Mighty Air Purifier Review
Can You Recharge A Window Air Conditioner?
11 Best Evaporative Swamp Coolers [Reviewed & Buyer's Guide]