Disclaimer | This article may contain affiliate links, this means that at no cost to you, we may receive a small commission for qualifying purchases.
Who does not want beautiful wooden furniture to adorn their room? But let's be honest- getting new pieces can cost a fortune!
That's when you can get your hands on a varnish that will make your old furniture look as fresh as new. The efficiency of a wooden finish depends on factors like your preferences, the type of wood that is being coated, and the weather conditions. A wise selection would not only make your furniture look beautiful but also prevent them from damage. 
However, we know that it is easier said than done. With multitudes of options on the market, choosing the perfect one is anything but simple. To help you, we have devised this guide where we talk about the top 9 varnishes for wood. There's a buyer's guide, in the end, that covers various aspects you must consider before picking the perfect varnish. 
So, without further ado, let's check them out!
Top Varnishes for Wood
IMAGE
PRODUCT
DETAILS

Our Top Pick

Our Top Pick

Rust-Oleum 207008 Marine Spar Varnish

Resistant to UV rays
Crystal clear varnish
Takes 2 hours to become dry to touch

VIEW LATEST PRICE →

Minwax 63005444 Fast Drying Polyurethane Clear Finish

Semi-gloss finish
Fast-drying formula
Oil-based varnish

VIEW LATEST PRICE →

Varathane 262006 Premium Fast Dry Wood Stain

Available in a range of colors
Covers up to 275 square feet
Dries up in an hour

VIEW LATEST PRICE →

TotalBoat Gleam Marine Spar Varnish

Gloss and Satin Polyurethane Finish
Recoat can be done in 1 hour
1 gallon covers 250 square feet

VIEW LATEST PRICE →

Epifanes CV.500 Clear Varnish

Clear type varnish
Comes with UV filters
Weighs 1 pound

VIEW LATEST PRICE →

Minwax 40900000 Wipe-On Poly

UV-resistant
Size of 1 pint
Provides 2 types of finish: gloss and satin

VIEW LATEST PRICE →

TotalBoat Halcyon Marine Varnish

Water-based varnish
Suitable for interior and exterior use
Deposits a light amber stain

VIEW LATEST PRICE →

System Three 1850S16 Clear Marine Spar Urethane Varnish Coating

Oil-based formula
Clear and durable finish
Comes in 2 types: glossy shine and matte finish

VIEW LATEST PRICE →

Deft Defthane 037125020040 Interior Exterior Clear Polyurethane Gloss

EPA regulated product
Provides gloss finish
Size of 1 quart

VIEW LATEST PRICE →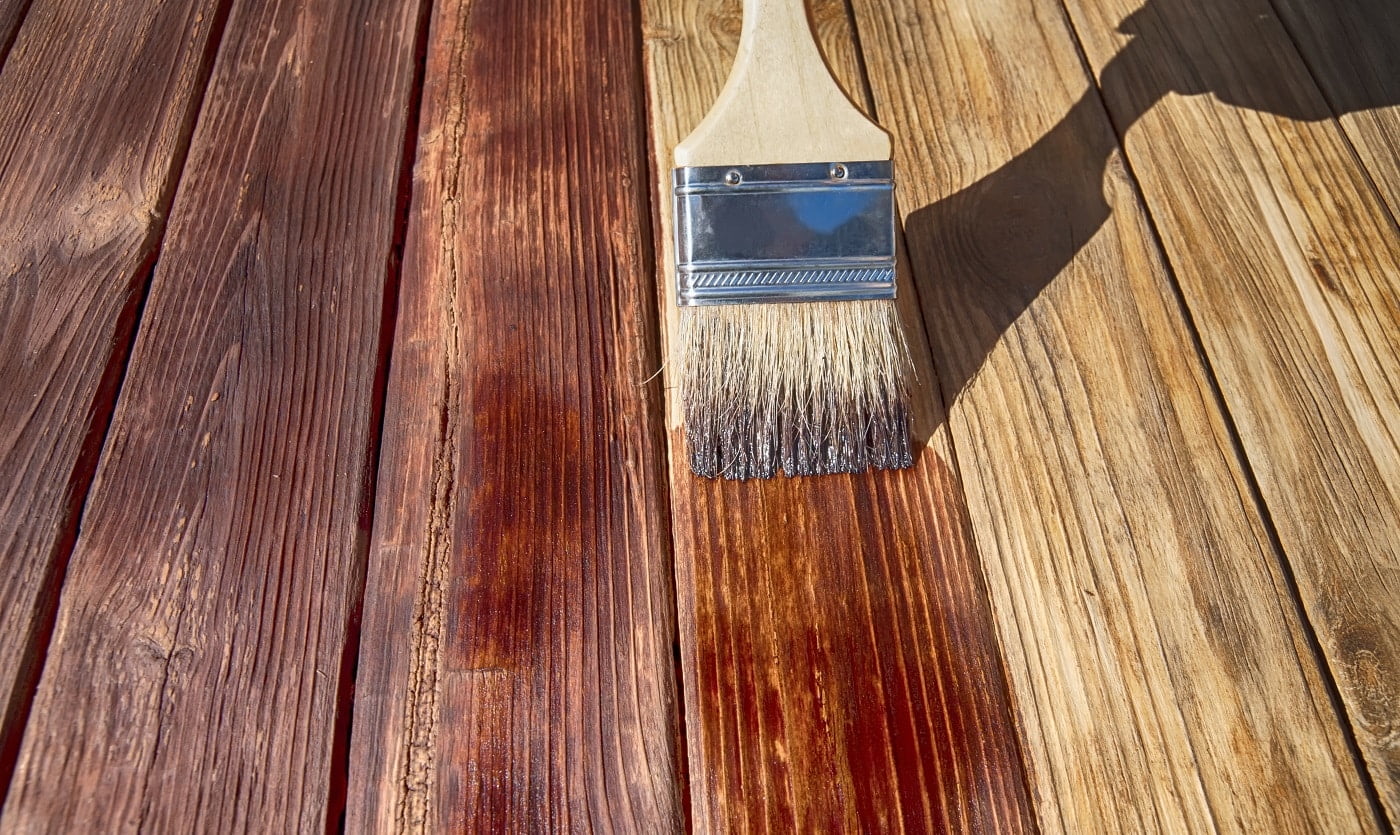 If your major lookout is to get your hands on an all-weather varnish, the Rust-Oleum 207008 Marine Spar Varnish is an ideal option to consider. You can apply it at any time of the year without any fuss. It preserves the natural beauty of the wood even in the harshest of weather conditions.
Sale
Why Did We Like It?
Let us tell you what we liked the best about this item! It is an oil-based varnish, and that means it penetrates deep into the wooden surface and treats it from within. This also ensures that the final finish looks incredible and lasts long. 
And as we already mentioned before, you can use it all year round under any weather conditions. Because it is an oil-based formula, it contracts and expands easily and does not develop any cracks in the paint in case of unexpected weather conditions. 
Moreover, we were pretty impressed by the durability that this item provides. Even after months of applying it on wooden furniture, it looked good as new. Even if you stay by the seashore, you'll notice that the salty air doesn't have any detrimental effect on this varnish. Its transparent gloss is quite efficient in preserving the natural look of the wood. 
What Could've Been Better?
We did not really come across any significant drawback of this product. However, we must warn you that patience is the key when you work with this. It takes a little time to dry up, and thus your painting time might feel prolonged. If you are in a hurry to wrap up a project, you should keep this factor in mind. 
Pros
Provides stellar finish

Known to be durable

Does not develop cracks

Preserves the natural beauty of wood
Cons
Takes considerable time to dry up
If you are looking for a fast dry varnish, you are at the right place. The Minwax 63005444 Fast Drying Polyurethane Clear Finish is quite suitable for cutting difficult areas that require fast dying, such as your wooden floors. Besides the convenience of its short drying time, it also adds an excellent luster and sheen to the wooden accessories.
Why Did We Like It?
What we liked the most about this product is the kind of versatility that it brings to the table. No one likes using a whole variety of varnishes to coat different things. This item is an all-rounder and can be used on a variety of wood surfaces. Be it finished or unfinished wood, this item is excellent for all.
Moreover, the final finish that this product delivers is incredible. It is a semi-gloss coat that is perfect for interior wooden furniture, doors, tables, and cabinets too. If you like a glossy texture but not over the top sheen, this varnish is your best bet.
Also, its fast-drying formula is excellent if you are in a hurry to finish a project. You do not have to wait for hours for it to become dry to touch. It dries up pretty fast, and if you are planning to apply a recoat, you can do it without much hassle.
What Could've Been Better?
Despite having no complaint about the performance of the varnish, we have to say that we were not too satisfied with the packaging. We expected the packaging to be better and sturdier. With poor packaging, it is difficult to guarantee the condition of the product by the time it reaches you.
Pros
Versatile product

Glossy but not too shiny

Dries up fast

Lasts for a long time
Cons
Packaging calls for improvement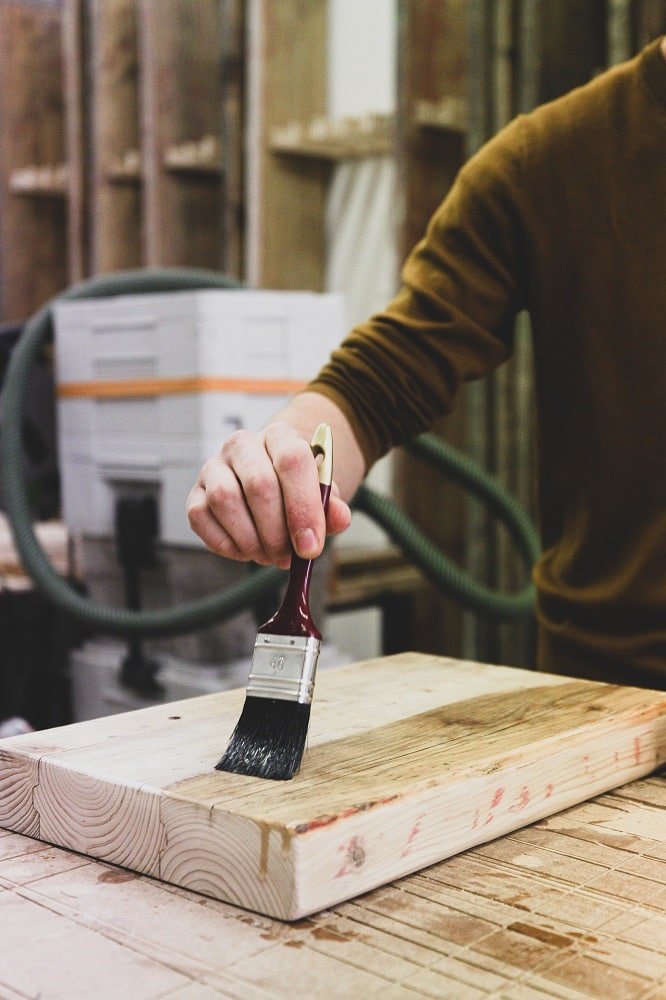 Next up on the list, we have the Varathane 262006 Premium Fast Dry Wood Stain, which is best known for its high-quality stain. It is well-loved by consumers because of its efficient performance and long-lasting results.
Sale
Why Did We Like It?
The most notable trait of this product is that it provides you with a finish that lasts for a considerable amount of time. It is infused with nano pigment particles that enhance the stain's quality and highlight the natural wood grain texture of your furniture. 
This exceptionally pigmented product requires one coat to give your furniture an added sheen and protection. You do not have to spend extra time, effort, or money to apply a recoat to get a proper finish. 
Also, to use this item, you do not need to prepare your wood. There is no requirement for additional expenses on pre-stain or any wood conditioner. You can directly apply this varnish to the wood without any prior preparation. 
If your wood furniture has developed tiny pores or cracks because of regular wear and tear, this varnish can help you restore it. It is excellent as a sealant, and the coat hardens in less than an hour.
What Could've Been Better?
The only issue that we faced with the product is that it does not come with a clear set of instructions. The user manual is not very detailed, and unless you have used wood varnishes before, you might find the process a little challenging.
Pros
Highly pigmented color

Helps in preserving natural wood texture

No prior wood preparation is required

Helps in sealing pores
Cons
User instructions need to be more detailed
The TotalBoat Gleam Marine Spar Varnish is ideal for handling salty water and harmful chemicals from the sea that damage wooden goods. It is an excellent option for both interior and exterior use. We highly recommend this varnish for those living in regions with unstable weather conditions.
Why Did We Like It?
To be honest, what brought this product to our attention is the fact that it dries so fast that one can paint multiple coats in quick successions. Besides drying quickly, the varnish deposits an even layer of coat that lasts for a considerably long time. When it comes to durability, we are not questioning the manufacturer's claim at all!
Moving on, the formula is highly potent and comes with a phenomic resin base with an added UV inhibitor. Whether it is rain, harsh rays of the sun, or snow, this item is built to provide 100% protection against weather-based damages. 
Additionally, this item is quite versatile, and depending on your requirement; you can opt for either the gloss or the satin finish. If you want the gloss finish, all you need to do is apply 4-6 layers of the gleam gloss. And for the satin finish, apply a layer of gleam satin coat for the final touch.
What Could've Been Better?
After using it a few times, we noticed that it delivers the best result only when applying a few coats to it. With a single coat, it might appear a little blotchy. Since a single coat will never suffice, you will end up using more product. This makes the product relatively expensive for a modest budget. 
Pros
Long-lasting finish

Highly efficient

Protects wood against weather damage

Provides 2 types of finish
Cons
More coats required for an even final finish
The popularity that the Epifanes CV.500 Clear Varnish enjoys crosses geographical boundaries. People worldwide have come to like this varnish for the ultimate high gloss finish that it delivers. And it's not just the stellar looks but also the kind of protection it provides to the wood that makes it remarkable.
Why Did We Like It?
We were very impressed by the incredible amount of protection that it offers to the wooden furniture. If your deck chairs are losing their charm due to constant sun exposure, this item is the one for you. It deposits a UV-resistant coat and effectively prevents wood from becoming dull and damaged because of the harsh sun rays. 
Moving on, this item requires very minimum maintenance. Because the layer is pretty solid, you do not have to think of reapplying it often. This saves you from putting extra effort into doing the same work and also saves unnecessary expenses. If you are looking for a varnish that can take the look of your furniture up a notch, this is the best bet. 
Lastly, we noticed that it is an excellent choice for both old and new wood.
What Could've Been Better?
Despite the brilliant performance that this item delivers, there's one complaint that we have. After the varnish was delivered, we noticed that the packaging was not really up to the mark. The outer box gets tapered easily, so the chances of the product getting damaged are high. 
Pros
Provides good protection against sun damage

Does not require too much maintenance

Cost-effective option

Can be used on both old and new wood
Next up, we have the Minwax 40900000 Wipe-On Poly, a perfect amalgamation of hand-rubbed beauty and excellent protection. The manufacturer is an established company that has spent decades perfecting the quality of the varnishes and architectural coatings that they produce.
Why Did We Like It?
The thing that caught our attention first is the ease of use that this product offers. Whether you are a professional or a beginner trying wood varnishing for the first time, this item will make the process a lot easier for you. There's no need for special tools such as brushes or drips; a simple piece of cloth is enough for the coating. 
Coming to the texture and finish, we noticed that it is pretty thin and does not become patchy or thick. Because of the excellent consistency, it glides easily over the wooden surface and does not lead to hand fatigue. 
This clear durable coat is an excellent choice if you dislike giving a new varnish coat to your exterior furniture every season. Once coated, the paint stays for long and prevents the wood from an array of weather damage. To put it simply, the wood gets a new lease of life with this layer of protection. 
What Could've Been Better?
After a few weeks of putting the product on the outdoor wooden furniture, we noticed that it is not very resistant to water. The color got a little cloudy after a heavy downpour. In such a scenario, we suggest that you use a rain cover to protect it. 
Pros
Easy to use

Smooth formula glides easily

Suitable for beginners

Long-lasting results
Cons
Cannot handle water damage
For the ones who love the beauty of antiques, the TotalBoat Halcyon Marine Varnish is an excellent consideration. Once the coat dries, it leaves an incredible amber finish on the wood that accentuates its beauty. The tint is a light one and comes with great clarity.
Why Did We Like It?
The best thing about this item is that it allows the wood to expand and contract naturally in tune with the changes in the weather. Because of the excellent adhesion and flexibility that it offers, you'll notice no chipping, peeling, or yellowing once the coat is done. 
To add to that, the formula is designed in a way that it provides the maximum amount of protection from weather-based damage. Whether it is the harmful UV rays or the unwanted moisture, this varnish protects the wood from all possible harm. It also prevents scratches from forming on the surfaces. 
Moving on, the ease of using this item calls for a special mention. It is self-leveling, and you can use any tool to apply the varnish, be it a painting spray, foam brush, or roller.
What Could've Been Better?
One major drawback to this item is that the packaging is not up to the mark. It comes in a plastic bag container, and once you use it, the container tends to fold and becomes unsuitable for storage. We suggest that you transfer the entire product into a can before beginning with your work. 
Pros
Helps the wood remain highly flexible

Provides maximum protection from weather damage

Simple application process

Durable formula
Cons
Poor packaging may cause product damage during transit
We have almost reached the end of our list, and following up, we have the System Three 1850S16 Clear Marine Spar Urethane Varnish Coating. It is best suited for outdoor wooden surfaces such as decks, railings, doors, and so on. Rest assured that with this varnish coating, you can easily achieve a precise and durable finish.
Why Did We Like It?
As the name suggests, this high-quality urethane coating is actually very well-suited for marine epoxy. So, if you are planning to give your boats a protective varnish coat or add some fresh color to the deck, this is a great option. 
The formula is designed with a high content rate of UV absorbers. Once coated, your exterior wooden furniture will face no damage from the harsh rays of the sun. Even if the furniture is constantly exposed to sunlight, the layer won't crack or become dull if coated with this high-quality product. 
Additionally, it is very easy to use this product. The coatings dry quite fast, and if you are planning to apply recoats, you do not have to wait for long to do that. Also, there is no requirement for sanding in between the coats.
What Could've Been Better?
The only thing that you need to be careful about when it comes to this product is that it dries up quite fast in storage. So, we suggest that you either buy an airtight container or buy only as much product as you need. Storing the leftover may end up in unnecessary waste. 
Pros
Can survive salty sea air

Protects from harmful UV rays

Suitable for fast coating

No sanding is needed
Cons
Product dries quite fast when in storage
If you are a professional and need to finish a project quickly, the Deft Defthane 037125020040 Interior Exterior Clear Polyurethane Gloss is an excellent choice. It is best suited for quick jobs as it dries up quite fast. To know more about it, keep reading.
Why Did We Like It?
The first thing to catch our attention was how easy it was to use this item. Although painting and varnishing is best done by professionals, you can use this product with equal ease even if you are a beginner. You can do the painting process all by yourself without having to hire a professional. That saves you from incurring extra expenses.
And as we have mentioned above, it is designed in a way that it dries very quickly. Within 30 minutes, it is completely dry to touch, and within an hour's time, you can even apply a recoat if you desire. This saves time and effort too. 
Also, they offer excellent customer service. Their executives are available 24×7, and you can reach out to them any time you need. They are great at guiding you in case you have difficulty understanding how to use the item.
What Could've Been Better?
We hardly have any complaints about the product, apart from the fact that the product consistency is a little too thin. This requires you to put in multiple coats in order to get an even layered finish that looks presentable. 
Pros
Easy application

Coat lasts for a long time

Prompt and helpful customer care team

Dries up quite fast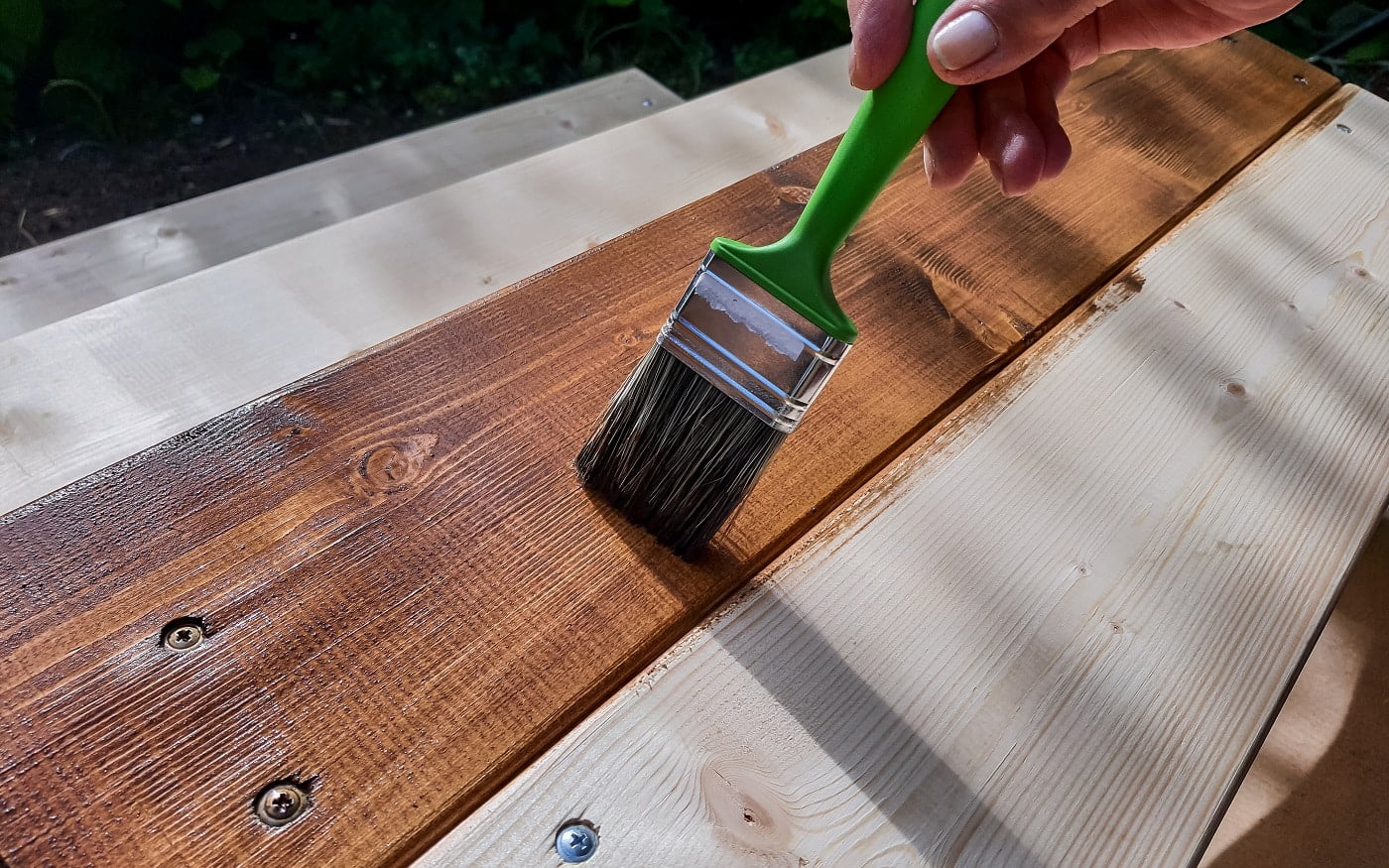 Varnishes for Wood Buyer's Guide
By now, you must have acquired a better grip on what to look for when selecting the best varnish for wood. But we suggest not jumping to any decisions yet, as you are just halfway to your destinations.
Simply knowing about the best products is not enough to make a good choice. To end up with the right option, you have to consider a few other factors. In order to evaluate the products thoroughly, we suggest that you go through this well-researched buyer's guide.
Get ready to jump into the nitty-gritty of wood varnish!
Easy Application
The ease of using a varnish should be one of the most important considerations before you decide on a product. If you are new to woodworking, a lot of products might seem a little difficult to use. 
Depending on your level of expertise, we suggest that you go for an option that can be applied easily. Some varnishes are quite light and glide very smoothly on the surface, unlike others that are thick and require a skilled application. 
We suggest that you read the package carefully before buying. The manufacturers mostly put all the necessary details about the application process on it. Whether you need a brush, a painting spray, or just a piece of cloth, everything is mentioned. If you have any problem understanding, always take some recommendations from the seller before selecting an option. 
Drying Time 
This is a crucial consideration for the ones who work professionally with wood varnishes. If you have taken up a project with a short deadline, it is better to go for a product that dries and cures quickly. 
A shorter drying time allows you to put more recoats easily if you are required to do so. It saves you a lot of time as you can paint in quick succession without having to wait. So, before heading out to buy a product, it is better you note down your painting schedule and the deadlines. This will help you make a better decision on which option would work best for you. 
Durability
One of the major determinants of what can be considered a good product is the durability that it offers. If the finish does not last for long and starts chipping or developing cracks, it is no good. 
No one likes recoating every season, making repairs, and fixing cracked paint every now and then. So, we recommend that you do your research and go for items that do not get damaged easily. If you were to paint twice a year, that would require you to buy more paint and spend double time doing the same work.  Durable products save you from unwanted expenses and wasted effort.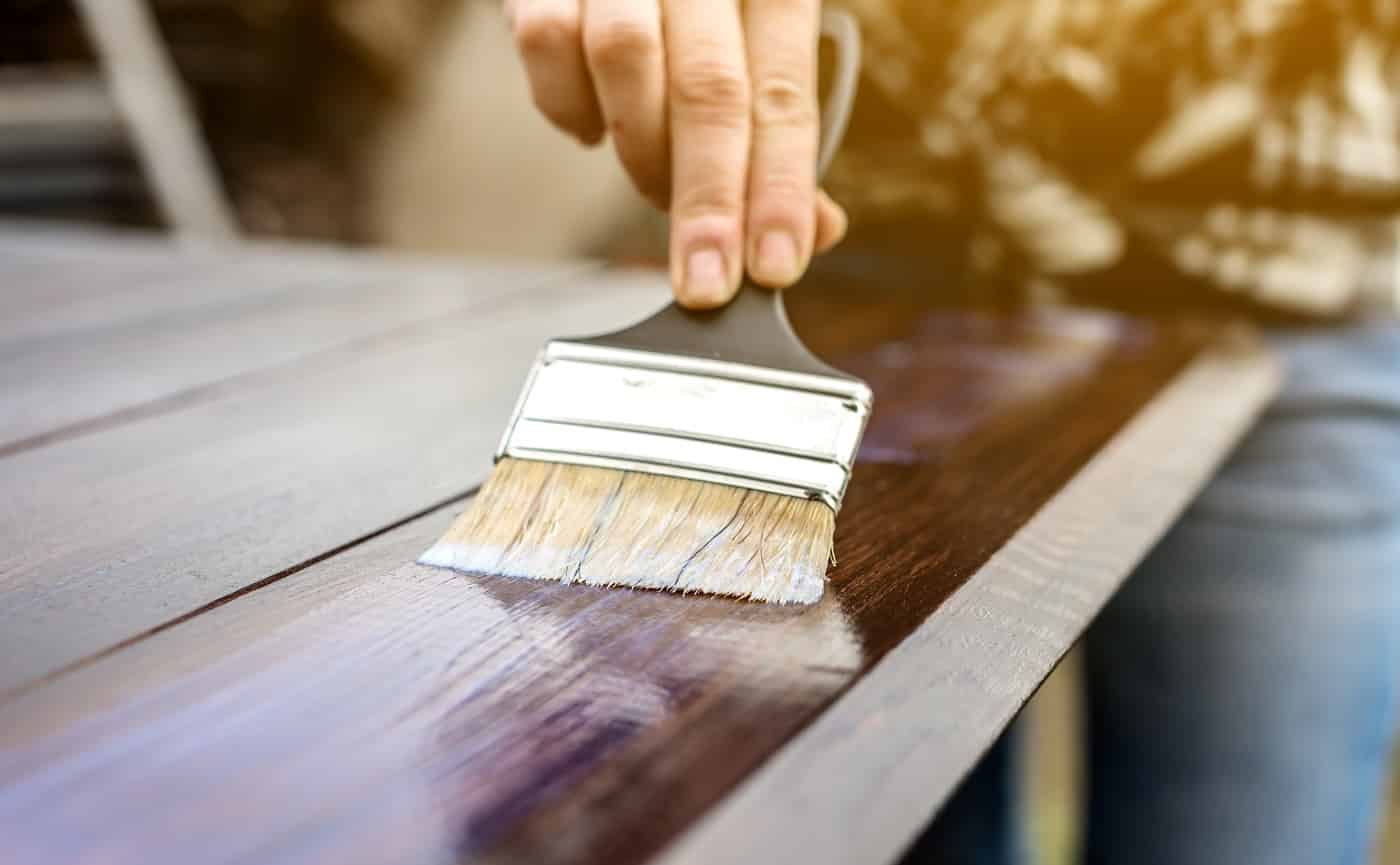 Final Words
And with that, we have reached the end of this comprehensive guide about the top 9 varnishes out there. We hope you have had fun going through this as much as we enjoyed compiling all this information for you. 
But before we take your leave, we would love to take you through our favorites. The Rust-Oleum 207008 Marine Spar Varnish takes the award for being our favorite overall. If durability and versatility are your prime concern, then the Minwax 63005444 Fast Drying Polyurethane Clear Finish is an excellent option.
And if you are on the lookout for a product that dries very fast, the Varathane 262006 Premium Fast Dry Wood Stain is the best bet. 
And with that, it's a wrap. Keep a watch on this space for such interesting reads. We promise to be back soon with more!
Until next time, take care!
Related Articles
9 Best White Face Paint For Cosplay, Clowns & Halloween
8 Best Face Paint For Kids Reviewed
6 Best Body Paint | Top Brands Compared
5 Epic Face Painting Supplies That Will Improve Your Designs
6 Best Body Paint For Cosplay Reviewed
Learn How to Body Paint With Brilliant Results Right Now
5 Best Airbrush for Body Painting Reviewed
16 Brilliant Face Painting Techniques to Feed Your Imagination
13 Best Paints for Bathroom Ceilings 
11 Best Polyurethane Protective Coatings  
What is the Best Wood for Outdoor Furniture 
13 Best Spray Paints For Metal
7 Best Airbrush for Miniatures & Model 
11 Best Epoxy Resin For Crafts 
5 Best Polyurethane for Floors  
5 Best Epoxy Resin for Tumblers  
9 Best Exterior Wood Stains Today 
13 Best Spray Paints For Metal
7 Best Sprayers For Staining A Fence
7 Best Airbrush For Models & Miniatures  
10 Best Clear Coat for Kitchen Cabinets [Buyer's Guide]
15 Stunning Low-budget Floating Deck Ideas For Your Home
7 Best Polyurethane for Floors 
11 Best Miniature Primer [Reviews & Buyer's Guide]
9 Best Paint Sprayer for Lacquer
7 Best Sprayers For Staining A Fence
9 Best Paint Sprayer For Lacquer