Every household deals with two types of pollutants i.e. the one we can see and the one we rather feel. For instance, food leftovers, liquid spills, dirt, and other similar messes are pretty visible to the naked eye. Their presence indicates the untidy and unhygienic state of a household and that's why homeowners are quick in dealing with them.
On the other hand, there are fine dust, pollen, pet dander, and other micro-particles that remain unnoticeable in most cases. Their presence doesn't make the house look messy. However, you eventually get to notice them and not in the most pleasant of the ways.
You get to know about these invisible pollutants with asthma aggravations, respiratory complications, runny noses, watery eyes, and different sorts of allergies. On top of that, you can't get rid of these too small to see yet dangerous pollutants with regular mopping and cleaning.
This is where vacuum cleaners with HEPA filters come into the equation. Upright vacuums are already quite popular among US households. And now people are also waking up to the upright models with HEPA filters due to their effectiveness against those micro-pollutants.
How long a HEPA filter can last? What is a sealed HEPA vacuum cleaner?  We will answer these and other similar questions in this piece along with a comprehensive buying guide. But first, let's review 19 of the best upright vacuums with HEPA filters of this year.
It is important to mention here that the reviewed upright HEPA vacuum cleaners are not listed in any particular order. The numbering is done just for easy reading.
Best Upright Vacuums with HEPA Filter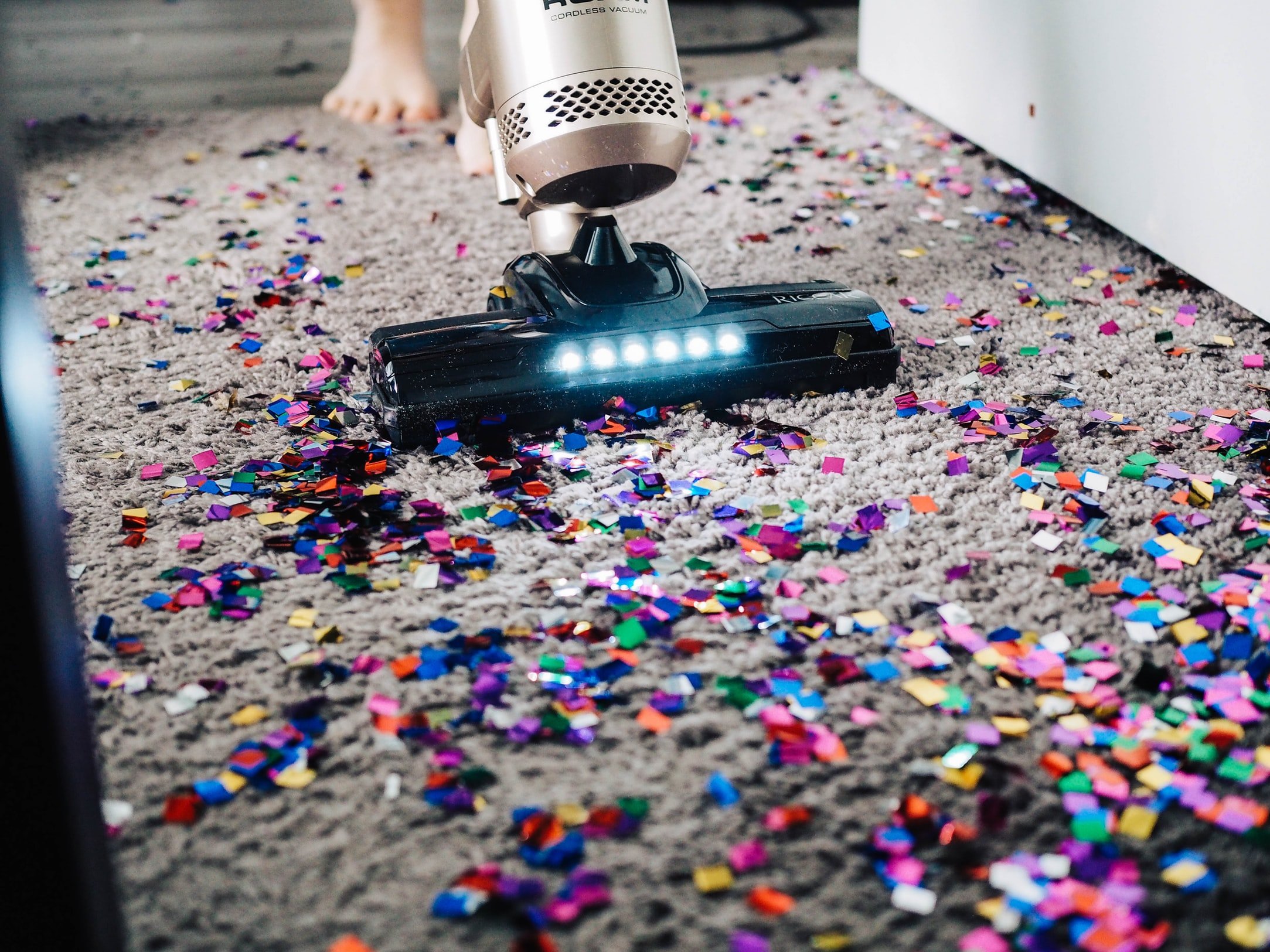 Powerful V10 motor with 125,000 rpm

Cyclone technology: 14 concentric cyclones

Requires 3.5-hours charging before first use
We are starting our list with a very powerful yet sleek upright HEPA vacuum. Dyson is a reliable name among vacuum cleaner manufacturers and its Cyclone V10 Absolute is a machine that you want every cordless vacuum to be.
It features the most powerful V10 motor designed by Dyson. This motor delivers over 120,000 rpm that let you use it like any powerful corded upright unit. With a single charge, you can use it up to 60 minutes at normal vacuuming mode. You can also run it on fade-free power mode for 40 minutes to get rid of both fine dust particles and debris. Then, there is the third and most powerful suction mode that can run for 20 minutes to capture deeply ingrained dust particles in carpets and upholsteries.
Moreover, the HEPA filtration system covers the entire internal space so no trapped pathogen and micro-pollutant can seep back into the vacuumed area. Apart from offering such powerful vacuuming in Cyclone V10 Absolute, Dyson has succeeded in introducing some of the winning design features as well. To begin with, its sleek construction is fitted with an ergonomic handle that allows you to easily use it on both vertical and horizontal surfaces.
Then, you can collapse its telescoping rod to convert it into a handheld gadget. This configuration comes in really handy when you want to use it in cars or other constricted spaces. Lastly, the drop-in mounting dock of Cyclone V10 Absolute let you easily charge it from any wall-mounted power outlet.

Pros
Three power modes with exceptional running time of up to 60 minutes
Well-thought-out design (can be used both as upright and handheld vacuum)
Whole-machine HEPA filtration
Easy-to-use charging mechanism
Cons
Quite expensive
The construction is somewhat delicate (not suitable for rough and rigorous use)
Features DuoClean technology
Can be used in lift-away mode
Features anti-allergen seal and a detachable canister
A good vacuum cleaner is one that can pick up both large debris and fine dust particles from both carpets and hard floors. Shark has achieved this feat in its APEX upright vacuum by using state-of-the-art DuoClean technology. This vacuum is another sleek option (not sleekest like Dyson V10) that features whole machine HEPA filtration.
Shark DuoClean APEX Upright Vacuum is one versatile vacuum unit. Although its construction suggests you can only use it in an upright position, it works in more than one way. For instance, you can also use it in lift-away mode to vacuum under chairs and furniture where cleaner head can't reach in the upright position. Moreover, a wand comes with DuoClean APEX that let you reach the tiniest spaces under those hard-to-move appliances (fridge, oven, etc)
What we most like in this Shark upright vacuum is its diligent anti-allergen construction. Even with a HEPA filtration system, the vacuum features an advanced seal that makes sure all the tiniest particles (even above HEPA standards) get trapped.
Many vacuums offer different suction power on different surfaces due to maneuverability differences. You won't face this issue in Shark DuoClean APEX Upright Vacuum because it features an Active Glide system that maintains its suction power on all sorts of surfaces.

Pros
An upright vacuum that can be used in more than one position
Advanced anti-allergen seal ensures optimal pathogen trapping (even better than HEPA standards)
A well-tuned suction motor with soften pitch and reduce noise
Active Glide for uncompromised suction power on all different surfaces
Cons
A bit bulky to use in the handheld mode
A bit heavy on the pocket as well
Fingertip control
Big canisters (3.3 dry quarts)
Features Anti-Allergen Complete Seal
This Shark upright vacuum cleaner is an improvement to DuoClean APEX in more than one way. To begin with, it features a fingertip control that let you quickly switch between carpet and hard floor mode while moving the powered-on vacuum. Moreover, Rotator Powered Lift-Away TruePet also has dynamic swivel steering.
Sale
When you clean an area decked with obstacles in the form of furniture and appliances, it gets quite hectic to rightly maneuver a bulky vacuum in the right directions. This swiveling steering will come in really handy to move around the vacuum on obstructed floors without straining your hands and arms.
When you use a vacuum in a lift-away mode, you often deal with spaces that are entirely dark or very poorly lit. Shark has eased this difficult vacuuming by adding LEDs to the handle and nozzle of this lift-away and upright vacuum. Now, you can maneuver better and see the dust you are intended to clean. In short, these LEDs will only streamline your vacuuming.
We also like the large canister of Shark Rotator Powered Lift-Away TruePet. It can hold up to 3.3 dry quarts of dust.  And lastly, the HEPA filtration makes sure that all those allergens and fine particles captured from tight corners and spots of in the house don't bother you again.

Pros
Swiveling steering ensures easy maneuverability
LED lights on the nozzle streamlines difficult vacuuming
Big dust canister enough for multiple vacuuming sessions
An assortment of nozzle attachments to take care of stray hairs, dander and other minuscule waste
Cons
Suction power is not that great (not suitable for deep cleaning of low-pile carpets)
Comes without wands
Powered by a lithium-ion battery
3-stage cleaning system
Auto-adjusting cleaning head
iRobot Roomba 761 Vacuum Cleaning Robot looks like a cleaning gadget straight out of any sci-fi flick, except that it's a real machine that can help you in cleaning your home with a single touch. This circular disk of vacuum cleaner has all the right ingredients that you seek in any upright HEPA unit. It features a 3-stage cleaning system that makes sure every last particle of dust and dirt can be captured.
Moreover, its dual brushes have a multi-surface configuration. This means this robot vacuum is equally good against large debris and fine particle of dust. Now, let's look into the features that truly make it a robot vacuum. To begin with, you are not required to play with multiple buttons and settings to get Roomba 761 to work. Just press the "Clean" button on its top and it is good to go.
The most impressive feature of this robotic vacuum machine, however, is its dirt detect sensor. It helps the vacuum to exert more power on surfaces with concentrated dirt patches ( e.g. high foot traffic zones). Moreover, the vacuum is fitted with position sensors that let it move around and under furniture without collisions. Lastly, the cleaning head of Roomba is auto-adjustable i.e. it will adjust its position for carpets and hard floors accordingly.

Pros
Supreme navigation due to precision position sensors
Dirt detect sensors ensure uniform cleaning on the entire floor
Easy-to-use, one-touch operation
Powerful battery for long running time
Cons
Not programmable
Not suitable for extensive vacuuming jobs
A bit heavy given its size and construction
Radial Root Cyclone suction
Self-adjusting cleaner head (installed with a ball)
Comes with 31-feet power cord
5-year parts and service warranty
We have to give it to Dyson for making some of the sleekest upright vacuum units on the block. This is yet another slim upright that stands apart among other Dyson vacuum machines for many of its unique features.
No products found.
For starters, Dyson Ball Multi Floor offers the easiest maneuverability that you can find in any upright vacuum. The cleaner head of this Dyson Unit is fitted with a ball. This unique assembly let you move the vacuum around every floor obstacle with a flick of the wrist. Moreover, its self-adjusting head is adaptable to all sorts of floor surfaces (tile, vinyl, carpet, etc) while maintaining the same Radial Root Cyclone suction that captures all the microscopic dust.  
We also like the hygienic way to empty the dust bin of Dyson Ball Multi Floor Vacuum. You don't need to open any lid and come into contact with the trapped dirt. Just push a button on the canister and it will release all the dirt and dust.
Dyson has also made sure that you can use this vacuum for versatile cleaning work. Whether it's dusting the window sills or cleaning beneath the low-profile appliances, its long instant-release wands will come in handy. And not to forget the whole machine HEPA filtration that ensures allergen-free vacuuming.

Pros
Self adjusting cleaner head gives equally good results on all surfaces
Easy to maneuver
Easy-to-empty dust bin
Instant release wand (for floor to ceiling vacuuming)
Cons
Lags a bit on high-pile carpets
Some user may find it expensive
Adjustable vent system
Large front wheels
Power-efficient suction motor
Long 35-feet power cord
It is never easy to vacuum clean soft-style carpets. Their plushy and spaced construction makes for comfortable floor lining but you need to be extra diligent in cleaning them. It has been noticed that using regular vacuums for such carpets eventually raze their finish. Soniclean has understood the predicament of the owners of those carpets and introduced an upright unit particularly for such cleaning.
Soniclean Soft Carpet Upright Vacuum Cleaner features large wheels that and an adjustable vent system, ensuring that the vacuum 'floats' over a carpet while cleaning it. Moreover, special soft bristle brush roll is used in the cleaner head so that that the knits and yarn of any soft-style rug remain unharmed while vacuuming.
Apart from making its vacuum a perfect cleaning tool for soft plush carpets, Soniclean has made it certain that it can deliver the optimal vacuuming performance as well— just like any top-quality vacuum cleaner.  For that matter, it features a patented Sonic Cleaning Technology that vibrates a bar (fitted inside the head) at the frequency of 200 Hz to dislodge those severely implanted dust particles in the carpet piles.
The HEPA filtration mechanism of Soniclean Soft Carpet Upright Vacuum Cleaner is also worth mentioning. It features H-13 hospital-grade HEPA filters that capture almost all particles of 0.3 microns and prevent their expelling back in the air.

Pros
Sonic vibrations ensure deep cleaning
Hospital-grade HEPA filter for sterilized vacuuming
A lightweight vacuum machine
Advanced jam protection extends the service life of motor and belt
Cons
Not suitable for hard floors
The overall design could be better
Features six-speed settings
Comes with upholstery and crevice nozzle attachments and a dusting brush
Stainless steel telescopic wands included
Homeowners with mixed flooring often face a dilemma while choosing a vacuum cleaner for their abode. For instance, a unit giving good results on carpets and rugs may not give equally good results on hard surfaces and other floor types. Similarly, a vacuum delivering optimal cleaning on tiles and vinyl may give subpar results on carpets.
All such people can get around this impasse by getting Miele Complete C3 Calima Canister Vacuum. It is an upright unit that is equally good on both carpets and hard floors. Its air-driven Turbo Comfort rolling brush simultaneously loosens the deep-rooted dust and dirt while collecting it. Moreover, its unique Parquet Twister is designed to give effortless cleaning results on all hard, smooth yet delicate floorings.
All flooring options don't need similar suction power. For that matter, Miele has featured six-speed settings in its upright unit so you can adjust its suction according to the given surface. We also like the extended telescopic wands of this machine that give vacuuming operations for 36-feet radius without changing power outlets. Moreover, upholstery and crevice nozzle is given to vacuum clean every nook and corner of the house.
Pros
Equally good for carpets and soft/hard floors
Gives impressive 36-foot vacuuming coverage
HEPA AirClean filters ensures hygienic cleaning
Cons
Hard to maneuver
A bit too expensive
Features inverted helix roller brush
Fitted with Easy Snap Cord
An Amazon's Choice product
Bagged upright vacuum cleaners are not usually considered suitable for homes with people sensitive to dust and other airborne allergens. But not all bagged vacuums are created equal. Case in point: Oreck Magnesium RS Swivel-Steering Bagged Upright Vacuum. It is an upright vacuum unit with inner HEPA-lined filter bag that captures almost 99% of fine dust particles and pathogens.
Apart from the state-of-the-art HEPA filtration, this Oreck unit is also good with its other features as well. For instance, it has swiveling steering that makes its maneuverability around sharp corners and baseboards a breeze. Moreover, its helix roller brush is also worth mentioning.
This inverted roller brush is powered by a high-performance motor that rotates it at whopping 7,000 rpm to give optimal cleaning results. But what we like most in Oreck Magnesium RS Swivel-Steering Upright Vacuum is its flexible construction. You can lay it virtually flat to use under furniture and appliances. The LEDs fitted on the front further helps in cleaning those tricky spots.
Even with all this detailed and powerful vacuuming mechanism, Oreck Magnesium RS Swivel-Steering Bagged Upright Vacuum weight just above seven pounds. Such lightweight construction also makes it an easy-to-maneuver upright vacuum unit.

Pros
Features HEPA inner bag with Saniseal Docking System , sterilize and mess-free vacuuming
LEDs ensure superior visibility in dark furniture undersides
Wireless QuickSwitch for easy suction adjustment
Features Endurolife belt for jam-free operations
Cons
A bit heavy on the pocket
Not that good on low-pile carpets
3D inducer motor for more air power
Comes with exclusive Pet Handimate
Crevice tool, dusting brush and second bare floor attachment
An Amazon's Choice product
If your family includes a pet member, then it is inevitable to face the problem of their stray hair and dander. Although they don't pose any significant harm, their unattended presence in the house can lead to cause allergies and to aggravate asthmatic conditions. While all vacuum manufactures promise to give effective results against pet dander, there are very few models that live up to the claim.
Sale
And one of them is Kenmore Elite 31150 Pet-Friendly Upright Vacuum. This unit comes with a particular Pet Handimate that let you get rid of all stubborn dander and other fine debris in a more effective and hassle-free manner. The Handimate has been designed as such that you can use it on carpets, furniture and car interiors with the same ease.
The powerful motor of Kenmore Elite 31150 is also worth mentioning. It is a 2-motor system that gives you 20% more air power than traditional vacuum machines. As a result, you can capture all those deeply affixed invisible dander and lint.
With the cord length of 32 feet, cleaning width of 12.75 inches and the wand that can be adjusted at five different lengths, Kenmore Elite 31150 is surely a handy upright vacuum to use.

Pros
Beltless configuration ensures less wear and tear and maintenance work
Features infrared sensor to spot invisible dirt spots
Pet nozzle attachment ensures effective cleaning result against dander
Triple HEPA filtration system captures 99.97% of all dust and debris
Cons
Not suitable for hard floors (can scratch them)
Design is too heavy
Features a certified HEPA system
Comes with 8-gallon crushproof polypropylene tank
Fitted with a 2-stage industrial motor and 30-foot power cord
If you are looking for some heavy-duty dry/wet vac machine that is compliant with HEPA filtration for a large floor area of any commercial establishments, then Vacmaster 8 Gallon HEPA Vacuum is the option you must consider. It is an upright vacuum unit fitted on caster wheel assembly for easy maneuvering.
Although it features an 8-gallon canister, this doesn't make the unit bulky— thanks to its crush-proof polypropylene construction. Moreover, a 10-foot crushproof hose along with stainless steel wands (including one elbow) ensure that Vacmaster 8 Gallon HEPA Vacuum can work in all sorts of rough and tough conditions without wearing and tearing.
Since it is an industry-grade vacuum, it is important to talk about its one of a kind motor. Vacmaster 8 Gallon features a 2-stage industrial motor that can generate the vacuum with max water lift of 106 inches to give uncompromised vacuuming against all sorts of wet and dry dirt and debris.
Vacmaster has also made sure that the users can use this heavy-duty machine for all sorts of vacuuming. Therefore, it also features a crevice tool, combo floor nozzle, and a horsehair round brush. Vacmaster 8 Gallon HEPA Vac is a great long-term investment for large commercial spaces for HEPA compliant cleaning regimen.

Pros
Equally good for workshops and large residential floor plans
Full HEPA filtration to ensure allergen-free air
Lightweight even with massive 8-gallon tank
A cost-effective heavy-duty upright HEPA vacuum
Cons
Not easy to maneuver
Not suitable for deep cleaning of carpets
Features an advanced double-rolling brush
Dust box of 200-ml capacity
Weighs only 4.75 pounds
The handheld uprights are supposed to be used for light dusting and vacuuming. But your perception regarding handheld vacuums is going to change with Housmile Upgraded 810 UV Anti-dust Mites Vacuum Cleaner. It is an ergonomic vacuum design that you can easily hold just like an iron with a comfortable handle. All the controls are given on the handle top so you can make all vacuuming adjustments with a flick of a finger.  
Sale
This Housmile handheld vacuum features powerful suction and a double-rolling brush with 6000 rpm rating. Both these components work in tandem to help you get rid of even dust mites and bed bugs from the carpeting and upholstery. Moreover, this upgraded version features a chamber with 20% stronger UV rays that exterminate all those allergy-causing microorganisms then and there.
Even in such compact construction, Housmile Upgraded 810 UV Anti-dust Mite Vacuum has dust can that doesn't need frequent emptying. Apart from HEPA filtration sealing, this UV handheld vacuum also has carbon filters that make sure no trapped allergen and accompanying odors can be expelled back into the air.

Pros
Combination of suction motor and fast rotating brushes
Add-on of activated carbon filters, for optimal sanitized vacuuming
UV treatment get rid of all the captured irritants
Easy-to-operate dust box
Cons
Not suitable for large spaces
Handheld but not portable
HEPA media filter
No-scuff bumper with two-caster wheels
An Amazon's Choice product
When every manufacturer claims to offer the most functional upright vacuum cleaner, it definitely becomes difficult to separate fact from fiction. But Hoover T-Series WindTunnel Upright Vacuum is certainly one of those few upright units that can be called functional without any partiality.
This 19 pound upright vacuum assembly is definitely not the bulkiest one. And with robust caster wheels on the back, the maneuvering of this weight certainly becomes somewhat stress-free. The attention to details Hoover used in the making of this vacuum has won us over. The manufacturer has designed this T-series vacuum unit by keeping an average household in mind.
Therefore, it features a folding handle so you can easily tuck it in even small storage spaces. Then the cleaning head is covered with a no-scuff bumper so that the machine doesn't scratch the furniture while you are using it around edges or underneath. Moreover, the cleaning head can be adjusted to five different heights for cleaning all sorts of floors.
Pet dander is a recurring headache for homeowners in terms of vacuuming. Hoover has also provided a solution to this mess by offering a specific pet hand tool to deal with those invisible and stubborn pollutants. On top of that, an extension wand, upholstery tool, and crevice nozzle make sure you can use Hoover T-Series WindTunnel Upright Vacuum to vacuum any spot in the house.

Pros
Retractable cord rules out typical inconvenience of corded vacuum units
Adjustable cleaning head ensures holistic vacuuming
A system indicator to let you know about a dirty filter
Folding handle for better ergonomics
Cons
Not a lightweight machine
May not give required results on low-pile carpets
10-amp suction motor
Comes with extension wand and crevice tool
An Amazon's Choice product
Pet dander doesn't just become the reason to cause respiration and skin-related allergies. A large quantity of them trapped in carpets and the upholstery lining also permeates a grubby smell in the interior. This is the reason why getting rid of dander is considered the most important task of any vacuuming job.
And if you want to ace this task, consider buying EUREKA Mighty Mite Bagged Canister Vacuum Cleaner. It is a handy canister-based vacuum where you don't need to hold the entire vacuum unit. The canister and vacuum motor fitted with wheels lie on the floor while you use its long hose (6-foot) along with telescopic wand to vacuum entire room space for pet dander. The 20-foot power cord further streamlines this maneuverability.
Apart from having a dedicated cleaner head for dander, EUREKA's vacuum unit is also fitted with an odor-eliminating dust bag. This combination proves to be great when your vacuuming is centered on cleaning pet-related mess.
It's a lightweight unit that also comes with a crevice tool. If you are looking for a cost-effective vacuuming solution for a household with pets, then you must consider this upright vacuum.

Pros
Aesthetic purple finish, easy on the eyes
A budget-friendly upright vacuuming option
Winning combination of HEPA filter and odor-eliminating dust bag
Features an energy-efficient motor
Cons
Canister design is not suitable to clean large spaces or multiple rooms in one go
Suction power is a bit underwhelming
A lightweight upright unit (weighs just over 14 pounds)
Features brush roll shutoff button
An Amazon's Choice product
It is a dream of many homeowners to have the power and vacuuming dexterity of a corded upright vacuum unit in a portable one. But it is not possible to get the full specs of a corded unit. So, what to do? Well, Shark has reached an interesting solution to that problem with its Navigator Lift-Away Professional NV356E.
It is actually a corded upright vacuum unit but very light in weight and easy in maneuvering, giving it almost the feeling of cordless portable vacuum machine. It features an easy-to-use lift-away button so you can make it portable while cleaning stairs, above-floor or similar tricky unsmooth surfaces.
We also like the holistic pathogen-free vacuuming mechanism of this machine. Apart from bearing HEPA filter, it also features advanced Anti-Allergen Complete Seal Technology that makes sure no microparticles get back to the recently vacuumed space. Furthermore, its brush roll shutoff button is also worth mentioning that let you easily switch between bare floor and carpet cleaning modes.

Pros
Easy-to-lift canister integrates portability into the upright unit
30-foot power cord offers required maneuverability
HEPA filters with anti-allergy seal
Cons
A bit expensive
Doesn't include cleaner head accessories
Underwhelming vacuuming results on some hard floors
Ergonomic and lightweight design
Bagless construction
An Amazon's Choice product
The market is brimming with handheld and upright vacuum units that can serve you for particular cleaning works in the house. But what if you could get a unit that is handheld, upright and can also become a backpack cleaning device?
Sale
This transformer sort of vacuum cleaner unit already exists in the form of VonHaus 2 in 1 Stick & Handheld Vacuum Cleaner. It is an interesting upright vacuum design that you can easily convert into a handheld unit with a single push and then can hang it like a bag with a shoulder strap.
Apart from this impressive shape adjustment, this VonHaus Vacuum Cleaner has also ended up on our list because of its exemplary filtration system that doesn't allow allergens to escape into the surrounding air. Moreover, its 1.3-liter tank is good enough for any extending cleaning activity.
And not just that, the extendable handle along with 20-foot quick-release cord ensures that you can use it without frequently changing the power outlets. Meanwhile, the attachments of small brush and crevice tool let you extend its vacuuming function to all sorts of spaces.

Pros
An excellent combo of upright and handheld vacuum construction
Large dust tank let you use it for extended vacuuming jobs
Sponge-reinforced HEPA filtration, for air as clean as floors
Design is easy on the eyes
Cons
Not good against dander
Consumes too much energy
Features 2,600 mAH lithium-ion battery
Fitted with 500-ml spill-free tank and HEPA media filter
Comes with 30-day money-back guarantee 1-year service warranty
KOIOS Robot Vacuum Cleaner is the second such HEPA vacuum on our list. With its all-black finish and sleek design, it looks as if a UFO is hovering on the carpets and floors. As per KOIOS own claims, its robot has 80% more powerful suction than similar cleaners on the block. We think this statement is a bit of hyperbole.
Nonetheless, there is no doubt that it's a powerful robot vacuum with one of the best auto-cleaning system. You can set it to the spot, edge, and single room cleaning modes and it will get to work without any further assistance. Moreover, its high-quality infrared sensors let it maneuver without colliding and falling.
There are a couple of features that we particularly like in KOIOS Robot Vacuum Cleaner. For instance, its large climbing wheels allow it to easily maneuver between carpet and hard floor without getting stuck. Similarly, its 500-ml box spill-free dust box makes for extended vacuuming sessions. Its 2,600 mAH battery is also worth mentioning. It allows you to run this robot vacuum for two hours nonstop.

Pros
An Ideal auto-cleaning tool for single rooms
Equally good on hard floors and carpets
Large dust box and powerful battery ensures long vacuuming sessions
Wireless operation, operated through a remote control
Cons
Not for deep cleaning and low-pile carpets
Not suitable for homes with children and pets
Bagged canister vacuum construction
2-motor suction
Comes with a telescoping wand and four attachment accessories
This is the second Kenmore upright vacuum on our list that has bagged canister construction and uses dual motor system to offer best results. The machine comes with five different nozzle accessories including pet PowerMate and a unique fan sweeper as well. Moreover, it's equally good on all surfaces. It offers scratch-free cleaning on hardwood floors and deep cleaning on low-pile carpets.
Sale
However, what we like in Kenmore Elite 21814 HEPA Vacuum is its one of a kind stair grip that that guarantees fall-free movement on stairs. Moreover, its 11-foot telescopic wand is also quite something. The wand along with 26-foot power cord allow you to use this bagged canister vacuum on large spaces without going back and forth between power outlets.
Moreover, the powerful inducer suction mechanism offers 20% more air power than similar upright models. It guarantees you the deep cleaning you strive for with an upright vacuum cleaner. All these valuable features come with a HEPA filtration that makes sure all dust particles and allergens as small as 0.3 microns remain trapped inside the machine and doesn't escape into the air again.

Pros
The assorted nozzle accessories ensure versatile vacuuming
Feature one-of-its-kind stair grip
Equally good on all surfaces
Extra long wand gives portable application
Cons
A bit too heavy
One of the expensive upright vacuum on the list
Features dual-motor system
A CRI-approved appliance
Dust bag of 3.25 quarts
Amazon's Choice product
If you are looking to make a long-term investment in a sturdy upright vacuum cleaning unit, then we will strongly recommend you to consider ProTeam ProForce 1500XP. This heavy-duty vacuuming unit features a dual-motor action that powers both the rolling brush and suction chamber to give optimal vacuum cleaning results.
Sale
Usually, large upright vacuum units have really beefy cleaner heads and stiff hoses that are not particularly good for cleaning narrow and hard-to-reach surfaces. ProTeam has broken this convention by giving its hardwearing unit a sleek and low-profile L-shaped cleaner head that is attached with a flexible 5-foot hose. This combination let you use this powerful machine in every nook and corner of the house.
ProTeam has also tried an extra-long power cord in ProForce 1500XP. And we think this test has paid off. With 50-foot long power cord, it feels as if you are using this heavy-duty vacuum machine in a portable setting. The three-level HEPA filtration along with such powerful suction power proves to be the icing on the cake.

Pros
Unprecedented dual-motor suction
Ergonomically designed cleaner head
Three-level HEPA filtration for allergen-free cleaning
Can be used with upholstery and crevice tools as well
Cons
Not suitable for quick vacuuming jobs
A bit expensive for home users
3-position height adjustment cleaner head
Fitted with 23-foot power cord
Comes with a dusting brush and crevice tool
If you are looking to get a vacuuming tool for both horizontal and vertical surfaces with the power of an upright configuration, then you should consider this Hoover offering. Hoover Sprint QuickVac is a bagless vacuum cleaner that features unique multi-cyclonic technology, which separates fine particle dust from the vacuumed stuff to streamline filtration mechanism.
Moreover, its 23-foot power cord along with the stretchable hose that can be connected with a removable handle gives you 7 feet of above ground vacuuming coverage. In other words, from stairs to window sill and the top of the curtains, every hard-to-reach spot is accessible with Hoover Sprint QuickVac.
Apart from giving you the ability to vacuum in all directions and dimensions, Hoover has also made sure that using this vacuum doesn't inadvertently pollute the air in your house. For that matter, it features a reusable filter with HEPA media. With a simple water rinse, you can make this filter all brand new again.
If you are looking for a lightweight upright vacuum option for frequent above-the-floor vacuuming needs, then you should definitely consider this Hoover's bagless option.

Pros
Adjustable brush roll height for optimal cleaning on both hard floors and carpets
Features an easy-to-clean reusable filter (with HEPA media)
Easy-to-change accessories give 7-foot above-the-ground cleaning reach
Multi-cyclonic action for streamlined filtration of fine dust particles
Offers great bang for the buck
Cons
Not suitable for deep cleaning
Vacuuming results on low-pile carpets are underwhelming
Important Note
Before we move on to discuss a brief buying guide for a high-quality upright HEPA vacuum cleaners, it is really important to answer some most common queries about them.
How to Know If an Upright Vacuum has Strong Suction?
Usually, we see the wattage rating of a machine to be sure about its power. However, that's not the case with upright HEPA vacuums. You can't tell how strong their suction power is just by weighing in their watts. To be sure about the suction characteristics of a vacuum, you need to factor in its CFM and water lift (air watts). These values are usually given along with other specs.
And if you can't find them, ask the seller particularly about these two values. The greater the CFM and air watts, the better the suction power of a vacuum. Upright vacuums designed for home use usually have CFM ratings anywhere between 50 and 100.
What Are Sealed Upright HEPA Vacuums?
You may find the word "sealed" in the titles of some of the upright HEPA vacs. But what does that mean? The term sealed indicates that the entire body of the vacuum cleaner including housing and hose has been positively tested for zero air leaks. The prefix of "sealed" actually guarantees that you are getting the optimal suction power from the machine.
How Long Is the Service Life of a HEPA Filter?
Not all HEPA filters are made equally. For instance, the regular ones fitted in every other upright vacuum can last for 2 to 3 months. However, some high-quality filters can serve you for over six months. Lastly, there are some top-of-the-line vacuum cleaners fitted with a reusable HEPA filter. You can clean and get these HEPA filters back to work with a simple water wash.
How long a HEPA filter works depends on the media it is made from. The high-quality fibrous material that can continue to trap particles as small as 0.3 microns makes for a long-lasting HEPA filter.
Best Upright HEPA Vacuum Buying Guide
While you may not need to mull over any other option outside of this list comprehensive list, we are still going to share a list of features that you must factor in whenever buying an upright vacuum unit from either online sellers or an electric appliance shop.
HEPA Filter
If you don't want to compromise on the allergen and pollutant-free aspect of vacuuming, then always insist on machines with HEPA filtration. Keep in mind that titles such as "HEPA-like" or "HEPA-type" are wrongfully used by some manufacturers to sell their products. Vacuums with those imposter filtration mechanisms can't deliver the same HEPA results that trap more than 95% of the micro-particles and allergens.
Supplementary Filters
To provide holistic filtration mechanism, some manufacturers use various filters along with HEPA. For instance, there is a pre-filtration component that ensures clog prevention and uncompromised suction. Then some upright HEPA vacs are fitted with carbon filters that take care of the bad odors along with the dust and debris (recommended for pet owners).
Lastly, some upright vacuums also have a post-motor filtration system. These machines take allergen trapping to the next level and take care of those fractions of micro-particles that the HEPA filter misses to capture.
If you don't have any qualms about the cost, then we would say it is always better to go for vacuums where the HEPA filtration is reinforced by supporting filters.
Weight
Usually, anything around 20 pounds is deemed suitable for an upright vacuum cleaner for home use. However, you can get the bulkier ones if your vacuuming is confined to the single story of the building. However, factor in the weight of the machine if you have to deal with more than one continuous floor cleaning.
For instance, go for lighter options (16 pounds or below) if you have to vacuum the stairs or frequently move it up and downstairs. Similarly, lightweight models are also suitable for senior users.
Brush Roll
For regular and low-pile carpets a regular-bristle brush Roll is good enough given that it is accompanied by strong suction. However, we will recommend long-bristled brush roll for high-pile carpets. For hard and bare floors, manufacturers often offer the second one or else give the option to stop the rotation of the existing brush roll fitted in the floor head.
Bag/Canister
Bagged vacuums are only good if you are not concerned with some particles of dust permeating into your house again. But with uprights with HEPA filters even such little dust escape is not acceptable. This is the reason why our list only has upright vacuums that have in-built canisters (except one). The sealed canister construction ensures that no dust can get expelled back into the air.
And while choosing the canister uprights, try to get the one where you don't need to turn over and dump the canister to empty it. There are models available where you just need to push a single button to empty the canister from the bottom.
Handle
While factoring in canister capacity, suction power, and attachment accessories, many buyers often overlook the design of the handle. Keep in mind that in an upright vacuum cleaner, the handle plays an important role to make it a user-friendly appliance.
If the handle is not easy-to-hold, you find it difficult to move the vacuum while increasing the risk of a strained hand and wrist. Therefore, look for models that come with angled and looped handles. You can also find the vacuum machines that have a proper D-shaped handle to provide better grip. Some handles also come with added grip and cushion to ensure utmost convenience.
Cord
For homes with smaller square footage, the length of the power cord doesn't matter. However, for houses with large floor plans, you must have an upright vacuum with extended power cord.  It let you use the vacuum without the hassle of switching the power outlet while moving a vacuum from one room to the other. Also, prefer the models with retractable cords for easy use.
Floor Heads
Apart from featuring a suction inlet and a brush roll, floor heads now come with a range of other features as well. For instance, some floor heads have bumpers to offer scuff-free vacuuming. Moreover, LEDs are given for easy maneuvering around dark furniture undersides. Similarly, a swiveling function is also given in some heads for hassle-free maneuverability. For floor heads accessories we would like to say: the more the merrier.
We hope that this comprehensive buying guide along with reviews of 19 of the best upright vacuums with HEPA filters will help you in picking the right option for allergen and pathogen-free cleaning and vacuuming of your abode.
Related Articles 
55 Best Robot Vacuum Names For Your Little One
Bissell Crosswave 1785A vs. 2306A [Two Wet/Dry Uprights Legends Compared]
Bissell 1806 vs. Bissell 1940 [Steam Mops Compared]
Bissell 3624 Vs. 2694 [SpotClean Portable Cleaners Compared]
Hoover Power Scrub Deluxe Vs. Hoover Turbo Scrub [Comparison]
Roborock H7 Vacuum Cleaner Review
13 Best Bagged Canister Vacuums 
10 Best Shop Vacs For Dust Collection
7 Best Xiaomi Vacuum Cleaners for Healthy Homes
13 Best Shop Vacs  | Buyer's Guide and Reviews
6 Smallest Wet Dry Vacs For Home and Workshop
13 Best Vacuum for Stairs | Reviews and Buyers Guide
13 Best Robot Vacuums You Can Buy Under $200
8 Best Robot Vacuums Under $150 | Reviews & Buyer's Guide
13 Best Backpack Vacuum Cleaners | Reviews & Buyer's Guide
13 Best Non-Electric Vacuum Sweepers 
Best Samsung Robot Vacuums| POWERBot Buyer's Guide
6 Best Vacuum Cleaners for Mattress That Promote Healthy Sleeping
Dyson AM07 vs Dyson AM06 Fan Comparison
Shark NV682 vs. NV683 vs. NV752 | Upright Vacuum Comparison Review
Vornado 530 vs 630 vs 660 | Room Air Circulator Fans Compared
Bissell BigGreen 86T3 vs. BG10 | Carpet Cleaner Comparison & Buyer's Guide
13 Best Canister Vacuums for Pet Hair
ILIFE A4s vs. iRobot Roomba 690 Compared | Robot Vacuum Face-Off
Shark ION ROBOT 700 vs 720 vs 750 | Robot Vacuums Compared
ECOVACS Deebot N79 vs. N79s | Robot Vacuums Compared & Buyer's Guide
Lasko 7050 vs. U15701 vs. 655704 | Floor Fan Comparison
PureClean PUCRC95 Automatic Robot Vacuum Cleaner Review
Oreck Commercial ORB550MC vs. Orbiter Ultra Multi-Purpose | Buyer's Guide
iRobot Roomba 675 vs. 680 vs. 690 | Robot Vacuums Compared & Buyer's Guide
Bissell 9595A vs. 1831 | CleanView Upright Vacuums Compared & Buyer's Guide
13 Best Central Vacuum Systems
The Best Vintage Vacuum Cleaners To Collect
11 Best Wet/Dry Handheld Vacuum
13 Best Steam Cleaners for Hardwood Floors
6 Best Miele Vacuums For Cat, Dog, And Pet Hair
5 Best Central Vacuum Hose Replacements
12 Best Vacuums for Tile Floors
6 Best Central Vacuum Inlet Valve Replacements
14 Best Wet/Dry Handheld Vacuums
12 Best Robot Vacuums For Under $300
McCulloch MC1385 or Vapamore MR100
13 Best Steam Cleaners for Hardwood Floors
15 Best Robot Vacuums Under $300
12 Best Lightweight Vacuum Cleaners For Elderly
11 Best Central Vacuum Attachment Kits, Powerheads & Brushes
15 Best Lightweight Vacuum Cleaners for Elderly [Buying Guide]
11 Best Vacuums For Tile Floors
7 Best Central Vacuum Hose Replacements To Consider