During summers, the soaring temperatures can get unbearable even if you choose to stay indoors. That's why it's essential to have an ideal cooling solution in place!
And if you're worried about the appliance taking up too much space, then a quality tower fan will come in handy for you. It's the thoughtful, space-saving design that makes tower fans an incredibly useful and efficient product.
Irrespective of how compact a seating space is, you'll always have room to house a tower fan, which is pretty incredible. This powerful equipment cools down any space in a matter of minutes while being light on the pocket as well.  
However, finding the right unit is stressful, especially when you've got a ton of options to choose from. Now, to make the search process a tad bit easier, we've handpicked 13 of the best tower fans that are available today!
Let's get started then, shall we?
Best Tower Fan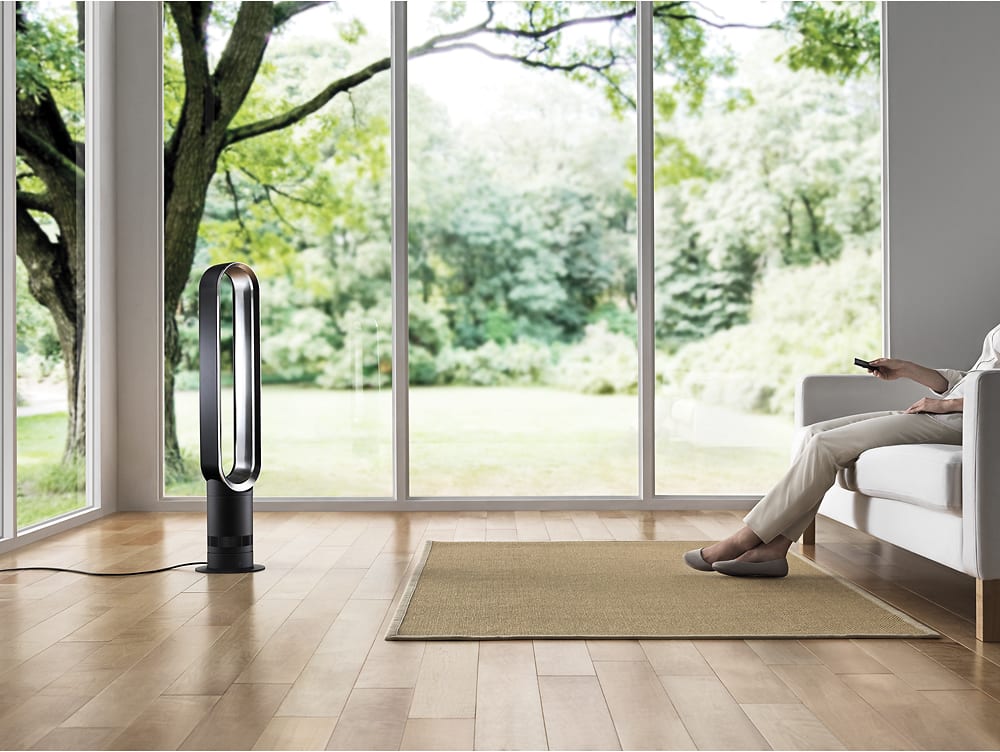 The number one spot on this list goes to Air Multiplier AM07 tower fan by Dyson. This unit is the top contender not only for its brilliant design but also for its multifunctional cooling options. Even though it calls for a good investment, the durability and aesthetics make it worth the price tag. And you can rest assured that this energy-efficient model will add savings to your utilities.
Sale
Experience
The design of the Dyson Air Multiplier is such that it makes an excellent fit for homes that have pets or children. It's a bladeless cooling solution, which works wonders in keeping everyone comfortable through the hot season. This device not only increases the circulation of fresh air in the house but also purifies the air-ground and keeps it free from allergies. 
And what we appreciated the most about this unit is its high-efficiency that allows it to cool down the room within a few minutes. As far as the airflow is concerned, this unit uses an air multiplier technology that allows it to blow strong air. In fact, it doesn't even consume too much electricity for supporting an extremely powerful airflow capacity. 
It's interesting how this tower fan manages to draw in the surrounding air and pushes it back out through the convenient blade-less frame. And since it doesn't have blades, the maintenance bit is relatively hassle-free when compared to other units. Regardless of the frequency of usage, the fan doesn't build up dust, and slight dusting gets the job done effectively.
Moreover, this unit features up to 10 airflow settings, which makes it suitable for small and large room sizes. The silent operation and sleep timer are other plus points that allow you to use this tower fan in a bedroom or even study areas. All in all, this is a great product, but you do need a significantly large budget for purchasing this unit.
Pros
No blades or grill

Silent airflow generation

Magnetized remote control for secure storage

Sleep timer (features multiple presets)

Ten airflow settings
Cons
Slightly towards the expensive end
The second spot on this list goes to Lasko 4924 High Velocity Blower Fan. This model has been receiving heaps of praises for its incredible air supply output that gives you a relaxed surrounding without busting the budget. And for those who have been struggling to feel at ease during the days of extremely high temperatures, this unit surely makes for an ideal choice. 
Experience
The most important aspect that we focused on while selecting a tower fan is the capability of the motor. And the Lasko 4924 blower fan doesn't fail to surprise its users with a powerful motor that has a circulation ability of approximately 334 CFM. Best of all, this unit is thoughtfully designed to ensure that the motor is noiseless, which is a major selling point.
As for air control, it comes with three-speed settings. This allows you to adjust the fan speed to get the right level of comfort- low, medium, and high speed. It's also provided with directional vents or maneuvers that give you an accurate air delivery. And for adequate air circulation the optional widespread oscillation comes of great use. 
Plus, it features a top-mounted control system for selecting the speed settings and to adjust the airflow in a particular direction. It's also surprising to see how a compact unit comes packed with all the crucial features. The slim design of this unit makes it ideal for saving space, and its powerful airflow is efficient enough for covering a large room. 
The built-in carrying handle also adds to the convenience of portability. Finally, it might be one of the top-rated models, but it does miss out on one of the essential features- it's the remote control. Thus, whenever you want to change the settings, you'll have to walk up to the tower fan to access the control buttons. 
And in our opinion, what makes it a good pick is the top-grade quality construction, efficiency, and easy-to-use mechanisms. 
Pros
Directional louvers

Optional oscillating feature

Features carrying handles for portability

Powerful motor
Cons
Doesn't have a remote control
For those of you who have been looking for a compact tower fan, this model makes for an ideal choice. The Honeywell Fresh Breeze might be a little small, but with all the features combined, you're getting a rather efficient product. What's even more surprising is that it works brilliantly to cool down a small to medium-sized room within a maximum of 10 minutes. 
Experience
Honeywell fans have been a favorite in some of the oldest households, and this tower fan takes it to a whole new level. One of the best features of a remote-controlled unit is that you can adjust the fan temperature from anywhere between 60 and 90-degrees. It works as the ideal solution when you want to cool down the room by adding some fresh air. 
The turbo wind generator allows it to move air faster than most typical blades without being too loud. Moreover, the fan comes with three blades that allow you to set the oscillation according to what's best for cooling your space. And even though it's a compact unit, the design works to our benefit because it takes up minimal floor space. 
What we appreciated about this unit is the breeze mode, which is generally not found in the other units. This feature makes an impression as though the breeze is coming from the outdoors, which creates a natural environment. But we must say that this is the highlight feature of this unit and the perfect example of excellent innovation.
Further, you can switch off the fan without having to get up from the couch, since it has an automatic shutdown feature. This allows you to save more energy as the tower fan turns off at an interval of 2, 4, or 8 hours, depending on what has been set. Overall, it's a great unit but might not be powerful enough for large open areas. 
Pros
Features a breeze mode

Comes with an automatic shut-off timer

Turbo wind generator blades

Great budget option

5-year warranty
Cons
A little too small for cooling large rooms
The Ozeri Ultra 42" Oscillating tower fan has gained a lot of attention over the last few years, mainly for its set of incredible programs. Being one of the convenient tower fans there is, this unit is a smart option for cooling your home, and is definitely worth the investment. So, let's get to the following sections to see whether it lives up to the hype or not.
Sale
Experience
First and foremost, the design is pretty impressive because rarely do we find a tower fan that's lavish and has an affordable price tag. The fan also offers a powerful, steady breeze, at all three whisper-quiet speed levels, which makes it suitable for day and night. At the same time, you'll not find the airflow to be overwhelming, which is an advantage. 
And the pre-programmed features give a good user experience because you don't have to waste time figuring out the fan's settings. It can also be pre-programmed to a pleasant breeze mode that turns on only when you select the night mode. And the 12-hour timer feature allows you to program the device to turn off after a specific period that prevents the wastage of energy.
On the other hand, you can set the timer or even change the airflow settings by using the long-range remote. The other attribute that we appreciated is the LED-lit control panel that makes it easier to access any of the required features. This control panel also shows you the programs that are in use and displays the temperature in a large font. 
But this unit does require a bit of assembly, which is rather simple to set-up because you don't need any additional tools. However, the only drawback of this unit is the flimsy base that tends to wobble on carpets. Thus, you'll have to ensure that it's placed on even surfaces to prevent any hasty accidents.
Pros
Features a sleep timer

Has oscillating blades

Easy assembly

Remarkably quiet operation
Cons
The base is not very stable
The next product makes for an ideal choice, especially for those who are looking for options to cool down a medium-sized room quickly. And what makes the Lasko #4930 even more interesting is that it oscillates even while running. The price tag is also justifiable, considering the host of helpful features that it has been equipped with. So, let's check it out!
Experience
Lasko #4930 is one of the most powerful tower fans with a high-velocity airflow that allows it to cool a large space within a short while. This model is paired with several useful features, which deliver excellent performance. And one of the main reasons to opt for this unit has been the fan's cooling capacity, which makes it a force to be reckoned with.
Moreover, it has a wide oscillation arc that manages to cover an angle of 180% for cooling down the room much faster than other units. And it comes with a commercial-grade motor that allows a continuous optimal performance. Best of all, this unit doesn't give out the air in fluctuating temperatures, except for a while when the speed level is changed.
Lasko has also ensured that you get to enjoy a range of cooling speed levels depending on your needs- low, medium, and high. So, even when it's too hot, you have an effective cooling solution in front of you. It also focuses on helping you save energy with its timer features that allows you to set the fan's running time for better efficiency.
And the remote control makes it even easier for changing the speed of the airflow or even for putting it on/off. You can also use the user-friendly control panel to change any of the settings. However, the only drawback of this unit is that it doesn't have a silent operation, so this is not the best option for a bedroom. 
Pros
Oscillation and louvered airflow

Features on/off timer

Patented fused safety plug

High-powered motor
Cons
Doesn't have a silent operation
The Arctic-Pro tower fan is yet another affordable unit that comes with a simple and straightforward design. And what's even more exciting is that it can be doubled as a pedestal tower fan, which makes it starkly different from other units. After you use this tower fan, you'll clearly understand why this is an ideal pick for any workplace or home. 
Sale
Experience
Just like when purchasing a new home furnishing product, the main focus was to ensure that the design of the tower fan is up to the mark. And there was no second thought after we saw this unit and learned about the efficiency as well. The construction of this unit is pretty sleek, and the paint helps prevent any fingerprint spots on its exterior.
Coming to the top front section, it features a high-quality color display and few manual controls, which work effectively as push buttons. The space-saving design is another plus point making it suitable even some compact spaces. And most importantly, it has a front grille that makes the tower fan safe for households with pets or children.
This unit has been manufactured to deliver an optimal quantity and quality of air. And as the unit can oscillate to about 80 degrees, it allows for proper circulation of air by covering a wide radius. Another good thing about this unit is that it has an eco-friendly operation, which enables it to reduce the carbon footprint by a significant rate. 
Moreover, it gives freedom to program the device by using the timer, and you can set it anywhere between 1 hour and 12 hours. All in all, it makes an ideal option for any household, and it's only the quality of the base that you need to be careful with. But as long as it's placed on an even surface and handled with care, it will last you for years to come.
Pros
Has a remote control

Wide coverage area

Can be installed in two different positions

Energy efficient functioning
Cons
The flimsy base makes it hard to place it on an uneven surface

cons
We are almost halfway through with our recommendations, and it's about time to introduce you to another top-notch tower fan from Honeywell. This QuietSet tower fan is suitable for all types of cooling requirements. And it's the design that takes it to a whole new level as it complements the home decor pretty effortlessly by adding a modern touch.
Experience
If you're looking for a tower fan that has excellent design and functionality, then don't look further than the Honeywell Hy-280 QuietSet unit. It seems ideal for use at home as well as office. The color combination of this unit makes it look attractive, while the simple design allows it to blend in well with any type of environment.
And it's considerably lightweight, so you'll find it convenient to carry this tower fan from one corner of the house to another. What impressed us the most is its functionality! First of all, it comes with eight-speed settings, which is higher than other units. Plus, the breeze and oscillation settings work significantly well.
You can also set the fan speed according to your preferences that can be anything between "Sleep" and "Power Cool" mode. Even though the fan is capable of moving out air at a reasonably high speed, it does it silently, without disturbing your regular activities. 
And the oscillation louvers ensure that the tower fan can cover a large area with an even distribution of fresh air. Moreover, it features a thermostat that makes it easier to maintain the room temperature at whichever speed level is comfortable. This device also automatically switches on or off when there is a change in the room temperature. 
And the remote control works perfectly, which is an addition to the convenience of usage. But the only drawback of this unit is the bright LED panel that can be a little annoying, especially for those who get disturbed by lights during rest.
Pros
Sleek yet stylish design

Powerful motor and silent operation

Eight-speed settings

Features a thermostat

Made with high-quality materials
Cons
LED panel is too bright for the bedroom
The next product that we have lined up is the Ozeri 3x tower fan. This unit has a rather attractive design that upgrades the look of any room, and the efficiency is also up to the mark. That's why it's a favorite for living rooms and formal spaces, which calls for a quality unit that doesn't produce too much noise. So, let's check out whether it lives up to the expectations or not. 
Sale
Experience
The main search criterion was to opt for a tower fan that comes with a silent operation, and thankfully we have been suggested this unit. Not only does it operate without producing too much sound, but it also moves out air at a fairly high speed. And it's design helps eliminate passive noise cancelation and allows it to achieve quiet operation. 
Speaking of design, the curvature of the blades have been designed to produce minimal mechanical noise. And the unique feature of this unit is that it uses three independent fans for circulating the air. Moreover, each of these fans can be controlled independently; this is what makes it stand out from a host of other units. 
It's also known to be an efficient unit, and that's mainly because this unit offers about nine levels of cooling, with sufficient room for customization. Plus, you also have three pre-programmed airflow patterns that you can choose from, making it a feasible option during the rush hours. 
Another feature that we appreciated about this unit is its wide oscillation pattern, which allows it to deliver an efficient performance. The oscillation also helps to push the air within a radius of 90-degree, which makes it easier to distribute the air evenly. 
And as you expect with most quality fans, the Ozeri 3x also comes with a remote control that effectively controls all the features. However, regardless of all the easy-to-use features, the only drawback is that this unit is not the best option for a large room. 
Pros
Sleek design complements all types of home decor

Three fans can work independently

Wide oscillation arc

Features nine levels of cooling
Cons
Not powerful enough to cool a large room
The next product you should consider is the Lasko WOODGRAIN 42" tower fan that comes with an attractive price and helps strike a great deal. This unit has been a favorite not just for the cool design, but also for its efficiency. And irrespective of how large the room is, this unit can successfully cool down even the most remote corners.
Experience
Unlike a host of other tower fans, this unit tends to make its presence felt with its powerful airflow that manages to cool even large spaces. The optional oscillation feature allows the air to cover a wide area, ensuring that room temperature is kept at a comfortable level.
It also comes with three airflow settings that you can choose from, which include- low, medium, and high. And changing the setting is also relatively easy because you can use either the user-friendly control or the remote. 
We especially like the night mode settings, which makes significant changes to its operation. By this, we mean, it automatically dims the LED panel and adjusts the airflow levels once you select the night mode. For instance, it first runs at high speed for about an hour, after which it switches to medium and low. 
This gradual adjustment keeps the tower fan from disturbing your sleep while cooling the room and conserving power appropriately. As for design, the wood-grain accents give it a graceful, upright design, which makes it an excellent fit for a host of different settings. 
However, it does take up more floor space when compared to other units within the same range. But this design flaw can be easily overlooked if you're purchasing a tower fan for a large room.
Overall, this is an above-average tower fan that has been carefully designed for reducing the noise made by the fan blades and motor. So, you won't have room for disappointment even when the speed level is adjusted to the highest setting.
Pros
Powerful air circulation

Classy and simple design

Easy to assemble

Silent operation
Cons
Slightly bulkier than other units
If you're looking for an excellent space-saving option, then you need to check out the Classics UltraSlimline tower fan by Seville. This unit is said to be the most powerful variant that comes within the same price level as other mid-level fans. It is capable of cooling even a large room because of its better-than-average airflow capacity. 
Experience
The Seville Classics UltraSlimline fan is a unique product that has garnered a lot of attention for its functionality. What we were curious to check was how this set of two makes a difference in cooling a medium-sized room. And to our surprise, it does a reasonably good job in comparison to the single tower units. The set includes a small and large-sized tower fan that's known to deliver an impressive performance.
Best of all, the bigger unit is ideal for cooling a large or medium-sized room, and the smaller one is well-suited as a personal cooler. So, regardless of how unbearable the heat is, you'll always have a back-up cooling solution to keep you at ease. The fans are also stable enough and they have a silent operation, which makes it ideal for a bedroom or even the study room.
Its design is also safe for a household with children and pets because the blades come with a well-protected grill for keeping it out of touching range. Although it's not aesthetically the most effective option, all the functions serve the purpose quite effortlessly. 
And lest we forget, it comes with multiple fan speed from low to high-speed settings that allow you to set the right temperature. Moreover, this set includes a user-friendly remote control, but the only issue here is that it doesn't work with the small unit. Therefore, when any changes need to be made in the smaller tower fan, it should be done manually.
Pros
Relatively quiet operation

Features multiple fan speeds

Covers significant ground

Offers excellent value for its affordable price tag
Cons
The remote control doesn't work for the small unit
The Lasko ceramic tower heater might have come like a surprise to you in this list of tower fans. But what's best about this unit is that you don't have to shelf it during winters because it works as a heater and a fan as well. There is a lot that will surprise you about this ceramic tower heater, and it doesn't even cost you an arm and a leg.
Experience
When you have a tight budget, the first thing that you aim for is to make a wise investment and this what made us opt for this Lasko unit. It might be a highly effective ceramic heater but also serve the needs during the summers with its fan settings.
And switching between both the functions is relatively simple as it works at the click of a button. If you switch on this unit without turning on the heat function, then it will function as a tower fan. This makes it a suitable option for the summers. On the other hand, when it's pretty cold, you can turn on the heat function to warm up the room. 
The design is pretty basic as it comes with flat back grills for safety and other inlays, which blends in easily with any decor. But the best thing about this unit is the fan capacity that is further complemented by the wide oscillation range. This allows you to disperse the warm or cold air throughout the room, and you can control the settings with a well-functioning remote. 
Although it operates as a decent tower fan, there is one downside that you should be aware of; it comes with only two-speed settings. Thus, when you compare this unit to other tower fans, you might be a bit disappointed. But if you focus on how it doubles as a heater, you'll see how its efficiency is highlighted, which is a steal for the price tag.  
Pros
Fairly quiet operation

Functions as a heater as well

Wide oscillation range

Programmable thermostat

Remote control operation
The penultimate product on our list of recommendations is the Honeywell HYF290B Quietset tower fan. This is a great budget unit that will serve the cooling requirements without making a hole in your pocket. And if you're looking for a reliable fan that works ideally for any small or medium-sized room, then this unit makes for an ideal choice.
Sale
Experience
Although this tower fan is very stylish, we chose this unit mainly for its simple mechanisms. And ever since we started using this unit, it hasn't failed to impress us with this functionality. The first thing that grabbed our attention is the compact and quality design, which ensures that it can fit easily without taking up too much space. 
It also comes with eight fan speeds that give more control over the output. And since it can be controlled by a remote, you can easily adjust the airflow without having to move from wherever you're seated. This unit also has an optional oscillation feature, so when the air needs to be directed towards a particular area, you can do it with ease.
Also, it takes care of the energy efficiency part with four-timer options that can be set for 1,2,4 and 8 hours, respectively. That's not all; you can even set the functions at hourly intervals and 15-minute increments, which prevents energy wastage. As for the noise level, it's fairly decent, and it isn't disturbing even when the fan is used during the night.  
The lighting of the LED panel also comes with a dimming feature, and you can choose from 5 light settings. For the most part, this unit does give a favorable experience to all the users, the only disadvantage being its low airflow output. However, the air circulation is perfect for medium-sized rooms, but when it comes to cooling larger spaces, it may not be sufficient.

Pros
Features adjustable lighting

Comes with a remote control

Quiet operation

Eight different speed settings
Cons
Low air output for cooling large rooms
The final product on our list of recommendations is the Optimus F-7414 pedestal tower fan. This full-sized unit leaves no stone unturned to ensure that it keeps the room cold with adequate airflow. And the price tag is also justifiable considering the overall design and efficiency that makes it an ideal fit for large rooms. 
Experience
The Optimus F-7414 is not one of the most compact units for sure, but given the functionality of this unit, we can say it's a pretty good deal. This is a unique full-sized unit that is pretty powerful and keeps the air moving even in large rooms. It comes packed with all the essential features that you would generally expect from a tower fan. 
This fan has three different speed settings, which is decent enough for a fan that comes within an affordable price range. What makes it more convenient is that we can program the device to operate between 1 and 7.5 hours. This makes it suitable to use the fan even during the night without having to wake up for adjusting the running programs.
As for the coverage, it oscillates with a range of 70-degree arc, which might be less when compared to other units. This can be a hindrance if you want a unit that can cover different spots at once. But don't let this feature put you down because the high oscillation speed makes up for the low oscillation arc.
Best of all, you can control and change the settings with a remote control without having to do it manually. Even though this might be a relatively sturdy unit, there is a minimal drawback that's worth mentioning which is related to the cumbersome assembly process. That's why you might have to spend a considerable amount of time putting the set together.
But once it's ready, you can start enjoying the cool breeze without any further hassle. Overall, the powerful speed complements the full-sized structure, which makes it a great purchase.
Pros
Quiet operation

Full-sized tower fan

Comes with remote control

Reasonable price tag

Features a decent small oscillation arc
Cons
Assembly can be a bit challenging
Tower Fan Buyer's guide
Now that you have gone through all the available options, there must be some unit that has caught your eye. But before you go ahead and finalize a particular product, it's advisable to have a clear picture of the essential features. This way, you'll be able to understand which product suits your needs the best.
So, here's a list of all the features that you should check out!
Coverage 
You must have seen by now how two models are never the same, whether it's in terms of features or their size. And one of the essential features that you need to focus on is the coverage, which can't be easily determined by just looking at a particular model. 
But if you focus on the oscillation feature, air blowing capacity, and angling, then you'll understand the unit's coverage. 
Oscillation Feature
Some of the tower fan units use louvers for pushing the air in different directions, which is a pretty useful feature. This is because it helps to push the air in a wider radius without being focused on a single direction itself. 
Moreover, you'll find that a few basic models have oscillation patterns, which cover an area of about 45-degree radius. On the other hand, a few high-end models can push the air in a radius of about 90-degrees or more. 
And the benefit of the oscillation feature is that it determines how efficient the fan is going to be in cooling a room. This also helps you understand whether the fan can evenly circulate air around the room in a pretty efficient manner or not.
Air Blowing Capacity
A tower fan that has a powerful air blowing capacity will be able to cover a larger distance when compared to other units. You must have understood by now that the larger tower fans tend to circulate more air than the smaller ones. 
Thus, for covering a larger space, the bigger the fan, the better is the air blowing capacity in most cases. But again, a few smaller units might also be powerful enough to serve the purpose.
Angling
Next, a few units might not have the oscillation feature, but they do give you the option to adjust the direction of the louvers. We find this to be a pretty useful feature because you can angle the louvers to ensure that the cool air hits you directly. Similarly, you can avoid the strong breeze when you feel that it's getting too much for you. 
Although this might not be as effective as the oscillation feature, it offers the possibility to angle the direction of the air to provide good comfort. 
Fan Speeds and Modes
Most of the tower fans use a simple mechanism in terms of their air pushing capacity. They come equipped with different fan speeds that you can accordingly choose from. Plus, each speed level is faster than the other, when you're adjusting it with a regulator.
Some units come with just two or three speed levels, and at the same time, the top-notch options can feature about nine or more speeds. However, it's advisable to opt for a versatile unit that features more fan speeds. This allows you to use the tower fan in a way that's comfortable for everyone in the house. 
And the best part is that a few of these units can also be taken from one room to another. Thus when it features a speed adjusting system, you can adjust the fan speed according to the room size. This keeps you from being uncomfortable due to excess or less cooling of your space. 
With that being said, there are only a few units, which have adjustable speed settings in terms of speed increments. This is commonly known as speed modes that have a significant advantage because you can also select the night mode. In this mode, the air capacity is lowered to ensure that you're comfortable the entire night without being bothered with too much breeze. 
Noise
When you're selecting a tower fan, the main focus is to ensure that it has a powerful air capacity with minimal sound output. The point that you need to take care of is to check whether the fan is disturbing your workflow or day-to-day life. It's essential to find a unit that doesn't produce too much sound, even while operating at higher speed levels. 
And the motor also plays a vital role in determining the amount of sound that will be produced by the fan. For instance, the older models tend to produce a lot of sounds, especially when it's set at higher levels. In the end, you don't want to have a unit that disrupts your regular activities; instead, it should keep you more comfortable.
Plus, the bladeless variants are the most silent options, and so are the ones that have been made with whisper-quiet technologies. Whereas, the not-so-quiet fans generally miss out the modern technologies, which is why the sound tends to be bothersome.
Timer
You'll find units that have the turn-on timer and turn off timer. But only a few of them have both these features, whereas some might have only one of these features and not the other one. When you have a tower fan that features a timer, it works to your favour because that's a more energy-efficient option.
A tower fan that comes with a turn-off timer can be a helpful aspect, especially for those who will be using the fan at night. Instead of letting the fan run the entire night, you can program it to operate for a specific amount of time. This not only allows you to sleep peacefully but also helps lower the operation costs.
Similarly, the turn-on timer also works in your favor as it limits the usage by a significant rate. For instance, if you'll be returning back home at a specific time, then you can set the timer accordingly to ensure that the room is cooled down before you arrive. This allows you to be comfortable once you reach home, without having to keep the fan switched on for long hours. 
LCD Display
Having a tower fan that comes with an LCD makes it easier for you to use the product. They might have a small or large screen, but that doesn't make a difference because the main role is to ensure that it highlights all the features. This allows you to keep track of the functions that are in use, and also makes it easier to make any changes.
Preprogrammed Features
The preprogrammed features might not be your main focus when you're picking a unit. But this feature is pretty helpful because it eliminates the need of having to press too many buttons for getting the right combination of features. Or if you want to change the fan's settings, then you can use the pre-programmed feature to be the starting point. 
Remote Control 
Using a remote control makes the operation much easier, without having to walk to the fan each time you want to adjust the settings. Moreover, the remote control also allows you to switch the fan on or off from a distance. So, you don't have to get up from the bed in the middle of the night when you want to turn it off.
However, most of the remote controls still feature infrared transmitting technology, which requires you to be directly in line with the fan.
The Right Stability 
When you're aware about the main disadvantages of a tower fan, you'll find the lack of stability is one of the main factors. Therefore, you need to focus on whether the fan has a stable base or not. For improving the stability, a few units have been designed with anti-slip feet that keep the fan in place even if anyone bumps into it accidentally.  
Moreover, having a wide base or multiple feet makes the structure more resilient to movements and slips, which supports better longevity.
Budget
The budget plays an equally important role in helping you pick a model that won't leave you with a hole in your pocket. But the underlying factor here is that you need to focus on is the specific features that will come of use to you. This is because the high-end models mostly come with a host of features that you might not even require. 
Warranty
When you purchase a product that comes with a good warranty, it always has you covered from any damage that might come to its way. In this case, it's only the reputable tower fan companies that offer a good warranty. The warranty can range from somewhere between 2-year and 5-year time period, which is decent as per the price tag.
The benefits of using a tower fan
Style
Tower fans can accentuate the existing home decor pretty effortlessly, as it really plays up the aesthetics without being obtrusive. And they are also safer to use because it doesn't have any moving parts, which makes tower fans suitable for homes with children or pets. 
Maintenance
With tower fans, you don't have to worry much about the maintenance bit, because it's relatively simple and straightforward. Unlike pedestal fans, you don't have to disassemble the unit for cleaning the structure. All that's required is frequent vacuuming, which is sufficient to get the job done without any hassle. 
Noise
Since the moving parts of a tower fan are enclosed in a plastic casing, the sound that's produced by these fans is comparatively less. In truth, a few models can be a bit noisy, but that's not going to be disturbing enough to keep you from getting your sleep. But don't hesitate to go through the product descriptions to ensure that the sound output is comfortable for the setting.
Space
If you're living in a small apartment, then you'll find tower fans to be a great option. The slim profile of these fans allows you to fit it comfortably, even in tight spaces. And the best part is that it never fails to surprise you with ample airflow. 
Final words
You must have got a clear idea about the various factors that you need to consider for finalizing the order. But weighing out the pros and cons is also essential for making an informed decision. 
On the whole, functionality and design are the crucial elements that determine the quality of a tower fan. And having the right unit not only makes the warm season more bearable but also protects your budget from unnecessary spending.  
Now that you've come to the end of this guide, we hope it has helped you find a unit that suits you best. So, what are you waiting for? Go ahead and enjoy the summer, even when you're indoors.
Till next time!
Related Articles
12 Best Window Fans on the Market Today | Buyer's Guide
Lasko 7050 vs. U15701 vs. 655704 | Floor Fan Comparison
6 Best Wood Stove Fans | Buyer's Guide
Dyson AM07 vs Dyson AM06 Fan Comparison
Vornado 530 vs 630 vs 660 | Room Air Circulator Fans Compared
19 Best Pedestal Fans Reviewed | Buyer's Guide
Lasko 2554 vs. 2551 vs. 2511 | Tower Fans Compared & Buyer's Guide
19 Best Pedestal Fans | Reviews & Buyer's Guide
13 Best Ceiling Fans Today | Buyer's Guide and Reviews
7 Best Blower Fans to Consider