Disclaimer | This article may contain affiliate links, this means that at no cost to you, we may receive a small commission for qualifying purchases.
If you have a pool at home, you are surely a big fan of the fun-filled swimming sessions in the summer!
Besides being so enjoyable, swimming has a range of health benefits, including an increase in cardiovascular fitness and muscle strength. But pools need to be maintained regularly, as dirt, leaves, and debris might accumulate in the corners and on the pool floor. They may also float in the water, making it unsuitable for swimming.
In such situations, a telescopic pool pole can be of great help to you, as you can easily get rid of all the dirt and debris in there. However, choosing an ideal product is difficult, given the availability of the variety of options out there. 
As such, we have tried to make the task easier for you by putting forward a carefully curated list of the 9 top-notch options to consider. So, let's get going!
Best Telescopic Pool Poles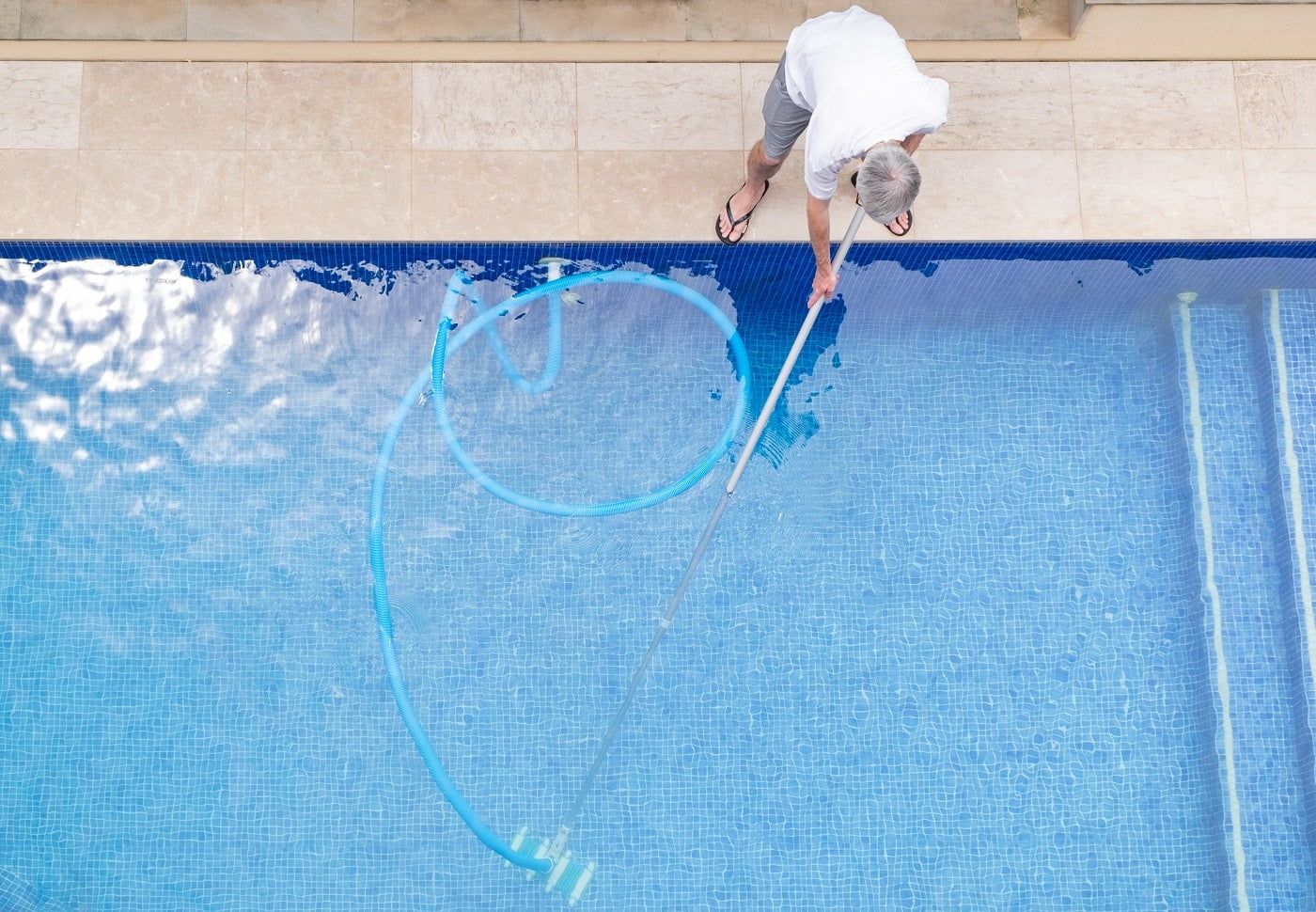 This strong swimming pool pole from the U.S. Pool Supply is among the best products you'll find in the market. It helps you clean the pool thoroughly with minimum effort and is made to last for years. To know more about all its features, move on to the next few sections. 
Why Did We Like It?
What we liked the most about this pole is its expandable step-up feature, which let us expand its length from 4' to 12'. Thus, you get the extra reach that you need for cleaning deep and wide pools.
Along with this, the pair of locking cams help you lock the pole in place after you adjust the length and prevent slipping while in use. 
Furthermore, this product is made from superior-quality aluminum material to enhance its strength and durability. Plus, it comes in a universal fit size of 1 ¼ inches in diameter that attaches easily to almost all accessories for pool maintenance. 
What's more, you get a one-year replacement or refund guarantee with this product. Thus, you don't need to worry even if there's an issue with the product by any chance. 
What Could've Been Better?
The only disappointing aspect about this product was that it bent slightly after using it for about a year. This might have happened since we unconsciously applied more force to it while cleaning our medium-sized pool. So, you ought to be a bit more careful while handling this product. 
Pros
Ideal for deep and wide pools

Locking cams lock the pole in place

Aluminum material enhances its durability

Can be attached to almost all accessories
Cons
May bend slightly with regular use
Next, we have selected this versatile product from Aqua Select, which also comes with a convenient design. Cleaning your pool with this pole becomes hassle-free and super-easy. And it is a professional-grade pool cleaning tool, offering more efficient performance than ordinary products.
Why Did We Like It?
First of all, we loved the 6' to 18' expandable length of this pole, which let us clean pools of varying sizes with ease. This feature also makes it suitable for a variety of purposes, making it more versatile than the majority of products out there. 
In addition to this, the strong aluminum material of the pole ensures that it never breaks easily, unlike other flimsy products. As such, you can use it for years to maintain the pool at your residence or spa. 
Moreover, the product consists of locking cams with a convenient handle-grip for easing the pool cleaning process. Lastly, you can fit any accessory to the pole perfectly, thanks to the diameter of 1-inch, and this makes the cleaning process much easier.
What Could've Been Better?
Sometimes the pole may be delivered without drilled holes for connecting the attachments. So, after purchase, you will need to drill the holes yourself. That said, the product makes the cleaning process very effective and is sure to impress you with its performance. 
Pros
Can clean pools of various sizes

Never breaks easily

Long-lasting

Eases out the cleaning process
Cons
Comes without drilled holes for the attachments
Swimline is known for its range of durable and efficient above-ground pool care products. And this telescopic pole from the brand does live up to that reputation. It facilitates effective cleaning of an entire pool, thanks to its range of beneficial features. So, move on to know more about all that this product offers.
Why Did We Like It?
If you have a smaller or standard-size swimming pool to maintain, this is one of the best products you will ever find. That's because the expandable length of 6' to 12' helps in cleaning all areas of the pool perfectly. Plus, it is very lightweight and is hence quite convenient to handle. 
In addition to this, the pole also features an external lock cam that locks the length of the pole and never gets slippery. And the blue finishing on the surface of the pole looks more elegant than the majority of products. 
What's more, the product is built of aluminum material that gives it amazing durability and strength. So, you can be rest assured of getting a long-lasting service.
What Could've Been Better?
We found that the baskets or skimmers attached to the pole sometimes loosen and fell apart during the cleaning process. That's probably because such attachments can't be fixed very strongly onto it. You can deal with this problem by applying less pressure on the pole while cleaning. 
Pros
Can perfectly clean smaller and standard pools

Lightweight and convenient to handle

Blue finish gives an elegant look

Highly durable and strong
Cons
Attachments may loosen and fall apart
The Aquatix Pro Pool Pole lets you remove all the debris and dirt settled on the pool effortlessly. You can use it for most above-ground and in-ground pools, and it also ranks high in terms of durability. So, we assure you that you won't be dissatisfied with this product at all.
Sale
Why Did We Like It?
Firstly, we were impressed by the 3' x 4' extension points of this pole, since it gave us a total extension of 12'. Thanks to this amazing feature, this pole becomes suitable for pools of all sizes. Plus, when retracted fully, this pool is just 4-feet long and as such, it becomes very convenient to store. 
Another great feature of this product is its 1.1 mm commercial-grade thickness which eases out the cleaning process considerably. Along with this, a sturdy handle provides comfortable grip and a strong lock mechanism ensures that the expanded part stays in place. 
Finally, this pole comes with a beneficial 1-year warranty and a 100% refund guarantee. So, you don't need to worry in case you face any issues with the product within a year of the purchase.
What Could've Been Better?
The upper portion of this telescopic pole may bend slightly on using it regularly. This usually happens when greater pressure is applied on the pole for a long time. So, make sure you handle the product gently while cleaning the pool. 
Pros
Suitable for pools of all sizes

Convenient to store

Makes cleaning pool easier

Comes with a 100% refund guarantee
Cons
May bend slightly with regular use
This pole from JED Pool Tools undoubtedly comes with one of the best designs in the industry. Its range of exclusive features work to provide a highly efficient performance that puts it among the most popular products. Believe us when we say, this pole is as good as any commercial pool cleaner.
Why Did We Like It?
If durability is a major lookout for you, this product is just what you need. It comes with an aluminum wall that is 50% thicker than the average products. As such, it offers a more consistent and long-lasting performance than you generally get. 
Further, this pole has an expandable length of 8' to 16', which means it offers you a wider reach for pools of all sizes. So, you can even clean the areas of the pool that are farther or are usually hard to reach. 
Additionally, a large deluxe cam and an ergonomic handle help to lock the pole firmly and always offer you an efficient grip. Lastly, an anodized finish on the product protects it from rust and changing weather conditions.
What Could've Been Better?
One drawback of this pole is that it's a bit heavier than other products. As such, it can't be carried around and handled easily all the time. Also, it's more expensive than many other options in our list, hence it won't be an ideal option if you have a tight budget. 
Pros
Offers a more consistent performance

Gives a wider reach

Can be locked firmly in place

Anodized surface provides maximum protection
Cons
Heavier than other products
The next telescopic pole that we have for you is this high-quality product from ProTuff. It uses top-notch materials and has an advanced working mechanism that puts it a step ahead of other products. So, let's find out about all the amazing features that it offers.
Why Did We Like It?
A problem with most ordinary telescopic poles is that they collapse easily while being moved around the pool, which disrupts the cleaning process. But for this product, you would never face this problem since the spring-loaded locking technology makes sure that the pole never slips while being used. 
Also, it comes with a unique push-button system of locking and unlocking, which makes using the product very easy. It even doesn't get jammed accidentally and this function stays intact for years to come. 
Furthermore, it consists of a ribbed external pole and an extruded inner pole which combine to make it 3 times stronger than other products. So, you can be rest assured that it will never crack, bend, or break despite regular use. 
Lastly, this product offers a beneficial unlimited replacement guarantee, so don't need to worry if you face any issues while using it.
What Could've Been Better?
This pole serves its purpose very well by helping you clean any pool quite effectively. However, the rubber handle on the lower part is not very sturdy and hence might break with extensive use. That said, you can get the handle replaced by the manufacturer free of cost if this happens within a year of purchasing the product.
Pros
Easy locking and unlocking mechanism

Pole is always kept in place

Never cracks, bends, or breaks

Comes with a lifetime replacement guarantee
Cons
Rubber handle not strong enough
This swimming pool pole can be of great help if you need to clean your pool regularly. Made from strong materials that can stand the test of time, this pole is also quite easy to handle. Note that it has an expandable length of 6' to 16' and weighs 1.25 kg.
Why Did We Like It? 
First and foremost, this product is built with weather-resistant aluminum alloy material that will never rust. Thus, it will last for the years to come without any decrease in efficiency, which rules out the need to buy new products frequently. 
Additionally, the material is lightweight, making the cleaning process much easier. The other feature which caught our attention was its 3-section design with 2 anti-slip knobs. These sturdy and easy-to-operate knobs allow you to extend the pole up to 16 ft and prevent any slipping while the pole is being used. 
Furthermore, the product has a diameter of 1 ¼ inches so that it fits all pool accessories of the standard size. These include rakes, cleaning nets, rescue hooks, skimmers, hammerhead cleaners, and brushes.
What Could've Been Better?
The only disappointing aspect about this product was its packaging, as the material used was weak. In fact, the package was torn when it arrived, and we even found a small stain on the handle. We feel that the manufacturer can improve the packaging so that the product stays safe during delivery. 
Pros
Aluminum material never rusts

Lightweight and easy to clean

Strong knobs prevent slipping

Fits all pool accessories
Our next pick for you is this heavy-duty product from YEECHUN which comes with a new and improved design. It eases out your pool maintenance work through its set of commercial-grade features. Hence, it is sure to impress you with its performance each time. So, let's go ahead and find out about all that it offers.
Why Did We Like It?
The 1.26 mm thickness of this pole rule makes sure it never bends or deforms due to any accidental pressure exerted on it. Thus, the product will last for several years without showing any major problems. Behind this magic is the 1.1-mm thick anodized aluminum material of this pole that is very sturdy and long-lasting.  
Plus, the expandable length of up to 15' makes it easy to clean medium-sized pools thoroughly. And 2 sturdy cams lock the pole at any length to prevent any slipping during use. So, each cleaning session becomes highly productive, with the pool being cleaned from corner-to-corner and side-to-side. 
Furthermore, the product is very lightweight, which makes it quite easy to use. Lastly, it comes with a two-year satisfaction guarantee, making you eligible for a replacement or refund in case you're not satisfied with it. 
What Could've Been Better?
This product also doesn't come with the holes drilled for fixing the attachments. As such, you will have to find time for drilling the holes yourself, which takes at least 30 minutes. This is a disadvantage that quite a few customers have complained about. 
Pros
Doesn't bend or deform

Can clean medium-sized pools easily

Sturdy cams prevent any slipping

Comes with a two-year satisfaction guarantee
Cons
Doesn't come with holes drilled for attachments
We also found this product from WOLLGORD to be quite efficient in cleaning pools of all sizes. And getting the job done with this pole is also very simple, unlike ordinary products that make it difficult to clean your pool thoroughly. Note that this product comes with an adjustable length of 21" to 47" and weighs 8 oz.
Why Did We Like It?
Connecting accessories such as skimmers, vacuum heads, nets, and brushes to the pole becomes very easy. What does the trick is the convenient clip handle, as it lets you install any accessory securely by the push of a button. 
Another great benefit of this product is that it makes cleaning areas that are hard to reach easier and much faster. It comes with an extendable length of 21"to 27", and hence lets you expand the cleaning range as per your needs for efficient cleaning. 
Additionally, this pole has a handle with a hangable design that makes it very easy to store and saves considerable space. Lastly, the combination of aluminum and plastic makes the product strong and more durable than ordinary poles. 
What Could've Been Better?
The only disadvantage of using this product is that it is not able to remove larger and wet debris from the pool. That's because it bends too much due to the weight of the debris and also becomes difficult to handle. 
Pros
Lets you install accessories easily

Can clean hard-to-reach areas faster

Hangable design makes it easy to store

Stronger and more durable
Cons
Cannot remove larger and wet debris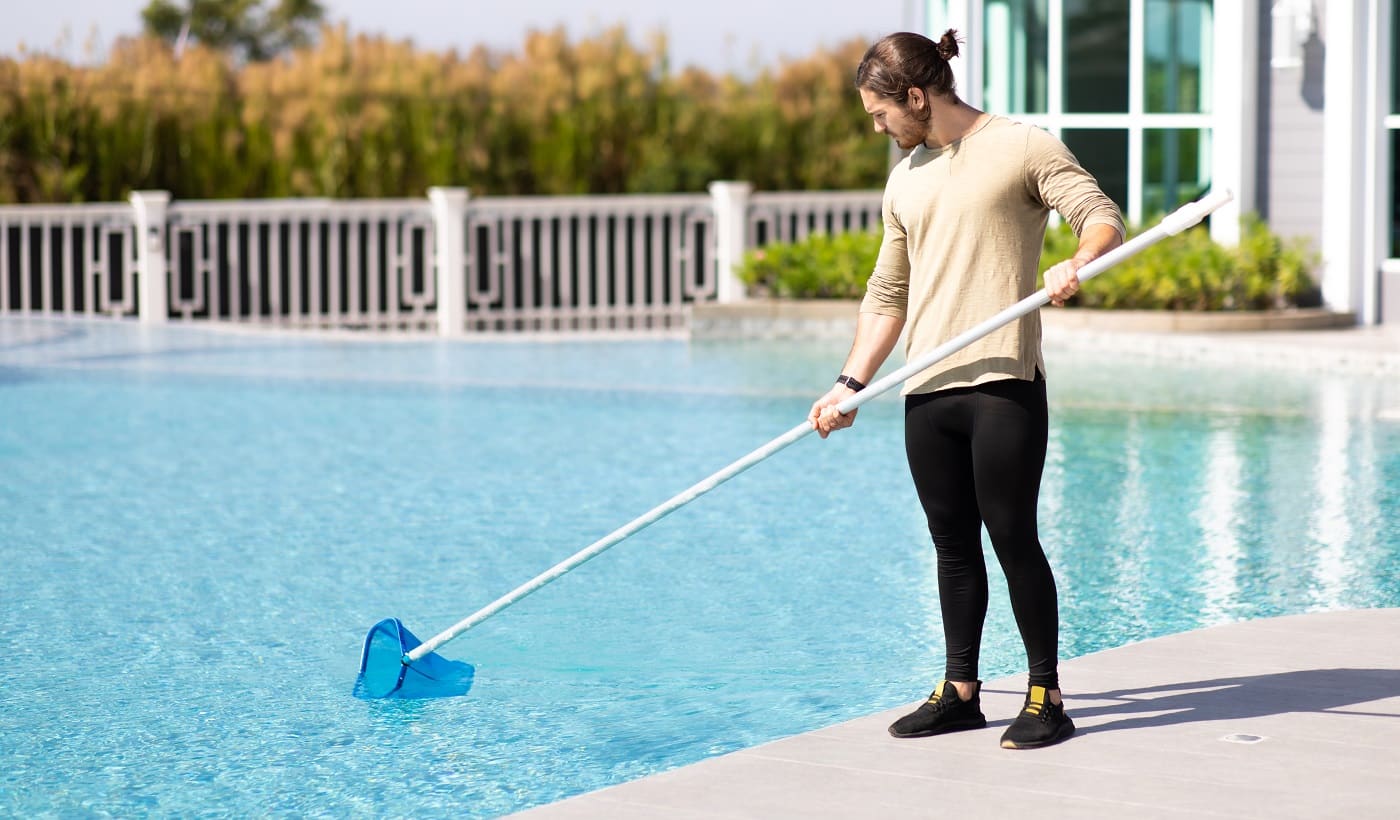 Telescopic Pool PoleBuyer's Guide
When it comes to buying any product, you need to consider some key features which determine its efficiency. Also, being clear about your needs and preferences is important, since all products won't suit your needs. 
Taking into account both these factors will definitely lead you to make the perfect choice. So, let's look at some essential points that you need to keep in mind before proceeding to buy a pool pole. 
Strength
While choosing an ideal pool pole, strength is among the most essential considerations. That's because the pole should be strong enough to handle all types of cleaning tasks such as vacuuming and skimming. Plus, it should be able to withstand the water pressure as well as wet debris without bending too much. 
Length
The ideal length of the pole will vary according to the size of the above-ground or in-ground pool. Note that extendable pool poles let you adjust the length for reaching the depths and corners of the pool. These poles can also be retracted for cleaning closer areas and for easy storage. 
Durability
The pole must be strong and thick to ensure that it doesn't bend or break easily when extended fully and must also be resistant to rust. So, to make sure that the product is long-lasting enough, it is best to go for those made from anodized aluminum material. Note that a ribbed design will enhance the durability and strength of the product further.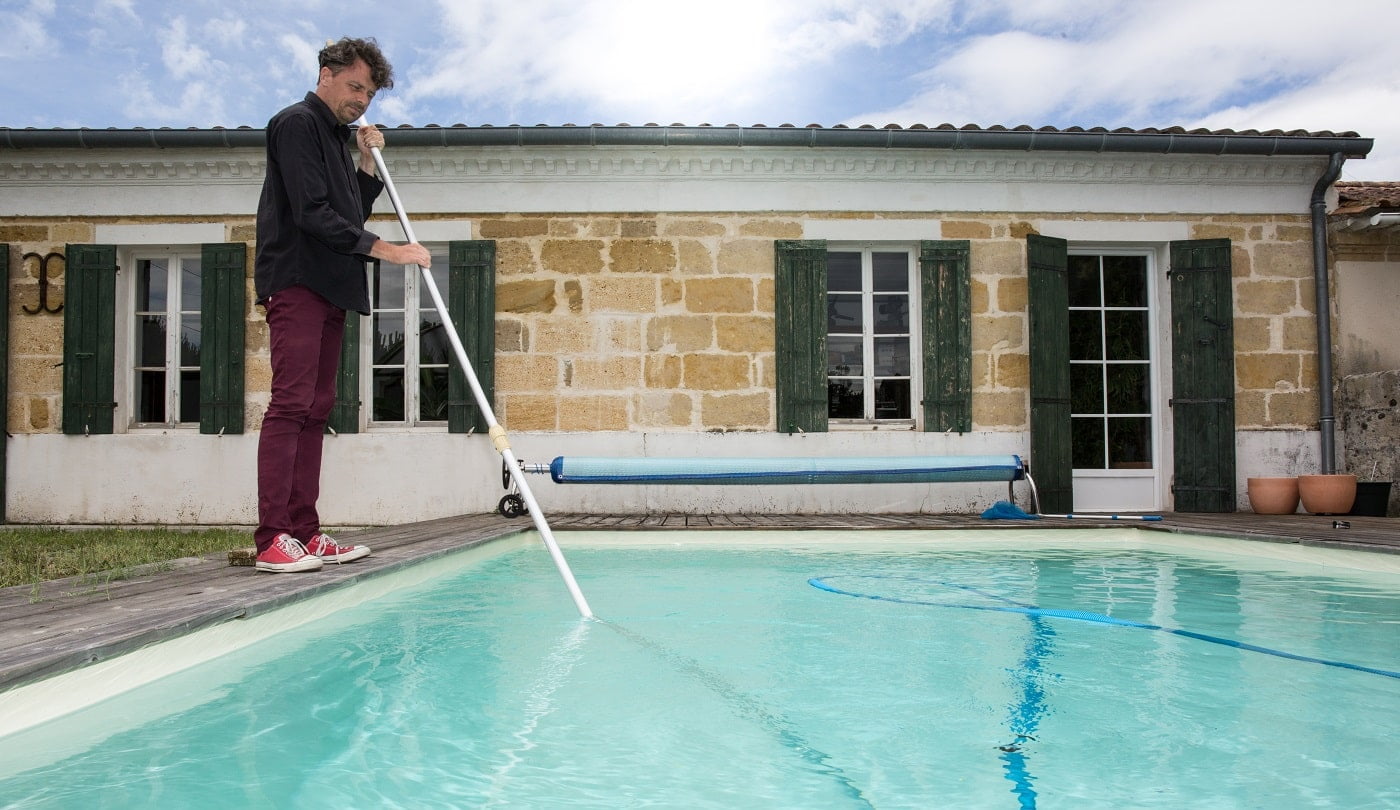 Verdict
That's all the time we have for you today! We hope it will be easier for you to choose the best telescopic pool pole now. 
But before we bring down the curtains, here's a quick recap of our favorites from the list. If both high performance and cost-effectiveness are important to you, the Aquatix Pro Swimming Pool Pole will be the best choice.
However, if you don't mind spending a bit more and have a larger pool to maintain, the JED Pool Tools Telescopic Pole will be the perfect option to go for. 
Let us know whether you agree with our verdict in the comments section below. 
With that, we'll call it a day. Till next time, take care!
Related Articles
5 Best Above-Ground Pool Pad | Buyer's Guide and Reviews
5 Best Epoxy Pool Paint | Buyer's Guide and Reviews
10 Best Pool Cover Pumps | Buyer's Guide and Reviews
Learn How to Install a Spa Cover Lifter
Dolphin M400 with Caddy Review & Buyer's Guide
Learn How to Keep Chlorine Levels Up In Your Pool
Aquabot X4 Robotic Pool Cleaner Review | Buyer's Guide
9 Best Liquid Pool Covers and Why You Need Them
13 Best Chlorine Tablets for Swimming Pools | Reviews & Buyer's Guide
13 Best Salt Water Chlorinators  
19 Best Pool Lights Reviewed | Buyer's Guide
13 Best Pool Pumps  | Buying Guide
13 Best Pool Volleyball Nets to Enjoy This Summer
39 of the Best Pool Toys to Enjoy this Summer
13 Best Pool Test Kits | Reviews & Buyer's Guide
9 Best Above-Ground Pool Ladder
11 Best Deck Box For Outdoor Storage
Aquabot X4 Robotic Pool Cleaner