If you want to repair old nuts and bolts or need to make them from scratch, you'll surely require a well-built tap and die set. But, you wouldn't want to invest in a poor choice and get ripped off.
Nevertheless, it can be tricky to find a good deal while shopping online. Manufacturers often over-inflate the features of their products and paint a flawless picture to rope in customers. But you must be aware of the downsides and the overall quality of the item before you decide to purchase a kit.
Whether you are a DIY enthusiast or simply need a reliable toolkit for home or garage chores, you must be thorough with the parts necessary for a specific job. Most importantly, you must find a set that seamlessly matches your requirements. 
To help you out, we've reviewed 11 best tap and die sets that are currently available in the market. We have also compiled a buyer's guide so you can get more familiar with these tools.
So, without further ado, let's begin with the reviews.
Best Tap And Die Set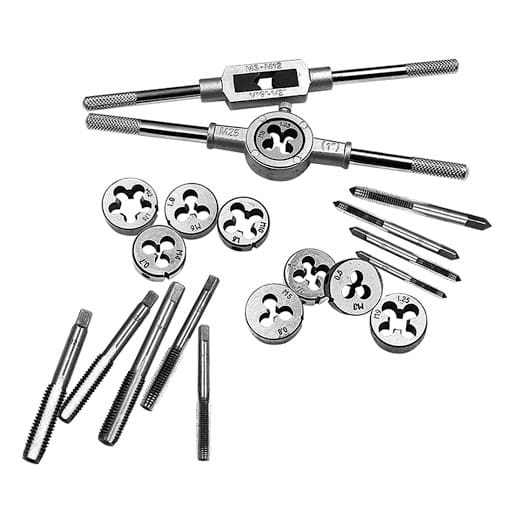 GearWrench has cleverly borrowed the ratcheting wrench design and applied it to this extensive tap and die set. This mega 114-piece collection is ideal for use in tight, confined areas. The ratcheting handles and adapters enable easy back and forth movement necessary for cutting threads on the taps or dies.
Experience
The GearWrench (82812 model) 114 Piece Set is the ideal choice for people who essentially want to create or repair any nut or bolt available in the market. Now, manufacturers often use a big number on a set to overstate what's included. But the 48 sets of taps and dies in this case represent an adequate ratio of useful parts to extras. 
The package includes two excellent ratcheting T wrenches with a 5° swing arc that allow you to make meaningful progress even in the tightest of spots, where it can be difficult to maneuver.
We especially liked the carbon steel taps and dies as it is one of the most long-lasting and strongest metals you can find in the market. Therefore, this set is a perfect option for people who need tools that will last for ages. 
Another point we want to highlight is that the taps come in both plug and taper design, offering you the choice to use whichever configuration is better suited for a particular task. 
However, the only drawback of this set is that it comes in an underwhelming case. Regardless, that's a flaw you can overlook if you want to get one of the most reliable tap and die sets.  
Pros
Tools made out of solid carbon steel

T wrenches with a 5° ratcheting arc

Taps available in both plug and taper config

Comfortable in hand T-handles
So if you altogether want to avoid mid-project hardware store visits, we suggest you get this bad boy from IRWIN. This huge, assorted set includes almost every tap, hex die, and drill bit a technician requires for maintenance and auto repair jobs. Besides, this set also features perfectly built tools for hand-threading materials.
Experience
The IRWIN Tools 117 Piece Set (26377 model) is a dependable set, which like our first product, boasts of carbon steel-made taps and dies. The exceptional sturdiness and durability of the tools facilitate superior nut and bolt machining and leads to a long-expected lifetime. 
We are also impressed with the inclusion of size options for both metric and customary tap and die sizes. Furthermore, the package also has a good set of spiral screw extractors and high-speed steel drill bits, which you may not find in other sets at this price range. 
Apart from that, we like the quality and the organization of the case. When you snap it shut and open it later, you won't find a piece out of place. 
But given the price, it has fewer taps and dies than the previous GearWrench set. And while the ratchets in this set are pretty good, we like the GearWrench ones more. 
Overall, the item is on the expensive side compared to other large tap and die sets, yet we recommend this option if you want to invest in a large all-in-one kit. 
Pros
Build with carbon steel

Size options for both metric and standard sizes

Includes a set of high-speed drill bits

Kit contains spiral screw extractors
So here's yet another set from the house of GearWrench, and at first glance, it appears to be a smaller version of our top model. It has earned the third spot on our list as it is just as functional and reliable, even with fewer tools than other larger sets.  
Sale
Experience
The GearWrench 75 Piece Set (3887 model) is a compact kit including 34 taps and dies each. 
To begin with, the ratcheting T wrenches in the set, yields a 5° swing arc, while its reversible lever eliminates hand over hand turning, thereby making the job quicker and easier. We like the twist lock guide system on the wrenches that reduces the chance of the die guard falling back. 
Furthermore, the die adapter works with both round and hex-shaped dies and also fully integrates with the ratchet and socket system.
Like the previous GearWrench option, this too includes both plug and taper taps, which means you'll have the suitable tool within reach at any given moment. Other than that, the blow mold case enclosing the parts is quite durable and well organized. 
But the best part about the set is its price. You get more than half the number of parts found in the sets with 110+ pieces. Yet you have to spend only about half the amount compared to the price of our top two kits. 
The only catch is the limited selection as it lacks in some common sizes, so you cannot access the full variety that larger sets offer. 
Pros
High-quality ratchet wrenches

Set includes plug and taper taps

Die-adapter suitable for round and hex-shaped dies

Durable blow mold case
Cons
Limited selection of tools
It is time to introduce another known brand in our list, and for our fourth place, we've picked this sharp and accurate Titanium 45 pieces set from Neiko. This Pro-grade set comes in a heavy-duty molded case that ensures hassle-free storage and portability for individuals on the go.
Experience
First off, we are very impressed with the professional-grade steel construction of the tools as they are very substantial and built to last for multiple use. This set is good to go for professional use as well as DIY projects as each piece yields power and precision. 
But if we had to point out the unique selling point of the product, it would be the titanium cutting edges that hold sharpness up to 20x times longer compared to other steel taps and dies. Moreover, the parts are highly durable and help you to repair as well as make new cuts. Besides increasing the strength of the individual components, the titanium coating reduces brittleness.
The included tap handles facilitate smooth and consistent cuts on a variety of materials, and the multiple sizes in the kit enable you to create different kinds of threads without the need to purchase additional specialized gear or tools.
We also like the case as it is relatively well-designed and holds each piece in its designated slot. You can easily pick out what you need without searching too much.
For a mid-range tap and die set, it certainly has some high-end features worthy of mention. However, this model has previously lost favor with users over quality control issues, and that is our only gripe as well. 
Pros
Titanium tipped cutting edges

Allows for precise cuts

Includes a range of die and tap sizes

Spaced-out carrying case
Next up, we have another 45 piece tap and die set, a premier offering from TEKTON, made out of Tungsten alloy high-speed steel. Featuring 20 taps and 20 split dies in a full range of coarse and fine sizes, this specialized kit focuses more on quality over quantity.
Experience
We want to begin by drawing your attention to the various flute plug taps included in the kit for hand threading, as well as the dies needed for similar applications. Besides, the tapered design of the plug taps and dies allow you to cut new material effortlessly. 
All the pieces in this set are made of fortified tungsten alloy steel. Therefore, with the correct technique and the proper lubricant, these taps and dies will cut cast iron, stainless steel, mild carbon and alloy steel, brass, aluminum, and bronze.
This comprehensive toolkit can be used on both new or used materials. So, even if you find it expensive for a 45 piece set, we recommend this model as the components are not only durable but also work on different material types.
Everything comes enclosed in a standard hard case that retains the pieces in their slots. But unfortunately, the quality of the storage case is not up to the mark and suffers from sealing problems. 
Lastly, we feel that this is a decent sized kit for homeowners who undertake the most basic repairs. However, you should check beforehand whether the selection of items are appropriate for the tasks you do. 
Pros
Includes all essential components

Made with solid Tungsten alloy steel

Works on a range of materials

Tapered plug taps and dies
Cons
Poor quality storage case
This set from ABN (8766 model) is an entry-level kit that we recommend to users for routine projects, and nothing heavy-duty. It is a 60 piece comprehensive set containing a range of long-lasting alloy steel components. Which means, the taps and dies in the kit are not only suitable for cutting but also renewing threads. 
Experience
This set is compatible with both SAE and Metric measurements, something you won't always find in kits at this price range. 
The hardened alloy steel parts are another standout feature we want to talk about. It might be a beginner's kit, but the tools are tough enough to cut a wide range of materials and continue doing so for a long time. Therefore, everything from aluminum to cast iron is within the remit of this dependable set.
Besides, the quality of the components enables them to sustain overuse and slight mishandling, both expected from DIY enthusiasts. The coarse and fine-threaded taps and dies work flawlessly and allow you to handle several tasks with unmatched precision.  
However, the wrenches and adaptors are not the most ergonomic or comfortable to use, but it is a small compromise for such an economic item. Apart from that, we find the storage case a little too large and strangely laid out. Nevertheless, the case itself is quite sturdy and safely holds all the pieces in place.  
All in all, it is a combination set that you can use to undertake simple projects, as the parts offer versatility and desirable results without wearing out easily. 
Pros
Metric and SAE compatibility

Lasting alloy steel construction

Works against strong metals

Value for money kit
Cons
Poorly laid out storage case
We are halfway through our list, and now is the right time to introduce the Best Choice 40 pieces set from EFFICERE. Featuring 17 taps and dies each, you'd be mistaken to consider the limited quantity tools to be a disadvantage. Regardless of the compact selection, this kit is ideal for hand threading jobs at home, workshop, and garage. 
Experience
You will appreciate the industrial-grade steel construction of the parts as it ensures tool endurance and longevity. Furthermore, the pieces offer remarkably precise and accurate cuts, unlike any other 40 pieces set. 
Suitable for professional work, taps and dies allow you to make screw threads without the risk of missing the mark or veering off to the side. Also, these CNC machined, and heat-treated tools can perfectly cut new threads or chase existing threads.
Another noticeable aspect is the tapered teeth design of the taps and dies, facilitating easy control and preventing over-threading instances. 
We are also impressed with the broad application of the set as it can be used to repair damaged threads on hard materials, including carbon steel, aluminum, cast iron, stainless steel, brass, and copper. That being said, with this premium quality kit in hand, you can altogether avoid the expenses of third-party repairs or replacements
Overall, it is a pretty decent kit for the price. However, our only complaint is the design of the wrenches as it is far from the best. But that is not a significant drawback, given the cost of the item. 
Pros
Accurately machined tools

Excellent cutting performance

Tapered teeth dies and taps

Attractive pricing for 40 pieces
The Neiko 00908A is a highly functional and affordable 76 pieces tap and die set with the individual parts made from premium grade alloy steel. Other than the twin virtues of durability and strength, this set uses both metric and SAE measurements, which widens the compatibility of the toolkit.
Sale
Experience
This 76 pieces kit can handle most commonplace applications with ease. It is a combination set that you can use for completing odd jobs with minimum effort. To begin with, this low-cost set contains 34 taps and corresponding dies for each, and they are available in coarse, fine, and national pipes config. 
In addition, the set includes 2 anti-slip handles that will allow you to thread with ease. Also, you will find this kit incredibly handy for repairing worn-out threads since it has chasers.
We especially like how each titanium tipped piece is cleverly engraved with its sizes, so you can simply refer to the dimensions while looking for the right size. The ease of identification is a subtle yet useful feature that simplifies things on the job. 
All the tools come in a molded carrying case; however, we cannot vouch for the quality of the box as we hoped for something sturdier. But it does a fair job of storing the pieces and keeping them organized. 
Bottom line, this Neiko tap and die set is not a heavy-duty model for professional use. Nevertheless, it is still one of the best tap and die budget set for casual users looking to create threads or rebuild worn ones.
Pros
2 anti-slip handles

Titanium edges that hold sharpness

Decent number of pieces for the price

Reliable and low-cost model
Cons
Poor quality carrying case
We bring to you yet another kit from TEKTON, but this time it's a smaller 39 pieces set that we recommend for simple and straightforward handwork. It is a basic, entry-level kit available at an affordable price range with a surprisingly good selection of taps and dies.  
Experience
We like how this set is a desirable combination of durability and accuracy, with each component being lightweight yet strong, yielding precise and consistent cuts.
The milled alloy steel construction is a major highlight as it makes the parts reliable for working with heavy materials and a variety of metals, including aluminum, cast iron, brass, bronze, and steel and carbon alloys.
Moreover, the tapered taps and dies in the kit are designed to prevent over-threading and mishandling errors, allowing you to create consistent screw threads while completing a project or patching up existing threads.
This 39 pieces kit also features a standard wrench and a smaller T wrench, besides the 17 taps and dies each. And all of it comes packed in a small, bright red storage box.
We really like the neat arrangement of the contents in the storage case, as you can easily pick the desired tool without searching too much. Also, the case can hold each component in place without mixing them up while opening or shutting the lid.  
Overall, it is a good product with the milled alloy steel built being the only 'wow factor'. However, the kit is not meant for frequent and heavy-duty use as apart from being unsuitable, the parts suffer from some quality control issues.   
Pros
Good variety of taps and dies

Milled alloy steel construction

Small and neat carrying case

Good value for money
So if you are on a tight budget and want a functional toolkit that will get the job done, this product from Performance Tool is a great option. In addition to being fairly durable for casual uses, the high-quality steel components yield precise and consistent cuts, ensuring desired results at all times. 
Sale
Experience
This kit is actually good for a low price point as it features 40 pieces, which translates to 17 taps and 17 dies bits. It is easily one of the cheapest full set of taps and dies parts available in the market, with a useful range of sizes (NC, NF and NPT sizes). 
The quality steel structure of the individual components induces optimum strength required for light-duty applications. While the long-lasting hardened frame of the pieces enables them to get through moderately sturdy materials, including thin metals.
However, don't get us wrong when we appreciate the built quality of the parts. With respect to the price, you are getting a fair deal, but the tools hardly boast premium construction. Hence, the pieces will struggle to get through something more robust, like iron or steel alloys.
But we can hardly complain, as the kit is pretty good for occasional use. You can pick this set if you mostly work with softer materials as it is a great buy for hand cutting jobs or threading.
Overall, the decent variety of taps and dies, along with the T-handle, tap wrench, die stock, and screw gauge, make for a versatile yet economic set. 
Pros
Steel construction enables precise threading

Good range of taps and dies sizes

40 pieces of components

Great value for money
Cons
Construction unsuitable for heavy-duty work
We have come to the final item on our list, and we would like to finish off with this entry-level model from the Chinese manufacturers – Gino Development. This tap and die kit is simple, dependable, and doesn't skimp on the parts, allowing you to create thread cuts in a wide variety of materials and surfaces.
Experience
This model from Gino Development is another ultra-affordable toolkit made for casual users and DIY enthusiasts. It consists of 60 hardened alloy steel pieces that help will you to create new threads or rework damaged threads to your liking.
Besides, the hardened alloy construction induces great stress capacity and works fairly well soft materials and thin metals.
We also like that the set comes with SAE and metric measurements, ideal for creating industry-standard threads. Furthermore, you get numbered and fractional pieces in the kit, so you always have the necessary parts within reach. 
However, it would be grossly unfair to expect superior quality from a product at this price range. That being said, this package is still an excellent solution for beginners and do-it-yourselfers. 
Therefore, if you are on a shoestring budget but need a reliable tap and die set for casual threading, this toolkit is ideal for the purpose as it works with aluminum, stainless steel, and other soft metals. 
Just keep in mind that this set is not very practical for any hard metals as the alloy used in the tap and die set is simply not strong enough.
Pros
Uses both metric and SAE measurement

Affordable product

Excellent threading in soft metals

Good price per piece ratio
Cons
Not effective on hard metals like steel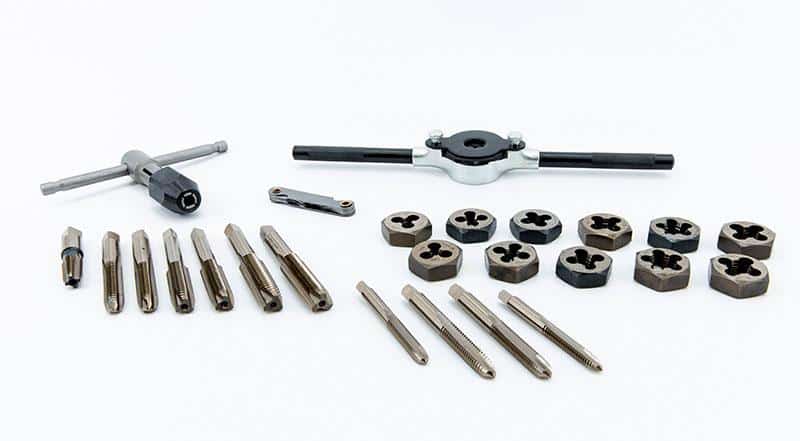 Tap And Die Set Buyer's Guide
Now that you know the 11 best performing tap and die sets available in the market today, how do you pick the most appropriate one? You want to get a toolkit that perfectly meets your needs without going overboard on your budget, after all.
To help you with that, we have put together an informative buyers' guide to help you choose the ideal tap and die set. So, read on to make an informed decision.
Quality
While investing in a tap and die set, first and foremost you should assess the quality of the parts. You would want a set that will last for years and not just get you through the next task. We recommend you to buy carbon steel construction as it is the right balance between quality and price. 
However, high speed steel can also handle demanding situations, unlike alloy steel, which lacks durability. Threading requires sturdy taps and dies, and carbon-steel is far more durable than other materials. As for the cutting surfaces opt for the titanium tipped ones.
Quantity
You should also take into consideration the number of components in the kit. But a set with more pieces is not necessarily better than one with fewer parts. A big number could be a compromise on the overall quality of the package, or manufactures can inflate the prices for some added tools. Read through the components list and find a kit offering a wide selection so you can have the right piece when you need it.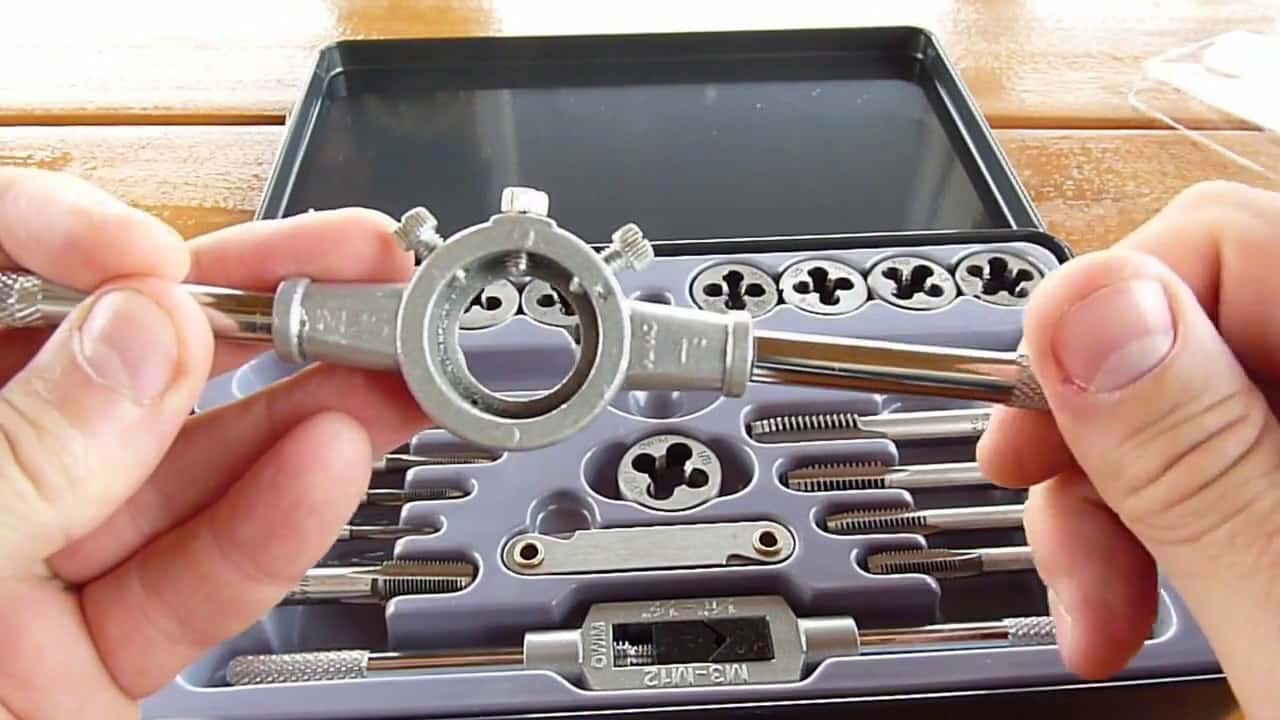 Measurement
The dimensions of the tap and die is also important. Metric is the standard European measurement system while SAE are based on US sizes (so use inches). This is crucial as you may struggle to apply SAE taps and dies on a vehicle with metric measurements. If the car is manufactured in the USA, it most likely uses SAE measurements. 
However, it is the opposite in the case of an European carmaker. Nevertheless, you can avoid this whole confusion by getting a set with both Metric and SAE compatibility. 
Storage Case
Unlike other encasing, a tap and die carrying case is an indispensable part of the set since you are dealing with several parts. Make sure the storage box is not only durable but keeps the pieces organized and safe in their slots. A well laid out case saves you time on the job as you don't have to rummage for a specific piece.
Price
Finally, consider the cost of the product and buy one that includes every part you need, within your budget. How much you spend on a set also depends on the frequency of use. There's no point in purchasing a high-end item if you plan to use it occasionally. It is wise to compare the price per piece value so you find a kit that can do the job while being light on your pocket.   
Conclusion
So that's a wrap on our guide, and we hope that you can now make up your mind. We have tried to include something for everybody, so you can pick a tap and die set within your budget.  
With all this information at your disposal, we are sure that you can find the toolkit best suited for your needs. 
Let us know in the comments section below if there's anything we missed.
Till next time!
Related Articles
13 Best Cordless Oscillating Tools 
13 Best Screwdriver Sets on the Market Today
13 Best Wood Routers for Professionals & Amateurs Alike
Simply the Best Stained Glass Ring Saws in 2022 Reviewed
49 FREE DIY Router Table Plans For an Epic Home Workshop
10 Best Shop Vacs For Dust Collection 
11 Best Hammer Drills on the Market Today
11 Best Torque Wrenches on the Market Today | Buyer's Guide
11 Best Angle Grinders on the Market Today
13 Best Chainsaws for the Money 
13 Best Tile Saws Reviewed | Buyer's Guide
11 Best Sliding Compound Miter Saws
Tekton Tools Review | Craftsman vs Husky vs Tekton vs Gearwrench
13 Best Punch Down Tools – Reviews & Buyer's Guide
7 Best Concrete Grinder, Planers, Scarifiers Reviewed