Disclaimer | This article may contain affiliate links, this means that at no cost to you, we may receive a small commission for qualifying purchases.
Whether you are a DIY enthusiast or a professional working at a construction site, wood or metal work requires straight and error-free cuts. 
Now you may own a good table saw, but a table saw fence is required for perfect measurement and absolute precision. While there are several different types of fences available, they primarily differ in size and features. 
Moving onto the details, a suitable product would ensure that your work process is safe and accurate. It will help you cut exactly in a straight line or at desired angles when needed. Having said that, choosing one from a number of choices can be difficult. 
To make it easier, we have reviewed the top 11 table saw fences available in the market today. The pros and cons have also been listed in detail for your benefit. 
So, what are you waiting for? Grab a cup of coffee and read on! 
Top Table Saw Fences
One of our top suggestions is the DELTA 36-T30T3 Fence System which is known for its versatility. It works with a number of saws from different brands and comes with a hoard of features. Read on to know more about them in the next section.
Why Did We Like It?
Firstly, we will mention that it is a single-piece tubular rail which is square in shape and has a mounting design that attaches to saws easily. We were happy to find out that it has a maximum rip capacity of 13-1/2 inches to the left. The fence length, in general, is 37 inches with a 57-1/2-inch rail. This is big enough to handle most DIY projects.
Moving on, to ensure accuracy, it boasts of a 3-point locking system that comes with twin hairline pointers. The pointers will ensure that your fence always stays parallel to the blade. It even maintains accuracy up to 1/64 of an inch. 
Next, you will be getting a steel body that glides easily and ensures precise square cuts. As such, we were able to have an error-free experience while working. The fence will clamp onto the tube in front, and you can hook it to the rear rail. Once this is done, adjusting it should not be a problem. 
What Could've Been Better?
The only drawback we noticed was that the clamp would sometimes slip loose. Now, on investigating, we found that the paint on the rails was making it slippery. We then scrubbed it slightly with sandpaper, and that did the trick. This is a great way to handle the situation in case you face something similar. 
Up next is an option for those who are looking for a replacement to use with a Dewalt table saw. The Dewalt DW745 replacement fence works well with table saws up to 10 inches and will offer steady support. You will love this compact and lightweight option, and it will help you measure with precision.
Why Did We Like It?
If you need to carry your tools to the job site every day, this fence will serve the purpose well. This is because of its lightweight body, weighing only 1.78 pounds. Hence, transporting it will never be an issue.
Coming to the material used to make the body, this one is made of aluminum, and that gives it a lot of strength. The aluminum parts stay in place even after rough use, and that adds to the benefits. 
Next, this is a replacement piece, and it is very easy to install. Dewalt is known for its great machinery and parts, and this meets the quality standards. 
Also, the product can be used to work with large boards, and it can handle them easily. This makes it perfect for professional use on construction sites.
What Could've Been Better?
The only issue is that there are plastic parts that are not very long-lasting. They break down easily if you apply too much pressure, and hence you need to be careful about this. Other than this, there were no issues that we faced with this device. 
If you were looking for an ultra-convenient tool that would give you the exact amount of support required, this would work well. The POWERTEC BS900RF Rip Fence is an amazing option that is known for its efficient performance and easy adjustment. This makes working easy and quick. 
Why Did We Like It?
This tool is very rugged, and you can depend on it for all the support that you need. It comes with clamps that can fit on an 11-13/16-inch table, and it does not move out of place. 
Moving on to the construction, this is made to be very durable and is constructed of industry-grade aluminum. The build is really sturdy and rugged and will ensure flawless performance. 
Plus, the tool has a handy cam-lever that will let you adjust the placement lock as you want. Once it is in place, you can secure it, and that will provide more rigidity. You will be able to get error-free cuts at all times, thanks to this. 
Another great benefit is that it arrives completely assembled, and you will not require any tools for installation. Just take it out of the box and attach it to your work table. 
What Could've Been Better?
So, we had a great experience with this product, but if you are a novice, you might face issues initially. Instructions are not given, and you might have to watch YouTube tutorials to understand how to use them. Otherwise, you can call up customer care and talk to them about it. 
If you were looking for a versatile option that will work with most table saws, the Vega U26 Table Saw Fence System is an excellent option. This is heavy and sturdy and works well for professional use on construction sites and large workshops. We were delighted by the efficient performance and the reasonable price for it.
Why Did We Like It?
The body is made entirely of rock-solid steel, and you will be happy to find that it is pretty sturdy. We have been using it for a few months now, and there have been no damages due to work. 
Also, this includes a 36-inch bar that includes 8 inches to the left and 26 inches to the right of any blade . This will support micro-adjustment, and you can make error-free cuts at all times. 
Next, weighing 34 pounds, this product is on the heavier side and will work for thick boards. It is made to handle tough cuts and will do the job quickly. 
Not only that, but it is also easy to install. You will need to put the parts together, but the entire process will take you around 15-20 minutes. This is a 1-time process and will not pose any problems.
What Could've Been Better?
We were disappointed with the kind of packaging that we found. There were some parts that were thrown into the cardboard box without wrapping them first. Hence, there were scratches and small dents on some parts, which could be easily prevented. We hope that the brand looks into this. 
Now that we are nearing the middle of this list, it is time to introduce the Shop Fox W1716 Aluma-Classic Fence. This is a very durable option, and you can trust it completely. Plus, this will fit most of your table saws and will guide you better with a magnified cursor lens.
Why Did We Like It?
First of all, this is a very sturdy device that is known for its steel and aluminum construction. It sports a right-angle design and is known to be reliable. 
Moreover, we found the setting-up process to be very easy, and you will be getting a cam-lever front locking system. This, along with a torsion box, makes it versatile and you can fit it on almost all kinds of saws. No rear locking mechanism is needed, and the boards will be held straight while working. 
Next, one of its major features is the magnified cursor and the self-adhesive measuring tape. These help in placing the fence in the correct place with high precision. You will not be making any wrong cuts because of this. Also, the measuring tape is colored bright yellow with black numbers on it. This makes it clearly visible at all angles. 
What Could've Been Better?
The instructions that came with this pack were not clear, and hence the installation process became difficult. The pictures were not sufficient, and the text did not describe every step properly. We will suggest calling up customer care for more help regarding this. 
If safety is your top priority, then the Deadwood Crafted Tools Table Saw Fence is going to be a brilliant option. It is known for precise cutting and sanding. You can repeatedly cut with the same level of accuracy. What's more, this comes with all the needed hardware along with it, and you will not need anything extra.
Why Did We Like It?
Do you need to make angled cuts and segmented turning very often? The product will ensure that you are able to make repeated cuts at angles and also stave boxes. This might require you to make longer rips, and you can do that with this fence accurately. It will help you in cutting and sanding both. 
Next, we will discuss the flip stop, which is a great way to prevent uneven cuts. This will let you trim the end before finally cutting. So, this leaves no space to make any errors. There are plastic knobs that can be tightened for easy adjustment of the flip stop. 
Moreover, the scale will allow you to adjust the angle to 1/10th of a degree. This will not only provide more support but will also keep the board very near the blade. 
What Could've Been Better?
The product was supposed to arrive completely assembled, but there were many loose parts that needed to be taken care of. Now, there were no instructions provided, and we had to watch YouTube tutorials to understand how to operate this. 
If you want to ensure that there is no movement when you are working with boards, then the Shop Fox W1720 Aluma-Classic Fence is an incredible choice. It will lock in position perfectly and will ensure you have a smooth working experience. Read on to know all about its bells and whistles.
Why Did We Like It?
This tool is made of aluminum and steel, and both of these materials are thick and sturdy. It sports a right-angle design which ensures complete precision and accuracy. You will also find the adjustment points to be widely placed so that that process of setting up becomes easy. 
To make it simpler, this even has a cam-lever locking mechanism and a torsion box. Both of these will help you fit the fence on any saw. Tighten the joints, and you should have an error-free experience. 
Adding to this, there is an adjustable magnified cursor lens and a self-adhesive measuring tape. Both of these help in quick and easy positioning of the boards and the fence. This, accompanied by long rails, proves to be the perfect choice for larger workpieces. 
What Could've Been Better?
When we initially ordered this product, the rails were not included, and without them, the fence cannot be used. That is when we got in touch with customer representatives and spoke to them about our dilemma. They shipped a replacement, and we did not have any more issues after that. 
If you want a replacement fence for RTS21, then the Ryobi 089037011704 Rip Fence will prove to be perfect. It is small and will fit well with specific saws. This is an option which is very popular among customers for its steady performance. 
Why Did We Like It?
This is indeed a lightweight product that weighs only 1.69 pounds. The low weight will allow you  to carry it around easily, and you won't have to leave it at the work or construction site. 
Also, this is a pretty affordable replacement option, and many customers have found it to be better than their original fences. It fits in perfectly and leaves no area for errors. 
Coming to the material, this one is made of aluminum, and hence like its peers, it is very strong. It will not be affected by sharp edges and heavy pieces of wood. Plus, there is a single-locking cam handle that makes it all the more easier to work with. The clamps present will help you lock the fence in place and ensure that it does not move even due to vibration. 
What Could've Been Better?
Now, this is not a universal fence and will not fit all kinds of saws. So, please check the measurements well before making a purchase. If it fits, then it will work out just fine. Also, we believe that it can be shipped better as there were some dents on the body when it arrived. 
Are you looking for a simple tool that will ensure accuracy? The Delta Power Tools 78-919BT2 Biesemeyer Fence is a brilliant option and is available in a classic black color. It is designed to be sleek and will easily fit with 36-L352, 36-L552LVC Type 2 Unisaws, and 36-L552 models. 
Why Did We Like It?
This is one of the heavier options that work well for professional use. A 3-point locking system will keep the workpieces in place and ensure that there is no movement while cutting. It is rated to be one of the best products in our market thanks to the accuracy achieved every time. 
Secondly, it glides easily and smoothly over the steel fence body. This easy movement allows for quick and precise cutting and ripping. You will be able to make square and rip cuts constantly, and you can complete a lot of work in a short period of time. 
Also, the packaging was done well, and the product arrived without a scratch. We found no dents, and there were enough packaging materials inside the box to protect. 
What Could've Been Better?
This product arrived without rails, and that turned out to be disappointing. Now you cannot really work with a fence with no rails, and we had to purchase it separately. This cost us more, and the entire expenditure rose. We wish that the brand would look into this. 
Now that we are nearing the end of this list, it is time to introduce one of the most loved products. The Bosch Parts 2610950148 is a perfect option for most Bosch saws and will work as a replacement unit in case your older fence is broken or is malfunctioning. 
Why Did We Like It?
This is an OEM authorized part and will work like the original part itself. We found it to be extremely smooth, and it glided on the surface well. 
Also, since it weighs just 5.12 pounds and is 29 x 7 x 5 inches in size, you can carry it around from the construction site easily. We did not require an extra cart for this purpose. 
Moreover, it can be used out of the box, and you do not have to assemble the parts. The product needs 0 adjustments and stays exactly parallel to the base. There are clamps that lock this in position, and it does not move out of place. 
Lastly, it is cost-effective and will not burn a hole in your pockets. We found that it worked perfectly well with our Bosch saw. 
What Could've Been Better?
The only issue here is that this product will not work with other brands and may not fit well. In case you find that the measurements are perfect for your saw of another brand, we will suggest calling up customer care and asking them about it. You would not want to spend the money and then realize it does not work. 
Up next is one of the lightest options currently in the market. The Ridgid R4516 is a sleek fence that will work well with Ridgid R4516 table saws. It is a replacement part, and you can purchase it if the previous one stops working. 
Why Did We Like It?
Weighing only 4 ounces, this one is 6.75 x 6.75 x 24.88 inches in size. The best part about purchasing this is that there is an option to enter the model number of the saw that you are using when you are buying online. 
Once you have done that, they will tell you if the fence will fit or not. Remember to do this before purchasing to prevent making a wrong choice. 
Moving on to the certification, this product has been certified to be frustration-free. It is a simple option and is very easy to install and work with. There are clamps to ensure that it fits well and it sits absolutely straight and parallel to the work surface. 
Furthermore, the brand provides excellent customer service, and you will have all your queries answered by calling them. 
What Could've Been Better?
This is a smaller product and will not be suitable for large saws. You can use it for smaller projects and works around the house, but we will not suggest this for professional use. In case you still have a doubt, call up customer care. They will tell you if the product will be compatible with your saw.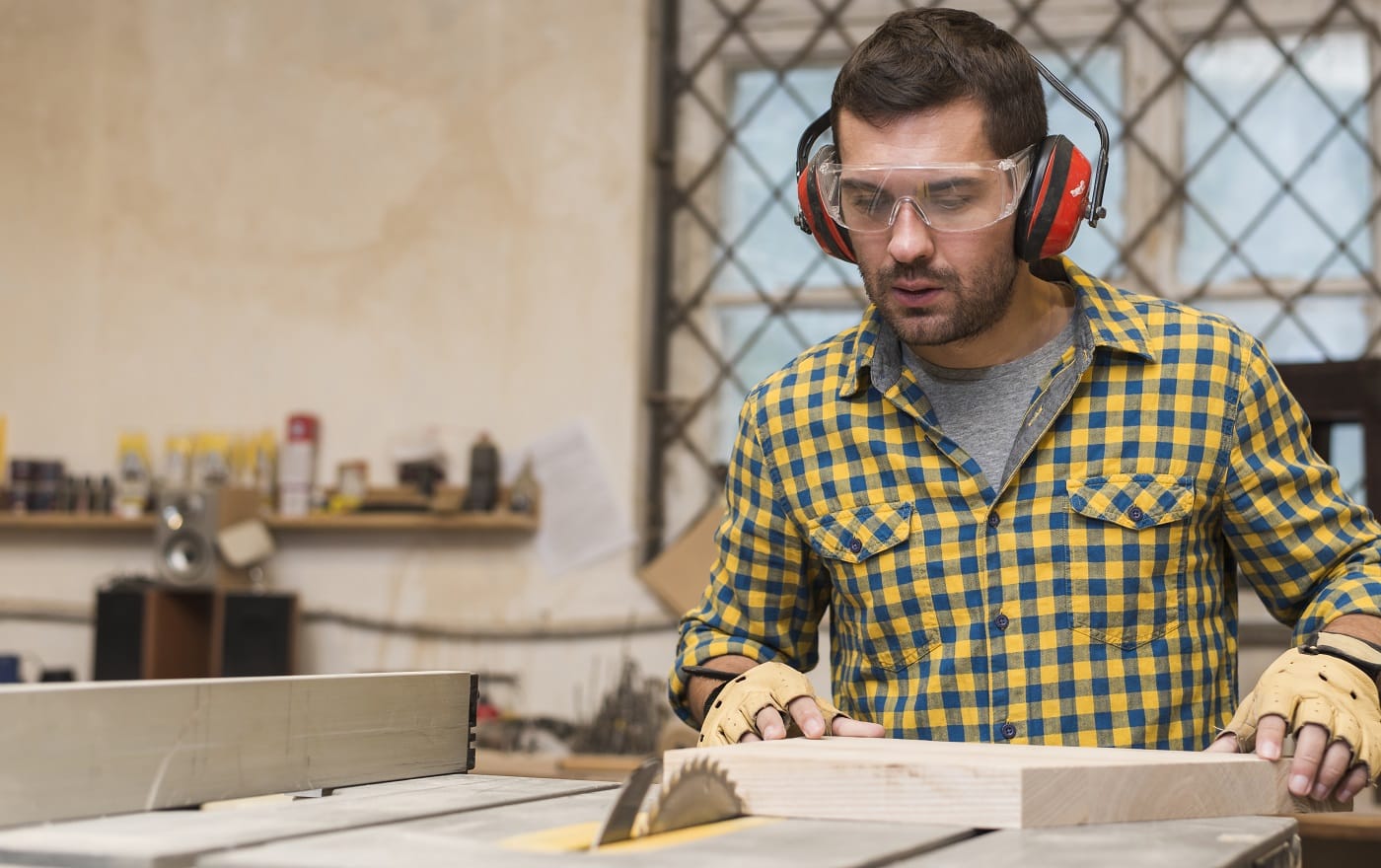 Table Saw Fences Buyer's Guide
Now while there might be a hoard of options that are presented to you, you will have to make a wise decision and choose one. There are certain factors that helped us make a decision. We believe these variables could help you out too, and hence, we have listed them down here. 
Material
The material is one of the essential factors that you got to check while purchasing a saw fence. This is because you will be working with heavy and sharp parts, and the fence has to be sturdy enough to deal with them. Opt for steel or aluminum as these are the strongest materials currently in the market. 
Now the trick is to find the most sturdy option, which is also lightweight. A very heavy fence would not be portable, and if you want to move it around, it can be difficult. A lighter model can be taken from and brought to construction sites daily. 
Remember that wood and plastic might be present in some products, but they are weaker and may break due to excessive force. 
Weight
So, a heavy fence means that it is difficult to slide, and you will have to put in a lot of effort to make it move. This requires a lot of physical strength, and choose this only if you are willing to take on the work. 
On the other hand, a lightweight option may not be as strong as a heavy one and may get damaged easily. This works well for DIY projects around the house but may not be well-suited for continuous construction work. We will recommend understanding your requirements carefully before purchasing. 
Installation Process
While some products will come assembled, others will not, and it is on you to assemble them. So, in case it is not assembled, check for an instructions manual. If there is none, contact the company immediately to provide you with clear instructions. Otherwise, it may become a very hectic and strenuous job to put together the machine by yourself. 
YouTube videos can help out but let that be the last resort.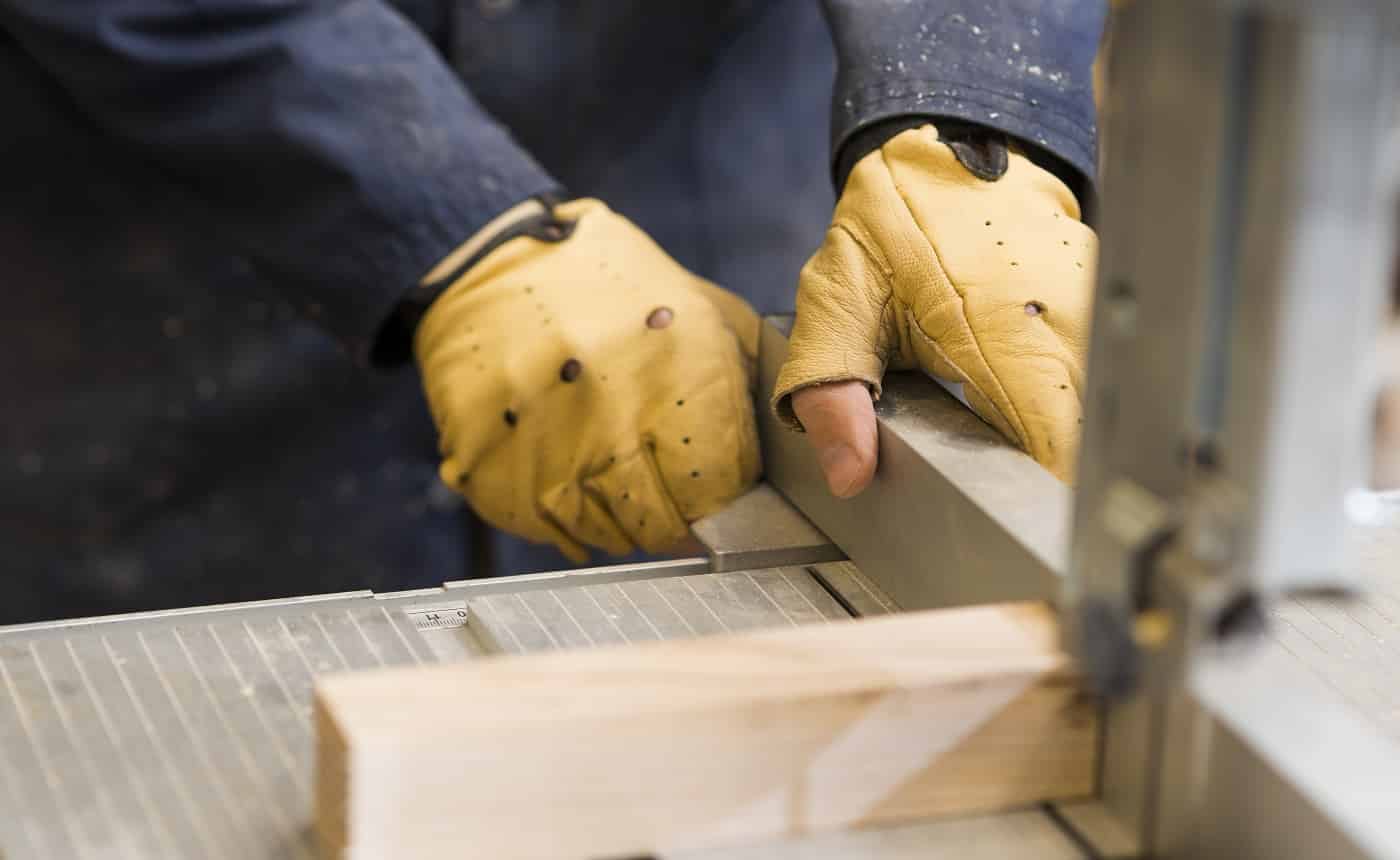 Verdict
A good fence will ensure that you can work quickly and smoothly without any errors. In case you are purchasing for professional use, it has to glide smoothly so that the work is done without any issues. 
Also, check all the parts when the product arrives and see if you have received everything. If not, immediately call up customer care and get it resolved. 
Now, let us do a quick recap of our favorites. The DELTA 36-T30T3 Fence System is a very versatile product and will work with a number of different saws. 
On the other hand, the Dewalt DW745 Table Saw Fence is an incredible unit if you own a Dewalt table saw. And if you are looking for convenience, the POWERTEC BS900RF Rip Fence will serve you well. 
With this, we will take your leave. Let us know which fence suited you the best in the comment section below. Until next time!
Related Articles
Different Types of Saws & How to Use Them 
13 Best Screwdriver Sets on the Market Today
13 Best Wood Routers for Professionals & Amateurs Alike
Simply the Best Stained Glass Ring Saws  
49 FREE DIY Router Table Plans For an Epic Home Workshop
11 Best Angle Grinders on the Market Today
13 Best Chainsaws for the Money  Reviews & Guide
13 Best Tile Saws  | Buyer's Guide
11 Best Sliding Compound Miter Saws
9 Best Hybrid Table Saws Under $1000 
11 Best Budget Bandsaw Reviews 
11 Best Dry Cut Metal Chop Saw
11 Best Bow Saw | Reviews + Buyer's Guide
11 Best Table Saw [Reviewed & Buyer's Guide]
7 Best Cabinet Table Saws [Reviewed & Buyer's Guide]
9 Best Band Saw [Reviews & Buyer's Guide]
7 Best 12-inch Miter Saw Reviews [Buyer's Guide]
11 Best Chainsaw for Milling Lumber | Buyer's Guide
5 Best Stihl Chainsaws [Reviewed & Buyer's Guide]
9 Best Sanders for Deck Refinishing [Buyer's Guide]
DeWalt DW735X Planer Review [Should You?]
Bosch 4100-10 Jobsite Table Saw [Reviewed]
Hack Saw Vs Bow Saw [All You Need to Know] [Explained]
9 Best Compact Circular Saws [Reviewed & Buyer's Guide]
How To Sharpen A Bow Saw And Bow Saw Maintenance