If you take pride in calling yourself a traveller or an outdoorsman, then you also likely have a specific set of gear you feel proud about.
Well, today we have one more gear that rightfully deserves a place in your collection. We're talking about SUV tents, of course! These are getting increasingly popular nowadays and is a must have if you like roadtripping.
Sure, you could always pitch a normal tent where you want but the convenience and practicality of an SUV tent is priceless. No more will you have to scout out places in advance or worry about transferring all your belongings.
The best SUV tents will let you set up camp at the back of the vehicle, so that you have a nice shaded place to rest.
However, since there are many variants of SUV tents available in the market, choosing one could be a little tricky. For that you'll need to go through our guide! So, let's begin.
Top SUV Tent Reviewed
IMAGE
PRODUCT
DETAILS

Our Top Pick

Our Top Pick

SportZ Family-Tents sportz SUV Tent

Spacious 10x10 ft tent
Fibreglass and steel pole structure
6x6 ft awning for shade

VIEW LATEST PRICE →

Napier Backroadz SUV Tent

9x9 ft ground tent
7 inch of headroom
Large door for storm flap

VIEW LATEST PRICE →

DAC Explorer 2 SUV and Minivan tent

Two way zippers for easy entry
Bungee cord and plastic coated hooks

VIEW LATEST PRICE →

Rightline Gear SUV Tent for 6

1 year manufacturer warranty
Sewn in bathtub floor
Universal fit

VIEW LATEST PRICE →

KingCamp Melfi Plus SUV Car Tent

1 pocket with 4 compartments
Changing room, restroom present
Large zippered door for entry

VIEW LATEST PRICE →

Sportz SUV Blue/Tan Tent

Spacious 9x9ft tent
Expandable carrying bag included
Cyclone venting system

VIEW LATEST PRICE →

Patio Joy SUV Tailgate Tent Attachment

8T polyester fabric for added durability
Freestanding, spacious tent
Hanging media sleeve

VIEW LATEST PRICE →

Sportz Footprint for SUV Tent

Strong polyethylene material
Offers ample protection from rain

VIEW LATEST PRICE →

Overland Vehicle Systems Nomadic 3 Extended Rooftop Tent

600D Rip-Stop Polyester Cotton Canvas Body
High density foam mattress
Power bank pouch

VIEW LATEST PRICE →

North East Harbour Universal SUV Tent

6 person sleeping capacity
Freestanding tent

VIEW LATEST PRICE →

Napier Sportz Avalanche Truck Tent III

6x6 ft awning
Sewn in floor
2 pockets inside

VIEW LATEST PRICE →

TailVeil Vehicle SUV Tent + Rainfly Super Easy and Fast Setup/Takedown

Weighs only 5 lbs
Easy to store inside vehicle

VIEW LATEST PRICE →

Slumberjack SJK Roadhouse Tarp

Made in the USA
3-in-1 tarp
Made using 100% polyester

VIEW LATEST PRICE →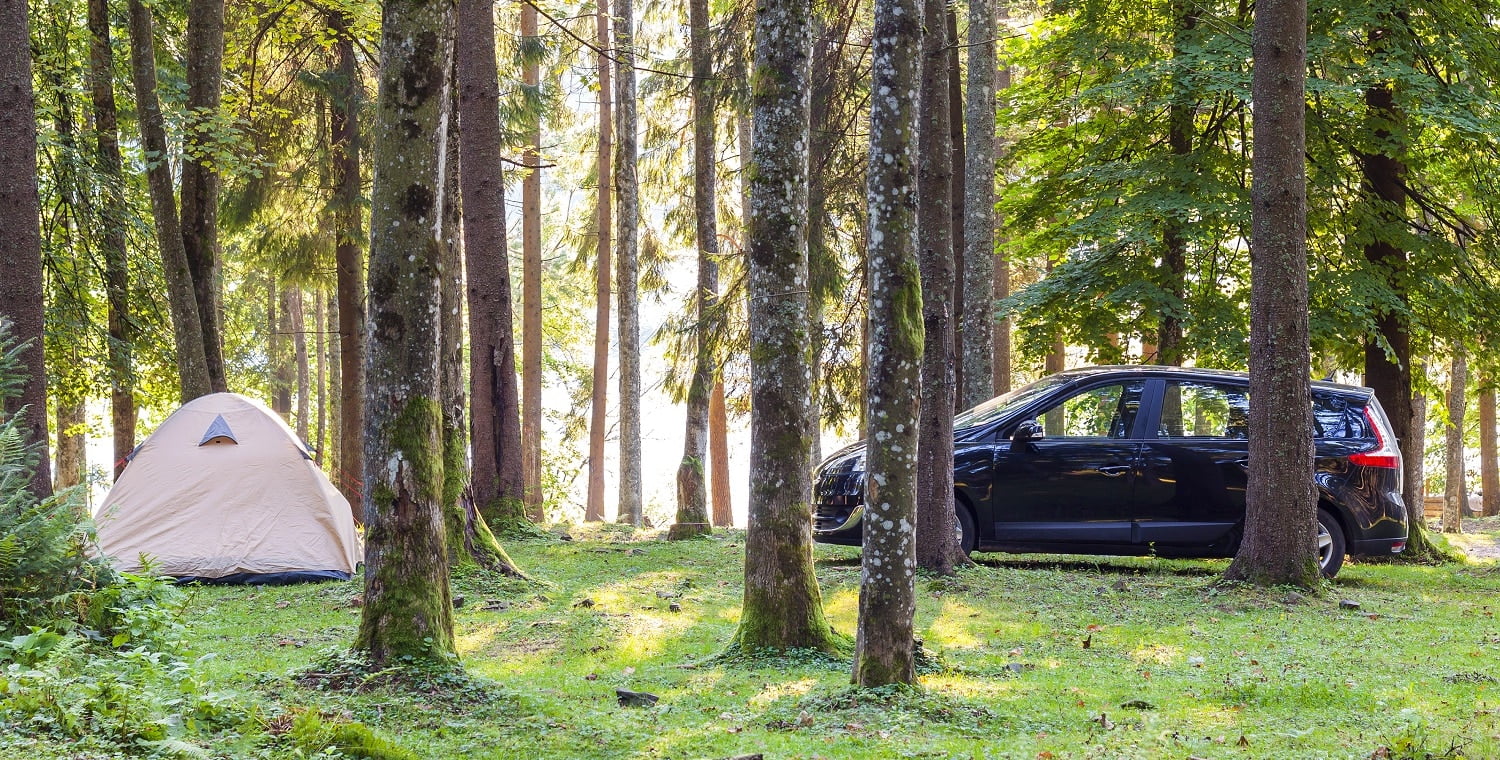 As the name implies, this SUV tent is meant for not only a solo traveller, but for an entire family! And because of that, the price is a little on the higher side. Why are we placing this first on our list? Well, this product from Sportz has all the necessary features a large tent should have to accommodate families of 5-7. Let's check out all its features!
Sale
Why did we like it?
As the brand promises, this product does truly transform your car into a "home away from home." It is a 9×9 ft tent that can comfortably accommodate 4-5 people, and if you're feeling a little daring, 5-7 people with less comfort. We liked how much headroom was still remaining when all 4 of us– me, my wife, and 2 kids, we all lying down, and at no point it felt overwhelming.
If you're worried about rain, don't be because the tent is shielded by a technology called GoBe Dry, which provides the ultimate protection. We experienced a slight drizzle on our outing but that was enough to convince us that the tent can withstand a downpour. And as far as setting up the thing goes, one person is enough thanks to the fibreglass pole structure.
The fibreglass structure also lends quite a bit of extra strength to the unit, and according to testimonials from various buyers, this tent has lasted them years even with regular use. Overall, we were very happy with the product and despite certain flaws, we think you'll be too.
What could've been better?
To be honest, this isn't a real con; however, it might be a dealbreaker for some. This tent is big and tall and heavy! How heavy? We're talking about 30 lbs heavy. And it takes quite a bit of space inside an SUV. Since this is a family tent, that is to be expected, but we wish the weight was a bit lighter. Stay away from this model if you travel solo or in very small groups.
Pros
Sturdy construction thanks to fibreglass poles

Can spaciously fit up to 4-5 people

Lots of headspace

Protected against elements of nature
Napier is a renowned name in the tent and camping gear industry, so when they bring out a new product, you can be sure a lot of good reviews will follow. But is the Napier Backroadz tent worth your money, or is it so popular because of the brand hype involved? We tested this product extensively and found out that all the hype and praise are not unfounded.
Napier Backroadz SUV Tent
Vehicle sleeve designed to accommodate all CUV's, SUV's...
Spacious 9' x 9' ground tent with 7' of headroom,...
Why did we like it?
Like the previous model, this also offers sleeping space of up to 5 adults comfortably. Measuring at 10×10 ft, this model offers 7 feet of headroom and comes with a universal sleeve that can fit SUVs, CUVs, and Minivans. Weather protection is also commendable as the taped seams and storm flaps do their part as expected. Besides, it offers bug protection too!
As far as bonus features go, we were ecstatic to find out there are things here like the lantern holder and gear pocket to store all your camping stuff. To add to the benefits even more, the company assures that anyone can set up this camp within 10 minutes. It took us a little longer the first time, but that's because we're not used to setting up camps for a living.
Given the price, which is cheaper than the first unit we reviewed, this SUV Tent from Napier is an excellent product. It has all the amenities a family would need to enjoy their time in the lap of nature.
What could've been better?
Lower price, unfortunately, often comes at the expense of overall quality. And if some customer reviews are to be believed, this tent is not ideal for long term use. Even though we didn't see any flaws, some buyers have reported the sleeves getting ripped and the bottom rain guard not working, causing them to get wet from puddles forming underneath.
Pros
Can be set up easily by one person

Seamlessly integrates with the vehicles' cargo space

Additional pockets for gear

3 mesh windows for ventilation
Cons
Complaints of low quality fabric
Enough about families! We're talking about camping tents for SUVs here, and who rides SUVs more than daredevil solo travelers? Well, after two products, we've finally got an excellent suggestion for those who like to explore solo or with a partner. Check out what we liked about it.
Sale
Why did we like it?
Let's get one thing out of the way first: this tent is for people who want to sleep inside the car, and by that we mean the rear. Unlike the other tents we reviewed above, this unit does NOT come with the bells and whistles of 4-5 person family tents. Regardless, features such as T layout insect screen, folding up outer panels for ventilation, and zip ties in bottom corners make this an interesting item.
In addition to being more affordable, this tent is easier to set up as well and takes no more than 5-10 minutes with practice. The quality of the fabric is good too, and according to reports, it can handle the extremities of weather quite well. So, be it rain or heat, you can rest easy knowing nothing will come between your chill time.
What could've been better?
The manufacturer promises that the tent can be fitted to a broad range of SUVs and campers, including but not limited to the Ram Charger, Dodge Durango, Mazda Kiva, Lexus RX. However, some people have reported incompatibility issues and were forced to return the unit. 
Pros
Affordable pricing

In-car tent setup to expand space and boost ventilation

Can withstand rain and extreme heat

Easy set up
Cons
Incompatibility issues with some SUVs
It's weird how many tents from different brands exist to accommodate families, and not enough for solo adventurers. So, once again we're back with another family SUV tent that's highly praised for comfortably accommodating up to 6 people. What other features does it have? Read about our experience to find out.
Why did we like it?
The best feature of this unit is undoubtedly its ability to give you comfort both inside and outside the car. If you wish, you can set it up and sleep in the rear end of the SUV or chill outside of the SUV as the tent is free standing. The vehicle sleeve easily attaches to the rear of a car, and you can get the entire set up done in 15-20 minutes with a little practice.
The seams are well built and attach well to the vehicle. There are zip up window covers too like in the other models, which help in ventilation. Overall, we felt the tent to be spacious enough to accommodate 4 people. Over that, it might feel a little cramped, but hey, you're out camping. We tested this unit on a Subaru Forester and have experienced very little to complain about.
What could've been better?
We would have given this tent full marks if only it was always easy to set up as the first few times. Over the course of a month, we noticed that the mesh that's supposed to be holding the poles gets caught up in the pole connectors sometimes. That made getting the tent up and taking it down difficult for one person.
Pros
Can be set up for both in-car camping and freestanding

The seams of the tent are durable

Zip up window covers for ventilation
Cons
Occasionally can be tough to set up
On the fifth spot, we've got our most expensive product so far and this one comes with features that justify all the extra moolah you'll need to spend. In addition to being super spacious, this 9.5×9.5ft SUV tent comes with a wide array of advanced features that are set to make your outdoor camping, the most comfortable experience thus far. 
Why did we like it?
There's really nothing not to like in this unit; from spacious headroom and legroom to additional features like mesh pockets and top hook for hanging lights, this tent has it all. A total of 4-6 people can fit comfortably inside and be protected from rain and shine. Using the flysheet and inner, you can set this baby up in the group and have a proper "outdoor" camping experience.
There's no need to worry about weather elements because the flysheet consisting of 190T polyester with 3000mm PU coating makes this tent water and fire resistant. And the polyester is more breathable than the average polyester fabric other tents use. As far as ventilation is concerned, there are three doors and multi-position windows to cover (or uncover?) for that.
This SUV tent is truly for those who want to explore with their families and be least bit concerned about the usual hiccups involved in pitching a tent. There's a zipper oxford carry bag included in the package, so storage and transportation is never a problem. There are a few things that are not right.
What could've been better?
Thankfully, the list is not long; it is that the tent can prove to be too difficult to set up by 1 person. This could've been avoided by better design by the company. We know that it is supposed to be a family tent and members always can lend a hand, but a person who travels solo or wants to pitch the tent themselves might land in trouble.
Pros
Very spacious and comfortable

Lots of options for cross ventilation

Carry bag comes included

Durable quality polyester fabric
Cons
Could be tough to set up by one person
On the sixth spot, we've got another tent from Sportz, and this time too it's a family-sized unit that promises to fulfill all your camping needs. This is a spacious 9×9 foot tent that can be easily set up by one person and can accommodate up to 4-6 people. Check out what we liked about it.
Sale
Why did we like it?
What differentiates this unit by Sportz from our top rated product (Sportz Family Tent) is a mere difference of approximately $40. And just by hearing that, almost everyone can tell that the features in these two units should be almost identical. Well, we agree. This SUV tent is also equally waterproof, and durable thanks for the fibreglass pole structure.
As far as headroom is concerned, you get 7 feet at the tent's center and around 6 feet at the corners. This is exactly similar to the other Sportz unit we reviewed before. Other elements such as the cyclone venting system, GoBe Dry rain protection, and 2 skylights remain the same. We enjoyed our time out with this SUV tent as much as we did with the other products.
What could've been better?
We can forgive the 30 lbs weight, like we did with the other Sportz product, however there's another flaw we cannot let go. Some users have complained of poor quality materials used for some parts like the straps. Apparently, the straps have high chances of snapping, leaving you with an unusable tent, out in the wild.
Pros
Slightly cheaper than our winning product

Offers equally impressive features

Easy to set up

Comes with an expandable carry bag
Cons
Weighs 30 lbs

Some parts feel cheap
The thing about SUV tents is that most of them bring similar benefits to the table at 'almost' similar prices. However, this unit by Patio Joy is different, at least in pricing the most. This unit doesn't cost as much as the other family tents despite promising to accommodate 5 people. Still, there are plenty of other features to like about.
Why did we like it?
Like the others, this tent is also of a freestanding type that can be easily attached to the back of your SUV. And after using the tent, we found out that the set up is certainly easier than we expected. You get complete cover from rain and wind and inside, there's also a hanging media sleeve to help store some of your gadgets. 
Something called a mud mat, which is attached, helps keep the interior clean; though we didn't exactly find the opportunity to test it. Thanks to the 8T polyester, you can expect the fabric's durability to be much more than the average SUV tent out there. Even though it might not be up to the level of most family tents, we love the overall quality this unit possesses.
What could've been better?
A persisting problem that most SUV tents carry is that they are often hard to set up by one person, if they happen to be short. As a result women often end up being frustrated. That problem exists here too. We can't speak for all women, but we suggest anyone below height of 5 foot 3 inches practice getting the tent up first at home, before attempting it anywhere else.
Pros
Great value for money

8T polyester adds durability

Rain and wind cover is good enough
Cons
Setting up might be hard for people of short height
This time around, we've got an incredibly cheap option for you– from the reputed house of Napier. This tent can comfortably accommodate one traveler and is very easy to set up no matter where you are. Since it is a cheap option, it won't be fair to compare this to other units in our review but it does have few good features that make it worth the price.
Why did we like it?
We didn't exactly get to test this out on the road due to monsoon, so we tested it out in our backyard. Thankfully, monsoon didn't put a dampener in the tent because the waterproofing technology is really good. Even though we wouldn't recommend it during a downpour, you can easily get away with light rain.
Setting up is a lot easier than other units on this list and one person can do it easily (duh!), and by removing the top cover, you can get a glimpse of the starry sky on a clear night. We don't get a lot of clear skies in the city, but that feature is still good to have. The only day we attached it to the back of our SUV, we were able to do it easily. So, it's all good.
What could've been better?
The vestibule this tent unlocks looks great but feels a little flimsy. You can keep your shoes comfortably in the vestibule before entering, but we can't vouch for its long term endurance. Honestly, this isn't a big deal and kind of nitpicking given the unit is priced so low.
Pros
Very easy to set up

Portable and easy to carry

Spacious enough for one or two people
Cons
The vestibule quality is a little lacking
This time around we've got something different, and expensive. We're talking about a rooftop tent that attaches to your SUV and offers a 'tree house' like experience anywhere you want. Despite being a concept model that has only recently hit the market, it offers features promising enough to guarantee a superhit! Let's check a few of them out.
Why did we like it?
There's something called the Fold n' Go Design that makes an outrageous claim of setting up the tent in less than 60 seconds. And for the most part, it succeeds. Set up is so easy, that anyone can do it in a jiffy. The reinforced hinges are there to add extra durability while the 1000G PVC Travel cover ensures the tent is protected from weather elements when not in use.
The tent's body consists of 600D Poly cotton rip and 420D rain fly, so you can rest assured knowing it will last you years even with extensive use. But what about comfort? Get this– there's a high-density memory foam mattress that can be fitted inside and it comes with the package. We especially liked the pair of 420D poly cotton shoe pouches placed outside.
Hang on, we're not done with the review. When it comes to additional features, there's also a power bank pouch, LED Velcro strips for easier accessibility, and hand held LED light included too. We could go on a while longer describing all the features but it's really out of the scope of this review. This overhead SUV tent offers features that are worth $1000 and more!
What could've been better?
There's nothing wrong with this product; just that some people might find all the features a little overwhelming at times. If you are a hardcore camper who likes to chill outdoors with family and friends, you'll love nesting inside this wonderful tent.
Pros
Fold n' Go design for easiest set up

LED velcro and LED strips for more accessibility

Super sturdy thanks to 6000D Poly Cotton RIP

Lots of pouches and extra features
Cons
So many additional features can seem a little daunting
On the tenth spot, we've got a very economical product that offers you the very basics of SUV tents but in exceptional quality. This 4-6 person tent attaches nicely with SUVs and lets you unwind without worrying about taking it apart because it's actually freestanding.
Sale
Why did we like it?
Like many other models reviewed above, this tent is also freestanding and offers enough comfort to warrant its own review. To set up, you have to attach it to the cargo area of an SUV and you can even sleep off the ground. While we didn't try to squeeze in all 6 people, we did experiment with our little family of 4. The result? Well, it was still quite spacious.
Coming to the durability, there's nothing to worry about either because North East Harbor has used quality polyester fabric to ensure you're safeguarded from rain and high winds. There's something extra too, in the form of a middle top hanger to hang a lantern and gear pocket to store belongings such as phone, wallet, keys, etc.
What could've been better?
The one and only glaring flaw we noticed is that the package does not come with an instructions manual. So, unless you're adept at setting up SUV tents, you might want to return this unit after getting frustrated. We can't say for sure if the manufacturer has taken note, but it is a serious flaw we had to point out.
Pros
Great value for money

Polyester fabric is good enough

Pocket to store personal belongings
Cons
No instructions manual for set up
We have another tent from Napier that should be an ideal fit for those who want to camp inside their SUV. So, don't expect features that would normally be present in a freestanding tent. This unit can house 2 people comfortably, and still have enough space leftover to move around. Let's check out all the features.
Why did we like it?
For what this tent is worth, we believe this unit should be a great choice for those who prefer to sleep inside their SUV. So, couples, and people who like to travel with their best friend should absolutely adore using this tent. With over 5.5 ft of headroom, most people should be able to sleep comfortably. Plus, there are 2 pockets inside to store additional items you might be carrying.
Set up is as easy as it can get thanks to the shocked-corded and color coded poles made of fiberglass. We tried the set up with a couple of people who were new to setting up tents and everything went smoothly. Using the entrance and exit doors you can also go inside the truck or come out as you see fit. This compact little tent has everything you need to have fun outdoors.
What could've been better?
Very little could go wrong with a product as simple as this. However, if we were to nitpick, then we'd say the manufacturer could have been a little more responsive to our queries. It took multiple emails and phone calls to get in touch with a representative.
Pros
Spacious enough for two people

You can enter and exit easily

2 pockets inside for items
Cons
Customer care responsiveness is lacking
We're almost close to the end of our list, however, that doesn't mean we aren't going to keep recommending you unique products. This tent by TailVeil is truly one of a kind you can see in the picture and it brings you few features you'd be hard pressed to find anywhere else. Let's take a look.
Sale
Why did we like it?
If we're talking about portability only, this unit would take the cake with its 5 lbs weight. Since this is not a full size camper tent, the manufacturer has been able to keep the weight extremely low for one person to carry. And believe it or not, you can really set this baby up in 5 minutes or less. We tested it out with numerous vehicles and all of them passed the set up test.
Now, given the features this tent offers, the price might (and will) come off as expensive to some. But let it also be known that the ease of installation you get here is unbeatable. The space inside is enough for one camper; maybe even two if you're willing to adjust. For airflow, there are hatches you should keep open, and if it rains you can always close the protective cover.
What could've been better?
This tent is unorthodox, sure, and is not for everyone considering the price. We would have loved if the cost was a little lower, especially since it's a one person tent. We also thought that lack of poles also limited the tent height a bit.
Pros
Incredibly easy to set up

Lightweight and portable

Roomy enough for one person
Cons
Tent height is a little low
Call it a tent, call it a tarp, call it whatever you want; we just had to include this excellent product at the end of our SUV tent list. This company proudly manufactures in the USA and promises to provide customer satisfaction most brands cannot match. But does it really live up to the promises? Let's find out.
Sale
Why did we like it?
Made of 100% polyester fabric, this unit provides a 3-in-1 shelter experience for camping, off-road, and hunting. Even though there's no shelter of 4 walls which you would find in a proper tent, this unit can be set up for a quick session of relaxation or snacks. The design is sturdy and thanks to reinforced corners, you don't have to worry about wind blowing the tarp over.
What's truly awesome is the fact that you can tie this unit down in many ways, depending on your vehicle. There are just so many ways for securing, you won't even think about venturing without this once you're used to the comfort. As far as space is concerned, 3-4 people can easily sit under this tarp and enjoy cold brews with lots of gossip.
What could've been better?
Since it's made in the USA, the price is higher than usual, and that can be a dealbreaker for many. However, if you already got your wallet out, go ahead and buy it instantly.
Pros
Lots of different ways to tie down

Can accommodate 3-4 people under it

Guaranteed quality and customer service
Cons
Price is on the higher side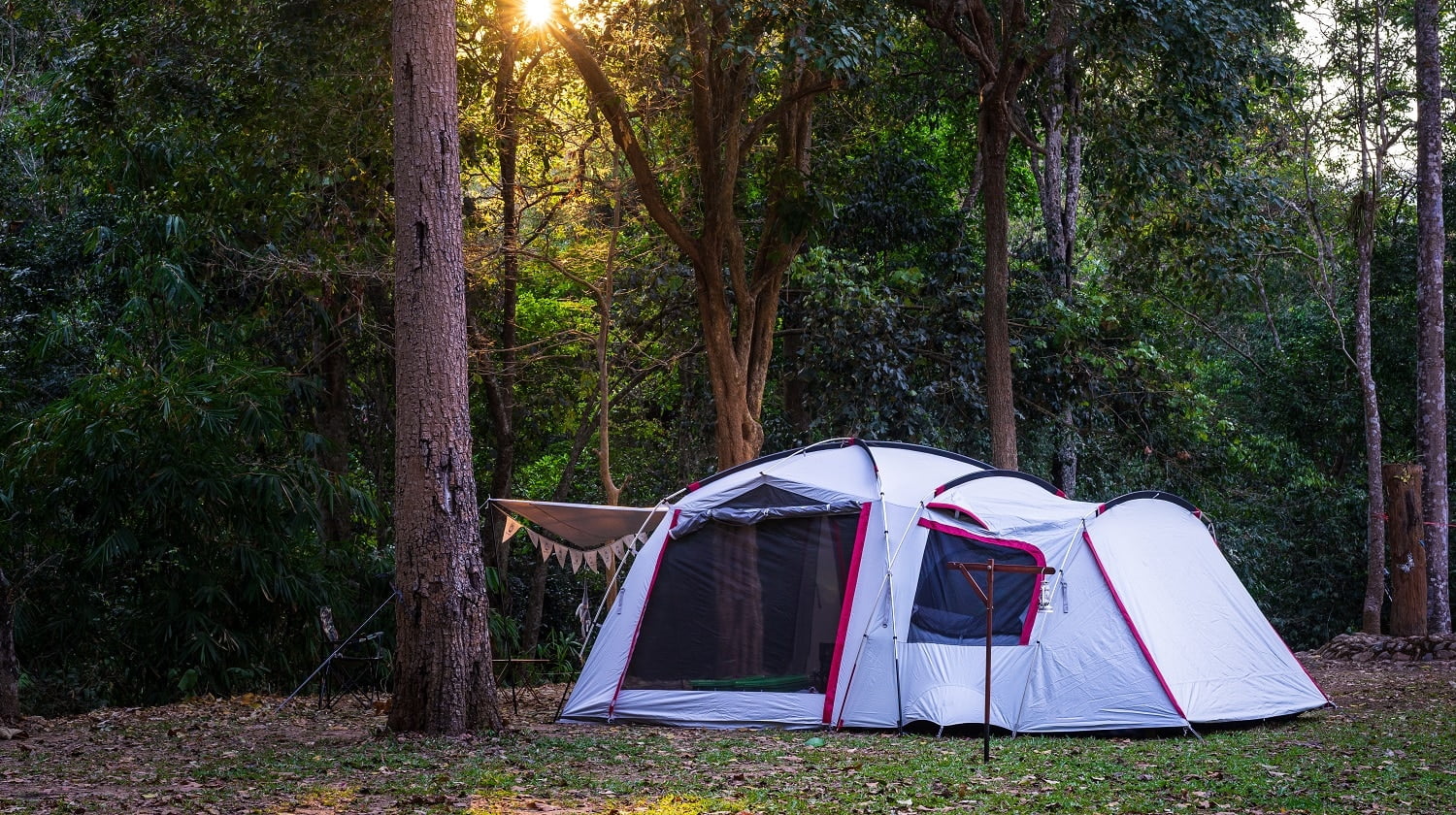 SUV Tent Buyer's Guide 
Now that you know about the best SUV tents available in the market, wouldn't you like to know how we made our pick? Well, the truth is, there's no rocket science involved; all you need to keep in mind are few simple points. We all want the best product for our money, and keeping these points in mind will ensure you're getting the best bang for your buck.
Size of the tent
Whether you like to camp solo or as a family, there are different tents for different needs. So, when you're choosing an SUV tent, you basically have to determine whether you'd want a family size unit or a smaller tent for you or maybe one more person. You'll also need to account for the size of the SUV because not all tents come with universal attachment sleeves.
Most of the products on this guide can be attached to almost all SUVs, so you're good in that respect. However, we'd request you to plan ahead and pick a tent that's slightly bigger than your needs. So, if you're planning to travel solo, pick a tent that can fit 2-3 people inside. You never know when you might need the extra space.
Material quality and build
The quality of material will go a long way in determining how long the tent lasts and what kind of protection it offers from weather extremities. You should never cheap out and buy an off-brand SUV tent that's made up of poor quality polythene or polyester. In the worst case scenario, your tent will snap and you'll be either left dry or wet, depending on the situation.
The material should also be free of harmful substances such as lead.  Most of our product suggestions check all the boxes in terms of overall build quality, so you're safe here in that respect as well.
Your intentions and plans
This will vary from person to person but everyone must have a general idea regarding your future travel ideas. Ask yourself this question– do you plan to travel throughout the year, on certain seasons, or once every few months? If you're a hardcore nomad, then choose a 4 season tent as they are sturdy, but also cost more. The 3 season tents are cheaper in comparison but are not meant for daily use.
Also, consider how many companions you'll have along in your journey. Based on that, you'll need to pack your gear and other accessories. 
Bonus features
These are the types of features that come as an add-on of sorts, so when you find them you can't help but feel happy. We're talking about features like screen rooms, color coded polls for easier setup, lantern hanger, pockets for accessories, floor covers, and even carry bags count as bonus features. 
Frequently Asked Questions
Can I use electronics inside an SUV tent?


Absolutely! Most SUV tents come with provisions of connecting electricity so that you can keep your phone and other gadgets charged. Some also have features that turn off the lights inside after a period of time.

Should I get a freestanding SUV tent?


Freestanding tents are those that can be detached from an SUV and used as a separate standing unit altogether. So, if you want the authentic camping experience, you may get a tent of this type.

Can all SUV tents protect me from harsh weather conditions?


Not all, but most modern SUV tents offer protection from weather extremities upto a certain extent. And the extent depends on the quality of the product and features it comes with.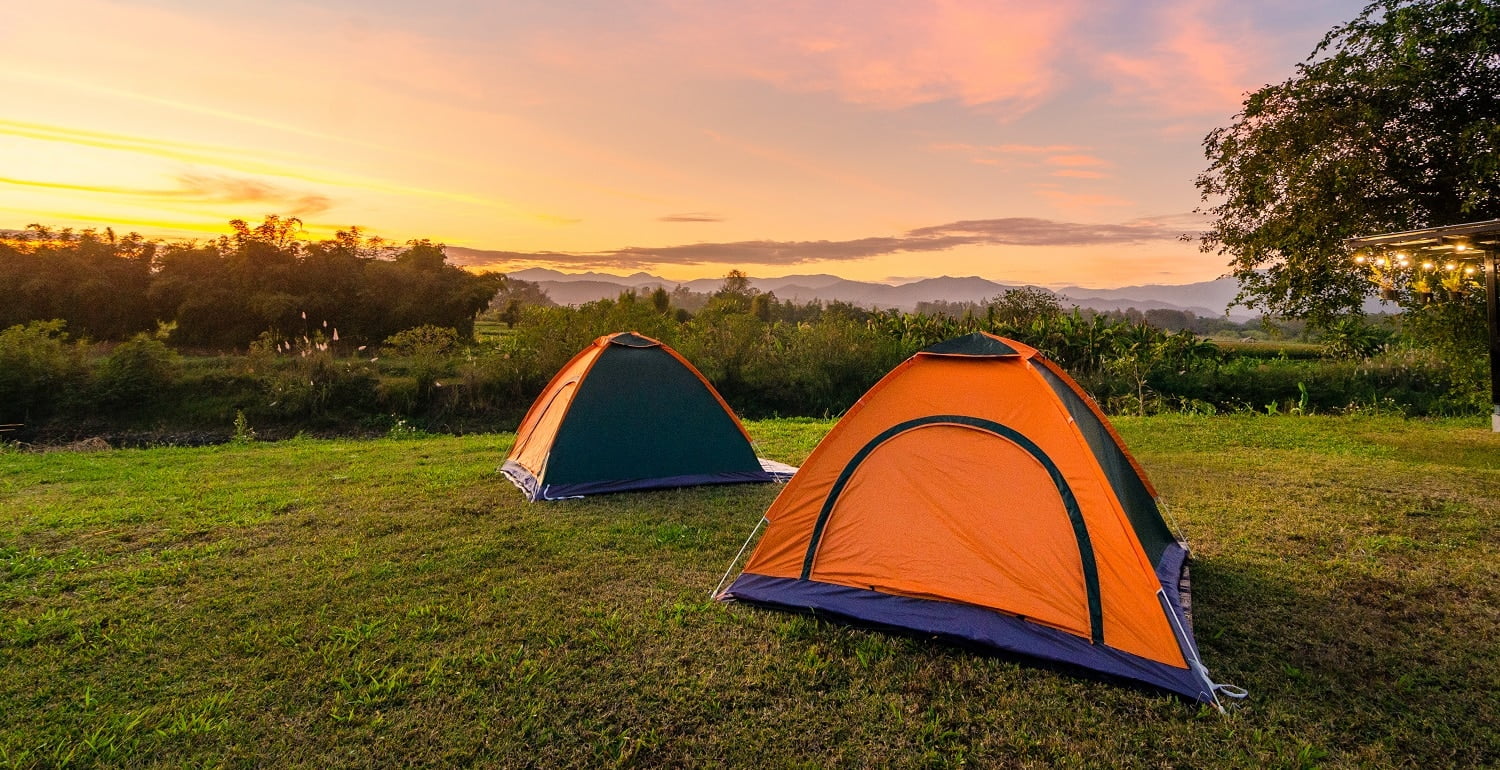 Final words
So, there you have it! More SUV tent choices than you probably imagined. And given the guide, we don't think you should have any problem choosing the perfect unit for your needs. These camping units are quickly gaining popularity and we wouldn't be surprised if the average prices go through the roof in a few months or years. So, make your purchase now.
Have fun everyone!
Related Articles