Steam humidifiers are a simple way to improve the air quality in your home for improved health of the residents. 
Humidity in a home can have a number of detrimental effects on both the body and your home. For example, it can damage wooden surfaces and cause pathogens to linger in the air. But  controlling the humidity with a steam humidifier can negate these effects. 
However, humidifiers come in all shapes and sizes with a variety of features to boot. There are so many options on the market, from oil diffusion in personal air purifiers to whole house steam humidifiers. So, how do you make the right decision? 
Worry not! Our comprehensive guide features different models that are worth checking out. We will also help you pick the best one for your needs and budget. 
Let's get right into it! 
Best Steam Humidifiers 
IMAGE
PRODUCT
DETAILS

Our Top Pick

Our Top Pick

Honeywell HWM705B

Filter-free design
Relieves seasonal dryness
Essential oil cup 

VIEW LATEST PRICE →

Crane

Humidifier and steam inhaler 
For up to 250 square feet
Medicine cup humidifier

VIEW LATEST PRICE →

Vicks

Designed for nurseries
40-60% relative humidity level
1-gallon capacity

VIEW LATEST PRICE →

Aprilaire 800

Operates up to 6,200 square feet
Submerged electrodes 
Indoor and outdoor temperature sensor

VIEW LATEST PRICE →

BONECO S250

Built-in cleaning mode
Covers up to 430 square feet
Essential oils tray included 

VIEW LATEST PRICE →

Aprilaire 700

Furnace fan design
Covers up to 4,200 square feet
Minimizes dust mites 

VIEW LATEST PRICE →

Vornado HU1-0064-43

Three steam temperature settings 
Built-in aromatherapy 
Up to 1,000 square footage covered

VIEW LATEST PRICE →

Honeywell HM750A1000

Can be mounted on a duct or wall
Pre-mineralized cylinder 
Whole house steam humidifier coverage 

VIEW LATEST PRICE →

Steamfast

Two steam power settings 
Short three minute heating time 
Built-in aromatherapy ring

VIEW LATEST PRICE →

Vornado HU1-0062-43

Covers up to 1,000 square feet 
Two tank system provides four-gallon output 
Three air-assisted steam settings 

VIEW LATEST PRICE →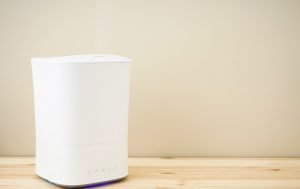 Winter months can bring several challenges for your health and the humidity levels of a house. And this is where a warm mist humidifier can come in handy to add moisture back into the air. The HWM705B releases warm mist and is packed with many useful features, making it a great option for any home. 
Why Did We Like It? 
Using the HWM705B from Honeywell is incredibly straightforward with the easy-to-use control panel. There are two steam output modes to reach your desired humidity level, as well as an auto shut-off feature for sleeping. Simply switch it to the mode you want and let the humidifier do the rest. 
Additionally, this steam humidifier is able to operate at a low noise level, so keeping it in the bedroom is entirely feasible. The auto shut-off feature is definitely handy as well, making it easier to use for longer periods throughout the day. 
As it releases a warm mist, there is no need to install a filter into it. All you have to do is replace the large capacity gallon tank with purified water every few days, and it will be good to go. The replaceable canister is easy to remove, thanks to the top grip handle. 
What Could've Been Better?
If there is one drawback to using this steam humidifier, it would be the running cost that it needs while running. The unit needs 275 watts to work, which significantly raises the operating costs, especially if you plan on using it continuously. 
Pros
One-gallon water tank

No filter required

Ultra-quiet operation

Auto shut off
Crane has designed a handy house humidifier that also doubles as an inhaler, making it a solid addition for the next humidifier season. It also comes with a medicine cup that can be used to treat respiratory infections during the cold season. With considerable coverage, this humidifier works well to control the humidity levels of any room or house. 
Sale
Why Did We Like It?
Operating at a coverage capacity of 250 square feet, this steam humidifier is a fit for different-sized areas. From medium-sized rooms to the entire house, it can relieve respiratory infections and dust mites with ease. This is especially useful as an extension of your existing HVAC system. 
A highlight feature of this unit is the ability to attach an inhaler to the top of it. By having this multi-purpose function, dry skin and other seasonal dryness ailments can be treated. The medicine cup can also be used to reinforce its health benefits. 
Furthermore, the auto shut-off feature will kick in if the humidifier overheats or the installation isn't done properly. These features make using the steam humidifier and inhaler a better experience in terms of safety. 
What Could've Been Better? 
Perhaps one drawback to this versatile model lies in the design of the steam inhaler. As the steam hose is directly on top of the replaceable canister, controlling the steam temperature is  practically impossible. Hence, the inhaler function can cause discomfort for users with sensitive skin or young children. 
Pros
Easy-to-clean bottom fill tank

Prevents bacteria growth and dry skin

Germ-free mist

Compatible with anti-mineral pad
Cons
Steam output temperature can't be adjusted
For those who have young children, this steam humidifier from Vicks is perfect to use in their bedroom or nursery to keep the humidity at a safe level throughout the winter season. What's more, it's designed to help them get the proper sleep and rest they need without any coughing fits. 
Why Did We Like It? 
The air quality of a room can determine how sensitive the body is to specific pathogens. And this model uses warm mist to keep the relative humidity at 40-60%, thereby facilitating optimum humidity. Moreover, adding moisture back into the air allows for a better night's sleep by keeping the throat and nasal passages hydrated. 
It also has a large capacity one-gallon tank that allows it to operate for up to eight hours. The auto shut-off feature will ensure it turns off once the tank is empty, making sure no injury or damage is possible. 
A common remedy in humidifier season for colds and flu symptoms is using essential oils that are distilled into the air. These oils can be placed on the reservoir on top of the humidifier to mix in with the steam and spread throughout the room to provide relief. 
What Could've Been Better? 
Although we used purified water, there was still a considerable amount of flaking and black buildup along the bottom of the tank. Switching it out for a distilled water and table salt solution did not solve the issue either. If you plan on using this model, prepare for heavy maintenance to keep the tank clean. 
Pros
Built-in night light

Reduce flu virus

One-gallon capacity

Can be used with essential oils
The Aprilaire humidifier system is an impressive whole house steam humidifier, covering up to 6,200 square feet. It's designed to facilitate a more efficient steam output. What's more, it has six different humidity control modes to choose from, or you can let the sensors gauge indoor relative humidity.
Why Did We Like It?
This whole house steam humidifier from Aprilaire can detect low humidity and make adjustments accordingly. By using an indoor and outdoor temperature sensor to gauge indoor relative humidity, the unit can make adjustments autonomously. And by comparing the two values, the system keeps the humidity level at an optimal 35-45% throughout the year. 
Additionally, this model uses submerged electrodes to create the mist. This method is helpful in minimizing installation complexity and keeping operating costs to a minimum. Once the system is installed, you can forget about it and let it work away. 
The required maintenance is relatively straightforward as well. We liked how the submerged electrodes are located in the replaceable canister and need to be changed only once during the humidifier season. 
What Could've Been Better? 
Although this Aprilaire humidifier uses electrode technology that helps in minimizing installation complexity, it does have a flaw. It requires impurities to function to its full capacity. If your water does not have enough impurities to facilitate an electric charge, it will not be able to perform to its full potential.   
Pros
Gauges indoor and outdoor temperature

Long steam hose

Autonomous steam canister operation

Six output levels
Cons
Requires high conductivity water
This fan-powered home steamer from BONECO is a great digital model for the next humidifier season. An electrical current flows through the water vapor to boil it and remove any bacteria and lime. And once hygienically cleaned, a fan cools down the vapor to form a warm mist to control the humidity level. 
Sale
Why Did We Like It? 
Right from the operation of the steam humidifier to the easy navigation control panel, the user experience is straightforward and doesn't have any learning curve. The LED control panel is touch-sensitive, making it accessible to anyone. Furthermore, it features maintenance reminders for water and cleaning, as well as an air quality humidity display. 
Additionally, it uses a unique water filtration system to create a healthy, warm mist. An electric current heats the water to a boiling point and turns it into steam. This steam is then cooled down by the fan, making it safe to be released into the room. 
Likewise, the dedicated cleaning mode on the humidifier makes maintenance a breeze. In this mode, the system begins decalcifying the internals, minimizing the workload to a great extent. The water tank is also removable with a handle and can be used with replaceable anti-mineral pads. 
What Could've Been Better?
One caveat to using this system is the need to replace the filters within the tank to ensure it is performing to the peak of its capability at all times. These pads help in water filtration and are an additional purchase that needs to be replaced every cleaning session. 
Pros
Small footprint

Quiet operation

LED touch display control panel

Removes bacteria and lime
Cons
Requires regular filter replacement
Another Aprilaire humidifier model, the 700 line, uses a unique system of air ducts to create a warm mist to return moisture to the dry air. It also features dual sensors to regulate optimum humidity in the home. Plus, it has an extensive coverage that spans up to 4,200 square feet. 
Why Did We Like It? 
Evaporative humidifiers, like the Aprilaire 700,  use the pre-existing HVAC system to heat the water with hot air pulled from the furnace. The fans in this system regulate the temperature to create a warm mist spread throughout the house. Hence, it eliminates the need of a standalone unit that needs to be maintained regularly.
Compared to standalone units, the all-in-one unit is able to function independently without outside influence. Once the setup is installed, you can forget about it as it regulates the humidity for you. 
Aside from that, the dual sensors act as the remote control to put more moisture into the air. There is a constant 35-45% humidity maintained throughout the house while the system is running. And it's considered the optimal level for preserving moisture-sensitive surfaces and eliminating pathogens. 
What Could've Been Better? 
Although this humidifier is a one-stop shop for all humidity regulation needs, installing it can be pretty challenging. There are many moving parts that need to be taken care of to ensure the humidifier system is working properly. Hence, we'd recommend employing a professional if you are not knowledgeable enough to install it yourself. 
Pros
Minimizes fungi and bacteria formation

18-gallon moisture output per day

Autonomous indoor/outdoor temperature sensors

Uses evaporative humidifier technology
Cons
Challenging to install without expertise
Halfway through the list, we have an ultrasonic steam humidifier from Vornado equipped with three different steam settings. Each setting corresponds to a unique temperature, thereby acting as both warm mist or cold mist humidifier throughout the year. It is safe to say that this one model will be able to serve all your house humidifier needs.
Why Did We Like It?
Being able to control the temperature of the mist is a feature that is not found in many steam humidifiers. But this unit has three temperatures, meaning there will be at least one setting for every need. Depending on what type of steam mist your rooms need, the humidifier can be adjusted accordingly. 
Furthermore, the control panel is intuitive to use, allowing easy switching between the different steam temperature settings. There is also an auto-refill notification for when the water levels become too low. 
Safety is another crucial feature that Vornado focuses on. All the water stored is kept at room temperature to eliminate any possible injuries. From the covered heating element to the staggered heating of only four ounces of water at a time, there are numerous features for users to have a safe operation. 
What Could've Been Better? 
Using this humidifier for an extended period can prove to be challenging. There is no auto shut-off feature, so the steam is constantly being released, emptying the tank in hours. An auto shut-off feature would solve this problem by turning it off once the optimal humidity is achieved. 
Pros
30-70% humidity output

Automatic humidity control

Lockable touch-sensitive controls

Four gallons of moisture per hour
A first of its kind, this innovative humidifier from Honeywell has a compact design that can be installed on a wall or directly onto a vent. It has a simple installation process that makes it easy to set up and use. Although it has a small footprint, it is still capable of pumping moisture into the whole house. 
Why Did We Like It? 
Being the first of its kind in the industry, this humidifier has one of the smallest footprints among whole house steam humidifier models. Among the many benefits that a small footprint brings, the most impressive one is the versatile and straightforward installation process. The unit can be mounted onto either a wall or directly onto the air ducts.
Additionally, the water canister can be removed to separate salt and water for easier disposal. By having a removable canister, maintenance is made incredibly easy. It only requires a replacement once a year, effectively eliminating the need for regular maintenance. 
In terms of performance, the unit is able to humidify the entire house fully. These whole-house humidifier models are incredibly efficient while operating at lower temperatures and can also reduce static shocks. 
What Could've Been Better? 
Controlling the unit is limited to local control, meaning it can not be remotely controlled unless your system has compatible wiring. To take advantage of this long-term feature, you may need to upgrade to a newer HVAC system. Of course, this also entails a new installation and wiring that can become costly. 
Pros
Disposable water canister

Reduces static electricity

Fast startup and checkout

Small footprint
Cons
No remote control capability
The SF-920 from Steamfast has a number of useful features built into it that helps give off a warm mist. With a short heating time and two steam settings, this unit gives an excellent performance for its small build. Maintenance is easy as there are no filters in its design and the removable one-gallon water canister.
Why Did We Like It? 
With two steam settings to choose from, the SF-920 can be adjusted to have a variable steam output. Between a low or high output, the humidity can be controlled to reach the desired levels. Starting up the humidifier is easy as well, with a rapid three-minute heat up time. 
Furthermore, the large capacity tank is able to put out up to two gallons of steam every 24 hours. It can be removed for easy refilling and has an integrated handle to give a more secure grip. Its top-fill design doesn't feature any filters and has a max-fill indicator to help make maintenance easier. 
Another handy feature is the aromatherapy ring located on the top to release essential oil along with the steam. Aromas can help increase the mental and health benefits that are already brought by the humidifying steam. 
What Could've Been Better?
One observation among these units is the amount of buildup in the humidifier after every use. Too much buildup can cause the humidifier to malfunction and potentially cause injury. With such a considerable buildup, it does require more cleaning and maintenance as compared to other humidifier models. 
Pros
Easy top-fill design

24 hours of steam on low setting

Removable one-gallon water tank

Auto shut off feature
Cons
Buildup of material after every use
Sporting the latest in Vornado technology, this model has a two-tank design of one gallon each. Using these tanks in conjunction, the mist temperature can be changed to fit personal preferences. The main component of the humidifier is able to cover 1,000 square feet with up to four gallons of moisture every day. 
Why Did We Like It?
By including two separate tanks in the humidifier unit, there are a number of benefits added to the unit. One benefit is the ability to cut down on refilling times as the humidifier operates. Each tank holds up to a gallon of water that is able to output twice its capacity of steam. 
Customizing the steam settings is also made possible with the intuitive touch control panel on the top of the unit. The LED panel is easy to read and can be used to cycle between each temperature setting with ease. There is also an auto-refill notification on the panel that will notify you when the tanks need to be topped up. 
Additionally, the humidifier is able to operate autonomously if you so choose. This setting uses a sensor to detect dry air and begin releasing steam accordingly. 
What Could've Been Better? 
Although the LED panel is a helpful feature at night, using this unit in a bedroom can become a nuisance while trying to sleep. The LEDs can not be switched off or dimmed, making them an awkward addition to bedrooms and nurseries. 
Pros
Auto-refill notification

Aromatherapy ready

Easy refill and cleaning

Maintains 30-70% humidity
Cons
Bright control panel lighting
Another steam humidifier from BONECO, the S200, has two steam levels as well as a helpful cleaning mode to have the best user experience possible. Designed as a single room humidifier, it only covers 430 square feet. However, the quality of the air is drastically improved, especially when combined with the essential oil diffuser. 
Sale
Why Did We Like It? 
The S200 model from BONECO has an analog control system that can be used to switch between the two team modes. By turning the control knob, the humidifier can go from a low setting to a performance mode. The lower steam setting operates quietly while the performance mode kicks up the humidifier into high gear and performs more efficiently. 
Furthermore, there is a third mode for cleaning to help make maintenance more accessible. Another valuable feature for improving the user experience is the regulation of how much hot water is heated at a time. The steam temperature is maintained to be comfortable to the touch, making it safer for those with pets and children. 
Extending the use case of the humidifier further, there is an essential oil tray to add a fragrance to the room. The fragrance container is located at the spout to make it easily accessible. 
What Could've Been Better?
Where the S200 model suffers is in its tank capacity, which is not as large as compared to other models. Although it is a sufficient volume for the rated coverage, there were instances where the humidifier would run out of water prematurely. 
Pros
Bacteria-free steam

Easy maintenance

No filters needed

Quiet operation
Covering up to 380 square feet, this steam humidifier from AIRCARE has a simple design that is a solid addition to improve the air quality of any room. The simple user interface is easy to read and operate. Overall the design is meant to be as simplistic as possible while giving the best performance possible. 
Sale
Why Did We Like It? 
Simplicity is the main feature of this steam humidifier that is evident from the user interface. The control panel has a single push button to start and stop the humidifier, as well as a refill indicator. Beyond these two features, there is no learning curve or customization needed to operate the humidifier. 
Additionally, the tank is designed to help users further by being a removable part of the unit. Once the tank is empty, the humidifier will shut itself off to save power. However, it is able to run continuously for up to 12 hours on a tank, so refilling is not a regular necessity. 
Another handy feature is the built-in diffuser tray to help spread essential oils along with the steam. It can also be used as a medicinal inhalant to relieve respiratory ailments. 
What Could've Been Better? 
As this steam humidifier is meant for smaller rooms, the tank capacity is not very substantial. With a little lower than a gallon of water capacity, there may be a need to refill the tank more often than other models, despite the 24-hour rating. 
Pros
Easy-fill, removable tank

Essential oil diffuser

Auto shut off feature

No filter needed
Cons
0.75-gallon tank capacity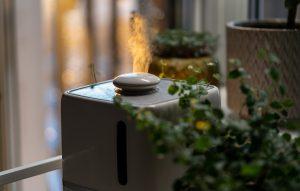 Steam Humidifiers Buyer's Guide 
Before settling on a particular model, there are a few factors that need to be considered to make sure you are getting the most suitable model for you. Keep these factors in mind to make the most informed decision. 
1. Coverage 
From the basement to the attic, the square footage of the room can have an impact on how well a model is able to perform. The coverage can vary from portable units which have a smaller area to a whole-house humidifier that is capable of handling the entire house. 
Take note of how much area you need the humidifier to cover before looking at different models. Having a model that is explicitly designed to cover that area will help it perform to the best of its capabilities. 
2. Installation And Maintenance 
Humidifier models have varying degrees of installation complexity. Where some simply come with installation instructions, others may require special professionals to integrate the unit into your home. 
Operating costs should also be considered as there are models which need to have filters replaced at regular intervals. Another facet of operating costs is how much power is needed to keep the humidifier running. However, this facet is more relevant for a whole house steam humidifier rather than smaller models. 
3. Mist Temperature 
Among evaporative humidifier models, there are two types of mist temperatures to choose from. Some models give the option to change the temperature; however, for the most part, it is either a cool mist or warm mist variant. 
Depending on the outdoor temperature and other environmental-climate factors, a cool-mist can potentially do more harm than good. On the one hand, a cool-mist can cause bacteria and white dust build-up if not used in the proper context. People with dry skin and respiratory problems like asthma are susceptible to being triggered if exposed to cool mist. 
On the other hand, warm mist steam humidifiers can save wood floors and furniture from deteriorating. It also eliminates white dust mites that are trapped in the wood floors and keep air ducts clean. Many HVAC contractors agree changing humidity can cut down respiratory infections as well by using warm mist humidifiers.
4. Aromatherapy 
An extra feature found in many humidifier models is an essential oil tray that acts as a form of aromatherapy. Look for one that is BPA-free to be able to diffuse medicinal aromas along with the steam. This aromatherapy is handy in relieving respiratory ailments and soothing dry throat and skin.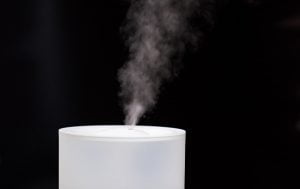 Verdict 
Hopefully, you are now a bit more prepared to select the best steam humidifier that meets all the requirements of your home. Make sure the model you choose has all the necessary features you need to improve the air quality. 
Our top choice has to go to the Honeywell HWM705B for the large capacity one-gallon tank it has. However, the Crane is a close second with its humidifier and inhaler design. For those who have young children, the Vicks is worth looking into as well. 
No matter the size or specifications of your home, a steam humidifier is a great addition that can make all the difference with mental and health benefits. So, what are you waiting for? Make the investment today so you can breathe easier tomorrow!
Related Links
8 Best Crawl Space Dehumidifier  
13 Best Dehumidifier For Basement
Best Dehumidifier For Apartment
Best Steam Humidifier To Consider
9 Best Dehumidifiers for Basements
10 Best Humidifiers For Asthma
10 Best Humidifiers For Asthma
11 Best Dehumidifier For Bathroom
What Size Humidifiers Do I Need?
What Size Humidifiers Do I Need?
19 Best Essential Oil Diffusers for Large Rooms
15 Best Commercial Dehumidifier