Keeping your floors shining and spotless is no easy task and needs special effort.
Hard floors, in particular, are sensitive to chemicals and need more than a traditional mop to get cleaned. And that's why steam mops become the perfect option for removing stubborn dirt and grime from your hardwood flooring.
You can even get your hands on mops that do more than just clean the floors. For instance, some of them produce a continuous steam flow that helps you steam your garments, eliminating the need for ironing them. But the market is flooded with plenty of options, allowing confusion to creep in.
So, we have designed this guide with the 13 best steam mops that you can try. We have also mentioned the pros and cons of all our recommendations along with a buyer's guide to help you make the right decision.
Without any further delay, let's check them out!
Top Steam Mops For Cleaning
IMAGE
PRODUCT
DETAILS

Our Top Pick

Our Top Pick

PurSteam Steam Mop Cleaner

Pet safe
Ready in 30 seconds
3 adjustable modes

VIEW LATEST PRICE →

BISSELL 1940A Power Fresh

Smart set digital control
Swivel steering
No chemical use

VIEW LATEST PRICE →

Bissell 1806C

Includes measuring cup
Fragrance boost
Dual steam settings

VIEW LATEST PRICE →

Shark S1000

Weighs 5.04 pounds
Removable tank
Ready to use under a minute

VIEW LATEST PRICE →

Hoover FH40160PC

Dual tank technology
Clean boost control
Includes wash-dry mode

VIEW LATEST PRICE →

Shark S3501 Handheld Cleaners Steam Mop

Produces steam in 30 seconds
Uses 120 Volts
Weighs 4.87 pounds

VIEW LATEST PRICE →

Dupray DUP020WNA

Includes wheels
Quick heat-up technology
Suitable for all surfaces

VIEW LATEST PRICE →

Bissell 2747A

Includes scent discs
Easy touch digital control
Dry tank feature

VIEW LATEST PRICE →

Shark S3973D

2-in-1 function
3 level control
Dual-sided dirt grip pads

VIEW LATEST PRICE →

O-Cedar SYNCHKG061608

Includes 2 microfiber pads
Suitable for washing machine cleaning
Triangular mop head

VIEW LATEST PRICE →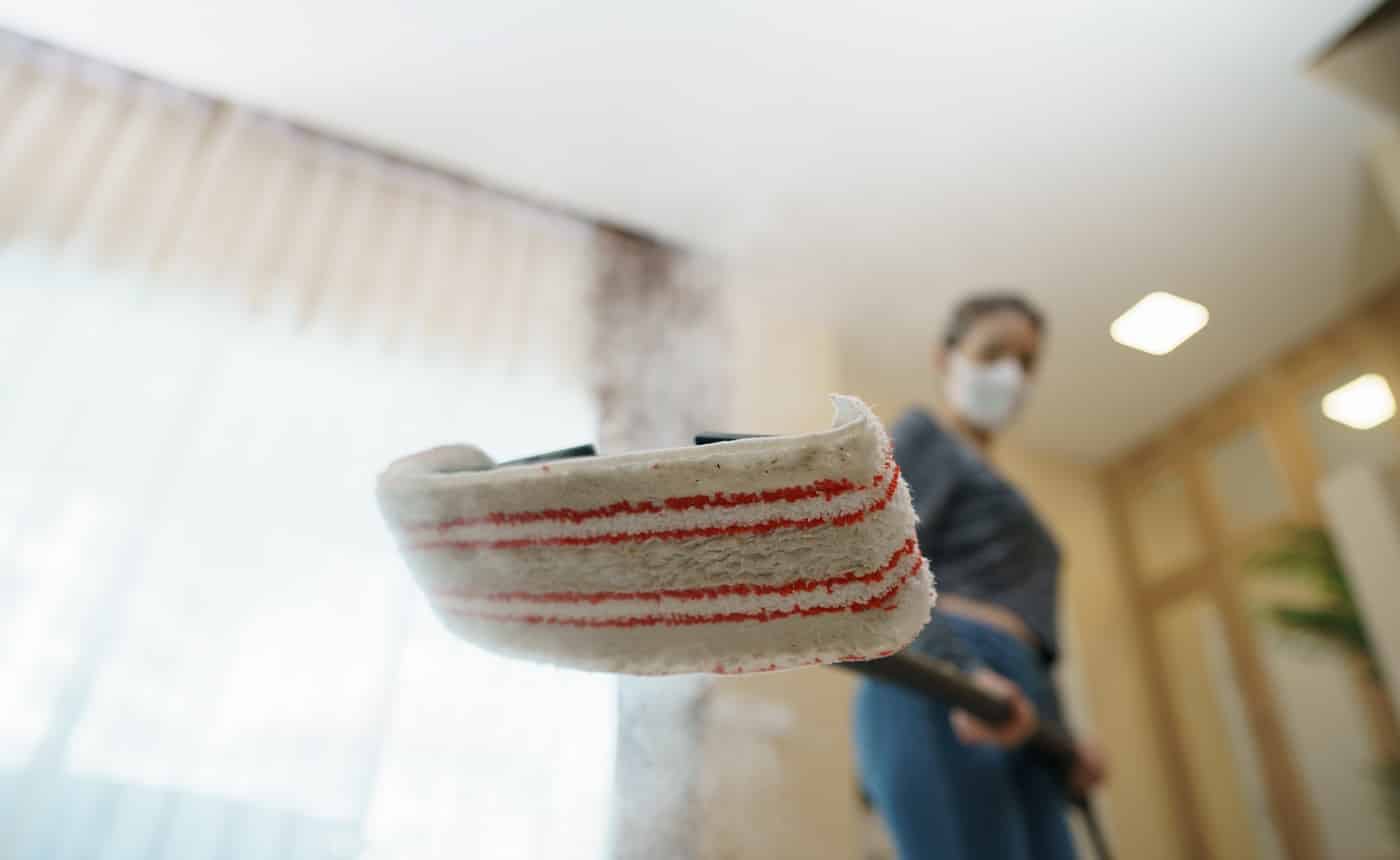 One of our first recommendations that for you is the PurSteam steam mop cleaner. This multipurpose unit is a completely detachable handheld steam cleaner that will keep your floors shining. With its 10-in-1 action, you can get all germs and bacteria removed in no time.
Sale
Why Did We Like It?
First and foremost, this steam gets ready to use in just about 30 seconds, producing enough steam to give your carpets and floors a new look instantly. The water tank has a good capacity and can store 11.50z water at a time.
Moreover, the package comes with multiple useful accessories like an effective mop head and other smaller brush heads. This means that you do not have to run to the store looking for the necessary accessories to suit different cleaning needs.
Additionally, this steam mop allows you to clean grime and dirt without putting your children and pets at risk. It does not release any harsh chemicals that might cause harm to your loved ones. The other great advantage is that it uses only tap water to produce steam for cleaning dirt. This eliminates the need for using detergent or any expensive cleaner solution.
What Could've Been Better?
The one thing that calls for improvement is the mop head design. Unless you use it with some force, chances are that the mop head won't touch the floor surface properly. Plus, the velcro may sometimes get stuck on the floor and tends to get pretty dirty.
Pros
Efficient functioning

All accessories included

Safe for children

Doesn't use detergent
Cons
Mop head requires improvement
Next up, we have the BISSELL 1940A Power Fresh steam mop, which removes 99.9% of the germs and bacteria present on your floors. Not just for mopping, but you can also use it to scrub the floors for intense cleaning. Keep reading to know more about it!
Why Did We Like It?
With this unit, cleaning hardwood flooring will become as easy as a breeze. It does not use any harsh chemicals that might damage your floors in the long run. But at the same time, it eliminates harmful bacteria and germs with the natural cleaning power of steam.
Additionally, it is pretty easy to maneuver and can be used to clean the difficult corners of your room. It offers you to select steam settings according to your requirement.
This steam mop also allows you to attach Spring Breeze fragrance discs that adds a subtle, pleasant fragrance as you clean and mop the floors. And it can be used to clean all types of hardwood floors.
Moreover, you get a soft mop pad, a scrubber, and the fragrance discs with this package. Overall, it is an excellent buy for the price as this will provide you with an all-around steam cleaning.
What Could've Been Better?
Despite displaying brilliant performance, this unit falls short on one count. The power cord is not very long, and you might need an extension cord if you are not working close to a power source. So, make sure that you keep this factor in mind before purchasing it.
Pros
Easy to use

Efficient cleaning

Makes your room smell nice

Customizable steam settings
If you want to scrub out the sticky and tough mess on your wood floors, the Bissell 1806C steam mop steamer is an excellent choice. It comes with one of the best cleaning pads that can make your floors look as good as new in no time.
Why Did We Like It?
Even if you have not used a hard floor cleaning system before, you will have no problem operating this unit. The functioning is pretty straightforward and it heats up quickly. And it is easy to fill the water tank with just a water cup. There would be no water spillage to add to your efforts.
Additionally, the mop head is such that it can glide conveniently without much hassle. It enables you to clean the difficult or compact areas in your room with almost no effort. You can even reach underneath the furniture without requiring to bend your back.
On top of that, it does not use any harmful chemicals to produce the steam. You can also put the fragrance discs into the built-in tray to release a fresh burst of fragrance into your room. So, next time your friends come over, make sure that you use this floor cleaner before they arrive.
What Could've Been Better?
The only problem with this unit is that the packaging was not up to the mark. On receiving it, we noticed that the box was tapered at the corners, and we got a bit worried thinking about damages during transit.
Pros
Easy to operate

Does not create a mess

Can clean compact areas

Doesn't use harmful chemicals
To make cleaning hardwood flooring effortless, the Shark S1000 steam mop may be your best bet. All you will need is water, and that would help you clean the stuck mess on the floors without requiring chemicals that could leave harmful residues.
Sale
Why Did We Like It?
The best thing about this steam mop is that you would hardly require any added accessories for operating it. The unit comes semi-installed, and all you need to do is get some clean water to produce the steam. And within no time, your floors will be free of tile grout.
Also, this floor-cleaner does not take much time to produce steam. You will find it releasing steam within 30 seconds that would help you effectively clean dirt and grime on the hard flooring.
Moreover, you will not face a hard time carrying it around the house while cleaning. It has a compact and lightweight design, which makes for easy portability. In fact, we didn't even have a backache while using it for prolonged periods.
And the ease of use extends to using the water tank too. You can fill this removable water tank without any hassle or spillage.
What Could've Been Better?
There's no doubt that this unit produces continuous steam. However, we did not like the fact that it does not have a resting pad to allow the mop pad to cool down after use. Hence, you might have to hold it for a while before it cools down like a traditional mop.
Pros
Quick functioning

Easy installation

Easy portability

Excellent water holding capacity
Wondering how to clean your hardwood flooring effectively? The Hoover FH40160PC FloorMate deluxe hard floor cleaner machine is the complete package when it comes to scrubbing and mopping your floors. And in one sweet sweep, it dries, leaving your floors with a stellar look!
Sale
Why Did We Like It?
What stood out for us is the model's dual tank technology that releases floor steam in a way that always keeps the dirty water separate. You do not have to go around with a bucket anymore, nor do you have to push dirty water on the ceramic tile ever again.
On top of that, the floor cleaner is equipped with a scrubber to facilitate intense cleaning. This heavy-duty steam mop helps you clean the floors from all possible angles, and the rotating double-sided brushes help you get a deep cleaning. It also enables you to dry the floors in one sweep. Now, that's what we call convenience!
Moreover, it is quite easy to clean this mop after you're done. Just take out the tanks, nozzles and brush for washing. It will hardly take any effort to disassemble and reassemble after you are done cleaning them.
What Could've Been Better?
We don't have any complaints about the overall performance on offer. However, we should mention that the swivel head does not function too well and keeps coming off during use. If you face a similar problem, just contact their customer support team and ask for a replacement.
Pros
Ease of use

Quick floor drying

Useful for scrubbing

Easy to clean post-use
If you want to experience the difference between clean and steam clean, the Shark S3501 handheld cleaners steam mop is the best bet. It's equipped with a steam pocket that transforms water into condensed steam for cleaning your hardwood floor with minimal effort.
Sale
Why Did We Like It?
Finding the best steam mop can seem quite tricky as the efficient ones are often a bit too costly. But, you can rest assured that this steam blaster will take care of precision cleaning without burning a hole in your pocket.
With the package, you will find 2 reusable and washable microfiber pads that wipe and traps the dirt. Thus, cleaning the floor becomes pretty easy and will hardly consume any time.
Additionally, this adjustable steam mop comes with a swivel head that is easy to maneuver. The mop pad that is attached to it is two-sided, and that enables you to better clean the hard floors. With this, you can reach every nook and corner of your house to make them spotless.
Last but not least, it's ultra lightweight design means you don't have to strain your muscles for carrying it around.
What Could've Been Better?
This steam mop could have been even better if it had a water level indicator. While cleaning our hardwood floor, we had to check the water level multiple times to ensure that it does not go below the mark. If there was an indicator, it would have made our job easier.
Pros
Affordable price

Easy to clean

Adjustable swivel head

Portable
For those who are on the lookout for a heavy-duty steam mop, you should give the Dupray DUP020WNA neat steam cleaner a try. It scores high on efficiency and durability and is liked by users across the globe. It is one of the best steam mops to be used for professional purposes.
Sale
Why Did We Like It?
You might need professional-grade cleaning for your office space, and this steam mop is perfect for that. Plus, it is suitable for use in larger than usual areas.
Trust us when we say that you won't need a vacuum cleaner after getting this unit. It can run for 50 minutes straight without needing a refill, after which, the removable water tank needs a refill before you can put it to use again.
Moreover, it is highly efficient and produces sanitizing steam very quickly so that you can properly clean your floors . With this, you can sweep every room with a single pass.
Apart from that, it has smooth wheels and a retractable handle, which enhances the cleaning power of this mop. It also includes 18 professional-grade accessories in the package so that users don't need to buy extra tools for installation purposes.
What Could've Been Better?
The fact that it can store a lot of water at a time has a small downside to it. Once empty, it takes around 20 minutes for the entire tank to get refilled. So, we would advise you to remain patient and try to refill the tank before it completely runs out of water.
Pros
Build to last

Includes essential accessories

Efficient cleaning

Lightweight and portable
To enjoy the goodness of a vacuum cleaner and steam mop combined in one, the Bissell 2747A PowerFresh vac and steam is an excellent choice. Your hard flooring will get the benefits of double cleaning as the continuous steam will ensure that your floors are spotless.
Why Did We Like It?
The first thing we noticed about this steam mop is its dry tank technology that does not allow moisture to accumulate in the tank, thereby keeping the debris dry. As a result, you will face no problem when cleaning the water tank as the debris would be separated and not get muddy.
And, as we have mentioned before, it works like a vacuum cleaner too. When you move it on your floors, it will pick up all the dirt and dust and store it in the dirt tank. The best part is that the vacuum is ultra-powerful and sweeps your tile floors clean without leaving anything behind.
Besides, if changing mop pads seem like a task to you, this model will relieve you of such worries. They are double-sided, detachable and can be removed without putting in much effort. You can choose to wash and put the same mop pad back on or replace it with a new one.
What Could've Been Better?
The only issue that we faced with this steam cleaner is that we had to keep pressing on a button to keep the steam flowing. Now, this might feel tedious, especially if you have to clean for long hours. In that sense, a one-time press on and off button could be a good addition.
Pros
Highly durable

Easy to clean

Simple to maneuver

Replaceable mop pads
Cons
Taxing to use at a stretch
In order to experience efficient and versatile cleaning, you should definitely give the Shark S3973D lift-away pro steam pocket mop a try. You can even take your clothes right out of the washing machine and use this item to steam the garments.
Sale
Why Did We Like It?
The versatility that this site puts on the table is nothing short of incredible. It not only helps you clean your hardwood floors but is also highly suited for over-the-floor cleaning. This steam mop offers you to adjust the steam and maintain continuous steam flow according to your requirements.
With the adjustable steam nozzle, you can easily remove stubborn stains that have been present for years.
Additionally, there is a scrubber brush and adjustable microfiber pads that enable you to get twice the amount of cleaning done with little effort. You can get both the scrubbing and cleaning done simultaneously, and that too effectively.
Moreover, these microfiber pads are easy to remove and clean. If you do it with a little caution, it would hardly make any mess. And this handheld steam mop is pretty lightweight and won't give you a hard time when carrying it.
What Could've Been Better?
Despite scoring high on performance, we have to say that it would have been better if there was a carpet glider included. Without one, the mop tends to get stuck on the floors sometimes, and you might have to put a little extra effort to move it.
Pros
Multi-purpose usage

Adjustable steam nozzle

Provides scrubbing function

Simple cleaning
Cons
Does not include a carpet glider
Imagine giving your floors a deep cleaning to remove tile grout without leaving behind any chemical residue! With the O-Cedar SYNCHKG061608 microfiber steam mop, it has now become possible. Within a few hours of use, your house will become spotless and sparkling.
No products found.
Why Did We Like It?
We know that a lot of you do not like using harsh chemicals on your much-loved floors. The cedar microfiber steam mop is great for this purpose as it performs deep cleaning without using any harmful chemicals. But don't worry, after a single-use, your floors will be free of grout and grease.
Also, the microfiber pads that are included in the package are highly absorbent. With a single swipe, it will dry up your floors. And the uniqueness of the mop is not just restricted to that. Its weave pattern is such that it enables the steam to penetrate with ease, and that helps to eliminate all unwanted bacteria and germs.
Moreover, the design of this steam mop is incredible. The mop is triangular in shape, and that allows you to clean all the nooks and crannies with much efficiency. Once you are done cleaning, there will not be a speck of dust left.
What Could've Been Better?
When you are buying replacement mop pads for this item, make sure they are of the same brand. Standard mops heads do not fit this item, and you should remain cautious and buy ones that the brand makes. You can always read the instruction manual to get a better understanding.
Pros
Does not use harsh chemicals

Provides deep-cleaning

Enables quick drying

Lasts for a long time
Cons
Not compatible with other mop pads
We are almost reaching the end of our list, and next up, we have the LIGHT 'N' EASY Multi-Functional Steam Mop. With the 2020 upgrade, it has become more light and compact and thus easier to use.
Keep reading to know more about this item!
Sale
Why Did We Like It?
This item is quite versatile and understands the varied needs of a homeowner when it comes to cleaning. The steam setting is completely adjustable and can be set either in low, medium or high power depending on your requirements. In case you need to do a light cleaning, you can set the mop accordingly in order to not waste power.
Moreover, this steam mop is designed keeping in mind the ease of the consumers. When kept in an upright position, the smart switch will prevent the loss of any steam. And you just have to tilt the handle and slide the switch in order to get the steam activated. Therefore, wastage is kept at a minimum!
Additionally, the unique thing about this device is its touch sensor. You do not have to keep the button pressed for a continuous steam flow. The moment you place your hands on the sensor, the steam gets activated.
What Could've Been Better?
The only issue that we encountered while using this item is that the user instructions are not lined out well. If you have not used a steam mop before, installing this item might feel a bit tricky. In case that happens, watch some tutorial videos on the internet for help.
Pros
Versatile model

Continuous steam flow

Saves energy

Durable
Cons
Unser manual is not detailed
To enjoy a full spectrum of cleaning, you should give the Bissell 1544A PowerFresh lift-off pet steam mop a try. You can enjoy the combined effect of a scrubber and a steam mop; all made possible with the simple push of a button.
Why Did We Like It?
The Bissell PowerFresh steam mop does an excellent job at grout removal. If you are tired of the dirt collecting in the grout of your bathroom tiles, then this steam mop is the answer. It helps you get rid of dust and dirt in no time.
Moreover, it includes all the necessary accessories, and you won't need to buy anything separately. There are detachable pads, scented discs, and scrubbing pads. You also get a tool bag and can keep all these accessories organized in one place.
Additionally, this PowerFresh steam mop does not make use of any harmful chemicals. So, after you are done mopping your floor, you can let your kids and pets play on it without having to worry at all. Because there is no use of chemicals, your floors also do not get damaged and stay in their most pristine condition post-cleaning.
What Could've Been Better?
We would have liked this product even better if the power cord was sufficient in length. It is actually quite short, and you might have to move around with the extension cord when working with this steam mop.
Pros
Efficient in removing dirt

Easy to assemble

Great customer support team

Do not use chemicals
We could not have wrapped up our list without having mentioned the Reliable 300CU steam floor mop. Its heavy-duty scrubbing bristles are great for hardwood floors and are well-loved by customers. True to its name, this option is reliable when it comes to cleaning all types of hard floors.
Why Did We Like It?
This item almost feels effortless when it comes to using. It comes equipped with an easy release foot button that enables you to quickly shift between a steamer and a scrubber. Shifting comes with no hindrance and is extremely smooth!
Moreover, it comes with a carpet glider that helps you deep-clean your rugs and carpets with much ease and efficiency. And it is pretty easy to detach it as well!
And the time consumption of this item is pretty less. It hardly takes time to get started, and in under a minute's time, your mop will start producing steam to help you clean the floors. And if the water tank is full, you can operate it for 25 minutes at a stretch. There would be no need for re-filling in between.
What Could've Been Better?
Despite its brilliant performance, we were not very happy with the mop length. It is short, and if you are tall, you have to bend while working. This might give you backache if you are working for a long time.
Pros
Takes less time

Durable

Great customer support

Easy to assemble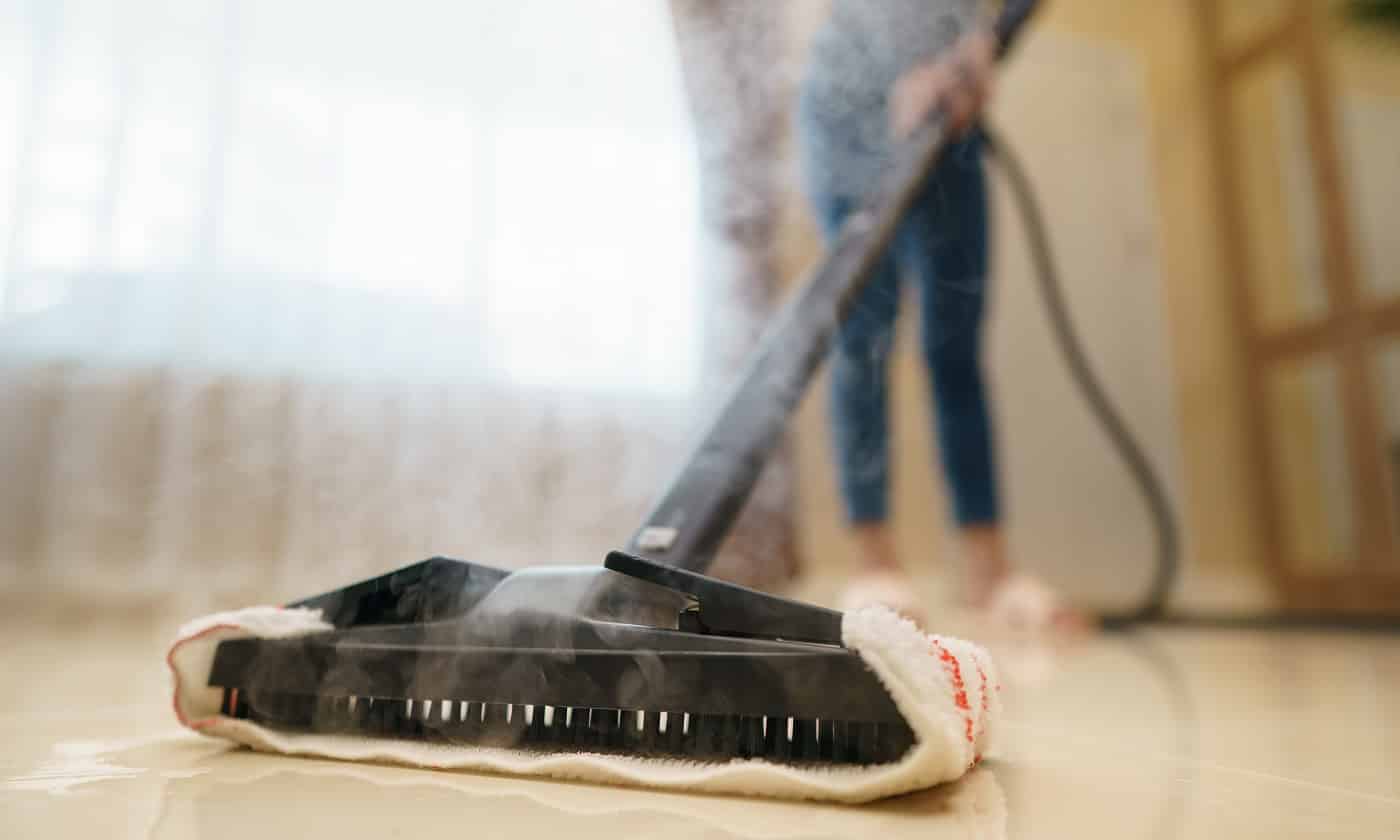 Steam Cleaners for Hardwood Floors Buyer's Guide
Now that we have talked about the 13 top steam mops, were you able to decide which one to go for? We know it is not that simple to make this decision.
In order to make a good choice, you need to take a few more factors into consideration. And in this section, we will take a look at a few of those factors. So, let's dive right in!
1. Weight And Size Of Steam Mops
If you like keeping your cleaning activities light and breezy, it is best to go for a handheld steam cleaner. The ones which come with disposable pads are mostly lighter when compared to the rest.
Before buying steam cleaners, it is a must to check their weight and dimension as this will determine how comfortable you'll be when using them. The best steam mops are ones that will feel effortless to use.
If you prefer to use a steam mop that is light and portable, there are quite a few compact options mentioned in our list that you can choose from.
And remember, it's not just about using a steam mop; you also have to store it when not in use. So, make sure that you check the dimension of the steam mop before buying it. And you cannot fold and store most of them as they are not adjustable steam mops.
2. Steam Mop Output
If you have kids or pets in the house, you are no stranger to tough stains. In that case, you need to select an adjustable mop that you can crank up a notch higher when tackling tough stains. This will enable you to have more personalized control over your cleaning process.
Some mops come with specific presets, and there are other's that allow you greater flexibility in the form of an adjustable knob.
3. Floor Type
Steam mops are a great option when it comes to hard flooring. But there are many types of hard floors and not just one type.
Make sure that your floor's warranty does not get void because of using steam on it. Use the steam moderately first to see if it is causing any damage. Also, make sure that you do not use high steam on an unsealed or unfinished floor as that might cause irreparable harm to your tiles.
In case you see stubborn grime on your wooden floors, do not try and scrub too hard as that might leave scratches behind. In the worst-case scenario, the coating may even come off. Ceramic floors are even more delicate, and you should use the steam mop in the lowest setting when cleaning one. And if your flooring is colored, make sure that you do not use any chemicals when using a steam mop on it.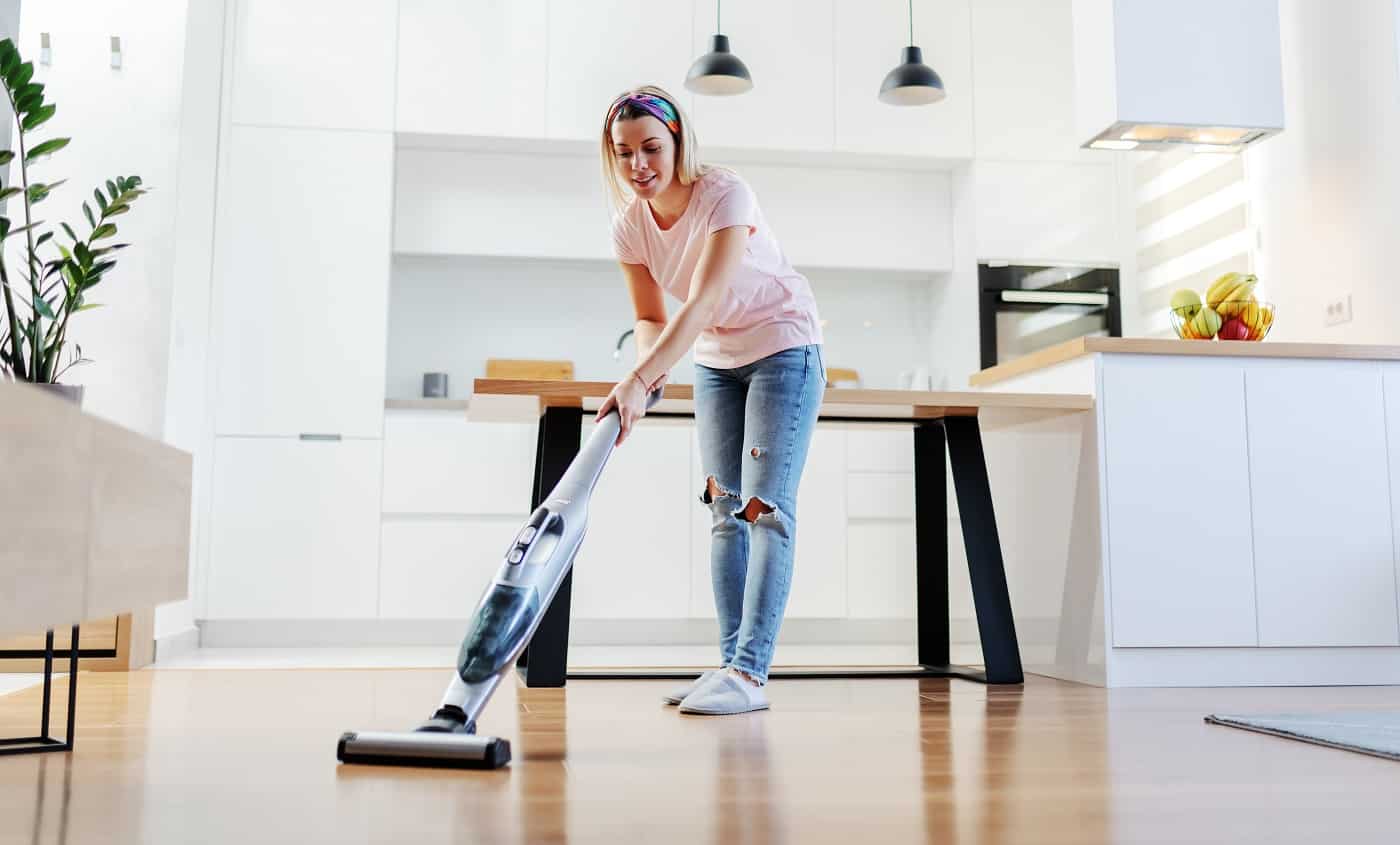 Verdict
With that, we have reached the end of our list!
We hope you had a great time learning about the best steam mops that we mentioned on the list. This comprehensive guide will help you get a better understanding of what to look for when buying a steam mop.
But before we say goodbye, we would like to let you in on our favorites. The PurSteam steam mop cleaner takes the award for being our favorite overall. And if you are on the lookout for a device that is lightweight and lasts for long, the BISSELL 1940A PowerFresh steam mop is an excellent choice.
It's time for us to wrap up for today. Let us know about your favorites in the comments section below, and keep a watch on this space for more exciting reads.
Until next time, happy cleaning!
Related Articles 
13 Best Bagged Canister Vacuums 
10 Best Shop Vacs For Dust Collection
7 Best Xiaomi Vacuum Cleaners for Healthy Homes
13 Best Shop Vacs  | Buyer's Guide and Reviews
13 Best Vacuum for Stairs | Reviews and Buyers Guide
13 Best Robot Vacuums You Can Buy Under $200 
8 Best Robot Vacuums Under $150 | Reviews & Buyer's Guide
13 Best Backpack Vacuum Cleaners | Reviews & Buyer's Guide
13 Best Non-Electric Vacuum Sweepers 
Best Samsung Robot Vacuums| POWERBot Buyer's Guide
6 Best Vacuum Cleaners for Mattress That Promote Healthy Sleeping
19 Best Upright Vacuums with HEPA Filter| Reviews & Buyer's Guide
Dyson AM07 vs Dyson AM06 Fan Comparison
Shark NV682 vs. NV683 vs. NV752 | Upright Vacuum Comparison Review
Vornado 530 vs 630 vs 660 | Room Air Circulator Fans Compared
Bissell BigGreen 86T3 vs. BG10 | Carpet Cleaner Comparison & Buyer's Guide
13 Best Canister Vacuums for Pet Hair
ILIFE A4s vs. iRobot Roomba 690 Compared | Robot Vacuum Face-Off
Shark ION ROBOT 700 vs 720 vs 750 | Robot Vacuums Compared
ECOVACS Deebot N79 vs. N79s | Robot Vacuums Compared & Buyer's Guide
Lasko 7050 vs. U15701 vs. 655704 | Floor Fan Comparison
PureClean PUCRC95 Automatic Robot Vacuum Cleaner Review
Oreck Commercial ORB550MC vs. Orbiter Ultra Multi-Purpose | Buyer's Guide
iRobot Roomba 675 vs. 680 vs. 690 | Robot Vacuums Compared & Buyer's Guide
Bissell 9595A vs. 1831 | CleanView Upright Vacuums Compared & Buyer's Guide
13 Best Central Vacuum Systems
The Best Vintage Vacuum Cleaners To Collect
11 Best Wet/Dry Handheld Vacuum
6 Best Miele Vacuums For Cat, Dog, And Pet Hair
5 Best Central Vacuum Hose Replacements
12 Best Vacuums for Tile Floors
6 Best Central Vacuum Inlet Valve Replacements
14 Best Wet/Dry Handheld Vacuums
12 Best Robot Vacuums For Under $300
15 Best Robot Vacuums Under $300
12 Best Lightweight Vacuum Cleaners For Elderly
11 Best Central Vacuum Attachment Kits, Powerheads & Brushes
15 Best Lightweight Vacuum Cleaners for Elderly [Buying Guide]
11 Best Vacuums For Tile Floors
7 Best Central Vacuum Hose Replacements To Consider
5 Best Miele Vacuums For Cat, Dog, And Pet Hair