With a stair climbing cart, carrying heavy groceries or travel bags up the staircase is simpler than ever. 
These hand trucks are integrated with sturdy wheels, which makes transporting them a breeze. Plus, they are sturdy enough to withstand the regular wear and tear. 
And the best part about these stair climbing carts is that they reduce injuries and fatigue. Just push them above the stairs, and they move over smoothly. But it often gets challenging to find the right one with so many options available on the market. 
And this is where our review-based guide comes in. We've shortlisted some of the best options available out there. And we have also included a buyer's guide to help you understand the factors to be looked into while purchasing one. 
So, without further ado, let's dive in! 
Top Stair Climbing Carts
IMAGE
PRODUCT
DETAILS

Our Top Pick

Our Top Pick

Quik Cart Elite Stair Climber

120 pounds carrying capacity
Retractable telescopic handle
Lid supports up to 270-pounds

VIEW LATEST PRICE →

dbest Stair Climber Trolley Dolly

Collapsible 
Contains seven compartments
Six all-terrain wheels

VIEW LATEST PRICE →

Helping Hand Folding Cart

Folding design
Lightweight tubular construction
Triple-wheel design

VIEW LATEST PRICE →

Kanchimi Stair Climber Cart

220 pounds load capacity
Scalable elastic rope
360-degree rotating unique adjustable handle

VIEW LATEST PRICE →

Hereinway Foldable Cart

360-degree rotating wheel design 
Stainless steel triangle wheels
Hollow plastic built-in handle

VIEW LATEST PRICE →

Amazon Basics Folding Stair Climber

44-inch stair-climbing trolley dolly
Detachable polyester bag
Ergonomic padded handle

VIEW LATEST PRICE →

Vevor Stair Climbing Cart

330 pounds support capacity
Constructed of the Q235 steel frame
5-inch rubber tri-wheels 

VIEW LATEST PRICE →

SURPCOS Folding Shopping Cart

220 pounds carrying capacity
360-degree rotatable wheel
Two hooks and an adjustable bungee cord

VIEW LATEST PRICE →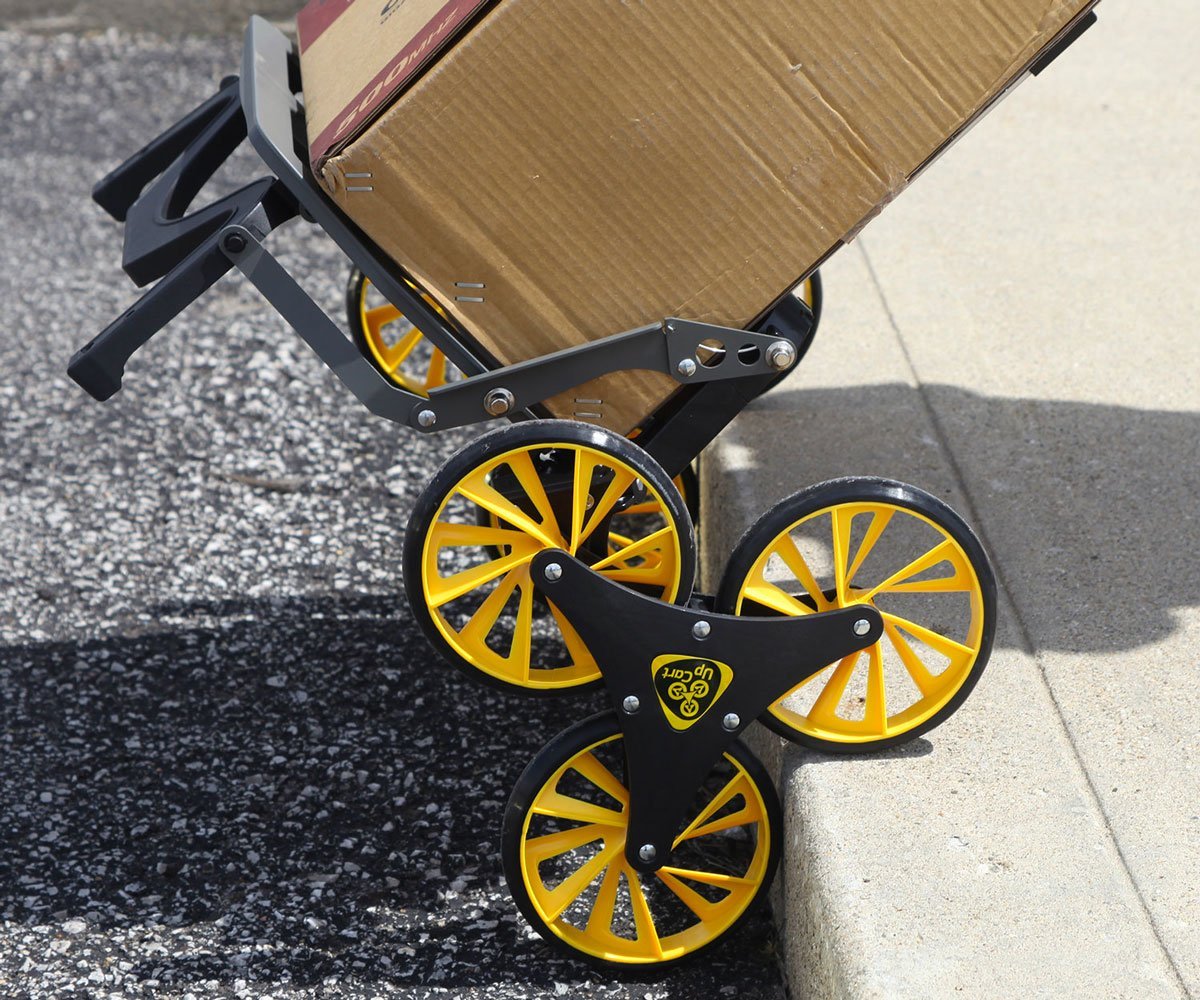 This elite quality stair climber by dBest products can be used for shopping, transporting, laundry, traveling, or as a stepping stool. With a carry capacity of 120 pounds and a heavy-duty plastic seat, this is probably one of the most durable products on the market. And its wheels are made of high-quality polypropylene for smooth rolling. 
Sale
Why Did We Like It?
This handcart comes with an upgraded retractable telescopic handle, which expands and collapses to 17.5-inch and 3-inch, respectively. So, you can load it with baskets, bins, boxes, crates, books, and all kinds of supplies. 
It hauls up to 120 pounds, allowing you to keep your documents and files organized when traveling or going to the office. Hence, it serves as a handy companion for business agents, teachers, and handymen involved in home improvement tasks. 
Moreover, it has 6 wheels, which are made of high-quality polypropylene to allow lifting heavy loads on stairs. Plus, its re-engineered wall panels are made of 100% virgin polypropylene for added durability and strength. 
Another unique feature of this cart is its non-slip lid that supports up to 270 pounds and can be used as a step stool or seat. Hence, you can use it as a seat whenever you get tired of waiting at the bus stop or airport. 
What Could've Been Better?
The only limitation that we came across while using this hand truck is its lower weight capacity compared to some high-end models on the market. Although it can hold 120 pounds of weight, it might get loaded quickly when carrying large items.  
Pros
Expands and collapses for carrying comfort

6-wheel design ensures easy carrying

Rugged wheels

Can be used as a seat
Cons
Weight capacity is slightly less
This Stair climber cart by dbest is an ideal multi-purpose hand truck for stress-free movement of deliverables on any terrain. Being a collapsible cart, you can fit it in your car trunk or any small space. Plus, its weatherproof material ensures your packages won't get wet in case of heavy rain or thunderstorm. 
Why Did We Like It?
Our key scrutiny aspect of a stair climbing trolley is the ruggedness and quality of its wheels, and the dbest stair climbing trolley excelled in this respect. It features a 6-wheel design that easily glides over rough terrain or stairs. Besides, you can carry up to 110 pounds of weight (irrespective of its size) to flea markets, supermarkets, or the beach. 
It also has seven storage compartments, including a beverage holder, rear pocket, inner pouch, and more, so you won't have to worry about leaving anything at home. The trolley bag is removable and becomes a separate grocery carrying option. 
Also, the unit can easily be folded in half and kept anywhere without worrying about it taking up any extra space. You can store it in your car trunk, in the closet, garage, or under the bed. What's more, its waterproof body protects your clothes and other items from getting wet.  
What Could've Been Better?
The primary issue that we encountered and which is reported by most customers is that its standing wheels are higher than its platform. As a result, some users might feel uncomfortable while moving the hand truck. Apart from that, you might find the loading area a bit small to fit slightly oversized items. 
Pros
Can be folded in half

7 compartments make storage easier

Rugged wheels

Waterproof

Removable trolley bag
Cons
Wheels larger than the platform

Small loading area
If you are looking for a folding shopping cart suitable for carrying everyday groceries, then this Helping hand-folding cart may be the one for you. Its lightweight tubular construction, sturdy wheels, and foam grip handle make it easier to move around. Also, the basket offers a decent holding capacity for your daily baggage. 
Why Did We Like It?
First and foremost, it features a convenient folding design that you can assemble in mere 15 seconds even without going through any complicated instruction manual. And thanks to its folding design, you can fit it anywhere, be it a car trunk, under the bed, or any other compact space. 
Due to its lightweight tubular design and slim width, it's a great option to carry your everyday groceries on a bus or a sidewalk. And the rugged three-wheel design makes it easier to push through the stairs. 
The most important aspect of a climbing cart needs to be its operation, and this hand truck excels in this respect. A sturdy wheel design and foam grip handle ensure added comfort, and it's easier to push it around for hours. 
What Could've Been Better?
Unlike our previous models, the basket capacity of this unit is approximately 65 pounds. You might find it underwhelming when carrying several items or multiple baggage at one time. However, the capacity is decent enough to fulfill your everyday grocery carrying needs. 
Pros
Easy assembly

Easier to carry around

Smooth and comfortable operation

Rugged wheels
Cons
Holding capacity is underwhelming
Up next is the stair climber cart by Kanchimi, which comes with oversized wheels, 220 pounds load capacity, and other user-friendly features, making it a viable purchase option. Like our previous models, you can collapse it easily to fit it anywhere. Apart from that, it comes with a longer cart handle, which makes maneuverability a breeze. 
Why Did We Like It?
To begin with, this stair climber cart holds up to 220 pounds load so that you can carry pretty much anything with you. The cart has upgraded broad wheels, a sturdy, big base, and durable steel construction for withstanding this carrying capacity. Its oversized wheels make it easier to ride up and down the stairs and a unique gifting option for aged people. 
Moreover, it's easy to install and disassemble with the detailed assembly instructions that come with the package. Specific assembly steps are provided in a picturized form, making the installation process convenient and straightforward. Plus, the portability is a huge positive of this hand truck. 
Similar to the dbest stair climbing trolley, you can remove the store bag and use it as a grocery shopping cart, and the trolley can be used as a handcart. Apart from that, it features a 360-degree unique lengthening handle, so you won't have to bend down while using it. 
What Could've Been Better?
The lack of compartments in this hand truck can be an issue when packing goods into it. It's a known fact that the more the number of compartments, the easier it is to arrange your stuff, which might not be the case with this one. 
Pros
Simple installation

Portable

Separable store bag

Rugged wheels

Large holding capacity
Cons
Lack of adequate compartments
A utility stair climbing cart needs to be durable, move swiftly, and fit anywhere. Anyone, irrespective of their age and physical ability can make their life easier with this model. This unit by Hereinway excels in all aspects and is perfect for use at the office, home, shopping, laundry, or travel. 
Why Did We Like It?
The first thing that grabbed our attention was the reinforced, adjustable, and rotating handle. Being made of hollow plastic built-in metal tube, the handle is solid and durable, and it's easier to carry around. 
Another quality feature of this cart is its stainless steel triangle wheel. This particular design makes stair climbing much more effortless. The wheels can adopt a 360-degree rotating design, allowing easy control and smooth change of direction. And being made of stainless steel, it's essentially durable and long-lasting. You can take it for your daily grocery shopping without worrying much about wear and tear. 
You can further collapse it in half and fit it into small spaces, thereby enhancing its usability for daily use. So, overall, it's easy usability and lightweight design make it a perfect gift for anyone. 
What Could've Been Better?
We are a bit disappointed with the sub-par holding capacity of this unit. Although it is suitable for everyday groceries, you cannot use it for travel purposes. Also, if you try to put a heavy load on it, it might damage the wheels. 
Pros
Easy control and smooth direction change

Durable and sturdy wheels

Rugged handle

Collapsible cart
Bringing a folding shopping cart by Amazon, under their umbrella brand, Amazon Basics. This versatile product lets you transport heavy objects up and down the stairs with ease, thanks to its long padded handle and triple wheel fixtures. And, all of it comes at an affordable price, which is an added benefit.  
Why Did We Like It?
Smooth and easy movement of this Amazon Basics stair climber up and down the stairs makes it a desirable product amongst customers. Its dual three-wheel fixtures make it easier to push, and anyone irrespective of their age can move their baggage with ease. And its ergonomic padded handle ensures a firmer grip, making the movement much easier.  
Besides that, it features a detachable polyester bag which you can use to carry loose supplies and groceries. It also includes a pocket for storing your beverages, eliminating the risk of spilling off drinks on your dry items. 
What's more? The troller folds down easily for easy storage in the closet, trunk, or garage. And, assembling the unit is not that challenging, even if you're not a DIYer. 
What Could've Been Better?
Our main concern with this climbing cart is its holding capacity. As compared to other items in our list, this might not pull up your heavyweight items with ease. And also, the body not made of durable material might break down in cases of extra load. So make sure you look into it before purchasing. 
Pros
Separable polyester bag

Three-wheel design allows easy climbing

Ergonomic handle

Easy to store
Cons
Lesser holding capacity

Body is not much durable
Now that we've almost reached the end of our list, we present you with a heavy-duty dolly cart to ride up and down the stairs. With a massive holding capacity of 330 pounds, it's mostly suitable for delivery purposes, and its robust and durable construction means it doesn't break very soon.   
Why Did We Like It?
The amount of load this hand truck can hold is the highest on our list. With a 330 pounds holding capacity, you can carry huge amounts of baggage at a time, thereby improving overall efficiency. You can now deliver heavy packages to your customers with ease. 
Such a massive weight-holding capacity is complemented by its sturdy design and wear-resistant wheels. It features a pair of 5-inch rubber tri-wheels that are wear-resistant and can move quietly and stably on rough terrains. Plus, its frame is constructed of Q235 steel that is guaranteed to be rust-less and stays rugged for longer. 
Apart from that, its handle is designed to be adjustable with most people. It comes with an adjustment range of 45-inch to 29-inch. 
Lastly, it comes with two protective mats, two small wrenches, and a binding rope that becomes suitable for future use.  
What Could've Been Better?
After using the product and lifting heavy loads for some time, we identified a sizable crack near the front wheels. It might break down if we continue using it that way for a long time, which is not suitable. Also, many found the handle not very handy, so holding and pushing are an issue sometimes.  
Pros
Large weight carrying capacity

Sturdy construction

Adjustable handle

Comes with several handy pieces of equipment
Cons
Sizeable crack after using it for some time

Handle holding is not that comfortable
The usefulness of this stair climbing cart as a grocery shopping cart makes it another highly recommended product on our list. Its three-wheel design is designed especially for stair climbing, and its rotatable and long handle design makes it easier to push it up and down the stairs. 
Why Did We Like It?
This lightweight cart comes with a three-wheel design designed especially for easily climbing up the stairs. The pushing is facilitated with its rotatable and long handle design, so a tall person doesn't need to bend down when pulling or pushing the cart.  Also, the rear wheel is a universal one with a 360-degree rotation ability. So turning your cart is never a problem. 
Moving on, the stair cart can be folded or oversized easily, suitable for carrying small and oversized items, respectively. It, in turn, adds versatility to our carrying ability. And, its ability to carry 220 pounds at a time delivers an added advantage. 
Apart from that, you'll just love the sturdy design and stability it possesses. Made of a high-quality stainless steel alloy frame, the unit is durable and rust resistant. 
What Could've Been Better?
Installing this stair climbing cart can be difficult even for DIYers, so we had to call upon an expert to do it for us. Apart from that, we found the wheels to be made of average-quality materials, which is a significant setback of the unit. 
Pros
Large holding capacity

Sturdy design

Can be folded or oversized

Adjustable handle
Cons
Installation is challenging

Wheels are of average quality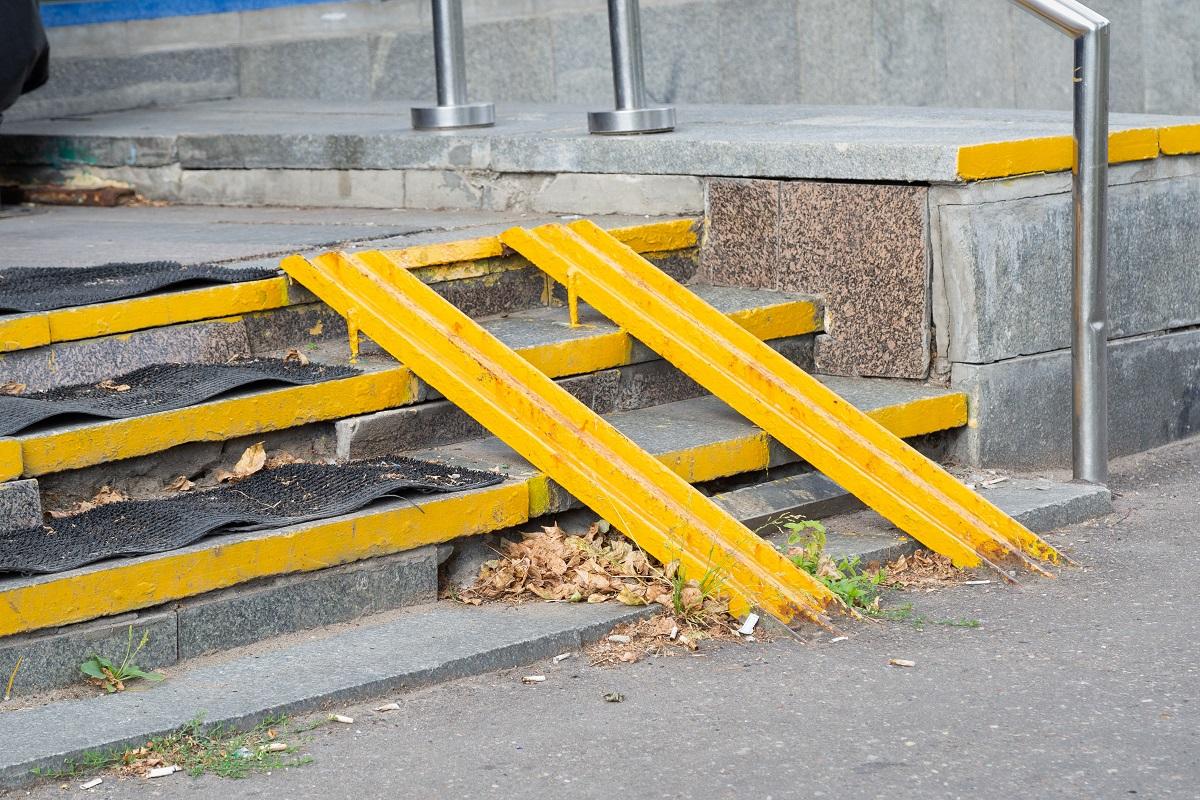 Stair Climbing Carts Buying Guide
While the choice of a climbing cart is entirely yours, it's essential to keep in mind certain aspects before purchasing one. In this particular section, we'll discuss such factors in detail so that you can make an informed decision. 
1. Cost
A sprain in the spine due to heavy lifting can be a costly affair. But if you consider investing in a stair climbing cart, you won't have to worry about back or muscle injuries. The cost varies from one unit to another due to several layouts of climbing carts on the market. 
You will definitely find an inexpensive cart, but it might be easier to carry or flimsy wheels that might cost you further. So, it's viable to opt for one that offers decent features and comes at an affordable price. 
2. Features
The question remains: What features would you be looking into while purchasing a stair? We've summarized the considerations. 
The quantity a cart can hold without breaking down at the same time is important. Greater the carrying capacity, the more items you can carry from one place to another.
On the basis of the weight along with the load which you want to move, these carts are available in several sizes. You are to decide which sized cart is suitable for you. 
The movement of materials up and down the stairs depends on the kind of wheels attached. Wheels can be made of plastic or stainless steel, whereas the latter is more durable. Although it might cost more than a plastic wheel, it's worth the investment. 
Features of the cart, including the presence of straps, are worth checking. 
These carts have metallic construction, utilizing either aluminum or steel. We'd suggest you go for one made of aluminum as it's both lightweight and durable. 
3. Layout And Construction
These days we can see varied types of stair climbing carts on the marketplace, where some have walkers with front wheels, while others use a push arm. 
An important aspect of a cart is the ease of movement and its weight handling capability. Wheels are most effective in ensuring this. Many carts feature 360-degree rotating design tires, making it easier to move carts. 
From the list, you'll see that manufacturers have adopted a tri-wheel setup, which involves the usage of three wheels on both sides. And the handle is also a crucial aspect, so opt for one, where it's easy to maintain grip. So, it's important that the handle is made of rubber or plastic and anti-slip. 
4.  Performance
Stair climbing carts are easy to use once you have a standard construction one in your hands. It's important to be aware of the weight your cart can handle and ensure not to overload it. You also might need to assemble some hand trucks, and it's not very challenging if you have a detailed instruction manual.
Concerning maintenance, it's important to maintain the condition of the wheels, as they wear out after using them for some time. Replacing these is not that complex, but a handyman is needed to fix it. Call upon a relevant professional to make a visit to your home and get your trolley fixed. 
Saying that these carts don't require much maintenance, and there's no need to stress much about it. Many of these hand trucks are foldable, in turn ensuring easy storage. 
Stair Climbing Carts Frequently Asked Questions ?
Are these stair climbers easy to operate?
Yes. Most stair climbers (including ones on our list) are easy to operate with instructions that come along. People can also search for such videos on youtube or relevant data to learn about its operating procedure.
Can anyone use a stair climber?
Yes. Anyone who can carry a hand trolley or operate a wheelchair can use a stair climber.
Is ongoing maintenance an issue?
Definitely not. Only the wheels are to be appropriately maintained, considering they go through everyday wear and tear. In case you're unable to do it by yourself, it's always safe to call upon a handyman to repair the wheels.
Do these stair climbers work on all stair types?
Yes. Just make sure that your stairs are at least ½-inch wide, and you can easily run through the carts.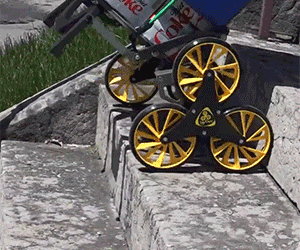 Top Stair Climbing Carts Verdict
Now that we're concluding our detailed review-based guide for the best carts, we'd like to name a few of our favorites. 
Among the options we reviewed, we found two stair climbers by dbest to be very intriguing. The Quik cart elite stair climber is our top favorite. Be it a decent weight-holding capacity, robust design, or rugged wheels, it has all you need in a quality stair climber. 
Also, the dbest stair climber trolley dolly comes with an almost similar weight carrying capacity and features seven compartments for easy and organized loading. Plus, its rugged wheels and sturdy construction make it durable and long-lasting. 
With this, we'd like to say goodbye. And we hope our guide will help you select an ideal product for carrying your luggage up the stairs. Take care!
Related Articles
8 Best Dump Cart for Lawn Tractor & ATVs
13 Best Motorized Wheelbarrows
4 Best Towable Portable Mini Backhoe Digger