Disclaimer | This article may contain affiliate links, this means that at no cost to you, we may receive a small commission for qualifying purchases.
Let us tell you that the ready-made ground spices available on the market shelves are nothing compared to the freshly-ground ones.
The incredible aroma and flavor derived from pre-ground peppercorns and cinnamon fall a bit pale compared to the other versions. That being said, we understand that manual grinding is a labor-intensive task requiring a ton of time and effort.
That's where spice grinders come in to make this task more efficient and effortless. Then again, choosing the best model from the wide range of excellent options available on the market is not simple. 
This is why we've come forward with this guide on the best spice grinders of the year. Here, we'll be reviewing seven top-notch options for you to consider. Furthermore, we've included a buyer's guide section to aid your decision-making. 
So, without further ado, let's dive right in, shall we?
Top Spice Grinders
IMAGE
PRODUCT
DETAILS

Our Top Pick

Our Top Pick

Hamilton Beach 80335R

Power Wattage: 125 watts
Capacity: 4.5 ounces (up to 9 tablespoons of beans)
Number of grinding settings: 1

VIEW LATEST PRICE →

Mueller Austria MEC-1105

Three grinding settings (fine, medium, and coarse)
8 to 12-cup large capacity jar
HD motor

VIEW LATEST PRICE →

KRUPS GX332850

Servings: 3 ounces or 12 cups
Manually-controlled grind size settings
Stainless steel blade

VIEW LATEST PRICE →

SHARDOR CG-618-UL

Two removable (2 and 4-blade) bowls
200-Watt motor
Capacity: 70 grams

VIEW LATEST PRICE →

KitchenAid BCG211OB

Capacity of bowl: 4 ounces
160-watt motor
Markings of 4, 8, 10, and 12 on the bowl

VIEW LATEST PRICE →

HadinEEon CG-9430A

Capacity: 100g per 3.53 ounces
Power consumption: 300 watts
Three adjustable modes (mode 1, mode 2, mode P)

VIEW LATEST PRICE →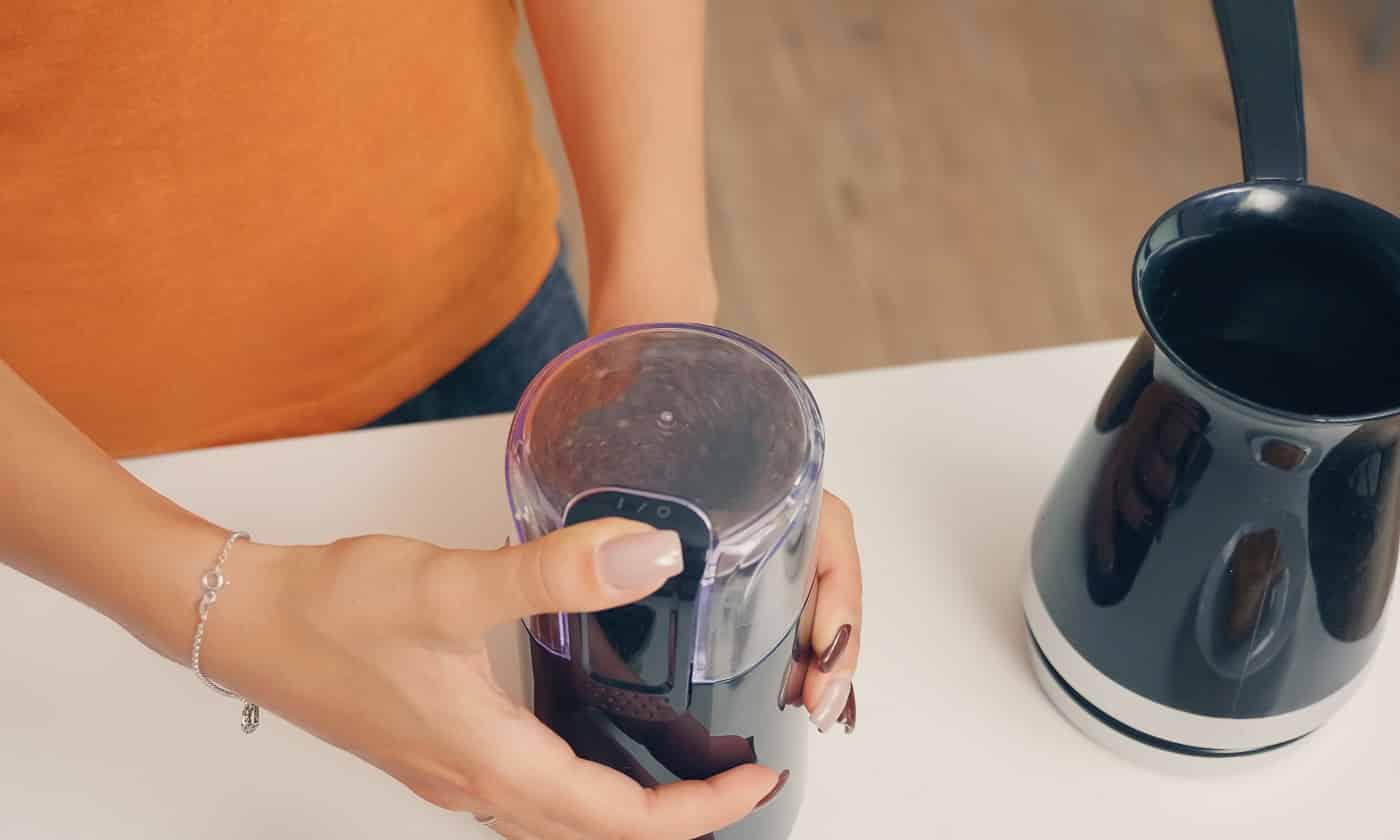 Hamilton is a 100-year old reputable brand known for its products; thoughtfully designed to make your life simpler. Making use of in-depth research, it has managed to come forward with this spice and coffee grinder, the quietest among its competition. The powerful model will grind coffee, spice, and more in no time without causing any disturbance.
Why Did We Like It?
Available in black and silver color variants, the Hamilton 80335R can grind up to 9 tablespoons of coffee beans and 4.5 ounces of spices. It features durable stainless steel blades that will help ease and quicken the process so that you needn't spend too much time and effort grinding the ingredients manually.
Coming to the best part, it comes with a removable chamber for easy cleaning and filling. All you have to do is remove it once you're done with grinding and then wash it with some soap and water. You can then put it back and fill it with spices or beans.
We also liked the fact that this grinder comes with a hidden cord storage compartment at the bottom. It stores the cord neatly, keeping it out of sight when not in use, so you need not worry about messy counters.
What Could've Been Better?
We don't have any complaints about the efficiency and performance of this unit. However, we found the cord to be a bit too short, making its placement quite difficult. You'll have to keep it close to a power socket; otherwise, it will have to be moved from one place to another whenever required.
Pros
Removable grinding chamber

Hidden cord storage

Durable steel blades

Quiet operation

Easy to use
Next, we bring you a powerful and efficient coffee and spice grinder from Mueller Austria, a well-known brand that's set out to design the highest quality kitchen products in the world. Tested through three professional-grade inspections, rest assured, it will outperform and outlast the competition.
Sale
Why Did We Like It?
If you ask us, the Mueller Austria MEC-1105 is one of the most versatile options on the list. It can be used to grind different spices, coffee beans, herbs, nuts, and grains. That's not all; you get to control the texture and consistency of the ingredients by adjusting the grinding settings.
When it comes to coffee, it helps you make the perfect brew by grinding the coffee beans based on your preference and requirements. The long-lasting, stainless steel blades will easily grind the ingredients, be it coarsely or finely, within no time with a minimum grinding noise. 
What's more, it features a compact and stylish design. You can choose any of its variants, be it black, grey, red, or white, and leave it out on the kitchen counter to blend with your modern home décor. It will take up minimal space and you may even store it in cupboards and drawers if needed.
What Could've Been Better?
After using this spice grinder for quite some time now, we think it's safe to say that there's nothing that can be considered as a significant drawback. However, unlike our previous recommendation, we found this unit a bit difficult to clean as the spices and coffee beans might get inside the motor. 
Pros
100% money-back guarantee

Compact and stylish design

Highly efficient and powerful

Professional-grade quality

Safe to use
KRUPS has been around since 1846, and today, it's a leading name in the coffee and food preparation industry. With experience of more than 150 years, it has managed to set a high standard of quality. And the GX332850 Silent Vortex Electric Grinder is a true example of this!
Why Did We Like It?
The KRUPS 3-in-1 electric grinder is a silent yet powerful option capable of grinding all kinds of spices, coffee beans, and herbs, including whole peppercorns. Here we have to highlight the brand's innovative patent-pending Vortex Spin technology. It helps pull the ingredients into the durable, stainless steel blades for efficient grinding with minimum noise.
In fact, this model is five times quieter than other spice grinders of the same company to perfectly fit into your daily morning routine. Apart from that, you'll be pleased to know that it comes with a removable stainless steel grinding bowl. 
The large-capacity bowl also comes with a dedicated storage lid that seals it perfectly to store the freshly-ground spices and coffee. What's more, it's designed keeping your convenience in mind, so rest assured, it's both easy to use and clean.
What Could've Been Better?
We have discussed the dedicated storage lid of this grinder briefly in the previous section. No doubt the lid makes it easy to ground coffee, herbs, and spices; we have to mention that once sealed, it's a bit difficult to open. We ended up spilling quite a lot of ground peppercorn while opening it.
Pros
One-touch operation

Dishwasher-safe

Efficient and continuous grinding

5x quieter than most spice grinders

It comes with a dedicated storage lid
Cons
The lid is difficult to remove once sealed
The Sboly CG-9140 is an efficient coffee grinder, displaying versatility with its ability to grind all types of spices, be it peppercorns, cloves, or even dry herbs. Its powerful motor and stainless steel blades make it an effective and reliable option that can take care of all your kitchen needs. 
Why Did We Like It?
The practical and compact design of this coffee/spice grinder is what caught our attention from the get-go. It can fit into confined and snug spaces and can be easily carried from one place to another as and when required. 
Further amplifying its design is the convenient storage compartment at the base of the grinder. It stores its 26-inch cord neatly when not in use. 
But despite being a compact model, the Sboly CG-9140 doesn't compromise on power or performance. The motor and stainless steel blades can grind the toughest spices while allowing you to customize the grind (coarse and fine) based on the duration you hold the grinding button.
The brand has also prioritized safety and convenience while designing this product. It comes with a transparent lid that will allow you to see how the grinding process is going. And if it's not locked in the proper position, you can rest assured that the grinder will not activate.
What Could've Been Better?
Coming to the drawbacks of this unit, we have to mention that it's a bit noisy compared to the other options on the list. But that's not something to bother much about. It gets the grinding done in no time while maintaining the desired consistency and texture.
Pros
Comes with a cord storage option

Lid-lock safety activation

Transparent lid for easy monitoring

Includes a brush for easy cleaning

Compact design
We're already past the halfway point of the list, so now it's time we reviewed the SHARDOR CG-618-UL – a coffee/spice grinder with two compartments to grind different ingredients. This is the feature that makes it stand out from the other grinders available on the market.
Sale
Why Did We Like It?
This multi-functional grinder from SHARDOR is an ideal option for both chopping and grinding. That's because it comes with a 2-blade grinding bowl that can grind coffee beans, nuts, and spices to the desired consistency, i. e., coarse or fine. The other bowl features four blades for chopping ingredients like garlic, ginger, vegetables, and chilies.
There's no need to think twice about the durability of your investment as the brand ensures that the blades are made using superior quality stainless steel. They are sharp enough to make grinding easy and quick. 
Even the bowls are designed, and locking mechanisms are designed in a way to ensure safety and ease of use. All you have to do is turn the bowl clockwise to lock it and counterclockwise to remove it. Furthermore, the seal ring will press its rim tightly to effectively prevent the ground coffee or spices from spilling.
What Could've Been Better?
We don't have any major complaints related to this multi-functional grinder. However, we weren't too happy with the consistency of the spices after grinding. To get an even texture, the duration of the grinding process had to be increased. This did take up more time, but we eventually got the desired consistency.
Pros
High-quality, powerful motor and blades

Includes a 2-in-1 spoon with a brush

Removable cups are dishwasher-safe

Multi-functional use

Safe locking mechanism with seal ring
The BCG211OB Electric Grinder is a part of KitchenAid's premium range of kitchen appliances – known for their powerful performance and classic design. From grinding 4 ounces of spices to beans for up to 12 cups of coffee, this unit can do it all with just the touch of a button.
Sale
Why Did We Like It?
Expect nothing but powerful performance and consistency while using this grinder to grind your coffee beans and spices. Simply place the ingredients in the 4-ounce stainless steel bowl; you can use the markings provided to know the amount needed. 
Another useful aspect of this bowl is that it lifts out, making it easier to transfer the ground coffee, spices, or herbs to a different jar or container. What's more, is that the unit comes with a clear top cover that allows you to keep track of how the grinding process is commencing.
You'll also be able to see the texture of the grinds to make adjustments to the grinding time accordingly. This will help you achieve the desired grinding results with ease. Here's when we have to mention its one-touch operation, which adds to the overall convenience. A simple push down will start the motor, and releasing the hold will stop it.
What Could've Been Better?
Like most appliances out there, this one, too, isn't without faults. One, it's a bit too noisy during operation, thereby disturbing the surroundings. And two, the brand needs to work on the locking mechanism of the lid. It doesn't fit tight enough, causing the grinds to spill. 
Pros
Large capacity

Easy to use (one-touch operation)

Clear cover for easy monitoring

Removable, lift-up bowl

Durable
Cons
Noisy operation

Faulty locking mechanism
We couldn't have concluded this list without including the electric coffee and spice grinder from HadinEEon, a family-centered brand determined to make cooking manageable and easy. Featuring three adjustable modes, it allows you to customize the grinding process while making it more convenient.
No products found.
Why Did We Like It?
The combination of the four steel blades and 300W motor is what makes this coffee and spice grinder a top choice among users. It saves you from the hassle of troublesome manual grinding while ensuring consistent results. And the best part is that it features three adjustable modes to free your hand and make grinding seeds, coffee beans, spices, and herbs even.
You can select the slow speed "1" for spices, seeds, and other smaller ingredients, while the fast speed "2" will help grind legumes, coffee beans, and other tough ingredients. And with the manual mode "P," you can control the grind size and make the ground finer.
What's more, the model comes with a removable chamber, making it easier to pour the spices and coffee into another container. It also aids in hassle-free cleaning; you can sweep out the excess ground ingredients using the included brush and then rinse the bowl with clean water. 
What Could've Been Better?
We found this grinder to be a bit on the heavier size. It's not compact like some of the other options on the list, and its bulky design makes it difficult to move around. Moreover, the lid, once secured, can be difficult to remove. We ended up spilling some of the ground spices in our endeavor to open it.
Pros
Removable chamber for convenience

Hands-free and hassle-free operation

Easy to clean

Powerful and consistent performance

Automatic grinder
Cons
The lid is difficult to remove

Bulky design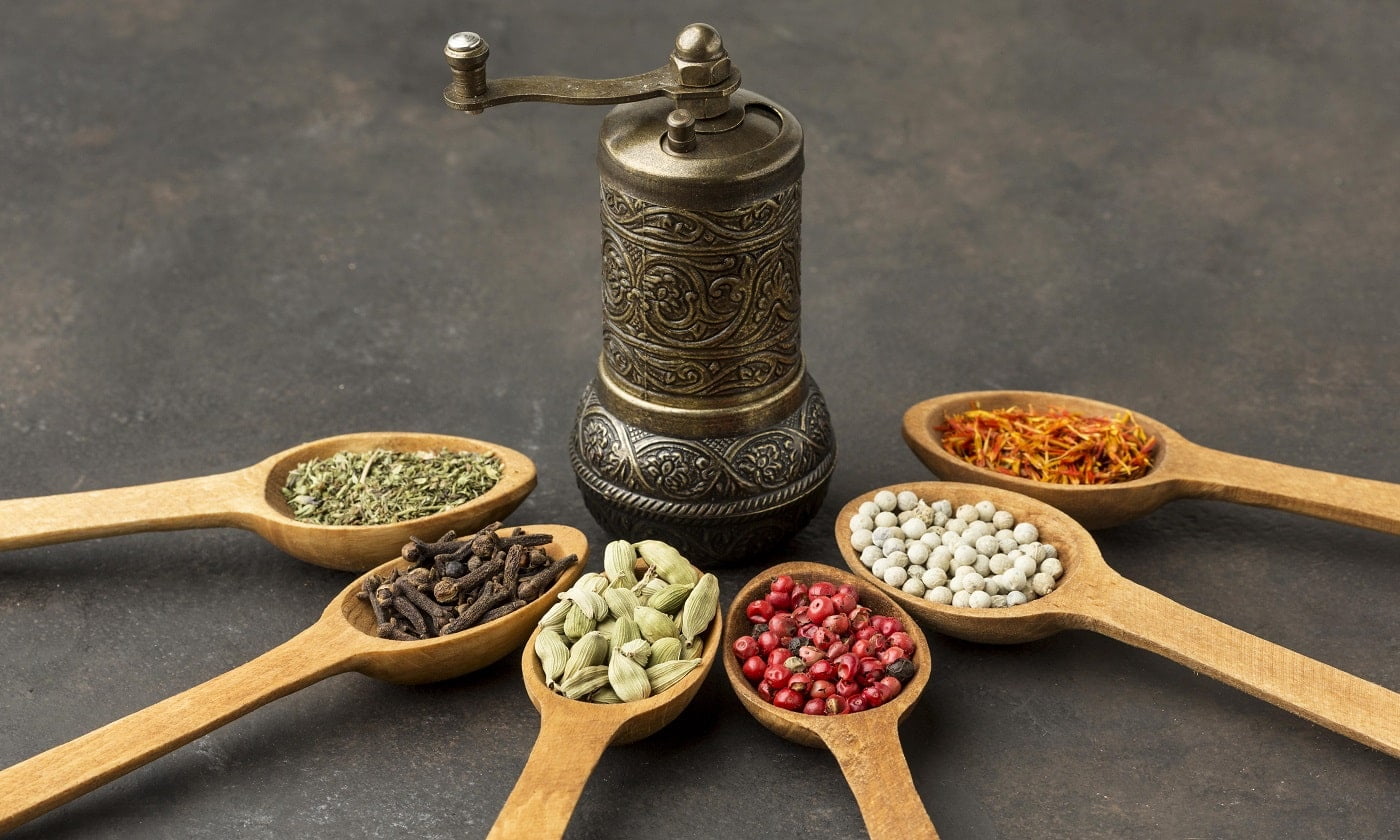 Spice Grinder Buyer's Guide
There you go; those were our top 7 recommendations when it comes to coffee or spice grinders. Now, it's time for you to make a choice, but that's not really simple, right? Even picking a unit from a handpicked list of options is quite challenging. 
Then again, there's no need to panic if you're in a dilemma of choosing between two or more options. We understand the situation you are in, and that's what prompted us to go a step further and curate this guide.
Here, we'll be highlighting the key factors that should be taken into consideration when purchasing a spice grinder. Keep reading to find the required insight!
Capacity
While choosing a grinder, make sure you check its capacity. After all, you wouldn't want a model only capable of grinding a very small amount of spice. The model you buy should come with a large bowl or jar to let you grind large quantities of different spices in advance.
Blade And Motor
The efficiency and power of any spice or coffee grinder depend on its blade and motor. So, make sure you opt for a unit featuring stainless steel blades that will last you a long time. Blade made of premium-quality steel also ensures that you get a more delicate and finer grind.
Apart from that, check the wattage of the motor before making a purchase. It should be powerful yet energy-efficient to make grinding quick and easy without burning a hole in your pocket.
You'll also need to ensure that it doesn't heat up too much, as overheating might be detrimental to the lifespan of the grinder. Most models come with overheat protection, ensuring longevity.
Removable Chamber
Keep in mind that spice or coffee grinders with fixed bowls are quite difficult to clean even if they are dishwasher-safe. That's why it's better to choose a unit with a removable bowl or jar. This not only makes the grinder easy to clean but also makes transferring the powdered spices or coffee beans to a different container easier.
Speed
A grinder that takes its own sweet time to grind ingredients can be quite frustrating. It also makes it harder to achieve consistent and precise grinding. That said, opt for a unit that comes with adjustable speed settings to help you achieve the desired coarseness in the least amount of time.
Size And Design
It's better to consider buying a grinder that's compact in size and features a practical design. This will allow you to place it on the kitchen countertop or in the cabinet without taking up too much space. 
Here we'd also suggest considering a model featuring a cord storage compartment at the base. These compartments will help store the cord neatly so that your kitchen counter looks tidy and mess-free.
Lid
The locking mechanism of any grinder is one of the primary factors that should be considered. Also, check its lid; it should be transparent, allowing you to monitor the grinding process with ease. 
Most brands design their lids with a sealable gasket to close the grinder tightly, thereby preventing the powdered spices from spilling.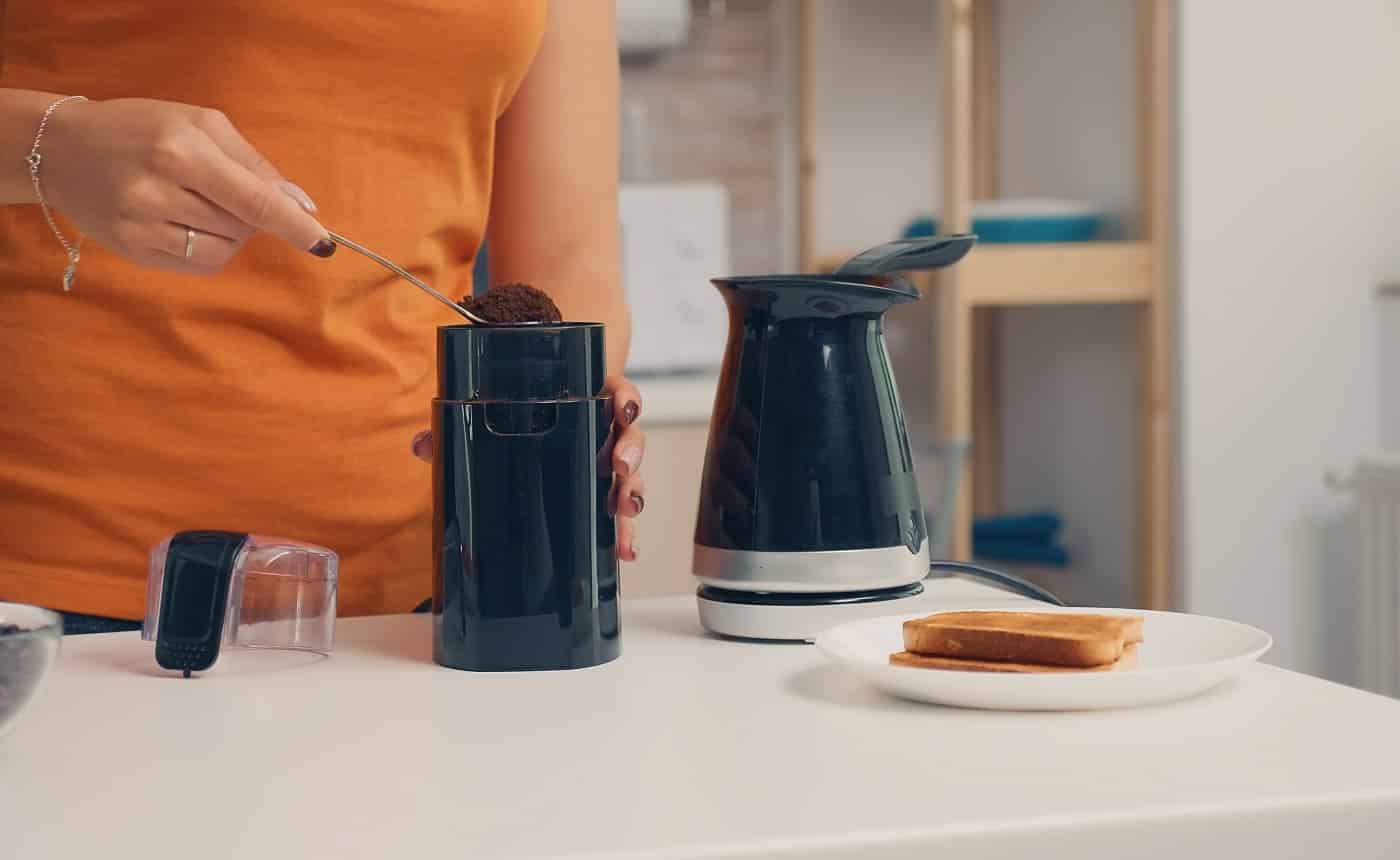 Verdict
With technology paving the way for a smarter and more convenient lifestyle, products like spice grinders are emerging as essentials in every kitchen. So, why not make use of this gift of innovation to make cooking a simpler and less strenuous task?
On that note, it's now time for us to bid you farewell. But before taking your leave, we'd like to take you through a quick recapitulation of our favorites.
Hamilton 80335R is one of our top-most recommendations as it doesn't fail to meet expectations in every aspect, be it efficiency, performance, or durability. On the other hand, the Mueller Austria MEC-1105 is a versatile option that gives you complete control over consistency and texture.
You could also consider buying the KRUPS GX332850, especially for its quiet, one-touch operation. 
That's all for now; we'll be back soon with more useful review-based guides. Till then, feel free to reach out to us by leaving a comment down below.
Related Articles
13 Safest Electric Kettles without Plastic 
11 Best Under Cabinet Range Hood 
Vitamix 5200 vs Vitamix 5300 [All You Need to Know]
4 Best Ways To Reheat Chicken Wings [Oven, Refrying, Sauté, Microwave]
13 Best Electric Kettles Right Now | Buyer's Guide
10 Best Food Scales Buyer's Guide and Reviews
15 Best Electric Smokers – Guide & Budget Picks
13 Best Kitchen Shears Right Now Reviewed
13 Best Mini Freezers for a Chilly Year
10 Best Hot Dog Rollers | Buyer's Guide and Reviews
13 Best Cappuccino Makers to Enjoy Today | Buyer's Guide
11 Best Range Hoods to Consider
11 Best Bar Stools Today | Buyer's Guide and Reviews 
13 Best Wine Coolers Right Now
7 Best Hand Crank Ice Cream Maker