There is a saying that the pen is mightier than the sword.
You may wonder what this has to do with soldering. Well, you see, a soldering iron is much like a pen. Only you use it for construction purposes.
An author puts into words what he conceives with the help of a pen, and a DIY-er uses his soldering pen to bring his project to life. As a result, instead of using a massive tool, you can rely on a small piece of equipment that is equally adept at getting the job done.
But the question that may be troubling you is how do you choose from the variety of models on offer. How do you decide which is the best device for you?
To ease your worries, our comprehensive list of the 13 Best Soldering Iron of 2022 will provide you with all the information that you need.
Best Soldering Iron of 2022
IMAGE
PRODUCT
DETAILS

Our Top Pick

Our Top Pick

X-Tronic FBA 3020-XTS

LED tube display
Magic Temperature Compensation Technology
10-minute sleep function

VIEW LATEST PRICE →

Weller WE1010NA Digital

Intuitive navigation
Standby Mode
Auto setback function

VIEW LATEST PRICE →

Vastar VRK10-AXL-1 Kit

Adjustable knob
Power of 60 watts
Chip fixed resistor

VIEW LATEST PRICE →

Weller WLC100 Station

Iron plated copper tip
Replaceable heating element
Cleaning sponge

VIEW LATEST PRICE →

Tabiger Soldering Iron Kit

Adjustable soldering iron
Desoldering pump
Cleaning sponge

VIEW LATEST PRICE →

Weller WES51 Analog

Nichrome-bound stainless-steel heating element
Wireless temperature lockout
Cleaning station

VIEW LATEST PRICE →

Aoyue AO469 Station

Variable power system 
Removable tip design 
Ceramic heating element 

VIEW LATEST PRICE →

Hakko FX88D Bundle Soldering Station

Adjustable temperature control 
Digital display 
CHP170 cutter

VIEW LATEST PRICE →

Aoyue 9378 Pro Series

Digital thermostat control 
LED display 
Programmable sleep function 

VIEW LATEST PRICE →

UY CHAN TS100 Digital

USB port 
Dual temperature sensors 
Sleep mode 

VIEW LATEST PRICE →

ANBES Soldering Iron Kit

5 multiple tip replacements 
Metal construction 
Soldering iron stand 

VIEW LATEST PRICE →

Sywon 60W ESD Soldering Iron Kit

Adjustable temperature 
On-off switch 
Anti-abrasive silicon cord 

VIEW LATEST PRICE →

X-Tronic XTR-4040-XTS Soldering Iron Station Bundle

4 air nozzles
Magnifying lamp
Celsius/Fahrenheit switch

VIEW LATEST PRICE →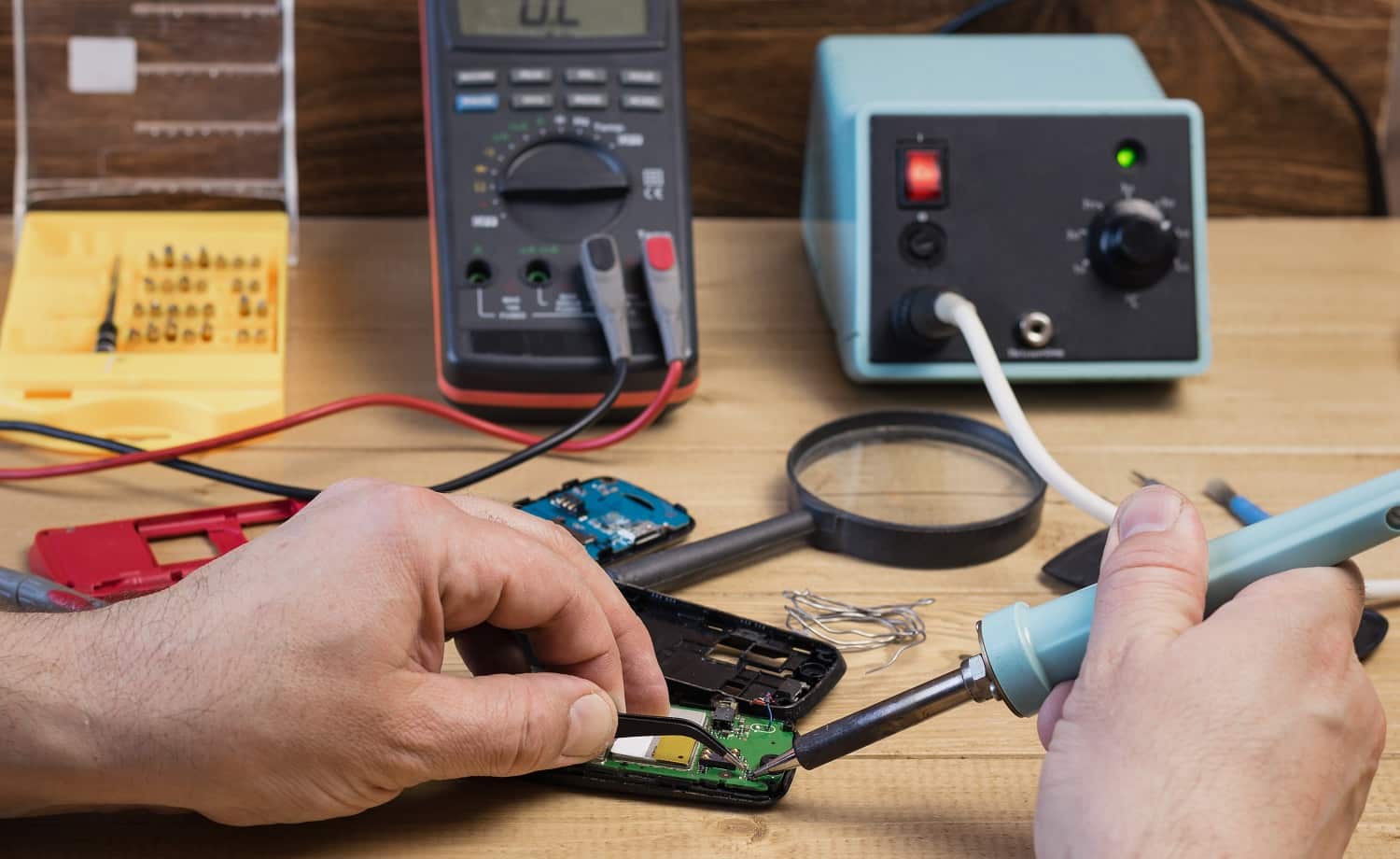 This product is suited for anyone on the lookout for a quality model. The X-Tronic FBA 3020-XTS can handle a variety of tasks with ease that has made it one of the most popular tools in the market. An elegant look well complemented by excellent features has driven its popularity.
Why Did We Like It?
This soldering iron sports a sleek design with sturdy features to make it one of the tops buys in the market. It comes with a bright blue LED display that allows you to switch between Centigrade and Fahrenheit readings as per your requirements. To make this transition easier, all you need to do is flip a switch.
Also, it comes equipped with Magic Temperature Compensation Technology that provides a better heating performance. Furthermore, it has a 10-minute sleep function that is necessary for preventing accidents. Thus, on top of being efficient, it is safe as well.
Its efficiency is also seen in its ability to heat up quickly, thereby making it suitable for a multitude of tasks. Handling the tasks becomes easier too, as it is a 75-watt soldering station with 60 watts of power allocated to the soldering iron. This power is seen in its temperature range which lies between 392 to 896 degrees Fahrenheit.
What Could've Been Better?
It has durability issues that will have an impact on the performance in the long run. Most customers prefer their product to be long-lasting and capable of handling different situations. Along with this, the rack is not appropriately positioned, which could be an inconvenience.
Pros
Can withstand high temperatures

Safe

Ergonomic design

Self-Test Function

Magic Temperature Compensation Technology
Cons
Durability in the long run could be a problem

Soldering iron rack is not suitably positioned
This is one of the top brands when it comes to soldering irons, so naturally, the expectations from this product are high. To satisfy buyers, the Weller WE1010NA Digital offers the perfect blend of power and performance. Armed with technological improvements, it is sure to score big with most people.
Sale
Why Did We Like It?
For a brand to stay relevant, it must keep offering better functions to enhance performance. Similarly, this tool is equipped with 40% more power than some of the other popular models from Weller.
What this does is not only allow it to heat up faster but also recover quicker. This, in turn, ensures that it provides an optimal performance along with precision.
Some of the other features include intuitive navigation and a Standby Mode to improve the user-friendliness. Thus, working with it becomes so much easier, and your stress in the workstation is reduced considerably.
It also has an auto setback mode for energy conservation, but perhaps the most significant addition is the password protection. This makes sure that you can set a password that will grant access to the settings.
This makes it a piece of highly safe equipment, and the ergonomic design provides comfort for long working hours.
What Could've Been Better?
One of the troubles of using this model is the on-off switch. This is an integral part of any tool, so the designers should have paid more attention to it. There is also no mainline fuse, so you need to be extra careful.
Pros
Password protected

LCD screen

High-temperature range

Runs on 70 watts of power

Pushbuttons
Cons
No mainline fuse

The on-off switch is an issue
From time to time, some models decide to break the norms and challenge the top brands. Taking this challenge head-on is the Vastar VRK10-AXL-1 Kit that offers most things you are likely to find in any of the popular products. This model takes into account the users' convenience, and how they can benefit from it.
Sale
Why Did We Like It?
If you are looking for an affordable option that fulfills all your needs, then this is the model for you. It is a portable device that comes with a steel pipe design, which works excellently to dissipate the heat to prevent overheating. Complementing this is the adjustable knob that allows you to fine-tune the temperature.
This comes in handy when taking on different kinds of tasks, because you can have the desired temperature to get the perfect finish. Another significant upgrade is the ability to plug the tool in any wall outlet that makes it suitable for all kinds of users – both professionals and first-timers.
Apart from these, it is a compact model that not only heats up fast but also provides a high-temperature range between 392 to 842 degrees Fahrenheit. The temperature range is possible due to the 60 watts of power flowing through it.
What Could've Been Better?
Despite the wall plug-in feature, it is difficult at times to keep it plugged-in as the cord is not long enough. This is something fundamental that could have been avoided. Secondly, there is no light indicator, so you must be careful that you do not accidentally leave the device switched on.
Pros
Affordable

Desoldering pump

Good temperature range

Fast

Steel pipe design
Cons
No light indicator during work

Difficult to keep plugged-in
This brand features again on our list and with another exceptional product. The Weller WLC100 Station is a highly effective model that makes it one of the top buys in the market. From professionals to first-timers, everyone can use it to the full potential, which has made this model quite a hit.
Sale
Why Did We Like It?
This is a highly durable option for most users that makes it one of the most desired tools going around. It is lightweight and comes in a pencil iron design with a cushioned grip.
This has several benefits ranging from user-friendliness to added comfort during prolonged working hours. Added to this, is a replaceable heating element and a plated copper tip. Thus, it can be your best buddy in the workplace for many years to come without any fear of breaking down.
Most fundamentally, it comes with a built-in iron stand and a cleaning pad to ensure your work area remains clean even after rigorous use. Finally, it is capable of producing a maximum temperature of 900 degrees, and this temperature is generated by 40 watts of power. Significantly, the power is adjustable from 5 to 40 watts by merely turning a knob.
What Could've Been Better?
Certain aspects could have been better with this product. For one, the makers could have included a temperature display, which would have made working easier. The second thing is that the device takes a while to heat up, which could be a cause for concern for some people.
Pros
Durable

Lightweight

Cushioned foam grip

Affordable

Variable power control
Cons
Takes a while to heat up

No temperature display
This brand has ensured that their model can cater to a large section of buyers. It does not matter even if you seldom use your soldering iron; you are sure to find the Tabiger Soldering Iron Kit to your liking. It comes with a range of functions as well that has attracted a lot of attention.
Why Did We Like It?
There are many things to like about this model, but what catches your eye are the components that come with it. This makes it easy to use for all types of people and not just the ones used to a soldering iron.
It comes with solder wire and 5 soldering heads to aid the adjustable iron to make your job easier. This also means that the durability of the product is enhanced so that it has a long life span. Like the Vastar VRK10-AXL-1 Kit, this tool also has a steel pipe design.
As a result, the heat dissipates faster to prevent overheating while making sure it heats up faster as well. This also provides an optimal performance so that you can get the desired finish in your work.
Along with these, it has a good temperature range of 392 to 842 degrees Fahrenheit, which makes it capable of handling most of your demands.
What Could've Been Better?
There are a few downsides to this model, such as temperature control. We found that at times the arrow used for the function failed to give an accurate reading. This could hamper certain types of tasks. In addition to this, the quality of the solder is not good.
Pros
High-temperature range

Easy to use

Power of 60 watts

Portable storage toolbox

Fast
Cons
Solder quality is not good

Problem with the arrow for temperature control
This brand is making it a habit of popping up on our list, but truth be told, we cannot help it. The latest addition, the Weller WES51 Analog, comes with some new functions that make it a valuable acquisition. You are sure to find this model an answer to your problems in the work station.
Why Did We Like It?
Straight away, the first thing you notice about this device is the two stations it has. One is the control station, while the other is a dedicated cleaning station. These two stations work together to make this an excellent tool for your workbench.
Now, the soldering pencil sports a slim design that has a durable Nichrome-bound stainless-steel heating element. The element ensures that you get quick response time while also improving longevity.
Furthermore, it features a wireless temperature lockout system. This system makes it safe to work by preventing the temperature by rising above the specified level. It also has a unique feature whereby it shuts down after 90 minutes of inactivity.
This allows you to conserve power even if you accidentally leave it on. Besides, it is armed with an adjustable temperature dial so that you can increase the temperature at 10-degree intervals.
What Could've Been Better?
However, there is the stuff that could have been looked into, such as the price. This tool costs slightly more than other devices on the market and that could keep away a section of buyers. Also, the cleaning sponge included with it does not do a good enough job.
Pros
Durable

Safe

Power saver

High-temperature range

Adjustable temperature dial
Cons
Slightly pricey

The sponge could have been better
The letters AO may mean the Australian Open for sports fans, but this tool does not have any place on a tennis court. Instead, taking from the Australian Open, the Aoyue AO469 Station has focused on offering technological improvements. It is suited to a wide range of jobs that will make you take notice.
Sale
Why Did We Like It?
The designers have made several upgrades to this tool to make it stand out from the rest. It is equipped with a unique removable tip design that makes it a highly durable product capable of handling various tasks with ease. 
Further adding to the durability is the ceramic heating element and the fact that it comes with 50 different tip sizes. Thus, it is versatile as well and is suited even for construction purposes. 
Besides, the ceramic heating element heats up fast to offer a temperature range of 392 to 897 degrees Fahrenheit. Also, the model has been ideally designed to make sure it retains the heat so that you get optimal performance. 
Finally, it generates 60 watts of power and has a variable power control. Thus, you can choose the amount of power you need for any particular task to get the desired result. 
What Could've Been Better?
The tip quality of this tool could have been much better. As a result, there is a chance that you may not get the desired finish you wanted in your job. Added to this is the fact that despite all the improvements, there is no LED indicator. 
Pros
60 watts of power

Fast

Durable iron pencil

Digital temperature display

Accurate
Cons
No LED indicator

Tip quality is poor
The Hakko FX88D Bundle Soldering Station is an upgrade of an earlier model from the same brand. So, it is no surprise that this device comes with some exciting features. The primary improvement is the fact that some of these features are not seen in any of the other products. 
Why Did We Like It?
To make any device worthwhile, the designers can choose several options. In this case, they have decided to add functions that are seldom seen in any other brand. For starters, it has a CHP170 cutter that is capable of getting through various materials. 
Moving on, it has an excellent thermal recovery system that is compatible with T18 tips. This means that you can work at lower temperatures without having to worry about the thermal impact on your project. 
On top of that, it is compact as well, so it can fit on any workbench. This makes it user-friendly, and to further bolster the ease of use, it comes with only two operation buttons. 
Thus, regular users will have no trouble operating it. Finally, it offers one of the highest temperature outputs at 899 degrees Fahrenheit, thanks to the 70 watts of power. 
What Could've Been Better?
For all the good things about it, there are some issues when it comes to user-friendliness. It is not suited for beginners who may find it confusing. This could be a cause of concern for some people. Additionally, we found that the display conjured trouble from time to time.
Pros
Compact

Easy to use

Sturdy

Password protected

70 watts of power
Cons
The display may be an issue

Not suitable for first-timers
This is one of the top brands in the market, and the Aoyue 9378 Pro Series comes with some dazzling features to help maintain its position. The improvements made to this product make it highly desirable among buyers and the components included with it help to provide you with better work experience.
Why Did We Like It?
The second model from this brand has catapulted its way into the hearts of customers. This has been made possible due to features like the digital thermostat control with an easy to read LED display. 
This not only provides a better user experience but also ensures that you get an accurate reading. Along with this, it has a programmable sleep function that provides safety as well as an improved tip life. However, one of the significant upgrades is the inclusion of a vibration sensor. 
This sensor is situated in the handle, and it quickly picks up on any movement. Furthermore, it comes with 10 different tips, available in over 50 sizes that make it a versatile tool for a range of projects. Apart from these, it has a temperature range of 392 to 896 degrees Fahrenheit, which amounts to 60 watts of power. 
What Could've Been Better?
It may take time to heat up, but that is not the only issue. Over time the heating mechanism has been found wanting, which affects the durability of the model as well. Apart from this, it is not particularly flexible, thereby impacting the maneuverability.  
Pros
Vibration sensor

Safe

Increased tip life

Versatile

Accurate
Cons
Heating may be a problem

Low maneuverability
This tool appears to be something right out of a bond film. From its look to the functions available, the UY CHAN TS100 Digital is a brilliant portable option for anyone looking for a modern device. While it may not be the exploding pen from the Q-branch, it does have attributes that make it seem like a gadget from the future. 
Why Did We Like It?
This model is suited for both indoor as well as outdoor work. Thanks to the OLED display, you can get better results in a shorter time. Additionally, it is battery operated, which means that you can take it anywhere for your job. 
Besides, it features a USB port so that you can connect it to your computer. This will allow you to reprogram the temperature rising curves as well as to set custom functions. Thus, it is a highly user-friendly tool that will enable you to use the functions with ease. 
Also, keeping the safety aspect in mind, the designers have added dual temperature sensors and a sleep mode. Supporting this further is an automatic overheating warning, and all these features make sure that the temperature is within permissible limits. 
Finally, to cater to household tasks, it comes with a 19-volt adapter to which you can plug it in and get to work. 
What Could've Been Better?
Of the disadvantages of using it, the most significant perhaps is the fact that it takes a little longer to heat up as compared to other brands. Also, it does not fit the regular iron holder thereby leaving the tip exposed, so you need to be careful. 
Pros
Automatic overheating warning

19-volt adapter cable

65 watts of power

Portable

Lightweight
Cons
Takes slightly longer to heat up

Does not fit regular iron holder
If you are on the lookout for a product that is homely and can attend to tasks predominantly around the house, then this is the tool for you. The ANBES Soldering Iron Kit is nothing fancy, but what it does do well is keep things simple yet effective. This will give you great work experience. 
Sale
Why Did We Like It?
This is a highly reliable tool that has a secure base to provide stability during work. It also has the benefit of making sure that you do not accidentally burn or damage your project. 
Thereby, it is a safe tool, which is an essential quality to have. Coming to the details, it features 5 replaceable tips so that you can continue working even under the harshest conditions. 
Furthermore, the screw thread is heat and impact resistant, so the iron head lasts longer. Added to this is the adjustable temperature setting that allows you to keep the temperature between 200 to 450 degrees centigrade.
On top of this, it has a rugged metal construction while the desoldering pump has an aluminum body frame. But even then you can use it quite well even with one-hand. Therefore, it is ideal for removing solder from PCB through the hole solder joints. 
What Could've Been Better?
Again, an issue with this model is that it does not fit the metal stand. This means that the tip remains outside the stand, and you must stay careful to avoid accidents. Another problem is that the designers have not included any tub of flux. 
Pros
Affordable

Robust

Desoldering pump

Portable

Sponge included
Cons
No tub of flux

The tip does not fit the metal stand
Unlike some other tools, you get what you are promised with this product. The Sywon 60W ESD Soldering Iron Kit is a reliable option that has many new functions to make your life in the workstation easier. This has helped it to scale up the rating ladder in the market. 
Why Did We Like It?
This professional model is equipped with an ESD safe and adjustable temperature feature. This is a hand-held function that means you can start soldering anytime or anywhere with a temperature range of 392 to 896 degrees Fahrenheit. 
It also helps to take care of the safety side of things even while you are busy working in severe conditions. The inclusion of the on-off switch further bolsters the safety so that you do not have to unplug the device to turn it off. 
Besides, it has an optional sleep function that helps to conserve energy. It is a versatile product and can tend to home repairs, DIY wire soldering, electronic welding, circuit boards, and electrostatic-sensitive components. 
Therefore, your soldering work is accessible to desktops, vehicles, junction boxes, and LED lamps. Apart from this, the silicon cord that has been included is anti-abrasive to provide longevity that most buyers desire. 
What Could've Been Better?
A significant problem with this device is temperature control. This could prove to be an inconvenience in the long run as the temperature has a substantial impact on the quality of work. Also, the cradle is made of plastic, and you must be careful that the tip does not burn it. 
Pros
Affordable

Silicon cord

Electrostatic sensitive components

Cleaning sponge

Optional sleep function
Cons
Problem with the temperature control

Cradle is made of plastic
We started with the X-Tronic and are ending our list with it as well. So, completing the circle is the X-Tronic XTR-4040-XTS Soldering Iron Station Bundle that offers you a quality experience. It is built to tackle the demands of the workstation and has several new features that will attract your attention.
Why Did We Like It?
This may look like a highly complicated device, but be assured that it is not. It has a brushed aluminum front, and a blue LED tube display that is well complemented by a Celsius-Fahrenheit switch.
This switch allows you to efficiently get the readings on any scale you want. Staying on the topic of temperature, it has a Magic Temperature Compensation Technology. As a result, every 20 milliseconds, you can detect the actual temperature of the soldering iron.
Thus, you can adjust the temperature to keep it at a constant level. Furthermore, it is equipped with a self-test function that prevents short circuits and overloads. Also, it has an ergonomic design that makes long working hours possible as well as comfortable.
To power all these functions, the tool has 60 watts of power and a silicon cord. So, you get a temperature range of 212 to 896 degrees Fahrenheit, which is one of the highest going around.
What Could've Been Better?
One of the problems of this product is its large size. This could lead to some users facing difficulty while working as the maneuverability takes a hit. Along with this, the quality of the magnifying glass is poor and hardly does anything to have any effect on the task.
Pros
Brushed aluminum front

Magic temperature compensation technology

Ergonomic design

60 watts of power

Self-test function
Cons
Large size

The magnifying lamp is an issue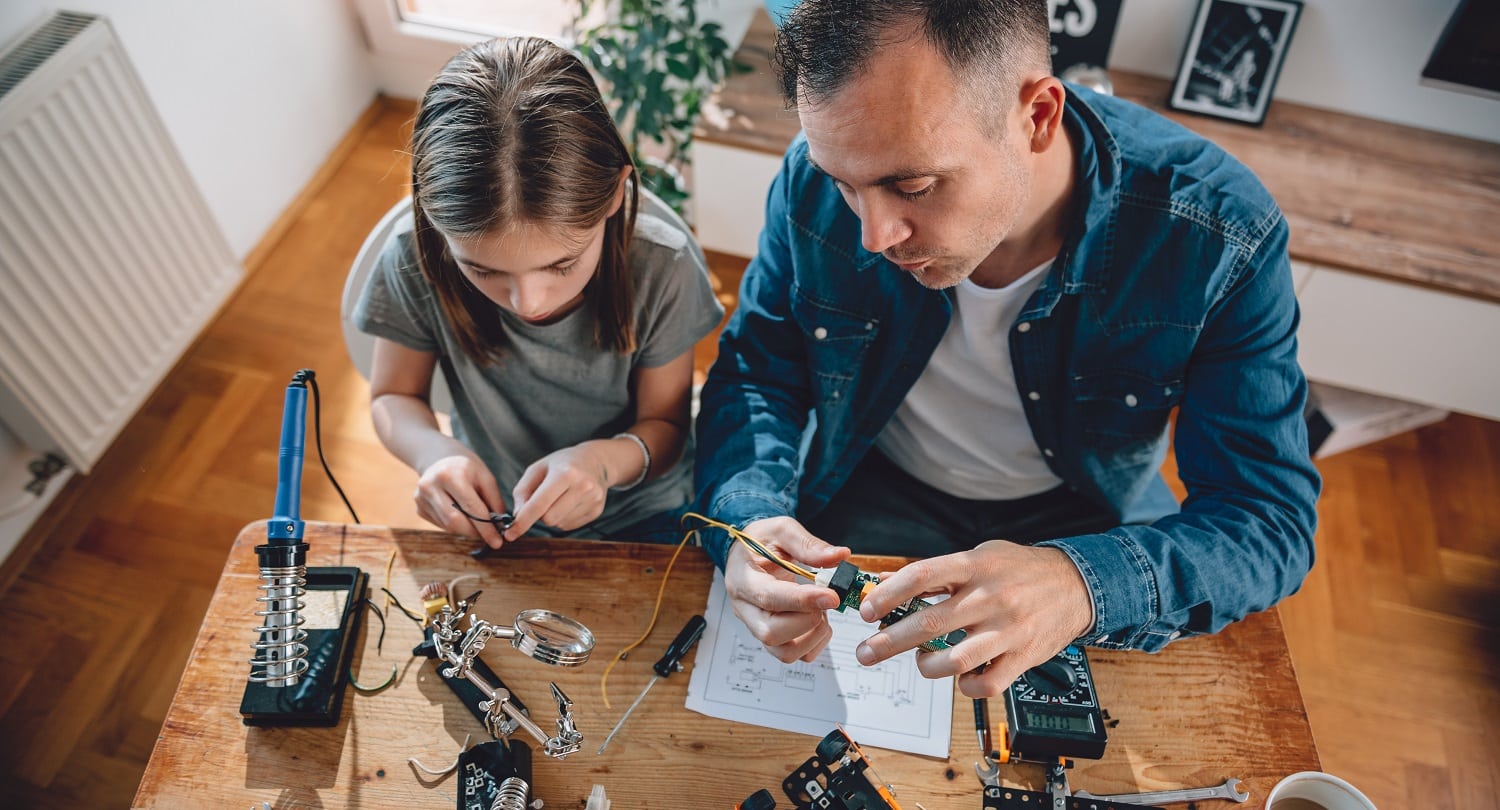 Soldering Iron Buyers' Guide
It is already challenging to get work done in these days of hustling and running. You are always trying to meet deadlines and get your projects completed on time.
To this, you do not need to add the burden of spending time choosing the soldering iron best suited to your demands. While our list has narrowed down the products, you still have the unenviable task of selecting the best from the best.
To help you further, you could look at the following points that help to distinguish the genuinely top-notch products from the other brands:
Power
Power is the oxygen that drives any tool. Without power, any soldering iron would not be able to stand up to the challenge of daily work. Power makes it consistent and ensures that what you have in your possession is a valuable product.
There is a range of features available on any model, and to make it all worthwhile, it must have adequate power. There must also be a function whereby you are able to control the amount of power you need for any given task. This will help you to use it for optimum performance.
Also, given the variety of jobs, having power is more of a necessity than a privilege.
Cutting Ability
Directly related to power is the cutting ability. On a day-to-day basis, you may have to cut through many robust materials to get the job done.
A soldering iron must be capable of taking on different materials with ease. Given the demands of the workplace, you probably will not be able to sit with your tool eating away slowly at a particular surface. In such cases, you need your product to be fast, accurate, and reliable.
It must make short work of any given situation so that you can carry on working uninterrupted.
Durability
Last but not least, it is not a significant demand to expect your product to be long-lasting. Everyone wants to invest in something from which they will reap the rewards for some time to come. And given that the job involved is soldering, your model has to be durable.
It must be able to withstand the pressure of cutting a variety of materials, in different situations, consistently. If any function or part stops working, then it could lead to a disruption in the work.
You do not need the headache of purchasing a new device now and then. So, it is essential to choose wisely and see if the model can fulfill your demands for the years to come.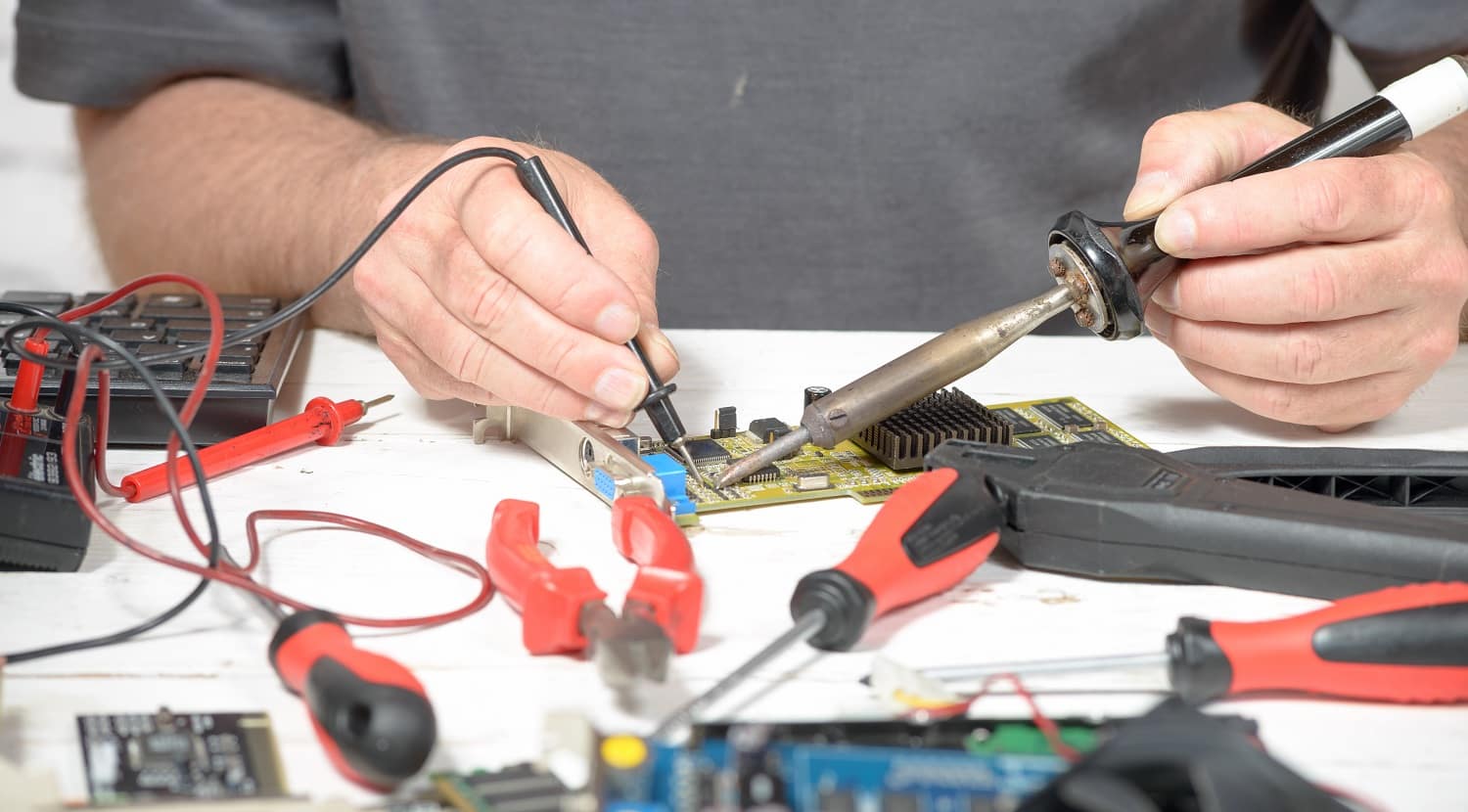 Verdict
Soldering may look easy, but it is one of those tasks that require a lot of patience.
Finesse is not something that one may associate with the construction, but it is the minute details that make a project better than the rest. A soldering iron is one such tool that can help you get the desired finish you have been craving for so long.
We went through a bunch of products and concluded that the UY CHAN TS100 Digital could be your ideal product. If you are a professional, you could like the Hakko FX88D Bundle Soldering Station, while the tools from Weller have managed to please an extensive section of the audience.
Having gone through our list, we hope that you have started forming an idea of the type of model that you want. We have managed to narrow down the best products, and all that remains is for you to go out and buy.
So, have fun working as well as shopping.
Related Articles
13 Best Multimeters For Electronics Technicians  
How to Test a Battery with a Multimeter?
9 Best Multimeter for Electronics Hobbyist and Beginners
The 5 Best Soldering Irons for Stained Glass Work 
The 5 Best Wood Burning Tools & Pyrography Pens