Disclaimer | This article may contain affiliate links, this means that at no cost to you, we may receive a small commission for qualifying purchases.
Do you hate bringing the flag down every night? If you want to keep it hoisted post sunset, solar-powered flagpole lights are the best option.
We understand the desire to keep the flag up 24/7 to commemorate your country's history and culture. However, the US Flag Code makes it mandatory to light up the flag if you decide to keep it hoisted at night.
Keeping the lights on means higher electricity bills. But with solar-powered flagpole lights, you can keep that flag up without the electricity bill creating a dent in your pocket?
That said, it is quite challenging to choose a good option among the thousands that are available in the market. To help you, we've designed this guide with detailed reviews of the top 13 options. There's also a buyer's guide to help you understand the product better before you buy one.
So, without further ado, let's dig right in.
Top Solar Powered Flagpole Light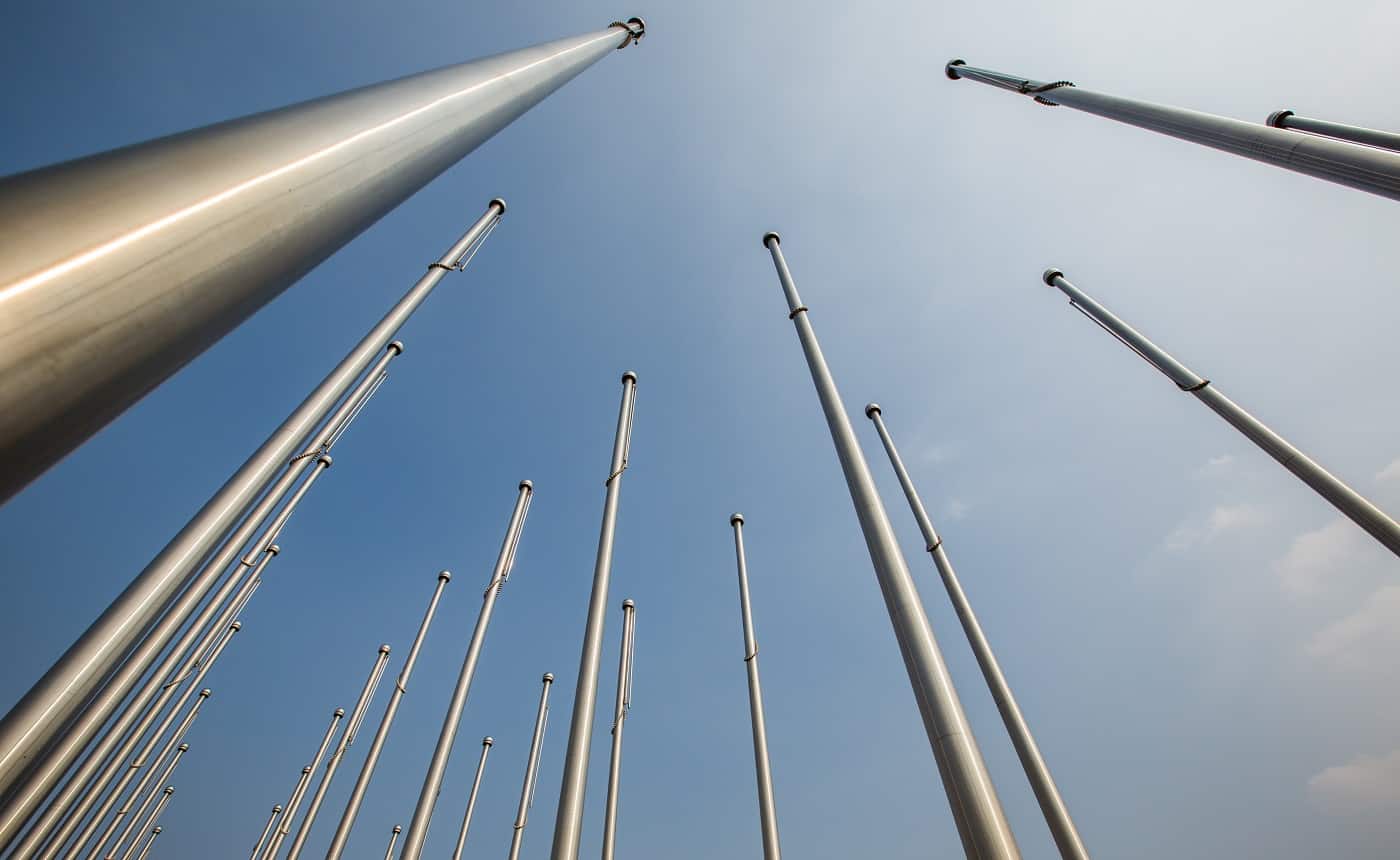 One of the oldest names in the market, Deneve offers this product that you can completely swear by. Thanks to its multiple solar cells, it efficiently stores light till the time you need to use it. And just when you need it, it will flood your yard with a bright stream of light.
Why Did We Like It?
The best thing about this product is that it provides 20% extra coverage compared to all other standard flag pole lights that are currently available in the market. You can easily recharge the extra-strength LEDs through solar power.
Moreover, the batteries that come with the pack are rechargeable AA batteries. So, you don't have to run to the supermarket every time those batteries are drained out. Most of the flag pole lights come with batteries that are not replaceable.
But with this item, you can easily unscrew the battery panel cover and put in the new rechargeable batteries. As you don't have to replace the entire unit, you save both time and money.
Additionally, you would not face any difficulty in installing the product. What makes it quite simple to install is the fact that you wouldn't require any extra tools for the process. It comes with a detailed set of instructions, and you wouldn't face any difficulty in installing it if you follow the steps carefully.
What Could've Been Better?
In spite of the fact that it is very easy to install and use the product, its packaging is not quite up to the mark. The boxes are a little flimsy and if not handled carefully by the delivery agent, the product might get damaged in transit.
Sunnytech 2nd Generation Solar Flag is one of the finest flagpole lights to keep your flag brightly lit up when it sways in the air at night. But what makes this product worth considering? Read on to know all the deets…
Why Did We Like It?
With this item, you don't have to worry about normal weather conditions. If it's a rainy day, you can sit back and relax.
This flagpole light comes with total rechargeable batteries and can run for more than 24 hours. Long story short, you get 50% extra life than the regular batteries available in the market.
Also, we couldn't help but marvel at the state-of-art design of this flagpole light. It accentuates your flag and adds to the beauty of it.
Moreover, it has an in-built cutting-edge sensor that is designed to detect the time when the sun goes down, and it automatically switches on.
Furthermore, this item gives you an extra 20% coverage than its competitors. It comes with a set of wider circumference of the LEDs. And we can assure you that, with this, your flag will shine the brightest against the night sky.
What Could've Been Better?
It might be a little difficult for first-timers to install this product. You will need to have a few tools handy, or you'll need some prior knowledge of working with flagpole lights. If you aren't confident about DIY-ing it, maybe call an electrician or a friend who has the expertise.
One of the most recognized names in the market, Vont Solar Flag Pole Light is a good option to consider if you're looking for flagpole lights. With this, you don't have to worry about taking your flag down every night and can display it proudly even after sunset.
Why Did We Like It?
One of the best things about this product is that it will take your worries of remembering to light up your flag every evening. We understand it can be quite a task.
Vont Solar flag lights come with a smart brightness detector that automatically switches on the light once it is dusk. And as soon as the sun comes out in the morning, it switches off. 6 solar panels are the energy hub of the batteries. They recharge the batteries during daytime and save enough energy to provide light throughout the night.
Moreover, it is quite easy to get it installed. You don't need much prior experience to get it started. All you have to do is to spin the ball shaft, insert the light, and put it back in. The central hole is pretty universal and can fit regular residential poles with a spindle size of up to 0.55 inches.
What Could've Been Better?
There's hardly any complaint that we have with how well this flagpole light functions. However, we have to say that if your flag is unusually big in size, this light is not sufficient to light the entire flag. You might need added lights for that.
Next up on our list, we have Sunnytech Solar Power Flag Pole. It is incredibly light and would not put any additional weight on your flag pole. It comes with a streamlined design featuring clean lines and is sure to become the talk of your neighborhood.
Why Did We Like It?
This flagpole light gives your flag the attention that it deserves. It is small and sturdy and thus pretty low-key. So, it doesn't take the attention away from the flag to itself when you mount the item. It pretty much remains out of sight and lights up the flag without causing much distraction.
Moreover, it comes with 20 super bright and energy-efficient LEDs. This gives 5 times extra brightness than its competitions. Also, these LEDs are quite strong and have a long lifespan.
Furthermore, it is IP65 certified and thus comes with a good water resistance capacity. There's a special groove design that helps to insulate water better. Special high-grade silicon glue is used to seal the solar panel in an efficient fashion.
Additionally, this brand is extremely directed to make the products environment-friendly. It is made of flame-retardant ABS plastic. Also, it has photovoltaic cells that come with 18% extra conversion efficiency that helps to store more energy to be converted into light at night without any wastage.
What Could've Been Better?
It is an excellent product when put to use. But to get it started is another story. It doesn't come with a detailed user manual, and you might need to look up instruction videos on the internet. Or, to make it simpler, you can call an electrician to set it up.
If you are looking for an option to make your flag shine like a diamond in the night sky, Moico Solar Flag Pole Light is a good bet! With 42 super-efficient LEDs, it gives a 360-degree illumination to your flag. If fully charged, it will make your star-stripes flag-waver brightly throughout the night.
No products found.
Why Did We Like It?
First thing to catch our eye was the versatility this product brings to the table. You can pretty much hang it anywhere, and it provides good lighting. Be it your yard or the community playground, it is suitable for all.
It can also accompany you on your camping trips and, and also be an excellent addition to the courtyard or the night market. Now, that's what we call the jack of all trades!
Moreover, it is weatherproof and thus lasts for a good long time. It is IP67 certified, and not only the solar panels but also the LED lights and two added buttons on them, all are waterproof. So, even if it's a rainy night, you don't have to worry about your flagpole lights staying on.
Additionally, it gives a choice to the user to determine how much light they like. It comes with two modes that you can choose from; energy-saving mode and super bright mode.'
What Could've Been Better?
For the price point and performance, we cannot deny that this item is a steal. However, we have to say that the packaging is not quite great. The manufacturers can put a little more thought into the packaging to ensure it doesn't arrive damaged.
Do you worry every day if your flag is going to be properly illuminated throughout the night? With Home Deputy Solar Flag Pole Light, all such worries will fly right out of your window. This product is specifically built to ensure that your flag shines for longer hours during the night.
Why Did We Like It?
This flagpole light delivers everything that's printed on the package. It provides 100% light coverage for your flag with its 111 multi-directional, energy-efficient LED bulbs. It also comes with two modes of brightness that can be adjusted according to your needs.
If the weather is foggy or filled with smoke, you can opt for the extra-bright mode. And on regular days, you can switch on the energy-saving dusk-to-dawn mode.
Moreover, its battery functioning is quite noteworthy too. It comes with lithium-ion batteries that help to produce long-lasting and highly efficient output. As compared to the regular NiMH batteries, this variant charges faster.
Additionally, their customer service is quite notable too. Unlike many other variants available in the market, this product comes with a 1-year extended manufacturer's warranty. Also, they are pretty responsive in case you face any trouble in installing the lights. You can dial their number and get help within 24 hours.
What Could've Been Better?
If you are looking for an option that is efficient and affordable, this is a good bet. However, if good design and quality are of prime concern to you, this product will not fit the list. It is not exactly very popular for its design and build.
There's no wonder why Solar Light Mart Alpha 180X got so popular amongst the flagpole light users. You don't have to pay for electricity since it is entirely solar-charged, and it also needs no wiring for installation. All you have to do is take the lights out of the package and put it up. And your flag will shine the brightest in the neighborhood.
Why Did We Like It?
The trait that caught our attention first was how durable this product is. It prides itself on the cast iron light fixtures that are made of tempered glass. This makes the item extremely durable and enables better heat dissipation when it is put on high power.
Moreover, it allows you to set the power. It comes with a 3 mode user-defined power setting that lets you control the lumen brightness. Also, it derives the energy from the pre-installed lithium batteries. These batteries are well-equipped to hold energy for long hours.
Furthermore, it comes equipped with fixtures that need a special mention. In the package, you get stainless steel nuts and bolts that are of international standard ( GB/T818 and DIN934). Also, the product is engineered in a way that allows flexible mounting irrespective of the pole shape and material.
Additionally, it comes with an improved mounting bracket that makes it really easy to mount the light on the pole.
What Could've Been Better?
We hardly have any complaint about this exceptionally well-designed light. However, when you're buying it, keep in mind that it doesn't come with extra fixtures. So, in case you lose any, you'll have to go to the supermarket to buy a spare.
Blinngo Solar Flag Pole Light prides itself on exceptional design and innovative LED lights. It is very well-suited to light up your flag during the night. With a sturdy and efficient build, this product is a perfect fit for all weather conditions and all types of flagpoles.
Why Did We Like It?
What we liked best about this product is that it did not give us a hard time during the installation process. It is build to fit regular-sized flagpoles that range between 0.5 * 1.25 inches. And you won't need any additional tools or wire to get it started.
Moreover, its design definitely needs a special mention for efficiency. It comes equipped with 3 organic glass light guide plates that give the solar panel a wider angle. A wider angle enables more solar energy to be stored and also distributes the light better. This ensures that the whole flag is sufficiently lit up.
Additionally, it gives you complete control over the amount of light that you want on the flag. There are 3 lighting modes that you can choose from depending on your requirements. You can use the auto-brighter for added light during nights when the sky is not very clear.
What Could've Been Better?
Even though this flagpole light delivers good output, it is pretty bulky. On thin light poles, it looks like a fixture is jutting out. It does look a little odd, but if looks are not of huge importance to you or the device remains hidden, you can go for this option.
We understand that taking your flag down every night is quite a hassle. With Letsmeet Solar Flagpole Light, your flag can stay lit up throughout the night and waver with pride against the sky. We've found this super bright variant to become quite a conversation starter in the parties that we've hosted in our yard.
Why Did We Like It?
This item is super-efficient when it comes to storing solar energy. Powered with 128 highly bright LEDs, it provides a 360-degree illumination to your flag after sunset. It has 2500 mAh built-in batteries, which are rechargeable and are sufficient to provide light overnight if charged fully.
Moreover, what needs a special mention is the recent upgrade it has received. Now it comes with 12 solar panels that have a super long lifespan of more than 1,00,000 hours. They store the solar energy during daytime only to convert the energy to electricity at night.
Furthermore, it is highly waterproof, and you don't have to worry in case there's a sudden downpour. It is IP65 certified, and the LEDs, buttons, and solar panels are all waterproof.
Additionally, when it comes to installation, this product will not give you a hard time. They are suitable for mostly all types of in-ground poles of 15-25 feet.
What Could've Been Better?
Despite the fact that it makes your flag shine very bright at night, the automatic switch doesn't perform all too well. At times you may need to manually switch on the light after sunset. Put simply, we felt that the sensor can be better.
If you are looking for a multipurpose light to brighten up your flag at night, the Solar Light Mart Mini 120X is a good bet. It is extremely easy to handle and comes with a remote solar panel and highly efficient LEDs.
To know more, read on.
Why Did We Like It?
One thing that really stood out for us is how efficient this item is when it comes to energy-saving. There are nights with clear skies and also nights that are filled with smog. Based on your requirement, this flagpole light allows you to adjust the brightness of the LEDs.
Moreover, its design also needs a special mention. It is made of cast aluminum with a special finish spotlight fixture. It also has an impact-resistant lens.
Also, this product comes with an aluminum-framed solar panel that adds to its elegance. The 3Wp solar panel is quite large, and paired with the lithium battery; it delivers excellent performance.
Additionally, its lumens range from 160-240 for every fixture. The warm white color that it comes in adds a golden glow to your flag.
Furthermore, the LEDs come with a special magnifier lens and are angled at 45 degrees. This provides a wider coverage than most standard options that are available in the market.
What Could've Been Better?
One downside to this product is that it is not very efficient on cloudy days. Because it runs completely on solar energy, it doesn't function too well when the sky is partially or fully clouded. It needs a good amount of sunlight to store energy throughout the day.
We are nearing the end of our list, and next up, we have the American Signature Solar Flagpole Light. It is an excellent choice if you're looking for an item that is weather-resistant. This wouldn't give you a hard time whenever there's a heavy downpour.
No products found.
Why Did We Like It?
This product is uniquely designed to be resistant to bad weather conditions. Since it is an outdoor light, this trait is a huge plus. It is sealed and protected against rain and dust alike. However, under extreme weather conditions such as hurricanes and typhoons, we suggest that you take it indoors.
Moreover, the installation of this item is like a cakewalk. You'll not need any extra tools to put up this light. All you have to do is to unscrew the globe and put the solar lamp in its place. But please do make sure that it faces the sun properly for the sensor to work to its best potential.
Furthermore, its design is quite stellar and will surely catch your attention. It is encased in a UV resistant clear polymer and is set in a sleek contemporary style with a dash of minimalist design.
Additionally, it has a 6-month manufacturer warranty that enables you to get the product replaced in case it arrives damaged.
What Could've Been Better?
If your flag is very big, you might find the ends to be not adequately lit by this light. The brightness seems to go down as you move further from the center of this pole. It does become a little faint towards the corners of the flag.
A good reason to check out Bathonly Solar Flagpole Light is the latest upgrade that it has received. With the newest changes, now all the LEDs are adjustable and come with a convenient 2-mode setting. Also, it is incredibly sturdy and can survive regular weather calamities like a pro.
No products found.
Why Did We Like It?
What really stands is how versatile this product is. It comes with 42 bright LEDs that light up automatically as soon as the sun sets. Besides flagpoles, you can also install them on beach umbrellas, camping sites, gardens, and night markets. It is a good option for outdoor lighting at night.
Moreover, its solar panel is pretty efficient and stores energy pretty well during the day. It is made of photovoltaic cells that convert the energy into electricity. When the batteries are fully charged, it can light up your flag throughout the night with much ease.
Furthermore, It is highly durable and weatherproof. This item is quite sturdy and can easily withstand rain, snow, and wind. So, be it your patio or yard, put your flag up high in the sky, and this light will take care of the rest at night.
What Could've Been Better?
There's hardly any complaint that we have with the excellent performance of this item. However, it would've been better if it came with a more precise set of instructions. Those who are new to flagpole lights may face some difficulty in understanding how to get it started.
What if we tell you that you can have a flagpole light and a camping light all combined in one? The MEIHONG Solar Powered Flagpole Light comes with a powerful solar panel that can work as a flagpole light and can double as a camping companion when needed.
Why Did We Like It?
If switching on the flagpole light every night and switching it off every morning worries you, this light can be a good solution. It comes with a powerful, cutting-edge sensor that automatically turns the light on and off on your behalf.
Furthermore, light downpours and sudden snowfall will not leave you running to your flagpole anymore. The product's shell is made of high-quality ABS material and can withstand weather calamities. It is quite durable and also has an added waterproof function.
Moreover, all the recent models of this product have received an upgrade. It now comes with rechargeable 6000 mAH batteries that deliver twice the efficiency of the regular lights available in theismarket. It comes with powerful photovoltaic cells that help to convert more energy into electricity.
Additionally, it is relatively easy to get this product installed. You won't need any added accessory tools for it. Also, it comes with a cabinet and a hanging buckle that can be used to install this light in multiple locations.
What Could've Been Better?
This product is good as long it lasts. If handled with care, it can work really well for quite a long time. It is not very costly, and you can experiment with it for a season to enjoy the versatility and excellent performance that this product delivers.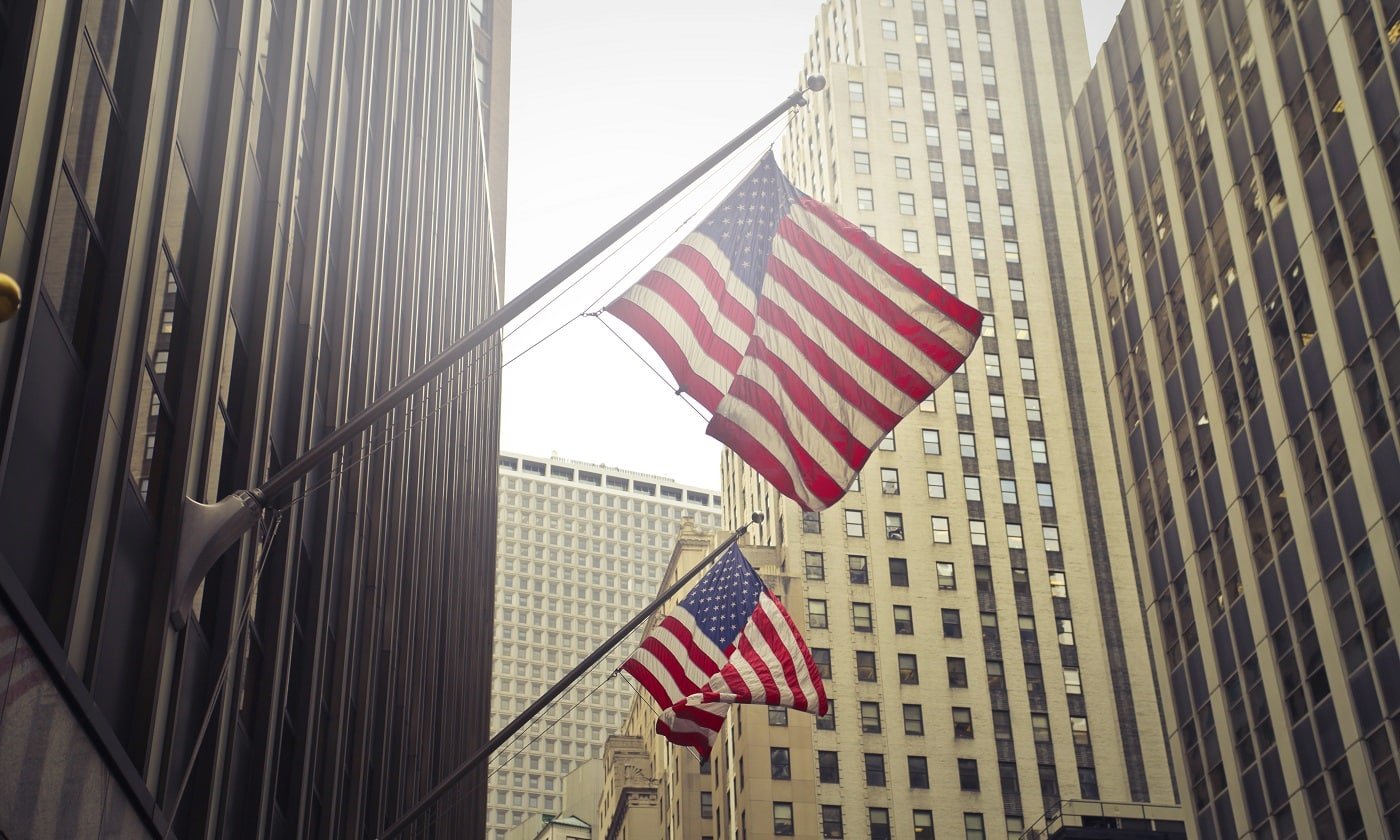 Flagpole Light Buyer's Guide
By now, you must have gotten a good glimpse into what constitutes a good solar powered flagpole light. We guess you already understood a few things that you should be on the lookout for when choosing the perfect flagpole light.
However, we must tell you that knowing just the product features is not sufficient to make an informed decision. By knowing them, you're only halfway to your destination. There are a few other essential considerations that you should keep in mind while selecting the best option suited to your needs.
Let's check out what they are.
The Height Of The Flagpole
What good is a flagpole light that doesn't reach the top of the flagpole?
So, before you decide on buying one, it is very crucial to measure the flagpole to ensure that the light you buy is a correct fit. If that's not the case, your flag will be hoisted but will not receive any light during the night.
Most of the options available in the market are indeed adjustable. However, we'd still suggest that you measure the pole prior to your purchase. On a different note, regular-sized flagpoles range somewhere between 15-25 feet.
Number of LEDs
The point of buying a solar flagpole light is to make sure that your flag shines bright at night. But you should already know that all lights are not built in the same fashion. Some of them are brighter than others.
You can get a fair idea about how bright they'll be depending on the number of LEDs that are installed in them. Some variants come with 42 LEDs, some with 48 or an even higher LED count.
Battery Health
Solar flagpole lights use solar panels to convert solar energy into electricity and batteries to store it. So, it goes without saying that the batteries are a major component that determines the functioning of the lights.
To make sure that your flagpole light works excellently, we'd suggest that you go for a battery that has a good capacity rating. Better the capacity, the more charge it can hold, and for a longer duration.
Mostly the batteries come in 4 variations: lithium-ion, NiMH, lead-acid, and NiCAD. If you have a requirement of low power, NiMH is a good choice. However, if you want a more powerful light, then going for a lithium-ion or lead battery is a safer bet.
From what we've seen, lithium batteries are more of a popular choice because they are pretty compact and provide higher capacity. As compared to the lead-acid batteries, their lifespan is a lot higher (2000 cycles).
Recharge and Run Time
Charge time tells you the duration that's required for the lights to get completely charged to power it at night. When choosing an option, we suggest that you go for one that charges well, even on a gloomy day.
Now, coming to runtime, it is the time duration that the flagpole lights can provide light constantly after it gets dark. You should be for an option that illuminates the flag for a longer duration.
To put it simply, you have to pay attention to both. The recharge time and capacity are what determines how much solar energy your panel can harness during the daytime.
However, both these features are quite dependent on your geographical location and the climate that you're in. Areas that get less sunlight and are dimly lit has a lower chance of getting recharged properly during the day.
To make it easier to understand, the average charge time should range somewhere between 6-7 hours for every 10-12 hours of run time.
Colour Temperature
This feature tells you about the light's color or appearance. It is generally measured in Kelvin(K), and if you read the package properly, you'll know which color the light is.
A simple way to understand this is by the numbers on the package. Bulbs with lower temperatures provide warm tones( yellow/orange) that are very similar to the light of candles or incandescent bulbs. However, bulbs that have a higher color temperature generate more cooler and blue-tinted colors. They are very similar to the light emanated by LED diodes or regular daylight CFL bulbs.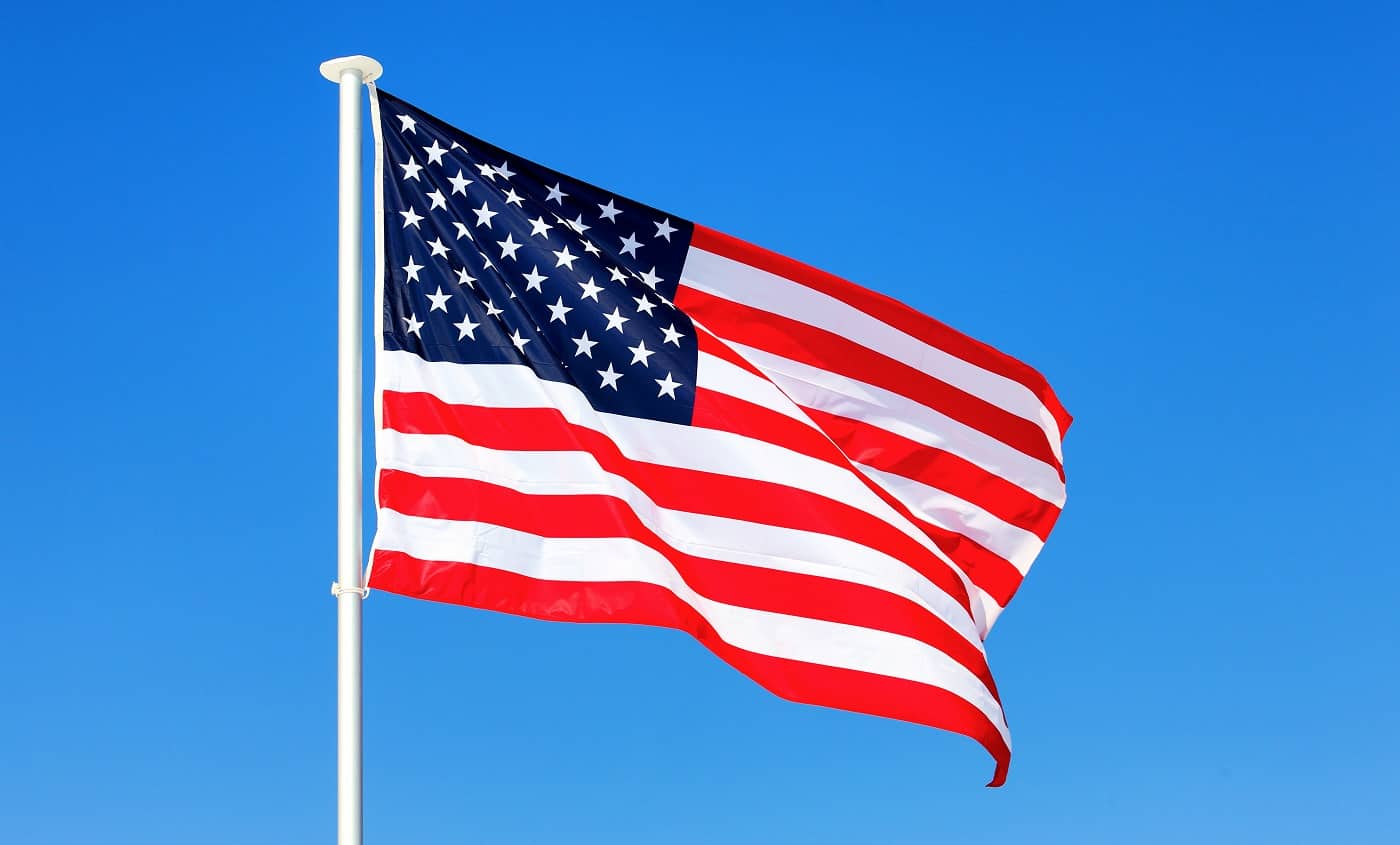 Verdict
With that, we've reached the end of our informative guide on the best solar powered flagpole lights of the year. We hope you had as much fun going through the products as we had researching and writing about them.
But before taking your leave, we'd like to reiterate our favorites. Overall, Deneve Deluxe Solar Flag Pole Light has taken the award as our favorite option with its excellent performance.
In case affordability and efficiency are of primary concern for you, the Sunnytech 2nd Generation Solar Flag is the perfect consideration. And If you're looking for a highly resistant option, Vont Solar Flag Pole Light is the one to go for.
And with that, it's a wrap. Until next time, keep that flag flying high!
Related Articles
8 Best Residential Flagpoles Today | Buyer's Guide and Reviews