How often have you turned on your garden lights only to forget switching them off in the morning?
We've all faced this problem, and further adding to this woe is the monthly electric bill, which ends up being significantly higher than it should. So, what if we told you there's a way to lower your electricity consumption without compromising performance?
With solar garden lights, you can do just that and more, thanks to its ability to gather energy from the sun during the day. It automatically turns on at night and again powers down after sunrise to save you the trouble of manually operating it. Thus, it presents an eco-friendly and more manageable option.
But the question is, how do you choose from the numerous products available out there? To help you, we've narrowed down 13 quality models that are taking the market by storm. We've also added a buyer's guide to discuss the crucial aspect of solar lights.
Without further ado, let's begin.
Top Solar Garden Light
IMAGE
PRODUCT
DETAILS

Our Top Pick

Our Top Pick

LITOM Solar Landscape Spotlights

120-degree lighting angle 
90-degree adjustable solar panel 
Consists of 12 LEDs 

VIEW LATEST PRICE →

SUNNEST Solar Lights

Weatherproof 
Consists of 12 solar lights 
IP44 waterproof design 

VIEW LATEST PRICE →

BEAU JARDIN Solar Lights

Rust-proof glass 
Diamond-shaped LED lights 
ABS plastic construction 

VIEW LATEST PRICE →

URPOWER Solar Lights

Adjustable solar panel 
2-in-1 functions 
Automated switch 

VIEW LATEST PRICE →

Dekugaa Solar Ground Lights

600mAh battery 
Eight LEDs 
Disk-shaped 

VIEW LATEST PRICE →

KOOPER Solar Lights

Adjustable stem and leaves 
600mAh battery 
Night sensor 

VIEW LATEST PRICE →

INCX Solar Ground Lights

600mAh solar lamp 
Integrated light sensor 
Wireless design 

VIEW LATEST PRICE →

BAXIA TECHNOLOGY Solar Lights

100 powerful LED beads 
Motion detector 
IP65 triple waterproof design 

VIEW LATEST PRICE →

Solpex Solar Pathway Lights

IP44 waterproof 
Polysilicon solar panel 
Corrosion-resistant ABS plastic 

VIEW LATEST PRICE →

InnoGear Solar Lights

Adjustable panel 
180-degree movement 
90-degree rotatable head 

VIEW LATEST PRICE →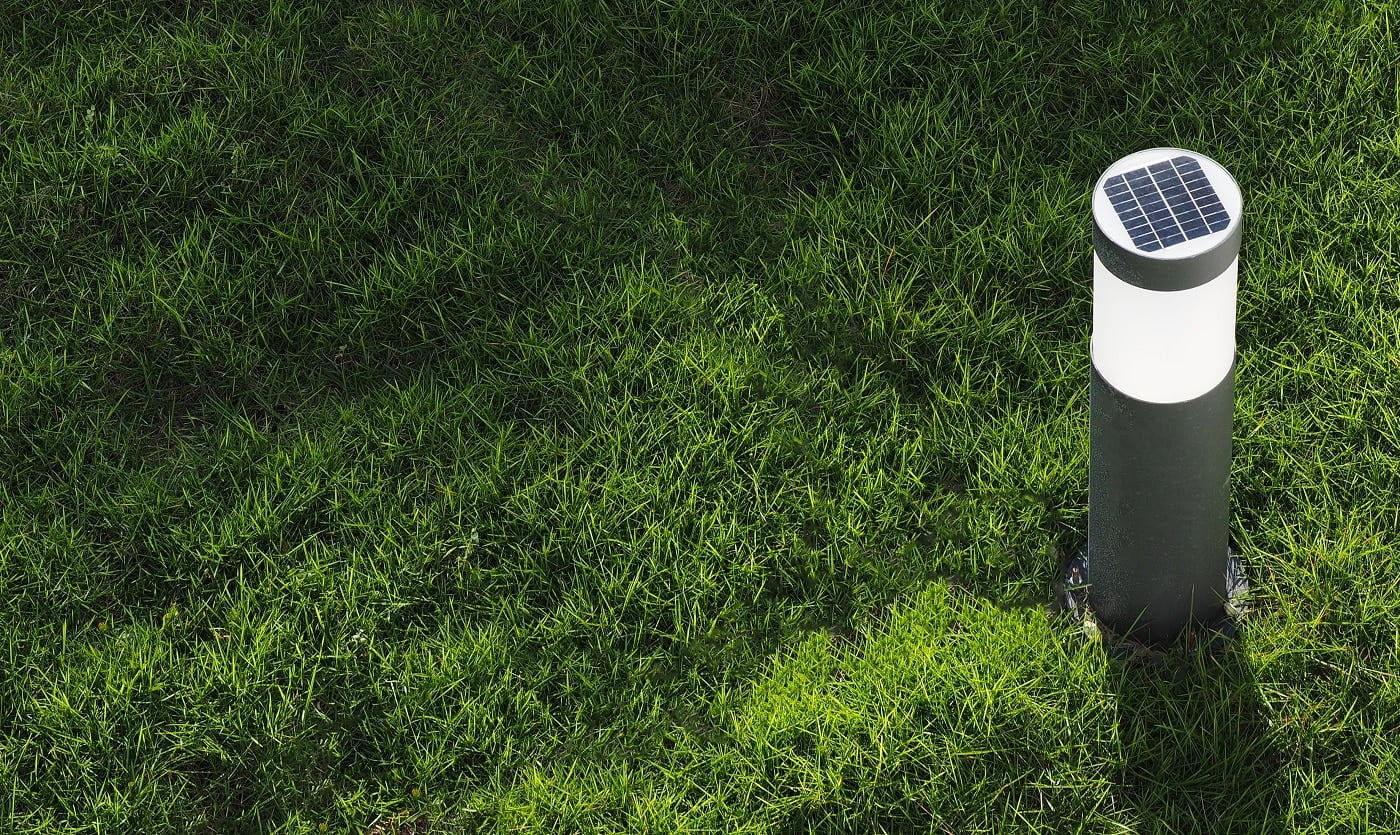 One of our top recommendations is the LITOM Solar Landscape Spotlights, and with good reason. Thanks to the inclusion of 12 LEDs, it provides a powerful performance that can brighten up most spaces while being energy-efficient. However, we've just touched the surface; there's more to find out so read on.
No products found.
Why Did We Like It?
At the very outset, your attention will be drawn to the combination of 12 lights and the 120-degree lighting angle. It's well supported by the 90-degree adjustable solar panel powered by a lithium-ion rechargeable battery. Consequently, there's sufficient energy to light up outdoor areas to provide an efficient solution.
It comes with two different lighting modes, low and high, which deliver a runtime of six and twelve hours, respectively. You'll love how it automatically picks up on minute changes in the environment, without a motion detector, and switches from energy-saving to lighting mode.
What's more, is that it has the required durability, thanks to IP67 Waterproof Technology. It keeps the lights from malfunctioning in turbulent weather while the ABS plastic protects against accidental bumps and knocks. Plus, it has all the components you need for installation.
What Could've Been Better? 
In some cases, there may be disparity in the time taken by the lights to brighten up fully. When you switch to high mode, all the lights may not operate at maximum output, so you need to be patient. It's not a significant issue and certainly gets better with time.
Pros
12-hour runtime

IP67 waterproof technology

High-impact ABS plastic

2-in-1 function

Easy installation
Cons
Doesn't brighten up at once
If you liked our earlier recommendation, then brace yourselves because the products keep getting better. Next up are SUNNEST Solar Lights, which feature an economical design to deliver optimum output. It's straightforward to use, which is why people have taken an interest in what it offers.
Sale
Why Did We Like It?
We start with a vital attribute of solar lights, which is energy efficiency. SUNNEST has done well to incorporate an economical design by which the solar panel absorbs energy from the sun. Then as nightfall approaches, it automatically switches on to brighten up your property.
You won't find the installation cumbersome as it takes a few minutes to assemble the various components. All you need to do is remove the isolator tab, connect the different parts, and push the stake into the soil.
We must also mention that it's resistant to changing weather conditions as it's made from anti-corrosive stainless steel. It lasts a long time, combined with an IP44 waterproof construction, thereby functioning even in snow.
You can use it anywhere; plus, it comes with all the components meaning you don't have to make any additional purchase.
What Could've Been Better? 
Based on your preference, the lights may be smaller than what you'd usually expect. We've received reports from users expressing mild concern related to the size of the lights and their lightweight nature. But everyone unanimously agrees that they don't let-down in terms of performance.
Pros
Auto on/off function

Easy installation

Stainless-steel body

Versatile

Corrosion resistant
Cons
May be smaller than expected
If your primary concern is longevity, then you can try out the BEAU JARDIN Solar Lights. But that doesn't mean it compromises on other aspects, and you're guaranteed to get consistent output. No surprises then that it has garnered positive reviews to be on most people's wish list.
Sale
Why Did We Like It?
First and foremost, these solar lights are constructed using stainless-steel, which makes them perfect for everyday use. More specifically, you find it has a watertight diamond glass light shade, ensuring much-needed longevity in turbulent weather conditions. You get to use it in numerous spots, with the combined metal and glass texture providing additional safety.
The significant upgrade comes in terms of the automatic on/off function, making it energy-efficient. The AA Ni-MH battery is beneficial for absorbing sunlight and utilizing the energy upon nightfall. So, it saves you the hassle of manually operating the lights.
It has six aesthetically pleasing solar bulbs that make for a suitable addition to your property. The lights are also incredibly eco-friendly and deliver a runtime of 8-12 hours, thanks to the decorative cap which houses the solar panel. Meanwhile, the installation doesn't take much time and eliminates the need for extra tools.
What Could've Been Better? 
It would help if you inspected the aluminum pipe which runs into the ground. It's essential to ensure the tube doesn't bend, and keeping it away from areas with high footfall is priority number one. Also, the plastic screws shouldn't be tightened all the way through.
Pros
12-hour runtime

Eco-friendly

Weather-resistant

IP65 waterproof design

Stainless-steel construction
Cons
Plastic screws

The aluminum pipe is prone to bending
The URPOWER Solar Lights have an innovative design complementing its range of excellent features. It does exceptionally well in terms of user-friendliness, while the adjustable functions make it suitable for all ages. It has quickly climbed the charts to cement a place for itself, and we assure you won't be disappointed.
Sale
Why Did We Like It?
There are several features we need to cover, so let's get right into it. We begin by discussing the easy application made possible by the rechargeable and adjustable nature of the lights. You'll find the light angle can be conveniently adjusted to illuminate the required area.
Similarly, you can change the angle of the solar panel to ensure maximum exposure to the sun so that the lights remain fully charged. It comprises four LED bulbs with a capacity of 50 lumens each, which automatically turn on at night and power down during the day. Thus, it's efficient for most outdoor spots.
It has a runtime of six to nine hours, while the 2-in-1 function makes it easy to get the desired output. Lastly, they are the 3rd generation in-ground lights from URPOWER and are ideal for your landscaping needs. 
What Could've Been Better? 
The point of contention for prospective buyers is the higher price. We understand that the range of functions has led designers to increase the cost. So, if people have a tight budget, it may not be a viable option, and you'll be better off choosing some other model.
Pros
2200mAh rechargeable battery

Total capacity of 200 lumens

9-hour runtime

Consists of 4 LEDs

In-ground lights
The Dekugaa Solar Ground Lights feature a disk-shaped design that delivers improved brightness compared to other models. It comes in a group of eight lights, with each of the LEDs backed by a range of exciting functions. Rest assured, you'll get your money's worth and will be able to use it for a long time.
No products found.
Why Did We Like It?
Straight off the bat, the disc lights can illuminate your garden, courtyard, or lawn, highlighting incredible versatility. It's portable, and you can place it in a suitable spot to light up the scene at night. You won't require batteries or wiring, which proves essential for improving user-friendliness.
That's not all; it comes with eight LEDs, significantly higher than what's provided by other brands, for which Dekugaa has added a powerful 600mAh Ni-MH battery. You get a seamless experience while the light has an auto on/off function to save energy during the day. It switches on at night and can run for 10 hours straight with full charge.
What has grabbed our attention is the high-power efficiency, increasing the energy conversion rate by 14%. It's highly effective and combined with the simple application; you won't face any challenges using it.
What Could've Been Better? 
Once the lights arrive, you need to check whether it has been appropriately soldered. Occasionally, customers were left stranded when the soldering wasn't done right, so unless you know what to do, you're going to need help. Additionally, it would be best if you used the plastic spikes with caution.
Pros
Easy installation

10-hour runtime

14% energy conversion rate

Auto on/off feature

Efficient
Cons
Plastic spikes

Soldering is an issue
If you need a product that's aesthetically pleasing and produces terrific output, then you can't go wrong with KOOPER Solar Lights. At first glance, it looks like lilies, but a closer inspection reveals they are adjustable solar lights. No wonder it has generated substantial buzz in the market.
Why Did We Like It?
There's a lot to like about this product from KOOPER but what takes the cake is the idea to add lights within a lily-shaped casing. We couldn't find a better model than this in terms of appearance. You'll also appreciate the fine fabric used for covering the body to provide a natural feel while the stems and leaves can be adjusted as per your convenience.
The solar panel is made of monocrystalline silicon, which has several benefits. It offers the highest conversion rate for photoelectric energy among all solar cells, thanks to the 600mAh Ni-MH battery. Therefore, you can use the lights for a maximum of 10 hours, which proves extremely useful.
Now, the major attraction is the inclusion of the night sensor, along with its color-changing mechanism. As the lights switch-on after dark, you've got the option of choosing from seven different colors to create the perfect ambiance. Consequently, you can spend a romantic evening or host numerous backyard events.
What Could've Been Better? 
Despite having many positives, there are a couple of areas the designers should have looked into. When you lift the solar panel, be extremely careful because there's a chance the wires may come loose, leading to power loss. Also, the bottom spike doesn't fit particularly well and requires regular reinforcement.
Pros
10-hour runtime

IP65 waterproof design

Seven color changing options

Monocrystalline silicon panel

Processed fabric
Cons
Problem with the bottom spike

Wires may come undone
We're at the halfway point of our list, but there are several quality units we're yet to review. Next up are the INCX Solar Ground Lights with outstanding runtime to keep your electric bill in check. It has features like a waterproof switch and wireless design, making it stand out from the crowd. 
Why Did We Like It?
This product from INCX offers the perfect combination of energy-efficiency along with durability. It has eight LEDs with advanced energy-saving properties, allowing the bulbs to run for 10 hours straight on a full charge.
It's eco-friendly with an IP65 stainless-steel construction, providing the necessary durability. Additionally, it comes with an external waterproof switch, which makes sure the bulbs isolate water and fog to have a long lifespan. So, you can use it for outdoor tasks, irrespective of the weather conditions. 
The solar lamp is safe for children and pets while the integrated light sensor detects low-light situations to turn on at night and power down during the day. Rest assured, it delivers exceptional reliability, and you'll love how it brightens up the property from every angle.
Moreover, it'll please you to note that assembling it is easy, thanks to the relevant tools which save you the trouble of making additional purchases.
What Could've Been Better? 
It suffers from the usual problem related to the spike used for attaching the lights to the ground. The trick is to use superglue when the spikes touch the ground to prevent the bulbs from collapsing as the soil expands. Also, you may experience a slight color difference in light intensity, but that's not a significant issue.
Pros
IP65 waterproof operation

Stainless-steel construction

Waterproof switch

10-hour runtime

Sturdy
Cons
Super Glue needed to hold the spikes

Minute variations in color
The BAXIA TECHNOLOGY Solar Light may seem like a simple unit but don't be fooled. It has excellent range and subsequently delivers a power-packed performance, proving highly reliable. It has added a motion detector to make your task easier, thereby endearing it to potential buyers.
Sale
Why Did We Like It?
The best way to determine the worth of this product is to take a closer look at what generates power. Its energy is produced by a 2600mAh lithium-ion battery, which provides an uninterrupted experience even in turbulent weather.
Coming to the motion detector, it can pick up the smallest changes within a radius of 10-16 feet at a maximum angle of 125 degrees. As soon as it detects any variation, the bulbs automatically light up. Plus, the 30-second lasting function is useful in case any new motion is detected during this phase.
Meanwhile, you'll see that it includes 100 powerful LED beads, having a lighting angle of 120 degrees to cover most areas. It provides brightness equivalent to 2000 lumens, allowing you to use it for most outdoor spots.
Another significant aspect is the exceptional durability made possible by the IP65 triple waterproof design, supported by the ABS outlet. 
What Could've Been Better? 
You need to watch out for a couple of things, one of which is that the anchors need improvement. It certainly needs better anchors for more stability, and to make the change, you'll have to buy the components separately and then install the lights. Furthermore, the lights aren't suitable for decorative purposes. 
Pros
2600mAh Li-ion battery

Eco-friendly

Exceedingly efficient

120-degree lighting angle

Illumination of 2000 lumens
Cons
Poor anchors

Not suitable for decorating
Even a cursory glance at the Solpex Solar Pathway Light will leave you coming back for more. It conveys a sense of refinement, making it suitable for outdoor spots. Not only is it good-looking, but Solpex has also added the relevant features to top rival brands.
Sale
Why Did We Like It?
The most striking aspect is how the lights manage to create a snowflake pattern, thanks to the double rings around each bulb. This makes it a convenient addition to your garden, pathway, or patio and improves the ambiance of outdoor spots. Moreover, the lights work for eight hours straight, meaning it's sufficient for most purposes.
It comprises polysilicon solar panels and is well supported by rechargeable batteries. You'll never run out of power provided the solar panels receive adequate sunlight during the day.
Plus, the installation isn't challenging as it includes all the components and doesn't require any kind of wiring. Like some of the other models, you'll need to remove the tab, switch on the light, and firmly plant the spike into the ground. Finally, the corrosion-resistant ABS plastic and IP44 waterproof construction come in handy to endure varying weather conditions.
What Could've Been Better? 
As per the feedback we've received from users, these lights may not be as bright as you hoped. Many customers have said it should've more intensity, but they were also of the opinion that it isn't a severe issue. Additionally, you need to conduct regular maintenance as the lights tend to come loose where the battery is located.
Pros
Eight-hour runtime

Rechargeable batteries

Auto on/off feature

Snowflake design

Easy installation
Cons
Could be brighter

Loose connections
InnoGear has been around for a long time, thanks to the range of quality products. In that regard, the InnoGear Solar Lights are no different, paying a lot of attention to detail, which is evident in the rotatable characteristics. You consistently get the desired output, which is the reason for its growing popularity.
Sale
Why Did We Like It?
For starters, the adjustable nature is due to 180-degree rotation coupled with the up and down movement. You'll have no issues finding the correct angle at which it gets maximum exposure to the sun. Once it's fully charged, you can adjust the light head up to 90-degrees for adequate illumination.
The light intensity is supported by two modes of operation – high and low, delivering a runtime of six hours and 12 hours, respectively. Interestingly, the focused beam allows you to use it for decorative purposes, such as highlighting an architectural sculpture or flagpole. So, it has the edge over other models.
Moreover, the monocrystalline silicon solar panel converts energy 30% faster as the solar spotlights pick up subtle changes in the environment to produce optimum output. It automatically turns on after dark and shuts down to save energy during the day.
What Could've Been Better? 
A critical aspect of the panel is that it doesn't rotate on the horizontal axis and only moves around on the vertical axis. Thus, it might not be the ideal unit, depending on the type of landscaping since it must receive sunlight from the northern side. Therefore, it might lead to issues with charging.
Pros
High and low mode

Monocrystalline silicon solar panel

30% energy conversion

Includes all components

Focused beam
Cons
Doesn't move on the horizontal axes

Difficult to get a full charge
The GIGALUMI Solar Path Lights have stuck to the basics while making the necessary adjustments to rank among the top models. It features an elegant design coupled with energy-saving ability, making it a valuable acquisition for most people. We assure you'll love all that it offers.
Sale
Why Did We Like It?
Right away, you'll notice that you can use it for your pathway as it has specific decorative properties. The intensity of the light allows you to illuminate the garden, deck, or yard at just the right angle to create an elegant look.
It's suited for outdoor use, thanks to the stainless-steel construction. GIGALUMI has taken weather out of the equation by delivering excellent reliability in various conditions. It's designed to last a long time and continues to work well even when it snows.
We must also mention its energy-saving property, which helps store light during the day while automatically switching on at night. You can use it for eight hours straight, making it suitable for various purposes.
Finally, we come to the installation, which is relatively easy and, for which, you must remove the isolator tab. Then push the stakes into the ground and ensure the lights are well balanced.
What Could've Been Better? 
Most users have said they encountered some disparity in the intensity of illumination. While some of the LEDs function brightly, the rest were unable to match the performance. It's slightly inconvenient but doesn't affect output; however, you can choose some other model if you aren't convinced.
Pros
Elegant design

Auto on/off feature

Easy installation

Energy saving

Durable
What makes Maggift Solar Light different from the other units is that you've got the option of hanging them. It has incredible power while the automatic functions mean it's ideal for all age groups. You can light up most places, and it acts as the perfect addition to your interior décor.
Sale
Why Did We Like It?
The prominent characteristic is the iron and plastic construction, making it incredibly durable without taking away its decorative ability. The intensity is best defined as soft and subtle, which fills any area with a warm glow to provide a soothing effect. Further adding to the aesthetic beauty is its hanging nature, that delivers a rustic appearance.
It consists of two lights with a capacity of six lumens each, complemented by the unique design. The light penetrates the fabric to create varying shapes and shadows, proving to be an unparalleled addition to your home. Meanwhile, it automatically switches on at night while building up energy during the day.
The designers have added an on/off switch for greater convenience allowing you to control the operations of its 400mAh battery. It offers a runtime of eight hours, which is adequate for numerous tasks. Interestingly, it also acts as the perfect gift because of its versatility, which will surely please you.
What Could've Been Better? 
One major problem is that it doesn't come with an anti-rust coat. While it won't be a problem indoors, you need to apply a rust-resistant coating if you want to place the light outdoors. Consequently, this raises the overall cost of the model, which may give you second thoughts about purchasing it.
Pros
Eight-hour runtime

Rustic style

Saves energy

Can be hung from various spots

Easy on/off feature
Cons
No anti-rust coating

Raises overall cost
The Foxdott Solar Lights share several similarities with some of the other models, but it has also improved on functions to deliver unmatched output. You can use it in numerous spots while its eco-friendliness is turning quite a few heads in the market. So far, people have said good things about it.
Why Did We Like It?
Firstly, the light doesn't require wiring as the solar panel absorbs energy from the sun throughout the day to provide uninterrupted power at night. It's effortless to use, made possible by the dusk-to-dawn function, which helps conserve electricity. Furthermore, it shuts down during the day and automatically comes on after nightfall, making it low maintenance.
It also has a decorative side and enhances the ambiance of your garden or lawn. But that doesn't mean it compromises with output as it brightly illuminates most outdoor spots after dark.
Plus, you don't need to worry about external elements wrecking your garden light, thanks to the durable design. It comes with IP44 waterproof construction that can withstand weather changes. Foxdott has also added a stainless-steel body, making it suitable for handling snow, rain, or frost.
It's an eco-friendly device that doesn't require much effort during installation. All you need to do is ensure that the stake is firmly rooted to the ground, and switch on the lights. 
What Could've Been Better? 
The plastic stakes must be handled with care as they are prone to breaking. It would've been better had some other material been used for building the stakes. Meanwhile, it has a sunburst display, which isn't suitable for filling a pathway with light. Instead, it gently illuminates the surrounding area.
Pros
Easy installation

Auto on/off function

Doesn't require wiring

Versatile

Durable
Cons
Sunburst display

Flimsy stakes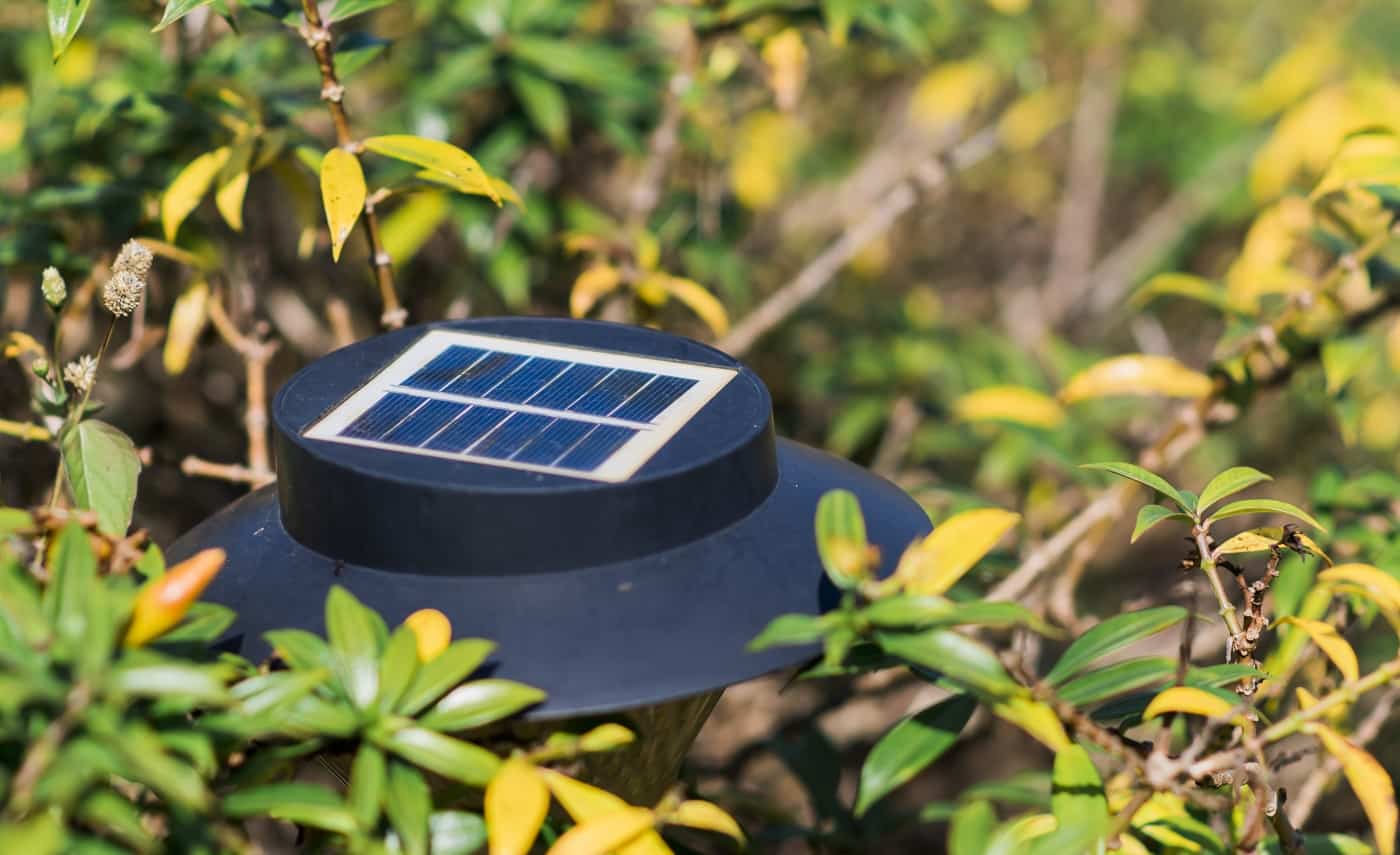 Solar Garden Light Buyer's Guide
So, we're done with our reviews but there's still several important aspects we must discuss. You might be looking at our selection of tools and wondering how best to distinguish between two top products. Luckily, for you we've narrowed down the important points you need to keep in mind. 
Buying solar garden lights involves the accumulation of several factors and we've tried to list down the most essential among them. Therefore, take a look at the following points and make a note of them before you venture out shopping. 
Durability
Firstly, we must talk about durability and more specifically there are two key factors we've chosen to highlight. The lights are solar and for outdoor use, so needless to say they are going to spend a major part of their lifespan outdoors. Therefore, it must be equipped to handle the ever-changing weather conditions among other things. 
Whether it be rain, winds, or even a cyclone the lights must remain intact for a long time. You can't expect to buy new ones ever so often and your tool must deliver the necessary reliability. No surprise that only quality materials must be used for construction to tackle various factors. 
Ease of Use
Secondly, solar garden lights must be easy to use and designers need to provide the relevant information. As of now, not many people are adept at using solar lights and the details must be available in an uncomplicated manner. It'll make the transition from regular lights to solar lights more manageable. 
Power
Finally, it must have energy to illuminate large swathes of the lawn. The size of the property may vary and for that the lights need to offer a wide angle of illumination. It should cover the garden in its entirety and what's more the conversion rate from solar to electrical energy must be high. 
You may even want to accent certain areas of the lawn and manufacturers must keep this in mind to add the necessary functions. There should be multiple options for adjusting light range and intensity depending upon the purpose.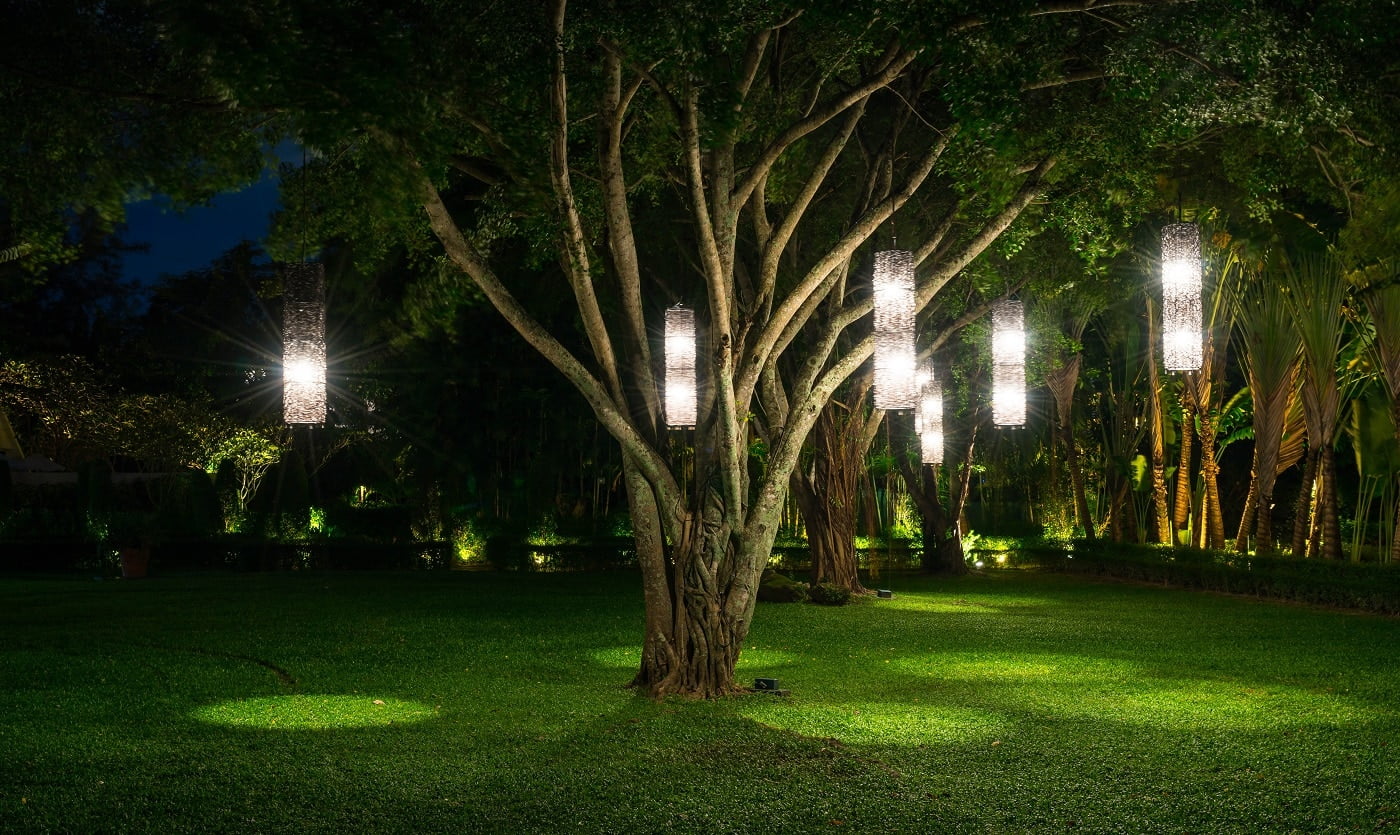 Verdict
We've reached the end of our guide, and hopefully, you've got a better understanding of solar garden lights.
They're highly efficient and serve to brighten up places with intricate shapes and patterns. Likewise, you'll find them easy to use as they convert a significant portion of solar energy into lumens to provide a reliable experience.
Before signing off, we've decided to assist you a bit more by listing the top products in different categories. For the best overall performance, you can opt for the LITOM Solar Landscape Spotlights, while the SUNNEST Solar Lights are highly user-friendly.
Meanwhile, the BEAU JARDIN Solar Lights outrank other models in terms of durability. That's all for now; remember to carry out a quick survey of your surroundings before purchasing the desired unit. It will help you determine the brightness to check whether or not the lights match up to your requirements.
Take care and see you soon!
Related Articles
5 Best Self-propelled Lawn Mowers Right Now
The 5 Best Lawn Mowers for St Augustine Grass Right Now
The 2 Best Gardening Gloves for Awesome Gardners' [ Buying Guide ]
5 Best Gas Hedge Trimmers Reviewed
3 Best Polymeric Sand Right Now | Buyer's Guide
5 Best Paver Sealers for a Wet Look of Epic Proportions 
4 Best Walk Behind Brush Cutter | Buyer's Guide
3 Best Yard Hydrant | Buyer's Guide and Reviews
5 Best Stick Edger | Buyer's Guide
13 Best Trimmer Lines | Multi-Sided, Round, Square, Twisted & Serrated
7 Best Shoes for Cutting Grass Comfortably | Buyer's Guide
10 Most Powerful Leaf Blowers to Consider 
How to Sharpen Reel Mower Blades?
Zero Turn Vs Riding Mower, Differences & Best Solution
13 Best Loppers | Buyer's Guide
Who Makes The Best Lawn Mower Engine Today?
13 Best Loppers Reviewed [+Buyer's Guide]
10 Best Automatic Garden Hose Reels
13 Best Hydraulic Hose Crimper 
13 Best Garden Hose Nozzles for Gardeners Everywhere
13 Best LED Landscape Lighting Kits | Buyer's Guide
11 High Output Solar Spot Lights [Buyer's Guide]