While winters are fun, layers of snow around the house are not. Yes, you can salt the snow, but that takes a toll on your back.
That is where a snow shovel comes in. It will help remove all of that snow and ensure that you can leave the house peacefully. Be it a snowstorm or days of heavy snowing; this is a cheap and effective option to have in the house.
Having said that, we know it can be challenging to choose the perfect snow shovel, which fits your needs, especially with so many options in the market. So, to save you from this tedious process, we have created a detailed guide of the 11 best snow shovels out there.
Without further ado, let's get straight to the deets.
Top Snow Shovels
IMAGE
PRODUCT
DETAILS

Our Top Pick

Our Top Pick

Snow Joe SJ-SHLV01 Shovelution

41.3-inch long handle
Spring-assist handle

VIEW LATEST PRICE →

Hopkins 17211 SubZero Auto Emergency Shovel

Length of 37"
9.5" wide head

VIEW LATEST PRICE →

j&m JM Enterprises TV206972

D-style handle grip
Tuffbrace handle connector
Fiberglass handle

VIEW LATEST PRICE →

Suncast SC3250

Handle length of 40"
Bent handle for more comfort
18" blade

VIEW LATEST PRICE →

AMES 2672100

Hardwood handle
Thick aluminum alloy

VIEW LATEST PRICE →

BIRDROCK HOME Collapsible Emergency Shovel

Innovative folding design
Multi-functional

VIEW LATEST PRICE →

CARTMAN Sport Utility Scalable Shovel

Made of aluminum
Adjustable handle

VIEW LATEST PRICE →

Snow Joe 24V-SS13 24-Volt iON

400 W motor
24-volt rechargeable Lithium-ion battery system

VIEW LATEST PRICE →

Suncast SF1850

Non-stick graphite blade
Collapsible steel handle

VIEW LATEST PRICE →

ORIENTOOLS Folding Snow Shovel

Adjustable and foldable design
Aluminum head

VIEW LATEST PRICE →

HBC Snow Shovel

Wide ribbed poly D-grip
Steel handle
High-density poly material

VIEW LATEST PRICE →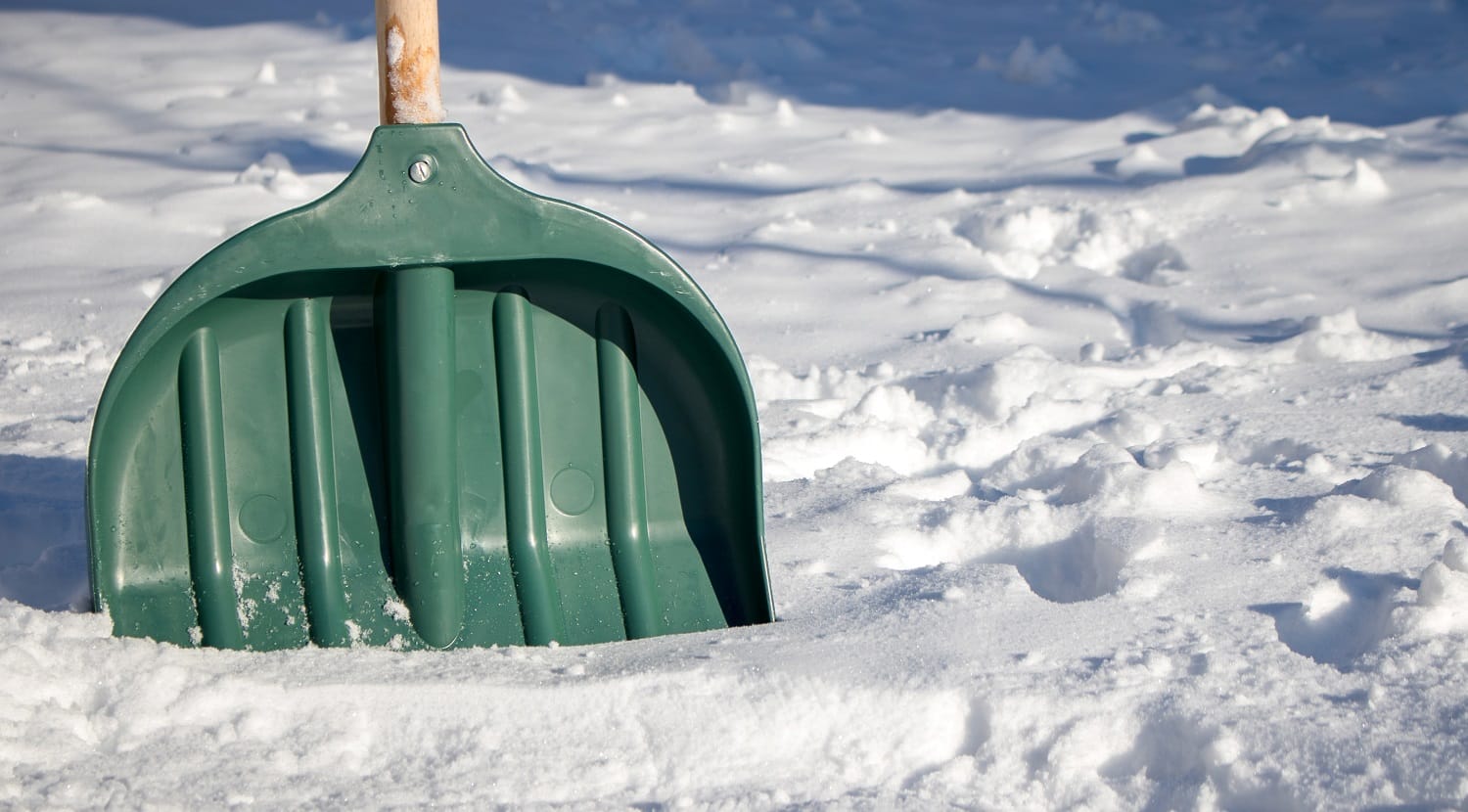 If you are looking for a durable and impact-resistant product that will take care of all the snow that piles up in your driveway, the Snow Joe SJ-SHLV01 Shovelution is a brilliant choice. It boasts of ergonomic design, which works effectively to make the entire process quicker and more convenient.
Sale
Why Did We Like It?
We loved the tough blade, which is 18 inches long. Made of polypropylene, it is shatter-resistant and can tackle thick layers of snow easily.
Attached to it is a spring-loaded handle, which provides a very comfortable grip for you to hold. Since this reduces the tension, you will not strain your hands. It reduces backaches too by 30% when compared to its peers.
The spring-loaded design helps in throwing snow and immediately resetting the shovel to do it all over again. The time taken is reduced to a great extent, and we could get the job done faster. The handle also has a D-grip, making it easier for you to place your fingers around it.
Overall, this will be the perfect unit to keep if you see a lot of snowfall in your area, and it is budget-friendly. You will not have to burn a hole in your pocket to buy this.
What Could've Been Better?
We found that the second and smaller handle that was provided was very wobbly. We could not put too much pressure on it, so we ended up using only the longer handle. The longer one works perfectly, and we wished that the second was one as sturdy.
Pros
Reduces strain

Impact-resistant and durable

Made of steel

Warranty of 2 years
One of our top recommendations for its excellent performance is the Hopkins 17211 SubZero Auto Emergency Shovel. It has enough nifty features to be your perfect companion in case of emergencies on a trip. Take it on hikes and excursions if you are visiting a place that gets a lot of snow, and you will be completely safe.
Sale
Why Did We Like It?
First of all, this has a length of 37 inches, making it easier for us to work with deep snow. It is medium-sized and has the right length to deal with snow that piles up in one's driveway or in front of the house. Plus, its 9.5-inch wide head adds significantly to its convenience.
Furthermore, it is known to be compact in size and will not pose a problem when it comes to storage. You can easily store it in your workshop or garage. It is also a great companion to take on trips to the mountains where you can expect snowfall. It will fit in easily in your car and can be used in case of emergencies.
To add to the benefits, it has a D-shaped handle with a soft grip for comfort. The D-shaped back will help you hold the shovel securely and will prevent it from slipping.
What Could've Been Better?
While this works perfectly with loose or fluffy snow, we noticed that it does not function as efficiently when it comes to tight snow. It is difficult to cut through it, and you will need to exert too much pressure. So, we would recommend checking the kind of snow you are dealing with before you decide to buy this.
Pros
Compact and easy to store

D-shaped handle

Soft grip for more comfort

Weighs only 1.2 pounds
Cons
May not work well with very tight snow
Up next is a device that will let you push, scrape, and clean surfaces with ease. The j&m JM Enterprises TV206972 works extremely well if you have to clean up wooden surfaces. It is also known for its versatility as it can tackle all kinds of snow equally well. Read on to know more about its bells and whistles.
Why Did We Like It?
This is specially designed with a unique cutting angle and wide snow pushers. With an option to choose among 24″, 30″, 36″, 48″ width, you can opt for the one which fits the best. The cutting angle will help shovel through tightly packed snow and will enable you to break the ice easily.
One of the major issues with delicate surfaces is that the shovel edge tends to scratch it. But this one works very well with concrete, pavers, wood, and composite decks. It will move the ice without leaving any form of marks.
Adding to it is a beautifully designed D-shaped handle that is made of fiberglass and looks attractive. It is equipped with a Tuffbrace handle connector providing you with a better grip. You can now apply force easily without fearing that it will break.
Lastly, the blades are rustproof, and this makes the product extremely durable. We have been using it for a year now, and there were times it was left in the snow overnight, but there were no signs of rust.
What Could've Been Better?
The one issue we found with this product is that it is difficult to assemble. There are no pre-drilled holes on the handle and bracket, and you will have to make them yourselves. This can be time-consuming, and you will need to find the proper machinery to do it. Once assembled, there is nothing more to worry about.
Pros
Free from rust

Unique cutting angle

Wide snow pushers

Works with delicate surfaces
If you are looking for a product with an ergonomic and user-friendly design, the Suncast SC3250 is the perfect choice. Designed to provide great efficiency, this can be used by people of all ages. It boasted of a 40″ steel handle and angled rib pattern, which will get the job done easily.
Why Did We Like It?
We will begin with the handle, which makes it stand apart from the rest. It has a bent handle, which will allow you to move snow with minimum effort. The pressure that you apply is doubled because of the shape of it.
To add on, the flat profile, along with a short shaft, makes it perfect for moving snow easily. It is slightly curved with a long shaft, which will help push the snow without having to lift it first. The combination of both these elements makes the shoveling job way quicker.
To top it all, if you have less physical strength, this shovel will provide for more efficiency with minimal strain. Since the pressure is magnified, you do not have to apply too much force to get the snow out of your way.
Lastly, the blade is coated with plastic so as to prevent it from scratching the surface. You can use it on wood safely without worrying about leaving marks.
What Could've Been Better?
The body is such that snow keeps sticking on to it. We would recommend spraying the shovel with a dry silicone spray after you have cleaned it properly. This will keep the snow from sticking on to the surface, and you should not face any further problems with it.
Pros
Coated blade to prevent scratching

Angled rib pattern

Flat and short shaft

Works for older adults
Cons
Snow sticks to the shovel
Do you want to buy a budget-friendly product which can be used all year round? The AMES 2672100 will give you the benefits of digging through snow and mud with its sturdy body and its attractive green handle. If you are looking for durability, this is a great product to choose!
Why Did We Like It?
The best part about this product is the grip that it provides. This boasts of an ergonomic grip, which is D-shaped and adds to the comfort and efficiency. It is attached to a 26-inches hardwood handle, which provides more strength.
Also, the shovel is made of aluminum alloy, which is known for its sturdiness and is the perfect fit with hardwood. All of these combined create a powerful body that can tackle thick snow easily.
To add to the durability, the shovel head is rustproof, and this is an essential feature since you will be working with a lot of wet ice.
Furthermore, this can be used to clean up leaves, pines as well as snow, and hence, can be used all year round if needed. You can also dig holes with it for planting new saplings in your garden.
What Could've Been Better?
We found that the edges of the shovel started chipping after a year. But since this did not affect the productivity, we will not hold it as a drawback, but it sure spoils the look of it slightly. We feel the company could coat the head to prevent this from happening.
Pros
Large poly D-grip

More strength and durability

Rustproof
If you are in need of an emergency shovel that can be kept in the back of your car, the BIRDROCK HOME Collapsible Emergency Shovel is an excellent pick. It is reliable and lightweight, making it the best fit for camping trips and other adventures you plan to go on with your car.
Sale
Why Did We Like It?
We were very happy with the multi-functional quality of this product. It can be used to clean snow as well as other natural elements like sand, mulch, dirt, and mud. It is an excellent addition to backpacking and 4-wheeling trips and will be easy to carry, thanks to its foldable design.
It is also because of the light aluminum which has been used to make the body. The aluminum does not make it bulky but gives it much needed strength and enhanced leverage that is needed to tackle thick snow.
To add to the convenience, it had a strong grip, which will let you hold it easily, thanks to the textured surface. Unlike some of its peers, it will never slip out of your hands or cause minor accidents.
Lastly, if you are into adventure sports and have your own snowmobile, this can be attached to the sides as an emergency tool.
What Could've Been Better?
While this is an excellent fit for emergencies and trips, this may not be the perfect tool for everyday use. Yes, the body is sturdy, but it may not be the best tool to dig through thick layers of snow every day because it does not have a soft grip. This can cause back and hand strains, which is problematic.
Pros
Perfect for backpacking trips

Sturdy body

Made of high-quality aluminum

Lightweight and easy to handle
Cons
Not for regular heavy-duty cleaning
Up next is an incredible product that will be the perfect companion to your boy scout adventures. The CARTMAN Sport Utility Scalable Shovel can be used to dig snow caves and are extremely lightweight. If you or your kids are going on adventure camps, take this along!
Why Did We Like It?
One of the best features of this product is its handle, whose height can be adjusted. You can toggle between 25-inches to 32-inches, depending on your use. This made it very versatile and can be used by anybody regardless of its height.
Also, when you are dealing with tough snow, it is best to reduce the height so as to get more leverage. Lighter snow or leaves can be moved with an extended handle.
Now, if you are wondering how to carry it with you, do not worry at all! The item can be detached and separated into three parts, which will easily fit into a backpack if needed. You can store it with your luggage in the back of the car without any issues. Weighing just 1.3 pounds, this is one of the lightest products in this list.
Furthermore, there are three color options to choose from, and you can choose one in your favorite shade.
What Could've Been Better?
We found that there were scratches on the body when the product arrived. Although they are not very visible to anyone seeing it from a distance, we were slightly disappointed with this. We asked for a replacement, and a similar one arrived. Although it works fine, the company could coat the body with a better material.
Pros
Extremely lightweight at 1.3 pounds

Can be separated into 3 parts

Perfect for backpacking and 4-wheeler trips
Do you want a snow shovel that will do the job while you just hold it in place? The Snow Joe 24V-SS13 24-Volt iON is a battery-driven cordless option that will pick up snow from decks and patios with no additional effort. This is perfect for older adults who have lesser body strength or for those with a very tiring job.
Sale
Why Did We Like It?
To begin with, this one features a 400 W motor, which has the capacity to move 1620 lbs of snow per charge. This is perfect for daily use, and we would totally recommend this for places with harsh winters.
Adding on, it had high impact blades and a low-temperature paddle auger, which helps in throwing the snow. We were very impressed to see that the snow could be thrown 20 feet away while the machine cuts a 13 in. x 6 in. pathway.
Furthermore, it runs on a lithium-ion battery, which is rechargeable and can run for 22 minutes at one time silently. Unlike other machines, this makes very little sounds, and you can use it at night if you tend to return late from office.
Lastly, the product is backed by Snow Joe + Sun Joe Customer Promise and will provide a warranty for 2 years. The customer service is really helpful, and you will be able to reach them when needed.
What Could've Been Better?
Although it works very well in the beginning, you will see signs of wear and tear in the long run. This is because most of the body is made of plastic, and there is very little metal used. This reduces the weight and makes it portable, but you will see scratches and dents on its body in the long run.
Pros
Cordless and portable

Whisper-quiet runtime

2-blade high-impact machine

Low-temperature paddle auger
Cons
Shows signs of wear and tear
Do you live in a city that sees a lot of snow? Suncast SF1850 will be an excellent product to keep in the house as it will help you clear the driveway and get your car out to work every day. It is made to be used daily as the body is sturdy and resistant to wear and tear.
Suncast SF1850 Snow Shovel
SLAT WALL SECTION: Mountable panel section is ideal for...
DURABLE: Lightweight panel is constructed of moisture-proof,...
Why Did We Like It?
The best part about this product is the graphite blade, which works wonders with snow. It is sharp and will enable you to cut through tough snow, and the snow does not stick to it at all. This makes it easy to clean as it almost stays completely clean throughout.
This blade is attached to a collapsible handle and a galvanized steel wear strip. Both of these help in making the body strong yet easy to handle and store. You can keep it in the back of your car as it can be folded to half its size.
Besides, the blades are very wide, and this ensures that you can manage a lot of snow at one go. This is an important feature if you live in a house with a big backyard or driveway.
Also, you do not need to lift the shovel to move the snow. It can be used to drag the snow across and clean the place.
What Could've Been Better?
The handle height is average, and hence, it is not fit for taller people. Tall individuals can still use it, but they will have to bend a lot, and this, in turn, can cause backaches and strains. We wished that the company could change the handle to an adjustable one, which would have made this product flawless.
Pros
Galvanized steel wear strip

Minimizes strain

Wide blades ensure faster cutting

No-lifting policy
Cons
Not fit for taller people
We are nearing the end of the list, and it is time to introduce ORIENTOOLS Folding Snow Shovel for its brilliant capacity and its performance. It is known to be extremely user-friendly and works well with a lot of materials that need to be carried. Read on to know more about its bells and whistles.
Why Did We Like It?
We loved the elongated D-shaped grip that this product has. It will provide you with a soft and comfortable place to hold on to, and it doubles up as a hook. If you are worried about it being tough enough, we can assure you that it will be able to carry heavy loads of snow if needed.
You can also use it to move fertilizers, seeds, and feed for your farm animals. We were very impressed with this user-friendly design and its versatility, and we feel it is the perfect tool to have for farming and gardening enthusiasts too.
Another important feature is the 3-position handle, which can be adjusted between 3 states. It can be folded or kept in a vertical or horizontal position. This helped us use it for multiple purposes, and you could put in extra effort in case of tough snow.
What Could've Been Better?
The only issue we had with this product is that it was not fit for larger tasks. This is because the body is small, and the shovel head is also narrow. While it works well with smaller amounts, you cannot use it to pick larger portions and hence, is not suited for big farms and driveways.
Pros
Can be transferred easily

3-position handle

Comfortable D-grip
If you were looking for a product that anybody can use easily, the HBC Snow Shovel would work very well. It is designed to be the perfect fit for all kinds of people and provides a comfortable way to get rid of snow from around the house. It can also be stored outside without worrying about rust or signs of wear and tear.
Why Did We Like It?
The body has an immense capacity to withstand cold weather, and it will not become brittle with time. It is lightweight and sturdy and is designed to push snow easily.
Coming to the material, it is made of high-density poly plastic, which is lighter and flatter than most other shovels. This is perfect for older adults who have less physical strength.
Also, the shovel head is not sharp, and this prevents it from leaving any scratches on the wooden floor. We have even used this on delicate surfaces and tiles, but it has not left any mark there too.
To ensure easy movement, it is provided with a wide and ribbed grip, which will help pick up more amounts of snow at once. You can also work with gloved hands, thanks to the efficiency that it provides.
Lastly, this is very affordable, and you will easily be able to fit it in your budget.
What Could've Been Better?
Although the product works very well with light and fluffy snow, it is not fit for thick layers of it. We found it very difficult to break such layers, and we had to wait for it to melt a little before it could be cleaned. Take this into consideration before you buy a product.
Pros
Does not leave scratches

Strong and reliable grip

Very affordable

Attractive color combination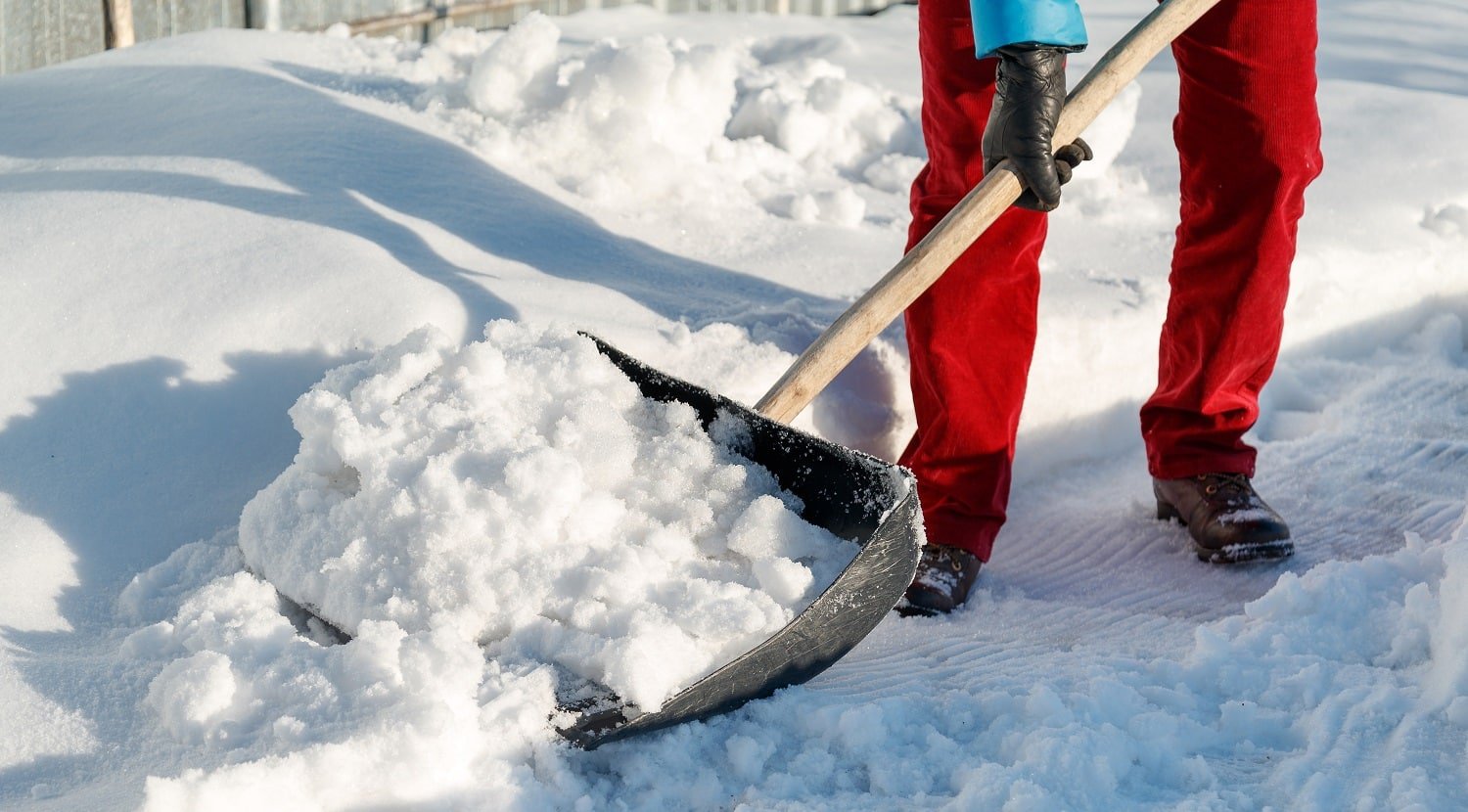 Snow Shoverl Buyer's Guide
Now that you have gone through the 11 best products, you will have noticed that every one of them have some unique features. To help you make a choice, we have detailed down the critical points that need to be kept in mind. We hope this is helpful in making a decision.
Thickness Of Head
Check the width of the shovel head before you purchase. If you have a big backyard or a driveway, the head has to be wide so that you can quickly clear up the snow. A very narrow one will take more time to do the same task.
A narrow head, on the other hand, will work better with thick snow and is the perfect choice for smaller driveways. These are more compact and portable.
Height Of The Handle
It is best to choose a handle that can be adjusted so as anybody can use it. Shorter handles can cause pain in the back and arms for tall people, while tall handles are difficult to operate for shorter people. So, either buy one which fits your height or choose a versatile option that can be used by all.
Grip
The grip decides how comfortable the unit is for one, and hence, a good grip is essential, Most handles come with a D-shaped grip which makes it easy for you to hold. Some feature a ribbed design, while others have a softer surface.
Scratch-free Cleaning
The shovel head is often used on delicate surfaces that are prone to scratches. This includes composite wood, pure wood, and tiles. So, it is important the shovel head is coated with a smoother material, which will prevent any form of scratching. Most of the shovels are equipped with this, but do remember to check it before purchasing.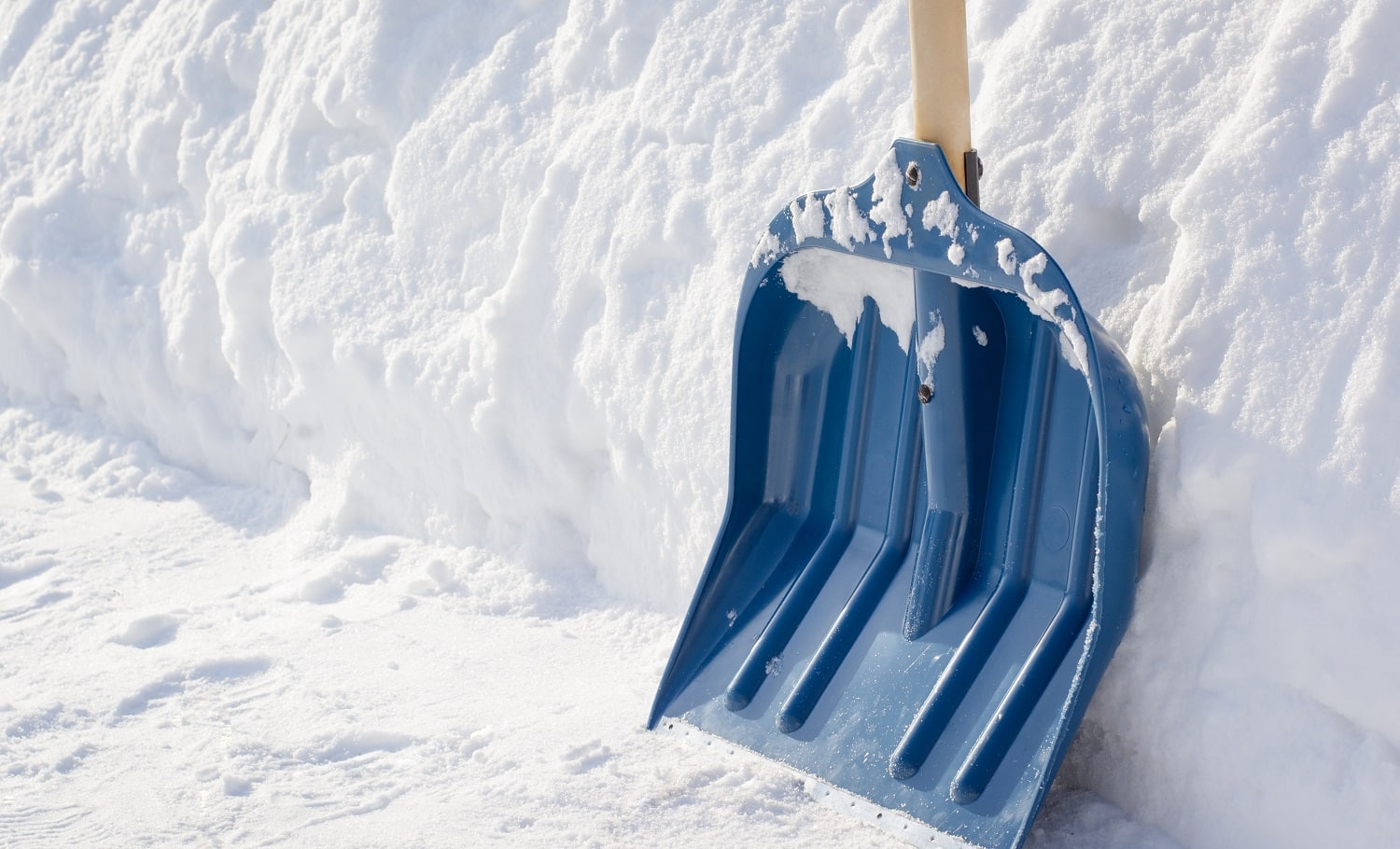 Verdict
Although there are electric snow blowers in the market, they are more expensive and will need maintenance. On the other hand, good old shovels are light and inexpensive and will do the job well.
With this, we come to the end of our detailed guide of the best snow shovels. We hope that it has given you enough insight and will help you make an informed decision.
However, before signing off, let's go for a quick recap of our favorites. The Snow Joe SJ-SHLV01 Shovelution is our favorite overall because of its ergonomic design and enhanced performance, which stands out.
If you are looking for the most compact product, go for the Hopkins 17211 SubZero Auto Emergency Shovel. And when it comes to user-friendliness, it has to be thej&m JM Enterprises TV206972.
With this, we will take our leave. Happy shopping!
Related Articles
13 Best Single Stage Snow Blower
10 Best Snow Blowers For Large Driveways
51 Best Snow Sculpture Ideas to Consider this Season
What to Do When Your Snow Blower Won't Start
Ariens Vs Husqvarna Snow Blowers | Obvious Winner?
Troy-Bilt Squall 2100 208cc 21″ Single-Stage Gas Snow Thrower [Reviewed]
5 Best ATV Snowblower Attachments  
13 Best Snow Joe Electric Snow Blowers  
EGO Power + Snow Blower SNT2100 Reviewed Today
4 Best Remington Snow Blower Reviewed | Buyer's Guide
4 Best Tractor Snow Blower Combinations  
How Much are Snow Blowers? [Costs & Maintenance]
4 Best Tractor Snow Blower Combinations
3 Best Briggs and Stratton Snow Blowers
11 Best Snow Blower for Gravel Driveways
5 Best Commercial Grade Snow Blowers