Snow is soft and beautiful, and pretty much everyone loves it.
However, too much of it can make a place turn from a winter wonderland to a safety hazard real soon, especially if it isn't dealt with well. One major issue people face after a heavy snowfall is cars buried under inches of snow. 
To get rid of the wet snow and make one's car functional again, snow brooms and sometimes ice scrapers may be required. They will help clear the snow, cut through the ice, and sweep it away. Additionally, using them regularly will also ensure that your car doesn't become one with the snow and, consequently, tough to spot.
This is why we have this guide on the best snow brooms available on the market, which also explains what to look for when choosing a broom.
Best Snow Broom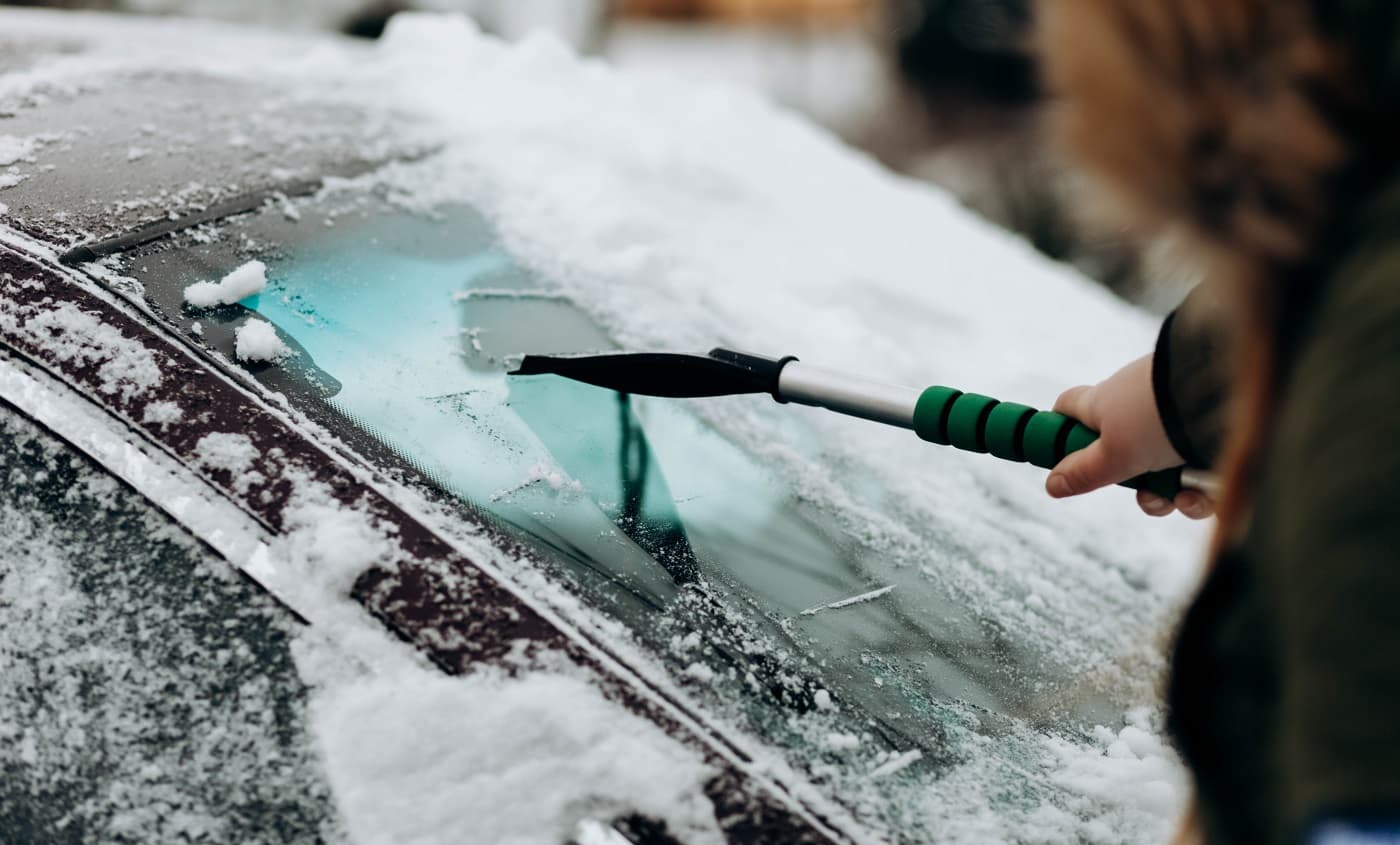 Entering the list in the first place is this snow broom from Snow Joe. Not only is its quality top-notch, but it is also available at a very affordable price. It's lightweight and easy to decipher, and you can use it to remove heavy snow off of the roofs of cars.
Sale
Why Did We Like It?
Firstly, we liked the non-abrasive head of this broom. Despite being relatively big in size, it won't harm the windows or scrape off the car paint while it is being used. When we used the broom, we saw that it could effectively sweep the snow away without hurting the car body.
In addition to that, we absolutely loved the inclusion of an emergency blinker. Though snow is a Christmas miracle, it won't prove to be one if something gets buried in it. Thanks to the blinker on this device, it's easy to spot it in case it accidentally falls while being used.
Lastly, we liked the telescopic pole with its ergonomic handle. It can stretch up to a whopping 52 inches, and this helps clear the tops of larger vehicles.
What Could've Been Better
This snow broom is virtually unbeatable when it comes to heavy snow and can effectively clear it in a matter of minutes. However, it isn't as great for light snow, so if you live somewhere where it doesn't snow often, this may not be of much use to you.
Pros
Doesn't scrape the windows or the car body

Emergency blinker

Ergonomic handle

Extendable pole
Cons
Not effective for places with light snow
Next up, coming in hot is this snow broom from Birdrock, which is chock-full of excellent features. It is a leg up from the old BirdRock Home since it can remove a larger quantity of snow in a single go, with minimal investment of effort and time.
Why Did We Like It?
This snow broom has a large foam head that measures 14 inches, for starters. To add to this, the foam head can be rotated, which allows one to shovel a lot of snow at once off a car roof.
Plus, a rotating head also means ease in storing the device. You can move the head around to make the device more compact, and this will help the device fit into storage areas.
Moving on, the scraper that comes with the broom has rigid jaws and can be detached from the main device. So, not only can it be used independently, but it is also perfect for removing hardened ice that is stuck on the car roof. 
Lastly, the broom is extendable up to 55 inches yet weighs very little and is thus, easy to wield. And its foam grip makes using it even easier.
What Could've Been Better
Unlike the previous product on our list, the BirdRock snow broom isn't suitable for places that see heavy snowfall. If you use it in extremely frigid temperatures and for shoveling out heavy snow, it may snap and break.
Pros
Rotating foam head

Easy to store

Detachable scraper

Comfortable foam grip
Cons
Not suitable for heavy snow
The MOOver snow broom is yet another classic device that is sure to become an indispensable member of your car accessory collection soon. It comes in handy for removing snow off the roofs of cars and is additionally durable and long-lasting, apart from being easy to use.
Why Did We Like It?
From the get-go, we liked how this broom has a broad foam head, which can effectively shuffle large amounts of snow, but doesn't sully the exterior of the car while at it. In addition to that, the snow broom comes in three parts- an ice scraper, a telescopic pole, and a foam head. 
All these parts are very easy to put together, and you'll be able to assemble the snow broom in no time. What's more, for people who don't have a lot of storage space, detaching the broom parts is a blessing since they can store them more easily.
Lastly, the snow broom weighs a mere three pounds, making it lightweight and a breeze to work with. The telescopic pole can be extended to about 46 inches, making it ideal for use with any average-sized car.
What Could've Been Better
We liked the effectiveness of this broom, and it lived up to all its claims (super easy to store and assemble). However, we were disappointed by the packaging because the box was disfigured on arrival, and there were some scratches and dents on it too.
Pros
Won't sully the surface of the vehicle

Easy to assemble

Easy to store

Lightweight
If you're looking for a snow broom that can effectively tackle a bunch of snow, look no further than the snow broom by Snobrum. It is perfect for clearing snow from car roofs because it is quick, non-abrasive, and cost-efficient, not to forget lightweight and extendable.
Why Did We Like It?
To begin with, we liked how the snow broom has a 17×6-inch foam head and a telescopic handle that can be elongated up to 48 inches. This makes it perfect for use on a large car since you'll be able to reach the top easily. The height of the pole especially comes in handy if your car is buried under a gargantuan pile of snow!
Apart from that, the broom features a lithe design that makes it incredibly easy to push the snow. Not only do you have to put in the minimal effort while cleaning the snow out, but the unit is gentle and won't scratch the exterior of your car either.
Lastly, this broom has an ergonomic handle, which makes it easy to hold and doesn't let it slip away. It's also received glowing reviews online, and we felt that the performance of the broom lived up to it.
What Could've Been Better
A glaring flaw of this product is the lack of a basic ice scraper. Since it doesn't have one, you can only remove heavy snow from your car. You'll have to find an alternative way to get rid of the ice or get a broom with an ice scraper if you have issues with ice on the car roof
Pros
Covers a lot of areas

Requires minimal effort

Long-lasting and durable

Easy to store
Mallory, by Hopkins Manufacturing, is known for making quality ice and snow tools all over North America. This snow broom by Mallory weighs just 0.75 pounds and will easily clear snow and ice with minimal effort. It measures 29.5 x 8.5 x 3.25 inches and is available in more than one color.
Why Did We Like It?
Right off the bat, we liked the 8.5-inch brush head, which is able to clear heavy snow effectively. In addition to that, the head of the brush is extendable and can go from the standard size of 30 inches to a whopping 48. This ensures that you can reach the tops of large vehicles while attempting to clear snow!
Moving on, the snow broom is incredibly easy to hold and use, thanks to its telescoping handle with its contoured foam grip. It gives the user greater control over the device and prevents it from slipping away due to excess moisture and slipperiness. 
Thereafter, the scraper blade cuts through the snow and ice with ease, and the broom wipes the surface clean with its thick bristles. Lastly, the device is available in red and blue, so you can pick any color as per your liking.
What Could've Been Better
The product worked really well, and we were pleased with its effectiveness at snow removal. However, the packaging was a major letdown because the box it was in was too small for it. As a result, the brush bristles were all smooshed against one side, leading to some of them breaking.
Pros
Can clear snow off of roofs of large vehicles

Easy to use

Comfortable grip

Choice of colors
Tackling lots of snow on a chilly winter morning sounds like a nightmare, but this snow broom from SubZero can help you with that. It has a host of features that will make you battle-ready and ready to take on the snow monster!
Sale
Why Did We Like It?
One of the main reasons we liked this product was its suave, efficient design. The broom is extendable to a length of 51 inches, which is ideal for clearing snow off the tops of large cars. Additionally, it has a wide foam head that works best with heavy snow.
The broom is also extremely sturdy yet sleek and easy to hold. It features a comfortable foam grip that makes it easy to hold the broom even if your hands are wet. What's more, customer reviews all claim that the broom is super durable and lasts for a good 2-3 winters!
Lastly, we liked the ice chipper that comes with the broom, thanks to which no other ice removing tool is required. This, combined with the brush, will leave your car ice and snow-free in no time!
What Could've Been Better
Though the product received great reviews from people, we couldn't help but notice that the foam head kept coming off. This got very annoying and made snow removal a bit bothersome. However, we contacted customer care and received a replacement, and that hasn't malfunctioned!
Pros
Durable and long-lasting

Great for heavy snow

Easy to use

Comes with a tough ice chipper
Cons
The foam head keeps coming off
Next up, we've got this majestic snow broom from Joytutus, which helps remove snow off one's vehicle efficiently. The head of this product can be rotated up to 270 degrees, and this means that it can reach even tiny nooks and crevices to clean off snow.
Why Did We Like It?
For starters, this snow broom has an extendable shaft controlled using an extension button. Once the button is pressed, the shaft can easily increase its length up to 47.7 inches. This is especially useful for cleaning large cars since their roofs are higher. 
We liked how the handle of the snow broom comes fitted with an ergonomic foam grip, making it easy and firm to hold. This is a very helpful inclusion because when a snow broom is used, one's hands inadvertently get wet, making it difficult to grasp the broom. 
What's more, the triangle scraper at the bottom of the unit is detachable, making it a breeze to clean wipers, frost, and ice. 
The cherry on the cake has to be the one-year support guarantee offered by Joytutus. Even though the product has been manufactured under the strictest quality standards, the support guarantee helps ensure that it remains in optimum condition.
What Could've Been Better
The 1-year support guarantee sure came in handy for us because one of the parts, i.e., the snow shovel, was missing when the package arrived. However, customer support was impeccable, and we were sent a replacement product right away.
Pros
Good for cleaning large car roofs

Comfortable to hold

Detachable scraper

Comes with a 1-year support guarantee
Cons
A part was missing on arrival
This snow broom from Eversprout is a 3-in-1 device that can effectively knock the snow off your car. Its three appendages are the Snowbuster, the Ice Scraper, and the Extension Pole, which work together to clear snow as well as ice. The squeegee is highly customizable and can pivot to 7 different angles!
Why Did We Like It?
To begin with, the quality of this product was absolutely top-notch. The pole of the broom is made of premium lightweight aluminum, making it weigh under just a pound, however, without compromising on sturdiness. Apart from this, the Snowbuster is made of super-condensed foam, which ensures that it won't scratch the surface of your car.
The extension pole, along with its accompanying attachments, is made using a failsafe design, and these attachments are easy to adjust and attach. And, just as easily as the parts are assembled, they can be disassembled too! What's more, all the broom parts have a length of below 18 inches, making them easy to store. 
The broom handle also has a non-slip foam grip, meaning that even if it is chilly and wet outside, your hand won't slip. And lastly, the broom is equipped with a handy flip-tab locking mechanism, which makes it easy to customize the pole length. 
What Could've Been Better
The product falls short a bit when it comes to getting snow off an SUV during a snowstorm. This is because the broom head has to be removed every time one wishes to use the snow scraper, making the whole process somewhat tedious.
Pros
Top-notch quality

Doesn't scratch the car surface

Easy to assemble

Comfortable non-slip grip
Cons
Slightly tedious to use on large vehicles
Rounding off our list to a close is the snow broom from anngrowy, which has a sleek 3 in 1 design. The broom can extend up to a length of 41 inches and has a pole made of broadened aluminum alloy, which ensures that it is sturdy and long-lasting. Moreover, the product also comes with a 1-year warranty!
Why Did We Like It?
First off, we liked the multipurpose design of this snow broom, which features both a brush and a squeegee. Since it is extendable, it helps to clear away snow from the roof of a vehicle easily, and thereafter, the squeegee works to clean the windshield of leaves and water. 
In addition to that, the snow brush is capable of being turned up to 180 degrees, which helps to clear out snow and water from hard-to-reach spots. The bristles of the brush are gentle yet durable and won't scratch the surface of your car. To add to that, the squeegee is made of silicon and helps protect the paint and overall look of the car.
Lastly, the broom has an ergonomic foam handle, which is comfortable to hold and won't strain the hands even if heavy piles of snow are moved. The grip of the handle, too, is sturdy, which means that it won't slip out from your grasp after getting wet.
What Could've Been Better
We were rather disappointed with the performance of this product since it broke the very second time that we used it. It was unable to brush away a rather heavy pile of snow effectively, and the plastic buckle that keeps the brush and the squeegee together broke. 
Pros
Multipurpose design

Gentle brush

Rotating head

Comfortable grip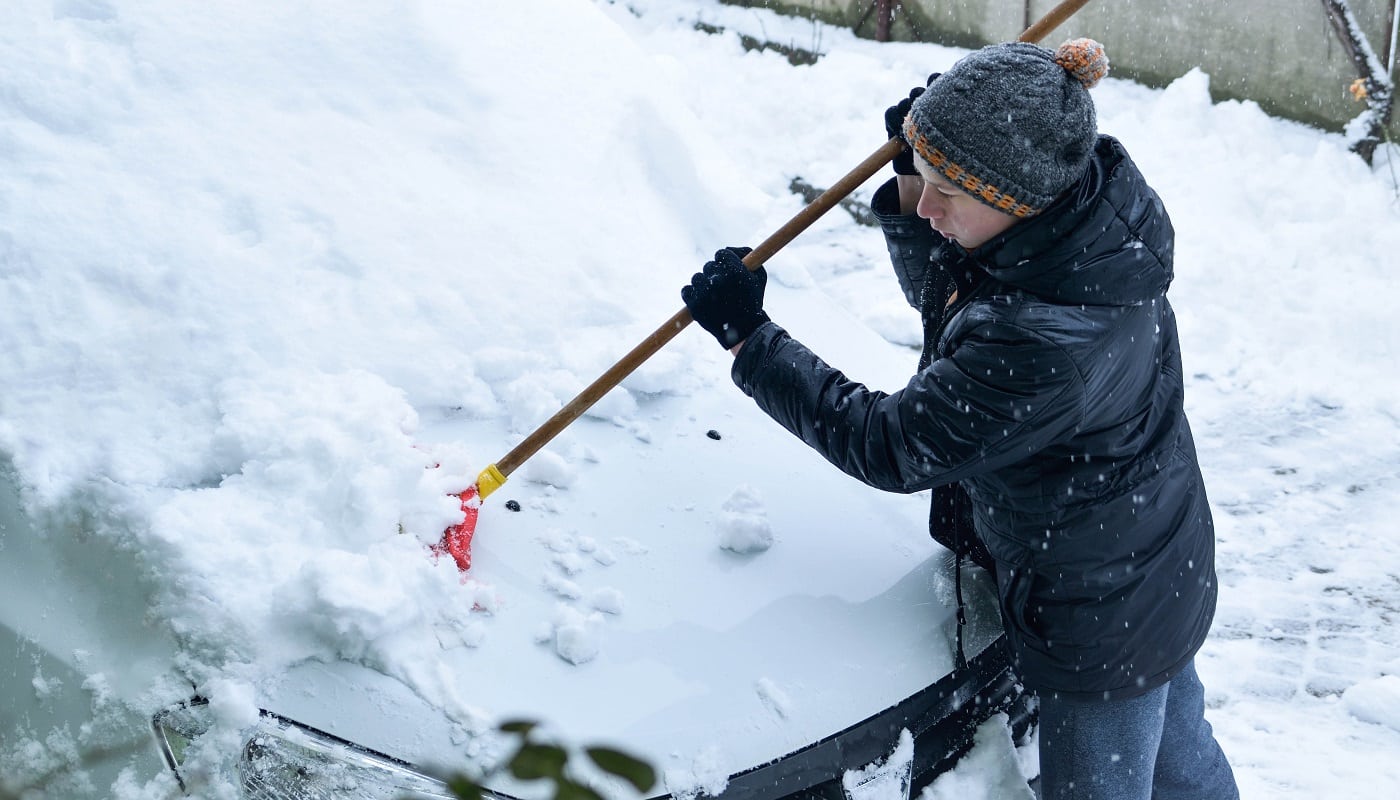 Snow Broom Buying Guide
While getting a snow broom, here are the things you should keep in mind:
1. Design
Not all snow brooms are the same. Some of them aren't extendable, and some don't come with an ice-scraper. The snow broom you get should depend on your needs, so read about the features of each product before buying one.
2. Usage
Your choice of snow broom will also hinge on what purpose you need to use it for.  For instance, if you live somewhere that isn't extremely cold and sees light snow, then getting a broom without a scraper would be wiser. However, getting a heavy-duty broom is important if you live in a frigid area.
We also recommend against buying a broom just because of its popularity or outward appearance. If you're looking for a broom that is perfect for both light and heavy snow, we suggest the snow broom by Joytutus.
3. Extendable Handle 
If you have a small car, or you're getting a snow broom to use in small spaces, then an extendable handle will most likely not be required. In fact, getting one with an extendable handle will only make it difficult to use, and you'll end up straining yourself or pulling a muscle.
Although all the items on our list have extendable handles, we'll still recommend the snow broom by MOOver, since that only extends up to 29 inches.
4. Storage
Sometimes it becomes necessary to put the snow broom into the car because you might want to take it with you somewhere. Most regular snow brooms are easy to keep in one's house, but putting them inside a car isn't as easy.
So, before buying a snow broom, take note of how big the trunk of your car is, and also ensure that you have brooms that can be adjusted and disassembled. This makes sure that you have a broom around if you're driving through heavy snow and need to get rid of it. 
Thus, we'd recommend the snow broom by Eversprout since it can be assembled and disassembled easily.
Snow Broom Frequently Asked Questions ?
Q1. What is the difference between a snow shovel, a snow broom, and a snow pusher ?
All three devices have similar usages but are different in terms of their design. A snow shovel has a rectangle-shaped blade that is useful for scraping through snow and ice. On the other hand, a snow pusher has a narrower blade with a curvature. This helps to cut snow and ice that have hardened and are stuck.
However, a snow broom is designed especially for cars and other large vehicles and can scrape off snow from them and then brush it away.
Q2. How exactly do I use a snow broom on my car ?
We recommend starting from the edge of the car roof and then slowly pushing in toward the center. As you press closer to the middle of the roof, use the brush to remove the snow that you're raking through.
Q3. Who should get a snow broom ?
If you live in an area that gets heavy snow, you'll probably need a snow broom at some point. In addition to that, if you have a large vehicle like an SUV, a snow broom will become indispensable to you in the winter months.
Some American states like Illinois and New York have passed laws mandating owners to clear snow off their cars and driveways. Thus, a snow broom is sure to come in handy for that! What's more, it's better than a simple ice scraper because a snow broom can be extended to allow for the cleaning of hard-to-reach areas.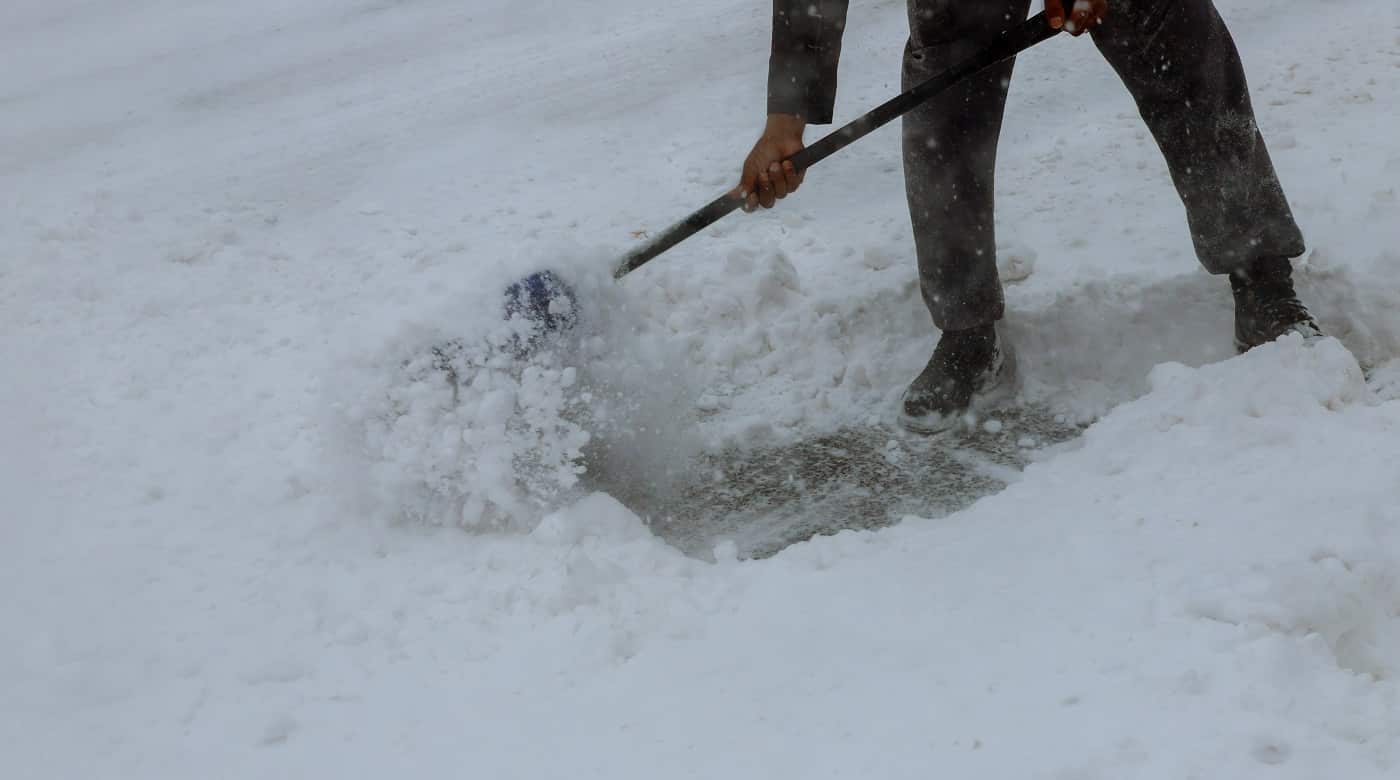 Verdict
Now that we're nearing the end of our guide, we hope you have a better idea of what to look for in a snow broom. Do go through our detailed buyers' guide before getting one!
But to help you decide, we've picked two of our favorite choices from the list, so feel free to consider these. Firstly, we liked the Snow Joe snow broom because it is ideal for heavy-duty snow and cold temperatures. Lastly, we also suggest the BirdRock snow broom because it can deal with snow that isn't as hard and lumpy.
However, the above two options are just our personal preferences, and you can consider any of the options on the list since they're all great.
With this, we've come to the end of the guide. Until next time!
Related Articles
What to Do When Your Snow Blower Won't Start
Ariens Vs Husqvarna Snow Blowers | Obvious Winner?
Troy-Bilt Squall 2100 208cc 21″ Single-Stage Gas Snow Thrower
5 Best ATV Snowblower Attachments 
13 Best Snow Joe Electric Snow Blowers 
EGO Power + Snow Blower SNT2100
4 Best Tractor Snow Blower Combinations  
How Much are Snow Blowers? [Costs & Maintenance]
13 Best Single Stage Snow Blower  
10 Best Snow Blowers For Large Driveways
Electric Snow Blowers vs. Gas Snow Blowers
9 Best Snow Blower for Wet Snow
4 Best Tractor Snow Blower Combinations