Disclaimer | This article may contain affiliate links, this means that at no cost to you, we may receive a small commission for qualifying purchases.
Just like Bing Crosby (or Michael Bublé), everyone at some point is "dreaming about a white Christmas, like they used to know."
But once the magic of Christmas dies down and the new year starts, you're left with a heap of snow covering almost everything.
If you've ever woken up to snow, you'll know it's great for a moment (or two). But, that bubble bursts as soon as you need to step out of the house. You cannot possibly remove snow from around the doors, windows, or the hood of your car with bare hands. That is why snow brooms are such a necessity!
But much like every other product these days, there is an endless range to choose from. And that is why we are here. We have done our research and put together a guide reviewing the 7 best snow brooms to help you make a wise decision.
Now that the chit-chat is over, let's get to it!
Best Snow Brooms 
IMAGE
PRODUCT
DETAILS

Our Top Pick

Our Top Pick

Snow Joe SJBLZD-LED 4-In-1 Telescoping Snow Broom

4 LED lights for illumination
Can act as an emergency blinker
In-built ice scraper

VIEW LATEST PRICE →

BIRDROCK HOME Snow MOOver

Rotating head
The ergonomic design of the scraper

VIEW LATEST PRICE →

Snow MOOver 39" Extendable Snow Foam Brush and Ice Scraper

Soft but rigid foam head
Easy to assemble

VIEW LATEST PRICE →

JOYTUTUS 5-in-1 Snow Brush

Extendable up to 47 inches
Can carry out 5 different functions

VIEW LATEST PRICE →

SNOBRUM SNO Pro

48 inch handle
Extra-wide soft foam head

VIEW LATEST PRICE →

SubZero 18833 Snow Broom with Ice Scraper

Compact design allows easy storage
Sturdy and long-lasting

VIEW LATEST PRICE →

MATCC Car Snow Broom with Ice Scraper

Perfect for smaller cars
Easy to operate

VIEW LATEST PRICE →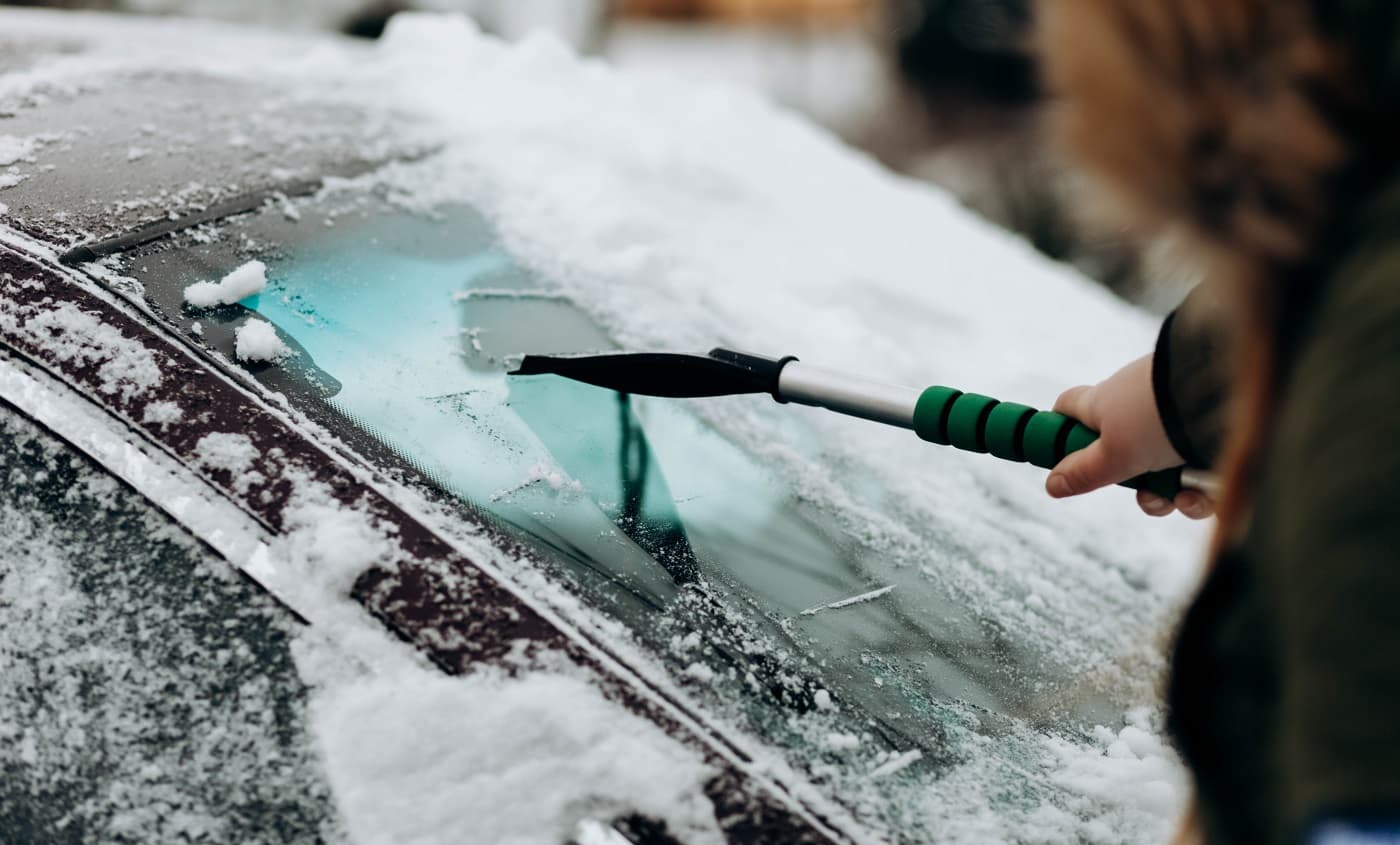 One of our top recommendations is the Snow Joe snow broom. If you are looking for a good quality snow broom that is durable and reliable at an affordable price, then this is the one for you. It is lightweight and easy to use, ensuring that removing snow from any surface doesn't feel like a workout!
Sale
Why Did We Like It?
For us, the first thing that stood out was the emergency blinker feature. Snow is magical but getting stuck in it, not so much. Having an emergency blinker handy would really help if you've pulled over to the side of the road and need to be noticed in dense fog (especially at night).
Another significant aspect is the non-abrasive foam head. Snow Joe says that the foam head, though large, will not ruin the paint or windows of your vehicle when you are removing snow.
Moreover, it comes with an in-built ice scraper at the other end of the broom, so you don't have to worry about using multiple tools.
The broom has a good range of about 52 inches on it, thanks to the telescopic pole. This makes it ideal for people who have a hard time reaching certain parts of their vehicle.
What Could've Been Better?
This particular snow broom is great for heavy snow but not so much for light snow. So, if you stay in a place where it doesn't snow as much, this isn't for you. Moreover, the scraper tends to loosen and fall off the end.
Pros
Great for heavy snow

LED lights to help you in darkness

Has headlights that can act as an emergency blinker

Good range
Cons
Scraper tend to become loose
Next on the list is another great snow broom packed with exciting features by BirdRock Home. It is a better alternative to the BirdRock Home brushes as it can push off more snow in one go. Ideal for people who are frequently on the run, this broom can help you get rid of a lot of snow efficiently and in significantly less time.
Why Did We Like It?
To begin with, not only does this snow broom have a large 14-inch foam head, but the head can also rotate. This allows you to move massive amounts of snow by putting the head at optimum angles.
Moreover, a rotating head means easier storage. So, if you cannot store the broom horizontally due to a lack of space, vertical is the way to go.
Now, moving on to the scraper. It is detachable and has rigid jaws, making it ideal for moments when you need to remove tough ice that's frozen on your car or truck. An added benefit to it being detachable is that you can use it independently if required.
Finally, this broom can extend up to 55 inches and is super lightweight. The foam grip makes it comfortable and easy to use.
What Could've Been Better?
The only downside to this broom is that it is not made for heavy snow. Using the broom during heavy snowfall and extremely cold temperatures could cause it to snap. Long story short, opt for any of the other products we've included in this list if your home receives heavy snowfall.
Pros
Easy to store due to rotating and detachable parts

Detachable parts can be used independently

Tough jaws on the ice scraper

Ideal for pushing off light snow in a rush
Cons
Not made for extreme winter and heavy snow
Another great product to have as part of your winter essentials is this Snow Moover broom. It is a handy helper when you need to remove snow from any exposed surface and is super easy to store. This is a durable and reliable snow broom to have by BirdRock Home.
Sale
Why Did We Like It?
Much like the previously reviewed Snow Moover broom, it has a broad foam head that is rigid enough to remove large quantities of fluffy snow and is also soft hence not spoiling the vehicle's surfaces.
Furthermore, the snow broom comes in three parts – the foam head, telescopic pole, and ice scraper. As it takes very little time to assemble, you can have it ready to work in a few minutes.
Plus, if you are running short on space, detaching the parts make them easy to store when not in use.
Lastly, the snow broom weighs less than 3 pounds making it extremely lightweight and easy to work with. The telescopic pole extends to 39 inches, which is sufficient if you drive a small or midsize vehicle.
What Could've Been Better?
The telescopic pole extending to only 39 inches could be a problem for short and larger vehicles. Like the other BirdRock Home broom we reviewed, some people found it difficult to use for wet snow.
Pros
Easy to assemble

Foam head will not ruin the car

Convenient storage

Lightweight
Cons
Tough to use for wet and heavy snow
Having a large vehicle like an SUV or a truck is convenient for multiple reasons. But, if you live in a place where it snows heavily, cleaning off all that snow can be a mammoth task. To make life easier, we recommend the JOYTUTUS 4-in-1 snow brush (it's actually a broom) that will help you reach and clean the oddest places of your big vehicle.
Why Did We Like It?
There is so much to like about this snow broom. To start with, it can extend up to 47 inches, which makes it super convenient to use on any car/truck, especially the bigger ones.
Gone are the days where you need to jump around in the snow in an attempt to clean your car first thing in the morning.
The next great thing is that this particular broom performs 4 different functions. It can help you with water, ice, snow, and frost removal, as well as clean your wipers.
Lastly, one of the best things is that it comes with a small bag that includes gloves, a cleaning cloth, and an extra wiper. It is quite useful as you can keep everything together and ready to use. The broom itself is easy to store and will not take up a lot of space in your car or home.
What Could've Been Better?
While it is great that this snow broom is multi-functional, assembling it can be a bit of a task if you are in a hurry. If you are looking for a simple snow broom with basic features, this might not be the one for you.
Pros
Has great range for more oversized vehicles

Caters to multiple cleaning needs

Comes with add ons in a storage bag

Has a rotatable head
Cons
It takes a while to assemble
Now, let's talk about the SNOBRUM Pro which essentially has the qualities of a commercially used snow broom for an average person. While selecting a snow broom for your vehicle, everyone wants a product that doesn't affect the finish of their car, can remove the snow within minutes, and is cost-efficient. With SNOBRUM Pro, the search ends here.
Why Did We Like It?
Straight off the bat, this snow broom has a 48 inch handle along with a 17 x 6 inch wide foam head. What's not to like?
This one has massive coverage, which is more than enough when you're short on time and see your car or truck under a thick layer of snow.
Additionally, it has a brilliant feature where you can actually "push" snow using minimal effort. No matter how aggressively you clear the snow out, the soft foam won't scratch and damage the surface.
Coming to this broom's material and overall design, we came across some glowing reviews about how comfortable and long-lasting the broom is.
The broom's overall feel and efficiency make this product worth every penny.
What Could've Been Better?
The most obvious drawback to this broom is that it does not come with an ice-scraper. So, if you are looking for a broom that is only for removing thick snow (and not frost/ice), this is ideal.
Pros
Long handle

Lightweight

It can push the snow off with ease

Wider foam head ensures fast snow removal
Cons
It does not include an ice-scraper
No one likes tackling thick layers of snow. But, sometimes, you have to be battle-ready against heavy snowfall almost every day. We recommend the SubZero snow broom as a viable weapon. With the extendable handle, wide foam head, and ice scraper at your service, the ice won't know what hit (rather pushed) it.
Sale
Why Did We Like It?
One of the main reasons we have featured this particular snow broom is because of its durability. The SubZero broom has lasted a lot of its users for more than 2-3 winters.
Coming to the design of the product, it is simple yet efficient. The broom extends up to 51 inches and has a wide foam head that is great for heavy snow.
The sturdiness of the broom allows you to remove snow quickly and with ease. It is particularly advantageous when you end up sleeping in and then subsequently need to rush.
Lastly, the broom has a tough ice chipper attached, so you don't use any other tool to remove the ice. You can have your car cleared out within minutes using just one broom.
What Could've Been Better?
While sturdiness was a feature that many people raved about, there are also consistent complaints regarding the foam head coming off too soon. Plus, it is worth keeping in mind not to put the broom down on the ground (head first) as it can pick up particles and that could scratch the surface of your car.
Pros
Durable

Sturdy handle

Great length for SUVs and trucks

Wide foam head
Cons
Foam head tends to fall off
Finally on our list of recommendations is the MATCC snow broom. In case you're on the lookout for the perfect snow broom that requires you to put in minimal effort to remove snow, this is one product to consider. The MATCC snow broom is compact and easy to store in the back of your car, ensuring you are ready to tackle snow no matter what the location is.
No products found.
Why Did We Like It?
One of the best parts about this snow broom is that it is an excellent alternative for people who have smaller cars. If you do not need to buy a snow broom with an extensively long handle, this is a feasible option.
Furthermore, it is quite affordable and has all the essential features like a wide foam head that won't scratch the surface of your vehicle and a tough ice scraper for those days when ice stubbornly sticks to your car.
A worth mentioning feature in this broom is the S-shaped design and rotating head it says it has. This design helps you maneuver the broom allowing it to remove snow from all the odd places  without putting in a lot of effort.
What Could've Been Better?
This snow broom's only drawback is that it is not meant for bigger vehicles since it only extends up to 37.5 inches. So, if you're searching for a broom for your large trucks and mid-large sized SUV's, this is not the best one.
Pros
S-shaped design offers more flexibility while cleaning

Great for smaller sized vehicles

Long-lasting material

Responsive support team
Cons
Not ideal for mid-large sized vehicles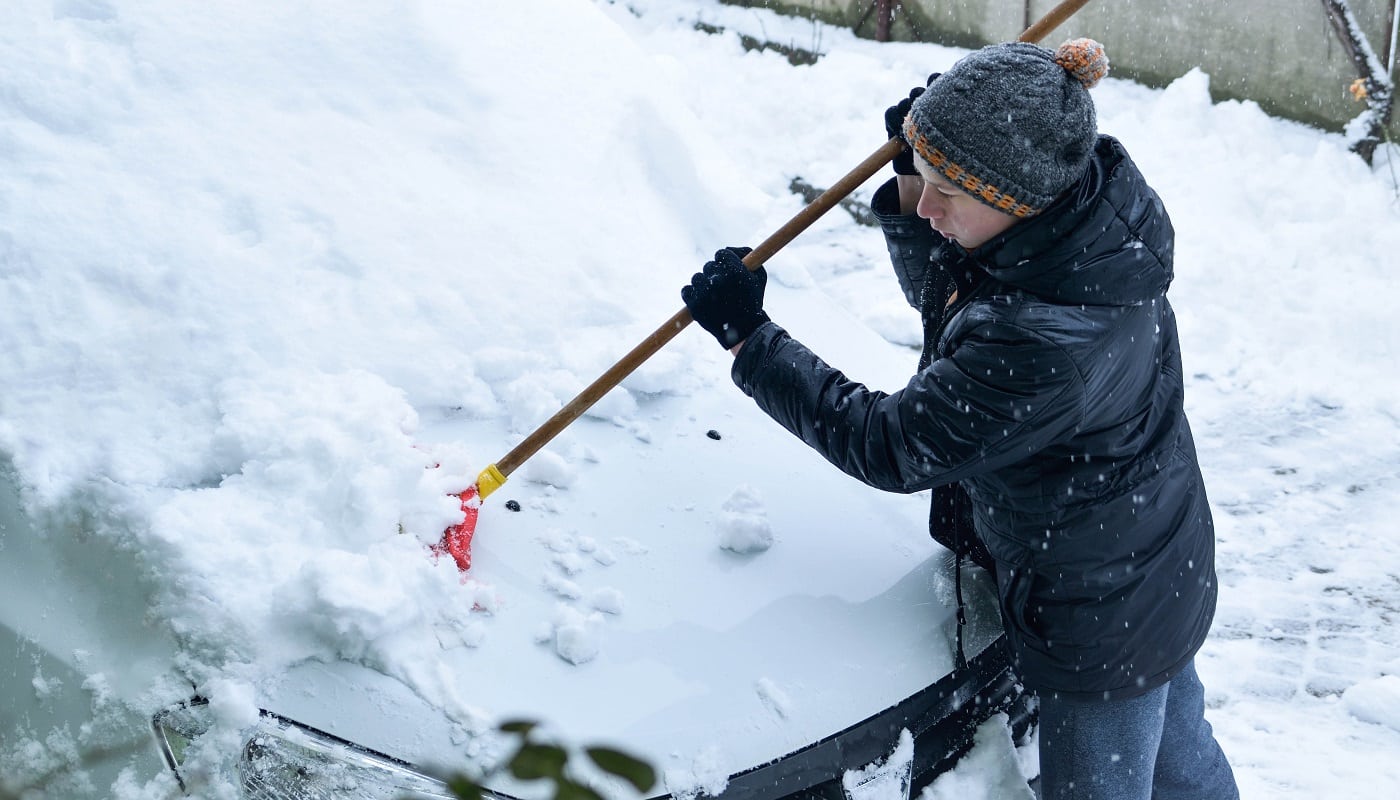 Snow Broom Buyer's Guide
Waking up earlier than usual just to remove snow off of your car is nobody's definition of fun.
It can be incredibly annoying if you're exhausted first thing in the morning while cleaning your vehicle and then proceed to start the day. And, that is why it is vital to select the right tools for your needs.
With endless numbers of snow brooms available, it can get overwhelming selecting the right one. There is a strong chance that you might need more than one depending on who you are buying it for and what vehicle it will be used on.
That is why we have put together a short guide to help you. Below are a few features you must look out for, for your next snow broom.
Design
It is crucial to understand that not all snow brooms are alike. It helps to figure out beforehand what you need the snow broom for. If it is only to remove snow and you don't need an ice scraper (or maybe you already have one), buying a good quality snow remover will be much better than paying extra and buying a broom, which includes a scraper.
Usage
Another crucial point to keep in mind is how and where you intend on using it. If you live in an area that sees a lot of snow, invest in a sturdy broom made for heavy-duty activity.
Buying a broom just because it is popular or costs less will not do any good in a situation where you have to remove thick snow as it might not always be durable in those weather conditions.
Extendable Handle – yay or nay?
Buying a broom with an extendable handle will only be beneficial if you use that feature. If you have a small car or need to push snow off smaller areas like hot tub covers and front porches, then a broom that extends up to 50+ inches will only make it difficult for you to maneuver.
The idea is to have a broom that you can use without straining yourself.
Storage
While most snow brooms (just like regular brooms) are easy to store in the house, it may not fit in your car. It will help if you analyze your car's trunk size and keep an eye out for brooms that can be easily folded or that disassemble (and assemble) quickly.
This allows you to have a snow broom handy on the go and ensures that you are always ready to get rid of snow if needed.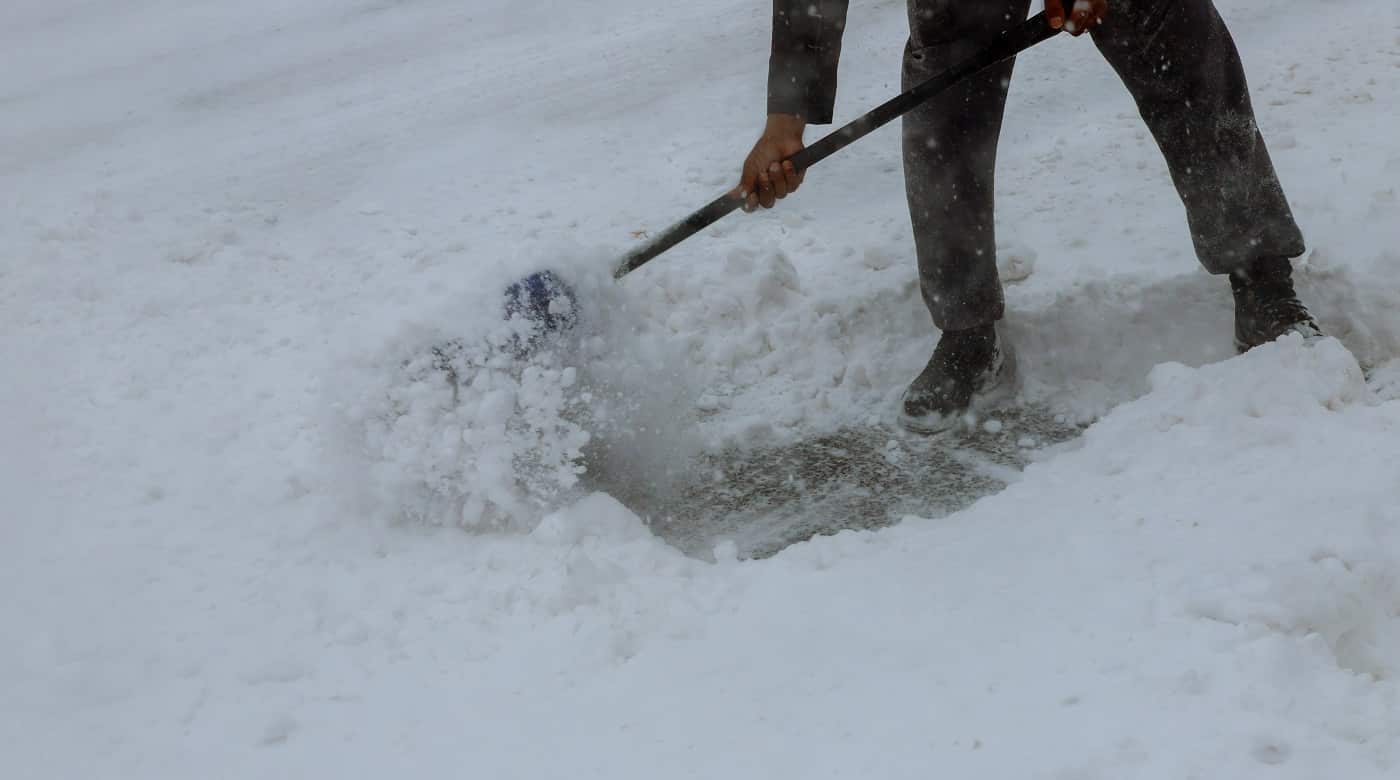 Verdict
And there you have it! A comprehensive review of the 7 best snow brooms that will keep your surfaces clean and have you ready to seize the day in no time.
Give yourself a few minutes to go through the buyer's guide, as you might find it helpful while making a decision.
Remember, if you need a snow broom suited to smaller vehicles, the MATCC snow broom is an excellent option to consider. On the other hand, the SnowJoe telescoping snow broom can be your new best friend when you have heavy snow and dense weather.
We know that we have provided you with quite a few options and hope that at least one out of the 7 recommendations will be ideal for your needs.
Snow days are about to get more fun. Happy Cleaning! See you next time!
Related Articles
What to Do When Your Snow Blower Won't Start
Ariens Vs Husqvarna Snow Blowers | Obvious Winner?
Troy-Bilt Squall 2100 208cc 21″ Single-Stage Gas Snow Thrower [Reviewed]
5 Best ATV Snowblower Attachments  
13 Best Snow Joe Electric Snow Blowers  
EGO Power + Snow Blower SNT2100 Reviewed Today
4 Best Remington Snow Blower Reviewed | Buyer's Guide
4 Best Tractor Snow Blower Combinations  
How Much are Snow Blowers? [Costs & Maintenance]
11 Best Snow Shovels Right Now
13 Best Single Stage Snow Blower  
11 Best Snow Shovels Right Now
10 Best Snow Blowers For Large Driveways
4 Best Greenworks Snow Blower [Buyer's Guide]
Electric Snow Blowers vs. Gas Snow Blowers | Buyer's Guide
9 Best Snow Blower for Wet Snow