Winters are great until you get snow knocking on your door, or saying 'Hi!' in your driveway like uninvited guests at farewell parties.
And for those who live in the fault lines of annual blizzards, winters aren't occasions of warming up in front of the fireplace but cleaning up huge piles of snow in the cold.
They understand the incredible difference a snowblower can make in their lives in clearing out that disturbing, slippery ice from a large driveway, patio, or porch.
So, crank up your winters with some of the best snow blowers which we have listed here.
These are some of the best choices currently trending on the market for their durability and high functionality. And we understand how it feels to get lost in a sea of options with a wide array of products all claiming to be the best. For such times, we have included a definitive buyer's guide as well.
So, without much ado, let's get straight into the nitty-gritty.
Best Snow Blowers For Large Driveways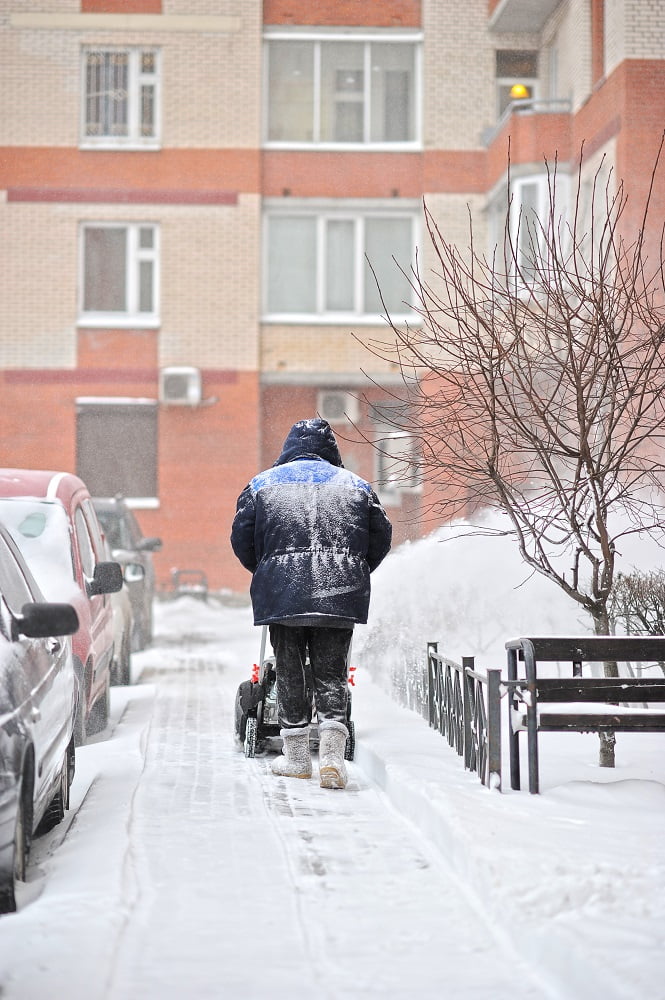 PowerSmart is one of the most renowned companies in the field of construction and power tools. Their generators, circular saws, and other home safety equipment have got wide acceptance among American households, and this is why we thought to try out their 2-stage snowblower. We can say with confidence that this blower is not an exception to their long line of durable products.
Why did we like it?
Well, let's start with the basic features first and how useful they would prove in the long run. The DB72024PA features a decent 212 cc tank capacity, a 6.5 HP engine, and a clearing width of 24 inches alongside a snow intake depth of 21 inches. And as it's a 2-stage blower, snow throwing is twice as efficient.
For those who don't know, a 2-stage snow blower comes with an auger and an impeller. Unlike single-stage blowers where the auger cuts the snow, collects it, and discharges it through the chute, 2-stage blowers work differently.
In this case, the impeller breaks the snow while the auger sucks it up without coming in contact with the surface. This makes the device all the more versatile as it can efficiently work on surfaces of gravel and crushed stone without getting ammed or damaged.
Finally, the device takes all the hassle out of snow blowing with its 6 variable speed (4 forward and 2 reverse speed) settings to suit every homeowner's needs. Moreover, this feature adds to the flexibility of the discharge chute, as you can throw the snow across considerable distances.
What could have been better?
Well, as it's a gas snow blower, there's a chance of leakage, and many user reviews have confirmed it. Moreover, below freezing temperatures, the gas tank gets jammed at times, and switching on the device becomes quite a task.
Pros
2-stage blower

Variable speed

Can throw snow far away

Wide clearing radius
Cons
Gas leakage problem

Starting switch gets jammed during freezing temperatures
Briggs & Stratton has made home maintenance a work of sheer pleasure with its large assortment of products. With 110 years of experience in the field, it is trusted by millions of Americans as they never fail to bring out products with some trailblazing features. And the 1696614 model is a perfect example of that.
Why did we like it?
First of all, it's a 24-inch snow thrower, meaning it's a medium-duty model with a push-button electric start and a 208cc engine, perfect for large driveways. The clearing depth of 24 inches combines with a 20-inch intake height to make the backbreaking task of clearing sloped driveways a complete cakewalk.
Moreover, unlike the PowerSmart model that gets jammed in extreme weather conditions, Briggs & Stratton's electric power start comes with a durable electrical circuit. This enables the blower to make its way through the coldest of seasons, while its friction disk transmission gives you a smoother flow over thicker ice and significant work control.
And talking about convenience, its reversible steel skid shoes make plowing easier as it considerably increases the maneuvering capability of the thrower. Finally, the unit is built to last for years to come because it's equipped with a durable steel frame, a rust-resistant aluminum gearbox, and a notched auger that manages snow discharging very efficiently. So there's a perfect deal clincher!
What could have been better?
However, there are a couple of minor problems with this device. First, the blower doesn't suit snow above 2 feet. And second, the absence of power steering is a problem for deeper or wetter snow.
Pros
Very sturdy

Can clear sloping driveways easily

Electric start

Friction disk transmission gives better control
Cons
Not fit for over 2 feet snow

No power steering
If the previous Briggs & Stratton model was a medium-duty snow thrower, this 250cc blower is one of the elite models of the company. The thing about Briggs is it has something for everyone, and that's why we believe the 1696619 model will serve all your snow blowing needs with perfect ease.
Why did we like it?
One of the best reasons to go for this product is its mighty engine. It is powered by an 1150 snow series engine of 250 cc that can start at temperatures as low as – 20 degrees F. Moreover, its large capacity gives you a massive 11.5 foot-pound torque to clear large swathes of deep snow near your front door, porch, or driveway. Always remember, higher torque means greater efficiency in scooping up the snow and throwing it as far as possible.
Coming to its other features, the large clearing width of 27 inches and an intake depth of 20 inches never fail to collect the finest snow of all. And its 200-degree chute rotation saves you a whole lot of time as it makes a clean swipe with every single turn without getting jammed. 
And like the previous model, even this blower comes with reversible steel skid shoes to give you greater maneuverability. Add to this a friction disc drive of multiple speeds (5 forward and 2 reverse speeds), a one-hand control driving operation, an integrated LED light, and you will get a snowblower ready to tackle the toughest of snow in the largest of driveways.
What could have been better?
There's no functional difficulty that we faced with this blower, but many users have mentioned that it makes a heck lot of noise, especially during reverse motion. Also, its high-power engine gives out a lot of black smoke, so pollution is too much to ignore.
Pros
Friction disc drive

Multiple speeds

27" clearing width

Snow throwing capacity of 40 inches

200-degree chute rotation
Cons
Lot of engine noise

Pollution
If the previous high-end model came with a lot of pollution, here we have got you covered with one of the cleanest snow blowers currently on the market. Before beginning with the review, let's declare it first: it is truly a one of a kind blower that doesn't require any power source to run. Its powerful batteries do the job, and that's just one of the top-notch features of this trailblazing model. 
Sale
Why did we like it?
Well, the iON8024 model has its core in the two rechargeable and interchangeable 40 V Ecosharp batteries that can deliver up to 40 minutes of powerful blowing performance. And just to remind you, this revolutionizing feature has wholly replaced the cumbersome gas tanks and cords, allowing you to move about anywhere with this little beast.
Coming to its features, the blower features a powerful 2,500 W brushless motor, one of the best in the industry. Brushless motors come with no sound and greater speed-torque abilities, giving you high efficiency and excellent work control. 
And talking about power and performance, the 2,500 W motor can clear width of 24 inches and a depth of 13 inches with a single stroke. But the point where this model of Snow Joe differs from the rest is its massive snow-tackling capacity, which is nearly 1,000 pounds. And as it's a 2-stage blower, the work gets all the faster and efficient with this huge snow blowing capacity.
And last but not least, the digital controls aren't just convenient, but have fundamentally changed the way we used to look at throwing away snow. It has a push-button display with a 4-speed digital drive system out of which 3 of them are forward speeds and 1 superfast reverse speed for rapid return at the end of a snow-clearing run. Controlling a snow thrower hasn't been more fun and convenient!
What could have been better?
Although the device comes with a 180-degree autorotate chute, its gear plate binds up after a few passes left and right. This prevents the motor from rotating the chute anymore and gets it jammed. But let us also tell us that this happens only under severe weather conditions.
Pros
Cordless

4 digitally controlled speeds

Brushless motor

1,000-pound snow blowing capacity
Cons
Chute doesn't work all the time properly
Today there are zillions of driveway styles, and not all snow blowers can perform equally on surfaces of all kinds of materials. This is why we chose the ST224 model from Husqvarna, which beats every other blower with its versatility. And it's never a big deal to trust a company like Husqvarna that has shown its vigor in the power tools industry with its revolutionizing chain saws, auto mowers, cleaners, and premium quality oils.
Why did we like it?
Frankly, this is one of the most comprehensive snow blowers that we've reviewed until now. We claim this because it's loaded with heated hand grips, 7 variable speeds, an engine of high capacity, an electric starting switch, and a durable frame. Read it all in one breath again, and then we'll proceed with the benefits!
The heated hand grips took our attention for a while because not many blowers come with this feature. Heated handles are a remarkable feature to have that keep your hands warm out there in the freezing temperatures. No one wants a frozen pair of hands during a heavy snow throwing session, right? 
And talking about convenience, the beast comes with ribbon augers that mix air with the collected snow to make it easier to throw to the side. Oh, if you're wondering about its clearing depth, it's the usual 24 inches, and its 15-inch high-quality rubber tires can navigate through the heaviest of snow like it's a concrete road. 
Moreover, if this piece of info boosts any confidence, Husqvarna has been making outdoor power equipment for over 300 years. It's not just a company, but a legacy.
What could have been better?
The ST224 is a perfect mix of ingenious engineering and supreme convenience. And adding a touch of extreme durability makes the cost of this device considerably higher than the other blowers we discussed above. This isn't a fault with the device, but it's also true that many can't afford this expense.
Pros
Heated handles

Durable tires

35" snow throwing capacity

Electric start

LED lights
The previous Husqvarna model was a high-end model with the most top features and came at a hefty cost. But this model from Tacklife is a mid-range blower that suits your budget and comes with superior performance, fantastic features, and excellent customer service.
No products found.
Why did we like it?
We'd like to remind you that this isn't a high-end model, and despite that, it can tackle a decent 800 pounds of snow per minute. Its powerful 15-amp motor provides a rapid 3,000 RPM, which is why we believe it can take over large patios, driveways, and gardens with perfect ease.
Coming to its other features, the device comes with durable 4-blade steel augers fixed with antifreeze rubber. It not just increases the durability of the augers manifold, but also comes to great use while working with great depths of dry snow. The augers give you an intake depth of 10 inches and a clearing width of 20 inches, and that's pretty decent for a blower of this price range.
Furthermore, the adjustable chute rotates a full 180 degrees, allowing you to throw snow away up to 30 feet, and its 60 – 90-degree adjustable outlet lets you determine the throwing distance. And unlike the other models, this 2-stage blower comes with a power cord hook, an overload protector to lessen motor damage, and an Antifreeze plastic-covered handle.
What could have been better?
The power button slacks sometimes, and this is NOT a blower for gravel driveways. As it's a mid-range model, it is also not suitable to clear the denser wet snow, although, with the dry snow, it does a pretty decent job. So, in essence, this is an excellent blower with a long, durable life but also lacks in certain aspects. Yet, we feel its value for money is outstanding.
Pros
800 pounds of snow per minute

Throws snow up to 30 feet

Adjustable snow outlet

Many features of convenience
Yeah, we can't get over the legacy of Husqvarna, and right after the ST227, we saw another trailblazing model, the ST227P. This model fills up those gaps that the previous ST227 missed. And one of the reasons for being excited about this product is we were lucky enough to have hands-on experience with it.
Why did we like it?
Let's get into a comparison between the two models of Husqvarna for that will set things right in perspective, and make your buying choices easier. The ST227P also has a heated handle like its predecessor, and experiencing that heat in the freezing cold of the night was a remarkable experience. Post-work, we had no random blisters or pain in the joints.
Talking about convenience, this model has an electric start that never fails to fire the engine instantly. Moreover, the remote chute deflector allows you to change the direction of the snow outlet with a lever, and it comes to great use while quickly clearing large driveways. How? Well, once you collect the snow, you can throw it in any direction, and as it never leaves any trail of ice behind, it saves the hassle of going over the same patch again and again.
Furthermore, with this model, there is no slipping or sliding over wet snow or sloped pathways. Its patented cleated-track drive system and durable tires deliver supreme propulsion on slippery surfaces, irrespective of the various conditions. And to complete this all, its convenient trigger control power steering lets you turn each wheel to a full 180. This is the major difference between the 2 Husqvarna models that this one comes with power steering while the other doesn't.
What could have been better?
Some users have commented that the augers start malfunctioning after a few hours of heavy usage. But we haven't faced any such issue while handling the device, and the only other factor that's an issue is the price. All these top-notch features make it an excellent product, but most people would have a jumpscare looking at the price range. 
Pros
Power steering

Heated handles

Durable body

Rotate snow outlet

No slipping or sliding on wet snow
This is yet another favorite model of ours, as we have very little to comment on the quality of Yardmax products. The YB5765 is a 2-stage snow blower that falls in the lower price range but comes with some of the most desired features to give an exact clearance of snow from large driveways. 
Why did we like it?
If you're thinking about investing in a snowblower, one of the most important factors to look for is durability. Sure, you would always want the product to last at least for another 5 winters, and this is where Yardmax beats the game. The blower is made to endure harsh weather without compromising on its top-notch performance as it comes with an aluminum gear case, a durable steel frame, and gears.
Coming to its basic features, the blower is loaded with a 6.5 HP motor that gives you a clearing width of 22 inches. And if you're looking for more space there, Yardmax has got you covered with its 24 and 26-inch variants of the same model. Moreover, its serrated steel augers combine with ax-shaped housing to slice and break the densely-packed snow without getting jammed. 
We also liked the fact that the company has improved the quality of the impellers and the adjustable chute. They facilitate a tighter discharge, enabling snow throwing to any direction of your choice to the maximum distance with minimum blowback. And finally, the 5 forward and 2 reverse speeds add to the performance quotient to give you a crystal clean driveway or patio every time.
What could have been better?
While all the other models have moved on to electric start, Yardmax still deploys recoil start. This means one needs to pull a thread that hits the right circuits to get the machine running. However cool this sounds, recoil start tends to get jammed during extremes of weather conditions, and it's not a desirable thing to have on your blower.
Pros
Very durable body

Improved impellers

Available in 3 variants of clearing widths

Adjustable chute has improved snow-throwing capacity
If you didn't prefer the Yardmax model due to its old recoil start technology, here's one thrower without any hassle of wires and cables. Like the one from Snow Joe, this is also a cordless blower featuring superb power, clean operations, and a noise-free snow clearing process. Greenworks is one of those brands which make premium quality outdoor home products with environment-friendliness being their foremost USP.
Sale
Why did we like it?
Well, we talked about it all in the product intro, so let's start with clean operations. The Pro 20-inch model comes with a brushless motor that has 2 advantages. First, brushless means no noise, and you can finally do all the taxing snow clearing any time of the day without waking up your entire neighborhood. Second, apart from delivering more power, brushless motors require a lot less maintenance, and that caters to the overall longevity of the machine.
Moreover, its 20-inch clearing width always manages to swipe the entire functional radius with a single blow, and the 80 V battery delivers smooth, longer runtimes of up to 40 minutes. What's more, for a full top-up of the battery, it takes a mere 30 minutes, and you can dig through another session of deep snow clearing. 
Talking about snow discharging capabilities, the blower features a 180-degree rotating chute, which can throw the collected snow to a distance of 20 feet. Other than this, the usual features of convenience include an LED light and an instant push-button electric start. All of this combined promises superior performance at an optimum price and also top-notch durability.
What could have been better?
Well, the first issue that upset us is the 80 V battery doesn't come with the package, and you gotta buy it separately. And one recurring problem that many users have faced is the battery gets jammed during freezing temperatures. So, for the best output, Greenworks advises to keep them at room temperature for 10 minutes before installing it.
Pros
No cords

Decent clearing width

Fast rechargeable battery

Improved battery performance

Noise-free operation
Cons
Package doesn't include battery and charger
Troy-Bilt Vortex 2690 Three-Stage Gas Snow Thrower
The Vortex 2690 is a significant departure from the rest of the models, not just in terms of price, but features too. It's a 3-stage snow thrower while the ones we have reviewed thus far are mostly 2-stage blowers, which is the current industry trend. We thought to include this Troy-Bilt product because of the sheer performance it can undertake, and we are quite sure it will suit people with some of the largest driveways.
Why did we like it?
The fact that this model is a 3-stage blower makes a significant difference in its performance. For those that don't know, the advanced technology adds another auger at 90 degrees to the 2-stage auger-impeller combination to break the dense wet snow. So, this demands more power, which is why Vortex comes with a massive 357cc motor. 
Talking about power and performance, the highly functional blower also features a 4-way chute control with a 30-inch clearing width. Well, this means superior collection and maneuvering of the entire snow within a 30-inch radius and throwing it in any direction of your choice. And due to the 26-inch auger and adjustable polymer skid shoes, cleaning 8-car driveways becomes a work of sheer pleasure with this model. 
Just two passes, and you have your entire large sidewalk or driveway as clean as new. Moreover, like the Husqvarna models, Troy also features heated handles for a comfortable snow-clearing ride. Also, the durable 16-inch X-Trac tires, smooth one-hand operation, and excellent 'Touch n turn' steering enhances the mobility and efficiency of the blower manifold.
What could have been better?
However strange it may seem, this massive and ultra-efficient blower of thick ice isn't a master at clearing light snow. It's an expert for snow that's below 4 inches due to the very high spinning speed of the 2 augers. And with weighty snow, the augers tend to push the snow to their left, as a result of which it leaves behind a small snow trail.
Pros
Massive 30-inch clearing depth

Made for very large driveways

Heated handles

Durable tires for easy maneuvering

Extremely mobile in any direction
Cons
Not fit for light snow

Design leaves a small snow trail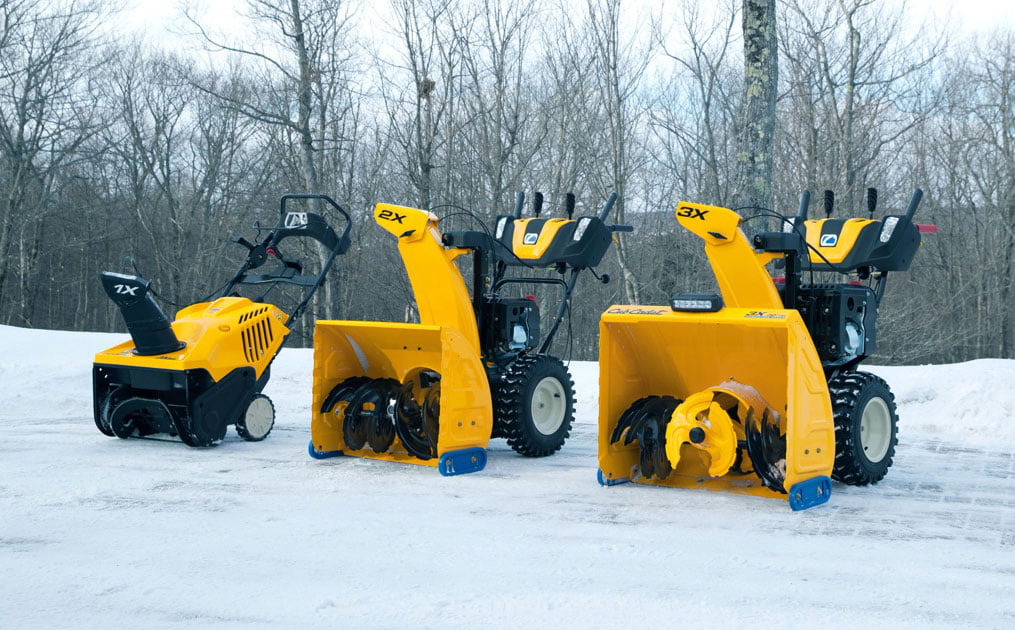 Snow Blower Buyer's Guide
We believe we have covered everyone's needs with this comprehensive list of snow blowers. With eye-catching trends in home design, the variety of driveways is changing. At first, it used to be just concrete, but now their base material is varied and includes gravel, dirt, brick, cobblestone, crushed stone, you name it.
So, if this series of products didn't suit your needs, here are a few points to keep in mind while going for a snowblower. 
System Type
Well, as you must have already guessed it, this is the first checkpoint to cross. One needs to choose among single-stage, 2-stage, and 3-stage blowers, based on the driveway length, and the amount of snowfall in a region. 
The single-stage blowers are the most inexpensive ones, but usually, work great until 2 feet of light snow. Next comes the dual-stage blowers, which give optimum performance with over 2 feet of snow, both light and dense. And the most advanced 3-stage blowers are massive beasts that have intake depths of over 20 inches, extremely powerful motors, and highly durable tires.
Power Unit type
This is an important point to consider since electric snow blowers don't have a considerable range of throwing the packed ice. That's why in this list as well, we've focused mostly on the blowers with a gas unit. Yeah, we understand gas blowers come with a leakage problem, but if you check every part thoroughly before buying, you can easily prevent the issue. 
And once this problem is solved, you gotta worry about the throwing range, and electric blowers can't beat the sturdy gas units in these terms.
Clearing width
The catch about going for a high clearing width is it doesn't ensure whether all the snow will be piled up in one swipe. So, to reduce the annoying ups and downs along your driveway, don't look just for high clearing width, but also how efficient are the augers and impellers. A combination of high clearing width and one-stop cleaning augers seems like a perfect choice for larger driveways.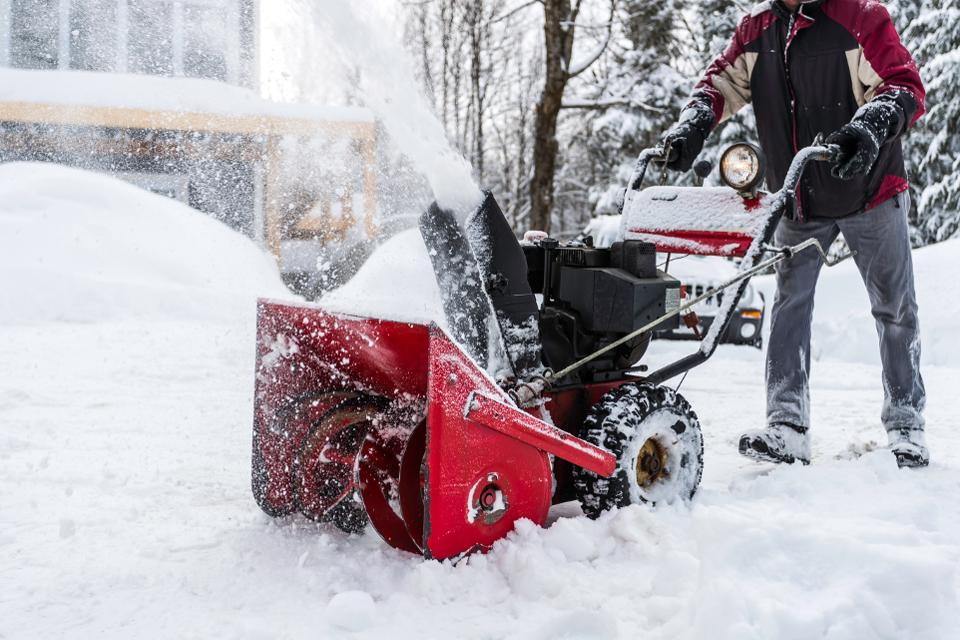 Electric start and power control steering
We suggest you avoid recoil start motors because they tend to get jammed during extremes of weather. Although we've included a recoil start thrower in our list, that's mostly due to its durability. An electric start with a single push button is always a better option to look for because no one wants to spend more time switching on the blower than actually operating it.
And talking about power steering, it's a must-have feature for large driveways. It gives you considerable control over the floor you're cleaning as you can move each tire the way you want. With blowers that don't have power steering, clearing up piles of snow from large driveways is quite a hassle. Large driveways mean you gotta cover a lot more distance and navigate through turns, as their designs keep evolving with each passing day. 
The more the number of turns in your driveway, the better control you gotta need in your device.
Verdict
Now that you are aware of the basic guidelines to follow while shopping for snowblowers, we thought we could help you out a step further. And what's a better way to help than giving you our personal preferences out of all the products we mentioned.
Well, if you're short on budget and want to make the most of it, we'd suggest you choose anyone among the models of Tacklife, PowerSmart, and Yardmax. Although Yardmax has a recoil start, it fares well compared to the other 2 models in terms of durability and snow throwing capacity.
Those looking for some top-notch features and nothing but trailblazing performance, you can blindly go for either of the 2 Husqvarna models or the ultra-efficient Troy.
Finally, for medium-duty work or those with a medium-sized driveway, go for the brushless models of Greenworks or Snow Joe. And don't miss the excellent Briggs & Stratton models if you want a slice of a decent snow throwing range within this class of blowers.
We hope we could answer all your queries today, and if you have anything that you'd like us to add to this list, mention it in the comments. Stay tuned for more.
Until next time!
Related Articles
11 Best Snow Shovels Right Now
13 Best Single Stage Snow Blower  
11 Best Snow Shovels Right Now
51 Best Snow Sculpture Ideas to Consider this Season
What to Do When Your Snow Blower Won't Start
Ariens Vs Husqvarna Snow Blowers | Obvious Winner?
Troy-Bilt Squall 2100 208cc 21″ Single-Stage Gas Snow Thrower [Reviewed]
5 Best ATV Snowblower Attachments  
13 Best Snow Joe Electric Snow Blowers  
EGO Power + Snow Blower SNT2100 Reviewed Today
4 Best Remington Snow Blower Reviewed | Buyer's Guide
4 Best Tractor Snow Blower Combinations  
How Much are Snow Blowers? [Costs & Maintenance]
Best Tractor Snow Blower Combinations
4 Best Tractor Snow Blower Combinations
3 Best Briggs and Stratton Snow Blowers
11 Best Snow Blower for Gravel Driveways
5 Best Commercial Grade Snow Blowers