Disclaimer | This article may contain affiliate links, this means that at no cost to you, we may receive a small commission for qualifying purchases.
Do you love spending time with friends and family, sitting around a bonfire, but find it difficult and dangerous to start a fire from scratch?
Well, you're in luck! Modern technology has taken some serious strides in this area and has come up with a way to re-invent the traditional fire pit. But figuring out the best model to invest in is the real question and that's what we're here to help you with.
In this article, we have reviewed 9 of the best smokeless fire pits of 2021. Each fire pit on our guide has been tried and tested to produce little to no smoke while ensuring efficient and long-lasting performance.
So, why wait till a camping trip to start a bonfire? All you need to do is go through our comprehensive guide, pick a fire pit, purchase it, set it up, and voila! You will have your personal bonfire in your backyard!
Let's jump right into the reviews!
Top Smokeless Fire Pits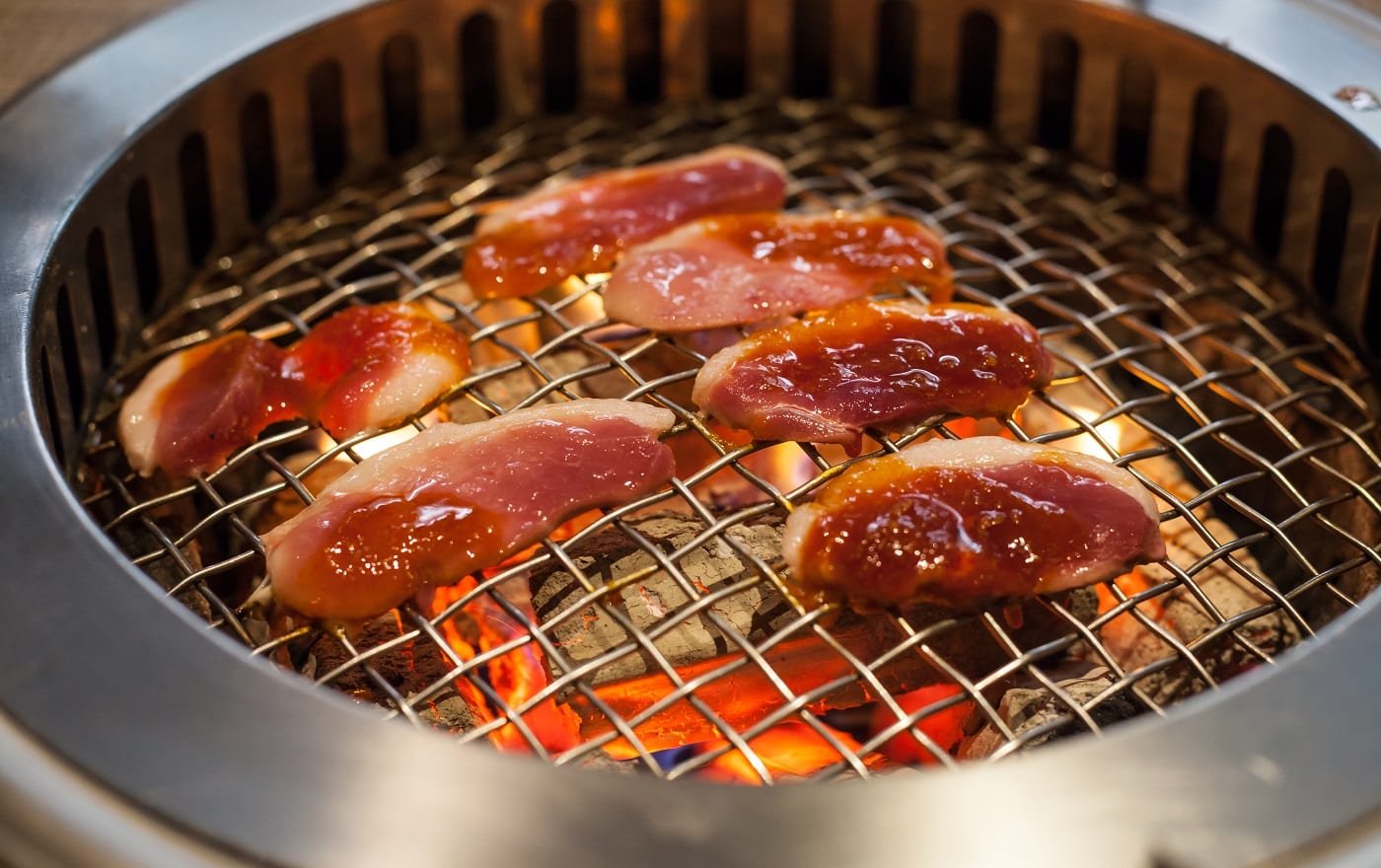 Blue Sky is one of the leading brands of the outdoor living market in the USA. They specialize in manufacturing outdoor products that maximize the ease of having a fire. This first product from their range is a reliable and innovatively designed fire pit built to help you capitalize your backyard and organize enjoyable outdoor gatherings.
Why Did We Like It?
The fire pit is constructed of durable steel and can withstand temperatures of over 1200 degrees Fahrenheit. This is only possible because these fire pits are painted with a high-temperature heat-resistant paint. 
However, it is important to note that this paint may melt away with constant usage and cause rust to appear, but that does not affect the performance of the product in any way. 
Another great feature of this fire pit is the way its fire grate at the bottom is stitch-welded into place. This helps the grate flex, which is a necessity due to the high temperature generated inside the burn chamber. 
Equipped with an efficient design, this firepit can generate a significant amount of heat while being quick and easy to assemble, carry and store. Overall, this firepit is extremely convenient to use, produces very little smoke, ash or sparks, and is thereby ideal for your backyard campfires.
What Could've Been Better?
This pit does not come with a cover and needs to be kept away from railings, trees, and walls when lit. Also, the packaging needs a bit of improvement as it has reached a few consumers in a dented condition. 
Solo Stove, renowned for its superior craftsmanship and durability, has always strived to create a range of high-quality and easy-to-use outdoor products that help you in reconnecting with nature. Their line of wood-burning fire pits is no exception to this philosophy.
Why Did We Like It?
Constructed with a unique design, this fire pit is very compact and lightweight, making it your perfect companion for camping and outdoor get-togethers or parties. It also comes packaged with a heavy-duty case, making it highly portable and convenient to carry for outings and adventures such as camping trips.
The stand of this fire pit is designed to minimize heat transfer by maximizing the airflow that passes underneath. This unique design alternatively enables you to place this product on heat-sensitive surfaces like wooden decks with little to no heat transfer. 
Furthermore, the 2 piece spark shield provided along with the product protects embers from escaping and makes it safer to use in small backyards. This product also comes with a shelter, making it perfectly suitable to be kept outside and eliminates the need for you to shift it indoors, even during rain or snowfall.
Lastly, the double-wall structure of this fire pit creates a burst of hot air over the lit fire while considerably reducing the smoke and odors it emits. This wood-burning pit burns wood so effectively it only leaves an ultra-fine layer of ash behind, making it incredibly easy to clean up.
What Could've Been Better?
This product cannot be used under a covered patio as the flames can rise high up to more than twenty feet. You can also only use logwood and other chunks of wood to fuel this fire pit, which is difficult to source and environmentally unfriendly.
As we stated above, Solo Stove is a reputed outdoor home living manufacturer specializing in constructing high-performing wood-burning fire pits. The 27'' Yukon fire pit, built with 304 stainless steel, is the largest Solo Stove pit built to create the hottest and most fantastic fires more effectively.
Why Did We Like It?
Constructed as a singular piece with double walls, this fire pit maximizes airflow to substantially increase burning efficacy. The compact build of this product requires no set-up and is comparatively lightweight, allowing it to be carried around in its case with relative ease.
The holes present at the bottom of the stand enable oxygen to keep the fire ignited while simultaneously channelizing the warm air within the walls of the stove and later back into the fire. This process improves the overall burning capacity and helps it produce less smoke and only fine ash, making it convenient to clean.
We absolutely adore the unique design and craftsmanship of this pit which is undoubtedly one of the biggest and most efficient fire pits on our guide today. We love that there is no requirement for any gas or propane to utilize this fire pit. All you need to do is flip the flame ring to light it up instantly.
The brand also provides a durable base that prevents heat transfer from the bonfire to the surface below it, making it safe to use on all surfaces.
What Could've Been Better?
While the product itself has received little to no criticism, the brand needs to focus on improving packaging as some consumers have received dented products. The top of the fire ring is not very thick or sturdy and hence gets warped easily. So, it's essential to always carry this fire pit around in the travel case it comes packaged with.
INNO STAGE has come up with an aesthetically pleasing smokeless fire bowl pit that is ideal for multiple outdoor activities like picnic, camping, backyard, or beach parties. This is our most budget-friendly product that provides high-performance and can be used as a fireplace stove and fire pit grill for outdoor cooking purposes.
Why Did We Like It?
This smokeless fire bowl pit is constructed of sturdy metal and is painted with anti-rust and high-temperature heat-resistant black paint. While the paint may fade over time, this does not hamper the efficacy of the product.
Equipped with a patented double-wall structure and vent holes on the base, this product maximizes both airflow heat while generating minimal smoke. The durable base of the fire pit enables you to use it on various surfaces, from patios to the beach. However, the best quality of this product is its affordability and is one of the lowest-priced fire pits on our guide.
If that wasn't enough, this fire pit also comes packaged with a waterproof carry-bag allowing you to carry it anywhere you go. The lightweight structure, easy set-up process, and handles on either side of the product make it extremely portable and user-friendly. But, that's not all because it is also low maintenance and incredibly easy to clean, which we love!
What Could've Been Better?
The brand recommends using wooden pellets to feed this fire pit instead of wooden logs to reduce the emission of smoke. However, while using wooden pellets, you will be required to constantly feed the pit in a few-minute intervals to stop the fire from extinguishing.
The Cast Master Bon 2000 is a dual-purpose bonfire pit that is ideal for not only bonfires but also for cooking in backyards, camping, tailgating, and beach parties. It's made of sturdy stainless steel and weighs only 32.8 pounds. Hence while being a rather large pit, it is still very convenient to carry around to different locations.
Why Did We Like It?
If you're looking for a fire pit that is highly versatile and can be used for both heating and cooking simultaneously, then this product is an ideal purchase for you. It is relatively lightweight for its size and provides superior and long-lasting performance as compared to its counterparts. The compact structure also makes it easy to transport around in the carrying case it comes packaged with.
The high-quality stainless steel resists corrosion and looks great for prolonged periods. Furthermore, the fire pit can increase both temperature and combustion by channeling hot air into the fire because of its unique design. 
It's also very easy to assemble, clean, and maintain because of its singular piece structure and convenient design. You can cook and barbecue by simply placing the cooking grate over the fire pit and loading your skewers on it. Last but not least, Cast Master provides elite customer service support who are always available and provide instant assistance via email and telephone.
What Could've Been Better?
The heat produced by this fire pit, while warm, is not very good for warming the people surrounding it. This is because the heat produced within this pit tends to rise rather than spreading out. The price of this product is also slightly on the higher side, which might make it unaffordable for certain people.
Next up, we have the HY-C Flame Genie, an affordable 13.5-inch fire pit made of stainless steel and covered with black powder finish paint. It's a compact and yet high-functioning product ideal for backyard parties, camping, and other outdoor activities.
Why Did We Like It?
This is one of the most aesthetically pleasing and yet high-performing smokeless fire pits we have on this guide today. The ingenious gravitational afterburner system of this product gives it the ability to produce a large flame and more heat, up to 1200 degrees Fahrenheit, while burning for a considerably longer time.
However, that's not all because this fire pit is also smoke-free and spark-free and therefore assures no smoky clothes with holes in them caused by the runaway embers. This fire pit ignites easily with wood pellets instead of firewood, which minimizes the amount of smoke produced and leaves less ash to clean.
Another advantage of purchasing this product is the ability to carry the wood pellets across the state boundaries. This allows you to pack up this super portable and lightweight fire pit and travel across the continent with relative ease. If that wasn't enough, the stainless steel build of this fire pit eliminates all chances of rust and corrosion and reduces the time and effort required for upkeep considerably.
What Could've Been Better?
The top rim of the fire pit tends to become discolored after the first fire because the powder paint melts off in the heat. This is a usual occurrence as there are no paints that can withstand that amount of heat. However, this in no way affects the overall performance of the fire pit.
BioLite is devoted to bringing energy everywhere by manufacturing revolutionary products that transform the way we cook, stay warm, and light our lives outside. This product in model number FPB1001 is a fire pit and hibachi-style grill that comes packaged with a grilling grate.
Why Did We Like It?
This high-tech product has the ability to be both a floating fire pit and a grill effectively. It burns both wood and charcoal while producing little to no smoke or sparks in the process. The grilling plate that it comes along with it can easily be attached to form a hibachi-style grill perfect for your backyard barbecue parties.
Equipped with a high-powered airflow system, this fire pit is designed with 4 fan speeds that allow you to control the intensity of the flames. What's more, you can easily operate this airflow system on your phone via a Bluetooth system that connects the machine to an app.
Furthermore, the 10,400 mAh battery backup on this device allows you to power your fire for up to 24 hours. You can recharge this battery via the USB provided or by purchasing the Solar Carry Cover separately to trickle charge the device when not in use. Lastly, the foldable legs and easy disassembly make it incredibly easy to store for future use.
What Could've Been Better?
Some users have reported issues with the battery and recharging functions offered by this fire pit. Others have noticed that this product is not very weather resistant and thereby rusts very easily after only a handful of uses in damp weather.
The Hi Flame Bonfire Stove has used its wood-burning stove technology patents to create the perfect transportable fire pit for an optimum outdoor living experience. This fire pit is not only high-functioning but also travel-friendly, making it ideal for carrying along on trips and use in your backyards at home.
Why Did We Like It?
The Hi Flame Bonfire stove is an ergonomically designed fire pit built to provide high performance and comfort at every step of its functionality. Equipped with a Pre-heated Tertiary Air System and a Secondary Combustion System, this product generates heat and a resilient flame unmatched by most fire pits available in the market. 
The double-wall structure and perforated bottom supply an optimum amount of oxygen to keep the flame running for an extended period of time. Besides that, this fire pit is constructed of sturdy stainless steel that is exceptionally durable and can withstand a variety of environments with minimum impact. 
If that wasn't enough, the compact and surprisingly lightweight (42lbs) build of this pit makes it extremely portable and convenient to carry around. Additionally, this bonfire stove also comes with a 2 mm thick lid and an extra welded bottom stand that keeps the embers away from the surface it has been placed on.
What Could've Been Better?
Some customers have complained that the lack of handles makes this fire pit difficult to transport from one place to another. The flame produced by this fire pit also makes it very hot and harrowing to pack up and transport after use.
Finally, we have the VBENLEM wood-burning fire pit on our guide. This is a comparatively large product with a 22-inch diameter and is constructed of sturdy stainless steel to give you long-lasting and dependable performance.
Why Did We Like It?
This fire pit has a grill and bucket structure that is easy to disassemble and compact and light to carry around. The grill component of this device is height adjustable and 360 degrees rotatable, ensuring versatility and complete cooking control.
Furthermore, this fire pit has a feet-type stand that holds the bucket up and allows oxygen to travel through the four vents beneath to fuel the burn. Its secondary combustion system consisting of perforated holes along the rim also further fuel the fire keeping it warm, smokeless, and difficult to extinguish.
This device is constructed of high-quality stainless steel that enhances durability and prevents the surface from cracking and rusting from regular use. What's more, its compact design and easy to assemble structure make it a very portable and helpful device to have around your home.
What Could've Been Better?
A few customers have received this fire pit in slightly damaged and overall poor condition of inadequate packaging. However, they have also mentioned that VBENLEM's customer service executives have helped them get their issues sorted.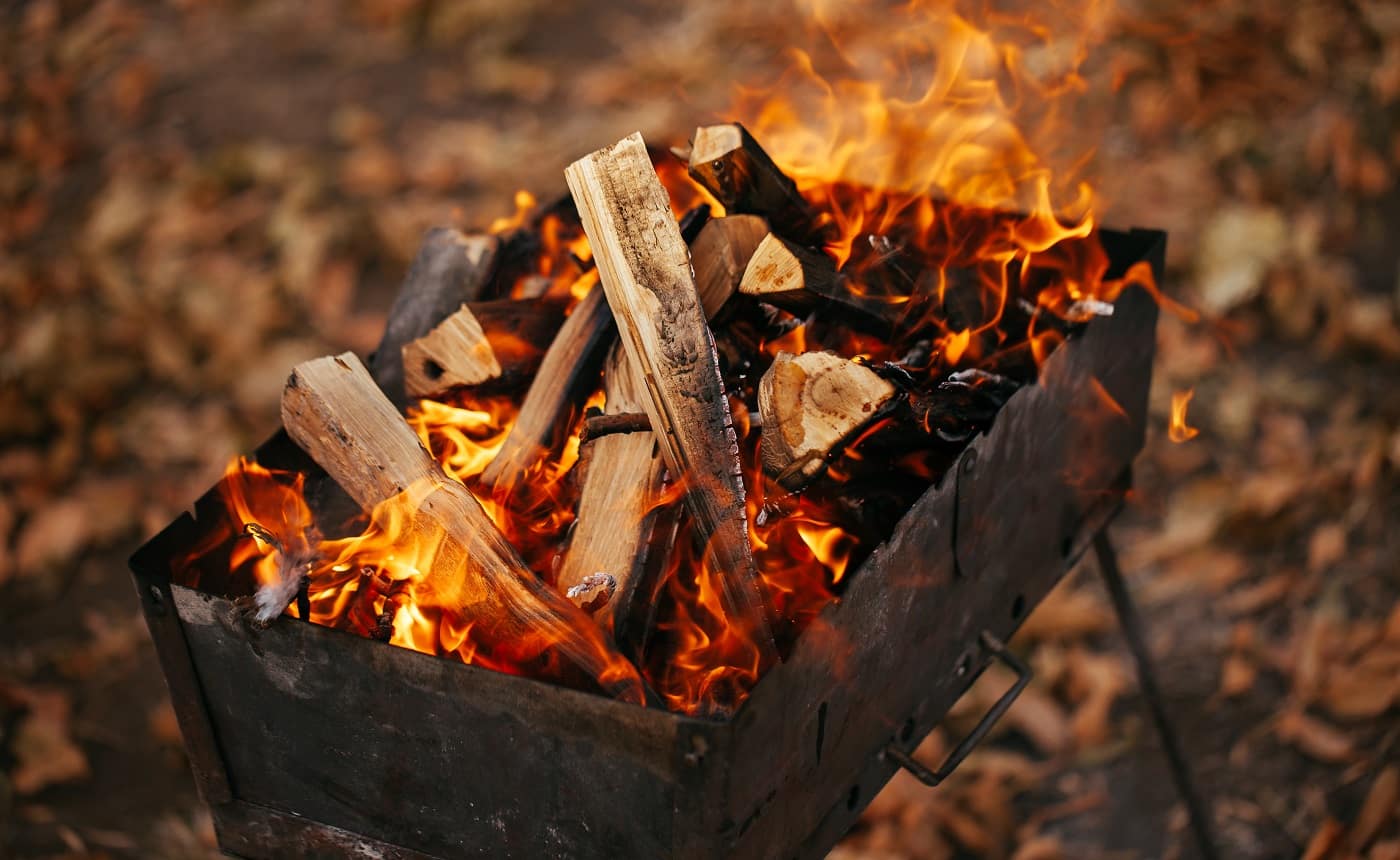 Smokeless Fire Pit Buyer's Guide
Below we have compiled a list of factors to consider before deciding on the ideal fire pit you should invest in. These factors will help you narrow down your search considerably and aid your decision-making process!
Material
The material with which a fire pit is constructed is crucial to consider while purchasing one. This is because the material decides the overall durability and lifespan of the product. While the most common material used to make fire pits is stainless steel, they are usually covered with various paints – such as powder paints and other high-temperature paint coatings.
The Base/Stand Of The Fire Pit
The base of the fire pit is in some cases built-in and in other cases separate from the body of the product. The base is an essential factor to look into because it decides what surfaces your fire pit can be placed on and how sturdy it is. 
In some cases, the base transfers the heat from the fire onto the surface, and this may alternatively kill the grass at the bottom. Hence you must look at the specifications of the stand carefully and buy one according to your needs.
Performance of the Fire Pit
As you may have realized by now, each of these fire pits function in different ways. Some only work on wooden pellets, while others run on logs and charcoal. We also have certain fire pits that are entirely battery operated and hence more complex to use.
Both these types of fire pits have their own advantages and disadvantages. While wood-fired ones are less complicated to use, they require a constant source of good quality wood to function. Alternatively, battery-powered fire pits need to be charged often to keep up the quality of the machine over long periods of time.
Portability And Transportation
Fire pits come in different shapes, sizes, and weights. Most of them can be moved by just one person; however certain bigger fire pits may need more hands to transport optimally. Based on the number of people you want to gather and the volume of the fire pit you desire, this will be a personal choice you're going to need to make.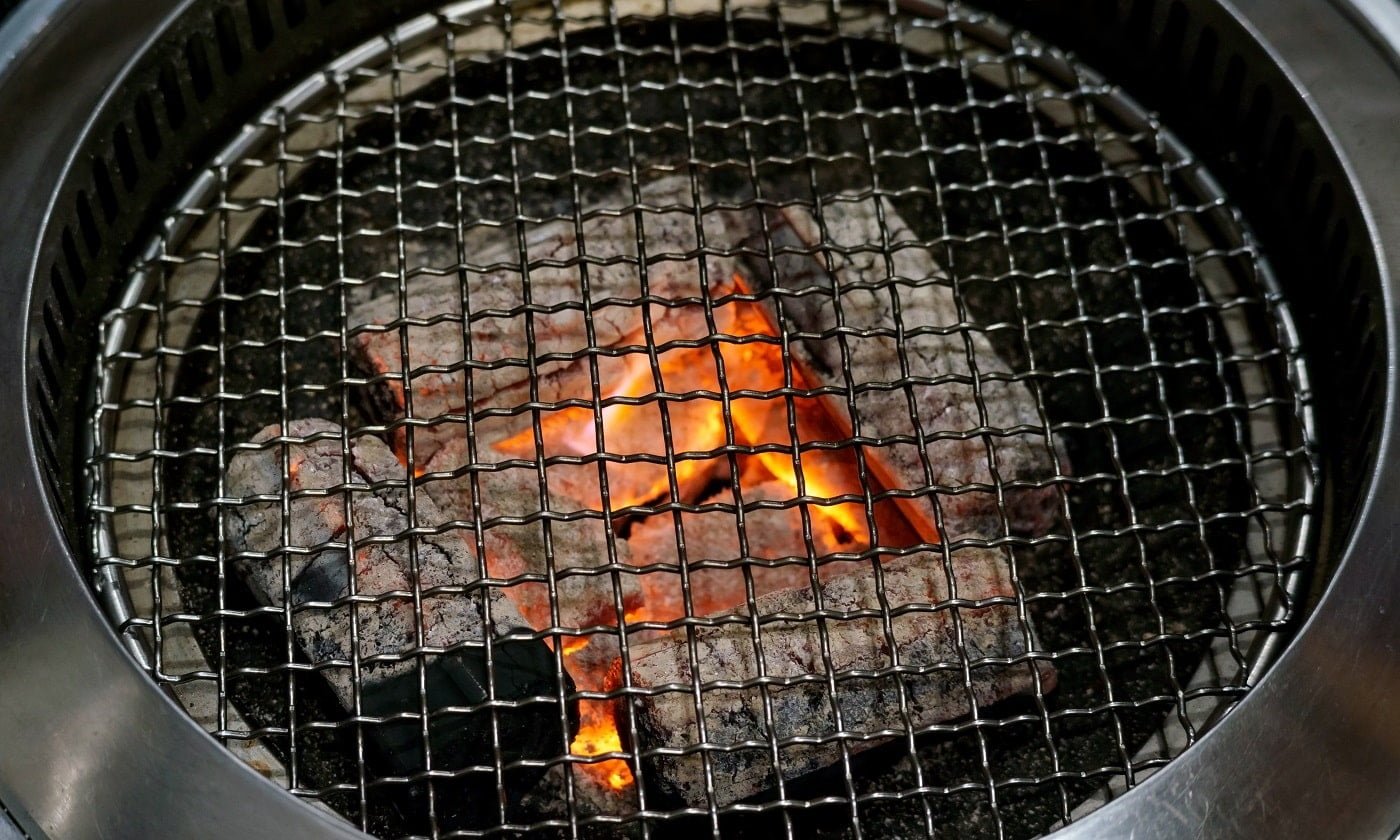 Verdict
With that, we come to an end to our comprehensive guide to the best smokeless fire pits of 2021. We hope the reviews for our top 9 products help narrow down your search.
Before leaving, we wanted to mention a few of our favorite products from this guide. The VBENLEM wood-burning pit, for starters, is an excellent investment for anyone looking for a traditionally fueled grill cum fire pit. 
On the other hand, if you're looking for a high-functioning battery-powered fire pit and grill to invest in, then we recommend buying the BioLite FPB1001. 
Finally, if you're just looking to buy an affordable, compact, and portable fire pit to light and warm up the backyard or bonfire parties, then the HY-C Flame Genie and INNO STAGE fire pit are both good options.
With that, we'll leave you to the decision-making. See you next time!
Related Articles
13 Safest Electric Kettles without Plastic 
11 Best Under Cabinet Range Hood 
Vitamix 5200 vs Vitamix 5300 [All You Need to Know]
4 Best Ways To Reheat Chicken Wings [Oven, Refrying, Sauté, Microwave]
13 Best Electric Kettles Right Now | Buyer's Guide
10 Best Food Scales Buyer's Guide and Reviews
15 Best Electric Smokers – Guide & Budget Picks
13 Best Kitchen Shears Right Now Reviewed
13 Best Mini Freezers for a Chilly Year  
10 Best Hot Dog Rollers | Buyer's Guide and Reviews
13 Best Cappuccino Makers to Enjoy Today | Buyer's Guide
11 Best Range Hoods to Consider
11 Best Bar Stools Today | Buyer's Guide and Reviews 
13 Best Wine Coolers Right Now
7 Best Hand Crank Ice Cream Maker