Your world changes when you become a parent, as the wonders of having a baby to look after takes priority over anything else in your life. It's tough work; most people are caught unprepared for raising and looking after a child. Infants are more than a handful, especially when you're outdoors with them. Thankfully, there are several items out there that will help you tackle the challenges of raising a child.
One of the first items on the wish-list of every parent with a newborn is to purchase a stroller that allows them to go outside with their infant. There are several kinds around in the market, and one of the best options is the sit-and-stand stroller. It's a favorite for parents because besides giving your child the space to remain seated, it also features a platform that lets them stand up in the stroller when they get bored or when they want a better view of their surroundings.
Choosing a sit-and-stand stroller should be easy work in 2022, but the massive range of options means that you're left confused about what is the best pick. It's not an easy decision, but we've made it easier by providing you with a selection of the 10 best sit-and-stand strollers of 2022. We have reviewed them and listed reasons to buy them, so you don't need to stress out. So, to make things easier for you, here are the top 10 best sit-and-stand strollers of 2022.
Best Sit-and-Stand Strollers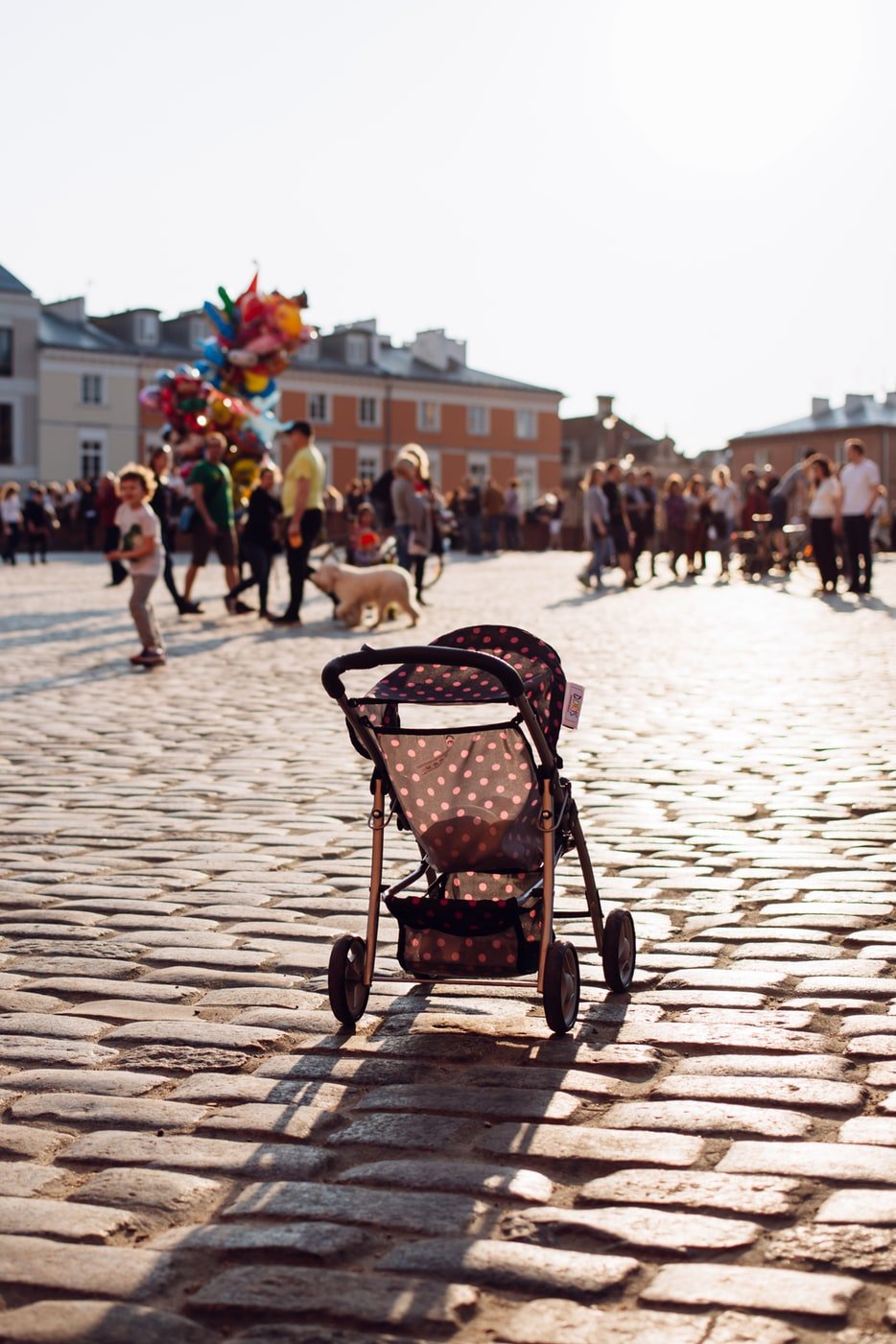 Our number pick for a sit-and-stand stroller in 2022 is the stroller designed by Joovy. It's immaculately crafted and is the perfect pick for a growing family. The stroller also comes with a platform that is stable and firm and helps you child stand without much effort. There is a cushioned and spacious rear seat that gives your infant plenty of room to sit in a comfortable position. The front seat is suitable for children that are 3 years or younger, providing you with an easy solution for taking out both your kids.
Highlights
4 leak-proof wheels providing great mobility

High weight limit of 35 pounds

The frame is made from a sturdy rust-resistant steel 
Sale
The Joovy sit-and-stand stroller provides your kid with the flexibility and stability to stand and sit comfortably. 
This amazing all-round stroller from Baby Trend is one of the best sit-and-stand strollers in the market and offers outstanding versatility. It will keep your kids safe and there is even a footbrake at the back that allows you to control the stroller completely. If you're worried about the stroller rolling away, you don't need to worry, as there is the option to lock the wheels.
The dual cup holders allow you to keep your coffee or water bottles on the stroller when you're out walking about with your kids in the stroller.
Highlights
Handle provides a soft grip

Ergonomic design

Storage space for diapers or other stuff under the seat

Allows you to easily seat two toddlers in the stroller 
Sale
If you're looking to provide your children with a comfortable ride in the stroller, this sit-and-stand stroller is a great option as it has exceptional suspension on the wheels. You won't have any problems maneuvering the stroller as it has a lightweight and durable frame. It has a maximum weight capacity of 50 pounds and allows you to easily seat 2 toddlers. The seat can also be reclined to 180-degree flat for maximum comfort if your toddler wants to nap.
Highlights
Cup holders allow you to keep your hands free and carry drinks

Its brilliant design allows you to fold the stroller with one hand

Large storage basket suitable for keeping diapers, napkins, snacks, and more 
Joovy has a long history of making premium quality strollers and this is one of their best offerings, as it comes with an aluminum frame. It's also the lightest stroller on this list and has a second seat you can shift your child into if they don't like being confined to the stroller. There is an integrated platform that allows your kid to walk, sit, or stand, and you get a stable ride without any shaking or wobbling.
The platform can support a weight of up to 22 pounds, and the maximum weight carrying potential of the stroller is around 45 pounds. If you're looking for a stable and high-quality stroller for your toddle with a lightweight design, this is the perfect option.
Highlights
24 months warranty period, one of the best in the industry

Cup holders at the handle

Neoprene pockets

Its collapsible canopy provides shade from the sun 
Sale
This is one of the smartest looking sit-and-stand strollers on the market. It comes with an adjustable canopy for when you want to protect your kid from the harsh rays of the sun. There is a useful front tray where you can put baby food or baby bottles for your kid so they can munch or drink something while exploring with you and feeling the wind.
There is a sweat-absorbing material on the handle that allows you to get a firm grip and prevents you from losing grip of the stroller due to sweaty hands.
Highlights
Best for use in any terrain

Canopy is made from weatherproof material

Rail handrails for a toddler to hold on to 
No products found.
This stroller comes with two seats that are designed to provide superior comfort to both your kids and come with extra padding and good reclining. The rear seat can be removed as well if you're going out with one kid to reduce extra weight. This stroller is versatile and has a massive weight carrying capacity of 80 pounds so even heavier kids can easily go for a ride. You can transform the stroller into a sit-and-stand by detaching the rear seat.
Highlights
Dual cup holders for placing drinks

Hassle-free and easy maintenance

The tray is completely removable and has a swing design 
Sale
This next stroller makes the list thanks to its versatility and the comfort it offers your toddler when they're going for a ride. It can be adapted to the needs of your child and comes with a detachable rear seat for when you want extra room for your kid. It converts into a sit-and-stand stroller so your child can experience fun while going for their ride. The stroller collapses into a compact shape easily, ensuring that you don't need to push it to the ground.
Highlights
The stroller can be locked in its folded form with a latch

Maximum weight carrying capacity of 33 pounds

Can easily carry two kids 
This sit-and-stand stroller from Baby Jogger is their flagship product and comes with 20 riding configurations to accommodate the needs of your baby. It comes with adjustable canopies, comfortable seats, and a high-strength frame to provide your kid with a cozy and safe ride. The maximum weight carrying capacity of this stroller is 45 pounds and you can easily fold it into a compact form, allowing you to easily transport the stroller anywhere you're going.
Highlights
Adjustable canopy protects your kid from harmful UV rays

The seat can be reclined into different positions 
The Graco Uno2Duo stroller is one of the best available in the market and offers you a chance to sit 2 kids at the same time in the stroller. It comes with a Graco car seat, so you have more than 10 ways to ride in the stroller. It also converts into a double stroller and has an expandable range of 50 inches. There are 8 different ways in which your child can ride in the double stroller; this is one of the most distinct advantages that you gain from this sit-and-stand stroller.
Highlights
Cup holder and phone holder

Sturdy platform at the back of the stroller

The main seat can be changed into a bassinet for both the forward and rare seats 
This stroller from Joovy is another fine option for your child, as it has a seat that reclines into 3 different positions, allowing your kid to take a comfortable nap on their ride. This stroller has the functionality of a double stroller, despite being a single stroller and has great versatility. It can also be folded into a compact form for easier transportation, so you can take it anywhere with you.
Highlights
Safety harness keeps your baby secure

Child tray comes with 2 cup holders on both sides

Infant car seat adapter can be attached to strollers from other models 
Sale